Sunrise alarm clocks are an increasingly popular item and the Hatch Restore is probably among the best-known of these products. With so much hype behind it, I was curious to see if the Hatch Restore is all it's cracked up to be. In this review, I'll be going over my personal experience testing out the Hatch Restore and breaking down all the information you need to know about it to decide if it is the right purchase for you.
Short on time? Skip ahead for a review summary.
Is the Hatch Restore Right For You?
Before we fully dive in, I want to offer a quick overview of who I think would and would not like the Hatch Restore.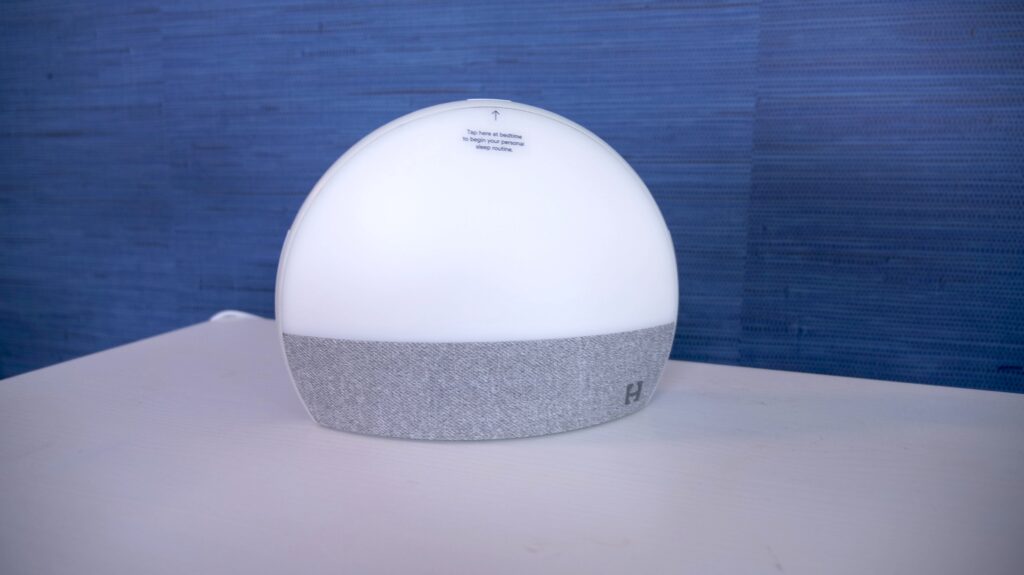 Who Should Try the Hatch Restore
If you are looking for a product to help you create both wake up and wind down routines, the Hatch Restore is a great option for you.
If you want a sunrise alarm clock that allows you to customize extensively, you will also likely appreciate the Hatch Restore. You can really narrow in on the settings to create your routines exactly the way you want.
If you like sleep sounds or white noise, you will likely appreciate that the Hatch Restore essentially doubles as both an alarm clock and a sound/white noise machine. If you choose to add the Hatch Sleep subscription, it also serves a similar function to a meditation app.
Who Should Not Try the Hatch Restore
If you don't have a smartphone or don't want to use an app to control your alarm clock, the Hatch Restore is likely not a good choice for you. It relies on an app for the majority of the controls.
If guided meditations, music, soundscapes, and other audio content is important to you, you should be aware that the majority of this content is behind a paywall with the Hatch Restore. You'll have to add a monthly or yearly subscription to access all the content.
If you are shopping on a budget, the Hatch Restore might be a bit too pricey. At over $100 for an alarm clock, it certainly isn't the cheapest option on the market.
How to Use the Hatch Restore
Setting up your Hatch Restore is an easy process. All you'll need to do is unbox the clock, find an outlet nearby your bed, and get your smartphone ready.
Plug the Hatch Restore clock into an outlet where you want the clock set up, such as on your nightstand or another surface in your bedroom.
On your smartphone, download the Hatch Sleep app.
Once the app is downloaded, you will be prompted to create an account.
The app will walk you through instructions on how to connect your Hatch Restore to your phone. You will need your WiFi password, so have that handy if you don't know it off the top of your head.
Once your Hatch Restore is connected, you are ready to start setting up your wake-up and wind down routines.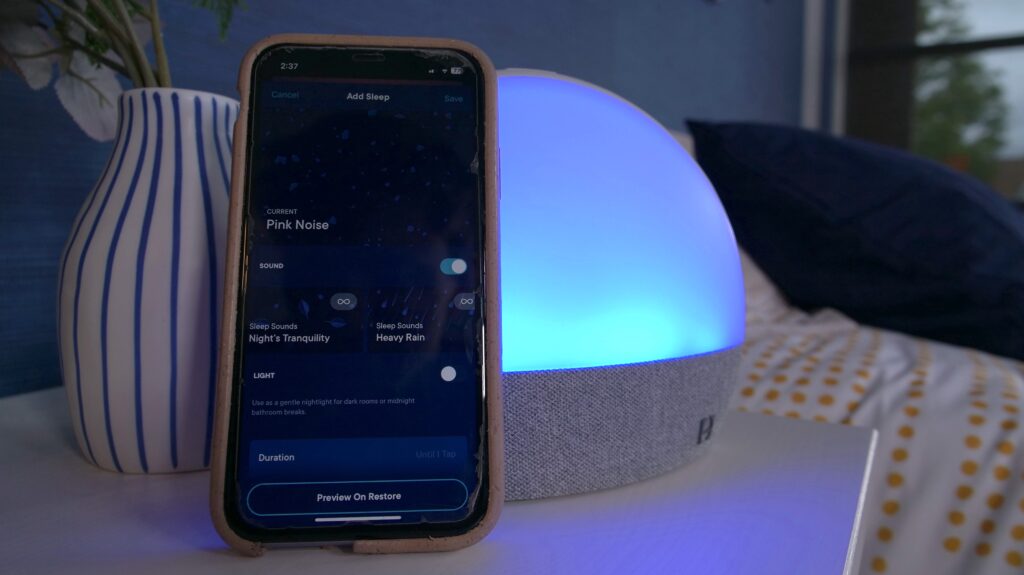 The Hatch Restore is primarily controlled through the app. In the app, you can create wake-up alarms and set steps for a wind down routine, as well as simply turn on light or sound independently. There is one button on top of the Hatch Restore, which can be used to start the wind down routine and to turn the alarm off in the morning. There are also brightness and volume controls on the sides of the clock, which can be used as manual controls.
Hatch Restore Features
Now that we've gone over how to set up the Hatch Restore, let's talk about its features.
Wake Up Alarm
The Hatch Restore allows you to set a morning alarm utilizing sound and/or light. In the app, you can set your alarm and choose your sound, light, time, days of the week, volume, brightness, and sunrise duration.
For light, you are able to choose between different color options for your wake-up light. Light options include things like "Conquering Fuji," a fade from purple to orange, or "Portland Lighthouse," a fade from blue to yellow. Once you've chosen your color, you can decide how bright the light will be (zero to 100 percent) and the duration of the sunrise (anywhere from five to 60 minutes). For example, if you set a 7:00 a.m. wake-up time and 30 minute sunrise, the sunrise will start at 6:30 a.m. and reach maximum brightness at 7:00 a.m.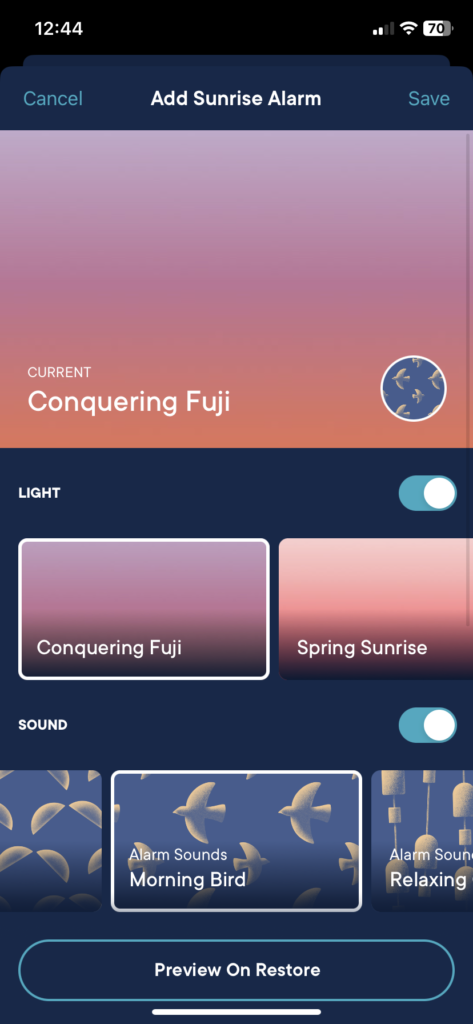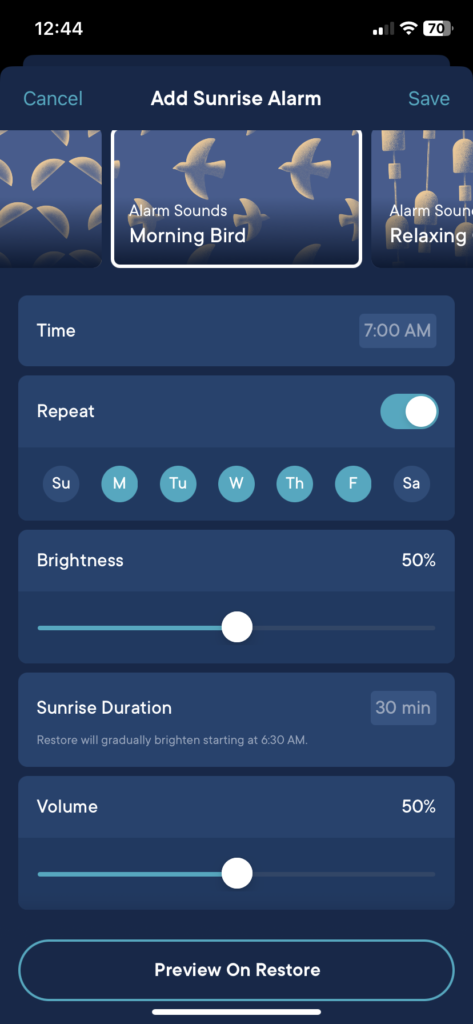 You can choose between several alarm sound options, as well. Options include calming sounds and nature sounds, like "Meditative Flute," "Morning Bird," "Lovely Chimes," and "Calm Ocean," in addition to more classic alarms like "Signal," "Beep Beep," or "Retro Alarm." With the volume control, you can decide how loud the alarm will be. The alarm sound will go off at the set alarm time, which is when the sunrise will have reached its maximum brightness.
You can create more than one morning routine in the app. For example, you might have one alarm for your workday wake up but a slightly different one set for your days off.
Wind Down Routines
In addition to creating a wake routine, the Hatch Restore also allows you to create a wind down or bedtime routine. This is a bit more customizable than the wake up routine, as you can create multiple steps in the routine, but it still primarily consists of light and sound options. The purpose of the wind down routine is to help you unwind and get ready for sleep and/or for use as a sound machine for sleep sounds during the night.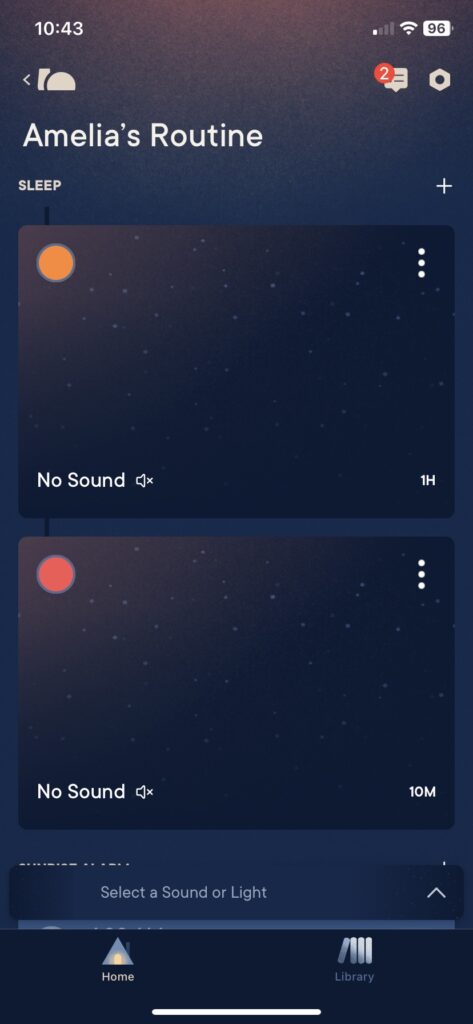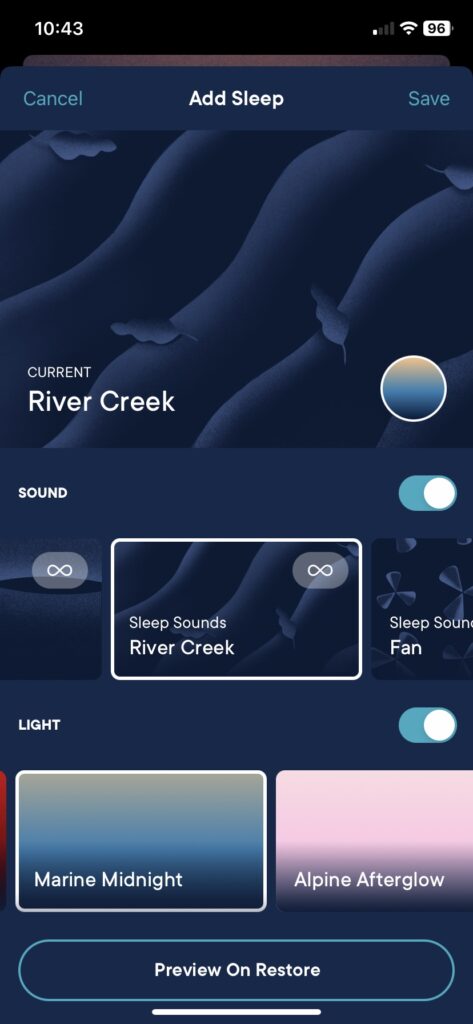 To add steps to the sleep routine, you'll tap the plus sign near the "Sleep" heading in the app. You can add light, sound, or both to each step. For sounds, you can choose from different sound options such as "Pink Noise," "Light Rain," "Calm Ocean," "Fan," or "Evening Campfire." You can also set the volume level for the sound.
For light, you can choose between a variety of preset colors or create your own customized color. You can opt for a solid color, like red, pink, warm white, peach, or purple, or you can pick a sunset color gradient. Options for sunsets include things like "Alpine Afterglow," "Evening Embers," "Moonrise Horizon," or "Campfire Haze." These sunsets will fade from one color to another — basically the reverse of the sunrises.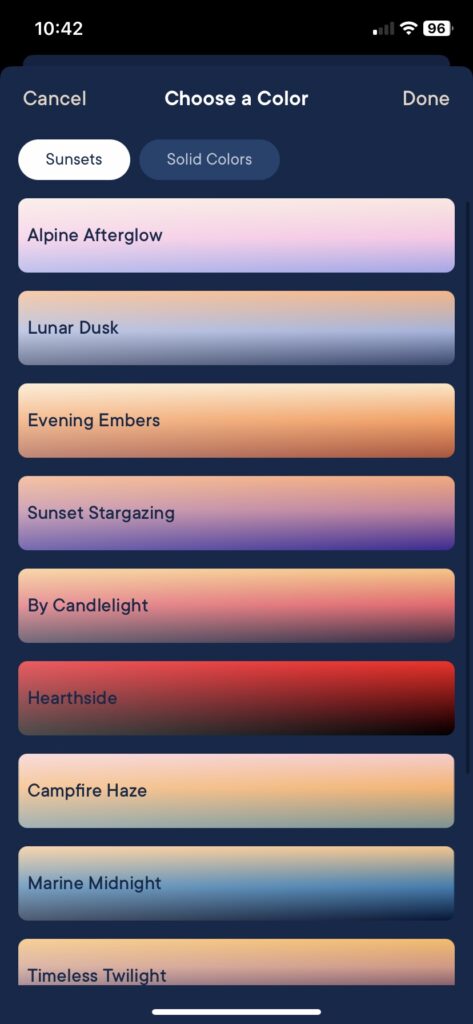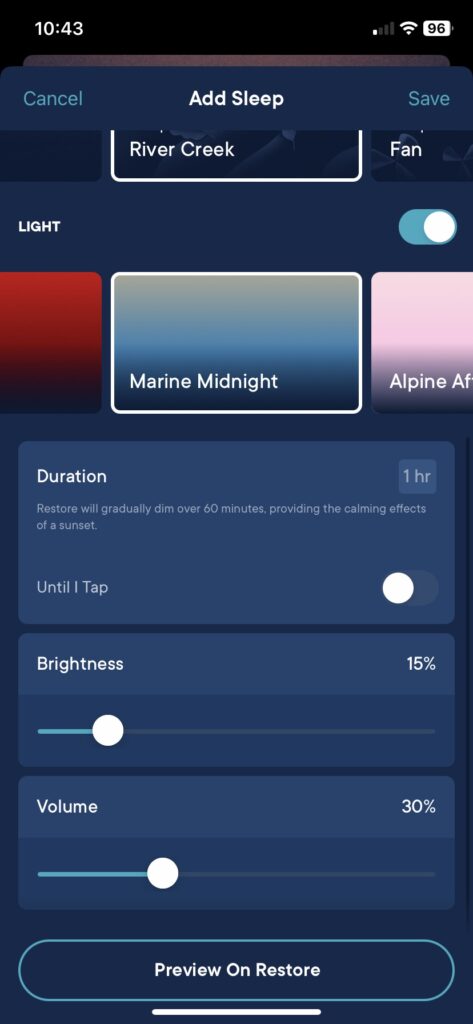 If you choose a solid color, you can set a duration for the color to last, such as an hour before your bedtime, or you can choose to turn it off by tapping the button on top of the Restore. If you choose a sunset, you can choose the duration of how long it takes the light to dim. With either a solid color or a sunset, you can choose how bright the light is.
Once you've created one step in the wind down routine, you can create more steps. You can time the steps by setting durations or you can move through the steps in the routine by tapping the button on top of the Restore.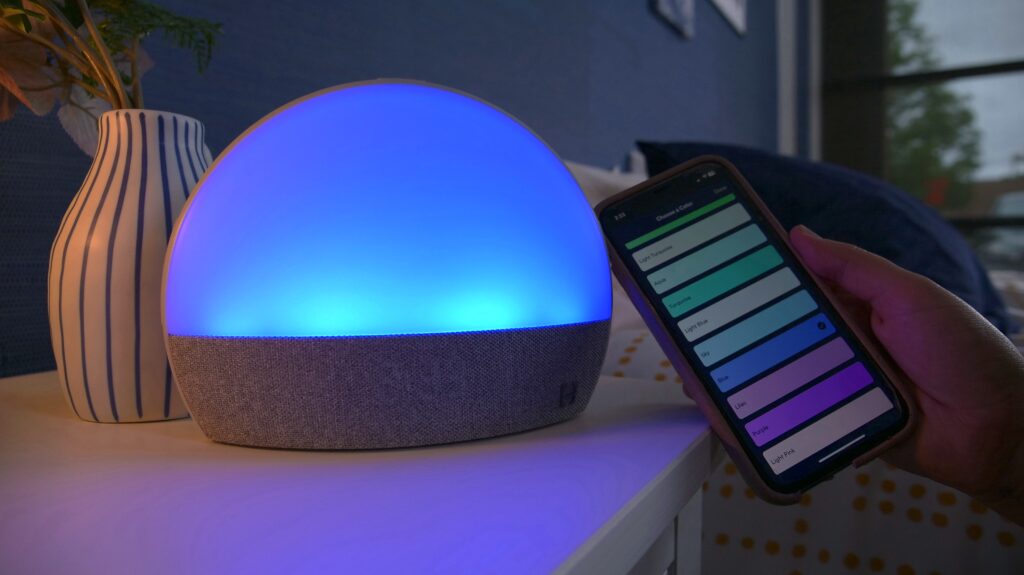 Hatch Sleep Membership
Another feature the Hatch Restore offers is the option to subscribe to the Hatch Sleep membership. The membership allows you access to all the content in the Library tab on the app, which includes Music, Dreamscapes (recordings of natural soundscapes from around the world, such as California Coast or Icelandic Waterfalls), Sleep Stories, and Guided Rest (guided audio mindfulness practices). This additional content can be added to your routine, or can be played independently.
However, this additional content is not included with the purchase of the Hatch Restore. You'll have to subscribe for an additional cost — although Hatch does give you a free trial to decide if you want the membership.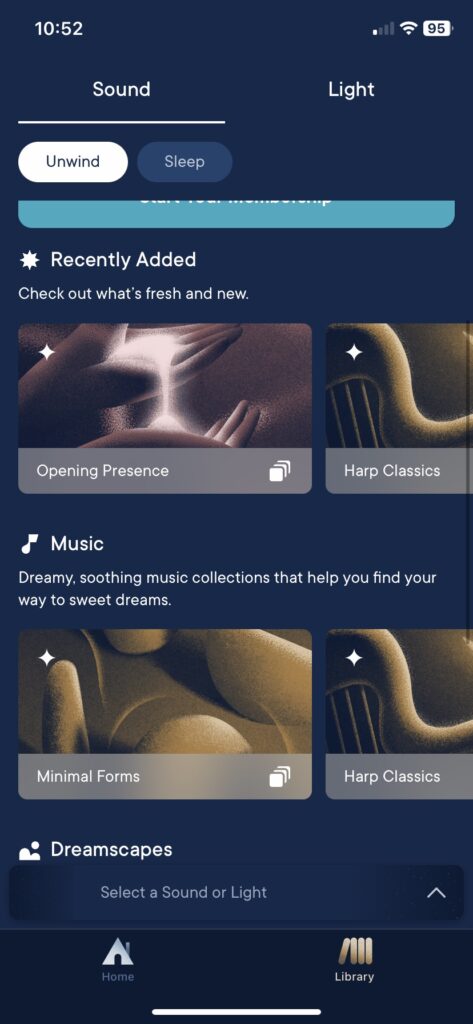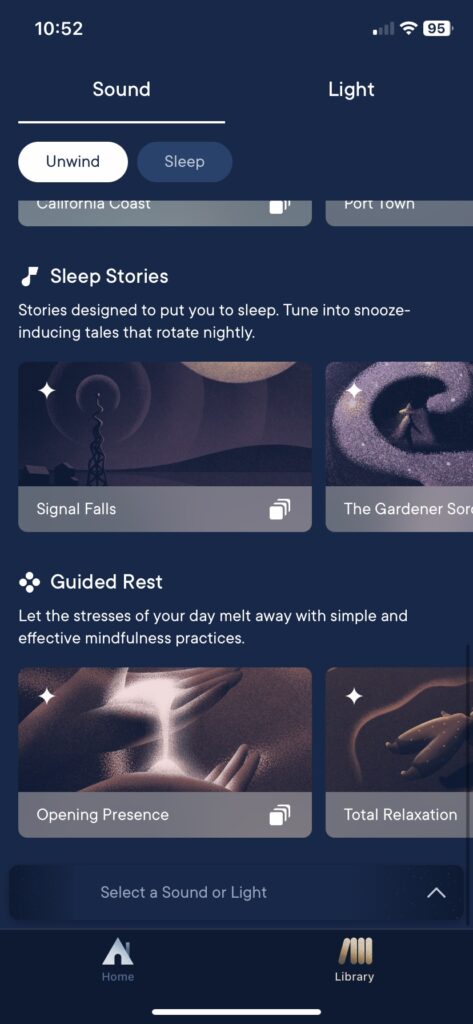 Price
Wondering how much the Hatch Restore costs? Price is always an important consideration when deciding if a new sleep product is worth it for you. Currently, the Hatch Restore costs $129.99 at full retail.
As mentioned above, you'll have to pay an additional fee for the membership, which is currently $4.99 per month or $49.99 per year. If you choose the yearly membership, you'll get one month free to try the membership. If you choose the monthly membership, you'll get a 7-day free trial.
My Experience Using the Hatch Restore
I've been using the Hatch Restore for a few weeks at home and I've really been enjoying it. I'm a pretty deep sleeper and not much of a morning person, so I really do rely on an alarm clock on weekdays to wake up in a timely manner. For years I've gone back and forth between using my basic iPhone alarms or my childhood alarm clock — both of which usually make me wake up in a panic. I was really interested to see if this wellness-focused sunrise alarm clock would make for more peaceful wake up and sleep habits for me.
I set up my wake up alarm (for most weekdays) to use the "Spring Sunrise" light and "Meditative Flute" sound. Off the bat, the "Meditative Flute" sound is a much less jarring sound to wake up to than my traditional alarm clocks' blaring beeps. I do like the sunrise function, but to be honest, I'm such a deep sleeper that the light alone definitely does not wake me up. I also get a decent amount of light coming through the window in my bedroom, so maybe that plays a role too.
However, I do like having the bright light from the Hatch on near me right when I wake up. I also like that if I wake up naturally a bit before my alarm, seeing the light on lets me know I'll need to get out of bed soon.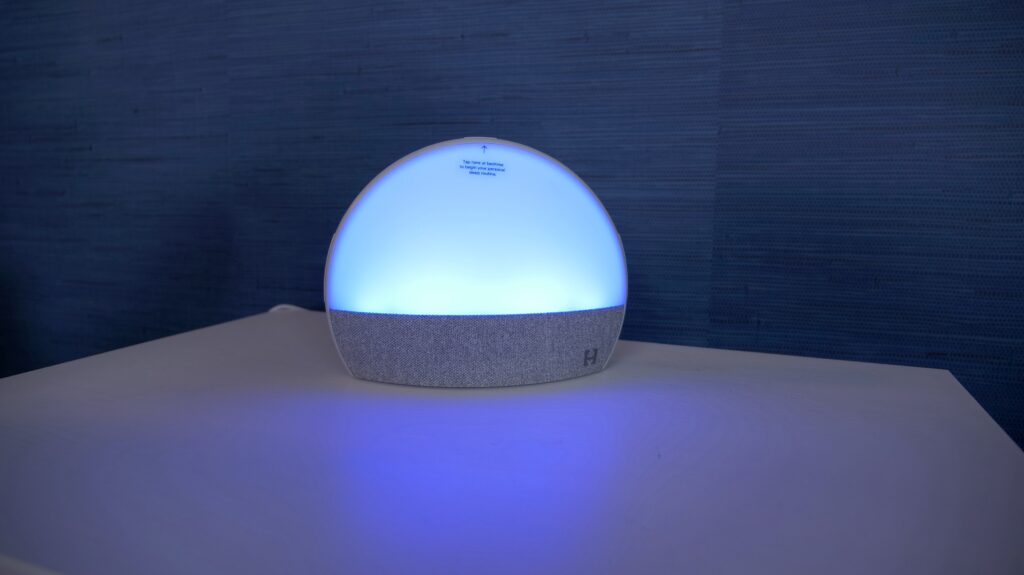 For the nighttime routine, I've found myself using the light quite often. I frequently read in bed for 30 minutes to an hour before going to sleep, so I like using the light function before bed. I don't think the light is actually bright enough (even at 100 percent brightness) to use as a reading light, but I've been using it in conjunction with my regular lamp to create some vibey lighting in my bedroom.
I've tried out some of the sounds before bed and while sleeping and overall I really like the options. I've never been big on white noise sounds or nature sounds for sleep, but I do like having the option there if I find myself wanting to use it. I think folks who like sleep sounds will appreciate the options Hatch offers, which I found to be overall relaxing and pleasant.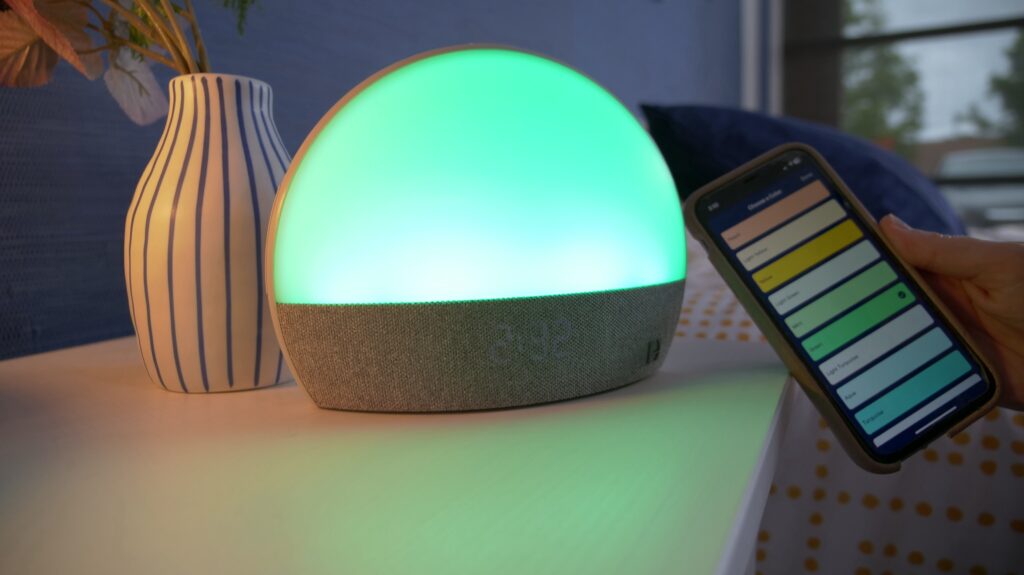 All in all, I think the Hatch Restore is a really great product. With so many options and customizations, I don't think I've even fully explored this clock's capabilities thus far. While I like my "Meditative Flute" alarm, I don't know if I love it, so I definitely want to try out more of the alarm sounds to find the perfect one for me. I'd also like to try out using the sunset function more to signal my mind that it is time for sleep. I don't know if the Hatch has been a complete game changer or made my sleep dramatically better, but I really enjoy the customizable features and that it allows me to wake up a little less… alarmed in the morning.
I think most people will find the Hatch is pretty intuitive to use and the app is easily navigable. My biggest con for it is I wish the additional playlists and content were available without a monthly or yearly fee. The subscription is cheaper than apps like Calm or Headspace, but it also doesn't seem like you get quite as much content through Hatch as you would with standalone apps.
Policies and FAQs
Does the Hatch Restore come with a trial?

Yes, Hatch offers a 60-night trial period with the Hatch Restore. If you do decide to return, Hatch offers free returns.
Does the Hatch Restore come with a warranty?

Yes, the Hatch Restore comes with a 1-year warranty.
How does the Hatch Restore ship?

Hatch ships for free within the contiguous United States. They do not currently ship to Hawaii or Alaska, nor do they ship internationally.
Is the Hatch worth it without the subscription?

Yes, I think so! I tested the Hatch Restore without the subscription and I think it offers plenty of features and functionality to make it worthwhile without the subscription. However, if you are specifically interested in having access to a lot of different soundscapes, music, or guided meditation, the Hatch may not be worth it without the subscription. I'd recommend checking out the Loftie Smart Alarm Clock, which offers a vast library of this type of content without a subscription.
Should I get the Hatch or the Hatch Restore 2?

The Hatch Restore 2 is the upgraded version of the original Hatch Restore. I only tested the Hatch Restore, so I can't totally say. The Hatch Restore 2 does have a slightly different look and is available in three different color options, although it does maintain the same minimalist vibe of the original. The Restore 2 appears to have most of the same functionality as the Restore, but with more sound and light options (10 new alarm sounds, 21 new sleep sounds).
Other Products To Try