The Apollo wearable by Apollo Neuroscience is a consumer wellness device that aims to improve your sleeping patterns, stress, and health — all through the power of vibrations. You simply wear the device, set the mode you want it to be in, and allow it to vibrate on your body. The company says these waves of vibrations can help restore your natural circadian rhythm, ultimately helping you fall asleep and sleep better. There are also modes to help you relax, focus, socialize, and more.
Now this sounds pretty cool, right? But does it really work? That's what I plan to find out. I'm going to put the Apollo wearable to the test and let you know the results. In this Apollo Neuro review, I'll also go over how to set it up, how it works, how often to wear it, and more. If you're in a hurry, you can skip down to my review summary. Otherwise, let's get these good vibes started!
Note: Although wearable sleep devices may help you notice specific patterns or pinpoint behaviors you'd like to change, they shouldn't take the place of a doctor or medical professional for advice, guidance, or help.
Apollo Wearable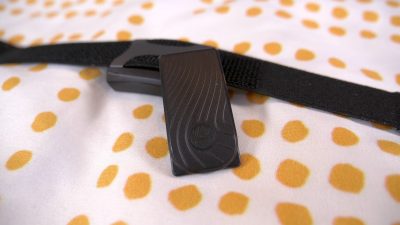 The Apollo Wearable is a device that can be worn on the wrist, ankle, or clipped to the user's clothing and provides calming vibrations in order to improve your sleep and overall health.
Is the Apollo Wearable Right For You?
Before we fully dive in, I want to offer a quick overview of who I think would and would not like the Apollo wearable.
Who Should Try Apollo
Anyone interested in exploring different ways to improve their sleep and overall wellness could really enjoy this device. Research shows it can help people sleep deeper and longer.
If you want to reduce your stress levels and be more mindful of your mental modes throughout the day,

this device could help. One

clinical trial

had a dozen staff members at a nursing facility wear the device for two weeks — they reported feeling 40 percent less stress and anxiety after using the Apollo.

If you want a device that's versatile with how you can wear it,

you should appreciate the Apollo and how it can be worn on your wrist, your ankle, or on a clip on your clothes/body.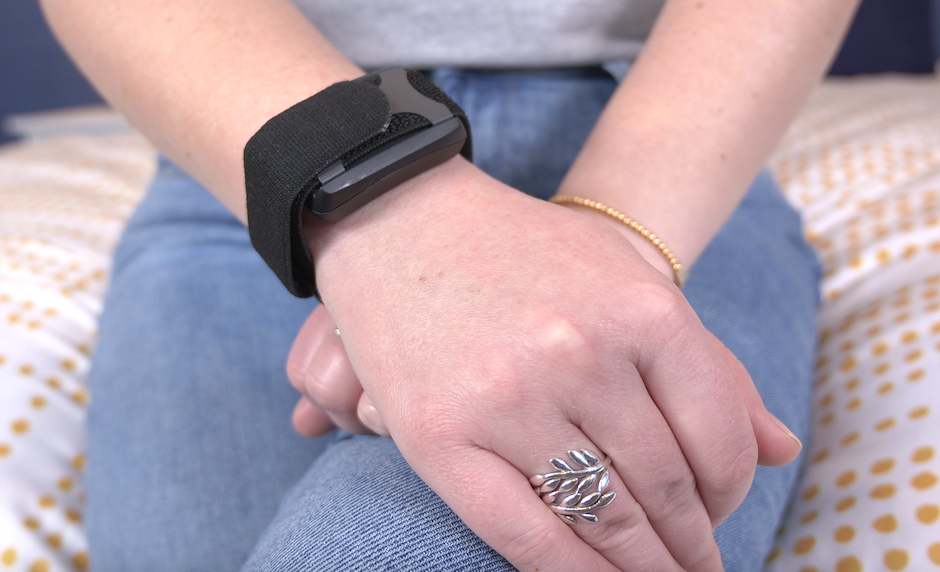 Who Should Not Try Apollo
If you're not interested in using and regularly charging a wearable device,

then you probably won't like the Apollo wearable. It's recommended you wear it for at least three hours a day, five days a week.

If you want a device that tracks your sleep and shares your data and patterns with you

, the Apollo wearable doesn't do that. The company says rather than tracking your biometrics, it works to improve your health. I'd recommend looking at some of

our favorite sleep trackers

if you are interested in tracking components like your heart rate variability (HRV), sleep duration, blood oxygen levels, etc. The Apollo can work alongside some trackers as well.

Budget shoppers

may find the Apollo wearable to be out of their price range. Although it's linked to having some great benefits, it is a more expensive wearable device compared to others on the market.
How To Use The Apollo Wearable
The Apollo wearable arrives with the device, a wristband (made with neoprene and polyester), a clip (made from polycarbonate plastic), a charging cable, an instruction manual, and recommendations for use. Let's go over what to do after receiving it.
Setting It Up
The first step of getting your Apollo ready is charging it. The company recommends charging it for at least 30 minutes after receiving it. You'll want to download the Apollo Neuro app on your phone and connect it to your device via bluetooth.
You can choose to put the device on a band to wear on your ankle or wrist, or you can put it on a clip to attach to your clothes. If clipping on your clothes, you'll want it to be on a shirt collar or bra strap so it's vibrating inward.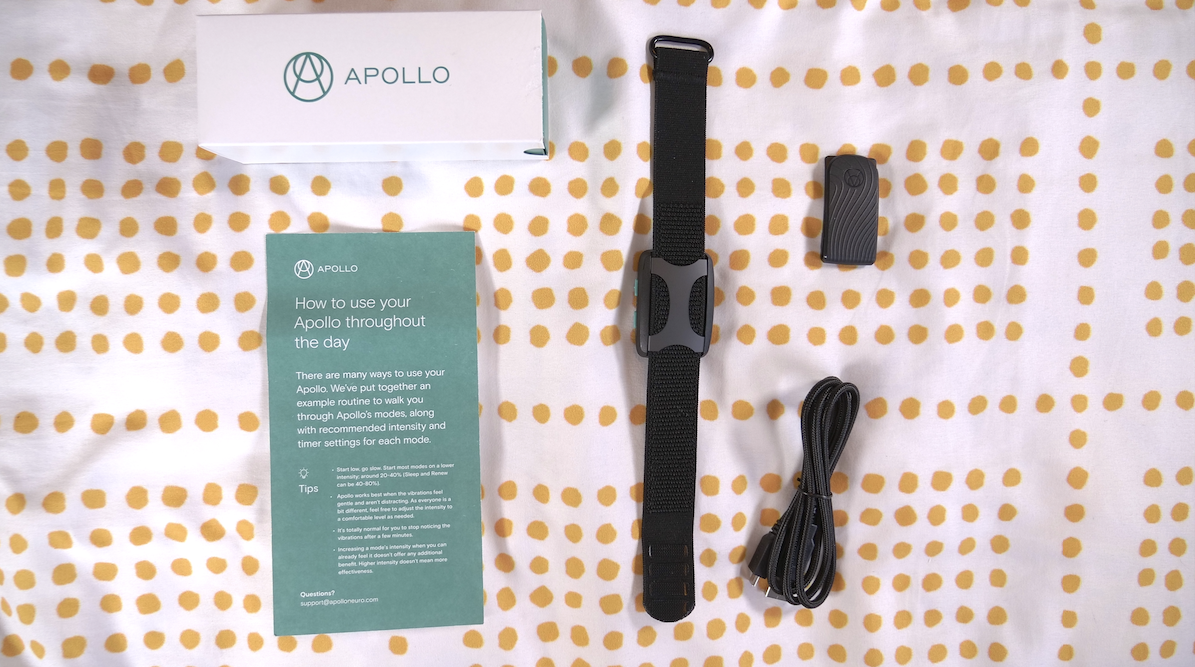 Battery Life
The Apollo wearable has a battery life of six to eight hours. In my time using it, I charged it every day. It can take up to four hours to fully charge.
How To Use The Apollo
The Apollo is pretty easy to use, but it does require you to integrate it into your life. First, decide how you want to wear it on your body (and it's okay to wear it differently each time you use it). After you put it on your wrist, ankle, or the clip, choose the mode you want in the app.
It has the following modes to choose from:
Energy and Wake Up.

This mode "gives you a boost of energy when you're feeling tired and sluggish." It's recommended to use when you're feeling drowsy and want to feel alert.

Social and Open.

This mode "elevates mood and energy to relieve stress in social situations." It can be used while working, out with friends, on a date night, or when you're wanting to be creative.

Clear and Focused.

This mode "filters out distraction and settles your nerves for clear, calm focus." It can be used before working out, when doing a work presentation, when tackling a big project, or if you have a headache or nausea.

Rebuild and Recover.

This mode "accelerates your body's recovery after a workout." You can use it post workout, but also after feeling sick, run down, stressed, or traveling.

Meditation and Mindfulness.

This mode "prepares you for meditation by facilitating the connection between body and mind." It's good to use when you want calmness, when feeling tense, or when seeking some zen.

Relax and Unwind.

This mode "rapidly relieves stress for deep relaxation." It's recommended to use after a stressful work day, during travel, or before bed.

Sleep and Renew.

This mode "quiets your mind and eases you into restful sleep." It's best to use before you go to sleep and during your sleep.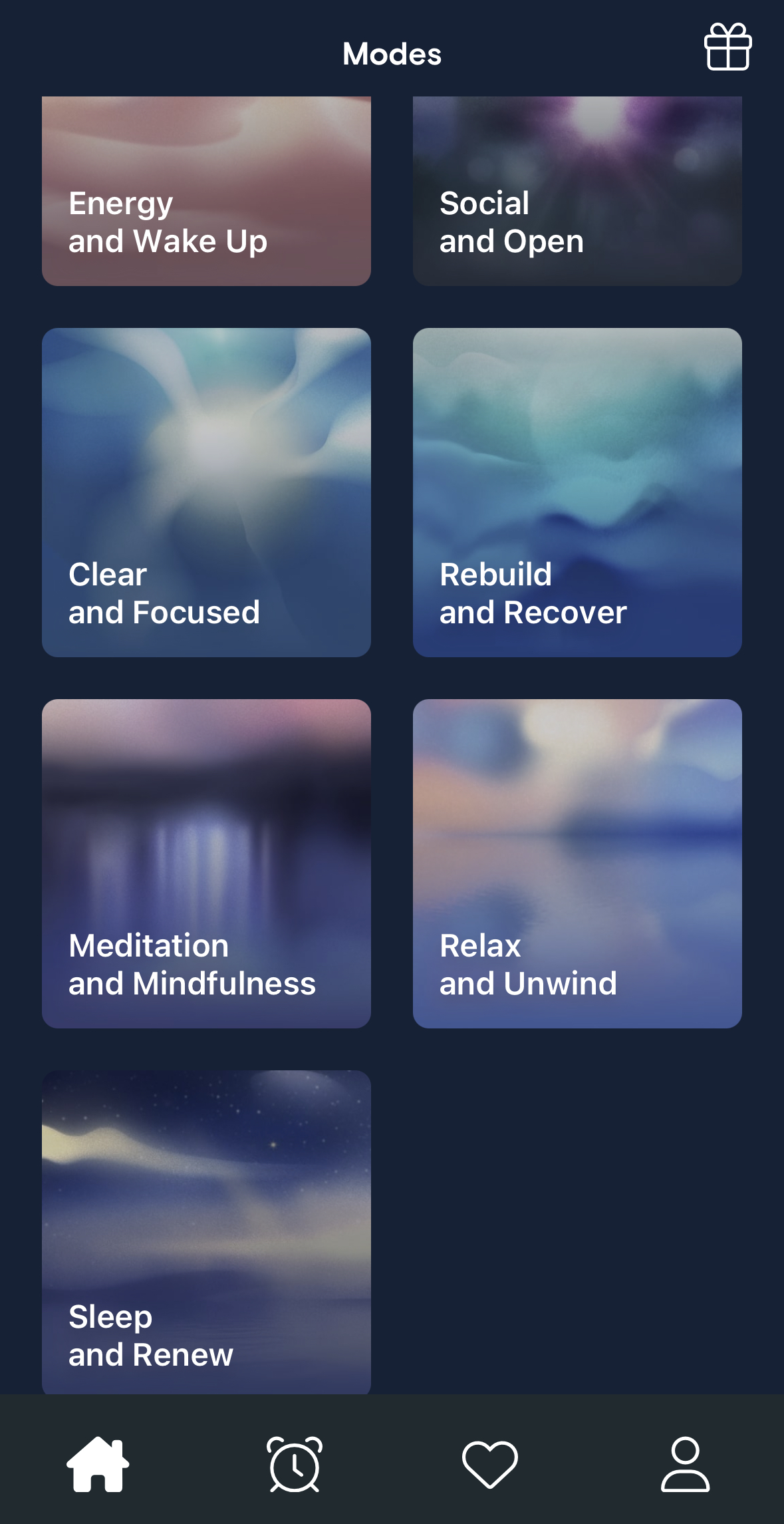 Once you select the mode you want to be in, you can choose the duration (between five and 120 minutes) and select the desired intensity. The company recommends starting at a low intensity (around 20 to 40 percent). You should be able to feel the vibrations, but they shouldn't be distracting or bothersome. It's normal to forget you even have it on while using it. Along with selecting the intensity in the app, there are two buttons on the side of the Apollo wearable where you can decrease or increase the intensity. You can also push both buttons at once for it to replay the last mode it was in.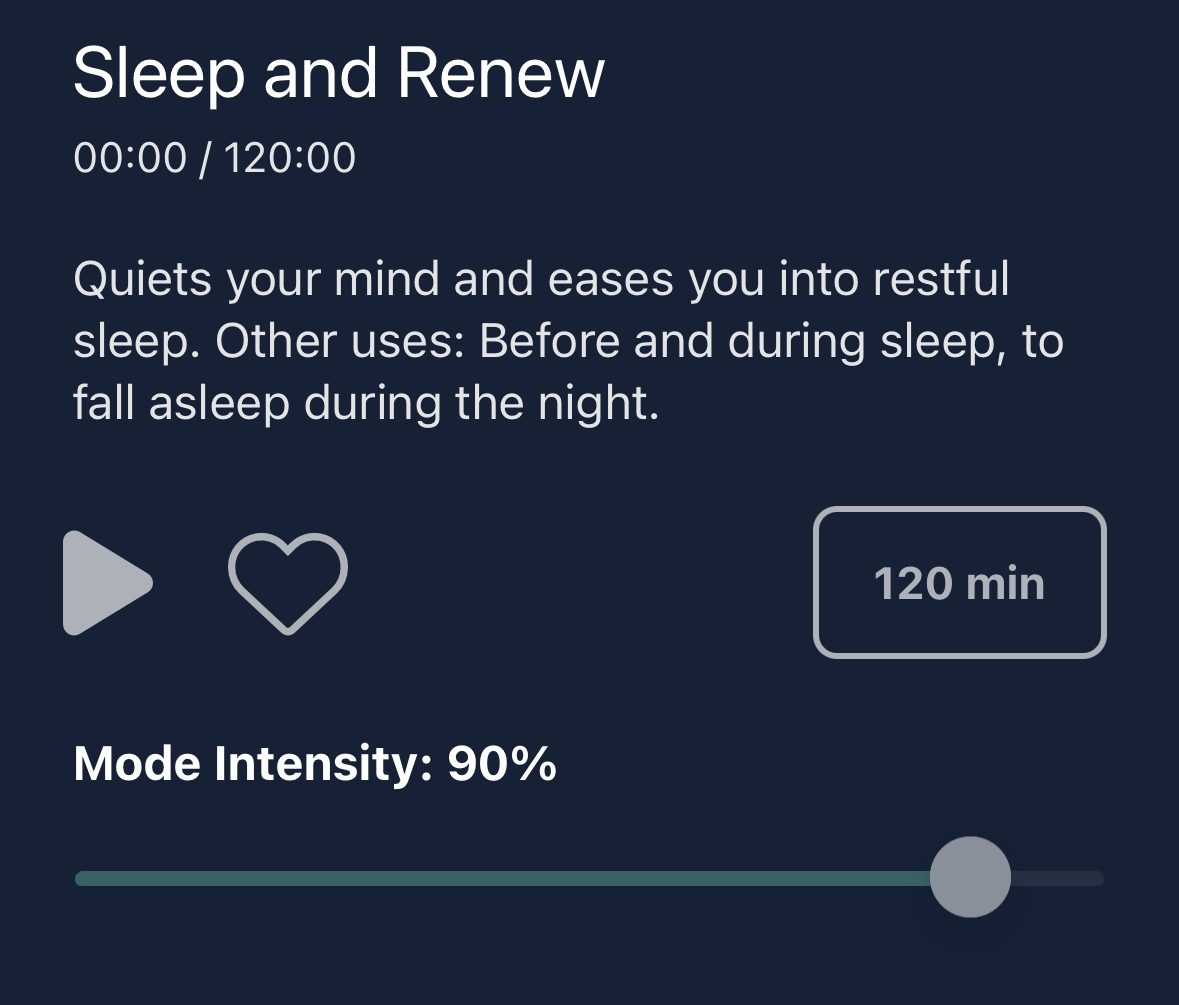 As I mentioned at the beginning of this review, it's recommended to wear the Apollo for at least three hours a day, five days a week. For the first 30 days of use, it's recommended to use it at least three hours a day for 30 days. You can wear it during the day and night. The company says you're more likely to see positive results the more you use it.
If remembering to change the modes throughout the day or night becomes an issue for you, you can use the scheduling feature and create your own routine for it to play the different modes throughout the day. The company recommends trying them all out to see what's best for you.
Apollo Wearable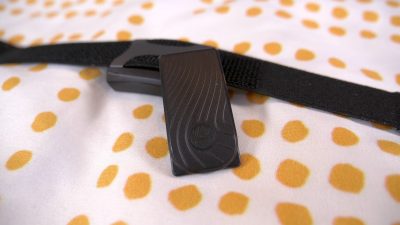 The Apollo Wearable is a device that can be worn on the wrist, ankle, or clipped to the user's clothing and provides calming vibrations in order to improve your sleep and overall health.
How Does the Apollo Neuro Work
To put it simply, the Apollo wearable uses touch therapy to signal safety to the brain. According to the company, it helps your body recover from stress and interrupts your fight-or-flight response by utilizing the biological connection between the sense of touch and emotional wellbeing. From the device's vibrations on your skin, your touch receptors can communicate with your brain and help rebalance your autonomic nervous system.
The company says your body responds to the Apollo like it would a warm bath, a loving cuddle, or a good song. The low-frequency vibrations can help calm the body, clear the mind, and keep you feeling safe and in control. Apollo says this can all lead to stress relief, improved heart rate variability, reduced blood pressure, and better sleep.
There have been a handful of clinical trials conducted on the Apollo wearable and more are in the works. Some of the preliminary results show people regularly wearing the Apollo experience:
You can learn more about the science behind it in this article where Sleepopolis spoke with Dr. David Rabin, Apollo Neuroscience co-founder and neuroscientist.
Price
The Apollo wearable currently costs $399 at full retail. It comes with free access to the Apollo Neuro app and is not a subscription-based product. It's a bit more expensive than a lot of wearable sleep devices on the market, but it also operates quite differently than them.
It comes in six different colors and three different band sizes. I tested out the color Stealth (black) in size medium.
Apollo Wearable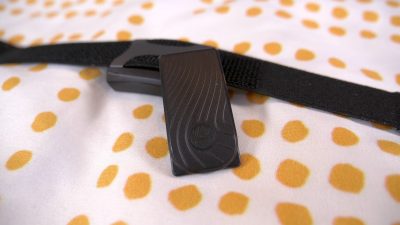 The Apollo Wearable is a device that can be worn on the wrist, ankle, or clipped to the user's clothing and provides calming vibrations in order to improve your sleep and overall health.
My Experience Using the Apollo
I was very intrigued to try out this product. It's unlike many other sleep devices because it's supposed to make you sleep better and feel better just by wearing it. A lot of other devices require you to change your routine and habits to see results. When the Apollo wearable first arrived, I thought it looked like a simple device and was easy to set up and put on. The app was also straightforward and easy to navigate. I mainly wore it on my ankle and my wrist, as I thought that was the easiest, especially since the company recommended wearing it on the ankle while sleeping.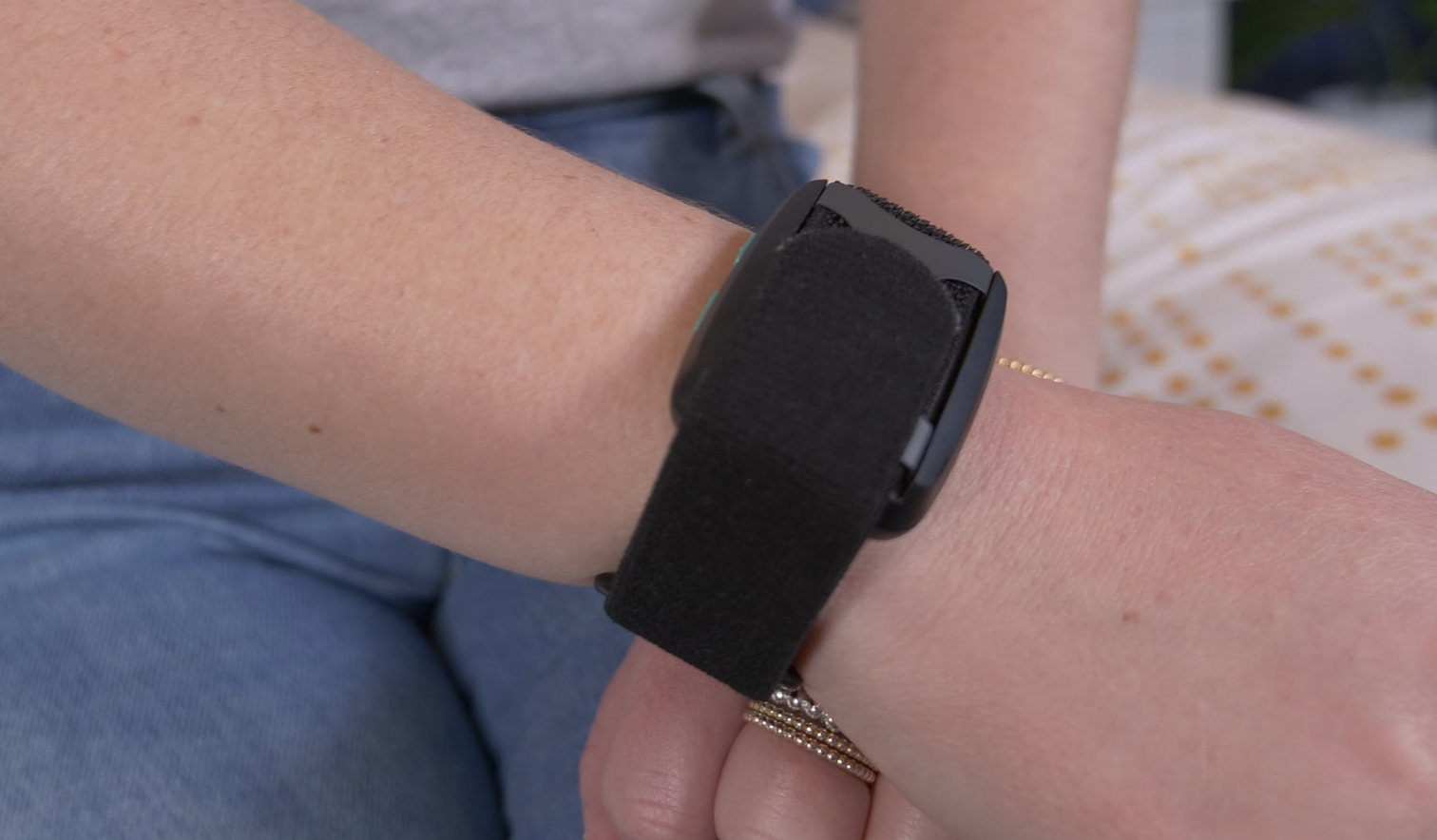 I quickly got used to wearing the Apollo and would forget it was vibrating at times. When I noticed them, the Apollo vibrations felt gentle and soothing. I liked how it promoted mindfulness throughout the day as I would think about what mode I wanted to be in. I most often turned to it for energy, to focus, to socialize, and to wind down before bed. I tried to sleep with it as much as I could as well. It took a little shifting around to figure out the most comfortable fit on my ankle while sleeping, especially since I'm a side sleeper, but I got the hang of it pretty quickly and stopped noticing it.
There was something surprisingly refreshing about thinking about how I wanted to feel when I would select the modes. It helped reset my mindset and focus on where I wanted to be in my day. I realized I started associating positive feelings with using the Apollo. For example, if I was going to change it to the focus mode to get some work done, then I also noticed I pushed myself a little extra to focus and felt confident about doing so. I don't know if this was due to the vibrations, or if it was some morph of the placebo effect.
As for the results after using it for more than a month… it's hard to say. I know, that's probably not the most concrete answer you were looking for, but I don't feel super different. I haven't noticed an intense change in my day-to-day feelings/energy levels or that I'm sleeping exponentially better. However, I've felt good throughout the days and have been sleeping well. I have other sleep trackers I've used while wearing the Apollo and they show my sleep patterns have been pretty consistent.
The company does say it's designed to work better the more you use it, and that it takes some people minutes to feel a difference from the vibrations, while it takes others weeks. I tried to use it for at least three hours a day, five days a week for a little over a month, but I probably could've stepped up my usage as a new user.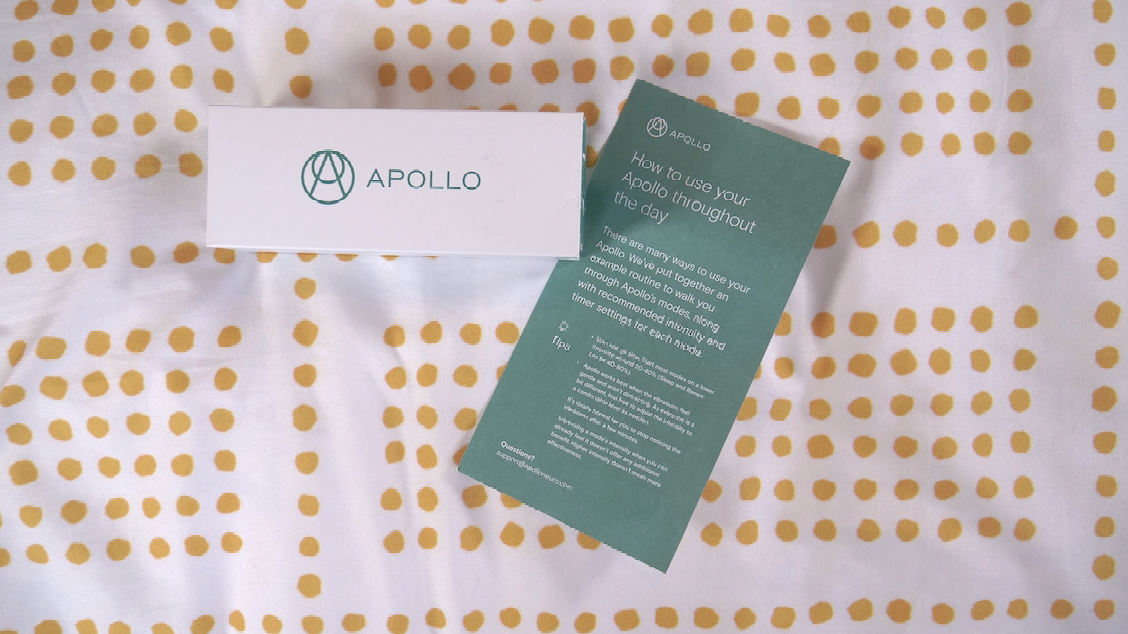 With all that being said, I wish there was some type of tracking linked to the Apollo wearable. I understand how that could be daunting for people if they see negative results or it can become easy to obsess over the results, but I like to track my progress with wearable technology and know how things are going through data. I also wish the battery life lasted longer on the Apollo. It became a daily task to keep it charged. This is common for a lot of wearables, though.
Overall, the Apollo becomes a part of your daily life. I recognize it may not be in everyone's price range, but I think it's worth trying out if you struggle with stress, anxiety, or sleeping, as it is science-based with some research backing it up and is easy to use. Some reviewers online say it's made a noticeable difference in their lives, from helping their sleep to their stress. However, there are skeptics, like Dr. Robert Shmerling with Harvard Health Publishing, who calls the Apollo a gadget without substantial evidence and marketing "that has gotten way ahead of science." If you're suffering from sleep or mental health issues, we always recommend talking to a medical professional or doctor first.
Apollo Policies and FAQ
How does the Apollo wearable ship?
It comes with free domestic shipping.
Does it come with a trial period or warranty?
Yes, it comes with a 30-day trial period with a money back guarantee and a 1-year warranty.
Where can I download the Apollo Neuro app?
You can download it on the App Store or Google Play. It works with iOS (iPhone or Apple Watch) or Android devices.
How long does it take to notice the benefits of Apollo?
The company says it takes up to 30 days of regular use to notice consistent changes in how you feel.
Can you sync the Apollo Neuro App with Apple Health?
Yes. You can link both accounts if you're an iOS user and track your Apollo usage as Mindful Minutes.
Is it waterproof?
The Apollo Neuro wearable is water-resistant, not waterproof. The company says they don't recommend wearing it in the shower, bath, or while swimming.
Does the Apollo wearable help with chronic stress?
The Apollo's gentle vibrations are designed to help with chronic stress by activating the parasympathetic nervous system, which helps relax and calm your body.
Apollo Wearable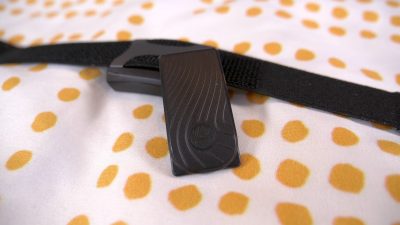 The Apollo Wearable is a device that can be worn on the wrist, ankle, or clipped to the user's clothing and provides calming vibrations in order to improve your sleep and overall health.
Other Products To Try
Interested in improving and tracking your sleep? Check out some of our favorite sleep trackers below.