If you're looking to upgrade your wake-up routine from a blaring iPhone or smartphone alarm, an alarm clock is a good place to start — especially a wellness-focused one like the Loftie Smart Alarm Clock. This alarm clock is designed to improve your mental wellness, help you wake up and fall asleep peacefully, and keep your phone out of the bedroom. Is it worth it though?
In this review, I'll go over everything you need to know about the Loftie Smart Alarm Clock to help you decide if it is the best alarm clock for you. Short on time? Skip ahead for a review summary.
Is the Loftie Smart Alarm Clock Right For You?
Before we fully dive in, I want to offer a quick overview of who I think would and would not like the Loftie Smart Alarm Clock.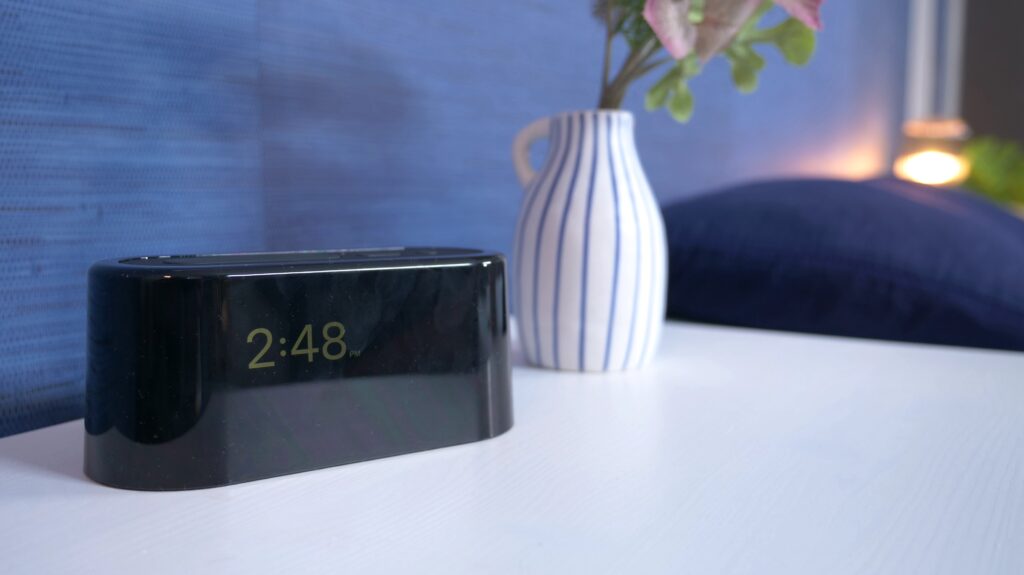 Who Should Try the Loftie Smart Alarm Clock
If you love utilizing white noise, soundscapes, or guided meditations, the Loftie Smart Alarm Clock is a great option for you. Loftie comes with a subscription to the brand's exclusive sound content, so you basically get a clock, sound machine, and meditation app in one.
If you are trying to keep your phone out of your bedroom, the Loftie could be a helpful option. While it does have an app you can use to set alarms and control the clock, there are also physical controls on the clock you can use — meaning your phone (and its blue light and stimulating content) stay away from you at night.
If you want to use your own music as a part of your wake-up or wind down routine, you'll likely appreciate how this clock doubles as a Bluetooth speaker.
Who Should Not Try the Loftie Smart Alarm Clock
If you want a sunrise feature, the Loftie isn't the best option. It does have a small nightlight, but does not have any sunrise/sunset light features.
If you have a tight budget, the Loftie may be a bit pricey. While I think you get a lot for the price (considering you are automatically subscribed to all their content forever), it's still a steep upfront cost compared to other alarm clocks on the market.
While you can operate the Loftie without your phone, it does require a connection to a WiFi-connected smartphone to operate, so folks without smartphones will likely want to consider a different clock.
How to Use the Loftie Smart Alarm Clock
Setting up the Loftie Smart Alarm Clock is pretty simple. All you'll need is your Loftie Smart Alarm Clock, a power outlet, and your smartphone.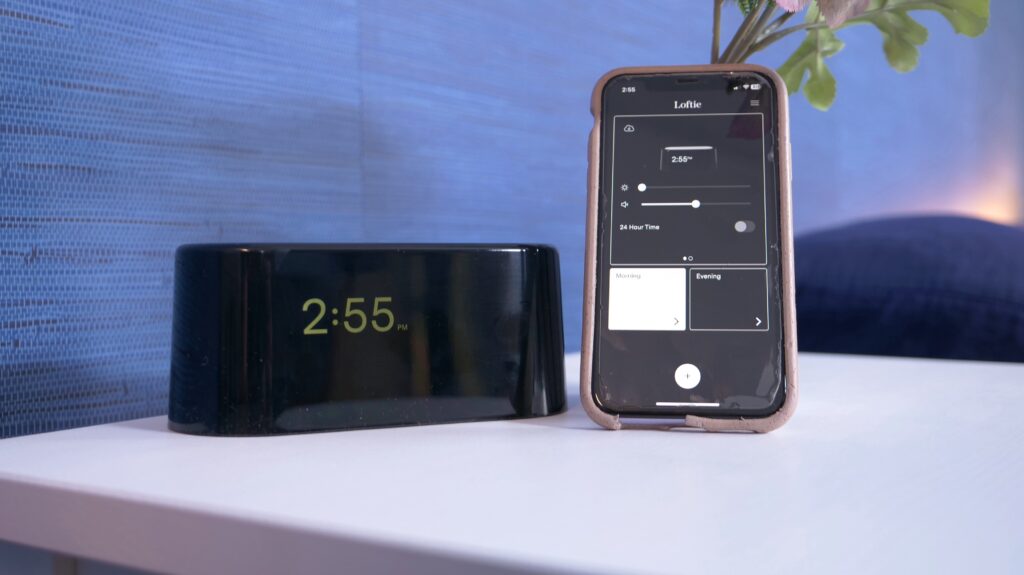 First you'll need to download the Loftie Smart Alarm Clock app onto your smartphone.
Then unbox and plug in your Loftie Smart Alarm Clock. When it is plugged in, the display should light up.
Open the app on your phone and choose the option to set up a Loftie. You'll have to make an account through the app, but it will otherwise guide you through the process.
The Loftie should connect to your phone via Bluetooth and then you'll have to select the WiFi network.
Once the Loftie is on the WiFi, it will start to update and download all the content for alarms and soundscapes. In my experience, this took about an hour, so allow some time for the clock to fully update.
After the Loftie finishes updating, you'll be able to start using it. You can control the Loftie via the app or with the arrow buttons on the top of the clock. You can use the arrows to cycle through options, which will be displayed on the front of the clock. These arrows can also be used to adjust volume.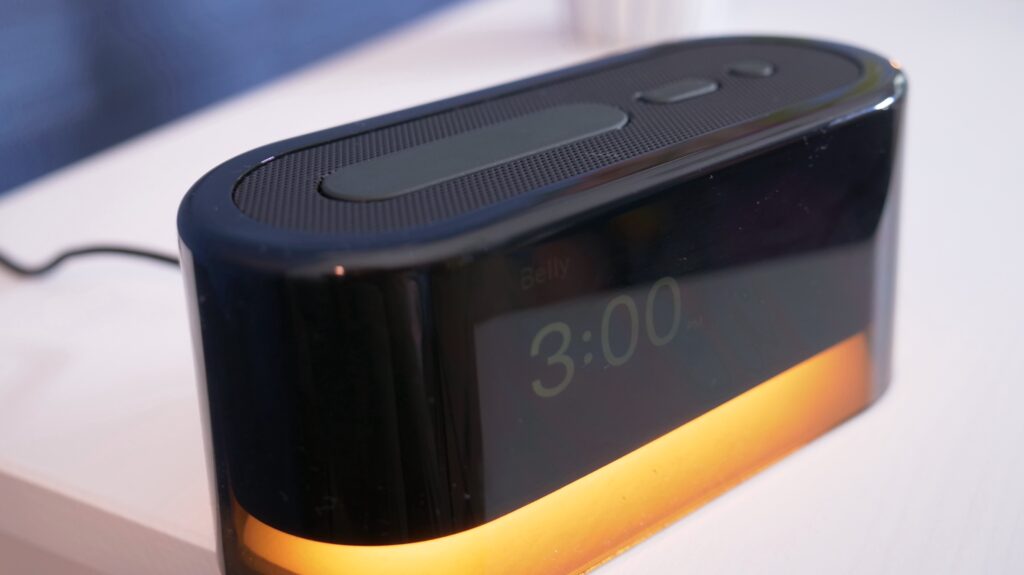 In addition to the arrows you'll use to navigate through the menus, there is a larger button which can be used to turn the night light feature on, snooze, or go back when cycling through the menus. The smaller circular button to the right of the arrows is the on/off button, can be used to select menu items, play or pause sound, or to turn off alarms. Or if you prefer, you can control many of these same functions through the app.
Loftie Smart Alarm Clock Features
Loftie Alarm Sounds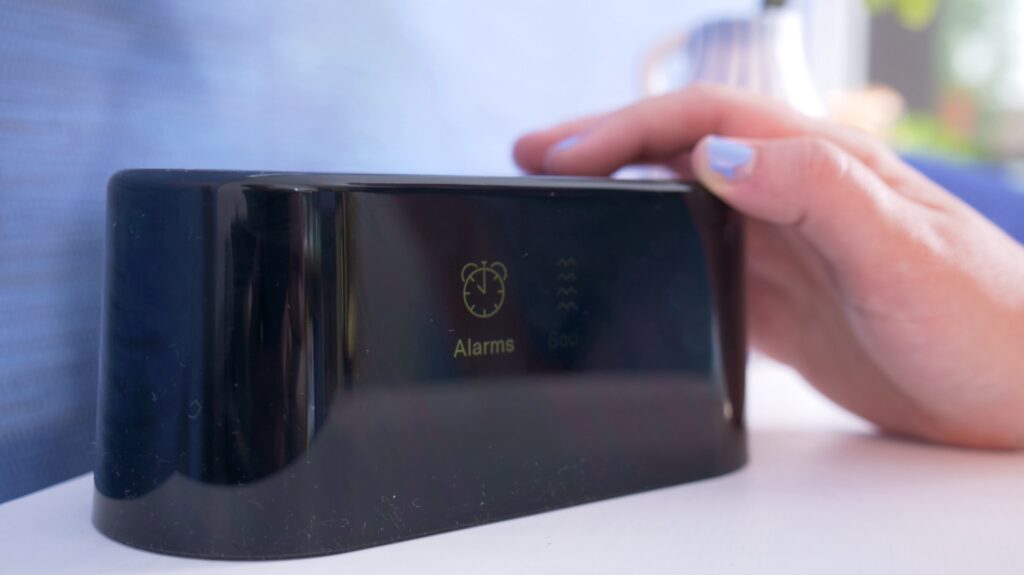 One feature that makes the Loftie Smart Alarm Clock stand out from a standard alarm clock is the sound options available through Loftie. Loftie has its own catalog of unique and original alarm sounds you won't find anywhere else. Alarm sound options include sounds like "Paradise," "Serene," "Bowls," "Gong," or "Waves."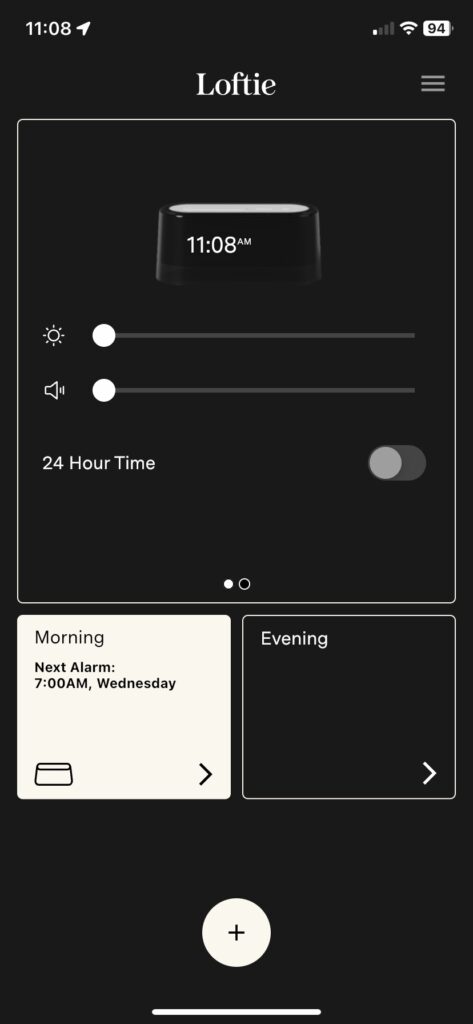 Loftie also has a unique two-phase alarm system, which essentially means two different alarms will go off to slowly wake you up. If you're the type of person who always hits snooze at least once or sets two alarms already, this could work well for you. The "wake-up alarm," intended to help you start to come out of sleep, will go off with one sound. Then nine minutes later, the "get-up alarm" that signals you to actually get out of bed will go off.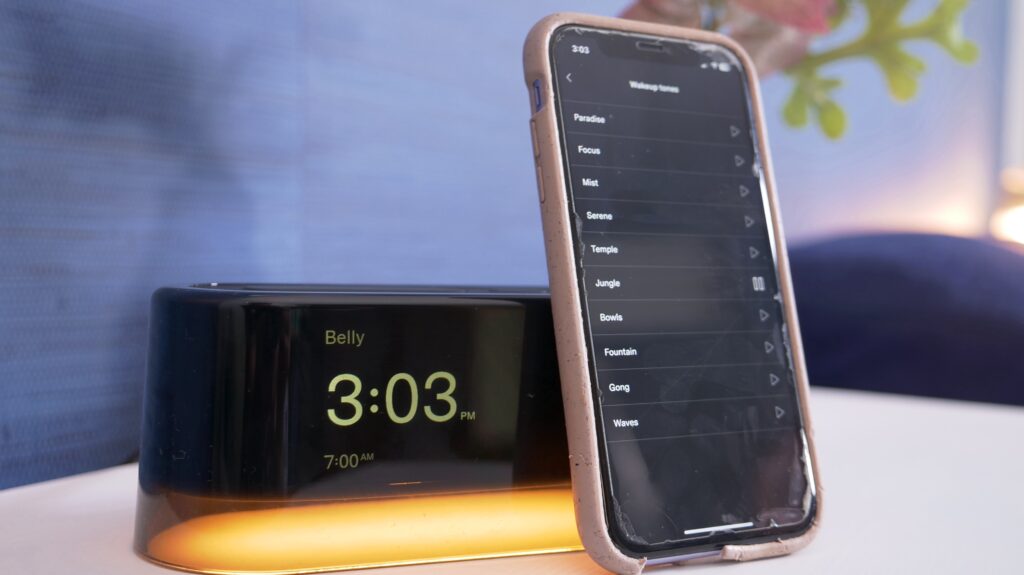 Loftie Bed Signal
Opposite of a wake-up alarm, the Loftie clock also has a bed signal feature, which is designed to signal to you it's time for bed. You can set your bed signal time through the settings menu or through the app. At the time you set, a short lullaby will play and the night light will turn on to signal it is time for bed.
Loftie Sound Content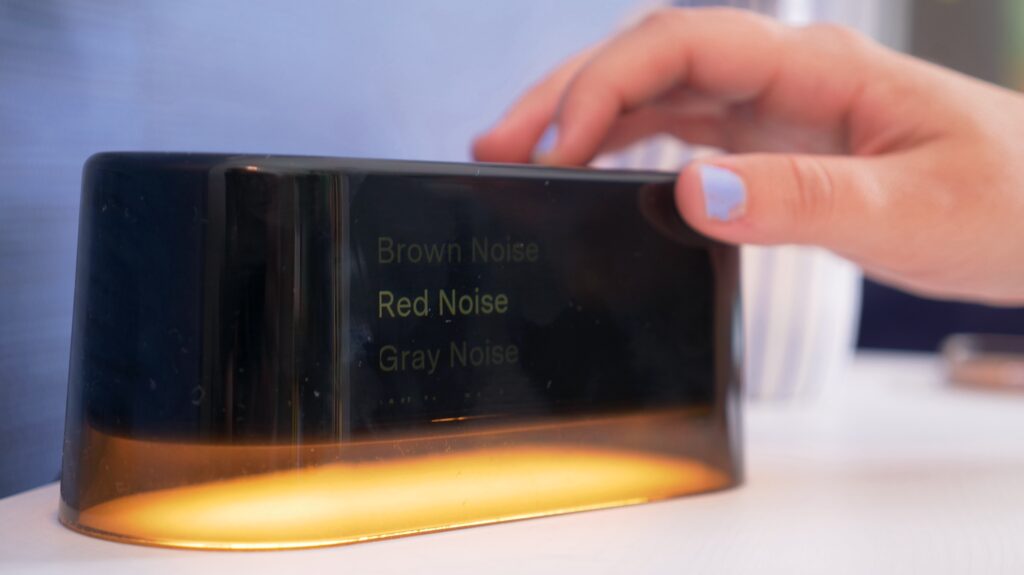 In addition to Loftie's original alarm sounds, you can also access a library of musical and wellness content through your Loftie clock. These sounds include white noise (and variations like pink noise or brown noise), nature sounds, soundscapes, guided meditations, and more. Loftie periodically updates their content library, so there will be new and fresh content and you are automatically subscribed — no need to pay extra for the updates.
Bluetooth
Loftie Smart Alarm Clocks also have Bluetooth capabilities, so you can use your Loftie as a Bluetooth speaker to stream music, podcasts, or any other audio from your phone.
Night Light
The Loftie has a night light feature, which lights up the lower part of the clock. You can easily turn this feature on and off with the largest button on the left of the clock or through the app. This light is fairly subtle — it won't light up a whole room, but does provide a similar amount of light to a wall plug-in night light.
Price
Price is always an important factor when shopping for any new addition to your bedroom. Currently, the Loftie Smart Alarm Clock retails for $149. Loftie does offer an option to finance the alarm clock through Shop Pay. You can also add accident protection for an additional cost.
My Experience Using the Loftie Smart Alarm Clock
After playing around with the Loftie Smart Alarm Clock for a while, I was pretty pleased with how easy it is to use and how many capabilities this little clock has. The navigation through the Loftie app and with the physical controls is simple and intuitive to figure out, which I appreciated. I've found products like this can be confusing to use if there are a ton of different buttons that aren't always clearly labeled, but Loftie has kept things understandable.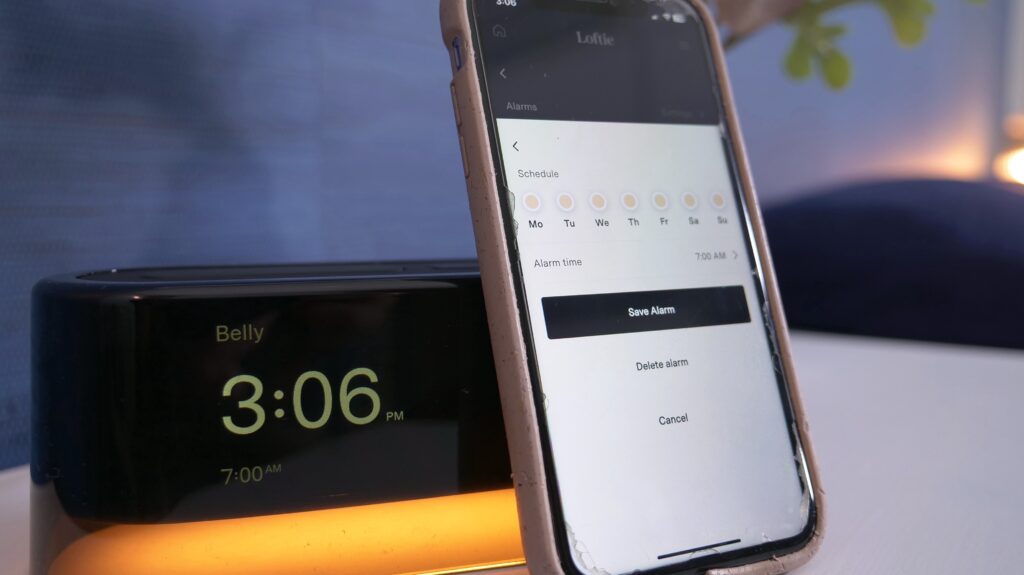 I enjoyed scrolling through all the different sound options to see what was available, testing out some of the guided meditations and sound baths. I also appreciated the variety of different alarm tones Loftie has on this clock. I spent many years using either my standard phone alarm or an older alarm clock — both of which blared loud and jarring beeps. The alarm sound options Loftie has are much more conducive to a pleasant wake-up experience.
Personally, I'm not much for nighttime sounds or wind down bedtime stories/meditation/breathwork, but I think if you're interested in that type of content, the Loftie is likely worth the price tag. It not only functions as a relaxing, customizable alarm clock, but also as a sound machine. You can definitely limit the number of gadgets on your nightstand with the Loftie alarm clock, since it is so multifunctional — it's an alarm clock, sound machine/white noise machine, Bluetooth speaker, nightlight, and meditation app all in one.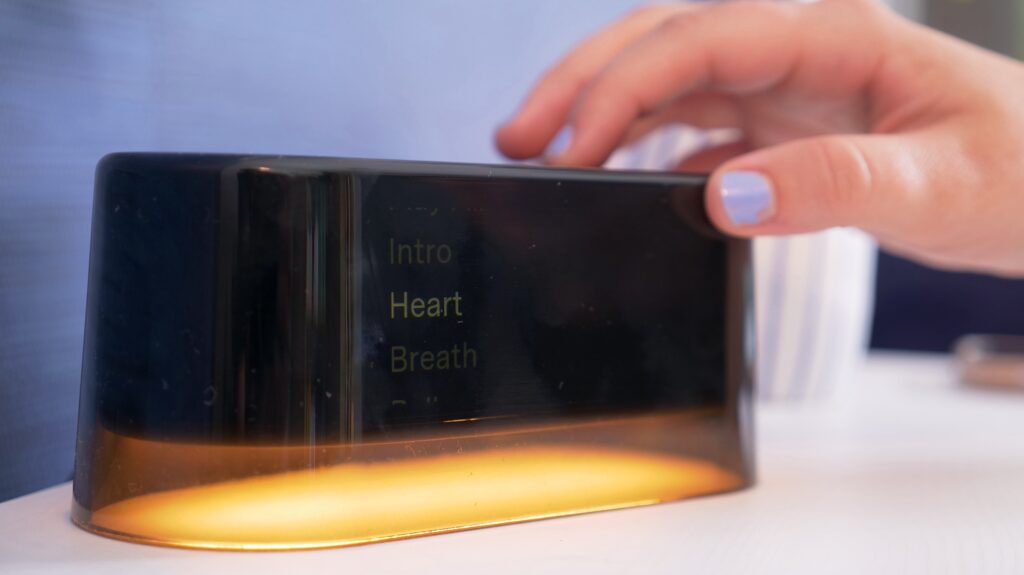 Another feature I really appreciated is how dim the display on the clock is. Some alarm clocks cast a bright light in your bedroom at night, but the screen doesn't emit much light at all. And if you want to, you can put the clock in blackout mode to prevent even the small amount of light coming from the display.
The only thing this clock really lacks compared to other "smart clocks" is that it's not a sunrise alarm clock — there is no option to use light as a part of your alarm. However, I think Loftie definitely provides more than its competitors with the playlists, soundscapes, guided meditations, and other content that is provided for free. Some similar clocks like the Hatch Restore require an additional subscription for similar content.
Policies and FAQs
Does the Loftie Smart Alarm Clock have a trial period?

Yes, Loftie offers a 60-night trial period for this alarm clock.
Does the Loftie Smart Alarm Clock come with a warranty?

Yes, the Loftie comes with a 1-year warranty.
How does the Loftie Smart Alarm Clock ship?

Loftie ships for free within the United States. They don't currently ship internationally, but there are some third-party retailers that carry Loftie and do ship internationally.
Can you use the Loftie Smart Alarm Clock without WiFi?

No, the Loftie does require a WiFi connection to use.
How does Loftie wake you up?

The Loftie uses a two-phase alarm system. When you set alarms on Loftie, it will go off twice: once to wake you up and another to signal its time to actually get up.
Other Products To Try