Withings is a company that creates a variety of high-tech products to help monitor your sleep, heart, and overall health. In this review, I'll be testing out the Withings ScanWatch, which is a hybrid smartwatch (it has the look of an analog watch) designed to do all of the above. I'll be narrowing in on its sleep tracking function but will also tell you about its other components, how it works, specs, and more.
The Withings ScanWatch breaks down your sleep duration, regularity, interruptions, and depth, then gives you an overall sleep score. It's FDA-cleared for some of its health and wellness features and described as having state-of-the-art technology, but is it the right sleep tracker for you? Keep reading to find out or skip to my Withings ScanWatch review summary for the highlights.
Note: Although sleep trackers may help you notice specific patterns or pinpoint behaviors you'd like to change, they shouldn't take the place of a doctor or medical professional for advice, guidance, or help.
Withings ScanWatch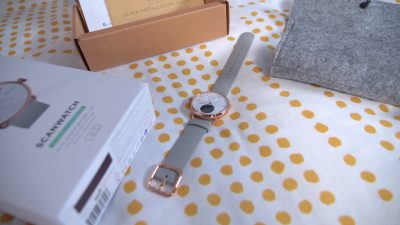 The Withings ScanWatch is a hybrid smartwatch with medical-grade components designed to help monitor your sleep, heart, and overall health.
Sleepopolis Score
4.50 / 5
Read Full Review
Is the Withings ScanWatch Sleep Tracker Right For You?
Before we fully dive in, I want to offer a quick overview of who I think would and would not like the Withings ScanWatch.
Who Should Try the Withings ScanWatch
Anyone looking for a high-end sleep tracker that doubles as a

stylish and functioning watch.

This has, in my opinion, a really classy, attractive analog design and could work for people with a variety of styles. Withings offers a ton of different face plate and band designs too for the ScanWatch.

People looking to

improve their sleep health

and get more consistent with their sleep patterns should like this watch and the components it tracks.

Athletes of all kinds and those who love fitness trackers

should appreciate how you can monitor individual workouts and fitness metrics, including swimming (it's water-resistant!), with this wearable watch while also seeing your heart rate and blood oxygen levels.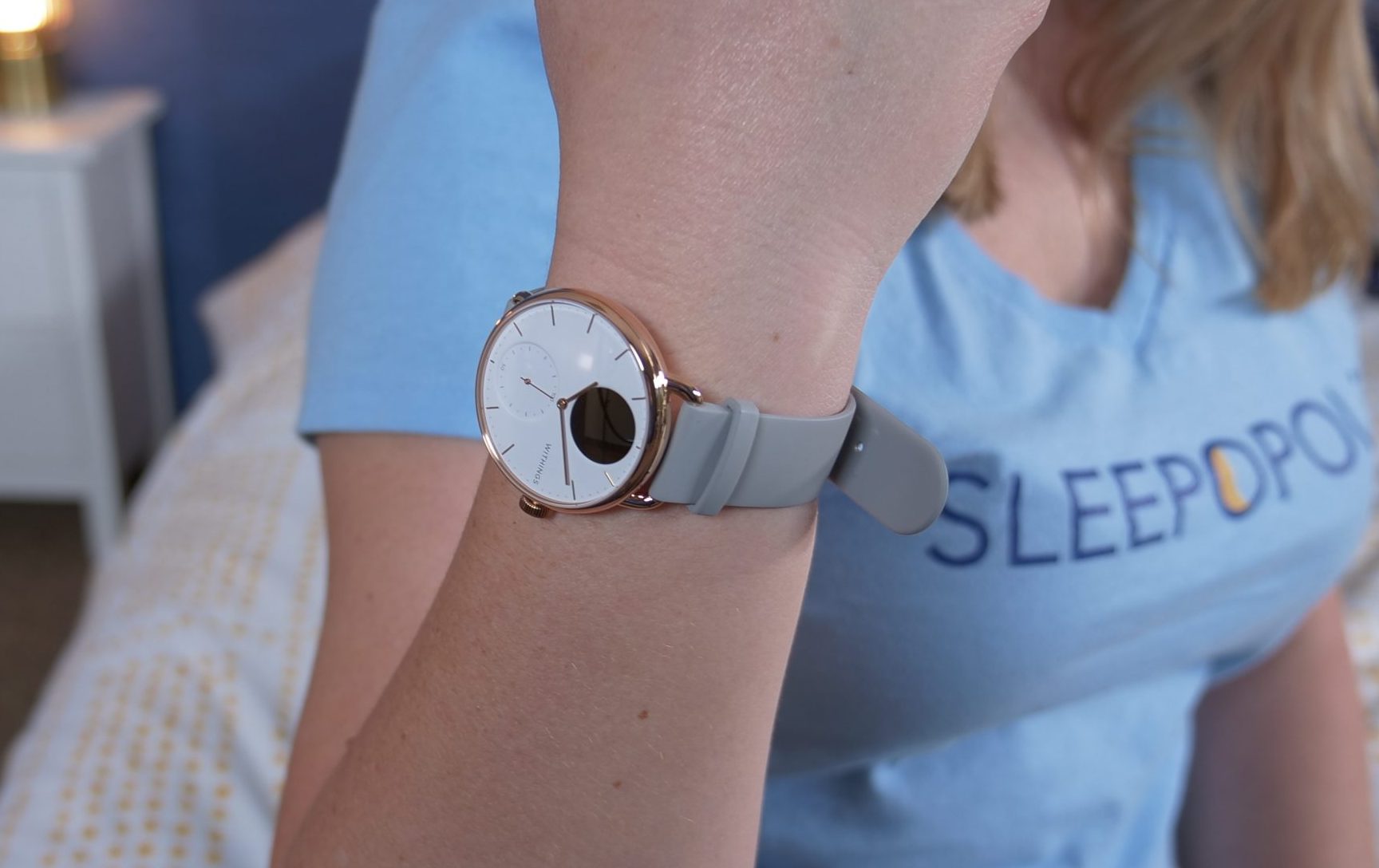 Who Should Not Try the Withings ScanWatch
If you think you may get

stressed or obsessed with tracking your sleep

(especially when you don't always have great results), I think having a sleep tracker could become unhealthy and could lead to

orthosomnia

, which ultimately can hurt your sleep quality.

Anyone who's

not a fan of wearing watches

will probably not like this product. Although it's comfortable, it is just like wearing a typical watch and took me a few days to get used to sleeping with. 

If you

don't have a smartphone

and the ability to download the app to link to the watch, you won't be able to access your sleep health data. It's compatible with iOS 14 or later, Android devices 8 or higher, and iPhone 6s or later.
How To Use the Withings ScanWatch
The Withings ScanWatch arrives with the watch connected to its band, a charger, a manual, and a case/pouch for everything to go in.
Setting Up the ScanWatch
I thought it was quite easy to get the ScanWatch set up. You download and install the "Health Mate" app on your phone and use your email address to create your account. After answering a few simple questions about yourself and your goals, your account is ready to go. You can also sync the Withings Health Mate app with other health apps on your phone, like Strava, to keep your information stored in one place. 
After you have the app on your phone, you can pair it with your smartwatch using bluetooth. The watch automatically sets the right time and confirms it with you. 
Battery Life
The ScanWatch comes with a charger that you place the watch on and connect to a USB outlet. It takes about two hours to fully charge and the battery can last up to 30 days between charges, which really impressed me and is longer than a lot of other trackers I've seen. You can check the battery percentage on the watch display.
How to Use
When setting up the watch, you can select your goals and what's important to you to track, i.e. sleep, working out, heart rate, etc. Then you simply wear the watch and go about your day/night. Sleep and health tracking results show up automatically in the app for you. You'll also receive notifications on the watch face and on your phone as you use it.
Withings ScanWatch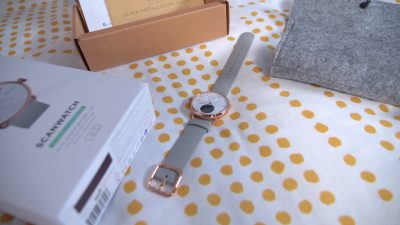 The Withings ScanWatch is a hybrid smartwatch with medical-grade components designed to help monitor your sleep, heart, and overall health.
Sleepopolis Score
4.50 / 5
Read Full Review
What the Withings ScanWatch Tracks
When you're looking at just the watch by itself, you can scroll through its circular digital screen using the crown (small knob on the side) and see the following smartwatch features and activity tracking: 
The time and date

Your heart rate beats per minute

Your step count

How many miles you've walked/ran

How many floors you've climbed

ECG readings (heart rate pace and strength), which Withings says can help detect atrial fibrillation (AFib) 

SPO2 (blood oxygen levels) via an oximeter

You can start, stop, and track specific workouts (but it will also automatically track them)

The specific fitness tracking categories are running, swimming, cycling, walking, and other (with "other" being everything else outside of those specific exercises)

Breathing exercises

A clock setting for an alarm clock, stopwatch, or timer

Calories
You can choose which of those categories you want to appear on the watch. When you log into the Health Mate app, you can see more specific tracking and information. I'll go over these health features more below. 
Sleep – You can view your sleep daily, weekly, and monthly sleep patterns on the app. It shows you: 
How long you slept for

How long you were in deep or REM sleep and when

How long you were in light sleep and when

How many times you woke up in the night and when

How many breathing disturbances you had and when

What your average sleep heart rate was

How regular your overall sleep patterns/schedule are 
These categories can have different scores, like poor, average, or good, and it will give you an overall sleep score out of 100. The sleep score itself is based on your sleep duration, depth, regularity, and interruptions. You can look at your daily, weekly, and monthly results. You also have the ability to share your data with a doctor or anyone else you'd like to as well. I think this could be a really helpful feature for anyone concerned with their results.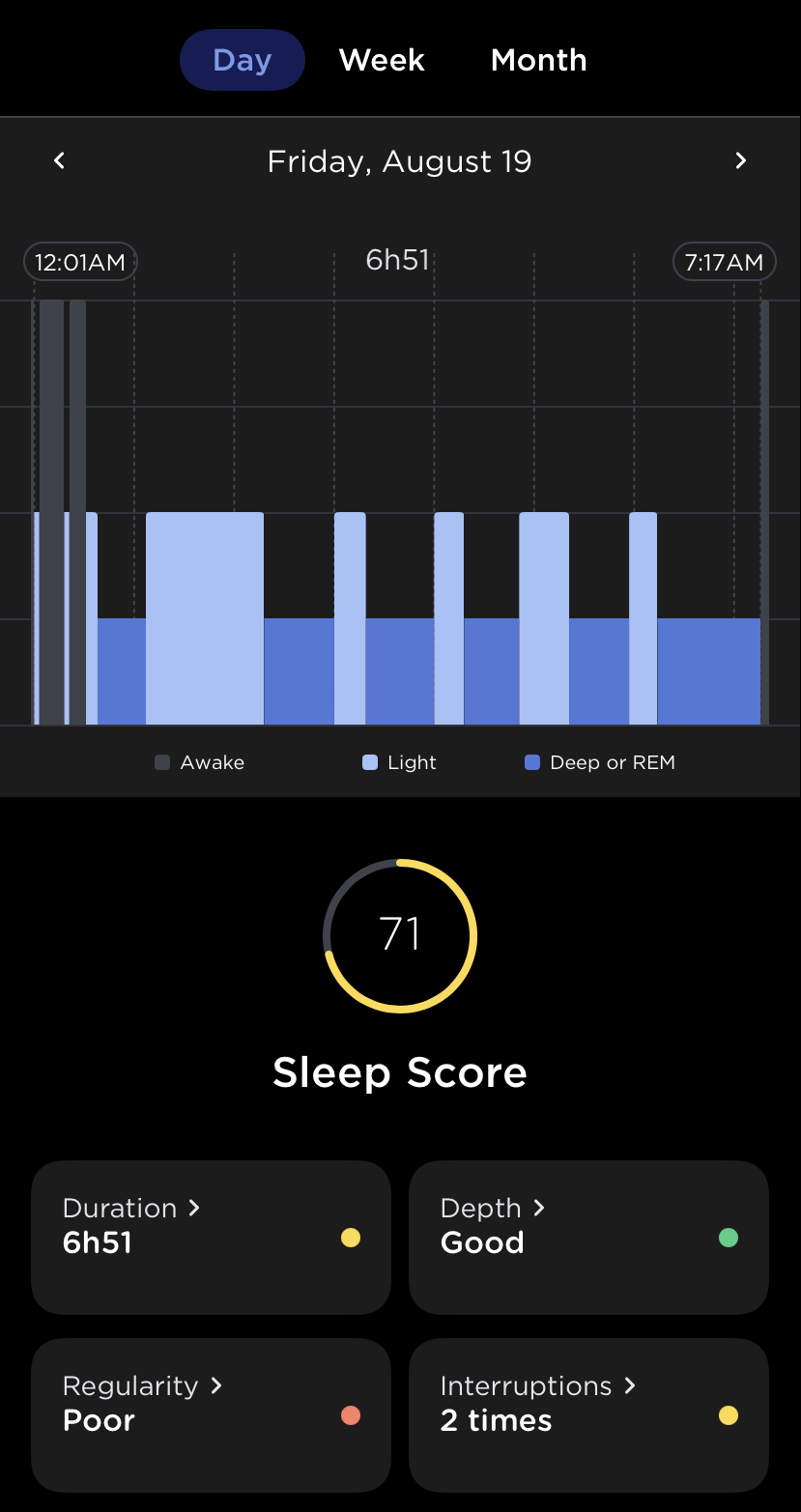 Oxygen Saturation Level – The ScanWatch has a sensor that's been clinically tested in order to record your blood oxygen levels. 
Exercise – Along with tracking your daily steps, miles reached, and floors climbed, you can see your specific workouts and performance highlights. You can set specific exercise goals and enter notes if desired. You can also link it to your GPS to track your physical movements.
BMI – You can enter your height and weight for it to also update your body mass index (BMI).
Nutrition – Withings is teamed up with the app MyFitnessPal in order to keep track of your nutrition and calorie intake — if you choose to use it.
Price
Price can be a very important factor when it comes to buying new sleep products. The ScanWatch currently starts at $279.95 and the app is free to download and use. I'd say this is a pretty average price for a high-quality smartwatch with sleep tracking abilities.
The ScanWatch comes with a stainless steel case in 38 mm or 42 mm in either gold or silver with the following face cover options: black, white, and blue. It has sapphire glass, which is strong and built to be scratch-resistant. There are also more than a dozen different bands to choose from consisting of different colors, styles, and materials. 
I tested the gold watch with a white face cover and a gray silicone band.
Withings ScanWatch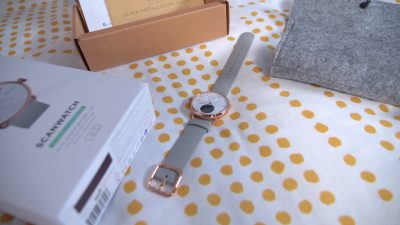 The Withings ScanWatch is a hybrid smartwatch with medical-grade components designed to help monitor your sleep, heart, and overall health.
Sleepopolis Score
4.50 / 5
Read Full Review
My Experience Using the Withings ScanWatch
I was immediately impressed with how easy it was to set the ScanWatch up and how high-tech it is. I also personally really like how it looks like a nice watch — I was actually complimented on its appearance multiple times.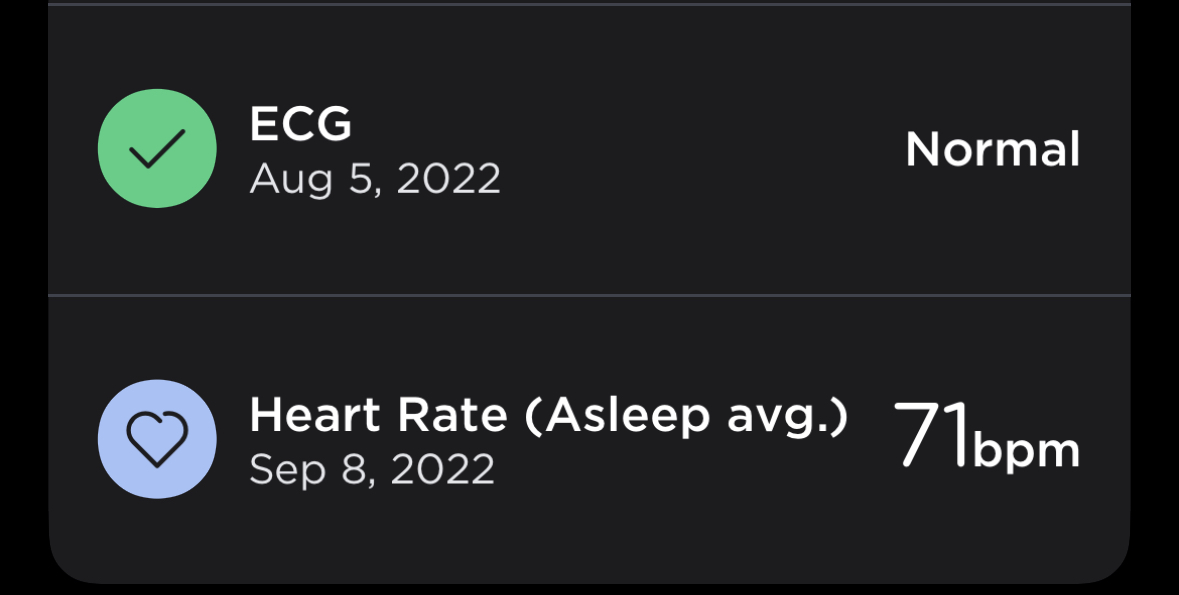 I think the heart rate and ECG monitoring could be really beneficial for a lot of people and could even bring attention to deeper medical issues. For the actual sleep tracking, I enjoyed learning about my sleep patterns and seeing where I had room for improvement, especially when it comes to waking up and going to bed at consistent times. It was interesting to see how I would wake up multiple times a night and could sometimes remember the specific wake-up moments the tracker was documenting. I also noticed when I had a trend of not going to bed at the same time each night, I felt groggier — and the watch results backed that up. I've always known I'm not the best at keeping the same bed time, but it made me want to work on it more when I'd see the results in front of me and see how my sleep score would improve when I was sleeping more consistently.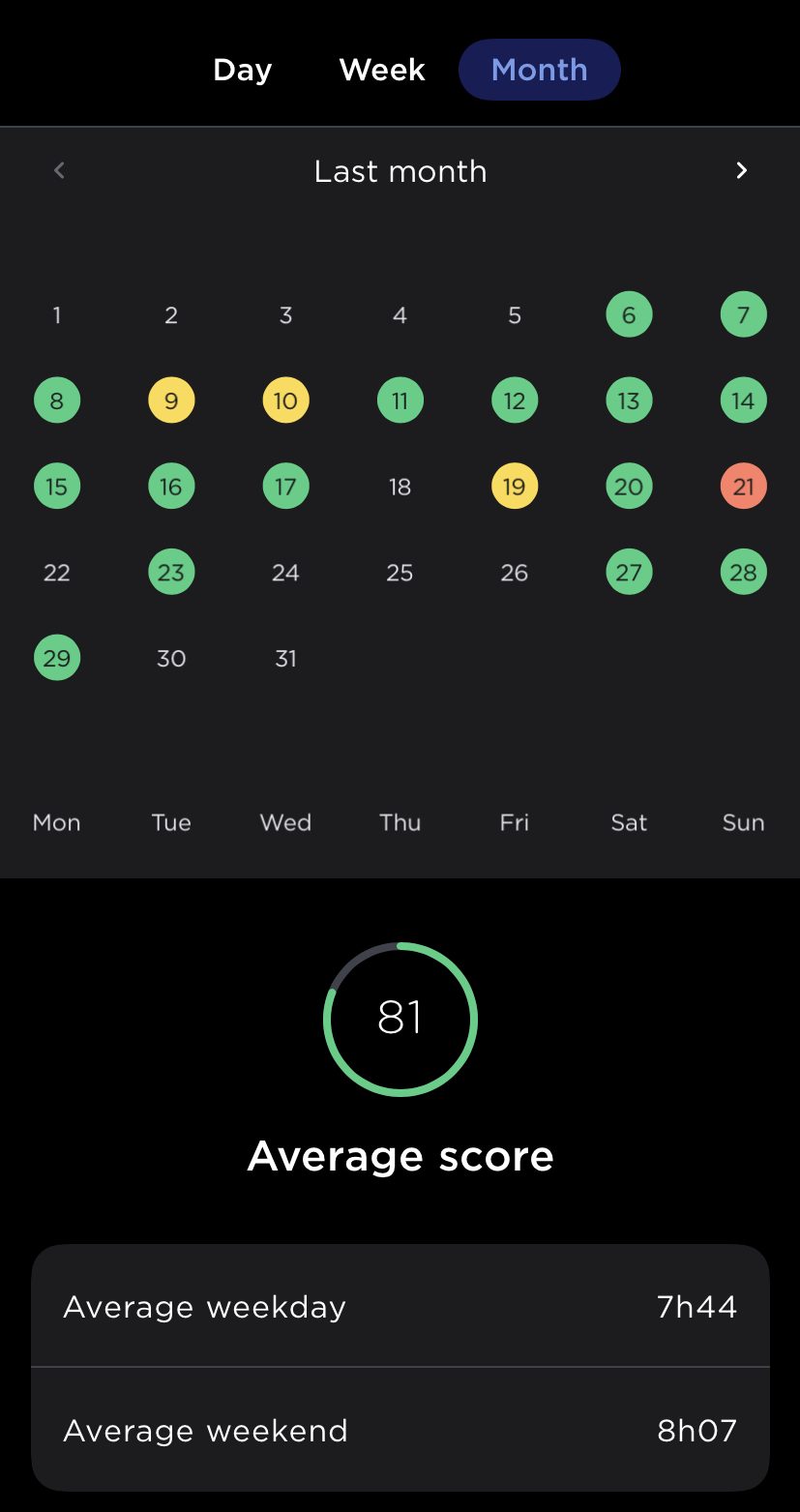 One of my favorite parts of the tracking was seeing the exact amount of sleep I got and how high-quality it was, down to the minute. This not only helped me realize if I was falling asleep fast enough and getting an adequate amount of deep sleep, but it also really made me want to do better after seeing some of the nights where I got little sleep. For example, one night I got four hours and 40 minutes of sleep, which I know isn't enough for me personally. I always aim for at least seven hours if I can get it, but I never fully know when I fell asleep or how many hours I truly got if I wake up in the night. Seeing how low that sleep time was and then connecting it to feeling really drowsy that day made me want to get to bed earlier the next night.
Another aspect I liked about the tracking is how it's not based on sleep debt. If you sleep poorly one night, you don't owe more hours of sleep to make it better. Instead, each night can be a clean slate that goes into your overall score. As someone who likes to track their fitness and steps, I also appreciated having these features on the app and how the app had all the information I could possibly want in one place for everything. I really appreciate the 30-day battery life and that you don't need to pay for a subscription to access your tracking information or use the watch.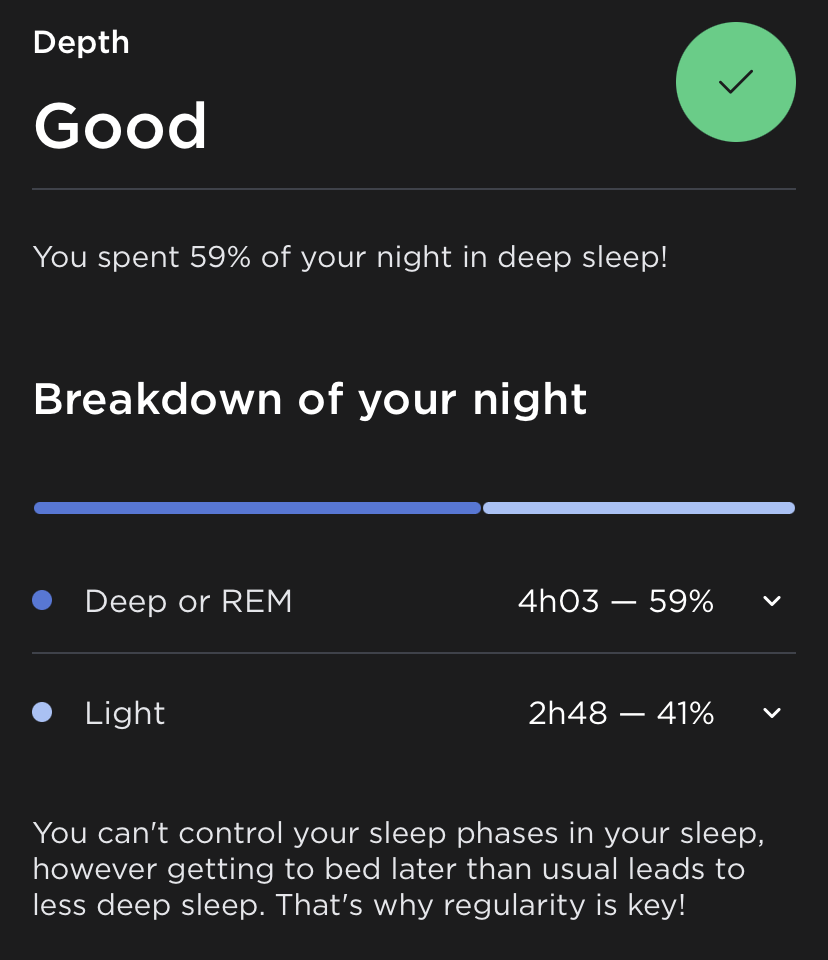 It did take me some time to get used to sleeping in the watch though, as it's not the most natural sleep accessory for me. But after a few nights, I didn't really notice it. I do think having a device like this is super helpful for anyone looking to monitor and improve their sleep habits, but it can be daunting and stressful when you get a bad sleep score. My sleep score got as high as 94 and as low as 31 (#travelproblems) in the weeks that I used it, so I could see how it could be easy for some people to fixate on the low score and carry that concern into the bedroom at night — which would ultimately make your sleep suffer more. It's important to keep in mind that every night is not going to be a perfect sleep night — and that's okay.
Withings ScanWatch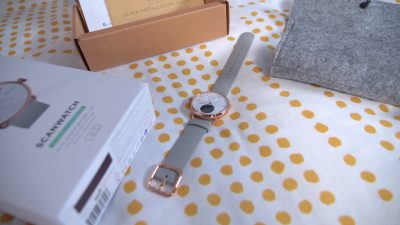 The Withings ScanWatch is a hybrid smartwatch with medical-grade components designed to help monitor your sleep, heart, and overall health.
Sleepopolis Score
4.50 / 5
Read Full Review
Withings Company Policies and FAQ
How does the ScanWatch ship?
It ships for free internationally with USPS standard shipping. It typically takes about two to five business days to arrive.
Does Withings offer a trial or warranty with this watch?
Yes, the company offers a 30-day trial and a 2-year warranty.
Are there different watch models?
Withings offers four different hybrid smartwatch models for sleep and health monitoring: the ScanWatch, ScanWatch Horizon, Steel HR, and Pulse HR. The ScanWatch is the middle-priced option. The company also sells smart scales, a sleep tracking mat, a blood pressure monitor, and a smart thermometer.
What benefits are there to the sleep monitoring of oxygen saturation levels?
Withings says the medical-grade SpO2 sensor in the watch could help flag breathing disruptions that could be a sign of sleep apnea or another health issue. Sleepopolis always recommends talking to a doctor or medical professional if these concerns arise or if you're in search of sleep apnea detection.
Is the Withings ScanWatch waterproof?
The ScanWatch is water-resistant and can withstand a pressure similar to that of 165 feet. It can be used while swimming, showering, or dishwashing. However, it can't be used for diving or snorkeling. I showered and also swam while wearing this watch and had no issues.
How does the ScanWatch's price compare to the Apple Watch?
The Withings ScanWatch is around the same price as the Apple Watch SE, which is Apple's most affordable smartwatch model.
Withings ScanWatch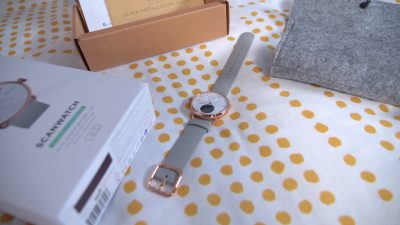 The Withings ScanWatch is a hybrid smartwatch with medical-grade components designed to help monitor your sleep, heart, and overall health.
Sleepopolis Score
4.50 / 5
Read Full Review
Other Products To Try