If you've ever wondered what Layla pillows are all about, you've come to the right place, because I'm about to review the brand's Kapok and Memory Foam options. One is said to be plush and airy, while the other focuses on firmer support… But which one is the best fit for you?
Well, keep reading my Layla pillow review because I'm about to point you in the right direction. I'll show you what they're each made of, how they feel, and how they perform in every position so you can make the best choice!
Black Friday Sale - $20 Off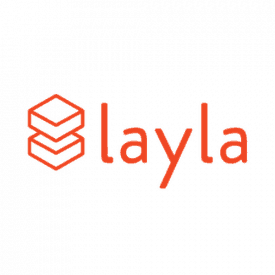 A copper infusion in the cover helps to make the Layla pillow ultra cool and comfortable. 
Brand Snapshot
Founded in 2016, Layla quickly established itself as a popular choice within the world of bedding. From mattresses and sheets to pillows and weighted blankets, this brand aims to cover all its bases. We at Sleepopolis have already had the pleasure of testing Layla mattresses and sheets, but today is all about the pillows.
Now, the Layla Kapok pillow was released about two years prior to the Layla Memory Foam pillow (and I'm already quite familiar with it!). But as I write this, the Layla Memory Foam is still relatively new, and I'm very excited to see how it compares to the original pillow. Let's get started!
What Is The Layla Pillow Made Of?
Before we get into my personal experience testing these pillows, let's open 'em up and see what they're made of.
Layla Kapok Pillow
The Layla Kapok pillow is covered in a blend of polyester, viscose, and a little bit of poly-lycra. The small percentage of poly-lycra gives the cover fabric some stretchiness, while the polyester and viscose make it feel super soft and cozy.
What's neat about this cover fabric, though, is the copper yarn that's discreetly woven into the fabric. Many bedding brands infuse sleep accessories with copper because it can serve to draw heat away from the body, and make for a cooler snooze. This can be particularly beneficial when it comes to memory foam, as this material has a reputation for trapping heat.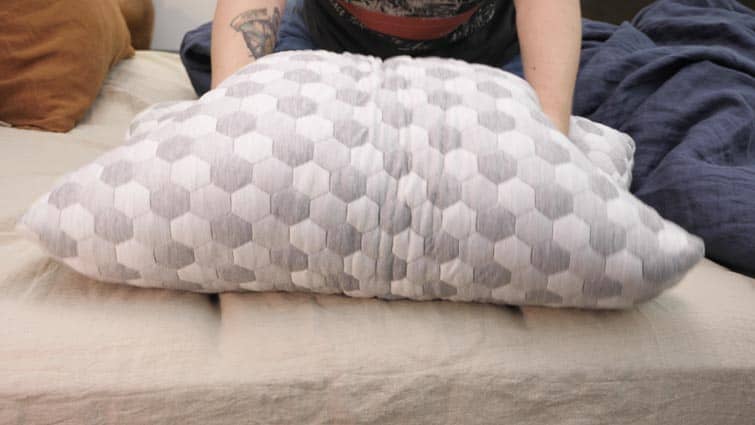 More: Check out my best cooling pillows review!
As far as what's inside this pillow, a blend of shredded memory foam and Kapok combine to offer a plush, airy, and supportive feel. For those unfamiliar with the material, Kapok is a natural tree fiber that is often used as a down-alternative. It's fluffy, lightweight, and boosts the softness of this pillow. Meanwhile, the shredded memory foam adds density, moldability, and firmness for an overall balanced feel.
What stands out about this pillow is its exceptionally lofty profile of 7-inches. In fact, the Layla Kapok pillow is the loftiest pillow I've ever tested, which makes it a great pick for side sleepers. Side sleepers typically need a high-lofted pillow in order to relieve shoulder pressure and align the spine. That said, the internal fill is adjustable, meaning you can unzip the cover and remove as much stuffing as you like.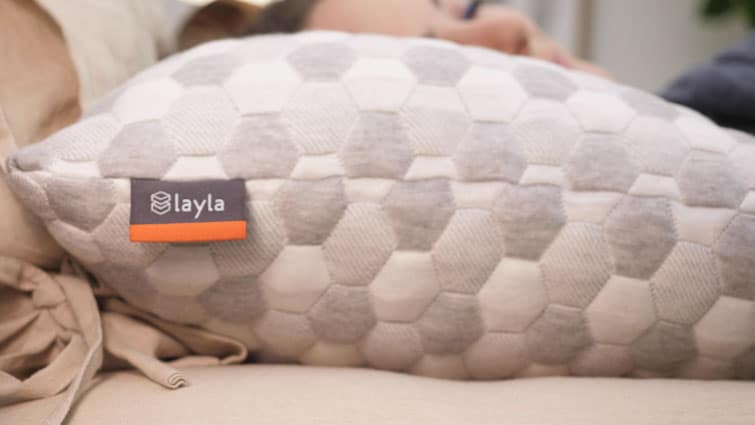 Okay, sleepers, now let's see what the Layla Memory Foam pillow has to offer, shall we?
Layla Memory Foam Pillow
The cover fabric of this pillow is made from 100% polyester, and feels very soft to the touch. Remember that polyester is naturally moisture-wicking, so while you're not getting the potential benefit of copper here, it's still working to wick sweat.
Then, inside the cover fabric, is an internal polyester casing that houses the internal fill. In my opinion, this is a big perk because it makes wash care much easier. When you want to wash the cover fabric, that inner casing is there to keep the stuffing protected and in tact.
As you might have already guessed, the internal fill itself is made from shredded memory foam, but there's some polyester fiber in there as well. Similar to Kapok, polyester fiber is frequently used as a down-alternative because of its fluffy, lightweight feel. But it's important to note that polyester is not a natural material.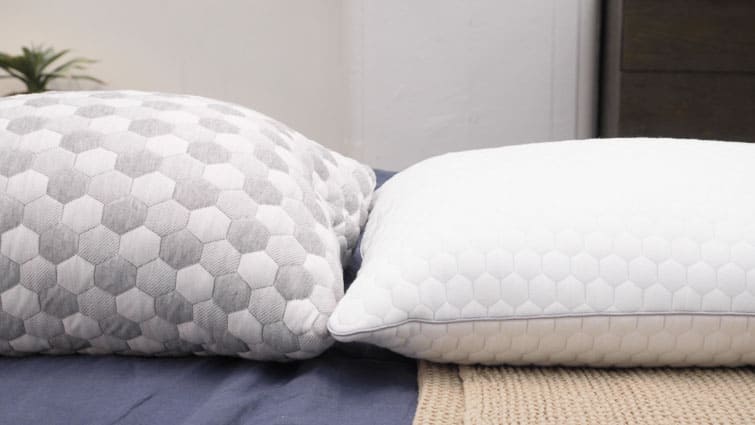 More: Check out my best memory foam pillow review!
The combination of shredded memory foam and polyester fiber offers a similar feel to that of the Layla Kapok pillow. Keep in mind that memory foam is known for its moldable feel and slow response to pressure which, in this case, is balanced by the softness of the polyester fiber.
However, it's a bit more firm and has a slightly less lofty profile than the Kapok pillow. Of course, it's still pretty lofty at about 5-inches deep, which is usually ideal for back and side sleepers. That said, I've tested both Layla pillows in every position, so let's dive deeper into my personal experience sleeping with each one.
Black Friday Sale - $20 Off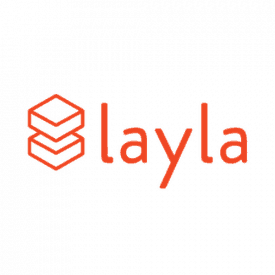 A copper infusion in the cover helps to make the Layla pillow ultra cool and comfortable. 
My Experience with the Layla Pillow
Alright, folks, now that we know what we're working with, allow me to detail my personal experience with these pillows.
Layla Kapok Pillow
As I mentioned, I've had the opportunity to test this pillow over the course of a couple years, and I'll admit that it's one of my all-time favorites. It's been featured in my best side sleeper pillow review two years in a row because, to me, its extra lofty build and fluffy feel make it perfect for that position.
That said, this is probably not going to be a good pick for stomach sleepers. In fact, I don't think either pillow is soft or low-lofted enough for the prone position. Of course, both pillows have adjustable fills, but you'd have to reach in and remove a considerable amount of stuffing in order to reduce the loft enough.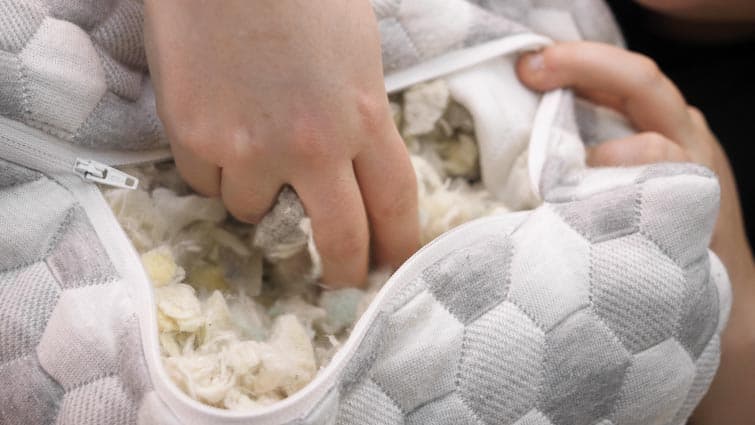 But if you're a back or side sleeper, I can't recommend this pillow highly enough. Its cover fabric is very soft and breathable, its internal fill is supremely balanced, and the whole thing is super huggable! And because it's got a uniquely dense yet plush feel, sleepers should feel free to hold it between their legs or under their knees for lower lumbar pressure relief.
My only very small complaint about this pillow is that it doesn't feature the same internal casing as the memory foam pillow. This means that every time you want to wash the cover fabric, you have to remove every piece of stuffing bit by bit. With the memory foam pillow, all you have to do is remove the inner polyester casing, throw the cover fabric in the wash, and be done with it.
Ultimately, though, there's no denying that this is a top notch pillow. It's plush, supportive, and does an excellent job of maintaining its shape over time. Two thumbs way up for the Layla Kapok pillow.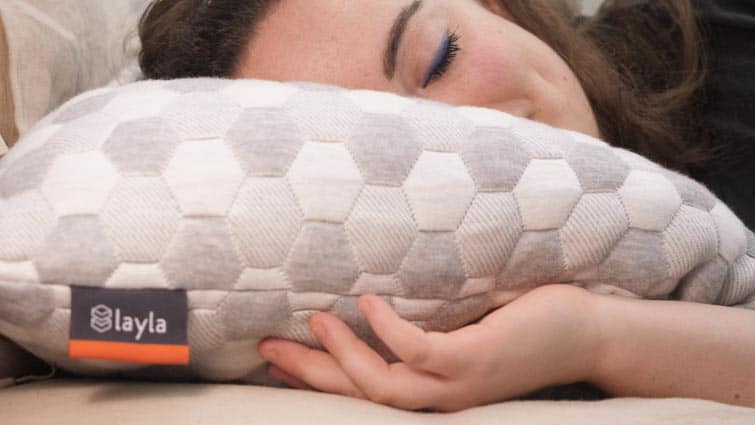 The Verdict: In my opinion, the Layla Kapok pillow is a back and side sleeper's dream. It's medium-firm feel and extra lofty build relieves pressure at my shoulders and hips, while the internal fill comfortably cradles my head and neck.
Layla Memory Foam Pillow
I'll be honest — when I first unpackaged the Layla Memory Foam Pillow, I thought, "Well, this sure feels a lot like Layla's other pillow." Of course, I'm a big fan of the Layla Kapok pillow, so I wasn't exactly disappointed. But I have to say I was a little surprised by how similar they are.
The shredded memory foam and polyfiber combine to offer a plush yet supportive feel that, like with the Kapok pillow, is ideal for back and side sleeping. But I did find this one to be a bit firmer and lower-lofted which, for me, was perfect for back sleeping. I also removed a little bit of internal fill to make it softer, but back sleepers who prefer a firmer feel will likely enjoy it exactly as it comes.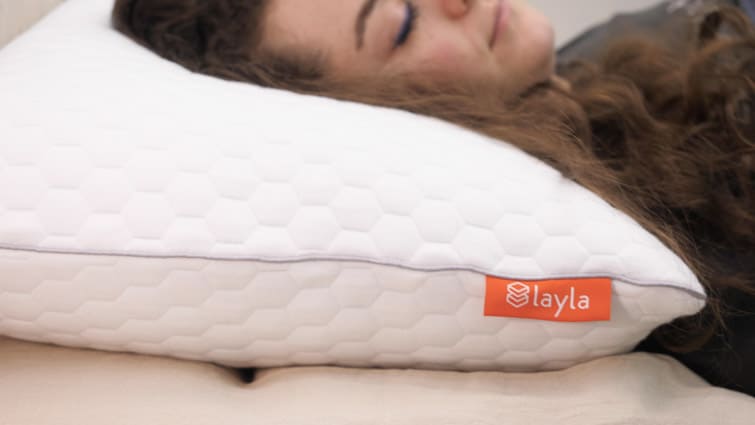 Side sleepers are sure to be compatible with this pillow as well but, when it comes to side sleeping, I think the Layla Kapok is king. One thing that's an undeniable advantage, though, is this pillow's internal polyester casing. Unlike the Kapok pillow, this one gives sleepers the chance to remove the cover fabric without having to extract the stuffing by the handful.
Something for hot sleepers to note, though, is that this one feels a little warmer than the Kapok pillow. Neither of them actually feels cool to the touch, but I did find this pillow to be less breathable. Additionally, the cover fabric is less soft and stretchy, in my opinion.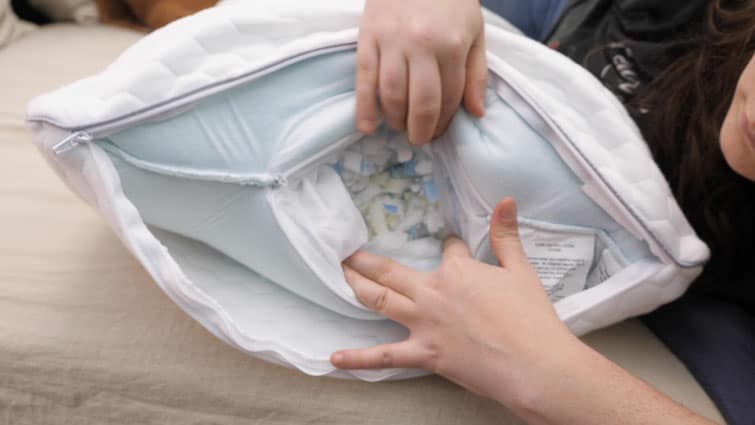 Overall, I can honestly say that Layla put out another great, high-quality pillow. My only real complaint is that it's so similar to the original pillow, but that might actually be great news for sleepers on a budget. Comparatively, this one is almost half the price, and it still comes with a generous 120-night trial period.
The Verdict: Although it's a little less breathable than the Layla Kapok pillow, I was pretty impressed by its ability to support me in the back and side sleeping positions. Another great Layla product!
Should I Buy The Layla Pillow
Now that we've taken a close look at each Layla pillow, let's recap the highlights so you can better determine which is the best fit for you:
Adjustable Fill – What's great about both Layla pillows is that they each feature an adjustable fill, making them suitable for sleepers of all styles. That said, broad-shouldered side sleepers might find that the higher lofted Kapok pillow does a better job of promoting healthy posture and relieving pressure throughout the body.
Balanced Feel – Because they're both filled with shredded memory foam and down-alternative, they each strike a cozy balance between soft and supportive. However, the Layla Memory Foam pillow is slightly firmer than the Layla Kapok, which might be ideal for folks looking for a little extra support. Conversely, I found the Layla Kapok to be more fluffy and plush.
Generous Trial Periods – If you're not sure which Layla pillow is right for you, take comfort in the fact that they each come with a 120-night trial period. Of course, you might not need four months to make a decision, but it's nice to have the time.
Black Friday Sale - $20 Off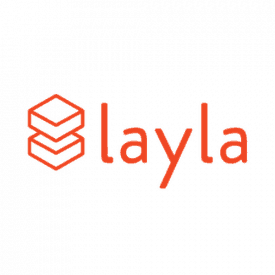 A copper infusion in the cover helps to make the Layla pillow ultra cool and comfortable. 
Layla Pillow Complaints
There are a few things to consider about these pillows before making your purchase:
Wash Care – While I appreciate that the cover fabrics on these pillows can be washed by machine, it's important to note that the internal fill should not get wet. This means you have to remove all the stuffing before you can throw the cover fabrics in the wash, which can be kind of a hassle.
Stomach Sleeping – Both Layla pillows are pretty lofty, which isn't ideal for stomach sleepers. Of course, you do have the option to remove internal fill, but you'll have to remove quite a bit in order to reduce the loft enough for stomach sleeping.
Very Similar – Personally, I find the differences between each Layla pillow to be very subtle. They're both filled with shredded memory foam and down-alternative, have similar firmnesses, and are both great for back and side sleepers. I guess I was kind of hoping that Layla's new pillow would be totally different from its original model, but they're actually quite similar.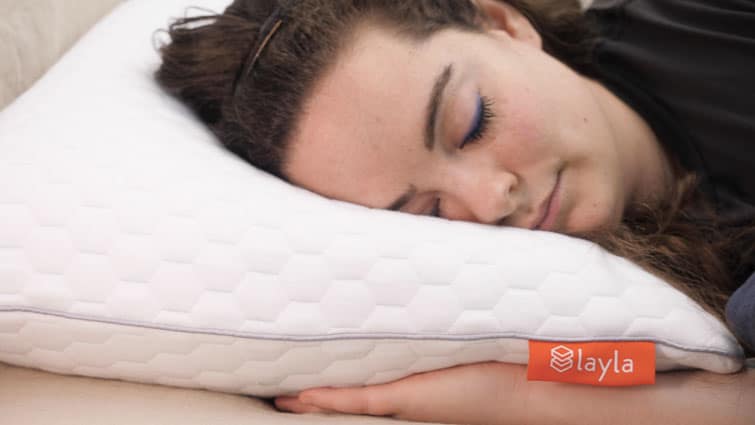 Anything Else I Should Know?
Price – $55-$69 (Memory Foam), $99-$119 (Kapok)
Size – Queen & King
Free Shipping – within the U.S.
120-Night Trial Period
Wash Care – Cover fabrics can be washed on a cool cycle with mild detergent, internal fill not machine washable.
Final Thoughts
Now that you're all experts on both Layla pillows, you've probably figured out which one is right for you. But if you're still not sure, remember that you've got 120 nights to test them out. In the meantime, be sure to subscribe to our YouTube channel and follow us on Facebook, Twitter, and Instagram for the answers to all your sleep needs.
FAQs
Can you wash a Layla pillow?
Both Layla pillows follow the same wash care instructions, and should be spot cleaned as needed. The cover fabrics can be washed and dried by machine, but it is recommended that you remove all internal fill first.
Is the Layla pillow good for side sleeping?
Layla pillows are both excellent choices for side sleepers, as they each feature a lofty profile and firmer feel. The Layla Kapok pillow, in particular, is exceptionally lofty, making it ideal for broad-shoulder side sleepers.
Is the Layla memory foam pillow hot?
Layla's memory foam pillow does not feature any cooling properties, and hot sleepers may find that it's a bit too warming.
The following two tabs change content below.
Sarah is the Senior Writer and bedding expert at Sleepopolis. Every week, she personally tests and reviews new pillows, sheet sets, and other sleep accessories. She accompanies every video review with a meticulously detailed article to ensure her audience has all the pertinent info they need for the best shopping experience possible. Perhaps that's why her fans have dubbed her "the most thorough pillow reviewer on the Internet." Having tested everything from sleep trackers to mattress toppers, Sarah's expertise runs deep and is always expanding. She received her degree in Creative Writing from Brooklyn College and spends her free time doing stand-up, making pasta, and hanging with her cats.
Latest posts by Sarah Riccio (see all)