Have you ever liked a mattress so much that you wished you could have a tiny one just to rest your head on? Well, that's sort of what the folks at Layla did. The Layla mattress and Layla pillow are comprised of nearly the same exact materials, but one is constructed for your whole body and one is built just for your noggin. The Layla pillow is a big, all natural, fluffy sleep accessory that, according to its creators, allows you to rest cooler, cleaner, and better.
In this review, I'll be putting that claim to the test as I explore the Layla pillow from every angle. The only way to really know a pillow is to sleep with it in every position. This way, we can find out exactly how it feels, how supportive it is, and which sleepers might benefit from it the most! If you don't have time to read the full review just click here to skip to the review summary!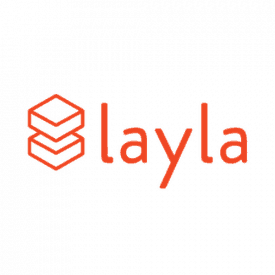 A copper infusion in the cover helps to make the Layla pillow ultra cool and comfortable. 
WHAT'S THE LAYLA PILLOW MADE OF?
The cover fabric of the Layla pillow is made from ThermoGel infused stretch-knit cotton, which is the same cozy-cooling material that covers the Layla Mattress. It's built to be super soft, durable and cool to the touch. Not to mention, there are copper fibers woven into the cover fabric (which might sound crazy) but it actually helps to provide an anti-bacterial barrier between your pillow and everything else.
The copper fiber infusion also helps to dissipate your body's heat which can be very beneficial to sleepers who warm up during the night. And though science hasn't exactly proven it yet, the folks at Layla say, "It's thought that the release of positive ions in copper fabrics promotes health and wellness, and athletes all over the world swear by the impact of copper on performance."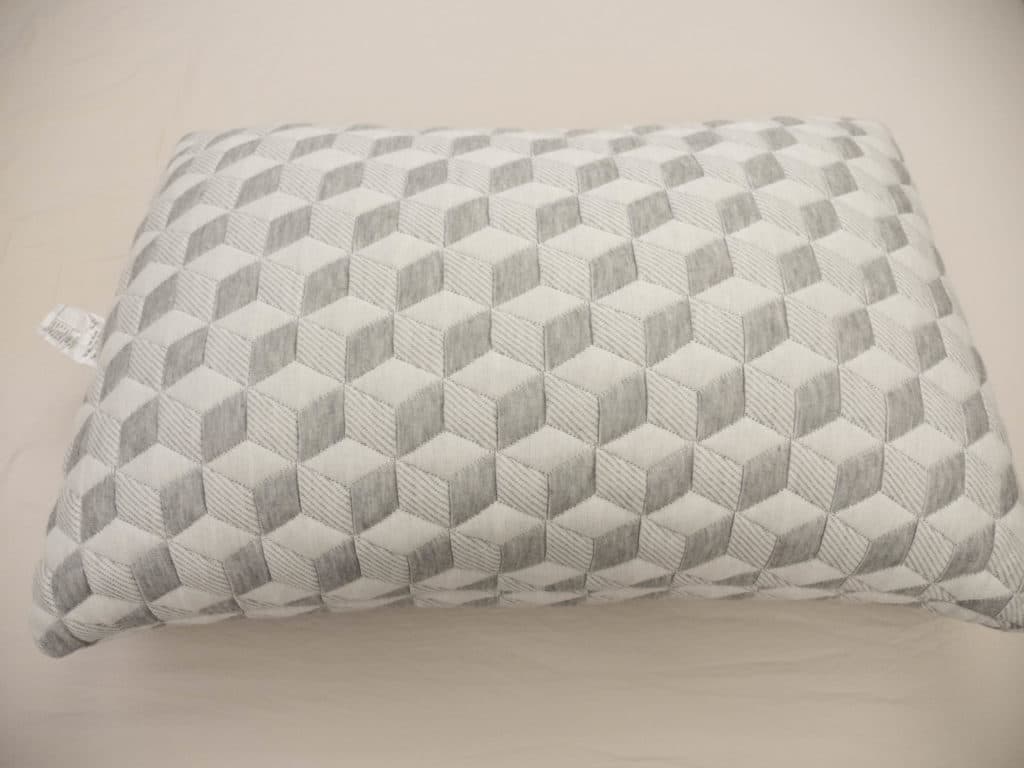 Inside the Layla pillow is a blend of memory foam and a natural tree fiber called Kapok. The Kapok is super soft and airy, while the memory foam is more dense and resilient. So, the combination of the two materials offers a nice balance between plush and supportive. Oh, and sleepers with allergies might like to know that Kapok is hypoallergenic, and the memory foam is CertiPur-US® Certified.
The Layla Pillow offers a medium-firm feel and a lofty build, designed to provide supportive pressure relief for your neck and shoulders.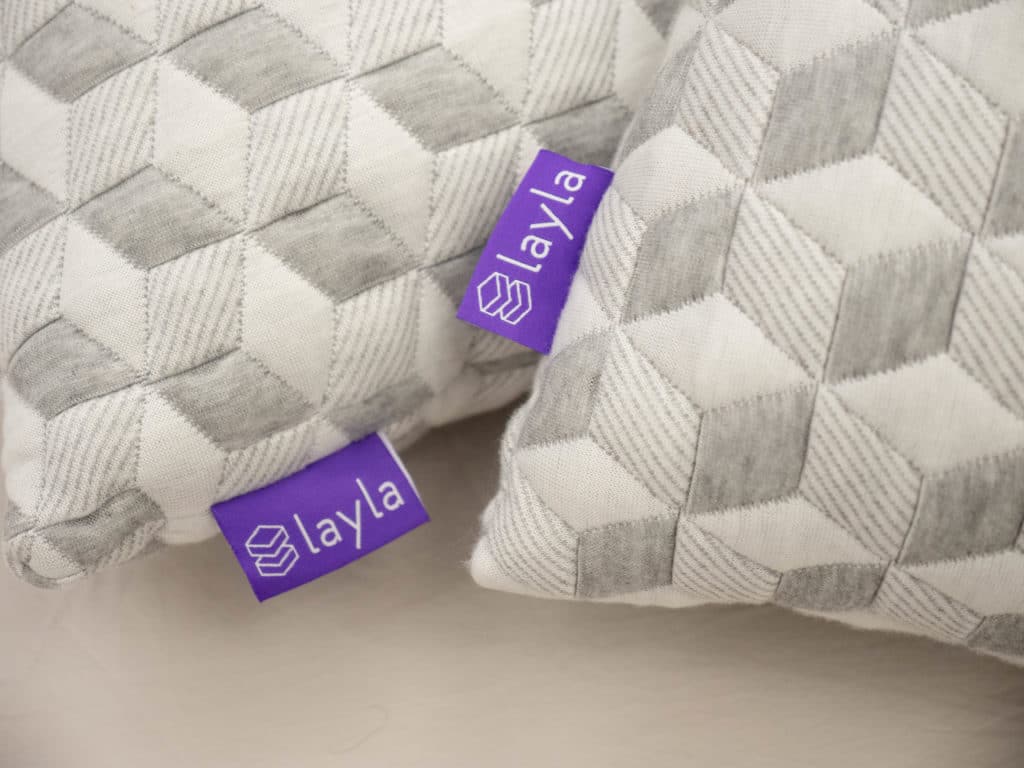 HOW DOES THE LAYLA PILLOW FEEL?
Layla offers one style of pillow in two different sizes: standard and king. The standard Layla pillow measures 18" x 24" x 4" and the king size measures 18" x 32" x 4". So, while they both have the same plushly supportive feel, one is quite a bit longer than the other.
As I mentioned, the pillows are made from gel infused memory foam (which is also featured in Layla's mattresses), and has a stretchable quality to it. In my experience testing both the king and standard sizes, the pillow's slow response to pressure combined with its ability to stretch allowed me to distribute the fill within the cover. This way, I could sort of personalize the loft. So, both pillows (especially the king size) can be pulled and stretched in ways that make them even longer than how they arrive.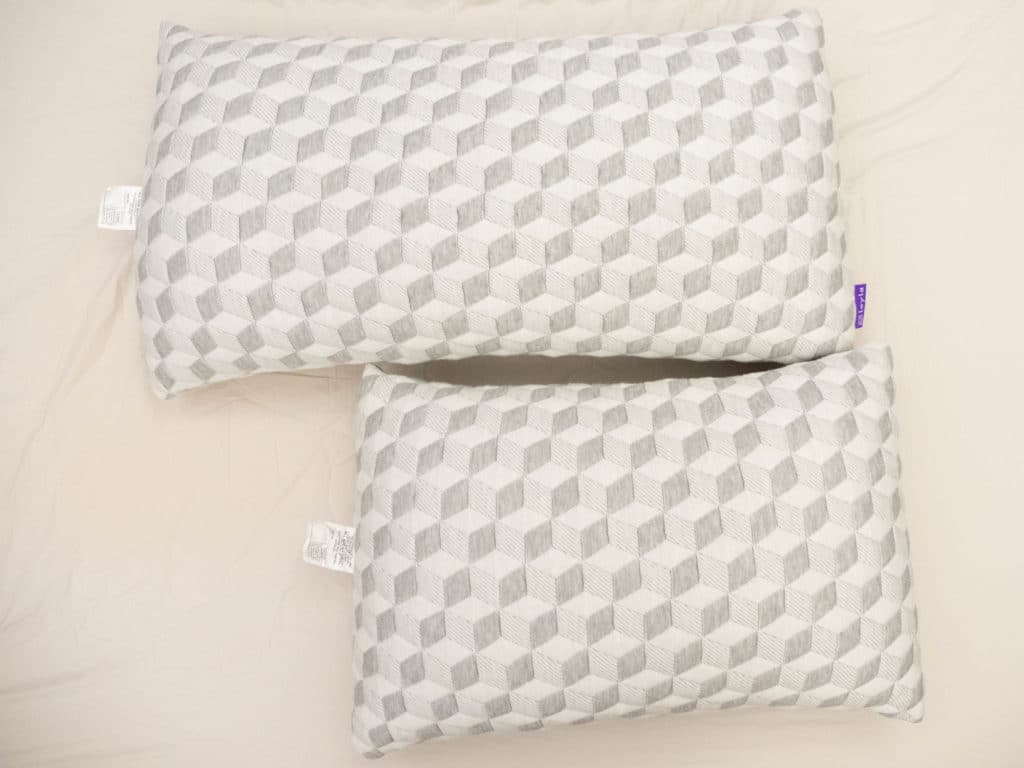 The Layla pillow is about 5 inches tall, so it's got a fairly lofty build. The fill has a soft and plush feel, but the pillow itself is quite thick. Not to mention, it weighs almost 10 pounds! So, it ends up having this luxuriously cushy yet supportively contouring feel to it — conforming to the pressure of your head and neck but also allowing that nice deep sink into the foam.
Something fun about the king size Layla pillow is that its length really allows you to roll from side to side with plenty of room to spare. If you're someone who tosses and turns, you'd have to roll pretty far to actually fall off the end of the king sized Layla pillow!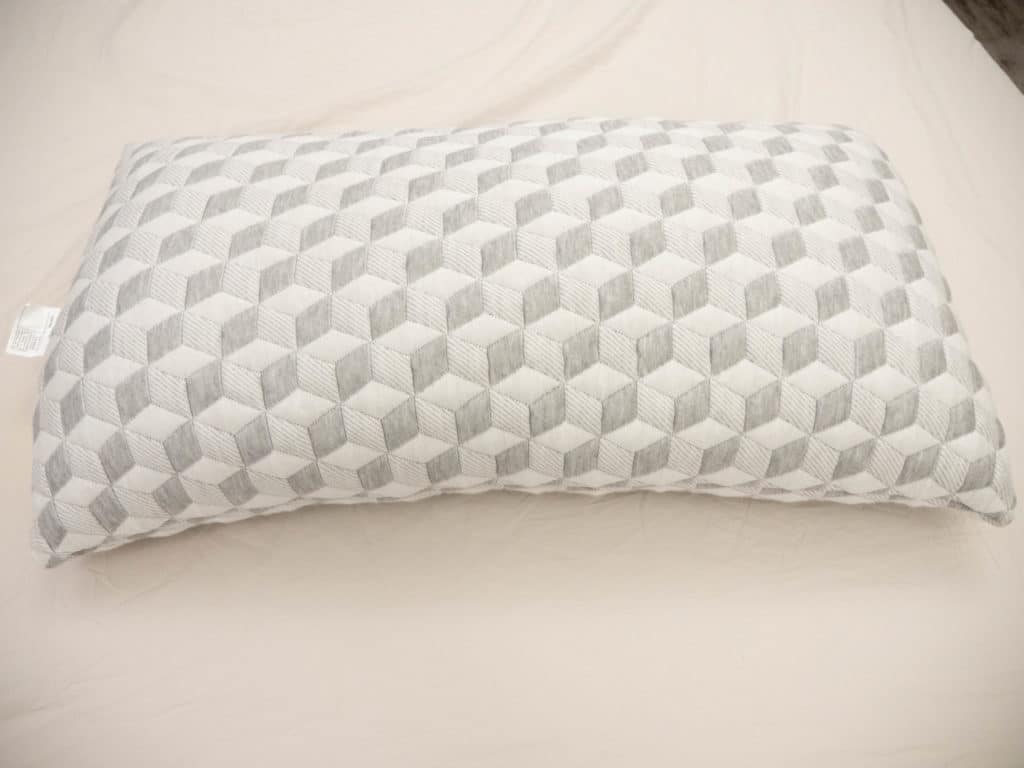 HOW DID YOU LIKE IT, SARAH?
After having slept on a Layla mattress, I kind of already had an inkling that I'd love the Layla pillow. And I wasn't wrong. However, there were a couple things about this pillow that, to me, were not ideal.
This pillow really did remind me of a softer, shapeable, miniature mattress specifically built for your head. The cover fabric feels so super smooth to the touch and I love rubbing my hands and face all over it. Plus, knowing that it's hypoallergenic makes me feel totally free to get up close and personal with this pillow.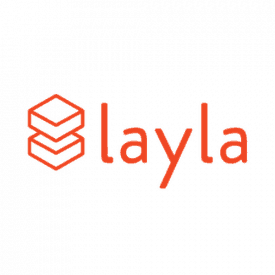 A copper infusion in the cover helps to make the Layla pillow ultra cool and comfortable. 
However, the more I pressed my face into the Layla pillow, the more I noticed it had a bit of an odor. The folks at Layla do warn customers that the pillows might have a bit of a "new memory foam smell" to them, and I definitely experienced a bit of that. It's important to note, though, that the smell is non-toxic and should dissipate within a few days.
Lying on the pillow, I felt very comforted by the feeling of the fill. The blend of shredded memory foam and Kapok gives it this silky, fluffy, moldable quality that I love to press into. It's thick and has some solid weight (about ten pounds) but it also conforms so well to my body. So, when I push into it I can feel immediate pressure relief. It does have a lofty build at 5 inches, so I figured I'd jump right into the lateral position to see how the pillow's height supports my posture when I'm side sleeping.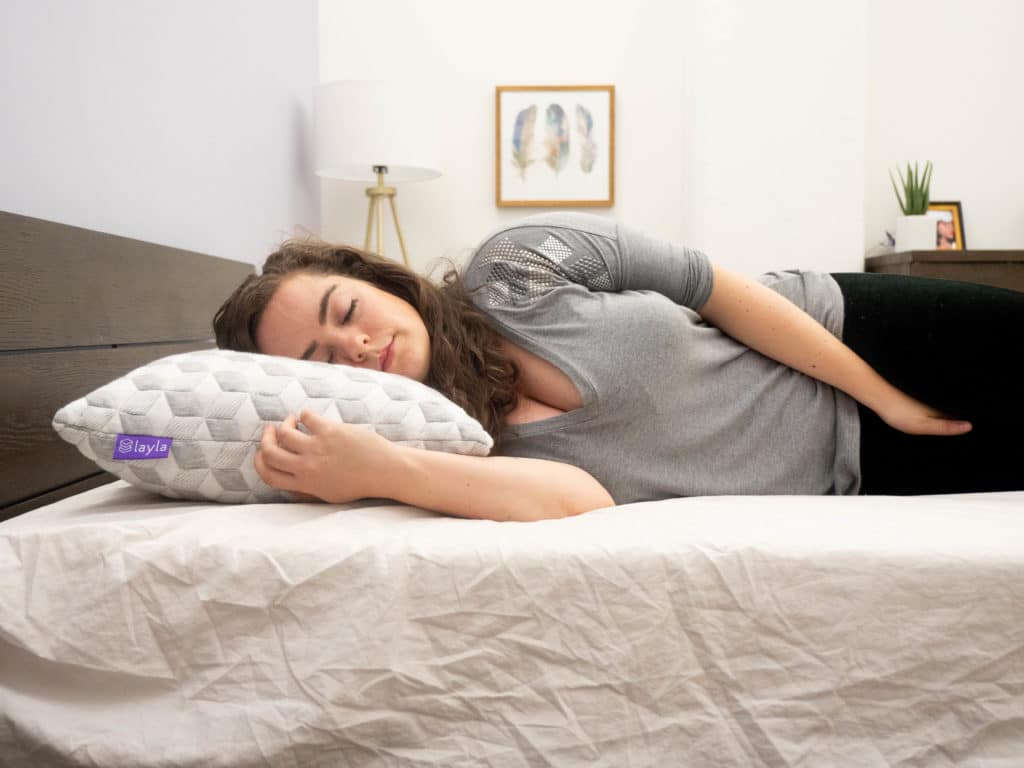 Sure enough, the lofty, plushly supportive profile of the Layla pillow served to keep my head and spine in neutral alignment and my posture felt very healthy. Pressing into it, I could feel the memory foam conform to my head and neck, offering me that nice sink into the pillow. At the same time, the Kapok offered a softer, fluffy quality that made me feel like my head was being gently cradled. I was even able to scoop one arm underneath (it's a comfort thing) without propping the loft up to be too high. Frankly, it was hard to get out of the lateral position because I felt so relaxed.
But I mustered the energy to roll over onto my stomach to see how that felt. Sadly, the lofty support and thick build threw me right out of my happy place and into a rather uncomfortable posture. When you're sleeping on your stomach, it's best to have a softer, flatter pillow that's a bit more easily compressed so that your head isn't elevated in an uncomfortable way. Unfortunately, I found the Layla pillow to be just a little too voluptuous for the prone position.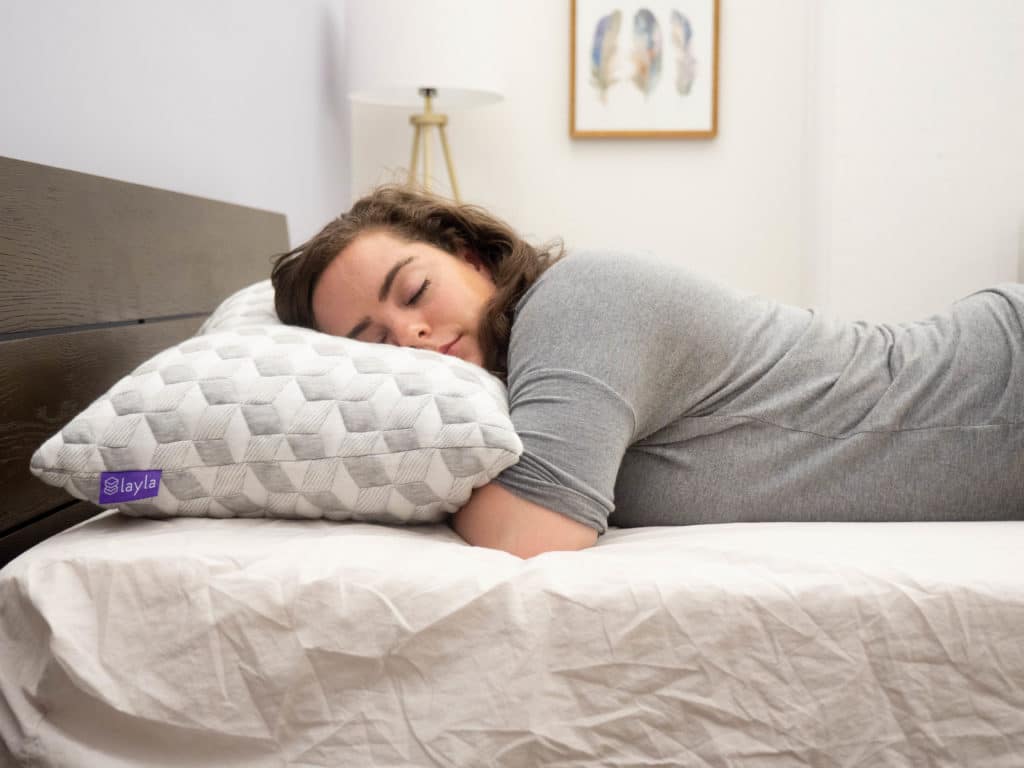 If the Layla pillow were adjustable, I think it could work well for every sleeping position. Because there is no way to reach in and adjust the fill, though, it does have the potential to be too lofty. Trying to get comfortable in the prone position was impossible for me, no matter how hard I tried to smoosh the fill down.
So, I quickly moved onto my back lest I stay in that craned position for too long and get a crick in my neck, and all was right with the world again. That lush, gel-infused memory foam treated my neck and shoulders so right, and I could feel that my spine was happily back in alignment. The cover fabric itself remained quite cool through all my rolling around and I never felt like the fill was trapping my body's heat either.
Ultimately, I would say this pillow is well suited to back and side sleepers (especially side sleepers). Its lofty-thick build is, in my opinion, really ideal for sinking into and providing even pressure relief for your head, neck, and shoulders.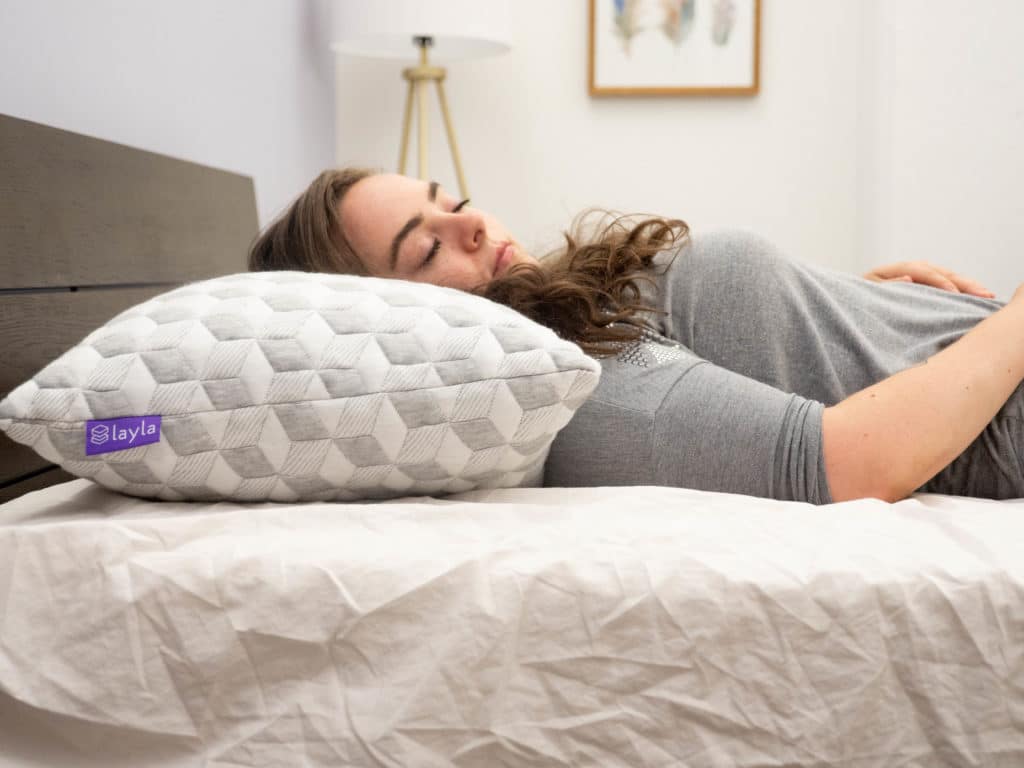 BETWEEN-THE-LEGS & UNDER-THE-ARM
I knew this would also be the kind of pillow I like for in-between-the-leg and under-the-arm support, so I used the standard Layla in between my legs and I hugged the king size close to my chest. Like I said, they are both made from the same materials, and each one felt pretty great for both of these sleep styles.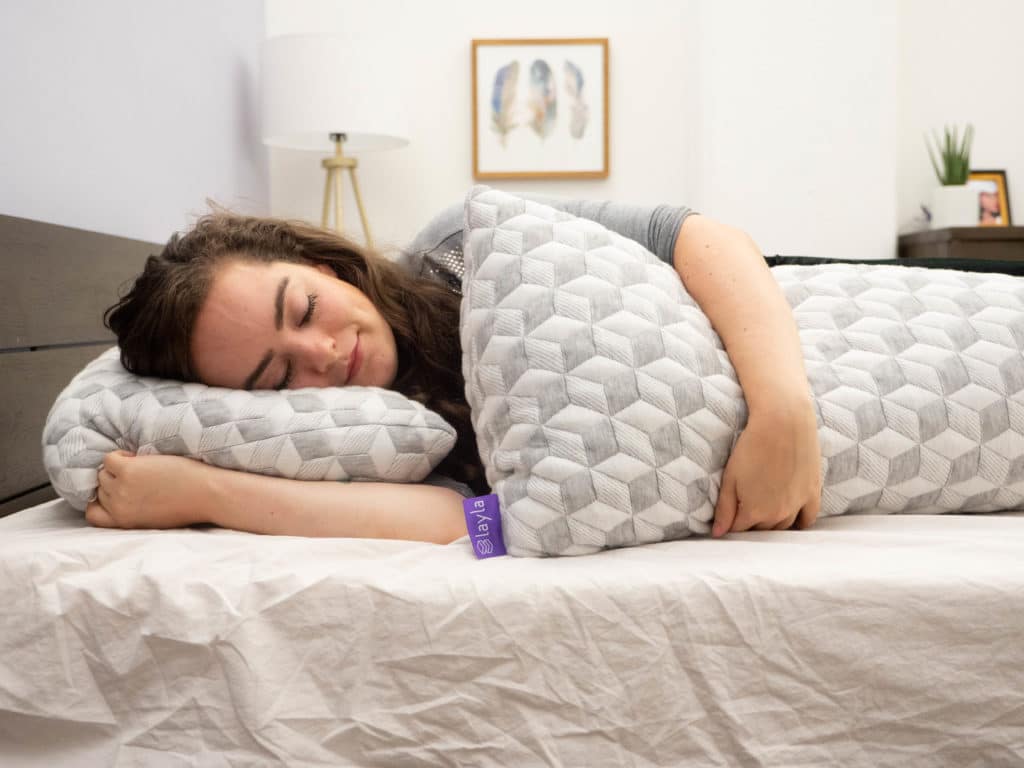 The thick density of the Layla pillow served very well to give my hips some supportive alignment and relieve some pressure in my lower back. It's ten pounds, so the weight of my leg only gently sunk into the material rather than all the way to the bottom, and it was just a very comforting feeling. Same goes for the hugger; the thick plushness of the Layla pillow almost gave it a body pillow feel, and it was great for squeezing.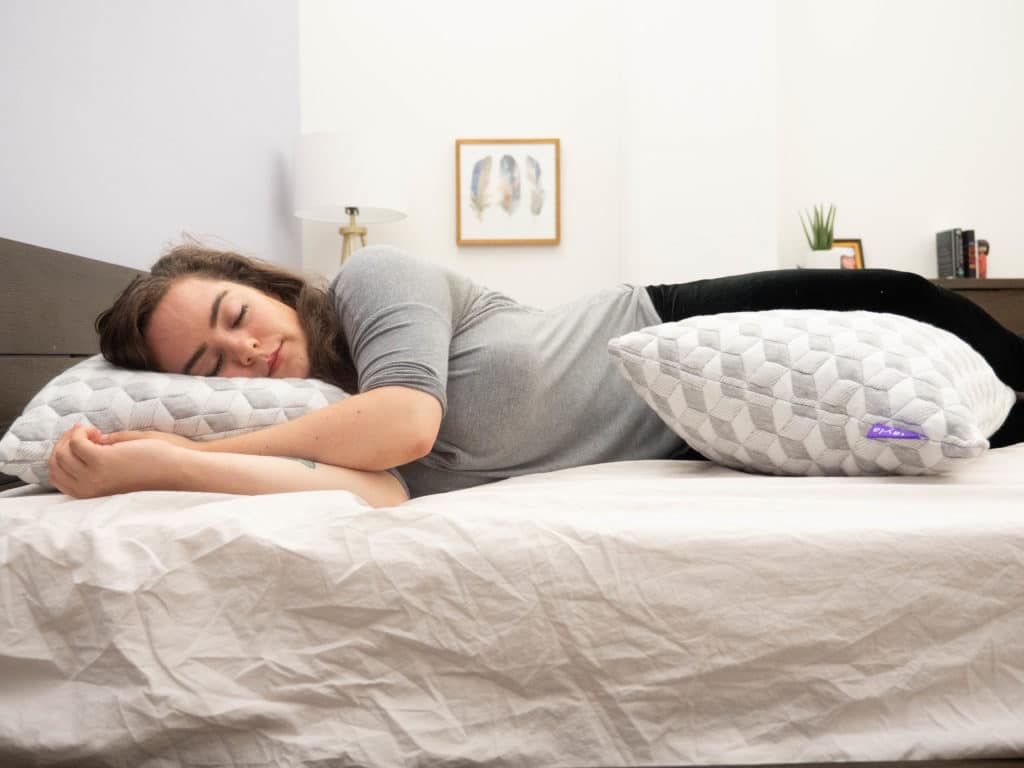 LAYLA PILLOW COMPLAINTS
Everybody is different, so there are a few things about this pillow that might not be compatible with every sleeper.
Not Adjustable — The Layla pillow is generously stuffed with a blend of memory foam and Kapok. So, it's lofty and dense, but unfortunately there is no way to adjust the fill. Because the pillow does not have a zipper, sleepers are unable to reach in and remove/manipulate the fill in any way, so you kind of have to be compatible with the loft and support exactly as it comes.
Tall & Lofty — The Layla pillow is 5 inches tall, and the fill is quite resilient. So, this pillow is pretty lofty and is designed to stay that way over time. If you're a stomach sleeper or someone who prefers a flatter, more compressible pillow, it's probably a good idea to take advantage of Layla's trial period before committing.
Non-Removable Cover — So, there is no zipper of any kind on the Layla pillow which is nice in the sense that you don't have any dangling plastic to contend with, but it also prohibits sleepers from being able to wash the cover separately.
SHOULD I TRY THE LAYLA PILLOW?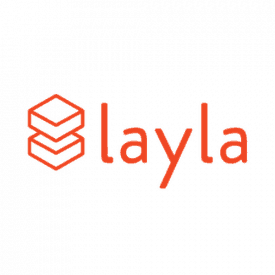 A copper infusion in the cover helps to make the Layla pillow ultra cool and comfortable. 
There's a lot to like about the
Layla pillow
, but this big, comfy sleep accessory might be especially beloved by sleepers who:
Have Allergies — The Kapok inside the Layla pillow is 100% natural and pesticide-free. And, as I mentioned earlier, the memory foam is CertiPur-US® Certified which is another way of saying it's totally hypoallergenic!
Are Vegan — Kapok fibers have a light, airy quality that often serve as a down-alternative. But don't worry, no ducks were harmed in the making of the Layla pillow!
Sleep Hot — The Copper fibers that are woven into the pillow's cover help to draw heat away from your body. So if you're prone to heating up during the night, rest assured, the Layla pillow is working to keep you cool.
ANYTHING ELSE I SHOULD KNOW?
Free Shipping — The Layla pillow ships for free to the lower 48 states. If you live in Hawaii or Alaska, shipping costs a flat fee of $20. It can be shipped to Canada for a flat fee of $40.
Made in the USA
120 Night Trial — Layla offers a very generous trial period of 120 nights. If you don't love it, send it on back for a full refund (including the price of shipping!).
Wash Instructions — The Layla pillow's cover is not removable. However, you can spot clean the pillow with a mild non-toxic cleaner. If you prefer, you can also wash it in cold water and tumble dry with no heat… but you must make sure the pillow dries entirely or you can have a mildew problem on your hands!
5 Year Warranty — The warranty covers material or workmanship defects such as faulty stitching, seams coming undone from natural wear, the flattening or changing of the shape of the pillow, or the fading of colors of the Layla Pillow cover.
Pricing — The Standard size is $74, the King size is $94
Click here to head over to Layla!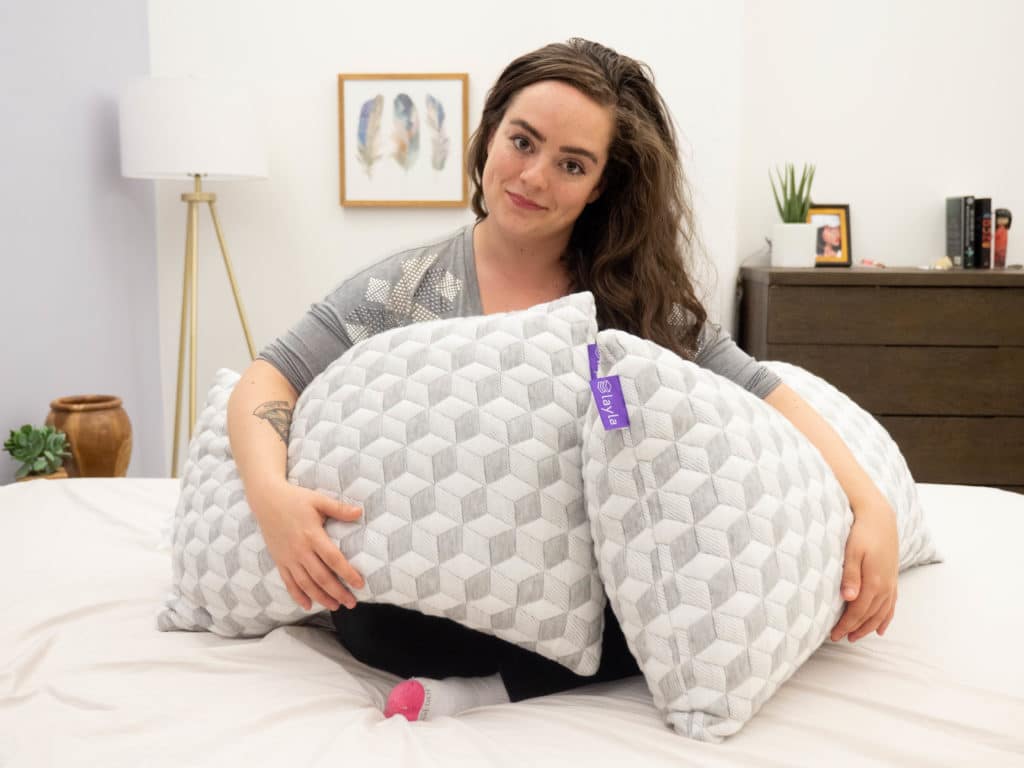 The following two tabs change content below.
Sarah is the Senior Writer and bedding expert at Sleepopolis. Every week, she personally tests and reviews new pillows, sheet sets, and other sleep accessories. She accompanies every video review with a meticulously detailed article to ensure her audience has all the pertinent info they need for the best shopping experience possible. Perhaps that's why her fans have dubbed her "the most thorough pillow reviewer on the Internet." Having tested everything from sleep trackers to mattress toppers, Sarah's expertise runs deep and is always expanding. She received her degree in Creative Writing from Brooklyn College and spends her free time doing stand-up, making pasta, and hanging with her cats.
Latest posts by Sarah Riccio (see all)