Many sleepers are sensitive to particular stimuli, whether it is noises from the street, the rustling of a partner on their side of the bed, or perhaps the most disruptive of all, light. Humans, like many mammals, can sleep much easier when it is dark out. Blackout drapes can mimic the absence of the sun by blocking out light from whatever windows you chose. This can be instrumental in helping people who have odd schedules or need to sleep on certain days find the peace they need.
With so many different products available in the market, it can be hard to decide which blackout drapes to purchase. We've evaluated some of the market leaders and put them head to head to help you find out which blackout drape is best for you.
Best Blackout Curtains
Editor's Choice – NICETOWN Grommet Top Blackout Curtains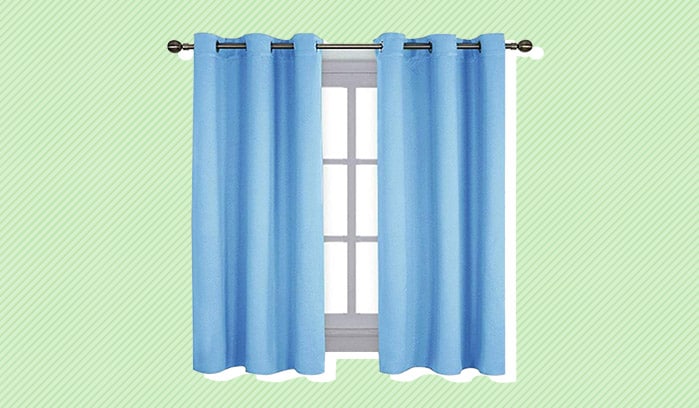 Pros:
Same fabric on both sides
Color variety
Grommet top
Cons:
NICETOWN Thermal Insulated Grommet Blackout Curtains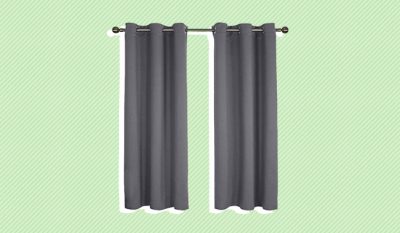 Available in more than two dozen color options and six sizes, these no-frills curtains are built with blocking out sunlight in mind. 
Sleepopolis Score
4.70 / 5
Best Darkening Curtains- Utopia Bedding Blackout Room Darkening and Thermal Insulating Window Curtains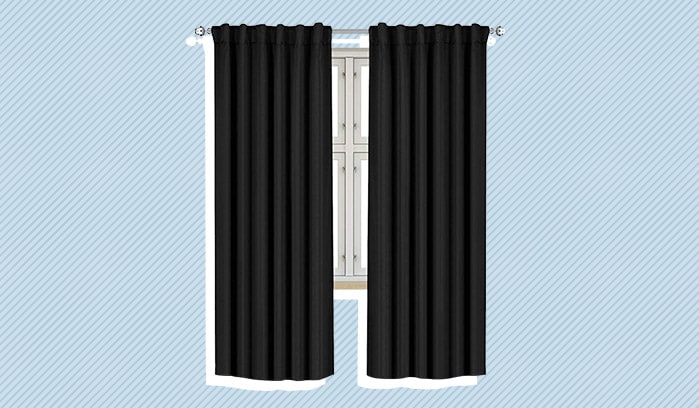 Pros:
Machine washable
Thick material
Two tie-backs
Cons:
Inconsistent sizing
Heavy curtains
Utopia Bedding Blackout Room Darkening and Thermal Insulating Window Curtains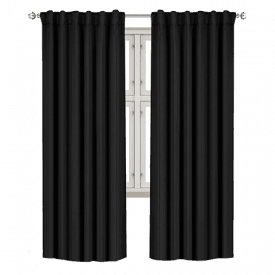 Utopia Bedding's foray into the blackout curtain market has to be considered a verifiable success. The 52 inch-wide curtains are grommet-topped and feature a hem of 4 inches wide on both top and bottom, along with a 1 inch side hem, helping to make the drapes look sophisticated and stylish. The two tie backs keep the blinds open during the day allowing for maximum light and a clean aesthetic
Best Value- NICETOWN Grey Blackout Curtains (52")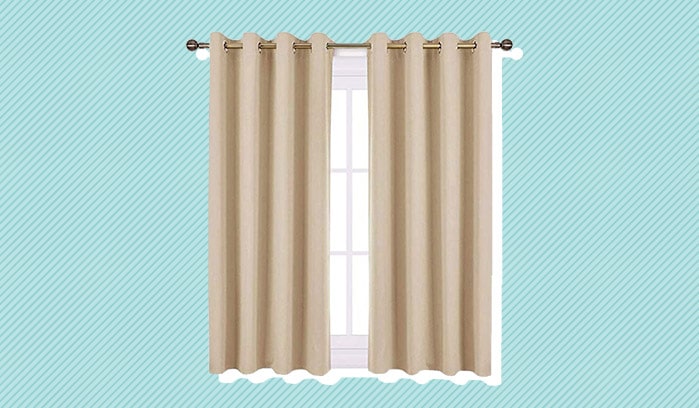 Pros:
Unique colors
Fade resistant
Budget Price-point
Cons:
Might need to double-up
Doesn't fit with all rods
NICETOWN Thermal Insulated Grommet Blackout Curtains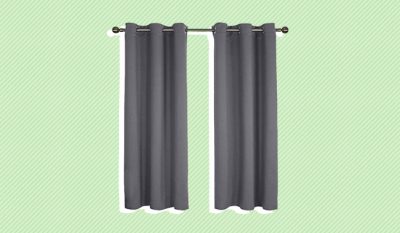 Available in more than two dozen color options and six sizes, these no-frills curtains are built with blocking out sunlight in mind. 
Sleepopolis Score
4.70 / 5
How We Picked
People are in the market for blackout curtains usually for a very specific reason. They are either trying to block out as much sunlight as possible in order to aid in sleep or privacy, or they are hoping to keep out all the elements, wind, heat and cold included, in addition to light. However, the difference between many of the leading brands of blackout curtains is not just the efficiency of the drapes to blackout light, but other factors like style, ease of cleaning, and fit in the house. Here are some of the factors we judged when comparing competitors:
Style
Blackout curtains – and curtains in general – can have different cuts and folds along the top, where the curtain typically slides over a curtain rod. Many companies use a grommet-style top whereas there are several ripples orienting the top lining (and rings) in different directions. This allows for easy folding in and out for opening and closing the drapes. Other options are backtap and hidden rod curtains. These are common but the grommet style is proving to be the most stylish of the day.
Weight
Though these curtains will never weigh much more than 4 lbs each, you might be surprised at how much curtain weight can make a difference on how your drapes look and how much stress they are putting on the curtain rod. Some companies have drapes that weigh half as much as the heaviest curtains. Before purchasing you should examine the curtain rod you have to see how study it seems. If you are buying everything altogether, and are looking for a thicker curtain to help with insulation and blocking out the most light, look for a rod that promises to hold a heavy load. Some of the lighter curtains don't block out light as well due to their thinner fabric base.
Variety of colors
Many customers will simply opt for a deep black curtain for blackout purposes, but some companies offer many other colorful options. Based on your aesthetic, or the specific room you are outfitting, a more colorful or subdued color may make more sense than the other. Darker colors do tend to be better at blocking out light, so watch out for the lightest blackout curtains, as their efficiency may suffer for the sake of its coloring.
Cost
Blackout curtains can vary wildly in price, from just around $18 to ten or twenty times that. Granted the most expensive products typically are priced that way due to their guarantees of blocking light, but that does not mean you have to break the bank to get some slumber. Many of the moderate-to-lower cost curtains will do just as good of a job and not cost you a fortune. The differences may be mostly cosmetic or stylistic.
Buying Tips
Not sure which blackout curtains are best for you? Before making your purchase, here are some tips that should help guide your decision-making:
What room is this for? Is this blackout curtain for your bedroom, the window above your bed, or a window right in the path of the high sun? Depending on where you are placing it, you may be in the market for a more heavy-duty product, or simply a lighter-colored one that blocks out some sun, but not all. Determine your lighting and stylistic needs and you will have an easier time navigating all of the different options out there in the market.
Get exact measurements and add a buffer. Some of the curtains do not hang at the exact length that they are listed as. Sometimes a trim or fold used to hide a row of stitches or to encapsulate the rings needed to hang on the rod will alter the length that the curtain actually hangs. Make sure you have the exact measurements you need and perhaps get a curtain that is a bit longer so you can ensure that you are blocking out the most sunlight.
How strong is your curtain rod? No one likes seeing a sagging curtain on a rod. It looks structurally questionable and is a blight in an otherwise nice room. If you are using an old curtain rod, see how it holds up with a heavier blanket hanging on it to see if it could handle a thicker, heavier curtain. If you are getting a less-heavy blackout curtain then you should probably be ok with any curtain rod.
FAQ
Do Blackout Curtains keep the room cooler?
Curtains with thermal insulation block out 90% of UV rays that would cause the room to overheat. Due to their woven fabric, they provide a cooling effect to rooms on hotter days.
Are they easy to hang up?
Very! You first measure the length and width of your window frame. When you're going to install them, make sure are four inches above the window, and then install your brackets.