Many sleepers are sensitive to particular stimuli, whether it is noises from the street, the rustling of a partner on their side of the bed, or perhaps the most disruptive of all, light. Humans, like many mammals, can sleep much easier when it is dark out. Blackout drapes can mimic the absence of the sun by blocking out light from whatever windows you chose. This can be instrumental in helping people who have odd schedules or need to sleep on certain days find the peace they need.
With so many different products available in the market, it can be hard to decide which blackout drapes to purchase. We've evaluated some of the market leaders and put them head to head to help you find out which blackout drape is best for you.
Editor's Choice – NICETOWN Grommet Top Blackout Curtains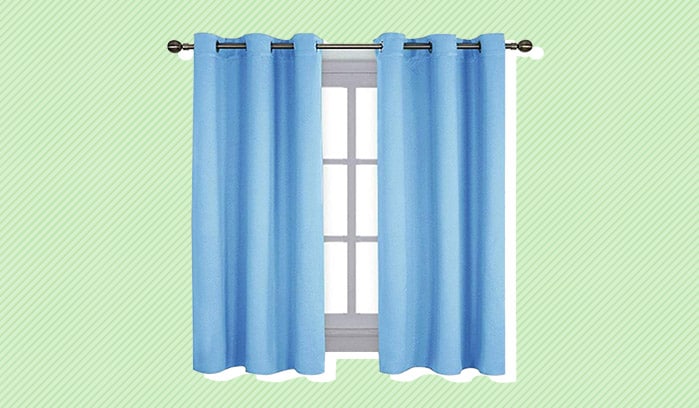 Pros: 
Fabric same on both sides. One of the nicest features of NICETOWN's blackout curtains is that they are manufactured with the same fabric on both sides of the curtain. This is helpful when needing to open your drapes and fold the drape's fabric over itself to keep it open while maintaining a clean look.

Color variety. It may seem counter-intuitive, but black drapes aren't the only ones that can be blackout curtains. NICETOWN offers fifteen different colors for its 42 inch-wide drape collection.

Grommet top. As you shop you may come in contact with several different styles of curtains, but the grommet style is probably the most popular. The grommet top style uses thick rings with wide circles alternating their orientation so that the drapes have a nice fold when fully extended. Perfect for modern and classic aesthetics, and those hoping to have their drapes open for extended periods.
Cons: 
No thermal lining. Some competitors add an extra thermal lining to insulate from heat and cold. While this would definitely help some customers, not everyone will have this same need from their blackout curtains.

Sizing. With two 42 inch-wide curtains, some people may expect to cover an entire 84 inch window. Unfortunately, some of the fabric on the end of the drape is folded and so it falls short of an exact 42 inch width.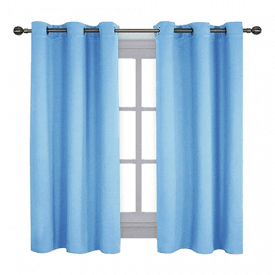 These blackout curtains from NICETOWN are made of a triple-woven polyester material that promises to block out 99 percent of daylight. The grommet style top makes for a curtain that stylistically fits into most homes and is easy to slide open and closed.
Contender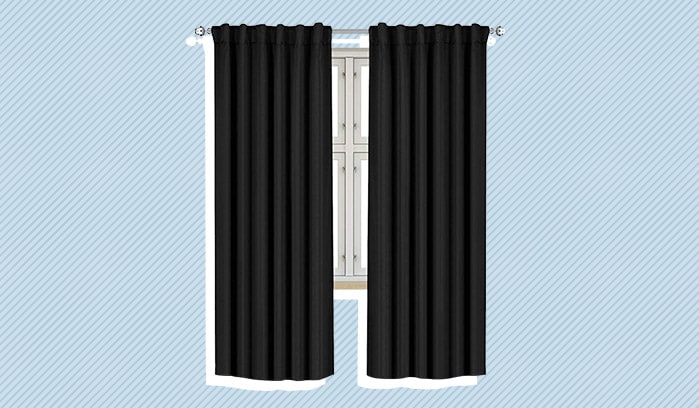 Utopia Bedding Blackout Room Darkening and Thermal Insulating Window Curtains
Pros:
Machine wash. Curtains can get dirty by virtue of collecting interior dust or just even being exposed to the air that gusts in from an open window. Not all curtains can be easily cleaned, but these blackout drapes from Utopia Bedding can thankfully be machine washed and dried.

Thick material. These drapes are made out of a polyester blend at 250 GSM (grams per square meter). This is typically thick enough to block out around 99 percent of light and around 60 percent of outside sound.

Two tie-backs. Utopia Bedding included two tie-backs per drape, which isn't true of several competitors. This is useful for those hoping to keep their blinds open during the day for maximum light and a clean, organized aesthetic.
Cons:
Inconsistent sizing. When ordering several curtains at once, you may notice there is a slight height difference (perhaps ½ an inch or so) between different drapes of the same size. This is most likely a rare occurrence but something you may need to adjust to if you don't bother returning them for such a slight difference.

Heavy curtains. These curtains, while fitting most rods comfortably and stably, can be heavy on some older or cheaper curtain rods. At just over four pounds, these drapes could cause some curtain rods to bend or sag.
Utopia Bedding Blackout Room Darkening and Thermal Insulating Window Curtains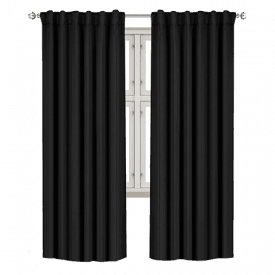 Utopia Bedding Blackout Room Darkening and Thermal Insulating Window Curtains
Utopia Bedding's foray into the blackout curtain market has to be considered a verifiable success. The 52 inch-wide curtains are grommet-topped and feature a hem of 4 inches wide on both top and bottom, along with a 1 inch side hem, helping to make the drapes look sophisticated and stylish.
NICETOWN Grey Blackout Curtains (52")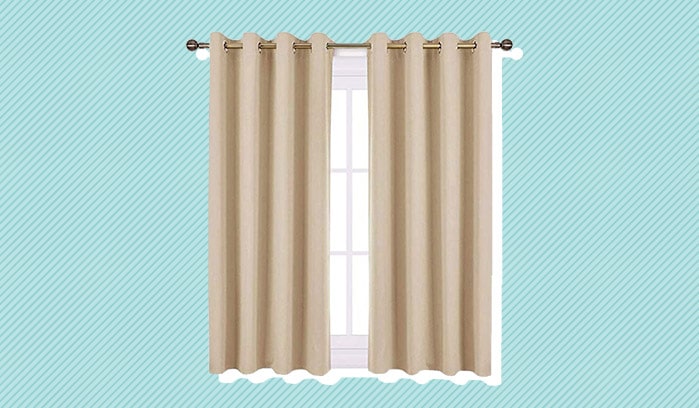 Best Value
Pros: 
19 varieties. NICETOWN boasts nineteen unique colors for your drapes. This is meant to help you not only diversify your style throughout your home, but also to help you maintain a stylistic integrity with your existing furniture, art, and wall color.

Fade resistant. This product is made out of 100 percent polyester and is manufactured to be fade resistant. Some competitors make products out of cotton or other materials that can fade after some exposure to the sun.

Value. At under $19 per set of two drapes, these drapes can be bought without second-guessing your purchase. Some other colors in the collection can also be bought for around $20 each, perfect for people hoping to fill their homes with blackout curtains that match each room.
Cons: 
Might need to double-up. While most users will find these blinds to be effective at blocking out light and most sounds, some may find they need to double-up the blinds and purchase two sets to use together. This helps insulate and block sound better than one set alone.

Doesn't fit with all rods. Curtain rods that are closely flushed to the window may cause the hooks and curtain to fit a bit awkwardly, and this placement may leave some room for light to come into the room.
NICETOWN Grey Blackout Curtains (52")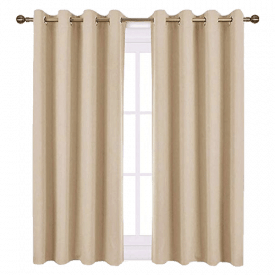 NICETOWN Grey Blackout Curtains (52")
NICETOWN'S 52 inch-wide blackout curtains are one of the best bargains available for people shopping for quality blackout drapes. This variety, in particular the grey-colored 45 inch-long black out drapes, cost less that $19 each.
Best Material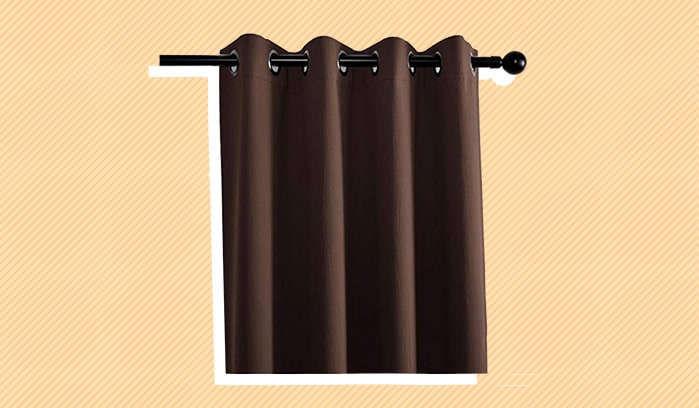 MIUCO Textured Blackout Curtains
Pros: 
Energy efficient. The triple-weave material (100 percent polyester & polyester blend) is designed to help cold air and hot air inside when you want it, and to keep out cold and hot air when you are trying to avoid the elements. This can help save on energy costs due to higher efficiency and less exposure.

Texture. The unique design of the fabric makes for a different look than standard curtains. The textured style gives greater depth, plays better with the light than standard solid colors, and can be easier to clean or dust.

Color options. While some other competitors only have a few color options, or the color options in the collection are rather bland, this reviewer found MIUCO's options to be fun and fitting of many different rooms one might have. Skye blue, rust, sage, and silver were my favorite colors.
Cons: 
Price. These drapes are quite nice and would most likely match most people's home decor. They do come in at about double the price of the best value on the market, so if you are looking for a temporary blackout curtain or simply don't want to spend the cash, you may want to look elsewhere.

Lighter colors don't block light as well. If you are really looking to block out as much light as possible, it is recommended going for one of the darker color options, like black or navy blue. Some of the lighter color varieties bleed in more light.
MIUCO Textured Blackout Curtains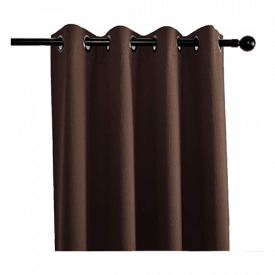 MIUCO Textured Blackout Curtains
The MIUCO Textured Blackout Curtains stand out from a crowd due to their textured fabric, offering more depth of appearance compared to solid-colored drapes. The triple-weave construction comes in 16 different varieties, including turquoise, navy blue, and rust.
Best Color Options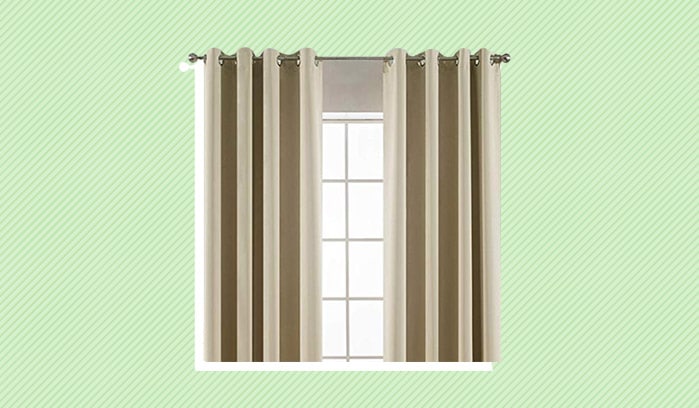 Yakamok Blackout Curtains
Pros: 
UV protection. Aside from the unwelcome arrival of sunlight when we are trying to sleep, the sun also emits Ulvra-Violet (UV) rays, which are radioactive and can be harmful to humans if we are exposed to too many rays. This brand is one of the few that promises 100 percent protection from UV rays, which may be what puts it over the top over some competitors.

Pretty fabric. The twenty-three colors offered by Yakamok are all mostly vivid, deep, and quite bright (if they are on the lighter side of the color spectrum). Standout colors are lilac, pink rose, burgundy, and coral.

Matte silver grommets. The grommets on these curtains (the rings that glide over the curtain rods) boast a classic but modern matte silver look. Some grommets can seem like they are made of cheap plastic or are plain black. These are the perfect detail for people who like the look of silver as a complementary accent.
Cons: 
Out-of-the-box smell. While this is common for products being shipped to our homes, there might be a faint scent that needs to be aired out a bit before installing.

Color descriptions. The colors are undeniably pretty, but some of the descriptions don't quite match the color. Pay more attention to the image than the description to get a more accurate feel for what you are ordering.
Yakamok Blackout Curtains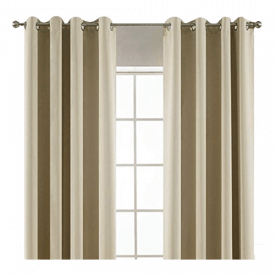 Yakamok Blackout Curtains
Yakamok's Blackout Curtains are made from a triple-weave polyester, with the same material and color front and back. These grommet-topped curtains are available in twenty-three vivid colors that can complement any aesthetic.
How We Picked
People are in the market for blackout curtains usually for a very specific reason. They are either trying to block out as much sunlight as possible in order to aid in sleep or privacy, or they are hoping to keep out all the elements, wind, heat and cold included, in addition to light. However, the difference between many of the leading brands of blackout curtains is not just the efficiency of the drapes to blackout light, but other factors like style, ease of cleaning, and fit in the house. Here are some of the factors we judged when comparing competitors:
Style
Blackout curtains – and curtains in general – can have different cuts and folds along the top, where the curtain typically slides over a curtain rod. Many companies use a grommet-style top whereas there are several ripples orienting the top lining (and rings) in different directions. This allows for easy folding in and out for opening and closing the drapes. Other options are backtap and hidden rod curtains. These are common but the grommet style is proving to be the most stylish of the day.
Weight
Though these curtains will never weigh much more than 4 lbs each, you might be surprised at how much curtain weight can make a difference on how your drapes look and how much stress they are putting on the curtain rod. Some companies have drapes that weigh half as much as the heaviest curtains. Before purchasing you should examine the curtain rod you have to see how study it seems. If you are buying everything altogether, and are looking for a thicker curtain to help with insulation and blocking out the most light, look for a rod that promises to hold a heavy load. Some of the lighter curtains don't block out light as well due to their thinner fabric base.
Variety of colors
Many customers will simply opt for a deep black curtain for blackout purposes, but some companies offer many other colorful options. Based on your aesthetic, or the specific room you are outfitting, a more colorful or subdued color may make more sense than the other. Darker colors do tend to be better at blocking out light, so watch out for the lightest blackout curtains, as their efficiency may suffer for the sake of its coloring.
Cost
Blackout curtains can vary wildly in price, from just around $18 to ten or twenty times that. Granted the most expensive products typically are priced that way due to their guarantees of blocking light, but that does not mean you have to break the bank to get some slumber. Many of the moderate-to-lower cost curtains will do just as good of a job and not cost you a fortune. The differences may be mostly cosmetic or stylistic.
Buying Tips
Not sure which blackout curtains are best for you? Before making your purchase, here are some tips that should help guide your decision-making:
What room is this for? Is this blackout curtain for your bedroom, the window above your bed, or a window right in the path of the high sun? Depending on where you are placing it, you may be in the market for a more heavy-duty product, or simply a lighter-colored one that blocks out some sun, but not all. Determine your lighting and stylistic needs and you will have an easier time navigating all of the different options out there in the market.
Get exact measurements and add a buffer. Some of the curtains do not hang at the exact length that they are listed as. Sometimes a trim or fold used to hide a row of stitches or to encapsulate the rings needed to hang on the rod will alter the length that the curtain actually hangs. Make sure you have the exact measurements you need and perhaps get a curtain that is a bit longer so you can ensure that you are blocking out the most sunlight.
How strong is your curtain rod? No one likes seeing a sagging curtain on a rod. It looks structurally questionable and is a blight in an otherwise nice room. If you are using an old curtain rod, see how it holds up with a heavier blanket hanging on it to see if it could handle a thicker, heavier curtain. If you are getting a less-heavy blackout curtain then you should probably be ok with any curtain rod.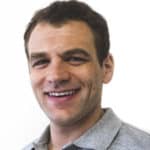 Logan is the content director of Sleepopolis, which means he not only reviews new mattresses every week, but also curates all the comparisons, best of pages, and video guides on the site. He takes a straightforward, honest approach to his reviews and endeavors to give viewers an objective look at each new product he tries out. Logan has perfected his method by personally testing over 200 different mattresses, so he's not only able to discern the overall vibe of a specific bed, but to contextualize its feel within the bed-in-a-box market as a whole. When he's not hopping on a new bed or working with our editorial team to whip up an engaging sleep education guide, you can find him reading books on world history, walking his dog Pepper, or searching for the best cheeseburger in New York City.