If you're in the market for a natural latex mattress, the Spindle might be your next buy. Not only is this bed built with three layers of soft, all-natural latex, but it's also adjustable, so you can tinker with the different sections for true personalized comfort and support. 
But how exactly does the Spindle sleep? I was very interested to see what this organic mattress was all about, so I put it through a variety of tests to find out. From firmness level to motion control, breathability to bounce, here's all you need to know about the Spindle mattress.
Continue reading below for my full Spindle mattress review. Don't have time to read it all? Click here to check out my review summary.
$250 Off With Code SUMMER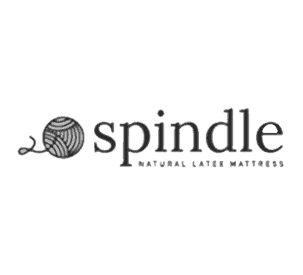 Three layers of soft, all-natural latex offer bouncy support and cooling comfort! Save $250 on your Spindle mattress with our exclusive discount!
Is the Spindle a Good Mattress for You?
Let's hit the ground running with some of the basics about the Spindle to help you decide if it's a good mattress for you. Depending on your body weight, height, and preferred sleeping position, the Spindle may or may not work for you. While I can't make that decision for you, take a look at some of my recommendations below to help you get there on your own.
Who I recommend the Spindle mattress for
I think the Spindle is a

great choice for indecisive folks.

The mattress has three individual layers that you can move around as your sleep preferences may change over time.

The Spindle is a

nice option for hot sleepers

, since its latex build is breathable and won't trap heat like other mattress materials may.

I think this mattress is a great

long-term investment

. While the initial purchase price isn't the most affordable, the Spindle will last longer than many other online mattresses out there.
Who I don't recommend the Spindle mattress for
If you are looking for a mattress that won't put a dent in your wallet, the Spindle may not be right for you. This is

not a budget mattress

, but the higher price tag might just be worth it!

Couples

may want to take into consideration how bouncy this mattress is. The latex makes this bed very responsive, which can be great for couples looking for a good mattress for sex, but also makes it a poor choice for those after motion isolation.

I don't recommend this bed for folks looking to have a ready-to-use mattress.

The Spindle will have to be assembled — instructions are included, don't worry — but that is one of the main complaints associated with it. The individual layers are heavy and awkward to put together. If you're up for a project though, go ahead!
How Firm is the Spindle Mattress?
Since folks of different sizes and body types are going to feel firmness differently, I decided to enlist three other testers to help me determine the firmness of this bed. While feel is always going to be personal, this will hopefully give you a better sense of the firmness range you can expect from the Spindle. We each took a turn lying on the mattress, shared our individual firmness ratings and compiled them on the graph below.

Though there was a bit of discrepancy among my testers, we ended up landing on an average firmness rating of 5.5 out of 10, where 1 is the softest and 10 is the firmest. When compared to the industry standard of 6.5 for medium firmness, it's clear that this bed is definitely on the softer side.
I personally gave the bed a 6. While you'll experience some slight sinkage through the softer top layers, the bouncy, all-latex construction gives a more "on top" of the bed feel. 
For the purpose of this review, I'm taking a look at the brand's Medium orientation. The bed comes with two Medium Dunlop latex layers and one Firm Dunlop latex layer — I placed the two Medium layers on top and the Firm layer on the bottom.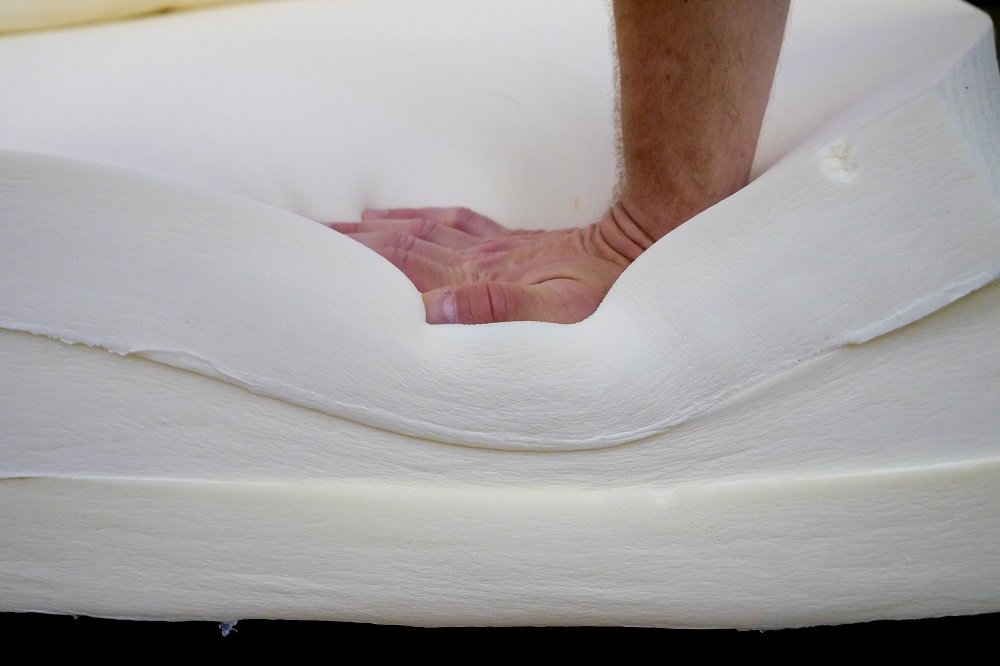 $250 Off With Code SUMMER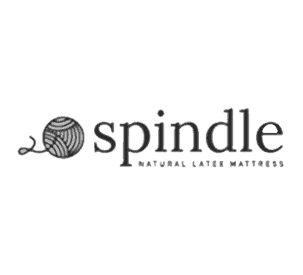 Three layers of soft, all-natural latex offer bouncy support and cooling comfort! Save $250 on your Spindle mattress with our exclusive discount!
Spindle Mattress Performance 
We've used a few tools to measure how the Spindle performs in real life scenarios. To really determine whether or not a bed is a good fit, it's important to consider how it performs in different sleeping positions, how it relieves pain and pressure, and how it might feel to couples sharing the bed. I'll share some of those results later on, but first I'm going to discuss how the Spindle works for sleepers of differing body weights.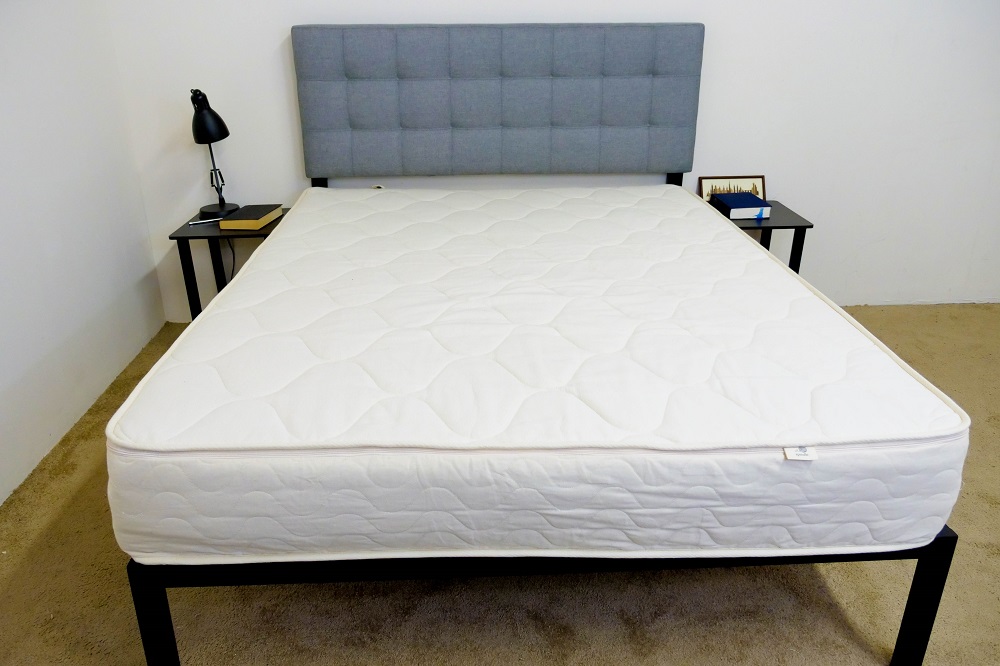 Testing the Spindle Mattress in Different Sleeping Positions
Depending on your body type and preferred sleep position, you're going to experience a mattress uniquely. Generally, light sleepers don't require the same amount of support as heavy sleepers. Read on below to see how the Spindle mattress performs for sleepers of different weights.
Keep in mind that I tested the Medium model of the Spindle bed. I placed two Medium Dunlop latex layers on top of a single Firm layer of Dunlop latex.
Is the Spindle a Good Mattress for Light Sleepers (Under 130 lb)?
Light Back Sleepers –

These sleepers should feel supported enough, but will experience a bit of sinkage at the hips. Those looking to remain truly on top of the mattress should place the Firm layer on top or opt for a firmer mattress.

Light Side Sleepers –

These sleepers should feel nice and pressure-relieved on this bed. I'd especially recommend it to lightweight side sleepers who are looking for a little bit of contouring, and a lot of healthy spinal alignment.

Light Stomach Sleepers –

This mattress is going to be a bit softer than what light stomach sleepers prefer. They might get what they need by placing the firm layer on top, but in general I'd steer them to an overall firmer mattress
Is the Spindle a Good Mattress for Average Weight Sleepers (130 – 250 lb)? 
Average Weight Back Sleepers –

These sleepers will not find the support they need with this softer mattress. I recommend these sleepers opt for a firmer mattress overall.

Average Weight Side Sleepers –

Average weight side sleepers might be happy here. This mattress is not going to provide much pressure relief, but could make side sleepers feel their weight evenly distributed. If you aren't in need of deep pain relief, I recommend using the trial period and checking it out for yourself!

Average Weight Stomach Sleepers –

I don't recommend this mattress to stomach sleepers, who need a firmer mattress to prevent sinkage at the hips. ​​I'd steer these sleepers to a firmer

innerspring mattress

instead.
Is the Spindle a Good Mattress for Heavy Sleepers (over 250 lb)? 
Heavy Back Sleepers –

I don't think this bed has the level of support that heavy people need. Although it does have a latex built, I typically steer these sleepers to a mattress designed for their needs, like one of our

best mattresses for heavy people

.

Heavy Side Sleepers –

See above.

Heavy Stomach Sleepers –

See above.
Spindle Mattress Pain Relief Performance
A mattress that helps alleviate pain is one that's going to relieve pressure at sensitive pain-prone pressure points at the hips, shoulders, and lower back. Depending on the type of pain you have, you'll want to choose a specific mattress to combat it. Ideally, your mattress will balance pressure relief and support in a way that works for your body type and sleep position.
Rather than just describing how the Spindle feels, I thought I'd give you a visual representation of where you're likely to feel pressure points form while lying on top of it.
To test the Spindle's pressure relief, I used a pressure mat. I unrolled the mat on the mattress and lay down on top of it. The mat creates a "map" of pressure that turns blue or green in low-pressure areas, and yellow or red in high-pressure areas.
Take a look at the Spindle's pain relief performance below!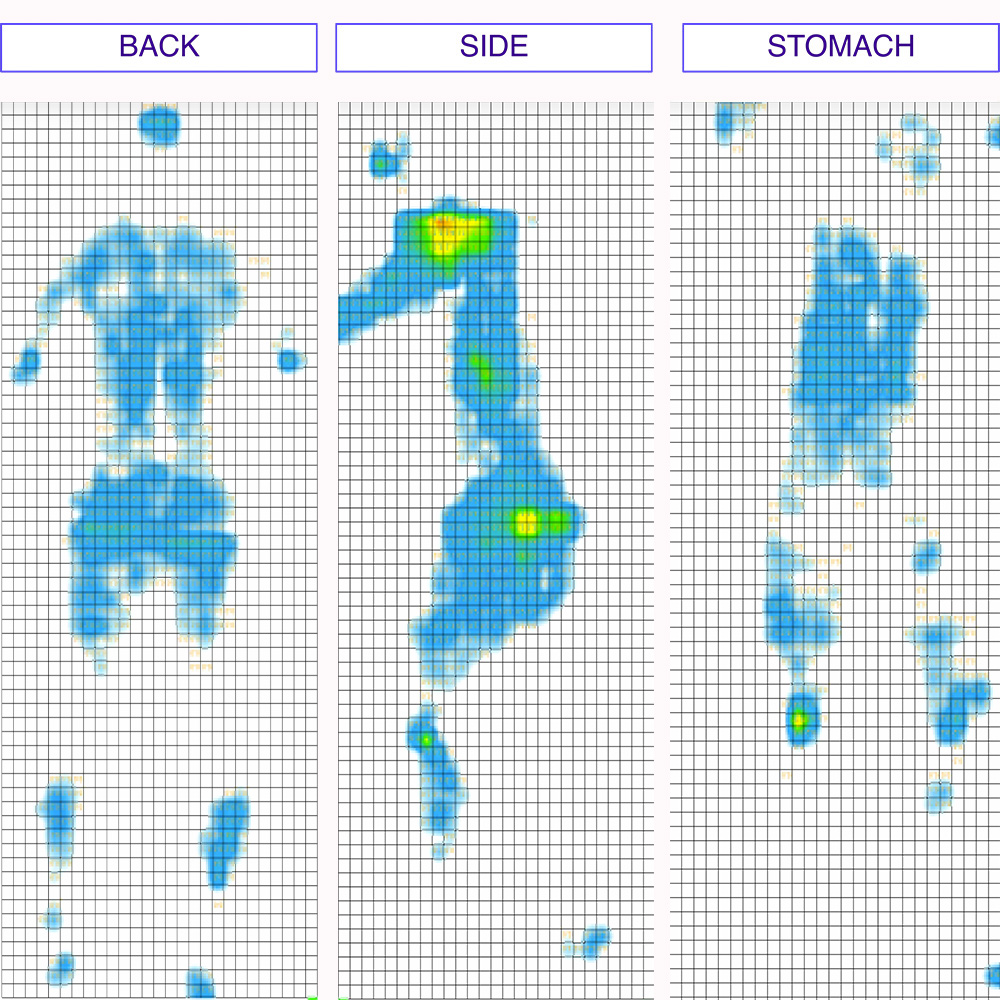 Back Pain – Lying on my back, I felt as though my weight was pretty evenly distributed across the bed. I detected some nice pressure relief at my lower back, with the soft latex comfort layer filling in the space at my lumbar region. While I did sink in a bit here, I definitely felt as though I was on top of the mattress and found it easy to change positions. Although this is a good option for pressure relief for back sleepers, the same can not be said for stomach sleepers with back pain.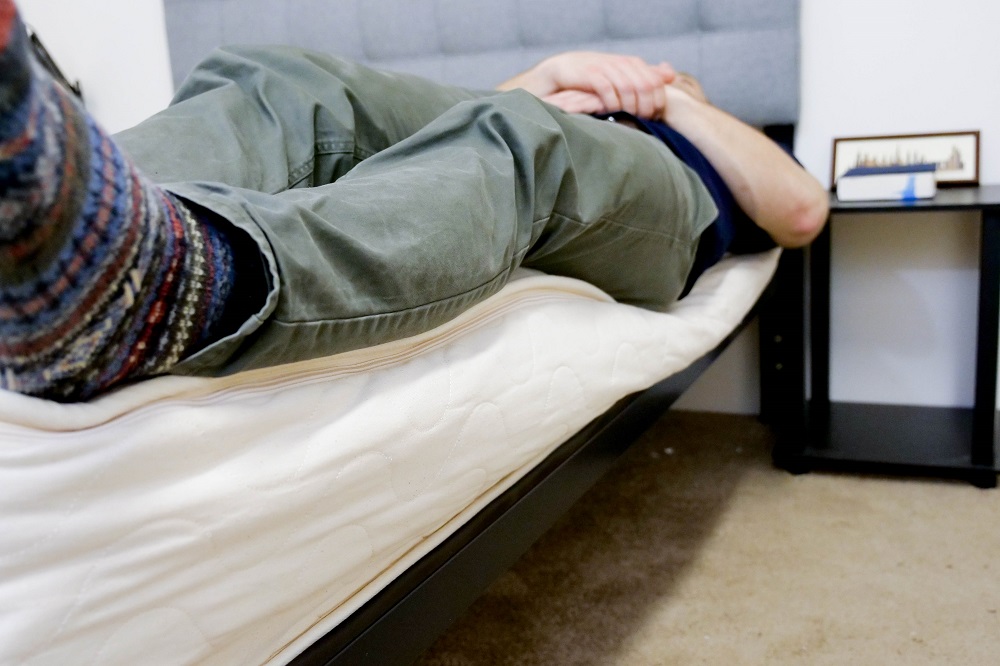 Shoulder Pain – As you can clearly see in the graphic, once I rolled onto my side, I began to feel the formation of pressure points at my shoulders and hips. However, I wouldn't say this tension was so extreme as to leave me feeling uncomfortable. Though you aren't going to get a ton of cushiony relief at your shoulders and hips—typical problem areas for side sleepers—the latex design is gentle and does provide quality comfort to these body parts. Back and stomach combination sleepers should have some relief at their shoulders due to the ease of movement, but similarly to side sleepers will not experience deep pressure relief.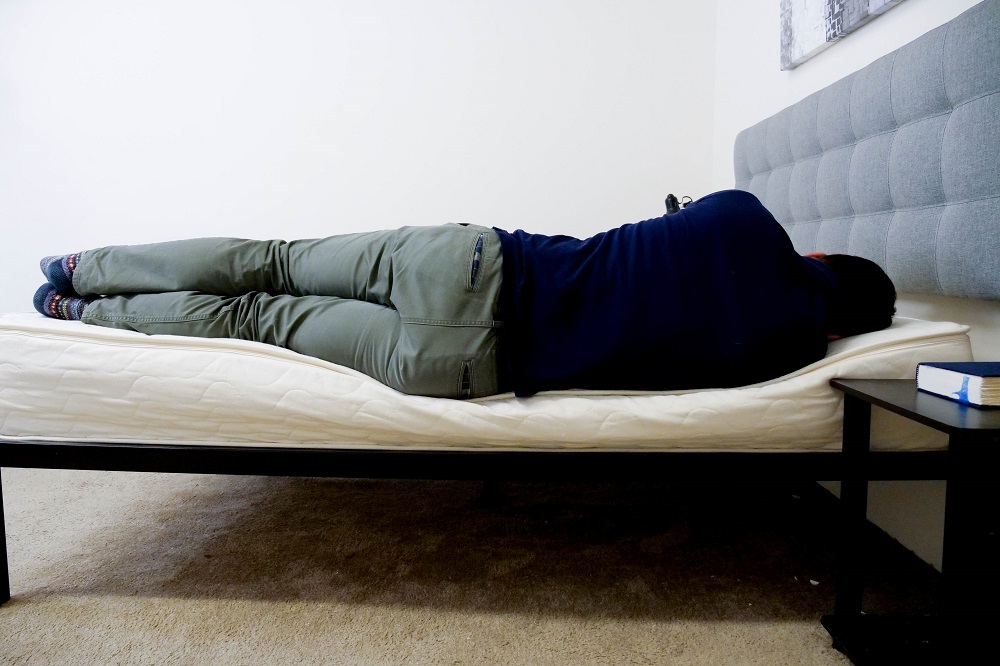 Hip Pain – Though the graphic doesn't necessarily show this, I did feel pressure forming at my hips while lying on my stomach. Stomach sleepers tend to prefer firmer mattresses as they'll keep their hips lifted and in a nice alignment, so it's not surprising that I'd feel some discomfort here as I was testing the medium option. I would recommend stomach sleepers with hip pain opt for a firmer, more structured bed, but back sleepers with hip pain should find lots to love about the Spindle. Side sleepers with hip pain should really consider one of our best memory foam mattresses in order to get the plush, softer touch they prefer.
Spindle Performance for Couples
When sharing the bed with a partner, you'll want to keep a few more things in mind while shopping for a new mattress. Features you'll want to consider include motion transfer, performance during sex, cooling, and edge support.
Motion Transfer
Let's chat a little bit about motion transfer,
or the amount of disturbance you're likely to feel from one side of the bed to the other. This test will be of particular interest to anyone planning to share their bed with a partner, as it'll let you know whether or not your bed mate's movements are going to ruin your beauty sleep.
To illustrate this motion transfer, I dropped a
10 lb
steel ball from heights of 4 inches, 8 inche
s,
and 12 inches and measured the disturbance it caused: the bigger the lines, the bigger the disturbance.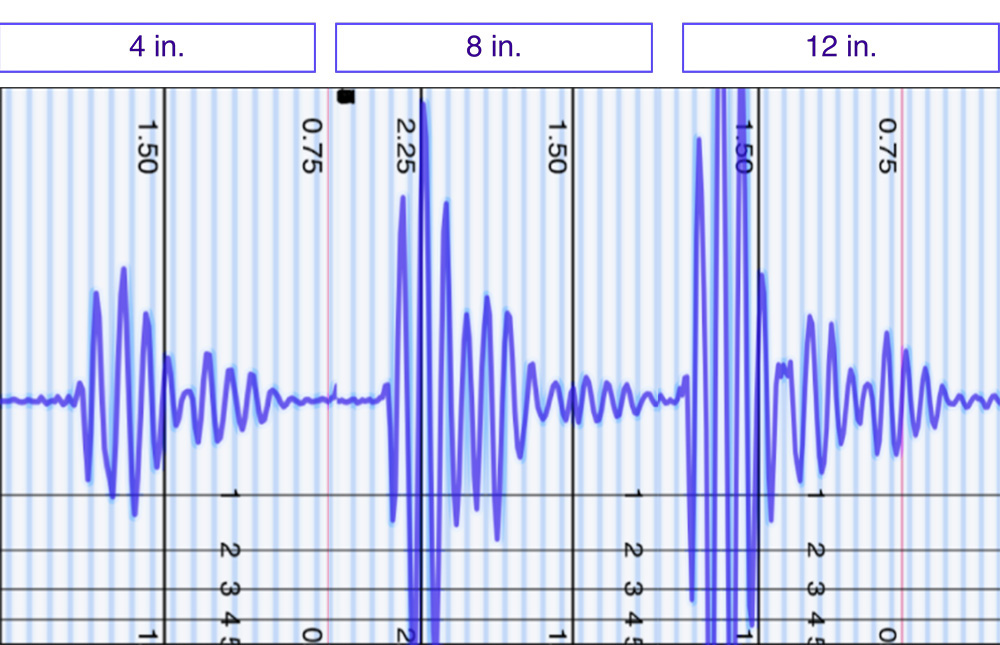 As you can clearly see in the graphic above,
these are very high motion transfer readings
. I'm not too shocked by these results as latex is an extremely buoyant material, especially when combined exclusively with more latex. While the responsiveness of the structure is going to be fantastic for support and changing positions, it does unfortunately mean that you're likely to feel your partner's every toss and turn.
$250 Off With Code SUMMER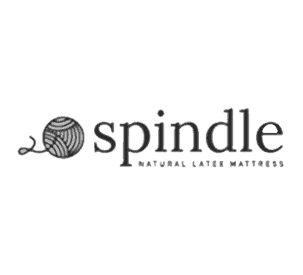 Three layers of soft, all-natural latex offer bouncy support and cooling comfort! Save $250 on your Spindle mattress with our exclusive discount!
Sex
Although it is unfortunate to see such high motion transfer results when it comes time to get some shut eye, the same results actually make this a great mattress for sex. The latex build has a springy, responsive touch with limited sinkage making it excellent for active couples in the bedroom.
Cooling
Generally, latex mattresses are naturally cooling and that is definitely the case here. The Spindle regulates body temperature, and wicks away moisture very well to allow even the hottest of sleepers to stay cool and dry all night long. 
Edge Support
If you're going to share your bed with a partner and need to use the entire surface area of the mattress, it's going to be crucial for you to consider the amount of edge support it'll provide.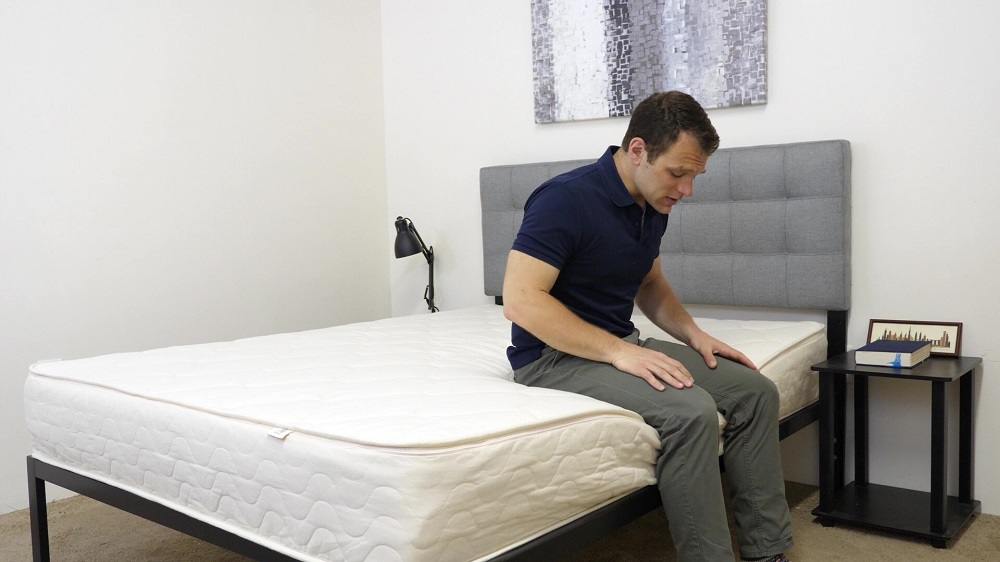 When I initially stretched out on the side of the mattress, I felt about as supported as I did in the center. However, as you can see in the photo, once I scooted closer to the edge, I began to experience some pretty deep compression through the top latex layers. While this didn't necessarily make me feel less secure here, it is something that I would take into consideration. Though I didn't feel totally secure in this position, I still felt solid enough to where I wouldn't roll out of the bed. Couples should take advantage of the sleep trial to see how this mattress's edge support holds up for them!
What is the Spindle Mattress Made Of?
As I mentioned up top, the Spindle is an adjustable bed, but it's unlike others you might've seen on the market. The bed will actually come in three different boxes — one for each layer of the mattress. You will receive two medium mattress layers and one firmer layer to stack based on your preferences.
But enough about all those logistics, let's jump into this bed and see how the design works!
Cover – The mattress cover is crafted out of organic cotton and all-natural wool batting. The combination of materials makes for a gentle hand feel, providing immediate comfort to the sleeper. I should add that wool is great at wicking moisture, which will help keep things nice and cool through the night.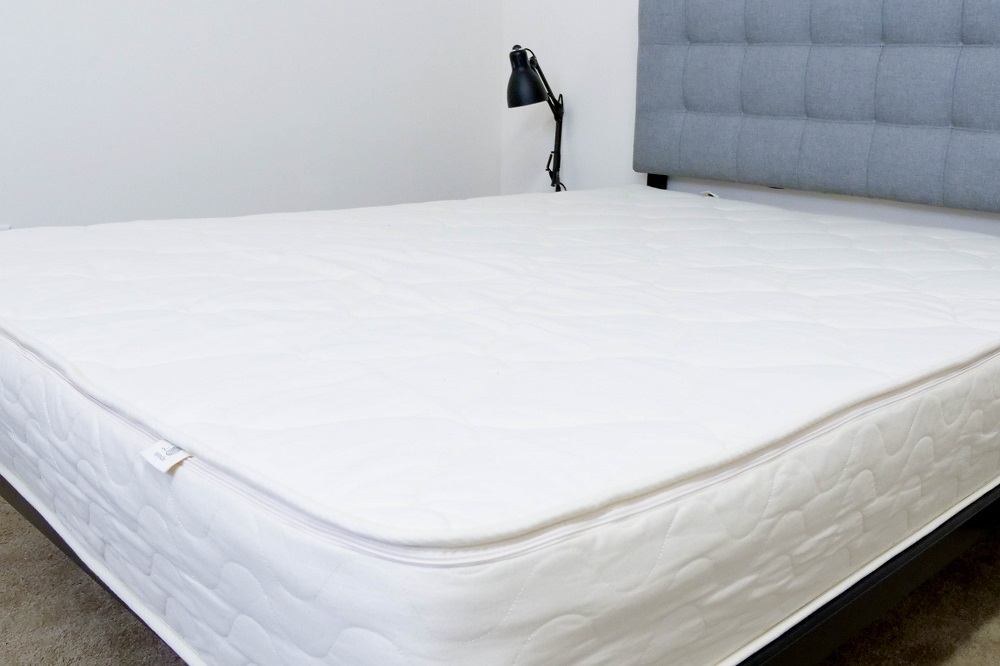 Comfort Layer – The comfort layer in this orientation consists of a 3 inch layer of medium natural latex. This material is soft yet quickly responds to pressure, ensuring that the sleeper will enjoy some nice pressure relief without feeling stuck in the mattress.
Transition Layer – Directly below the comfort layer, you'll find another 3 inches of medium natural latex. In addition to extending the comfort of the top layer deeper into the mattress, this section also works to transition the sleeper into the bed's firm foundation.
Foundation Layer – The base is made up of 3 inches of firm natural latex. This section gives the bed its stability and shape, acting as the main support of the mattress. As with the other latex layers, it will also draw on the material's inherent cooling properties to prevent overheating.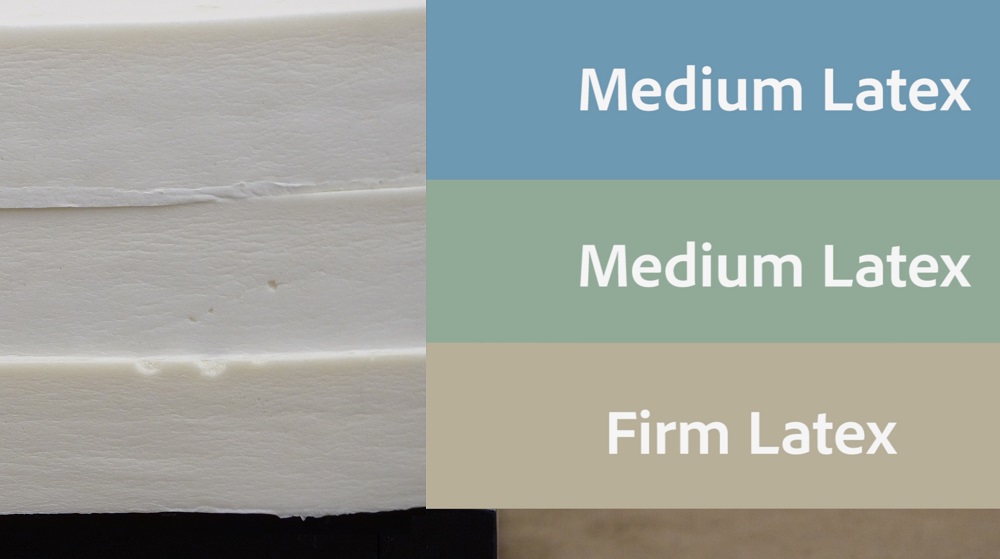 Spindle Unboxing and Off-Gassing
The Spindle is a bed-in-a-box mattress, which means it will arrive compressed and will have to be unboxed at home — but not just in one box. The Spindle is unique in that it ships each mattress layer in its own box, so you'll have three packages waiting on your doorstep. As with all bed-in-a-box mattresses, you'll need to wait at least 24 hours for this bed to fully decompress. 
As with many new mattresses, the Spindle will likely emit a smell when it is first unboxed — this is known as off-gassing. Although this smell is not harmful, it does come with a synthetic foam, "new mattress" smell. If you experience off-gassing, I recommend leaving the mattress in a well ventilated room and within a few hours the smell should be completely gone!
$250 Off With Code SUMMER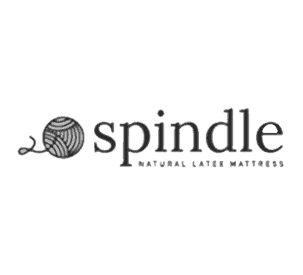 Three layers of soft, all-natural latex offer bouncy support and cooling comfort! Save $250 on your Spindle mattress with our exclusive discount!
My Final Thoughts about the Spindle Mattress
With that, I've reached the end of my review. Now it's time to answer the all-important question: Is the Spindle a good mattress for you? Here are some final thoughts to help you decide.
My favorite things about the Spindle Mattress
From the organic cotton and wool batting in the cover to the all-natural latex foam used throughout, one of the Spindle's standout qualities is its eco-friendly construction. This would make it a great option for anyone interested in getting their hands on a green mattress with natural materials. As I mentioned a few times throughout this review, the Spindle is a very bouncy bed, thanks to its all-latex construction. So if you're on the prowl for a buoyant structure that'll keep you lifted on top of the bed, it could be a fantastic pick for you. This bed could also be an excellent choice for hot sleepers. The combination of moisture-wicking wool and all-natural layers of latex creates a wonderfully cool mattress that's not likely to overheat in the night.
My Spindle mattress complaints
You may have heard some complaints about setting up the Spindle and I won't lie and say the build was the easiest thing in the world, but it was pretty neat to construct a bed tailor-made to my preferences. However, if you're looking for a ready-to-go bed, this is not the one for you. Couples may want to take into consideration the lack of motion isolation here. If you sleep with a restless partner, you may find yourself without much rest in the morning!
How much does the Spindle Cost?
Price is a big consideration when choosing a new mattress. Take a look at our Spindle pricing chart below to find out more about this mattress's cost. Remember to click on our Spindle coupons inside this review to get a great deal!
The prices listed here will be before discount or offer for each size.
$250 Off With Code SUMMER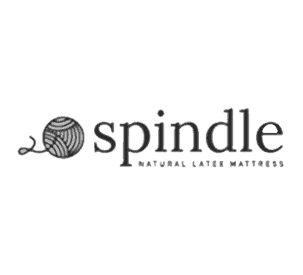 Three layers of soft, all-natural latex offer bouncy support and cooling comfort! Save $250 on your Spindle mattress with our exclusive discount!
| Size | Dimensions | Weight | Price |
| --- | --- | --- | --- |
| Twin | 38" x 74.5 x 10" | 95 lbs | $1,599.99 |
| Twin XL | 38" x 79.5" x 10" | 100 lbs | $1,599.99 |
| Full | 53" x 74.5" x 10" | 125 lbs | $2,299.99 |
| Queen | 60" x 79.5" x 10" | 150 lbs | $2,499.99 |
| King | 76" x 79.5" x 10" | 180 lbs | $2,999.99 |
Spindle Mattress Policies and FAQs
Does the Spindle mattress offer a sleep trial period?
Yes! Spindle offers a 365 night risk free trial to determine if it is a good bed for you. If after a year you are not loving your Spindle mattress, you can rest assured you will get every penny back.
Does Spindle offer a mattress warranty?
Spindle mattresses have a 10-year warranty from the date of purchase. Spindle also offers a 25-Year Comfort Life program, where at any time during ownership of a Spindle mattress, you can modify your mattress by buying another layer of latex at a 30% discount.
How does the Spindle ship?
The Spindle will ship for free, arriving compressed in at least three different boxes. Shipping is available to anywhere in the United States and Canada. I recommend assembling the bed with a partner as it's a bit laborious.
Is the Spindle mattress considered a green mattress?
With the cover being made of organic cotton and wool batting and the all-natural latex used throughout, it is an eco-friendly option. Consumers looking for a green mattress will like the features.
Spindle Mattress Vs
Let's take a look at how the Spindle compares to two other natural latex mattresses on the market, the PlushBeds Botanical Bliss and the Birch mattresses. While all three mattresses include latex builds there are a few key differences between these beds.
Spindle vs PlushBeds Botanical Bliss
The Botanical Bliss is a

medium-firm

mattress, making it a good option for most sleepers.

The Botanical Bliss comes in

three different heights

: 9, 10, and 12 inch models.

The PlushBeds mattress is definitely

not a budget buy

, but you will get your money's worth with the durable Botanical Bliss. 

Take a look at my full

Plushbeds Botanical Bliss mattress review

to find out more!
Spindle vs Birch
The Birch is our

Editor's Pick

for

Best Latex Mattress 2021

.

Birch is going to fall much at a

much firmer rating

, a 7 out of 10 on the firmness scale, making it suitable for stomach sleepers.

Pricing is almost identical for these two mattresses.

Learn more in my full

Birch mattress review

.
Take a look at how the Spindle performed on my star rating chart below!
Spindle Mattress
Materials

Comfort

Support

Value

Cooling

Edge Support

Sex

Smell

Company

Refunds

Trial

Warranty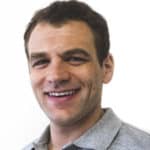 Logan is the content director of Sleepopolis, which means he not only reviews new mattresses every week, but also curates all the comparisons, best of pages, and video guides on the site. He takes a straightforward, honest approach to his reviews and endeavors to give viewers an objective look at each new product he tries out. Logan has perfected his method by personally testing over 200 different mattresses, so he's not only able to discern the overall vibe of a specific bed, but to contextualize its feel within the bed-in-a-box market as a whole. When he's not hopping on a new bed or working with our editorial team to whip up an engaging sleep education guide, you can find him reading books on world history, walking his dog Pepper, or searching for the best cheeseburger in New York City.