Be aware! Another big mattress battle is about to begin. Purple is the newest, most raved about mattress on the market and they're about to go head-to-head with the well known Casper mattress. Will Purple be able to knock Casper off their feet? Continue reading below to discover whether or not Purple has what it takes to compete with Casper.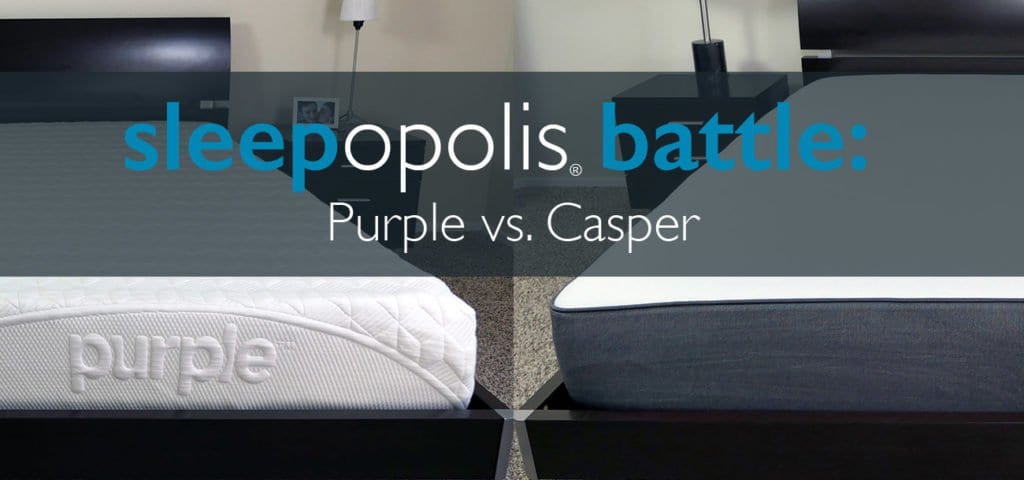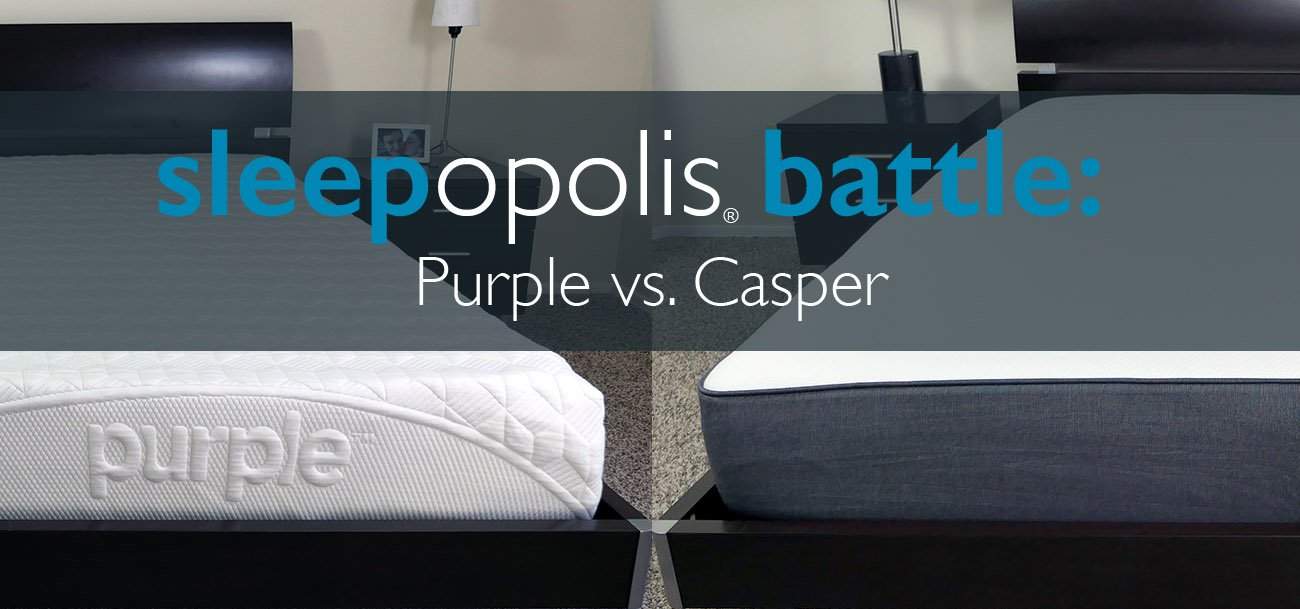 Purple Mattress Review
Construction
Purple is a 9.5″ mattress made from 3 layers of polymer and foam. Atypical to most mattresses, Purple uses a highly engineered hyper-elastic material in addition to 2 layers of foam.
Top layer (cooling & comfort) – 2″ layer of hyper-elastic polymer. This layer is designed to provide remarkable cooling as well as pressure point relief. The hyper-elastic polymer is designed with "smart grid" technology, which helps to keep the sleeping surface extremely cool and comfortable.
Middle layer (transitional support) – 3.5″ of polyurethane foam. This layer works hand-in-hand with the top layer to provide transitional support as well as the deep compression support for heavier sleepers.
Bottom layer (foundation) – 4″ of polyurethane foam. This layer acts as the foundation for the mattress.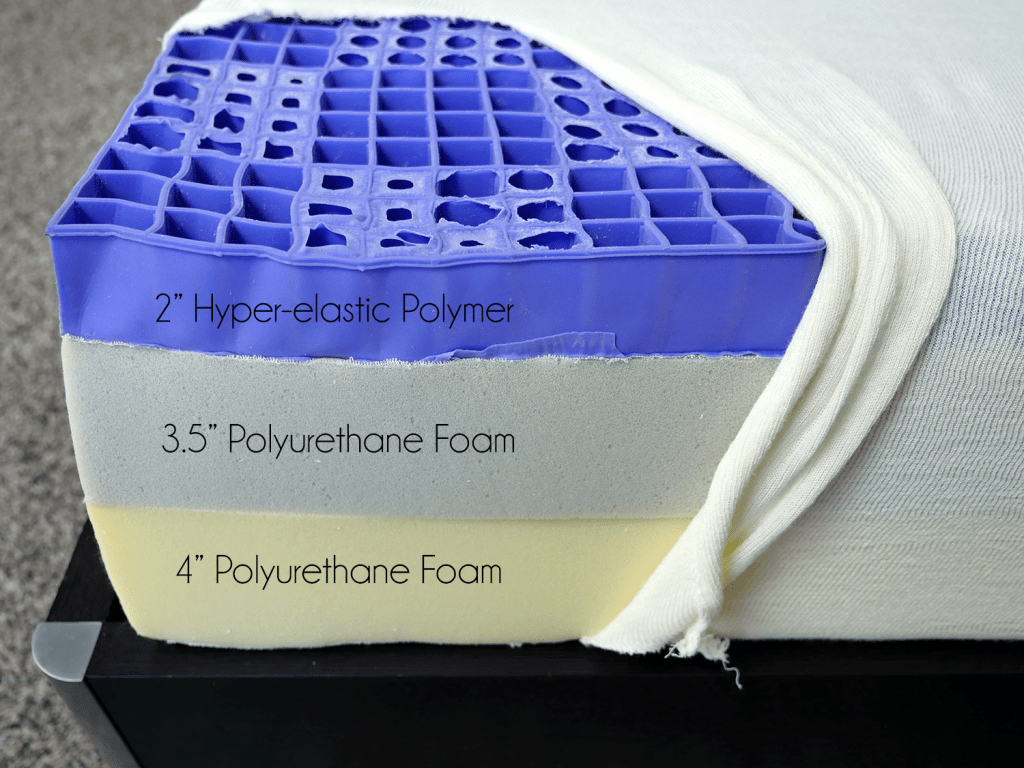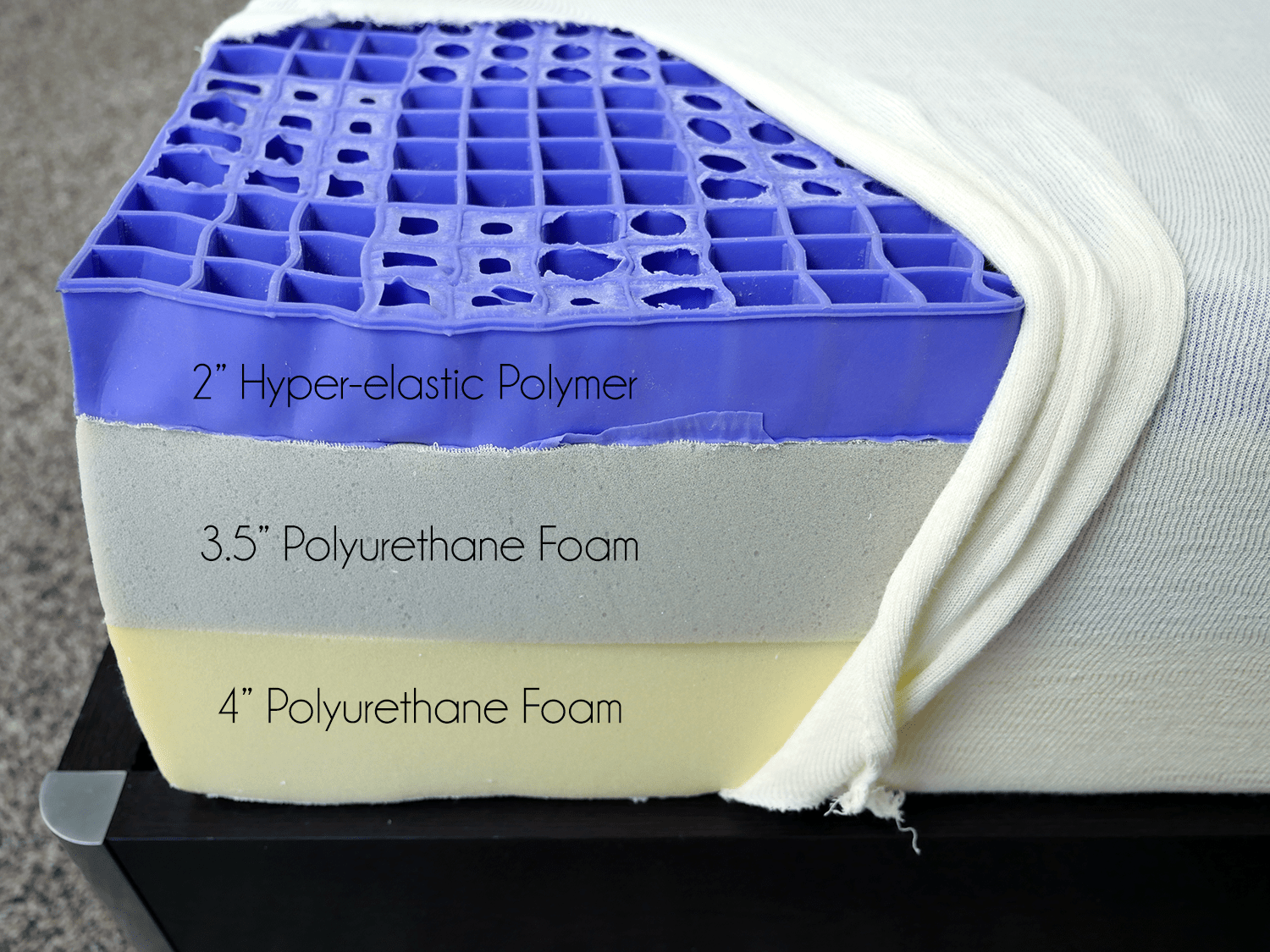 Cover
The Purple's cover contains a combination of polyester (69%), viscose (27%), and polyester-lycra (4%). The blending of these materials makes for a highly breathable cover. Additionally, the cover is soft and has the ability to stretch quite easily. As I pulled the cover from several different angles it had no trouble popping right back into place. The cover of the Purple mattress works extremely well with the hyper-elastic polymer smart grid design to provide a very cool sleeping surface.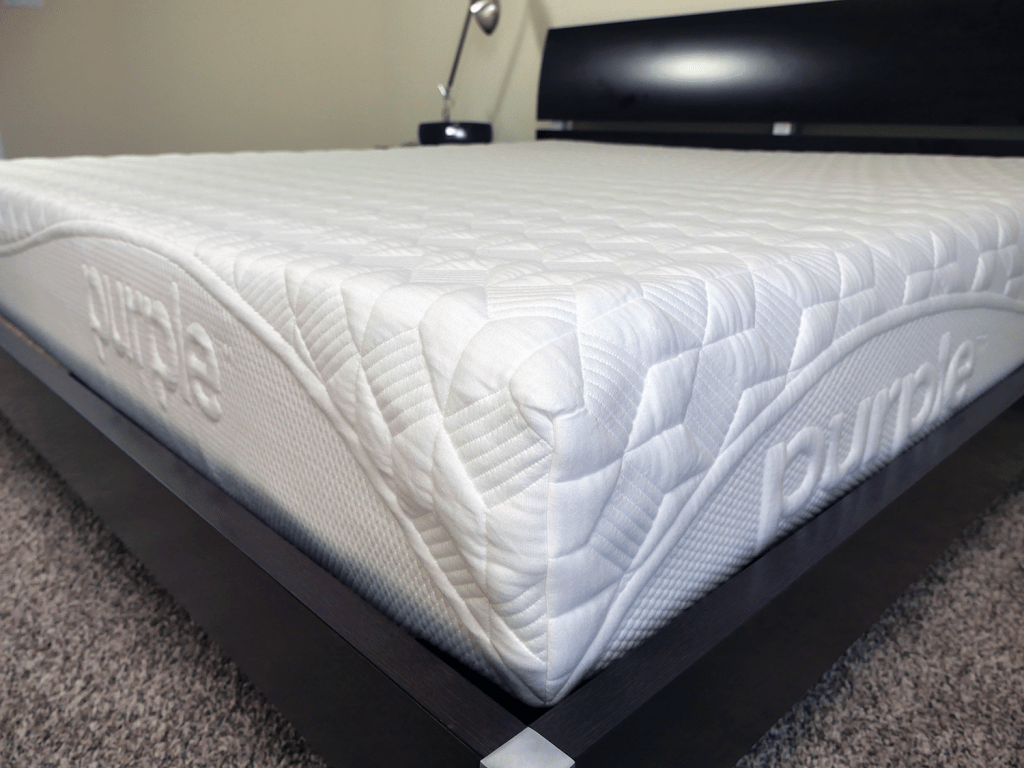 Aesthetically, the cover has a great mix of modern and traditional style. As an all white cover, you get the traditional look. On the other hand, the diamond pattern scattered across the mattress adds a little flavor to the traditional look. In addition, Purple embossed their logo to all 4 sides of the mattress, giving the cover a more modern finish. Granted, the cover is nothing extraordinary but Purple did a great job of taking a basic all white cover and sprucing it up.
Firmness, Feel, & Support
Purple has one of the most unique feels that I have tested to date. Coming in at a 6-6.5 out of 10 on the firmness scale, with 10 being the most firm, this is a mattress designed to fit the needs of the vast majority of sleepers.

As stated above, Purple is quite unique in terms of feel. Their smart grid design provides a feel that I have not experienced on a mattress yet. The polymer material has properties similar to that of latex, but with a feel all their own. When it comes to support, Purple is great. The mattress has the ability to dissipate the pressure points your body tries to create while remaining comfortable. Between my wife and I, we cover all sleeping positions and both felt as if the Purple did an excellent job maintaining stable spine alignment in addition to full body support.
One of the most interesting characteristics about Purple is its ability to act and feel different for every sleeper. As a lighter sleeper (<130 pounds) you will tend to feel more of a floating feeling while lying on the mattress. There will be less pronounced contour as well, due to the minimal amount of sinkage you are experiencing.
As weight increases (130-150 pounds) you will experience a slight amount of sinkage and body contour. This trend increases all the way up to 300 pounds. Needless to say, the heavier you are the more hug you will receive. Yet, regardless of weight, the support from the Purple mattress will not change. Whether you're 100 pounds or 300 pounds, Purple provides great adaptive support for all weights and body types.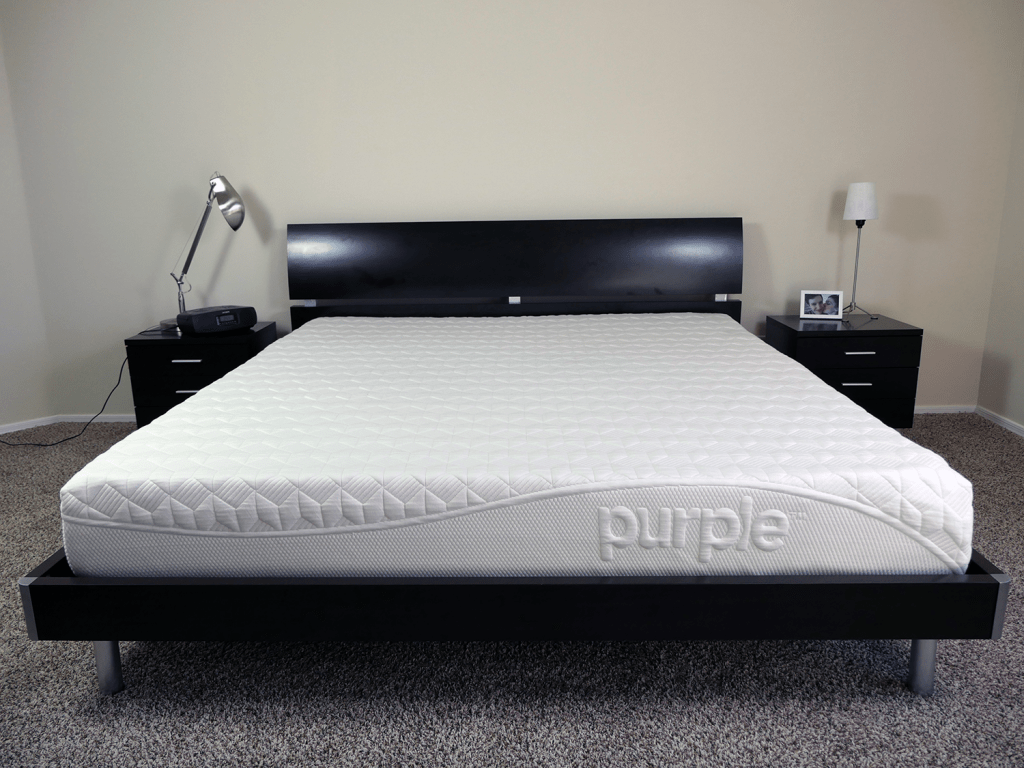 The most impressive feature of the Purple mattress is its cooling capabilities. The smart grid design created by Purple is quite the cooling system. The smart grid looks more like a webbed design with air pockets covering the entire surface. These air pockets allow the foams below to breathe much easier, creating a cool sleeping surface. Purple is one of the coolest mattresses I have tested to date.
In the image below, you may notice a white substance in between the pockets of the smart grid.  This is a proprietary plastic powder created by Purple. It's designed to help prevent the mattress from sticking together after it has been compressed and is shipping to you.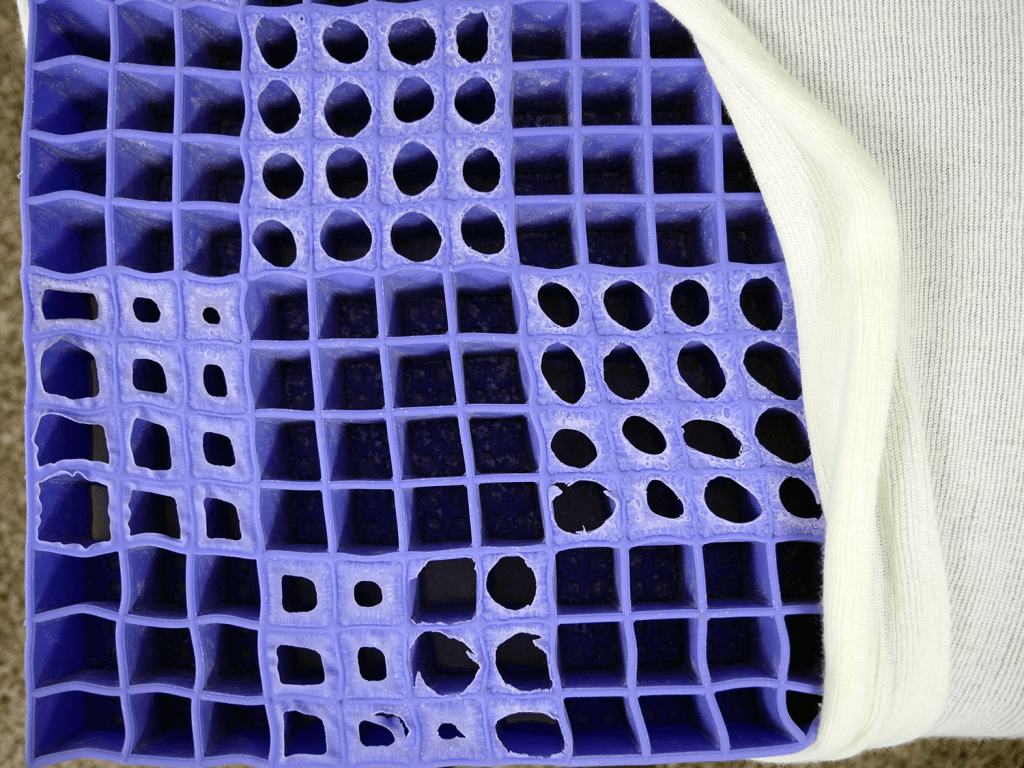 Purple's fact sheet regarding the powder includes the following:
It is NOT a talc powder. Talc is a mineral and our plastic powder contains no talc whatsoever, or any mineral for that matter.
It is chemically inactive, AKA an inert substance.
It is a food-contact-grade material, meaning that this family of plastic materials can be used for eating utensils, children's toys, etc.
It is 100% non-toxic and is completely harmless.
Personally, I'm a fan of the Purple's feel. To top things off, Purple's bounce is great. If you're looking to excite things in the bedroom, this mattress is a great choice with regards to amorous activity. Tacking onto that thought, the motion transfer of Purple minimal. So while you have the ability to enjoy intimate times, you will also reap the benefits of sleeping undisturbed.
Pricing
| Size | Price |
| --- | --- |
| Twin XL | $699 |
| Queen | $999 |
| King | $1,299 |
| California King | $1,299 |
Other Details
Shipping – free, compressed in the easy to open Purple "tube" (may take 3-4 weeks to ship)
Warranty – 10 years
Trial Period – 100 nights
Made in the USA
Want more information on the Purple? Read the full Purple mattress review here.
Casper Mattress Review
Construction
Casper is a 9.5″ all foam mattress built from 4 separate layers.
Top layer (poly foam) – 1.5″ of responsive poly foam. This responsive poly foam has good bounce, sleeps cool, and provides much of the comfort and feel for the mattress.
Second layer (memory foam) – 1.5″ layer of memory foam. Placed below the responsive poly foam to help prevent heat retention issues. Creates much of the support and pressure relief for the mattress. It has a density of 4.0 PCF (pounds per cubic foot)
Third layer (support foam) – 1.5" of poly foam. This layer is designed to act as the transitional layer between the above comfort foams and base foam. It has a density of 2.5 PCF.
Bottom layer (support foam) – 5.0″ of support foam. This layer acts as the foundation for the mattress, providing support. It has a density of 1.8 PCF.
Please note, the density measurements listed above were previously published on Casper.com. That said, they have been removed from the original location I found them and I haven't been able to find a new reference for them on Casper's website.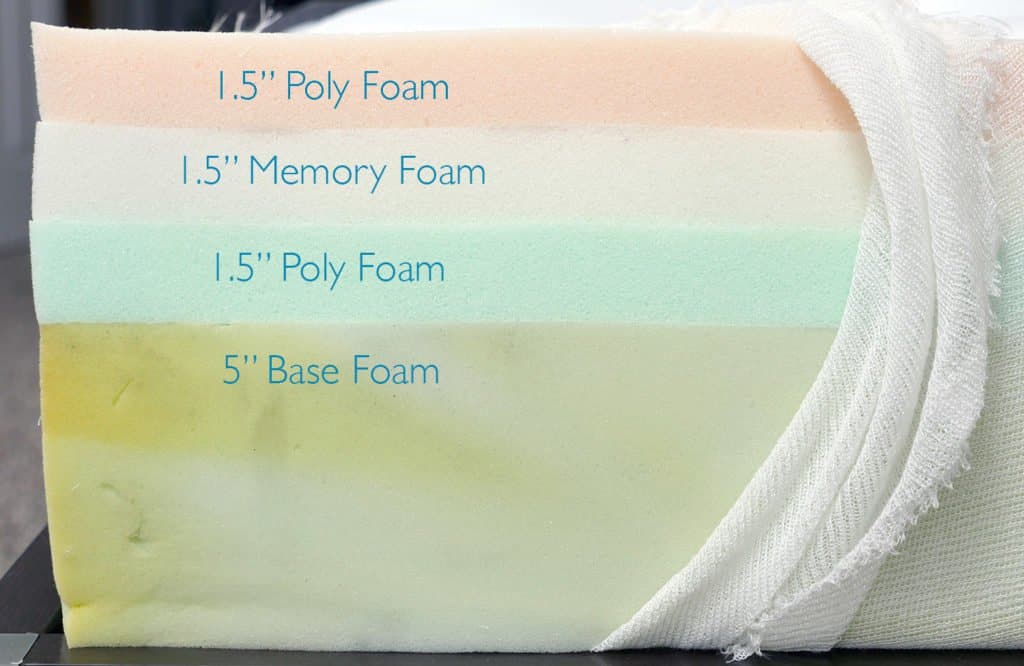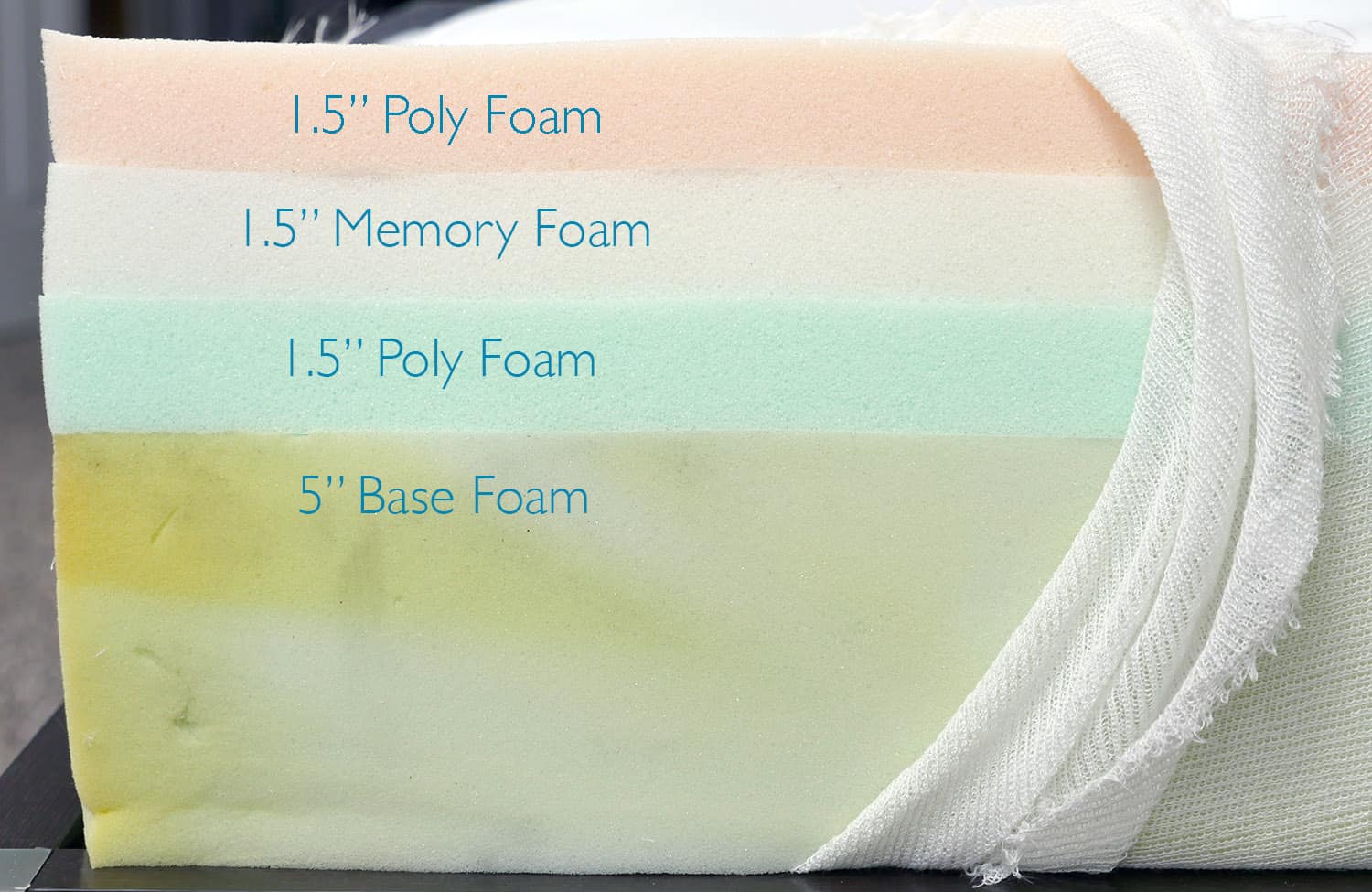 Cover
The Casper offers the two-tone cover that seems to have become the staple aesthetic for many online mattresses. The top portion of the cover is made up of 100% polyester and is quite porous. The blend of these two qualities work to provide a cooler sleeping surface. The bottom of the Casper cover is also 100% polyester, with the side panels being made from 51% polyester and 49% polypropylene.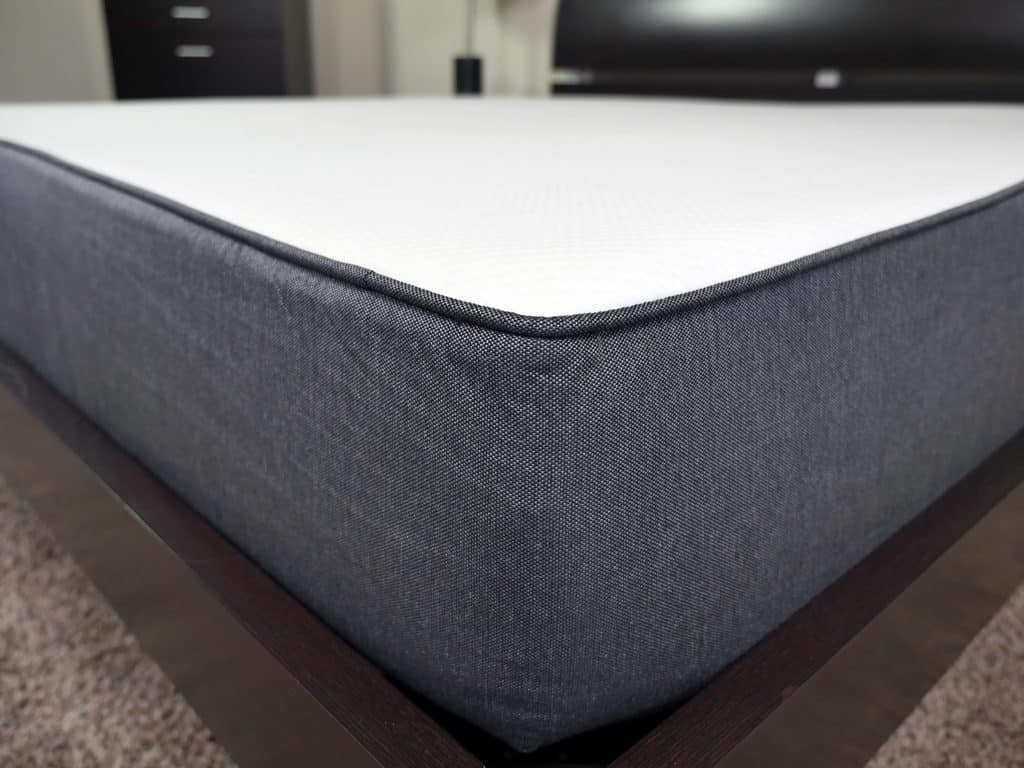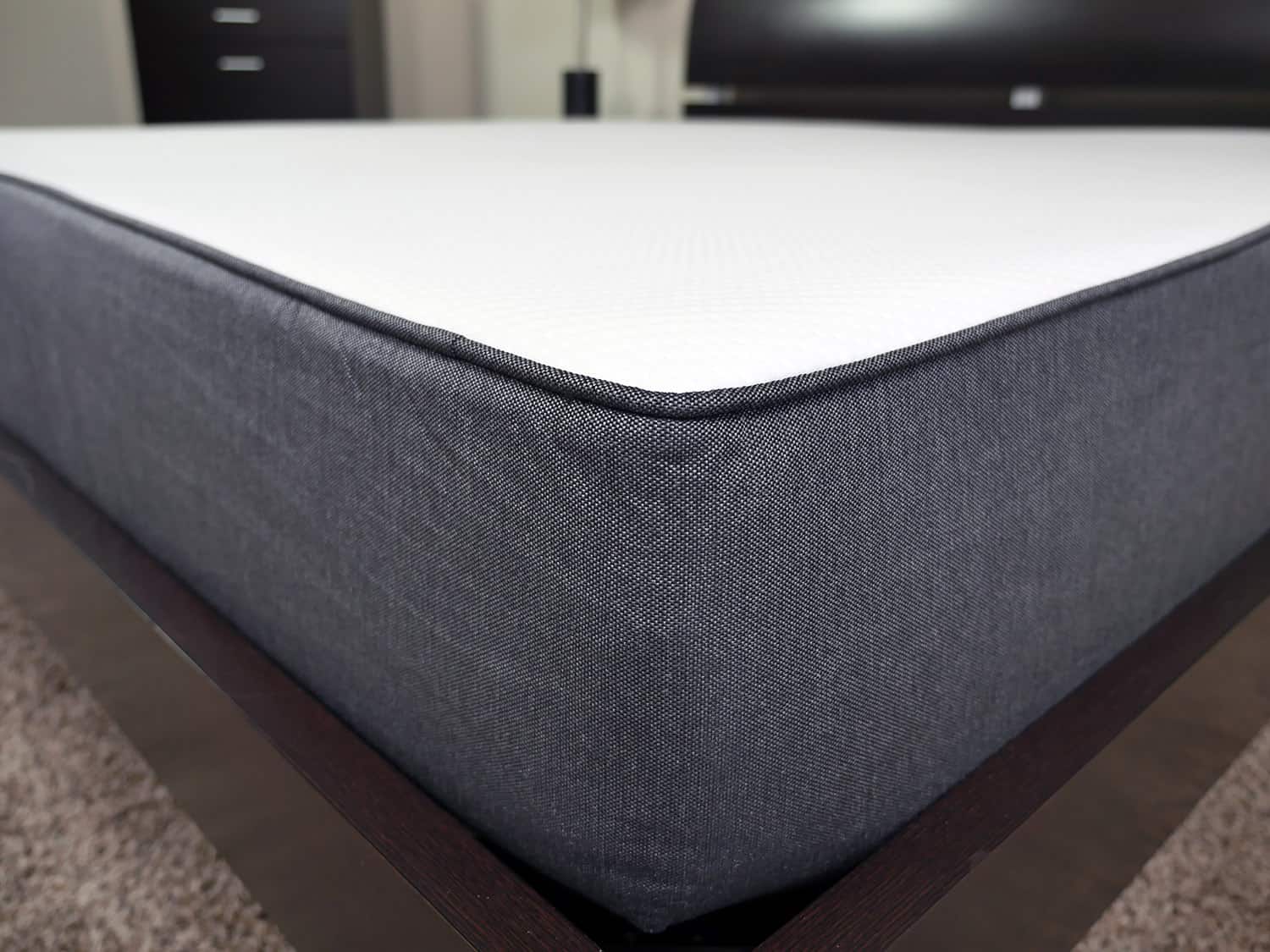 Firmness, Feel, & Support
The Casper lands at a 6-7 out of 10 on the firmness scale, with 10 being the most firm. Similar to Purple, Casper is designed to fit the needs of most sleepers. With that said, the firmness level of the Casper will change depending on the weight of the sleeper. If you're a heavier sleeper, Casper will feel more like a 7 out of 10 on the firmness scale. This is due to the increased sinkage, putting the sleeper in deeper engagement with the more dense, harder foams.

As a lighter sleeper (140 pounds) I saw a decent amount of sinkage (2.5″) while lying on my back. Granted, the top layer of responsive poly foam does not give sleepers that trapped feeling that some of the traditional memory foam mattresses can. The poly foam provides more of a rounded body contour as opposed to the sharper, more traditional contour of memory foam. Although the support of the Casper is average, the top layer of responsive poly foam does provide adequate bounce and cooling.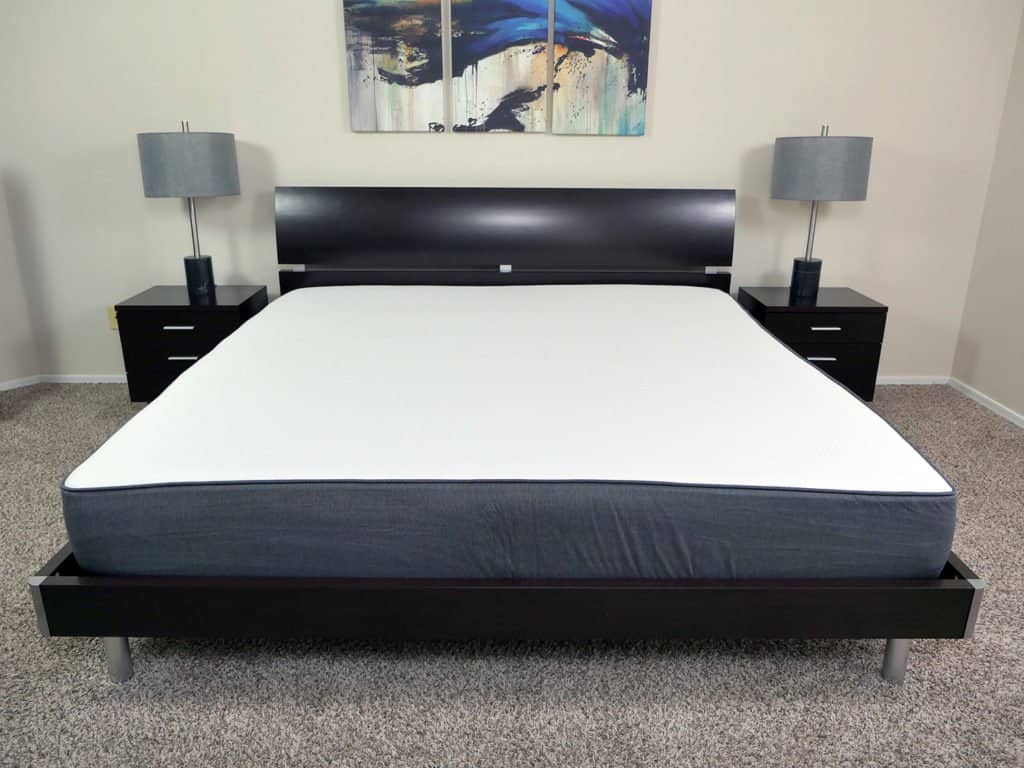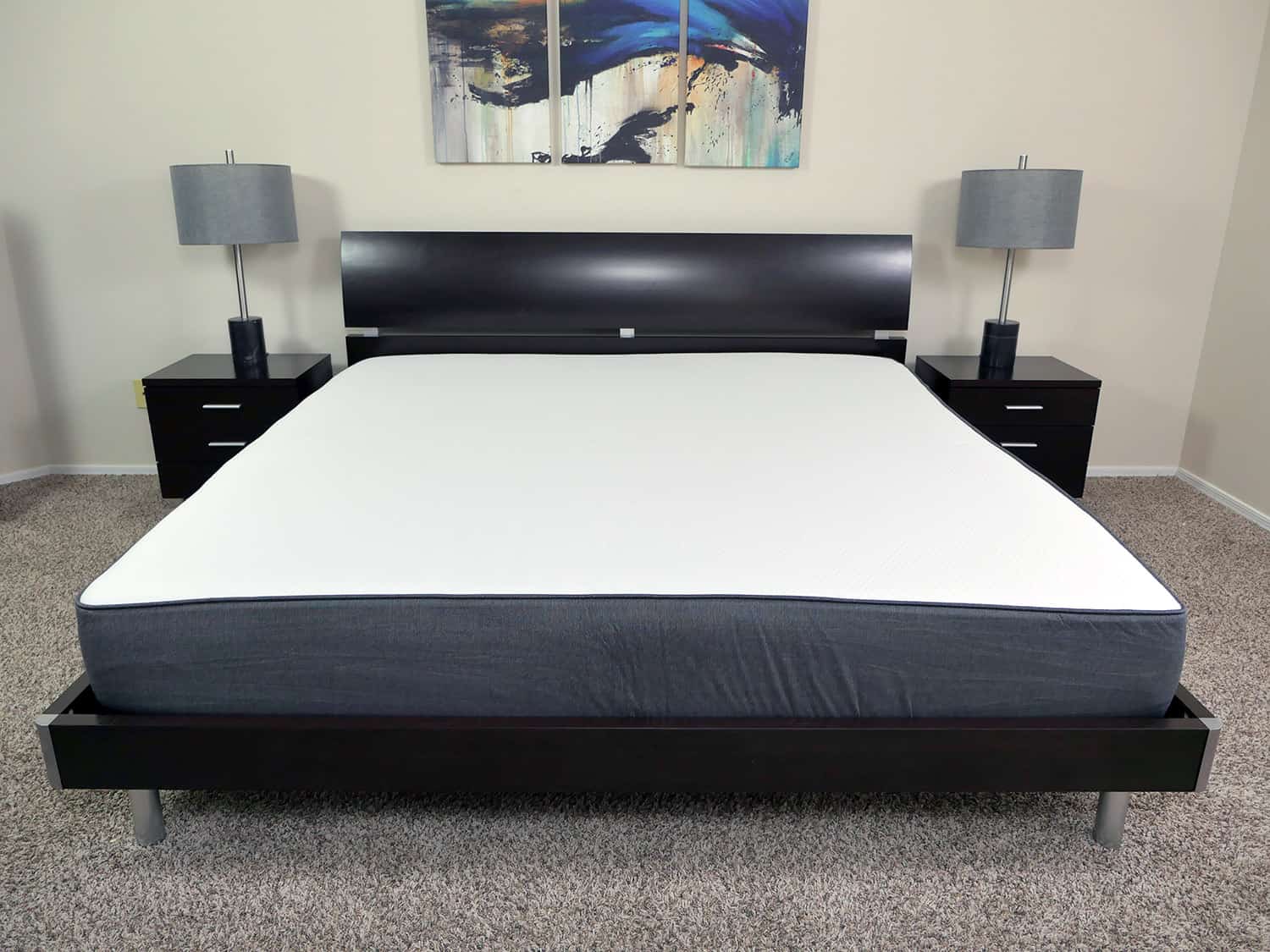 Pricing
| Size | Price |
| --- | --- |
| Twin | $550 |
| Twin XL | $600 |
| Full | $800 |
| Queen | $950 |
| King | $1150 |
| California King | $1150 |
Other Details
Shipping – free shipping, comes in 2-7 days compressed in a box
Warranty – 10 years
Trial Period – 100 nights
Refunds – 100% money back
Made in the USA (mostly) – most materials sourced and mattresses assembled in the US, border fabric in the cover comes from Belgium, some covers assembled in Mexico
For more information on the Purple mattress read my full Purple mattress review or visit onPurple.com.
If you're interested in more information on the Casper mattress read my full Casper mattress review or visit Casper on Amazon.
The following two tabs change content below.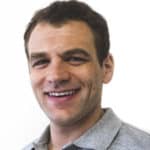 Logan Block
Logan is the content director of Sleepopolis, which means he not only reviews new mattresses every week, but also curates all the comparisons, best of pages, and video guides on the site. He takes a straightforward, honest approach to his reviews and endeavors to give viewers an objective look at each new product he tries out. Logan's perfected his method over the course of personally testing over 100 different mattresses, so he's not only able to discern the overall vibe of a specific bed, but to contextualize its feel within the bed-in-a-box market as a whole. Needless to say, his sleep knowledge runs deep, and he loves nothing more than sharing that knowledge with his readers. When he's not hopping on a new bed or working with our editorial team to whip up an engaging sleep education guide, you can find him reading books on world history, walking his dog Pepper, or searching for the best cheeseburger in New York City.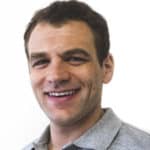 Latest posts by Logan Block (see all)