The internet has made life easier in so many ways — and that's even true when it comes to mattress shopping. Goodbye, haggling with salespeople! So long, schlepping a hefty bed from the store to your home! When you buy a mattress online, you have tons of options at your fingertips, and the bed you choose will be delivered straight to your door.
The downside of online mattresses? All those choices can be a wee bit overwhelming. We've put together this roundup to help you choose the best online mattress for your needs, like your feel preference, sleeping style, and more. So, before you venture out into the wild wild west of online mattress shopping, check out our top picks below!
The Best Online Mattresses of 2021
The Top 10 Online Mattresses
Learn more about why each of these beds made the list below! Or, skip down to my handy table to compare these beds side by side.
Best Hybrid Mattress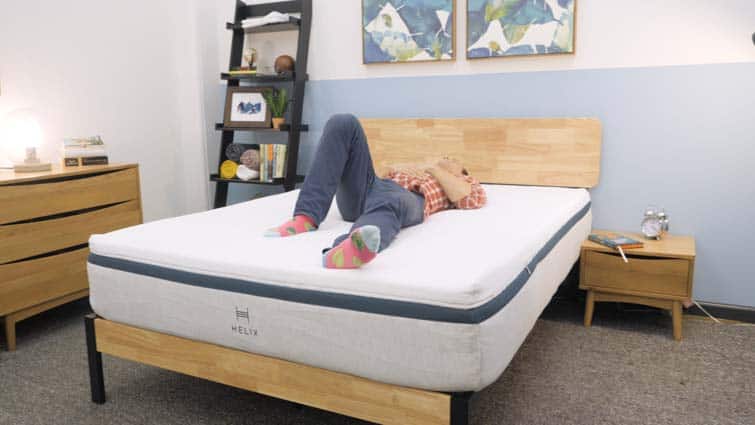 Helix
While many of the biggest names in the online mattress world are all-foam, Helix specializes in bed-in-a-box mattresses that combine foam and coils. A hybrid might be the way to go if you like your mattress to have a fair amount of bouncy support.
While all Helix mattresses offer that classic hybrid bounce, they still range widely in terms of feel. The brand offers several models, so you can find the right feel for your sleep style. Our favorite online hybrid mattress is the Helix Midnight, which has a medium-firm feel that should appeal to a wide variety of sleepers. It also isolates motion well, which means it could be a great choice for couples. You won't feel overly disturbed by a restless partner on this high-quality mattress, but you won't have trouble moving around either.
Is Helix the hybrid of your dreams? Read more in my Helix Midnight mattress review.
Spring Sale: Up to $200 Off + free pillows!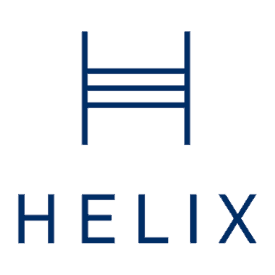 Whether you choose the standard or luxe edition, Helix mattresses have something to offer every style of sleeper! 
Best Pillow Top Mattress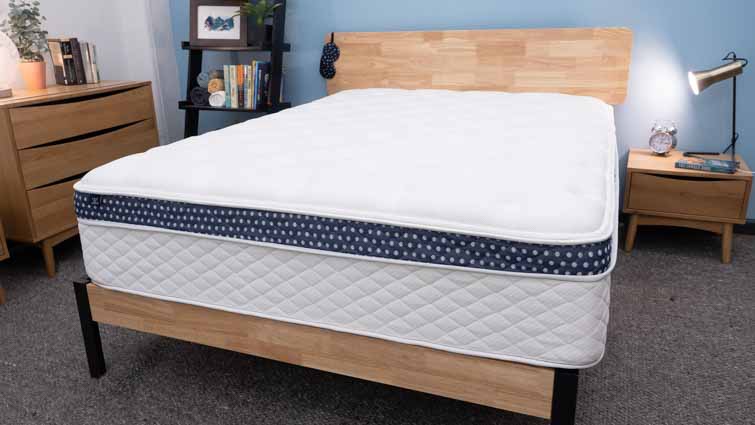 WinkBed
If you love the feeling of sinking into your bed but still want plenty of support, then you might enjoy the cozy pillow top layer on the original WinkBeds mattress. This bed-in-a-box hybrid was built with soft foams on top to offer pressure relief and a pocketed coils below to provide strong support. It's offered in three different firmness levels so most sleepers should be able to find a model that works for them. I'd recommend the Luxury Firm model to combination sleepers looking for a universally comfortable firmness option.
But the WinkBeds doesn't just stand out because of its pillow top! The mattress also distinguishes itself from other hybrids because it has more of a sturdy innerspring mattress feel than a lot of online mattresses. The firm support the WinkBed's coils offer also helps prevent premature sagging or wear. This bed also does a good job of sleeping cool thanks to a breathable Tencel cover and cooling gel-infused foams in its pillow top.
Could the WinkBed whisk you off to dreamland? Find out in my full WinkBeds mattress review.
$300 Off!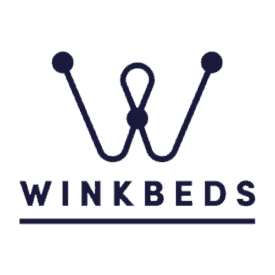 A combination of sturdy coils and gentle foams make the WinkBeds a truly supportive innerspring. With a firm model available, the WinkBeds is a good option to align the spine and raise the hips for stomach sleepers while maintaining comfort and support. 
Best Mattress for Back Sleepers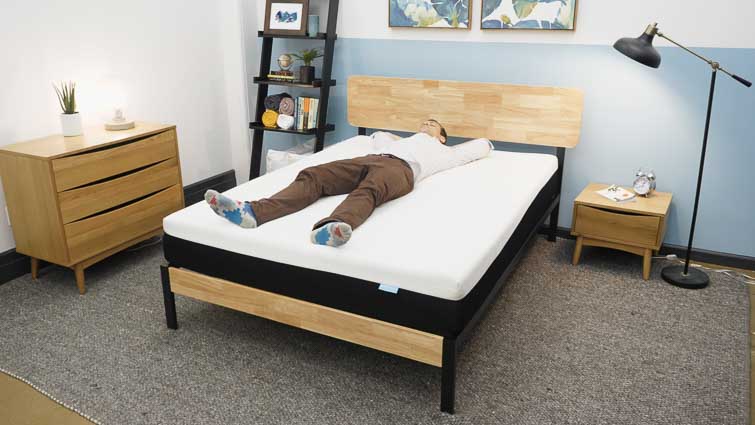 Bear
likely to get on the Bear mattress. It's an all-foam mattress with a firmer feel that will keep the hips and spine properly supported. Along with this firm feel, the Bear also features a bit of memory foam to offer a touch of contouring comfort and pressure relief. I personally found this combination to be quite comfortable while lying on my back. 
Back sleepers aren't the only people who might find their match on the Bear. The mattress is designed with athletes in mind and employs a Celliant cover, which some research suggests could help with muscle recovery. People who tend to sleep hot might also appreciate the Bear; it uses a graphite infusion that helps draw heat away from the body. This means you should be able to enjoy the feel of contouring memory foam without overheating.
Will your back love the Bear? Read my full Bear Mattress review to learn more.
Save 25% With Code SLEEPOPOLIS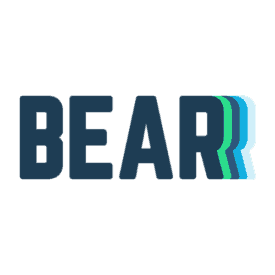 The cover of the Bear mattress uses celliant, which some studies suggest may help those with active lifestyles recover faster! 
Best Innerspring Mattress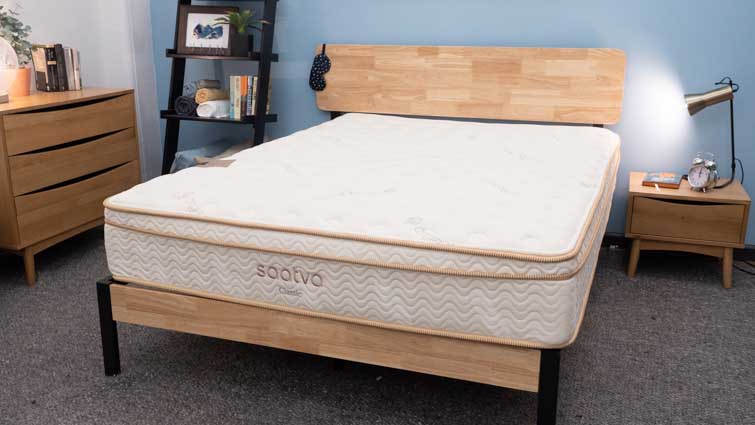 Saatva
If you're looking for an online mattress but don't like the idea of buying a bed-in-a-box, the Saatva Classic could be a great option for you. This innerspring mattress is hand-delivered to your door and will be set up for free in your room of choice.
The Saatva has the firm, bouncy feel typical of classic innerspring mattresses. That makes it a great fit for combination sleepers who like to switch positions at night. This mattress comes in three different firmness levels, so most sleepers should be able to find a model that works for them. I'd highly recommend checking it out if you're looking for a classic innerspring feel but don't want to deal with the hassle of buying a mattress in person.
Learn more in the full Saatva mattress review.
$200 Off!

The Saatva mattress has a bouncy innerspring feel that should work well for combination sleepers.
Best Memory Foam Mattress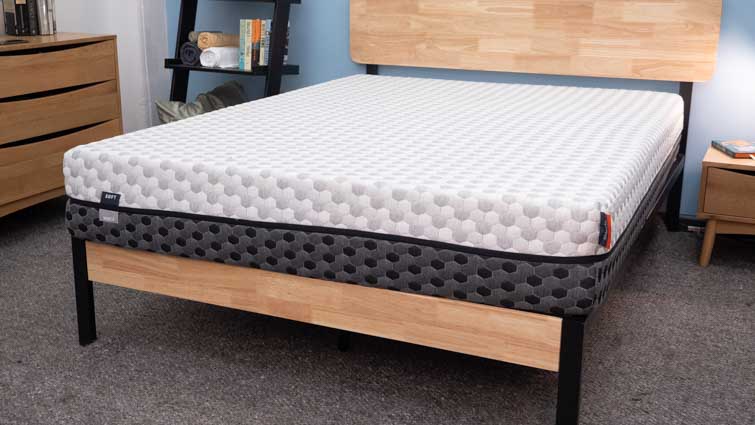 Layla
Do you count yourself among the large group of people who love to sink into bed and feel a ton of contouring? Then take a look at the Layla. This all-foam mattress has a flippable design that uses memory foam on both sides. It lets you choose between a firm and a soft side, so you can tailor the feel to your sleeping position. For instance, stomach sleepers might like the support of the firmer side, while side sleepers are likely to appreciate the plush pressure relief on the soft side.
Regardless of your preferred sleeping position, you'll probably like this mattress if you sleep hot. While memory foam is known for trapping heat, the foam in the Layla is infused with copper to help draw heat away from your body. This memory foam bed should be a great fit for many different sleepers, which is why it's our favorite online memory foam mattress of the year!
Would you love lounging on the Layla? Find out in my full Layla mattress review.
Spring Sale: Up to $200 off + free pillows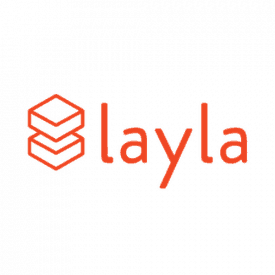 A flippable design makes the Layla mattress a truly customizable bedroom accessory. 
Best Mattress for Couples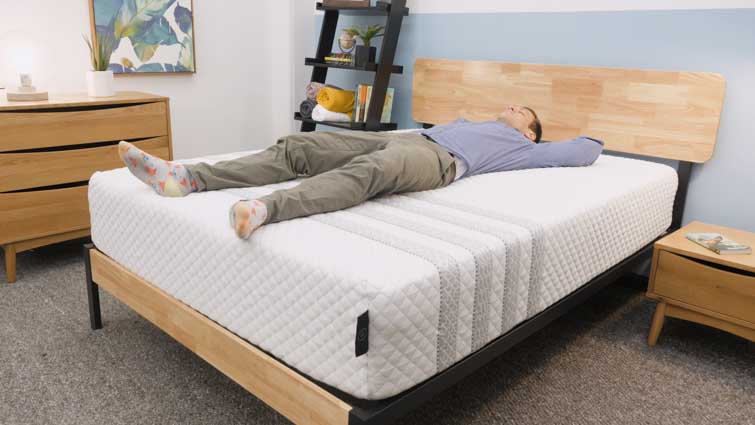 Leesa Hybrid
If you and your partner are looking for a fantastic online mattress, I'd suggest the Leesa Hybrid. Built with gentle foams and bouncy coils, this bed strikes a super satisfying balance between pressure relief and support. 
And when it comes to features that might be attractive to couples, this Leesa mattress has it all. I'm talking excellent edge support (which maximizes the usable surface area of the mattress), fairly good motion isolation (which means one bedmate's tossing and turning in the night won't disturb the other), and plenty of cooling properties (which will help dissipate the body heat of two sleepers). All in all, it's a well-balanced mattress that packs a serious comfort punch.
Intrigued? Well then scoot on over to my full Leesa Hybrid mattress review to learn more.
20% off with code Sleepopolis20

Thick layers of foam and pocketed coils come together to offer sleepers the perfect hotel-bed feel.
Best Cooling Mattress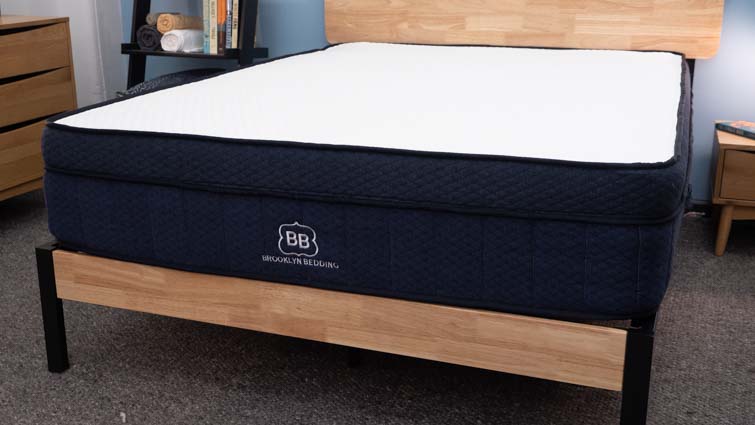 Brooklyn Aurora
Tired of waking up in a puddle of sweat? Try Brooklyn Bedding's Aurora Mattress, which was designed specifically for temperature regulation. It's made with a Phase Change Material cover that stays cool to the touch; a comfort foam layer that features a copper infusion to dissipate body heat; and a latex-like alternative foam (dubbed TitanFlex foam) with natural cooling properties. These foams all sit on breathable pocketed coil support layer that creates additional airflow.
A cool night's sleep isn't the only thing to celebrate about the Aurora. It also has a soft feel and pressure-relieving design that could ensure side sleepers don't feel jammed up at the shoulders or hips. But, you shouldn't feel stuck in this bed, which has a fairly bouncy feel. I'd recommend this bed to any hot sleepers looking for a soft mattress.
Could the Aurora keep you sleeping cool? Learn more in my full Brooklyn Bedding Aurora mattress review.
Best for Side Sleepers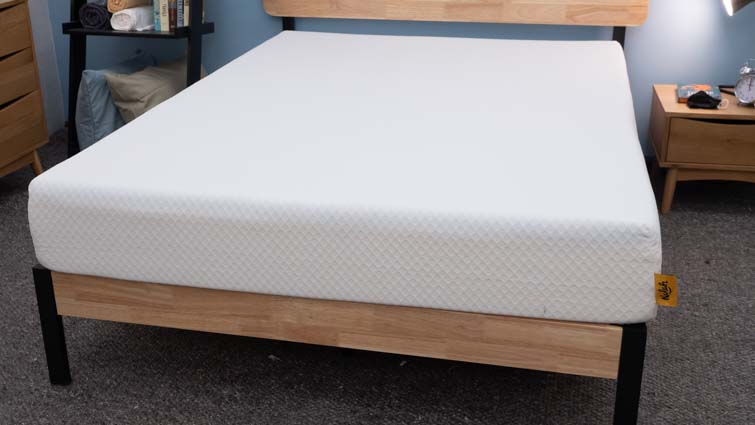 Nolah
While back sleepers worry about getting enough support, side sleepers are usually concerned with pressure relief. The Nolah delivers for side sleepers: It's a soft mattress that lets you sink deeply into its layers to cushion pesky pressure points at the shoulders and hips. This makes it a great option for strict side sleepers looking for a cuddly feel.
Sometimes, sinking deeply into a bed can lead to overheating. But the Nolah helps defend against trapped heat with its proprietary AirFoam™, a memory foam substitute that's a bit more breathable than conventional foam. Meanwhile, a firmer poly foam base layer keeps you from feeling too "stuck" in bed. The Nolah also has a breathable cover made from a mixture of polyester and viscose. So if you're a side sleeper who wants plenty of body-contouring and pressure relief without overheating, definitely check out the Nolah.
Could the Nolah neutralize your pressure points? Find out in my full Nolah mattress review. 
Up to $800 Off + 2 Free Pillows!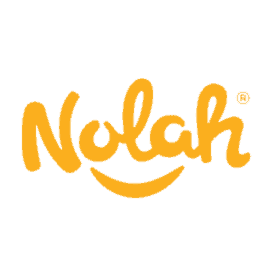 A soft, supportive construction makes the Nolah mattress a nice pick for side sleepers.
Best Organic Mattress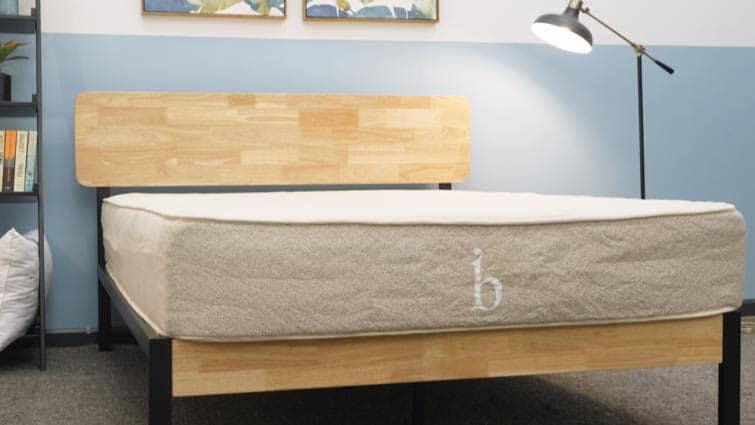 Birch
If you prefer natural materials in your mattress, then give the organic Birch mattress a look. It's Greenguard Gold certified, which means it's been tested for harmful substances including formaldehyde, pollutants, phthalates, and volatile organic compounds. Instead of using polyurethane or memory foams, this bed-in-a-box hybrid uses all-natural Talalay Latex. In addition to Latex, the Birch uses a wool comfort layer and the organic cotton cover to create an eco-friendly sleep environment. Latex is known to sleep cooler than conventional foams, so hot sleepers might also like this bed.
I found the standard Birch mattress to be a bit on the firmer side, which leads me to believe this mattress could be a great fit for back and stomach sleepers. If you're a side sleeper, Birch does offer a pillow top addition you could try. The Birch does a good job of keeping the sleeper on top of the mattress as opposed to "in" it, which is good news for combination sleepers. All in all, most environmentally-conscious shoppers should like this bed!
Betting on the Birch to suit your organic tastes? Find out if it's right for you in my Birch mattress review.
$200 off + Free Pillows with code: SPRINGSALE200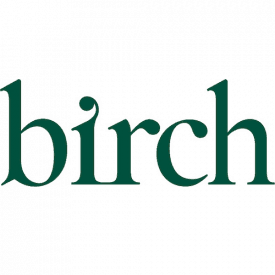 The Birch mattress uses natural materials like organic cotton and talalay latex to provide great comfort from an organic product, in fact all Birch products are Greenguard Gold certified!
Best Mattress for Back Pain
Casper
If your back is aching every morning, your mattress might not be offering enough support, or it could be throwing your spine out of alignment. You'll want to look for a mattress that offers a blend of comfort and support to remedy these issues, and the Casper might be the solution you're looking for. The Original Casper uses a Zoned Support system that's firmer around the hips and softer around the shoulders to help keep your spine in a straight line. That means this firm mattress will help you avoid and relieve back pain caused by poor sleep posture.
 The Casper's balanced feel might appeal to combination sleepers, who need to feel comfortable and supported in multiple positions. The Casper is also fairly responsive, so it's easy to change positions. If you're intrigued but want something with even more bounce, Casper's original mattress is also offered as a hybrid, which feels even springier.
Can't stop thinking about the Casper? Learn more about it in my full Casper mattress review.
10% Off with Code APRIL21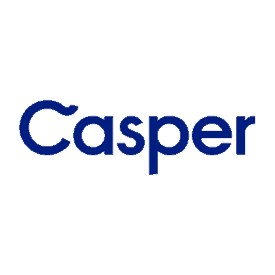 The memory foam, latex, and heavy-duty poly foam work together to offer sleepers a beautifully balanced feel! 
How to Choose an Online Mattress
Alright, now you've got a sense of our top picks for the best online mattresses around. Curious about how to choose the best mattress for your needs? Below, you'll find some of the most important factors to keep in mind while shopping for an online mattress! You can also check out our How to Choose a Mattress guide for more in-depth tips.
Support
No matter your sleep position, proper support is key. It helps keep your spine in healthy alignment and ensures you don't plummet through the mattress. As a general rule, mattresses that contain coils (e.g. hybrids and innersprings) tend to offer more support than all-foam options. If you're on the heavier side, support is the most important factor to consider when choosing a mattress. You'll want a highly supportive mattress to avoid premature sagging. If that sounds like you, I'd recommend taking a second look at the WinkBed above!
Your sleep style will also influence how much support you need. Back and stomach sleepers need a more supportive mattress to keep their hips elevated and aligned with their spine. Side sleepers need some support, but not so much that their shoulder can't sink into the mattress.
Pressure Relief
Unless you enjoy sleeping on a board, you'll want to look for a mattress that offers pressure relief in the right places. This is crucial for side sleepers, who can feel sore around the shoulders or hips if they're on a mattress without enough "give." If you're someone who prioritizes pressure relief, I'd recommend a memory foam mattress on the softer side. If you're a stomach or back sleeper, you might want a little pressure relief around the lower back and hips, but make sure to prioritize support when choosing your mattress.
Value
Online mattresses often cost less than in-store options, because their retailers cut out the middlemen and sell directly to consumers. That said, the price of online mattresses can vary widely. Consider your budget when making a purchase, but also consider the durability of the mattress. A longer-lasting mattress is the best way to ensure you're getting a lot of bang for your buck.
How to Vet an Online Mattress Company
When buying an online mattress, you'll want to make sure you buy from a reputable company. The easy way to do that is to choose a well-known brand (or any of the brands we've reviewed). But if you're buying from a newer company, you'll want to consider the following.
Customer Service
If you're vetting a mattress company, a responsive, transparent customer service team is a good sign they'll deliver a high-quality product. Whether you want to return your mattress or run into delivery issues, quality customer service is key to your experience. It's a good idea to connect with a customer service rep prior to purchasing to make sure they're responsive and to clarify the mattress's trial period, return policy, and warranty.
Delivery
Online mattresses are delivered straight to your home, but not always in the same way. Some are compressed into a small(ish) box. Some include the cost of delivery in their purchase price; others charge a delivery fee. Some offer White Glove Delivery (in which they set up the new mattress and dispose of your old mattress), and some don't. Clarify delivery terms before purchasing so you don't encounter any surprises. Clear delivery timeframes and terms are another sign that you're buying from a reputable company.
Sleep Trial and Returns
Almost any reputable online mattress company will offer a 100-365 night sleep trial. This allows you to return a mattress hassle-free if you decide it's not for you. You should receive a full refund for your bed, though certain companies may need to charge a shipping fee for returns. If you live outside of the contiguous United States, it's very likely you'll need to pay a freight shipping fee to return an online mattress. If a mattress company you're considering does not offer a sleep trial or returns, I'd recommend buying from somewhere else.
Mattress Warranty
Finally, any online mattress company you buy from should include a mattress warranty with your purchase. Most reputable companies offer at least a 10-year warranty that covers mattress sagging or breakdown. But, you'll need to ensure you have your mattress on a bed frame or foundation that offers the right support to avoid voiding your warranty. Online mattress brands will offer this information on their websites, and Sleepopolis includes box spring and frame information in our full mattress reviews.
Is it Better to Buy a Mattress Online?
This really depends on your preferences. For a full comparison, check out my In Store vs. Online Mattress buying guide. As a general rule, I tend to recommend buying online because (as I mentioned above) you're likely to save more money. Mattresses are quite an investment, so getting the best deal possible is usually a priority for shoppers. If you do decide to buy online, check out our mattress coupons and promo codes to get an even better deal!
Summary: The Best Online Mattresses of 2021