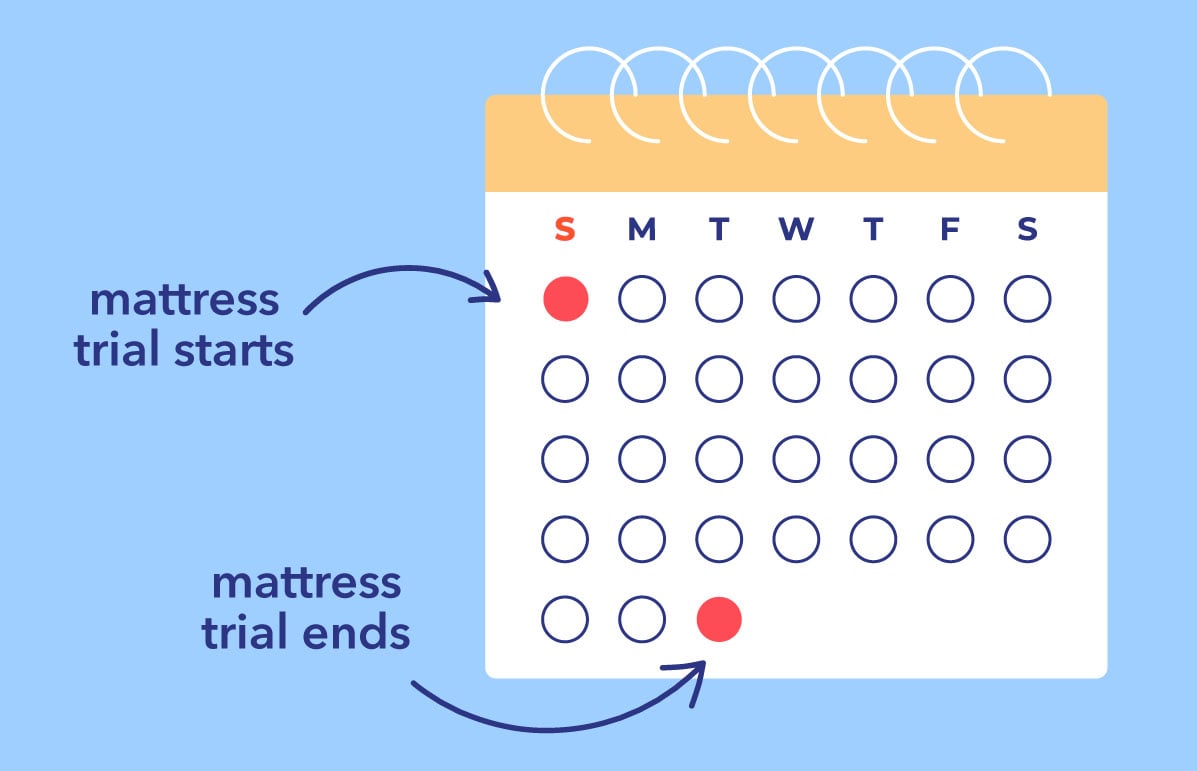 It's the 21st century, which means the mattress industry is bigger and more advanced than ever before. With online shopping, you can get any type of mattress delivered right to your door in just one click. While shopping for a mattress is easier than ever, it's still a big purchase to make and a significant investment for your sleep quality and overall health.
You may think you found the perfect mattress online only to end up hating it when it finally shows up. So what do you do then? Do you have to suck it up and continue to sleep on something you hate? 
Luckily, most mattress companies have the perfect solution to this dilemma: sleep trial periods. These trial periods exist to allow customers to try the mattress for a while and be able to return it easily if it doesn't work out. So how do these trials work? In this guide, I'll cover what mattress trial periods are, how the return process works, and how to get the most out of your trial.
What Is A Mattress Trial Period?
Simply put, a mattress trial period is a buffer between when you purchase the mattress and when the mattress becomes unable to be returned or exchanged. Most online mattress brands will offer a lengthy trial period because they understand the hesitation some may have when buying online. Because it's a trial, you're able to (most of the time) easily return the mattress for a full refund or exchange it for another model if it ends up not working for you.
Trial Terminology: The mattress trial period may be called something different depending on the company. Some other common names are "sleep trial," "at-home trial," or "free trial." 
Trial Length: The length of the trial usually won't be less than 30 nights and can even range all the way up to 365 nights. 
Required Break-In Period: It's a common belief in the mattress industry that it takes a minimum of 30 nights for your body to adjust to a new mattress. Because of this, some brands require that you try out your new mattress for at least 30 to 60 days before returning or exchanging it. 
The Mattress Return Process
Mattress companies want to help you out, so their return policy will always be outlined on their website. 
The Fine Print: Here at Sleepopolis, we always encourage you to read the fine print to ensure you get the best possible experience. Everything you need to know about the company's return requirements and trial periods will be detailed in these guidelines, so it's important to fully understand them before purchasing. 
Refund Type: It's always a good idea to look for companies that offer a full, money-back guarantee. Some companies are exchange-only depending on the model and their stock. The option to exchange can be great for some people, but life happens, and sometimes you may just need to return it. The fine print will also let you know if you're responsible for paying any shipping, handling, or restocking fees during the return process.
Mattress Condition: Returning or exchanging your mattress should be an easy process if you're in line with the brand's policies. To return your mattress, there must be no damage to it, such as stains or tears. To ensure the mattress stays in its original condition, it may be a good idea to use a mattress protector. 
Trial Length: You'll need to make sure you have all the information from your purchase, like the order number and the date of purchase. Most importantly, you need to be within the boundaries of the mattress trial period. Many companies will not offer returns or exchanges once the trial period is over. Check out our article on how to return a mattress for a more in-depth guide to this process.
Return Process: You also won't need to worry about putting your bed-in-a-box back in its original packaging. Mattress companies have to use special machines to compress mattresses into their boxes, so they won't expect you to do this on your own. Usually, they'll send a truck to pick the mattress up for you or ask you to donate it and show proof. However, there is a chance the manufacturer will ask you to ship the bed back yourself — which, again, is another reason to read the fine print.
What To Look For During Your Trial Period
No matter how long the trial period is, use that time to really get to know your new mattress and what is or is not working for you. We suggest paying attention to the following: 
Mattress firmness level

and how well it works for your sleeping position and comfort. 

Any newfound

aches or pains

that arise. 

The

quality of sleep

you're getting. Are you able to sleep comfortably through the whole night? 

If you're a hot sleeper, take notice of the

cooling abilities

of the mattress. 

If you sleep with a partner or pet, look out for strong

motion isolation features.

Are you disturbed by the movement of someone else? 

Edge support

, or how well the sides of the bed supports your weight.

Responsiveness

, or how well you can move around on the bed if you're a combination sleeper or have mobility issues.

Noise level.

Do you notice any noises from the bed as you move around?

Any

continuous odors

from the bed. It's normal for a new mattress to smell a bit weird for a couple of days after it's been unboxed. This smell is called off-gassing but normally goes away during the days it takes for the mattress to decompress in a well-ventilated room.
You can also check out our mattress buying guide to learn more about all these mattress features and what they can mean for your personal sleep needs.
FAQS
How does return shipping work?
It depends on the brand you buy from, but usually, they will ask you to leave the mattress outside your front door and they will send someone to pick it up for you. The return will process once the mattress has been taken. Some companies will require you to pay a fee for shipping, handling, and restocking, but others have no fees. Make sure to read all the fine print!
What happens to the returned mattresses?
Are mattress trials worth it?
We believe so! There are no downsides to a mattress trial. If you like it, you keep it. If you don't like it, you get to return or exchange it. There are no downsides to a little buffer period.
What is the difference between a trial period and a warranty?
A trial period is the time allocated for you to test out the mattress and decide if you want to keep it. A warranty deals with what happens after you decide to keep the mattress. This is the amount of time that the company will replace, repair, or refund your mattress if it is defective due to an error of the company.
Do mattress stores have a trial period like online mattress companies?
Usually, no. The trial period is more beneficial for online shoppers because it can give them peace of mind in case they don't like the mattress. One benefit of shopping in person is you can feel the mattress for yourself, so there are usually minimal trial periods offered, if any.
Are mattresses free during the trial period?
Not exactly. You still have to pay for your mattress, but you will get your money back if you decide to return it during the sleep trial and are within the company policies.
Which brands have the longest trials?
The longest sleep trial offered is currently 365 nights — that's a full year to test out your mattress. Some popular brands that offer this lengthy trial are WinkBeds, Nectar, DreamCloud, and Saatva.
Conclusion
If you have any hesitations about buying a mattress online, a good trial period should hopefully put your doubts at ease. There's no pressure to keep the mattress if you don't like it, and the companies even try to make the return process super easy. As great as a sleep trial is, it's still important to do your own research before purchasing a mattress and be sure to read all the terms and conditions to understand the company policy. Check out our roundup of the best mattresses of 2023 for some high-quality options to get you started!