When you think "pillow," you probably think of down, feathers, or maybe even memory foam. What you're probably not thinking of is "hyper-elastic polymer grid." But I'm here to expand your pillow worldview today and tell you about the Purple pillow, its hyper-elastic polymer grid, and why it's making a name for itself.
In this review, I'll go over the construction and feel of the Purple pillow, as well as give some honest recommendations about who should consider buying it, based on my experience testing it out. Could the Purple pillow become your favorite new pillow? Keep reading to find out.
Short on time? Skip to the end for my review summary!
Is Purple Pillow a Good Pillow for You?
Depending on how you sleep, you'll have different needs from your pillow. So here's a quick rundown of who I think the Purple pillow will work for and who should consider another pillow.
Who should try the Purple pillow
The Purple pillow

can work for

all three sleeping positions

— back, stomach, and side — which makes it a

great choice for combination sleepers

, who switch between multiple positions.

If you like a firmer feel from your pillow

, the Purple is a solid option. It's firm, but still

cradles

your head and neck to allow for some contouring.

Hot sleepers

should love how cool

the Purple pillow

sleeps.

The Purple grid

allows for lots of

airflow

and the

pillow cover

is

breathable

, so it should prevent heat from being trapped.
Who should not try the Purple pillow
If you prefer a softer pillow

, I wouldn't recommend

the Purple pillow

. I found it to be too firm for my taste, as I like a pillow that's just soft enough for me to sink into.

Additionally,

if you like a more traditional pillow

, you may not like the feel of

the Purple grid

. It doesn't have the

squishy

, moldability of down or the

conforming

, sinking-in feel of foam — it's truly unlike any other pillow I've tried. However, if you want a slightly more conventional pillow that still utilizes Purple technology, I'd recommend the

Purple Harmony pillow

.

The Purple pillow

only comes in one standard size

, so if you want a king size pillow, it may not be the best option for you.
What Does the Purple Pillow Feel Like?
As stated, this pillow is unlike any other I've tried…but what does it actually feel like? I slept on the Purple pillow for a few nights to get a good sense of what it feels like, but keep in mind that feel is subjective, so you may have a different experience than I did.
Purple Pillow Firmness
When it comes to pillow firmness, my rule of thumb is that side sleepers do best with a firmer pillow, stomach sleepers do best with a softer pillow, and back sleepers want something in the middle.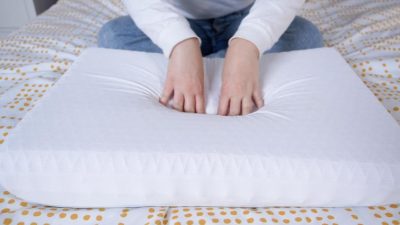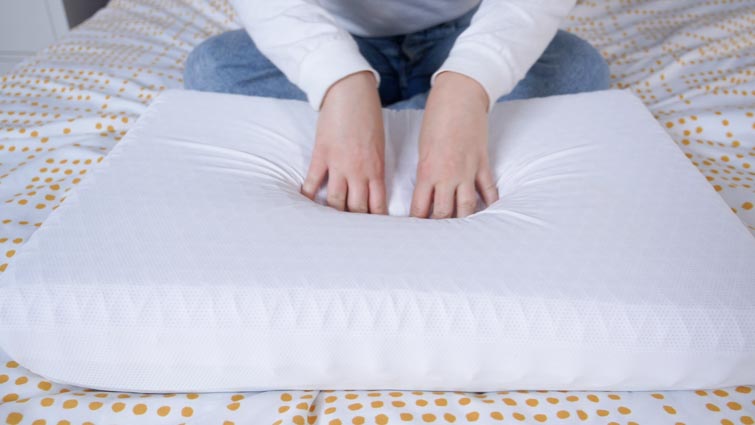 I was surprised when I tested the Purple pillow that it had a fairly firm feel. When I felt the pillow with my hands, the Purple grid felt so squishy and jelly-like that I assumed the pillow would be super soft, but once I actually laid my head down on it, I realized how firm it is.
The grid cradles your head and neck a bit, but not in the way memory foam conforms around you or the way you sink in through down. Each individual triangular pocket of the grid meshes around you to keep your head and neck elevated on the surface of the pillow. This makes the pillow super supportive, but not very fluffy or cozy.
Purple Pillow Loft
The general rule of pillow loft is that side sleepers should go for a higher loft, back sleepers should go for a medium loft, and stomach sleepers should go for a low loft. A pillow's loft refers to how tall it is and is key for maintaining spinal alignment and preventing neck pain. If you've ever felt like a pillow was craning your neck upward, the loft was probably too high for you. Or if you've felt a lack of neck support, your loft may have been too low.
The Purple pillow's loft is three inches, which is on the lower side. However, it does come with two pillow boosters that make the loft adjustable. One foam booster is 1-inch tall and the other is ½-inch tall, so you can raise the loft up to four and a half inches if so desired. You can also purchase additional boosters from Purple if you want an even higher loft.
With that knowledge of the Purple pillow's firmness and loft in mind, let's go over how I think this pillow will work for different sleeping positions.
Side — I think the Purple pillow works well for side sleeping. Its firm feel is great for side sleepers and the grid keeps your head and neck nicely elevated, but I would definitely recommend adding in the boosters to raise the loft for most side sleepers. That higher loft will ensure your neck is properly aligned. And folks with larger frames may even want to purchase some extra boosters, as four and a half inches is more like a medium loft than a truly high loft.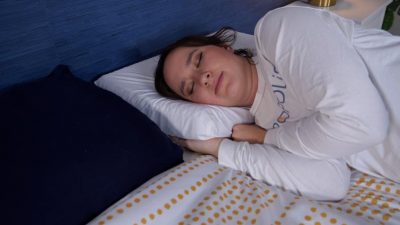 Back — The Purple pillow is also a solid option for back sleepers. The 3-inch loft worked well for me when I was lying on my back, but some back sleepers may want to add one or both of the boosters to get a true medium loft, depending on your body type. I also think the firm feel is fine for back sleepers, as I felt like my head and neck were well-aligned — it's more of a personal preference.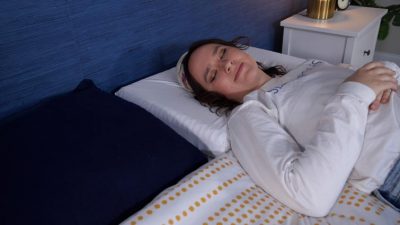 Stomach — I was surprised to find the Purple pillow was quite comfortable for stomach sleeping. The low loft is ideal for stomach sleepers to maintain spinal alignment. While a softer pillow is usually better for stomach sleepers and the Purple pillow is on the firmer side, I didn't feel my neck craning upward while lying on it. That's the most important factor when choosing a pillow, in my opinion, so the firm feel should be okay for stomach sleepers.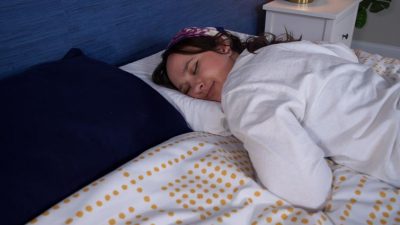 Under the Arm — I think the Purple pillow could work for sleeping under your arm, but generally, I prefer something a little softer and more huggable than this pillow.
Between the Legs — The firm but flexible support of the Purple grid could work well for sleeping between the legs, but I would only caution against it because this pillow weighs close to 11 pounds, which would be quite heavy on your bottom leg.
What is the Purple Pillow Made Of?
Let's take a closer look at the materials of the Purple pillow. The materials used in this pillow are hypoallergenic, as well as CertiPUR-US and CleanAir GOLD certified to be free from harmful chemicals.
Cover: The pillow cover is made from a blend of 88 percent polyester, 9 percent spandex mesh, and 3 percent nylon. It's a super stretchy fabric and the mesh allows for breathability. This cover is removable and machine washable.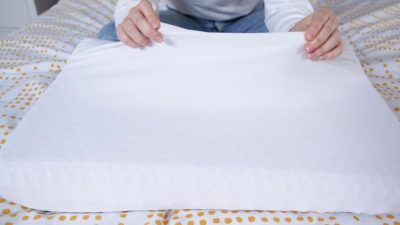 Core: The core of the Purple pillow is the hyper-elastic polymer Purple grid that's used in many Purple products. The grid has a non-toxic polyethylene copolymer powder coating, which is used to prevent the grid from sticking to itself.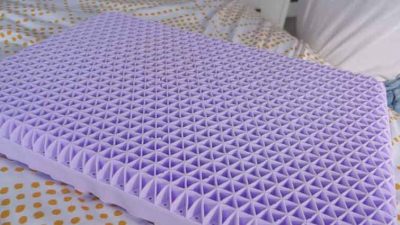 Boosters: The adjustable pillow boosters are made of polyurethane foam covered in 100 percent polyester fabric.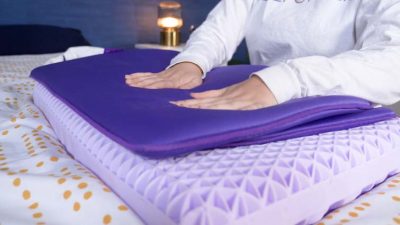 Is the Purple Pillow Good for Hot Sleepers?
One of the "coolest" features of the Purple grid is how cool it is! The grid creates open-air channels that allow for lots of airflow within the pillow, which prevents body heat from being trapped inside.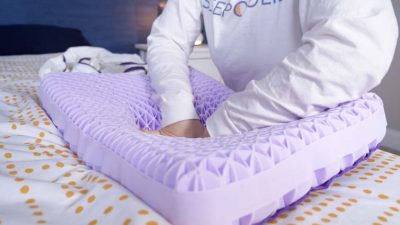 The cover of the pillow is also breathable, thanks to the mesh, which allows for even more airflow. The fabric is also moisture-wicking, which is helpful in the event that you do get a little sweaty at night. All in all, the Purple pillow is a fantastic choice for hot sleepers.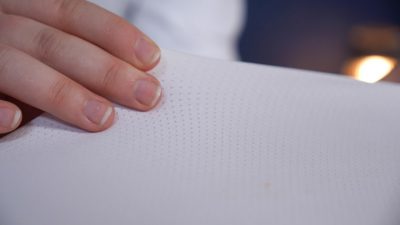 Are you a hot sleeper on the search for cooling bedding? Be sure to check out our other best cooling pillows and best cooling sheets for a variety of cooling options.
Purple Pillow Sizes and Prices
Curious how much this pillow costs? Here's the current price, which is listed before discounts or offers. Be sure to use our Purple coupon to get the best price.
| Size | Dimensions | Price |
| --- | --- | --- |
| Standard | 24" x 16" | $134 |
My Final Thoughts About the Purple Pillow
Ultimately, the Purple pillow stands out among the pillows I've tested because of its unconventional materials and distinctive feel from the Purple grid. Its eccentricities make it a divisive pillow — I saw everything from evangelizing praise to deep hatred for this pillow when I read through customer reviews. One five-star reviewer said, "The only downside to this pillow is that I don't want to sleep without it!" while a one-star reviewer called the Purple pillow a "Terrible brick heavy pillow."
The Purple pillow has a pretty firm feel. The grid meshes around your head and neck to cradle them just enough to maintain your spinal alignment. This makes the Purple pillow work for every sleeping position — plus or minus boosters. It also makes this pillow a great choice for those who need pressure relief from their pillow.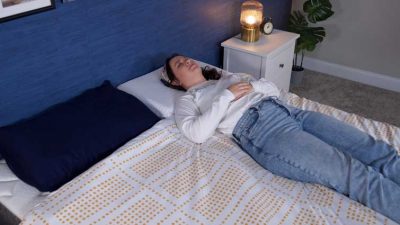 However, it also means the Purple pillow lacks any fluffiness, softness, or sinking-in feeling that most people generally associate with pillows. When I was testing this pillow, I initially liked how the Purple grid felt, but after a while I found it to be too firm for my personal taste, even though it did a great job of maintaining spinal alignment in every sleeping position. If you love a soft, fluffy pillow, the Purple pillow probably isn't the best pillow for you.
The Purple grid also makes this pillow a fantastic choice for hot sleepers — it's definitely among the cooler pillows I've tested. The breathable cover and open-air channels in the grid prevent any heat from being trapped in the pillow. And the cover is also machine washable, which is another thing I really appreciate about the Purple pillow.
Purple Pillow Policies and FAQs
How does the Purple pillow ship?
Purple ships for free within the contiguous United States. Customers in Hawaii and Alaska will have to pay an additional shipping fee.
Does the Purple pillow come with a sleep trial?
Yes, Purple offers a 100-night sleep trial with this pillow. That means you can test the pillow out for a 100-night trial period at home and if it's not the best fit for you, you can return it for a full refund.
Does the Purple pillow come with a warranty?
Yep, the Purple pillow comes with a 1-year warranty.
Is the Purple pillow machine washable?
The cover of the Purple pillow is machine washable, but the inner Purple grid core is not. However, you can hand wash it with warm water.
Do you put a pillowcase on a Purple pillow?
It's up to you! The cover of the Purple pillow is removable and machine washable, so you can sleep right on it if you want. But you can use a pillowcase just fine with the Purple pillow.
Do Purple pillows flatten?
One of the best features of the Purple grid is how well it retains its shape. In my experience, the Purple pillow didn't flatten at all. And because it's made from a hyper-elastic polymer material instead of foam or down, it doesn't require any fluffing either.
Purple Pillow Vs
Now let's compare the Purple pillow to some other pillows on the market.
Purple Pillow vs Purple Harmony Pillow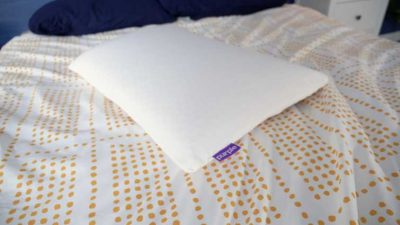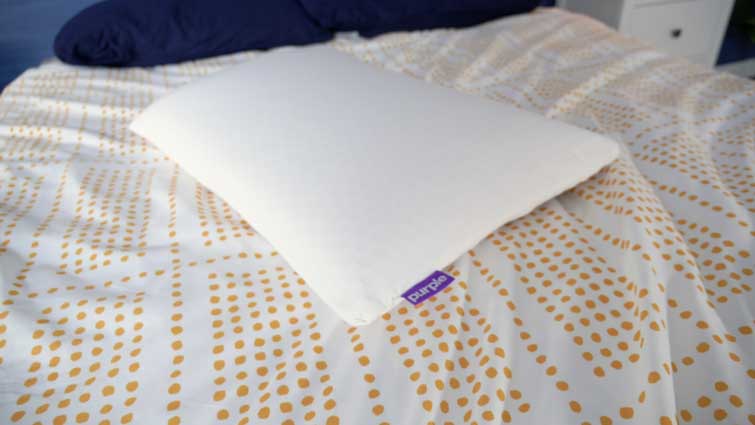 If

the original Purple pillow

isn't sounding like your jam but you're interested in Purple technology, I highly recommend the

Purple Harmony pillow

.

This pillow has a Talalay latex foam core with a Purple Grid Hex sewn into the breathable mesh cover.

The

latex core

keeps the Purple Harmony bouncy and supportive, but gives it a little

more of a traditional feel than the Purple pillow

. The Harmony strikes a great balance of having the sinking-in feeling of a

foam pillow

, while still keeping your head and neck elevated.

I personally loved this pillow and thought it was

excellent for back sleepers and side sleepers

. It's available in a low, medium, and high loft. I'd recommend the low or medium for

back sleepers

and the medium or high for

side sleepers

.

Want to learn more? Read my full

Purple Harmony pillow

review

.
Purple Pillow vs DreamCloud Best Rest Pillow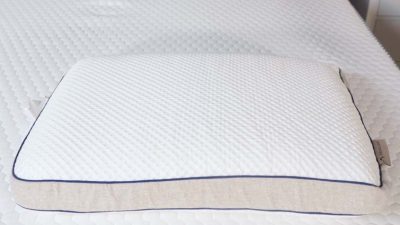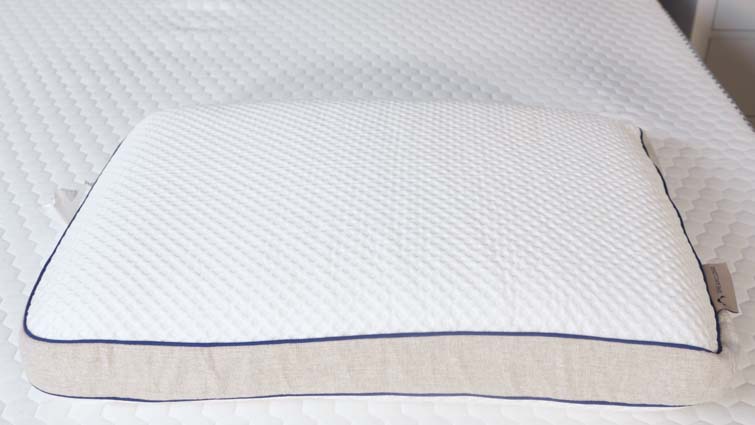 When I was testing

the Purple pillow

, it reminded me of the DreamCloud's

memory foam pillow

, the Best Rest pillow, which

also has a rectangular shape and is great for hot sleepers

.

The Best Rest has a

copper-infused memory foam core

and a

cool-to-the-touch cover

made from polyethylene, polyester, and

spandex

.

Overall, I thought it had a

medium firmness

. It's also a great pillow for side and

back sleeping

, making it a good choice for side/back combo sleepers as well.

Learn more in my

DreamCloud Best Rest pillow review

.
Other Products from Purple
Finally, here are my star ratings for the Purple pillow.
Materials

Comfort

Durability

Value

Cooling

Trial

Warranty