Today I'm getting up close and personal with Purple's newest sleep accessory — the Harmony Pillow. And I'm extra excited about it because we at Sleepopolis have tested every mattress, pillow, and sheet set that Purple has to offer… except this one!
Filled with the brand's unique Hyper-Elastic Polymer and aptly named for its balanced feel, the Harmony promises to bring sweet dreams to sleepers of all styles. Of course, the only way to know if that's really true is to test its full performance. So keep reading my Purple Harmony Pillow review to learn how it compares to the Original Purple pillow, and whether or not it's the best fit for you.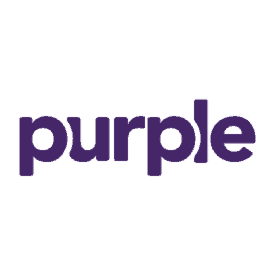 The Purple Harmony is great for any position sleeper and is extremely breathable to help you sleep cool through the night!
Brand Snapshot
Purple was founded by a rocket scientist and a comfort tech engineer who also happen to be brothers. Together, they invented the brand's patented "purple stuff" known as Hyper-Elastic Polymer. Now, Purple is one of the most popular names in the mattress game, with its proprietary material offering a unique look and feel that sets it apart from its competitors.
Bouncy, durable and, yes, very purple, Hyper-Elastic Polymer is featured throughout the brand's roster of mattresses (all of which we've tested!). But today, we're focusing on the newest addition to the Purple family — the Harmony Pillow. So without further ado, let's dive in and see what it's made of.
What Is The Purple Harmony Pillow Made Of?
This pillow gets its shape from the brand's proprietary Hyper-Elastic Polymer, which is also featured in the Original Purple Pillow. However, the Harmony is filled with another material that's never been used in a Purple sleep accessory before, so let's open it up and take a look!
Cover Fabric: Polyester, Nylon, Spandex Mesh
The cover fabric of this pillow is made from a blend of polyester, nylon, and spandex mesh. It feels soft, stretchy and very breathable.
If you're familiar with the Original Purple Pillow, note that it's got the same cover fabric as the Harmony. But unlike the Original, this pillow is traditionally shaped which means sleepers should feel free to dress it with a pillowcase if they want. Personally, I love the soft and airy feel of this cover fabric, so I didn't bother with a pillowcase at all.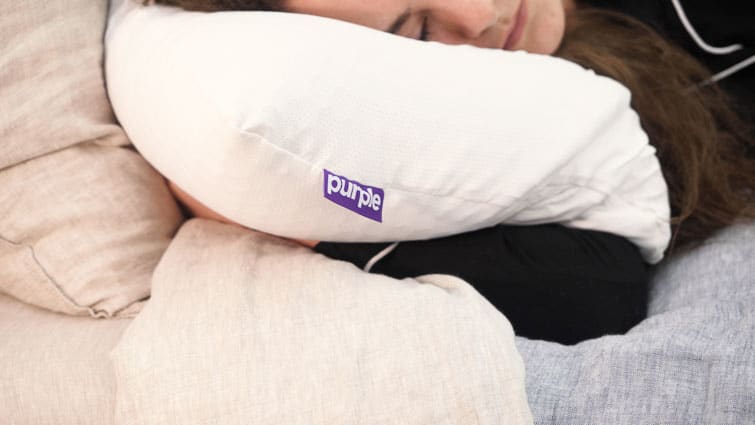 Not to mention, this pillow's cover is machine washable and dryable, which is always a perk!
Internal Fill: Hyper-Elastic Polymer & Talalay Latex
Directly beneath the cover fabric is a thin layer of Hyper-Elastic Polymer. Again, if you've ever slept on a Purple mattress or the Original Purple pillow, you're already familiar with this material. But if not, allow me to explain.
Hyper-Elastic Polymer is a soft-yet-supportive material known for its strong durability and bouncy response to pressure. It's somewhat rubbery in texture, and designed to never lose its shape no matter how much you sleep on it. Additionally, it features a grid-like structure that's meant to promote airflow and help it stay cool.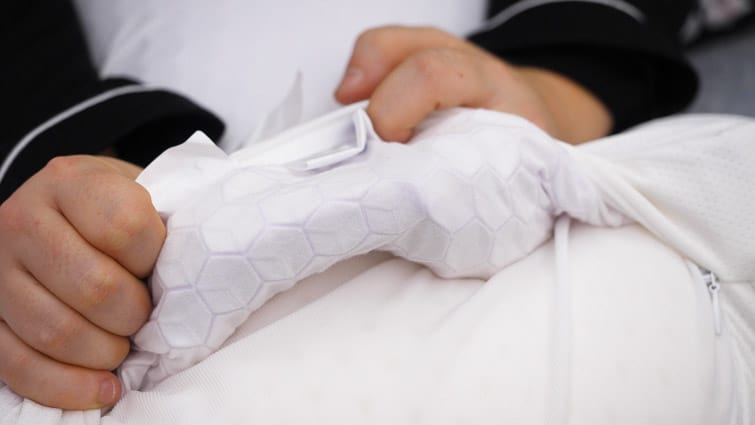 But the Hyper-Elastic Polymer only makes up the outer layer of this pillow, and its core consists of one piece of Talalay latex. And frankly, I was pretty excited to learn that this pillow is filled with Talalay latex because I'm a big fan of this material, and it's never been used by Purple before.
Talalay latex is a lightweight foam that offers springy support and a very fast response to pressure. It's also ventilated, which enhances breathability and gives it a consistent density.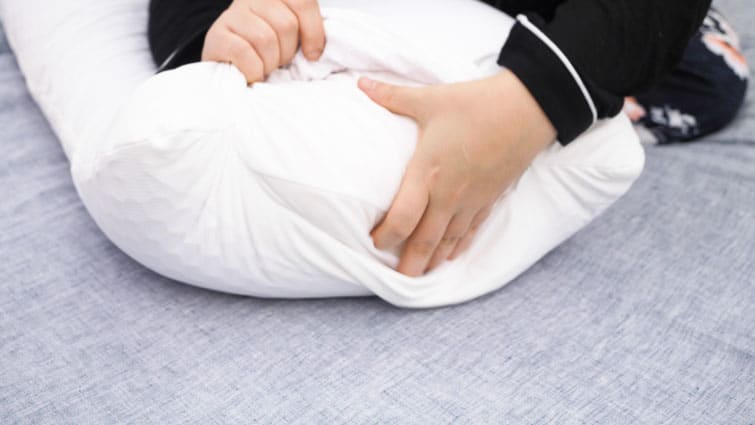 Sleepers who prefer buoyant support are likely to be most compatible with the Harmony because, as the latex and Hyper-Elastic Polymer produce one bouncy pillow.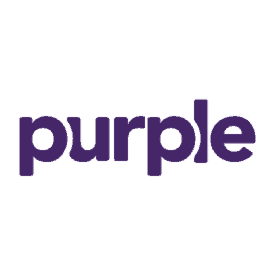 The Purple Harmony is great for any position sleeper and is extremely breathable to help you sleep cool through the night!
Loft Options: 6.5" & 7.5" Tall
The Harmony is offered in two options: Standard and Tall. The Standard model has a loft of 6.5" while the Tall is a whopping 7.5" high. Now you might be thinking, "Wow, both options sound pretty lofty to me!" Well, yes and no.
These measurements represent the loft of the pillow exactly as it comes, but it's important to note that it compresses into a much lower loft when you apply pressure. Talalay latex is bouncy, but it's also quite soft. When I lay my head down on the Harmony, it sinks down about three inches and adapts to my head and neck.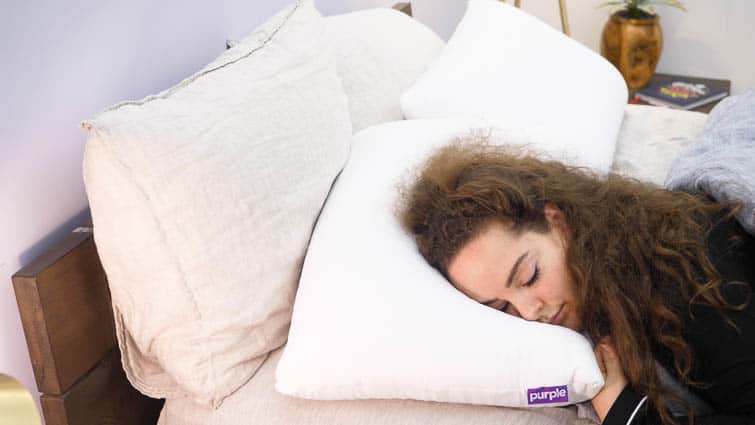 That said, the folks at Purple suggest that stomach sleepers and/or those with petite body types go for the Standard, and side sleepers opt for the Tall (and I totally agree). Remember: stomach sleepers need a low lofted pillow in order to maintain neutral spine alignment, while side sleepers are better off with a high lofted pillow.
More: Check out my guide to picking the best pillow for your position!
Naturally, I tested both options, but before we get into my personal experience with the Harmony, let's recap what we've learned about it's construction.
The Bottom Line: Light, Bouncy & Breathable
Simply put, this pillow is light, soft, and super bouncy. Additionally, I think hot sleepers will appreciate how breathable it is, with the ventilated latex and mesh cover fabric promoting a ton of airflow.
But the key takeaway is this: If you're looking for a pillow that offers springy, buoyant support rather than a slow response to pressure, this might be the accessory for you. Of course, before you come to any conclusions, allow me to detail my own sleep journey with the Harmony.
How Does The Purple Harmony Pillow Feel?
Now that we've covered materials, it's time to dive deeper into the details of how the Harmony performs. In this section, you'll find everything you need to know about breathability, firmness, and for which sleeping positions it's most compatible.
Breathability & Cooling
The Purple Harmony is a great example of a cooling pillow that doesn't feel cool to the touch. Some pillows feature cover fabrics that are designed to feel icy-crisp on the skin (phase change material is a popular example of this), but not everyone wants a sleep accessory that feels cool all the time!
That said, the Harmony gets its cooling properties from enhanced breathability. From the outer layer to the inner core, every part of this pillow's construction is ventilated. This means that when you press into it, air flows within the pillow, escapes through the cover fabric, and dissipates your body heat.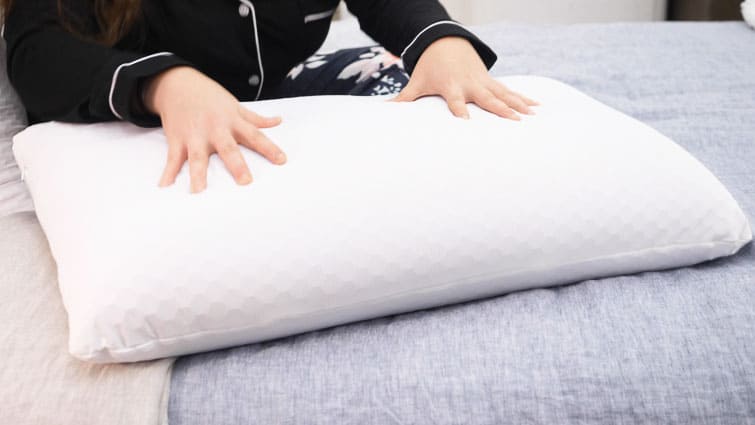 Personally, I'm a very hot sleeper who constantly flips her pillow to sleep on "the cool side," and I really enjoyed how the Harmony's breathability kept me from warming up.
Firmness & Feel
The folks at Purple do not give this pillow a firmness rating but, in my opinion, it ranks a soft-medium.
When you press into the Harmony, the first thing you'll notice is that it's incredibly bouncy. So if you're on the hunt for a pillow with a moldable memory foam feel, this is probably not the best fit for you.
Instead, it's got a super quick response to pressure that's ideal for those who prefer to rest on top of the pillow rather than deeply sink into it. However, keep in mind that the Harmony is soft and compresses into a lower loft under pressure. This pillow is very lofty when you're not sleeping on it (either 6.5" or 7.5" inches tall), but because it's soft, its profile doesn't stay that tall once you lay your head down.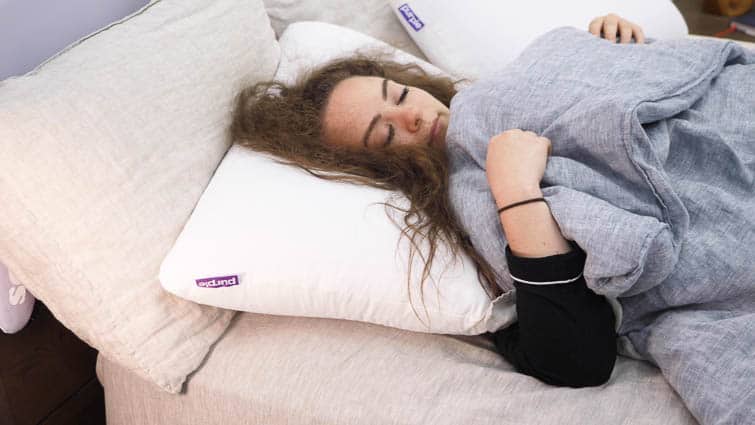 Speaking of loft, I found this pillow's soft firmness and springy support to combine in a unique way that lends itself well to all sleeping positions. In fact, let's take a closer look at how this pillow performs when using it on your back, side, and stomach.
Sleeping Positions
I'm pleased to report that the Purple Harmony is a great all-position pillow, suitable for sleepers of all styles. And I'll be honest — it's not often that I find a pillow that works for both side and stomach sleepers (so color me impressed, Purple!)
The Hyper-Elastic Polymer and Talalay latex create a super bouncy feel that kept my head and neck comfortably cradled no matter the position I rolled into. However, I did find this pillow to be particularly beneficial for certain sleep styles, so let's take a look at each position, one by one.
Back Sleepers – I think this pillow is best for back sleeping, and found both loft options to offer cozy, balanced support. Its quick response to pressure lets the pillow tightly conform to your head and neck, helping your spine to maintain neutral alignment. Additionally, its lofty build relieves pressure at the shoulders, which might be especially beneficial to those with a broader frame.
Side Sleepers – This pillow's bouncy-quick response to pressure kept me comfortably supported but, ultimately, I found the 7.5" profile to be better suited to side sleeping than the 6.5" option. Remember — side sleepers need a pillow with a lofty build in order to maintain a neutral spine and relieve pressure at the shoulders and hips; so if you're a side sleeper and you're not sure which size to go with, I'd opt for the taller one.
Stomach Sleeping – I'll admit that when I first saw the loft of the Harmony, I assumed it was much too tall for stomach sleeping. But sure enough, its soft feel and light weight allowed the pillow to compress beneath the weight of my head, and adapt to my body's shape. However, it's important to note that stomach sleepers need a low-lofted pillow in order to keep a healthy posture, and I found the 6.5" option to do a better job of that.
Overall, I was able to find my comfort zone in every position with both the Standard and Tall Harmony pillows. That said, I think the shorter loft is better for stomach sleepers and those with petite body types, while the taller loft is better for side sleepers and those with broad shoulders.
Of course, every body is different and our sleep habits vary, so I strongly suggest taking advantage of the 100-night trial period that's offered with this pillow. After all, the only way to really get the sense of a sleep accessory is to test it yourself!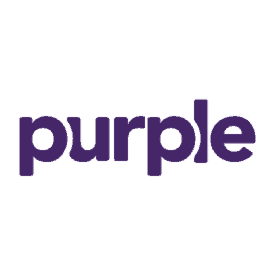 The Purple Harmony is great for any position sleeper and is extremely breathable to help you sleep cool through the night!
How Does The Harmony Compare to Purple's Other Pillows?
For a full breakdown of how Purple's other pillows stack up against the Harmony, be sure to check out my comparison of the Original Purple Pillow and the Purple Plush Pillow. But to give you a general idea, I've outlined the key differences below:
Original Purple Pillow
Heavy – Filled only with Hyper-Elastic Polymer, this pillow weighs in at 10 lbs! Like the Harmony, it's very durable and breathable, but is best suited to those looking for a very dense sleep accessory.
Firm – This pillow is the firmest of Purple's pillows, ideal for sleepers in the market for a more supportive structure. Personally, I think it's best suited to back sleepers who prefer a firm feel.
Low Loft – The Original Pillow is the least lofty of the three, standing at about 3" tall. Keep in mind that it can not be fluffed at all, so there is no way to increase the loft.
Price – At $99, the Original pillow's price falls between the Plush and Harmony.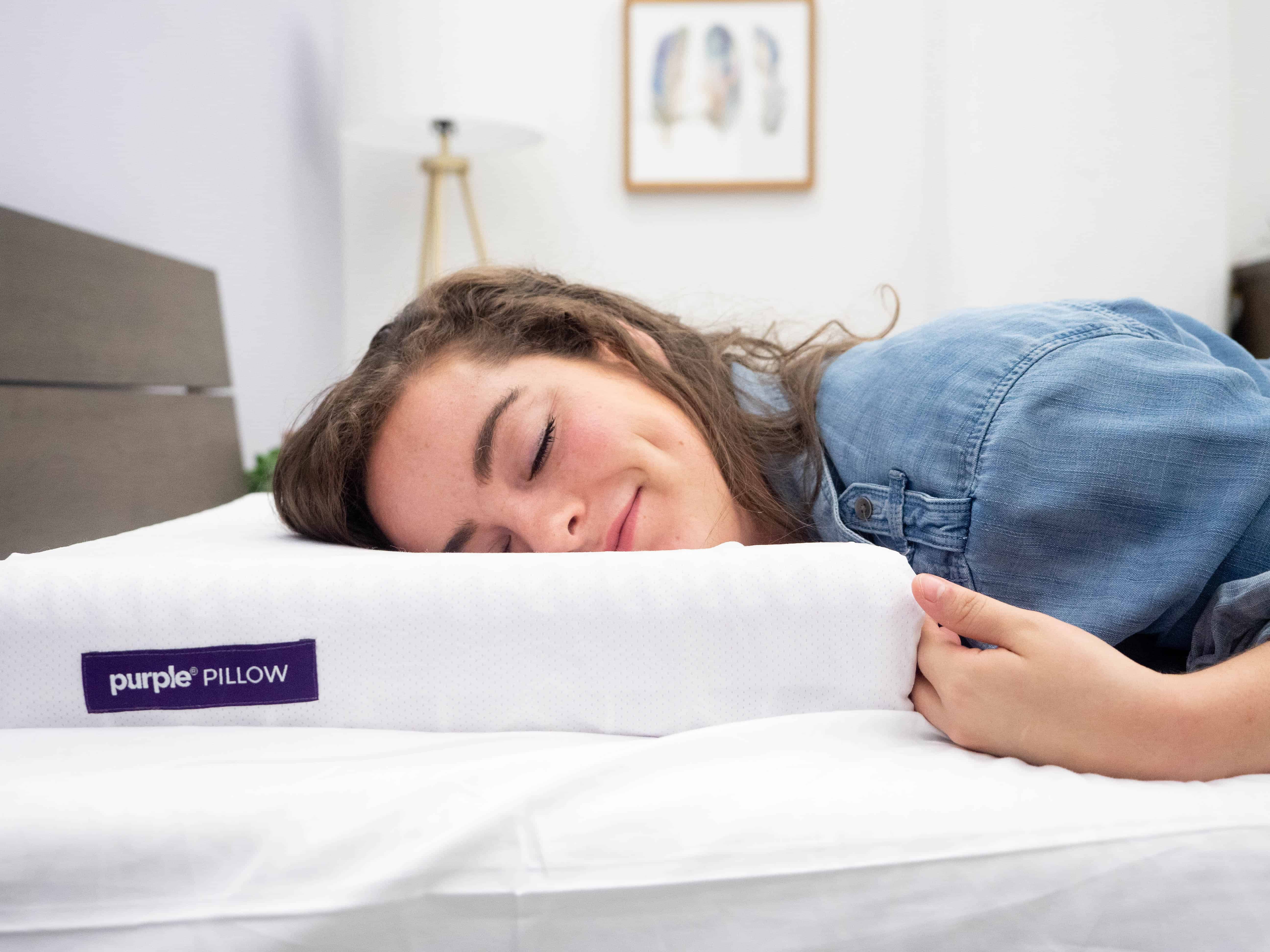 Purple Plush Pillow
Lightweight – Weighing in at 2.5 lbs, this one is the lightest and most plush Purple pillow. It's filled with a fluffy down-alternative that gives it a more traditional feel.
Soft – This is definitely the softest Purple pillow! Sleepers looking for a cushy accessory they can fold and shape are likely to be most compatible with the Purple Plush.
Fluffable – This is the only Purple pillow that can be fluffed! Why? Because it's the only one without any Hyper-Elastic Polymer in it.
Price – This is the least expensive Purple pillow at about $49, ideal for sleepers on a budget.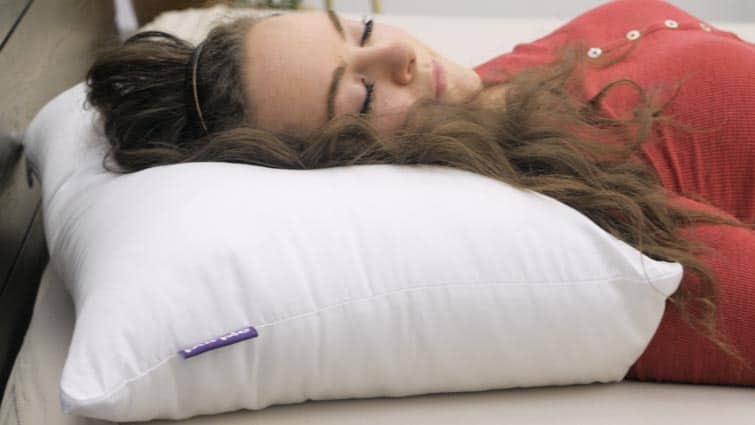 Keep in mind that this is an overview of how Purple pillows compare, and I dive into much deeper detail in my full written review! But, ultimately, if you're looking for a soft-medium pillow with super bouncy support, I suggest you give the Harmony a try.
Should I Buy The Purple Harmony Pillow?
Now that we've gotten up close and personal with the Purple Harmony, let's recap the highlights to help you decide whether it's the best fit for you.
Purple Pillow Balance – My favorite thing about the Harmony is that it strikes a comfortable balance between Purple's first two pillows. Like the Original Pillow, the Hyper-Elastic Polymer in the Harmony provides a supportive structure that helps it maintain its shape. And similar to the Plush Pillow, the Harmony is soft, light in weight and traditionally shaped. If you're a Purple fan, I think you'll find that this pillow achieves a cozy combination of the Original and Plush models.
All-Position – It's rare for me to declare a pillow suitable for all sleeping positions, but this one hits the mark. Whether you snooze on your back, stomach, side, or a combination of the three, the Harmony does a great job of adapting to your shape to keep you supported through the night.
Breathable – Hot sleepers looking for a cool, breathable pillow would do well with the Harmony. The ventilated latex foam, mesh cover fabric, and Purple Grid Hex combine to promote a lot of airflow through the pillow. In fact, you can even hear the air escaping when you press into it!
100-Night Trial – Do we need 100 nights to test a pillow before deciding if it's the best fit? Probably not. But is it super nice and luxurious to have that much time? You bet it is. If, within 100 nights, you decide that the Harmony is not the pillow for you, just send it back for a full refund.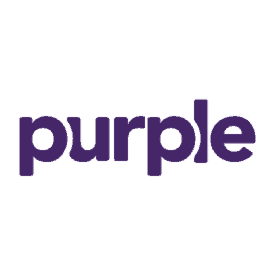 The Purple Harmony is great for any position sleeper and is extremely breathable to help you sleep cool through the night!
Purple Harmony Pillow Complaints
So what's not to love about the Purple Harmony? Well, a lot comes down to personal preference, but there are a few things to consider before you make your purchase.
Not for Memory Foam Fans – If you're looking for a classic memory foam feel, this is not the pillow for you. The Talalay latex and Hyper-Elastic polymer combine to offer springy support that lets you rest on top of the pillow rather than deeply sink into it. If you're not sure which sounds more appealing, be sure to check out my guide to understanding the differences between memory foam and latex pillows.
Wash Care – The cover fabric of this pillow is machine washable and dryable, but the latex core must only be spot cleaned with a damp cloth and mild detergent. Folks who want a pillow they can just throw in the wash without a care might want to look elsewhere.
Price – No matter which size pillow you choose, it costs about $160. Obviously this isn't going to fit in everyone's budget, but keep in mind that it comes with a 100-night trial period, and is backed by a 1-year warranty. Be sure to check our Purple coupon page to see if there are any current discounts available on the Purple Harmony.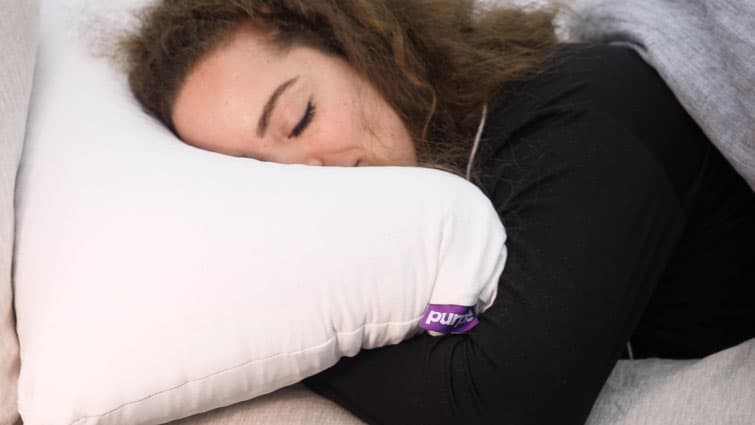 Anything Else I Should Know?
Sizing – Standard (6.5" loft), Tall (7.5" loft)
Weight – 4.5 lbs
Pricing – $159
Free Returns & Shipping – within the U.S.
Wash Care – wash cover fabric in cold, gentle cycle with mild detergent. Allow to air-dry or tumble dry on low heat. Talalay latex core must only be spot cleaned.
100-Night Trial Period
1-Year Warranty
Now that you're all experts on the Purple Harmony, why not take advantage of that trial period? But before you do that, be sure to subscribe to our YouTube channel and follow us on Facebook, Twitter, and Instagram for the answers to all your snooze Q's. Sweet dreams, everybody!
FAQs
Does the Purple Harmony Pillow need a pillowcase?
This is totally a matter of personal preference! The Purple Harmony Pillow is traditionally shaped, which means you can choose to dress it with a pillowcase if you like.
How thick is the Purple Harmony pillow?
The Purple Harmony comes in two loft options: 6.5" and 7.5" inches tall.
Why does the Purple Pillow smell?
You may notice that the Purple pillow has a faint plastic-y smell to it when you first unpackage it. Don't worry, it's not toxic and is not indicative of harsh chemicals. Allow your pillow to air out without a pillowcase, and the smell should dissipate within 24 hours.
Is the Purple Pillow toxic?
Not at all. Hyper-Elastic Polymer is a mineral-oil based, food-grade material (which means you could technically eat it and be fine, but I don't recommend it!)
The following two tabs change content below.
Sarah is the Senior Writer and bedding expert at Sleepopolis. Every week, she personally tests and reviews new pillows, sheet sets, and other sleep accessories. She accompanies every video review with a meticulously detailed article to ensure her audience has all the pertinent info they need for the best shopping experience possible. Perhaps that's why her fans have dubbed her "the most thorough pillow reviewer on the Internet." Having tested everything from sleep trackers to mattress toppers, Sarah's expertise runs deep and is always expanding. She received her degree in Creative Writing from Brooklyn College and spends her free time doing stand-up, making pasta, and hanging with her cats.
Latest posts by Sarah Riccio (see all)