Developed in the 1950s, microfiber fabric has been a go-to bedding essential for decades. It's known for its durable, tightly woven fibers, and has a warm and cozy feel that's perfect for cool weather. Not to mention, microfiber bedsheets are very popular and competitively priced, which makes them ideal for sleepers on a budget. But with so many microfiber sheet sets on the market, how do you know which one is the best fit for you?
Well, as with any sleep accessory, it's important to consider every last detail in order to pick the sheets that are perfect for your bed, your body, and your lifestyle. So follow along as I outline my personal favorite microfiber sheet sets, and let you in on my own tips and tricks for picking the best bedding.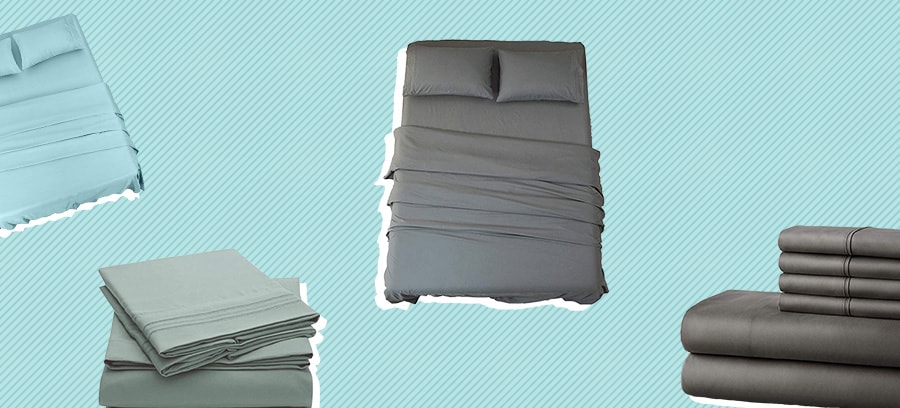 These super soft sheets are made from 100% double-brushed microfiber, and are tightly woven for a warm and cozy feel. Additionally, they come in a wide variety of vibrant colors, and feature deep pockets to accommodate those with taller mattresses. `
Pros
This bedding offers a suede-like feel that's very soft and gentle on the skin.
This set includes a top sheet, two pillowcases, and a fitted sheet with deep pockets capable of accommodating mattresses up to 16 inches tall.
At only $25 for a Queen size set, these sheets are great for shoppers on a budget.
Cons
These sheets are going to be less breathable than pure cotton sheets, so hot sleepers might want to look elsewhere.
This set is only offered in solid colors, and might not appeal to those looking for printed patterns.
Made from 100% microfiber, this bedding is double-brushed for a luxuriously soft feel. A full set includes a top sheet, fitted sheet, and four pillowcases.
Pros
This sheet set comes with four pillowcases — two more than the average set!
Shoppers who like a subtle, muted aesthetic are sure to be compatible with the lovely shades of beige and ivory offered by this brand.
You'll be glad to know that maintenance for this sheet set is pretty simple. Just wash on a warm gentle cycle, tumble-dry on low heat, and that's it!
Cons
If you're looking for bold colors and prints, this isn't the sheet set for you. It's only offered in subtle, solid colors.
The pillowcases in this set do not feature envelope closures, which might be a dealbreaker for some shoppers.
Made from 100% brushed microfiber, this sheet set offers a classically cozy feel. It's durable, resistant to pilling and fading, and is surprisingly affordable too.
Pros
This bedding has a super soft feel that's enhanced by the brushing process. Remember — brushed microfiber offers a unique, velvety-smooth feel!
These sheets are reasonably priced at only $20 for a Queen size set, making it a great budget-friendly option.
For folks looking to take a break from plain white bedding, this set comes in a variety of pretty colors.
Cons
As a hot sleeper, I found this bedding to be a bit too warming, and not quite breathable enough.
While this set does come in several fun colors, no printed patterns are available.
Made from 100% microfiber, these sheets offer a soft but durable feel. It's a four-piece set, and the fitted sheet features very deep pockets capable of accommodating mattresses up to 16 inches tall.
Pros
I found the elastic in this set's fitted sheet to be very stretchy, but also quite durable. Even sleepers with super tall mattresses should be able to find a good fit with this bedding.
This bedding is brushed on both sides of the sheet which makes for a cozy and balanced feel.
Sleepers can easily wash and dry this bedding by machine — no special maintenance required!
Cons
This is nitpicky, but the pillowcases in this set do not feature envelope closures, which allows the pillow's tags to spill out the side.
You might find that these sheets wrinkle a bit easily, but don't worry — they can be ironed.
How We Picked
Okay sleepers, now that we've taken a look at my top five favorite microfiber sheet sets, let's discuss the methodology behind my picks so that you're better equipped to do some shopping on your own!
Materials
Bedding woven from 100% microfiber has a uniquely soft, suede-like feel that many sleepers praise for its warm and cozy qualities. However, not all microfiber sheets are manufactured the same way, so let's take a look at the three most common types of microfiber sheets.
Polyester-Based Microfiber – The most common type of microfiber sheets are woven from polyester, but some microfiber sheets are made from wood pulp or nylon polymers. Personally, I prefer the classically soft feel of polyester-based microfiber, and every sheet set in this roundup is made from polyester microfiber.That said, it's important to carefully read through any bedding set's "product description" in order to determine the exact materials used. The more you know about the fabric you're sleeping on, the easier it'll be to find the ideal bedding set!
Brushed Microfiber – When you're shopping for microfiber sheets, you'll notice that many are described as "brushed" or "double-brushed." These terms refer to the textile manufacturing technique used to raise the surface fibers of the fabric, which makes for a distinctly soft feel that many call "warm and fuzzy."However, it's important to note that "brushed" typically means that one side of the sheet has been treated with this technique, and "double-brushed" means that both sides of the sheet have been brushed.While I find double-brushed microfiber sheets to offer a more balanced feel, some sleepers may prefer only the top side of the sheet to be brushed. Why? Well, brushing the fabric gives it a warm and cozy quality that might be too warming if it's directly on the skin.
Microfiber Blends – Lastly, some microfiber sheets have been blended with another material. Many bedding brands blend microfiber with cotton, bamboo, or Tencel in order to create a different look and feel. So, again, it's important to check the product description before you buy a set of sheets to make sure you're getting exactly what you want.Microfiber sheets blended with bamboo, for example, are likely to adopt some of the properties of bamboo fiber. One microfiber sheet set listed in this roundup is blended with bamboo, which gives it a lighter, more breathable feel (which makes it better for hot weather).Additionally, microfiber is often blended with high-quality cotton or Tencel in order to boost the bedding's durability… But keep an eye on the cost! Sometimes combining microfiber with a more luxurious material can cause an uptick in price.
Thread Count & Weave
Thread count is a term used to measure the individual yarns per square inch of fabric and, similar to cotton, 250-300 is considered a great benchmark for microfiber bedding. Of course, anything higher than that is perfectly acceptable, and is likely to produce a smoother finished product.
Essentially, a higher thread count typically means that the threads are woven closely together (which means the threads don't need to be spliced together as much!). That's why the general rule of thumb is — the higher the thread count, the smoother the sheet.
However, it's important to note that microfiber threads are thinner as compared to cotton, and are already very tightly woven together. Because of microfiber's uniquely tight weave style, sheets made from cotton tend to be more breathable in comparison. Hot sleepers looking to keep cool might want to aim for sheets that blend microfiber with another material like cotton or bamboo.
Conversely, those who run cold or are specifically shopping for wintertime bedding might be best suited to double-brushed microfiber sheets. The tight weave and fabric-brushing technique makes for a warm and fuzzy feel that can serve as a great insulator when the weather gets chilly.
Wash Care
I'm pleased to report that wash care for microfiber sheets is almost always very simple. In my experience, it's very rare to find microfiber bedsheets that require dry-cleaning or any special maintenance, which makes this type of bedding ideal for folks with pets or kids. In fact, every sheet set in this guide has the same wash care instructions, which I've listed below:
Wash on a cold or warm cycle with detergent of your choice
Tumble dry on low heat, or line dry for better color retention
To keep wrinkles at bay, remove from dryer as soon as possible; iron on a warm setting as needed
See? I told you caring for microfiber was simple. However, it's always important to check the exact care instructions listed by the bedding brand itself in order to keep your sheets looking and feeling pristine for as long as possible.
Pricing & Warranty
One of my favorite things about microfiber bedding is that it's great for sleepers on a budget. In fact, every sheet set in this roundup is priced below $50.
Microfiber is typically artificially made from synthetic polyester fibers, so bedding manufacturers are able to eliminate costs associated with growing and harvesting natural materials. But don't worry: Because of that tight weave I mentioned above, microfiber sheets are often considered to be more durable than some types of cotton, which is why a good set of microfiber sheets can offer shoppers the best bang for their buck!
That said, I always suggest that shoppers look for a good return policy and/or trial period. A generous return policy means that you have some time to get the sense of your new sheets, and if they don't work out, you can have them refunded or exchanged.
A trial period, on the other hand, is different from a return policy in that it gives you the chance to "try before you buy." In fact, some companies won't even charge you a dime until after your free trial period is up, which means you have time to test a sheet set out before having to financially commit.
Sleepopolis Tips
Before you start your sheet-shopping journey, allow me to leave you with a few more helpful tips to make your experience as efficient as possible:
Pay attention to fitted sheet pockets! Most bedding brands will clearly advertised the depth of its fitted sheets, but sometimes you have to go digging through the "product description." But it's important to find out the exact dimensions of a fitted sheet in order to make absolutely sure that it can accommodate your mattress.
Microfiber sheets do tend to trap heat, so if you're someone who needs help sleeping cool, I strongly suggest taking advantage of a brand's trial period when it's offered.
If you've got allergies and sensitive skin, keep an eye on the OEKO-Tex label. An OEKO-Tex certification guarantees that the fabric was not made with any harsh chemicals or dyes.
Final Thoughts
Now that we've reached the end of my guide, you're ready to begin your hunt for the perfect set of microfiber sheets. Just be sure to keep a close eye on the details as a set of sheets is an investment in your sleep health, and it's worth the time to make sure you pick the right one! Happy shopping, everybody.