Jersey sheets are known for having a cozy, breathable, T-shirt-like feel that's perfect for summertime or sleepers who run hot. But with hundreds of jersey sheet sets on the market, the process of shopping for the perfect one can be a little overwhelming! That's why I've rounded up the top four jersey sheet sets right here in this guide. Plus, I'll impart my personal methodology behind sheet shopping so you've got all the information you need to make the best buying decision.
Best Jersey Knit Sheets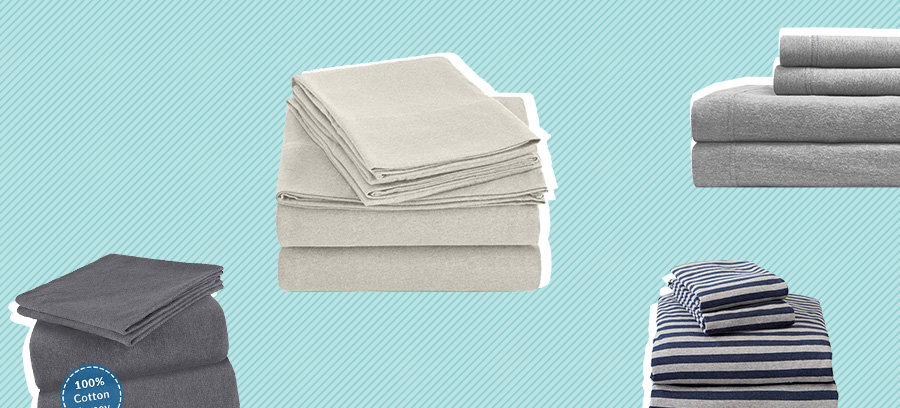 Editor's Pick
AmazonBasics Heather Cotton Jersey Bed Sheet Set
The AmazonBasics Heather Cotton Jersey Bed Sheet Set is my choice for editor's pick. These stretchy-smooth sheets are knit using pre-dyed yarn for a sophisticated heathered effect. The AmazonBasics jersey sheet set is available in 5 colors and comes in twin-king sizes. This sheet set is made in OEKO-TEX Standard 100 factory and is machine washable.
Pros:
Colors. The chic, heathered colors of these sheets would work with the decor in almost any bedroom
Safety. These sheets are OEKO-TEX® certified, which means they are free of harmful substances and produced using environmentally friendlier methods
Soft. These sheets have a light, cozy quality and feel pleasantly cool to the touch
Cons:
Deep pocketed. This will be a pro for sleepers with toppers or high profile mattresses but felt a little baggy on my 10 inch memory foam bed  
May pill over time. I've noticed a small area of pilling after a few washes — hopefully this won't increase with use
AmazonBasics Heather Cotton Jersey Bed Sheet Set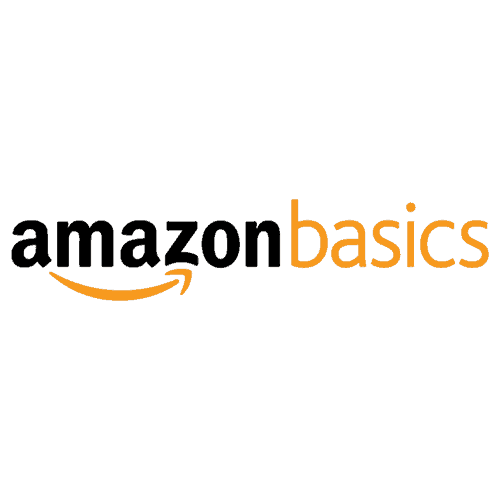 The AmazonBasics Heather Cotton Jersey Bed Sheet Set are light and cozy and come in great color options.
Sleepopolis Score
4.70 / 5
Best on a Budget
Great Bay Home Jersey Knit Sheets
The smooth and budget-friendly Great Bay Home Jersey Knit Sheets get my nod for best bargain. These 80% cotton, 20% polyester sheets are available in 6 classic colors and 2 stripe patterns. This lightweight set is machine washable and fits mattresses up to 17 inches deep.
Pros:
Colors. The classic, true-to-the-pics colors of these sheets would work with the decor in almost any home. I was particularly fond of the navy stripe
Price. These sheets are soft to the skin, stretchy, and a fabulous deal to boot. At this price, you can grab a spare set for every bedroom in your house
Cool. The Great Bay Home sheets have very little weight and are a good option for warm sleepers and sunny climes
Cons:
Not 100% cotton. This may be a dealbreaker for sleepers who prefer natural bedding
Workmanship. The Great Bay sheet set didn't seem quite as sturdy at the seams as some other jersey knit sheets I tried
Great Bay Home Jersey Knit Sheets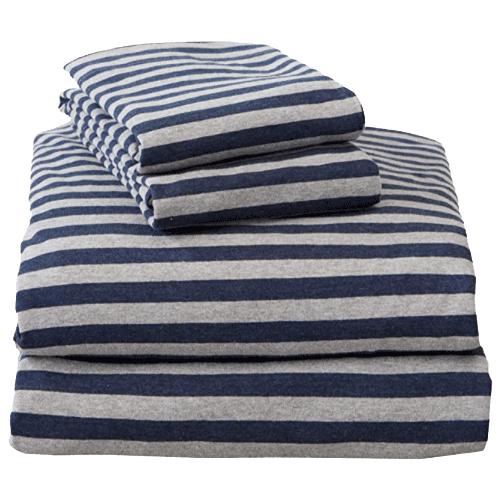 The Great Bay Home Jersey Knit Sheets sleep cool and are affordably priced.
Sleepopolis Score
4.50 / 5
Best Fitted Sheet
Lifetown Jersey Knit Cotton Fitted Sheet
My top pick for best fitted sheet is the Lifetown Jersey Knit Cotton Fitted Sheet. This 3 piece sheet set comes without a top sheet for folks who sleep without one or like to mix and match bedding. This 100% cotton set includes 2 pillowcases and is available in 7 solid colors, including bluish gray and light coffee.
Pros:
Soft. The naturally silky cotton jersey was among the smoothest to the touch of any of the sheets I tested
Great for lower profile mattresses. In a world of loose, deep pocketed sheets, this one offers a nice, snug fit on beds that are 15 inches thick or less
100% cotton. There's no polyester in this sheet set, just pure jersey softness
Cons:
No full size option. This sheet seems like a shoo-in for teenagers and kids who prefer to sleep without a top sheet. A full size option would be a nice addition
A tad pricey. This comes in at the higher end of the price range for a set without a top sheet
Lifetown Jersey Knit Cotton Fitted Sheet
The Lifetown Jersey Knit Cotton Fitted Sheet are soft and made from 100% cotton.
Sleepopolis Score
4.50 / 5
Best for Cooling
DELANNA Jersey Knit Sheet Set
My choice for best cooling jersey sheets is the Delanna Jersey Knit Sheet Set. These soft and airy sheets are made from 80% polyester with 20% polyester for durability. This machine-washable sheet set is available in 13 colors and 5 sizes including twin XL.
Pros:
Wrinkle-resistant. The Delanna sheet set has all the softness of cotton jersey with the wrinkle-free care of a cotton/polyester blend
Lightweight. These cool, breathable sheets are great for summer months and hot sleepers all year round
Price. A jersey knit sheet set at this price point is too much of a deal to pass up
Cons:
Stitching. The stitching was loose at one seam on the set I tested — this could be an issue after several washes
Few patterns. These sheets come in an appealing selection of solid colors, but a few more designs would be a nice option
DELANNA Jersey Knit Sheet Set
The DELANNA Jersey Knit Sheet Set is wrinkle resistant and lightweight.
Sleepopolis Score
4.50 / 5
How We Picked
Okay, sleepers, now that you've seen my top four picks, let's talk about the methodology behind my decisions. At the end of the day, sheet shopping has a lot to do with personal preference. However, there are a few main factors to consider when you're trying to find the perfect jersey sheet set.
Materials
First thing's first — jersey refers to the style in which fabric is knit, not the specific material itself. That said, the large majority of jersey sheets are either made from cotton, polyester, or a blend of the two. So, it's best to take some time in determining which materials appeal to you most. Let's take a look at these popular options below:
Cotton – Jersey sheets made from 100% cotton are going to be super lightweight and breathable, perfect for folks who run hot. Plus, they tend to offer a distinct T-shirt-like feel that sleepers praise for being uniquely cozy and soothing on the skin. However, pure cotton bedding is also likely to be more expensive, as it's made from natural materials.
Polyester – Jersey sheets made from polyester are typically a bit heavier and less breathable as compared to pure cotton, but they're by no means heavyweight. Additionally, polyester is a moisture-wicking material, which might appeal to those prone to night sweats. Because polyester is a synthetic fabric, jersey polyester sheets are often the least expensive.
Cotton/Polyester Blend – If you're looking for the best of both worlds, you might want to consider a cotton/polyester blend. They're mid-range in price, weight, and breathability, which makes them ideal for year-round use.
Once you've settled on the material you like best, it's time to pay attention to sizing and dimensions.
Sizing & Dimensions
Most jersey sheet sets are offered in the full range of sizes, which includes Twin, Twin XL, Full, Queen, King, and California King. Rarely, you'll find a Split King size, but they are available (you might just have to do a little searching!).
When you're trying to pick the size that's right for you, just go with the one that correlates with the size of your mattress. For example, if you sleep on a Queen mattress, go with a Queen sheet set. That said, there's a bit more consideration that goes into picking the right pocket depth.
Every fitted sheet has a different pocket depth, and it's important to pick the one that'll best fit your mattress. If you sleep on a mattress that's 12-inches deep or more, you might want to shop specifically for deep-pocket sheets. Conversely, those who sleep on mattresses that are 10-inches deep or shorter might want to avoid deep-pocket sheets, as they can often be a bit too loose or baggy.
Personally, I like to aim for fitted sheets that feature a full elastic band that spans the perimeter of the sheet. This way, the elastic puts a tight grip on your mattress and prevents it from slipping off while you snooze.
Colors, Prints & Patterns
In my opinion, one of the best parts of sheet shopping is picking the colors, prints, and patterns that fit your unique style. Fortunately, jersey sheets are known for being offered in a wide variety of styles, which makes them a great pick for kids, teens, and adults alike.
That's why you might want to take your time in determining which colors appeal to your personal aesthetic. Some bedding brands only offer bright colors and design, while others stick to a more muted color scheme. Remember — every brand is different, and it's worth it to find the one that reflects your personal taste best.
One thing to note, though, is that colored jersey sheets can fade a bit over time. This is normal, but you might want to factor that in when you're making your purchase. For example, if you see a bright red sheet set, try to imagine what it'll look like about one shade lighter.
Wash Care
One of the great things about jersey sheets is that they're almost always easy to care for. In fact, I don't think I've ever encountered a jersey sheet set that couldn't be washed and dried by machine. So, if you're looking to avoid high maintenance bedding, jersey knit sheets are a great way to go.
That said, it's always a good idea to follow the exact care instructions as given by the bedding brand itself. Ultimately, no one knows how to care for your sheets better than the folks who made them, and employing proper wash care is a failsafe way to protect your investment and make your sheets last longer!
As for me, I like to let my jersey sheets air dry in the sun, as this can guard against color fading and general wear.
Pricing
Jersey sheets are knit rather than woven, which generally makes them less expensive than most bedding on the market. Of course, price also depends upon materials, and you'll probably find that jersey cotton is a bit more expensive than jersey polyester.
Regardless of which material you choose, I suggest taking advantage of a brand's trial period when it's offered. Being able to personally test a product is a great way to determine whether or not it's really worth the dough. But remember to take careful note of each brand's trial period, as every retailer's policy is different.
Sleepopolis Buying Tips
Now that we're nearing the end of my guide, let's recap a few helpful tips that'll guide you in your search for the best jersey sheet set:
Heathered Effect – If you're looking for a jersey sheet set that has specks of colors interwoven within the fabric, you're most likely thinking of heathered jersey sheets! This style of knitting is very common in jersey bedding, and you can shop specifically for heathered cotton or polyester.
OEKO-Tex Certification – Folks with allergies or sensitive skin should keep an eye out for the OEKO-Tex certification, as this seal guarantees that no harsh pesticides, dyes, or chemicals were used in the manufacturing process.
Wash First – I urge you to wash your sheets before you sleep on them, as they can pick up some packaging residue in transit. Essentially, your bedding is not necessarily clean even if it's brand new!
Final Thoughts
Well, folks, now that you're all experts on jersey sheets, you're well on your way to picking the sheet set that's right for you. In the meantime, take some time to consider all the material details, sizing preferences, and style ideas you have in mind! After all, your bedroom should be your personal oasis of calm. Happy shopping!