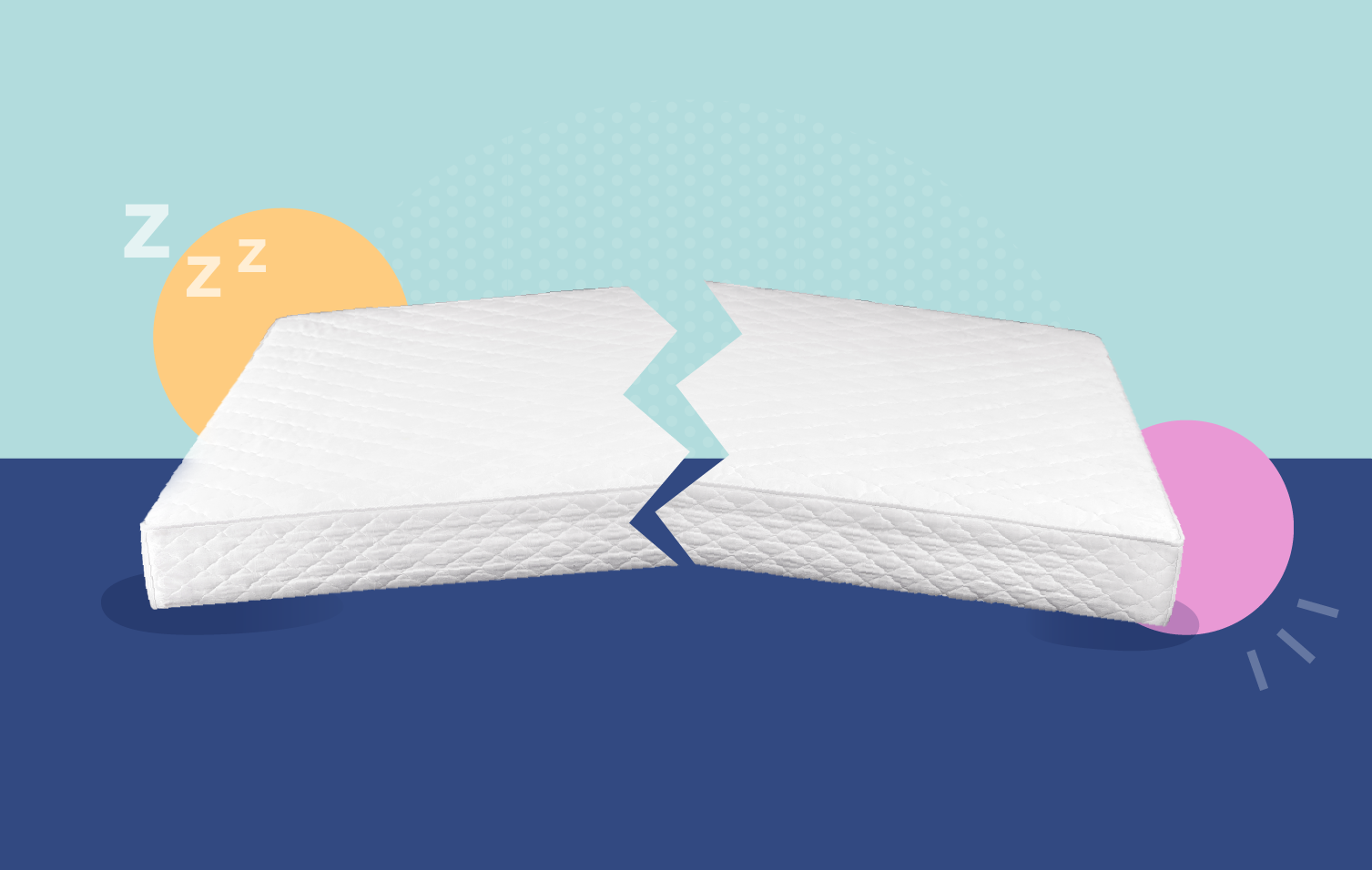 Sleep divorce is becoming increasingly popular with individuals valuing sleep health more and more. Lack of sleep can lead to side effects such as mood swings and poor concentration, so it's unsurprising that people are taking new measures to ensure they have the best sleep hygiene possible, even if that means sleeping solo.
What is sleep divorce?
Our expert Dr. Shelby Harris states:
"A sleep divorce is when couples decide to sleep in separate beds or separate rooms, commonly due to differences in sleep patterns and habits that are disrupting their quality or quantity of sleep. The goal of partners sleeping separately is to give both the best opportunity to get a quality full night's rest".
Despite sleep divorce being a normal, and often beneficial, tactic for improving sleep there is still stigma surrounding the topic. To help ease uncertainty when it comes to sleep divorce, we have dug deeper into the way that Americans feel about the topic.
We looked at Twitter sentiment to uncover how different U.S. states feel towards sleep divorce, uncovering sentiment around the topic, word frequency and unveiling the top U.S. cities tweeting most commonly about sleep divorce.
How do Americans feel about sleeping in separate beds?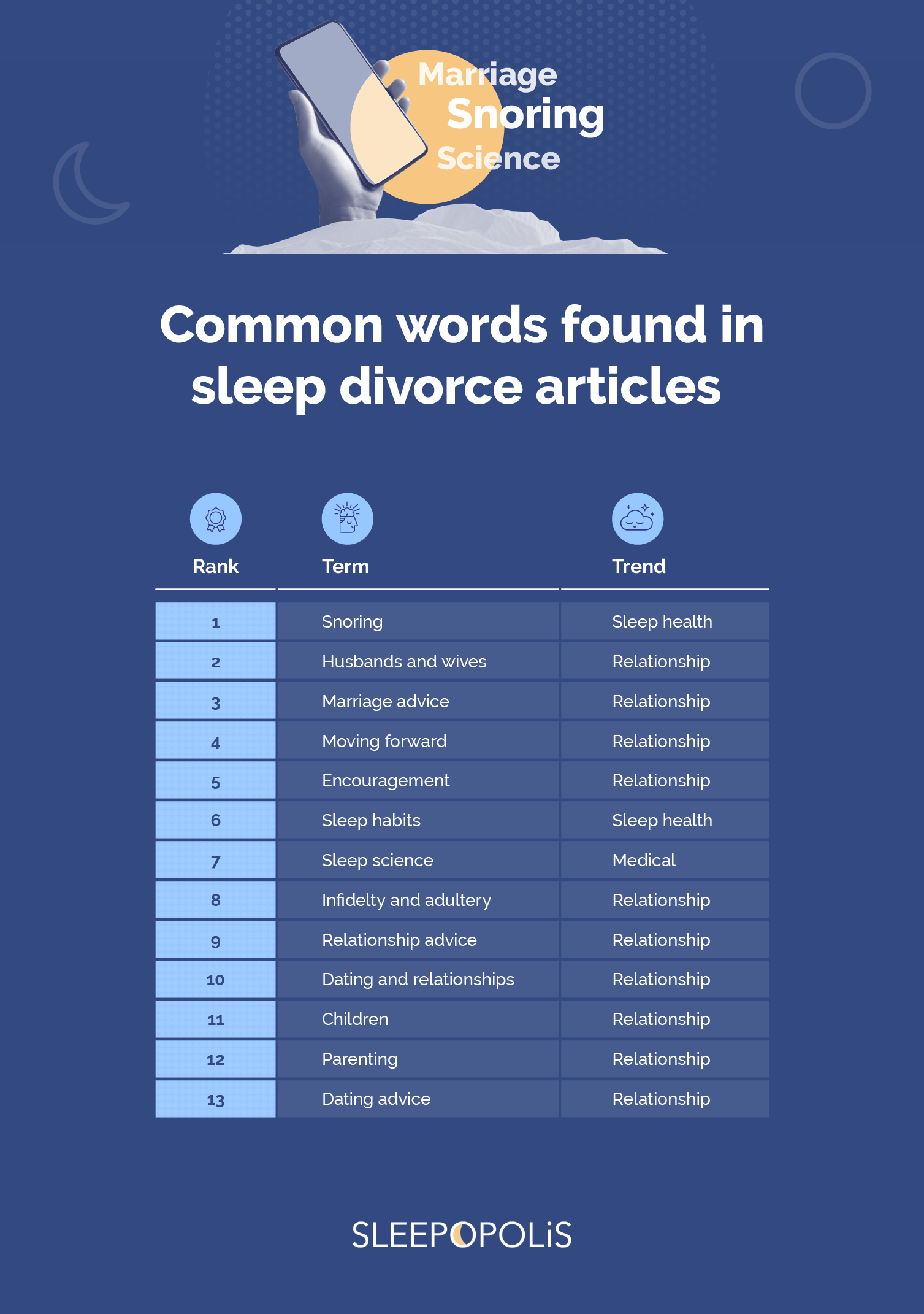 Looking at articles about sleep divorce, we have uncovered the most common words and trends mentioned. Separating terms into three categories, including sleep health, relationships and medical factors to see what the biggest talking points are when looking at sleep divorce.
Snoring came on top as the most commonly found term in these articles suggesting that snoring is an issue that is contributing towards a large percentage of sleep divorces.
Relationship factors included terms such as 'moving forward' and 'Infidelity and adultery' suggesting that for some, sleep divorces are a way of helping relationships after facing more serious difficulties.
What is the overall sentiment in sleep divorce tweets?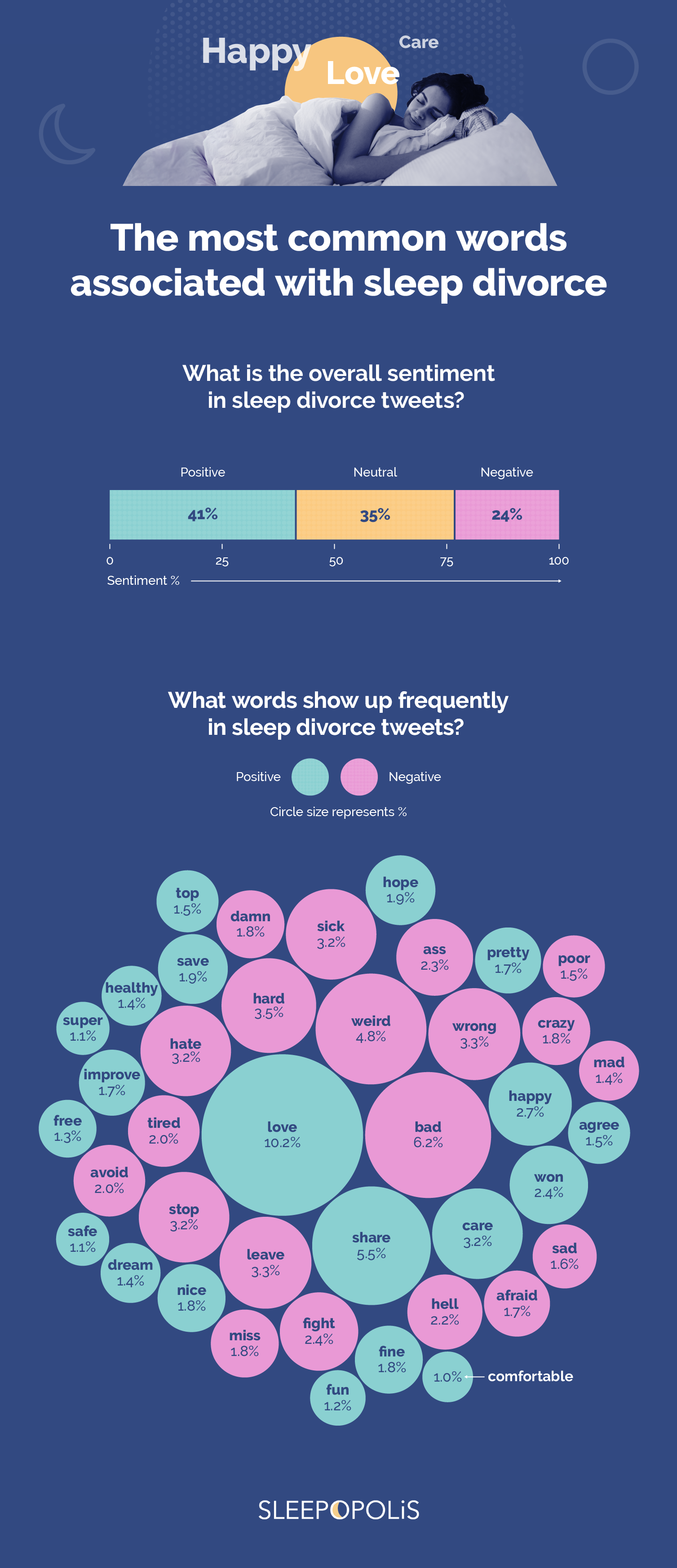 The overall sentiment towards sleep divorce is positive, with 41% of tweets about sleep divorce being in favor of the method.
Negative tweets accounted for 24%, there are both pros and cons when considering a sleep divorce, so it's no surprise to see some people don't find the method effective for them.
35% of tweets were neutral, suggesting that people were potentially unaffected by this or uninformed about the sleeping habit. This could also account for people who have recently tried a sleep divorce and have not yet made a decision on the method.
What words show up frequently in sleep divorce tweets?
When looking at tweets, the most commonly used positive word associated with a sleep divorce is love, with 10.2% of tweets mentioning the term. This could suggest that despite many couples opting to sleep apart, it is not down to falling out of love with one another. In fact, according to Dr Shelby Harris, "A sleep divorce can bring couples closer together and strengthen their connection as a couple" whilst also allowing individuals to improve sleep hygiene and get the best night's sleep possible.
Bad (6.2%) and weird (4.8%) are featured as the top negative words associated with sleep divorce. This could be down to a lack of understanding of why people choose to sleep separately as sleep divorce is nothing to be ashamed of.
The U.S. cities tweeting the most about sleep divorce

The city tweeting most often about sleep divorce was found to be New York, with over 1,000 tweets about the topic. New York's sentiment towards sleep divorce is mostly positive with 42.8% being on board with the idea and 20.9% being negative.
Tampa was found as the most accepting towards sleep divorce, with 64.1% of tweets around the topic being positive. However, Tulsa was found as the least on board with the prospect of a sleep divorce with 50% of tweets on the topic being negative.
Sleep divorce Q&A with Dr. Shelby Harris
We asked expert Dr. Shelby Harris, a licensed Clinical Psychologist specializing in behavioral sleep medicine (BSM), questions surrounding sleep divorce to help deepen understanding of sleep divorce and who should consider the tactic to better their sleep hygiene.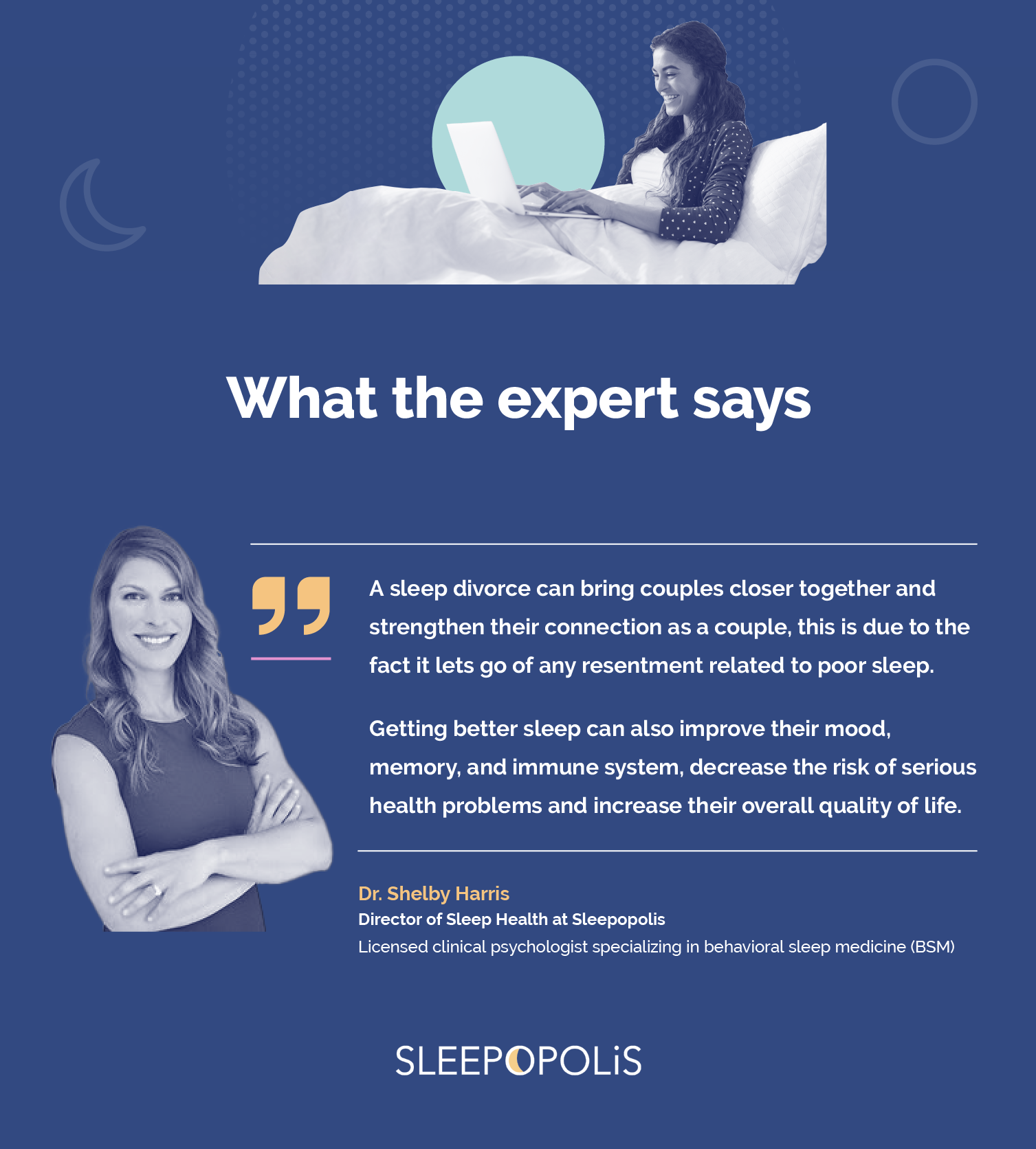 What are the benefits of a sleep divorce?
"A sleep divorce can bring couples closer together and strengthen their connection as a couple. This is due to the fact it lets go of any resentment related to poor sleep. Getting better sleep can also improve their mood, memory, and immune system, decrease the risk of serious health problems and increase their overall quality of life."
What are the most common reasons you see people opting for a sleep divorce?
"The most common reason people opt for a sleep divorce is because one or both partners' sleep quality is suffering. This is typically due to differences in sleep schedules, habits, and preferences, as well as sleep disruptions caused by one or both partners' having a sleep disorder."
Do you have any tips for getting the ultimate night's sleep?
"The key to getting the ultimate night's sleep is a consistent sleep schedule and good sleep hygiene. You should get somewhere between 7-9 hours of sleep per night, aiming to go to bed and wake up at the same time every day. I recommend creating a relaxing nighttime routine that you do anywhere from 15-60 min before bed to help you unwind and prepare for sleep."
Are you more likely to get a better night's sleep alone as opposed to sharing with your partner?
"If one or both partners' sleep quality is suffering due to differing sleep patterns, habits, or preferences from their partner, they will likely see an improvement in their sleep quantity and quality from sleeping separately."
When is the right time for a sleep divorce?
"Sleeping separately is not typically something I recommend first to couples but, if they have already tried tweaking certain areas of their existing routines and had no positive progress, then I may recommend they try sleeping separately. If someone is routinely not getting enough sleep or finds that they wake up frequently throughout the night due to disruptions from their partner, they should talk with their doctor or a sleep specialist."
What kind of sleepers would benefit most from a sleep divorce?
"Those with a partner who works different hours, such as the night shift, may benefit from sleeping separately which can reduce disruptions from one waking up or going to bed earlier than the other. Snoring is also a common reason couples choose to sleep in separate rooms, but it can also be a sign of sleep apnea, so it's important to be evaluated by a sleep specialist if snoring is interfering with sleep."
What are the top tips when sharing a bed with a partner to get the best night's sleep?
"I recommend investing in a good mattress for couples and quality bedding that is comfortable and meets both partners' sleep preferences, in addition to proper sleep hygiene.
"Sleep hygiene refers to the steps, lifestyle behaviors, and activities we practice surrounding our nighttime routine that can help promote high-quality sleep (limiting alcohol, caffeine, and screens before bed, winding down, timing naps appropriately, etc.)."
---
Methodology
Over 100,000 tweets containing keywords such as "sleep[ing] in separate beds", "sleep[ing] in separate rooms", "sleep[ing] separately" posted in the last 12 months were collected from Twitter API. After de-duplication and removing retweets, over 26,000 tweets were geo-referenced to U.S. states or cities. Each tweet's sentiment was analyzed using AFINN lexicon, which classifies the sentiment of each word from -5 (negative) and +5 (positive). Tweets, where the aggregate score was less than -2, were deemed to have negative sentiment; and those where the overall score was greater than 2 were deemed positive. For the purpose of the campaign, percentages have been rounded up to the nearest whole number.
Buzzsumo was also used to gather insights from existing content relating to sleep divorce. The relevance was calculated by the number of times a keyword appeared in a piece of content about sleep divorce. Any anomalies were removed from the list.
Data was collected in Nov 2022. Full data set available upon request.
The Sleepopolis team is all about helping you sleep better. Whether it is through extensive sleep product reviews, sleep tips, or debunking sleep myths, we're here for you!