Whether it's a snoring partner, loud neighbors the night before a final or a long red-eye flight, earplugs are often an effective and affordable way to mask or block out unwanted noise during the day or night in order to achieve a healthier night's sleep. Earplugs can simply be placed at the entrance to a person's ear and come in a wide range of shapes, sizes, materials and primary functions.
Many popular earplugs are disposable and made out of foam, while others can be molded and customized to fit your ear and mask noise for many nights. Others are made with some of the most innovative audio technology available today. It's always worth thinking about what you want your earplugs to help you accomplish and then narrow down your options from there.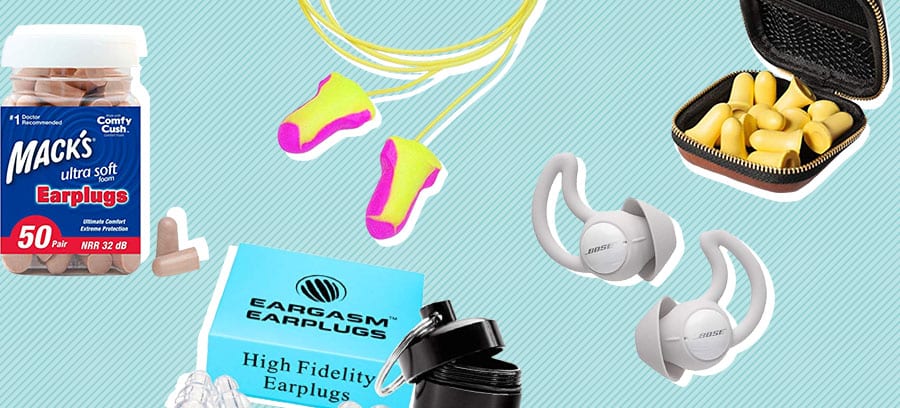 Best For Sleeping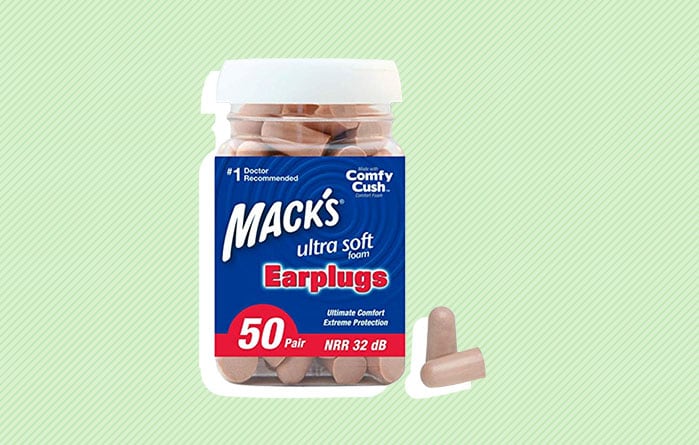 Mack's Ultra Soft Foam Earplugs
Achieving uninterrupted sleep is a crucial part of sleep health and that's where Mack's Ultra Soft Foam earplugs – the whole line of Mack's earplugs actually – come in handy. In case the name didn't already make it clear, these earplugs are made from a super soft and slow response foam and come in a rounded cone shape. Simply press down on the foam and place the earplug in your ear. Once you let go, the foam will expand to fit your ear canal.
Pro Tip: Petite individuals who find these earplugs slipping out at night may prefer the Slim Fit version of these Mack's earplugs – they'll stay put.
PROS: 
The 32-dB Noise Reduction Rating (NRR) will do a good of masking most major bedroom noise, including mild snoring or other disruptive sounds.

The earplugs come in big packs and are plentiful, affordable and disposable. It's easy to keep a clean pair by your nightstand in a bedroom or guest room without breaking the bank.

Mack's makes a wide range of foam earplugs, including a slim design and those for maximum sound blockage.
CONS:
Due to their disposable and single-use nature, they're not the most environmentally friendly earplug option.
Best For Swimming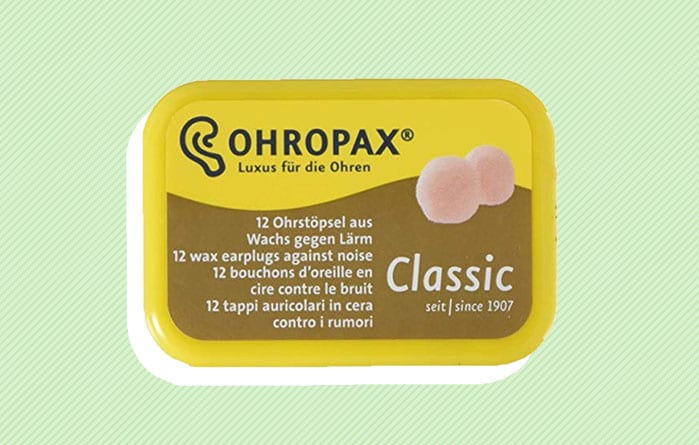 Ohropax Reusable Wax/Cotton Ear Plugs
When it comes to keeping water out of your ears, you'll need the perfect fit and a good seal around your ear canal. Ohropax's reusable wax earplugs arrive covered in cotton in a little tin. Simply remove the cotton, rub the circular wax plugs in your fingers to warm it up. Once it's warm and easy to mold you can stick it into your ear canal and create a seal. The earplugs are reusable which means you can warm them up and remold them anytime you're ready to take a dip.
PROS: 
They're versatile and you can easily use these earplugs outside of the water. They have an NRR rating of 23 dB, which will mask most mild noises but you'll still be able to hear your alarm clock.

These are affordable and will last you for a few uses if you're able to keep them clean.

They can be molded to fit in any type of ear and ear canal.
CONS:
Ohropax's reusable wax earplugs won't block out or mask most major sounds. For comparison, a quiet room has an NRR of 40 dB and these are rated at a 23 dB.
Best Splurge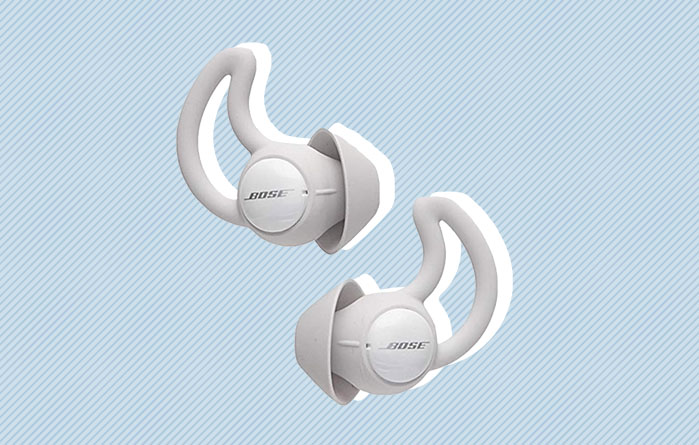 Bose Noise Masking Sleepbuds
For those who want to be able to change up their noise blocking options on a daily basis – and have the budget for it – please consider the Bose Noise Masking Sleepbuds. The Sleepbuds fit snugly into your ear and wirelessly stream a wide range of ambient or sound masking noises that you can control from an app on your smartphone. The Sleepbuds can stream up to 16 hours straight and have a wireless charging case that makes them easily portable.  
PROS: 
The Sleepbuds come with three ear tip sizes – Small, Medium and Large. One of these three options should fit your ear canal snugly.

The fit is very seamless and you can use them in nearly all sleep positions without noticing them at all.

In addition to pre-loaded sounds (including white noise), you can also set a morning alarm that only you can hear.
CONS:
Their price may place them out of the budget for many who are looking for a simple way to mask external noise.

They don't have an NRR because you control how much sound they mask but they won't be able to completely block all noise.
Best For Travel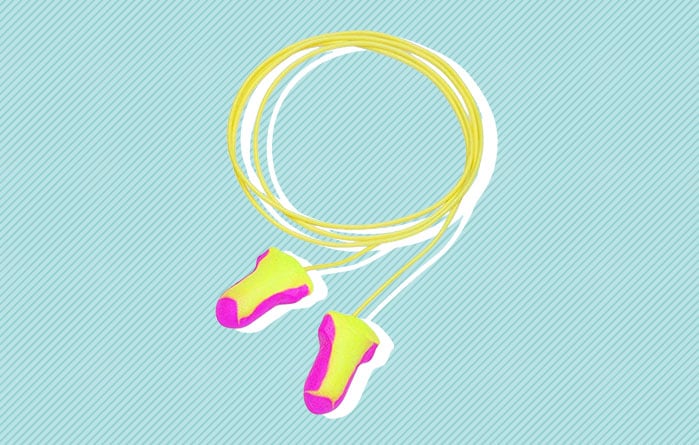 Howard Leight by Honeywell
The Howard Leight by Honeywell foam earplugs are bright magenta and yellow-colored and certainly hard to miss. Simply press down on the foam and place the earplug in your ear to mask outside noises. These come corded (or connected) which means it's hard to lose them on the floor of your plane or bus. Their colors make them highly visible, which means if you're traveling it'll be obvious you have them in your ears and don't want to be disturbed. 
PROS:
With an NRR of 32dB, these will block a good amount of noise.

They're extremely affordable and you can buy them in large quantities

They're available in packs as small as 10 pairs to as large as 200 pairs – and all quantities are affordably priced.
CONS:
One size option means they may not be a perfect fit for ear canals that are smaller or larger than average.
Best For Concerts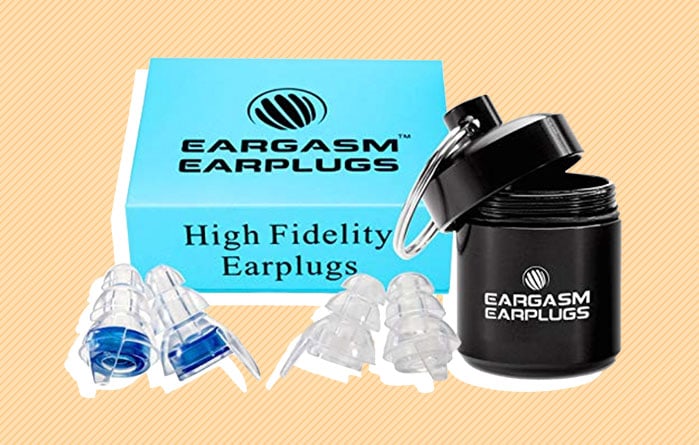 Eargasm High Fidelity Earplugs
The Eargasm earplugs are made with hypoallergenic silicone and designed to evenly filter noise and fit discreetly inside your ear. They'll help mask a moderate amount of noise – perfect for those concerts that are just a little bit too loud. They come with two size options and an aluminum travel case. 
PROS:
With a NRR rating of 16 dB, these earplugs are designed to help keep your hearing from potential damage but still allows you to hear conversations and music clearly.

They're the subtle design that will work well in public settings like concert venues or sporting events.

They're made with hypoallergenic silicone, which makes them a great alternative to those who have allergies to foam or who want a reusable option.



CONS:
While they may be good for concerts or other louder events, they're not specifically designed to help reduce noise while sleeping.
Best Value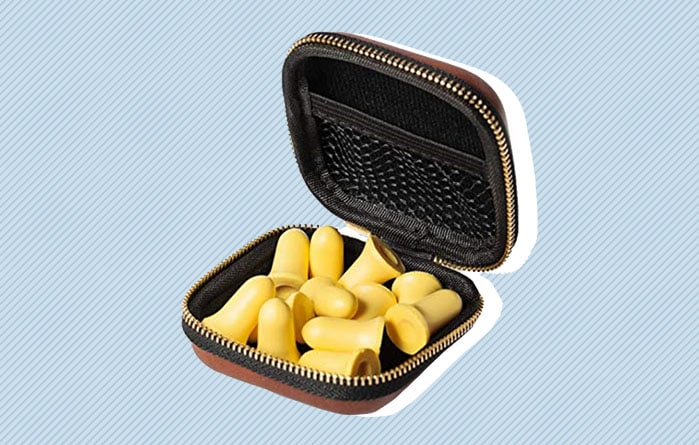 PQ Earplugs for Sleep
PQ (stands for Peace&Quiet) earplugs are a great option for those who are new to the world of earplugs and don't exactly know what they want. For an affordable price, you can get a container of foam earplugs plus a reusable pair of silicone earplugs. This gives you the option to try the different types and see what you like without breaking the bank. 
PROS:
The mix of different types of earplugs makes it a great introductory option.

The foam earplugs can reduce noise up to 32 dB, which is one of the highest noise-masking levels for foam earplugs.  

The extra foam earplugs can either be kept in your nightstand or shared with friends or guests who are visiting. 
CONS:
This popular item may sell out on occasion.
Best For Sensitive Ears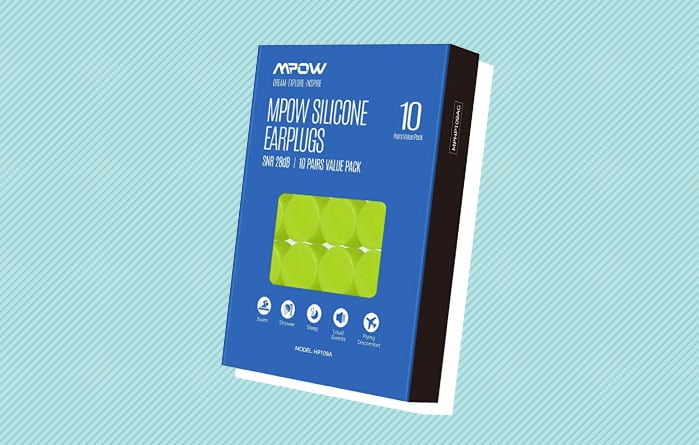 MPOW Moldable Soft Silicone Earplug
MPOW's moldable silicone earplugs fit gently into the opening of your ear as opposed to being inserted into your ear canals where irritation can occur. This makes them a great fit for those who don't like the way foam earplugs may feel and those who want an enhanced level of customization. In addition to being non-toxic, the silicone earplugs are super easy to shape and mold in a way that perfectly seals off your ears.
PROS:
MPOW's silicone earplugs are reusable and come in value packs at an affordable price.

The packaging provides clear written and graphic instructions on how to properly use the earplugs.

They can be mask noise up to 28 dB and seal off the ear from moisture if you're swimming or in the shower.
CONS: 
Neon green is the only color option available and is not very discreet. 

Because they cover the opening of the ear and should not be placed in the ear canal, they may be more likely to move around if your ear is disturbed overnight.
How We Picked
To create the most comprehensive list of earplugs to review, we searched the internet and social platforms to see what types and styles of earplugs people were talking about. From the top 10 lists, Instagram profiles and crowdsourcing, our group of earplugs started to develop.
We discovered that there were several styles of earplugs and that not all are created equal. Here are some common types of earplugs you'll find in stores and online:
Foam
Wax
Silicone
Plastic
Polyester (headband style)
We learned that people use earplugs for many different reasons. Some need them for sleeping, others to help them concentrate at the library or in a loud setting. Others are required to use them during work (think warehouse or factory employees or those who work on the tarmac of an airport). There are so many ways earplugs can help protect your hearing.
Our reviewer has used earplugs to sleep every night for over a decade. She's personally tested many different earplugs in a range of styles, materials, and functionality. She's established a solid foundation for what to look for in an earplug and the pros and cons of each style. With so many types to choose from, she'll never sleep without earplugs again.
Need to block out light as well as sound? Check out our favorite sleep masks!
Sleepopolis Tips
Earplugs are a staple on nightstands across the globe. There are a lot of earplugs out there and it can be hard to know which ones are best suited for you. Here are some questions to ask yourself before picking up a pair. Answering these will help you narrow down your choices and end up with the perfect earplugs for you.
What Noise Reduction Rating (NRR) do you need? The NRR is given to earplugs as a way to rate how much hearing protection it can provide from external noise. To help better understand the rating, an alarm clock is about 80 dB and a quiet room is about 40 dB. Many earplugs are less than 40 dB so people can avoid minor disruptive noises but still hear their alarm clock for work or school.
What do you need these earplugs for? People will use earplugs for a variety of reasons. Some will need a pair to sleep at home every night, while some need them just for travel, for swimming in a pool or for work if necessary. Some earplugs are designed for sleepers, others for swimming or some for everyday wear.
What materials are you comfortable with? People with foam allergies will want to look at silicone, wax or other materials for their earplugs. Moldable or customizable versions can provide additional comfort in more sensitive ears.
What's your price range? Through our reviews, we've looked at earplugs that cost less than a dollar a pair all the way up to around $250 a pair. There is most certainly a set of earplugs in everyone's budget.
Earplugs can be a game-changer in many situations. They're a simple but helpful tool to protect your hearing and, in some cases, keep fluid or moisture out of your ears. Whether you're trying to block out your partner's soft snoring or want to keep moisture out of your ears in a swimming pool, there is a pair of earplugs that will fit you, guaranteed. They'll probably also be pretty affordable, too.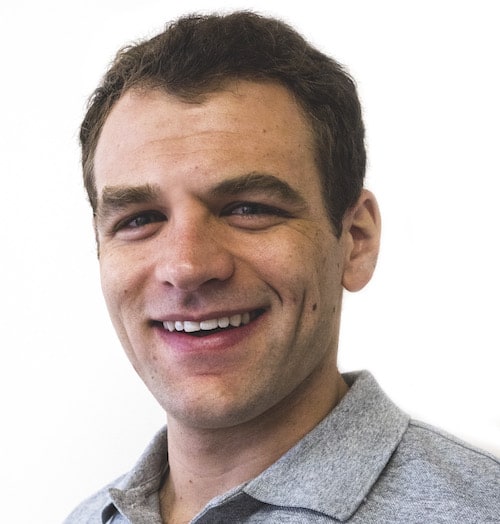 Logan Block
Logan is the former content director of Sleepopolis. As content director, he reviewed new mattresses every week and curated the comparisons, best of pages, and video guides on the site. Logan perfected his method by personally testing over 200 different mattresses, so he's not only able to discern the overall vibe of a specific bed, but to contextualize its feel within the bed-in-a-box market as a whole.