If you are looking for a little extra luxury in your life, you are in the right place. There's nothing more luxurious than lounging in a set of silk sheets and we've rounded up some of the best silk sheets out there (as well as one silk alternative!). 
Silk sheets are beloved for their soft and luxurious feel, cooling properties, and gorgeous look. We'll go over everything you need to know about each set of sheets, as well as some general information and shopping tips to help you along the way.
Ready to dive into the best silk sheets? Let's do it!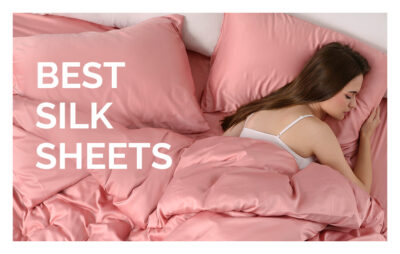 Best Silk Sheets of 2023
Mulberry Park Silks 22 Momme Silk Sheet Set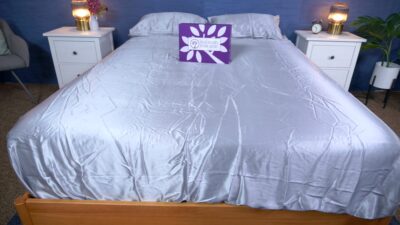 Mulberry Park Silks 22 Momme Silk sheet set is incredibly soft, smooth, and luxurious. It is available in four sizes, three pocket depths, and many different colors.

Read Full Review
If you're looking for the best overall silk sheets, look no further than Mulberry Park Silks. The brand offers a wide variety of high-quality mulberry silk products — including multiple different types of silk sheets. They offer three momme counts: 19, 22, and 30, but we tested their most popular, the 22 momme. (Momme is the unit of weight used to measure silk — similar to thread count. Higher momme means higher thickness and quality.) In testing, we found these sheets to be soft, smooth, and cooling.
These sheets are made from 100 percent grade 6A mulberry silk with a charmeuse weave. The four-piece sheet set includes a flat sheet, fitted sheet, and two pillowcases with an 8-inch envelope closure. Additionally, the fitted sheet is available in three depths: 15, 16, and 17-inch pockets.
See our full Mulberry Park Silks sheets review for more.
LILYSILK 4-Piece Silk Bedding Set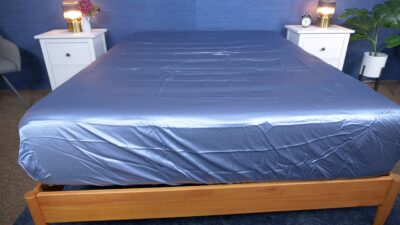 The LILYSILK 19 momme four piece silk bedding set is made from 100 percent mulberry silk.

Read Full Review
For the most comfortable silk sheets, we chose LILYSILK sheets. LILYSILK offers a variety of silk products, from pajamas to face masks to sleep caps to undergarments. We tested their 19 Momme Seamless Fitted Sheet, which can be purchased separately or as part of a full sheet set. The sheet is made from 100 percent grade A mulberry silk in a charmeuse weave, offering a silky-smooth sleep experience. Plus, since there are no seams, the smoothness is completely uninterrupted — adding to the overall comfort of the sheets.
Another great perk of LILYSILK sheets is the variety of colors offered. You can choose from colors like lavender, dark teal, rosy pink, or natural white to find the bedding that best matches your bedroom. We chose these sheets as most comfortable because they are soft, smooth, and offer an overall pleasant sleep experience.
See our full LILYSILK sheets review to learn more.
SILKSILKY 19 Momme 3-Piece Silk Set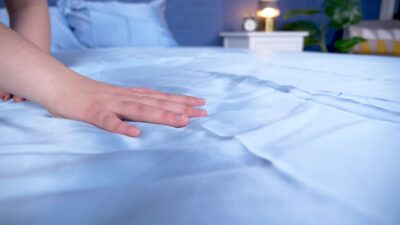 SILKSILKY's 19 momme three piece sheet set is available in a variety of colors. Made from 100 percent mulberry silk, these sheets are soft, smooth, and cooling.

Read Full Review
Looking for silk sheets with a variety of color options? SILKSILKY sheets could be a good option for you. These sheets are made from 100 percent grade A mulberry silk, with a 19 momme. We tested the three-piece set, which comes with a fitted sheet and two zippered pillow cases — they also offer four-piece sets with a flat sheet. In testing, we found the SILKSILKY sheets to feel sleek and luxuriously soft.
As far as colors go, SILKSILKY has quite a few options. They offer a whopping 17 different colors for this sheet set. Color options include: wine, silver, teal, pale mauve, violet, coffee, and more. You should easily be able to find a color that fits with your bedroom color scheme with that many options!
See our full SILKSILKY sheets review to learn more.
Colorado Home Co. Mulberry Silk Sheet Set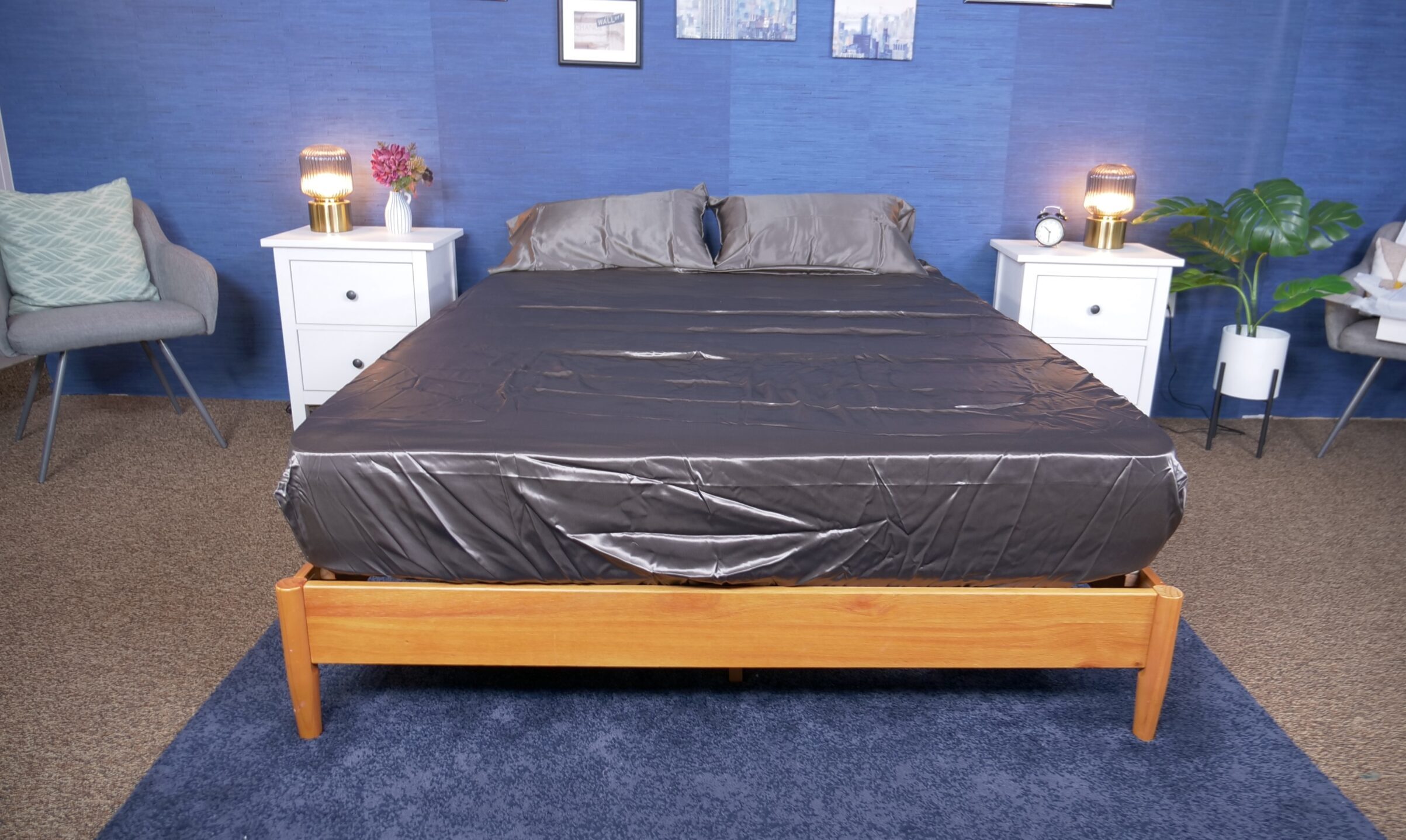 Colorado Home Co.'s mulberry silk sheets are made from 100 percent silk and are machine washable.

Read Full Review
Hoping to find silk sheets you can purchase on Amazon? Look no further than Colorado Home Co.'s silk sheets. These sheets are available in a three-piece queen, four-piece queen, and four-piece king set, as well as in a variety of color options. They are made from 100 percent pure mulberry silk. Along with their sleek look, we found these sheets to offer an ultra-smooth and soft feel.
Additionally, these sheets feature 15-inch pockets on the fitted sheet and tags to indicate the long and short side. That's handy when you're making the bed — you don't end up frustratedly rotating the sheet around and around.
See our full Colorado Home Co. silk sheets review to learn more.
Ettitude Signature Sateen Sheet Set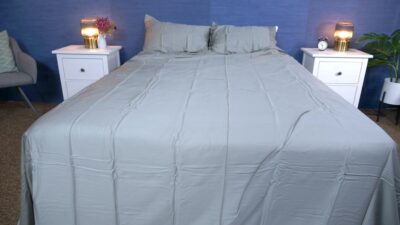 Ettitude sheets are a silky bamboo sheet set, great for those looking eco-friendly bedding option!

Read Full Review
Silk sheets can be expensive and require more intensive care than many other types of sheets. So if you want the silky feel but aren't ready to commit to real silk, a silk-alternative can be the best route to go. Ettitude's Signature Sateen sheet set is made from 100 percent bamboo lyocell, which is a semi-synthetic fabric made from the wood pulp of bamboo.
Bamboo sheets are popular for their silky feel, cooling properties, and more affordable price (compared to real silk). The Ettitude sheets offer that classic silky smooth feel and in testing, we found them quite cooling. However, they don't feel quite as sleek and delicate as real silk.
Additionally, these sheets are hypoallergenic — a great perk for sleepers with allergies. They can also be easily machine washed and dried, which isn't always the case with real silk. Ettitude has a variety of color options for their sheets.
See our full Ettitude sheets review to learn more.
What Is Silk?
What is silk anyway? It's a natural protein fiber, which insects produce to form their cocoons. There are a variety of different types of silk, produced by different insects, but the most common type is from the mulberry silkworm.
Silk is a very strong and durable material, as well as being soft and beautiful. No wonder it's so beloved! However, it often doesn't come cheap — it takes a lot of insects to produce the silk needed to make an entire garment, much less an entire sheet. That's why silk is often marketed as a more luxury product.
It's also a deeply historic material — humans have been making silk for a very long time. There is archaeological evidence dating silk production back as far potentially as 6,500 B.C. in China. That's pretty far back. And throughout history, silk has been viewed as an important and luxurious material… remember learning about the Silk Road in history class? 
Silk Vs Satin
Silk is also often interchanged with satin. However, it's important to keep in mind as you shop that silk and satin aren't synonyms — in fact, it's more of a squares and rectangles situation. As described above, silk is a specific natural protein fiber. Satin is a type of weave used to create fabric, so a satin fabric can really be made with any fiber. 
Many silk fabrics are made with a satin weave, but silk can also be charmeuse, chiffon, organza, velvet, georgette, habotai, and more. A product simply labeled "satin" could be made with polyester, nylon, or any other material — not necessarily silk. In fact, products made with silk will likely be labeled as such, so read carefully if only the term "satin" is used. There's nothing wrong with non-silk satin, but it's usually lower quality and should be less expensive.
How To Choose Silk Sheets
When you are shopping for a set of silk sheets, there are a few things to consider:
Momme:

If you've read this far, you've likely seen the word "momme" used throughout this article. Momme is a Japanese unit of measurement, commonly used to measure the weight of silk. It's kind of like silk's version of a thread count. Silk threads are very thin and there is natural variation in size, so momme is a more useful way to quantify silk sheets. Different weave types vary in momme, but generally a higher momme indicates a heavier and higher quality silk.

Weave type:

As mentioned above, there are different types of weaves used to make silk sheets. Different weave types can offer a slightly different feel, different look, and different functionality. For example, charmeuse will be shiny on one side and matte on the other.

Grade:

Silk is also graded by quality, with letter grades A, B, and C. Within each letter grade, there are also variations ranked by number (A, 2A, 3A, 4A, 5A, 6A). 6A is considered to be the highest grade of silk.

Pure vs Blended:

Silk sheets can be pure 100 percent silk, or the silk might be blended with another material. If you want pure silk, be sure they are 100 percent silk and not a blend before purchasing.

Price:

If you've spent any time researching silk, you likely know it isn't cheap. Silk is definitely a luxury and the reality is, not everyone will be able to afford it. If real silk just isn't in your budget right now, there are some silky alternatives you can consider, such as bamboo, Tencel, or sateen cotton sheets. 
Silk Sheets Pros and Cons
With everything we've covered in mind, let's go over some pros and cons of buying silk sheets.
Silk Sheets Pros
Silk sheets offer a luxuriously soft and smooth feel

that really can't be replicated by other materials. While there are some good alternatives, nothing feels quite like the real thing.

Silk sheets are naturally cooling and very breathable

, making them a great option for hot sleepers.

Silk sheets are a natural product

, making them a good choice for shoppers trying to avoid synthetic materials.
Silk Sheets Cons
Silk sheets are quite expensive.

Be prepared to spend at least a few hundred dollars if you are buying a four-piece silk sheet set. For those who just don't have the extra spending money to buy real silk,

bamboo

, Tencel, and

cotton sateen

can make a good alternative.

Silk sheets can be slippery.

In testing, we found sleeping on silk to be a lot more slippery than other styles of sheets, which can lead to having to remake the bed more often.

Silk sheets require special care.

If you are considering buying silk sheets, be sure to thoroughly read the care instructions. Many require more intensive care than less expensive sheets and can't be dried in a dryer.
Frequently Asked Questions
What kind of silk sheets are best?
It ultimately depends on what you are looking for, but if you want to be sure you are purchasing the highest quality of silk, look for 100 percent pure silk that is grade 6A.
Are silk bed sheets worth it?
They might be! If you love a silky-smooth feel, sleep hot, and love the look of silk, they could be very worthwhile for you. However, there is no getting around the fact that silk is pricier than many other styles of sheets. Whether that price is worth it for you is a personal decision.
What is better: silk or satin sheets?
Generally, look for sheets labeled "silk" instead of "satin" if you want real, 100 percent pure silk. Satin is a style of weave, which can be used to make silk sheets, but satin sheets can just as easily be made from polyester. Brands that use real silk will want to advertise that, so if you don't see the word "silk," don't assume.
Can you put silk sheets in the dryer?
Often, no. Many silk sheets cannot be dried in the dryer. Be sure to read the care instructions for your specific silk sheets thoroughly to understand how they need to be cared for.
Are bamboo sheets better than silk?
It depends what you are looking for! Bamboo sheets can offer many of the same benefits as silk — they are silky-smooth, soft, and temperature-regulating. They also tend to be much less expensive than silk. However, bamboo sheets aren't as durable and strong as real silk, nor will they offer the unique look and feel of real silk.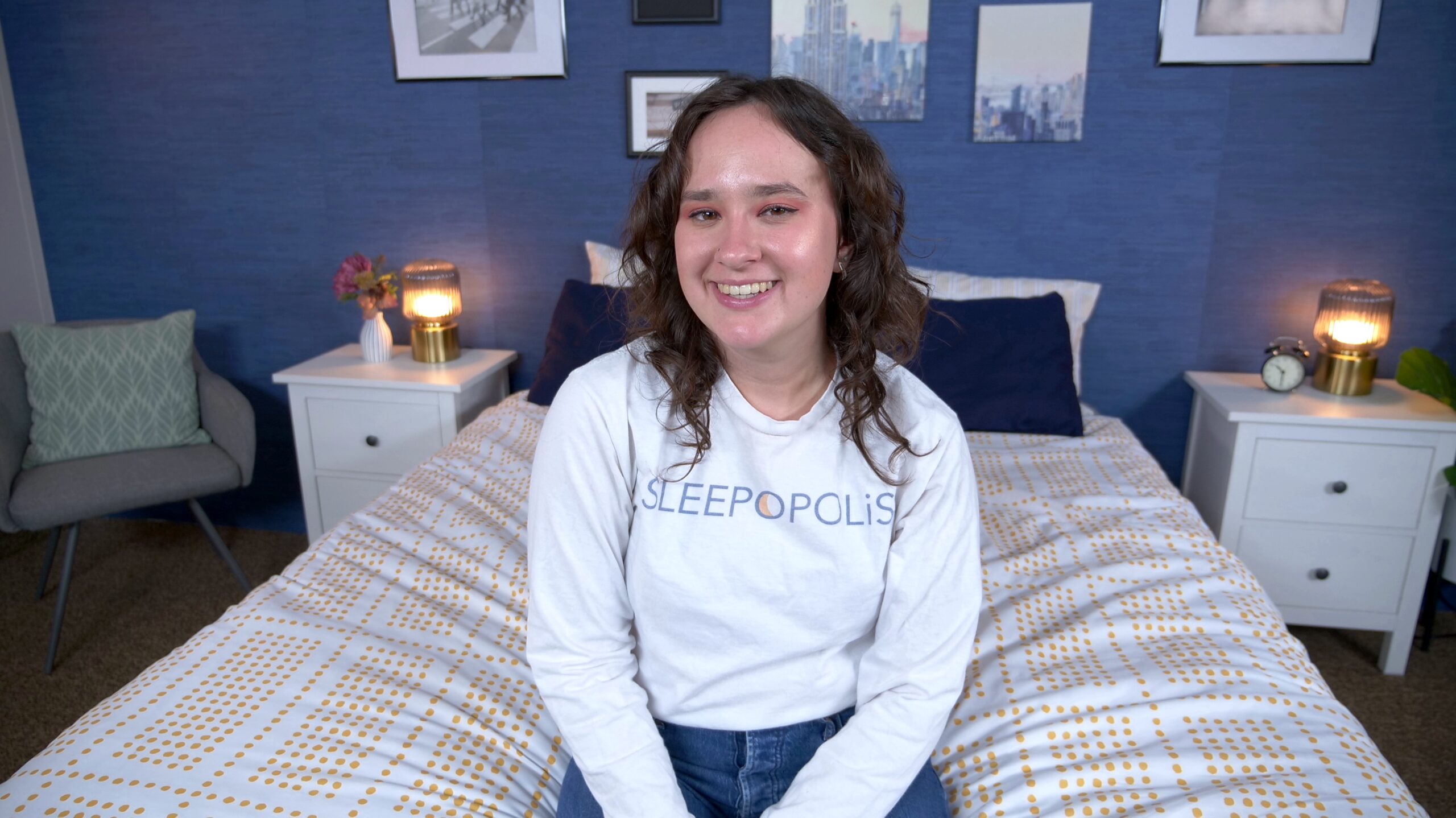 Amelia Jerden
Amelia is a Senior Staff Writer for Sleepopolis. She primarily covers bedding and sleep accessory products in reviews, how-to guides, and more. You can also find her over on the Sleepopolis YouTube channel. Amelia is a graduate of the University of North Carolina at Chapel Hill, with double majors in media and journalism and in dramatic art. Outside of work, Amelia can usually be found on a hike, traveling to a new city, or at her local thrift store.