Attention eco-friendly sleepers! I'm taking a close look at the Bamboo Lyocell Sheet Set from Ettitude, which is made entirely of sustainable materials. So, if you're looking for a way to "sleep green," this may very well be the bedding for you.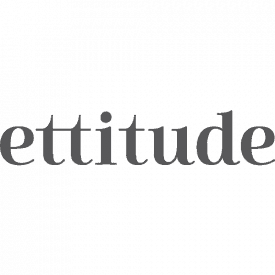 Ettitude sheets are a silky bamboo sheet set, great for those looking eco-friendly bedding option!
Brand Snapshot
Though bedding brand Ettitude was first established in Australia, it now caters to sleepers all over the U.S. as well. And all Ettitude sheets are eco-friendly, sustainably sourced, and rooted in one core material: bamboo lyocell.
Now, Ettitude does offer sheets made from bamboo charcoal lyocell and bamboo coffee lyocell but, in this review, we're going to focus on pure bamboo lyocell. So let's jump in and see what these sheets are made of!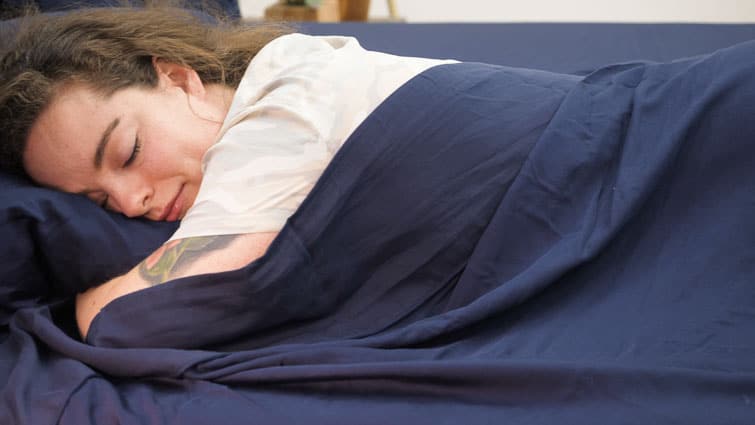 What Are Ettitude Bamboo Lyocell Sheets Made Of?
As the name suggests, these sheets are made from 100% bamboo lyocell, Ettitude's flagship fabric.
So, what is bamboo lyocell? Well, it's a sustainable textile made from renewable plant-based material, namely, bamboo. Traditional lyocell is made from dissolving wood pulp, and often goes by its trademark name, Tencel. But instead of wood pulp, this bedding is made from dissolving bamboo pulp.
Essentially, the bamboo pulp is crushed, washed, and spun into light and lustrous bedsheets. And bamboo-based bedding comes with a lot of perks! It's naturally moisture-wicking, durable, hypoallergenic, anti-microbial, and yes, super soft.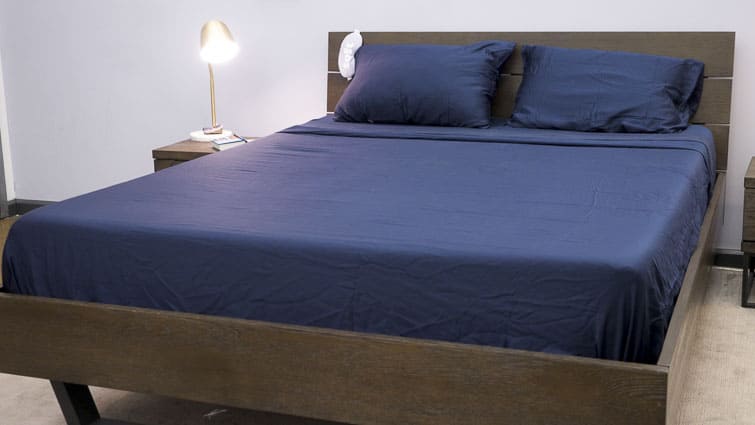 Personally, I'm a fan of bamboo bedding because it's also quite breathable (and when you combine breathability with moisture-wicking ability, you're looking at a great option for hot sleepers!). Additionally, bamboo sheets like these have a silky feel and natural luster that brings a luxurious touch to the bedroom.
So, what are you getting with each Ettitude sheet set? Well, you get one top sheet, two pillowcases, and one fitted sheet. However, it's worth noting that if you get a twin size set, you'll only receive one pillowcase. Now, I'm testing this set in a royal blue color called "Blue Nights," but there are nine other colors from which to choose, so you have room to get creative!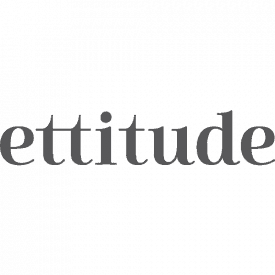 Ettitude sheets are a silky bamboo sheet set, great for those looking eco-friendly bedding option!
What Do Ettitude Sheets Feel Like?
Bamboo-based bedding often comes with a very silky feel and shiny luster, and this sheet set is no exception. In fact, when I first unpackaged these sheets, I was certain they'd been blended with silk.
Speaking of shiny, I have to say I'm impressed by how well this bedding retained its color and lustrous sheen even after being washed. This may not come as a surprise, but a set of sheets is never going to look and feel exactly as it did the first time you unboxed it. However, using durable, high-quality materials like bamboo pulp does boost color retention, and helps your bedding last.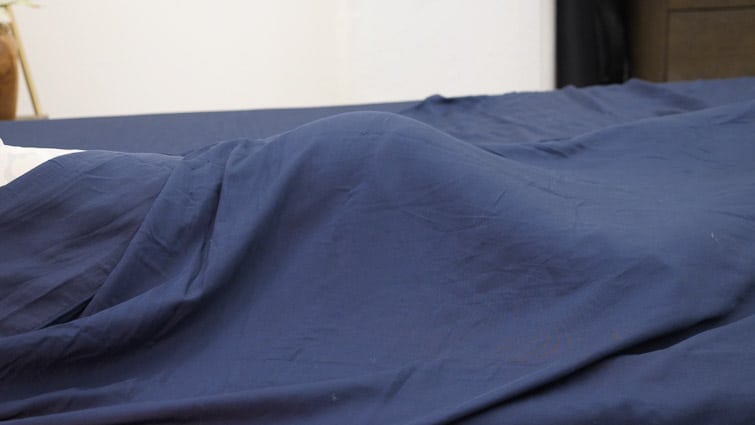 Now, as I said, this bedding does offer a very silky-smooth feel… but that also makes it a little slippery. Don't get me wrong — I think it's a small price to pay for such luxuriously soft sheets, but I did find the top sheet and pillowcases to slide around the mattress a bit. And since I'm a combo sleeper who rolls around a lot, I kept a firm grasp on the pillows and top sheet so they wouldn't slip off the bed completely.
In my opinion, something that really stands out about these sheets is how elegantly they drape over the mattress and my body. The fabric is very breathable and lies ever-so-lightly on my skin, but it also clings to my shape in a way that silhouettes my body. Personally, I think that boosts the luxurious nature of this bedding (and it made me feel kind of fancy!).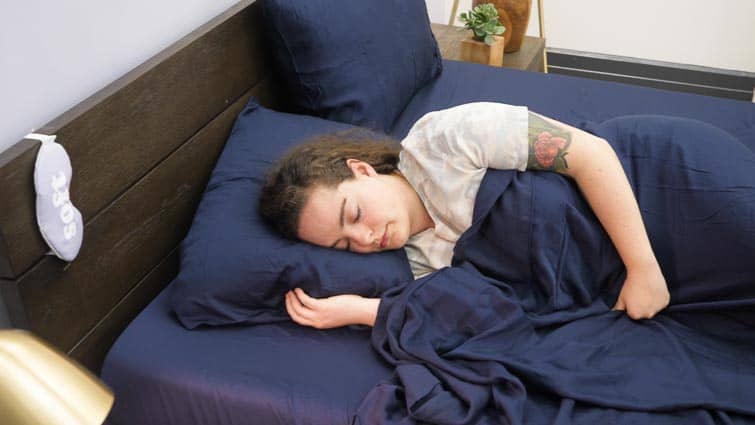 You've probably figured out that this sheet set gets high marks from me. As a hot sleeper, I love how light and airy the fabric feels, but I also can't get enough of its shiny luster and elegant draping. I will say, however, that sleepers looking for more of a crisp, cotton feel might not be quite as compatible with this bedding (so try before you buy).
The Verdict: This bedding is ideal for eco-friendly sleepers looking for a silky, lustrous sheet set to keep them cool.
Should I Buy Ettitude Sheets?
Alright, sleepers, I know I've hit you with a lot of information, so let's recap the highlights, shall we?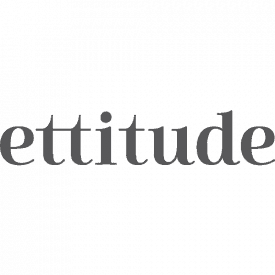 Ettitude sheets are a silky bamboo sheet set, great for those looking eco-friendly bedding option!
Silky — First of all, these sheets are so silky to the touch. If you're looking for bedding that has the look and feel of silk (but comes with all the perks of bamboo), this might be the sheet set for you.
Bamboo — And what are the perks of bamboo-based bedding? Well it's eco-friendly, hypoallergenic, moisture-wicking, and super durable. So you're not just sleeping on sheets that are earth-friendly, you're also sleeping on sheets that are built to last you a long time.
Wash Care — Something that I always look for in a set of sheets is easy wash care — and these definitely qualify. Just wash on a cold cycle, tumble dry on low heat, and that's it! And remember: this bedding retained its luster and color very well after being washed and dried.
Ettitude Sheets Complaints
Of course, not everyone is going to be compatible with this sheet set, so let's examine the potential pitfalls.
Slippery — Like I said earlier, this silkiness does contribute to a bit of a slippery feel. When you're rolling around in bed, you might notice that your pillows and top sheet slip and slide around the mattress kind of easily.
Not Crisp — For folks looking for a crisp set of sheets — this isn't it. These feel silky, smooth, and not at all crisp. If you're on the hunt for bedding with a crisp feel, I suggest looking into the cotton percale category!
Price — Ranging from about $140-$200, these sheets just aren't going to be in everyone's budget. Luckily, you do have a 30 night trial period wherein you can test this bedding before you commit and, in my opinion, that kind of sweetens the deal.
Anything Else I Should Know?
Sizing — Twin, Twin XL, Full, Queen, King, California King
Pricing — $140-$200, depending on size
Trial Period — 30 days
Shipping & Returns — on U.S. orders over $50
Oeko-Tex Certified
Wash Care — wash on a cold cycle, tumble dry on low
Now that you know the ins and outs of this sheet set, you might be thinking, "Wow, I can't wait to sleep on these Ettitude sheets!" But if not, no worries. Just follow us on Facebook, Twitter, and Instagram and subscribe to our YouTube channel, and you're sure to find your dream bedding in no time.
The following two tabs change content below.
Sarah is the Senior Writer and bedding expert at Sleepopolis. Every week, she personally tests and reviews new pillows, sheet sets, and other sleep accessories. She accompanies every video review with a meticulously detailed article to ensure her audience has all the pertinent info they need for the best shopping experience possible. Perhaps that's why her fans have dubbed her "the most thorough pillow reviewer on the Internet." Having tested everything from sleep trackers to mattress toppers, Sarah's expertise runs deep and is always expanding. She received her degree in Creative Writing from Brooklyn College and spends her free time doing stand-up, making pasta, and hanging with her cats.
Latest posts by Sarah Riccio (see all)