There's no denying that a pillowcase can make or break your sleeping experience. Though it may seem like an innocuous accessory, the pillowcase is in constant contact with your face all night long, so definitely impacts how you snooze. Therefore, it's important to land on one that's right for you and your unique slumber needs. But how in the world do you figure out what kind of pillow case you need and which ones are actually worth the money? Well, I'm so glad you asked!
In this guide, I'm going to introduce you to the absolute best pillowcases on the market. Though they differ in terms of style, construction, and price, they're all designed to keep you feeling cozy as you drift off to dreamland. To make this guide even more useful, I've broken down my picks into different categories. That way, you can navigate to the ones that are most relevant to you!
The 4 Best Pillowcases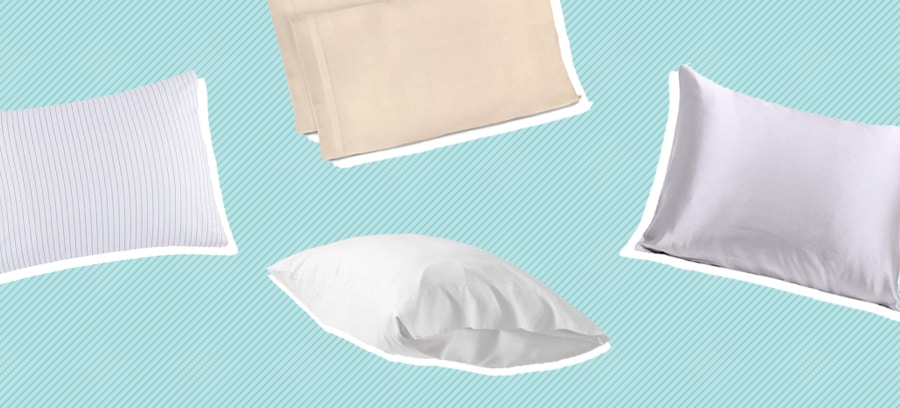 Editor's Choice – Mellanni
Simple is as simple does with this pillowcase from Mellanni. Made of 100% polyester, they're soft to the touch, breathable, and super easy to clean. Plus, they come in a variety of fun colors and patterns, so are ready to blend in with your existing bedroom decor. They're also pretty affordable, meaning you can snag as many of these pillowcases as you need.
Pros
If you want a classic vibe, these Mellanni cases should more than fit the bill.

They're also stain- and wrinkle-resistant, meaning they're bound to keep looking good night after night.

Folks who are sensitive to smells or allergies will also be well-satisfied by the fact that the materials here are totally hypoallergenic.
Cons
If you're looking for a silky smooth feel, these may not be the cases for you.
Best Silk Pillowcase – Ravmix
Mulberry silk is a fantastic material for pillowcases as it's soft, luminous, and oh so very luxurious. And of all the great silk options on the market, my personal favorite are these cases from Ravmix. Made from organic Mulberry silk, these accessories are sure to add a dose of grandeur to your bedroom and leave your skin feeling smooth all night long.
Pros
These pillowcases are some of the best silk options on the market, so could do wonders for those who love the material.

They're also eco-friendly, marking them as a solid choice for environmentally conscious sleepers.

In general, these are luxurious cases that could bring an elegant finish to any sleep space.
Cons
Silk has a distinctly smooth feel, so may not work for those who prefer something a little more traditional.
Bamboo is an all-natural material that brings a ton of breathability and cooling to the table. When incorporated into a pillowcase (as we see here in these stellar cases from Cosy House Collection), it works to rejuvenate the skin and dissipate body heat through the night. I also like these particular bamboo pillowcases because they've been designed with microfiber, which increases their overall durability!
Pros
Hot sleepers may be particularly compatible with these pillowcases as the bamboo cover helps keep temperatures low.

Environmentally conscious folks could also find a lot to love in the eco-friendly nature of bamboo.

In general, this could be a great pick for sleepers who want their pillowcases to work for them while they snooze.
Cons
These aren't the most affordable pillowcases on the market, so may not work for those shopping on a budget.
Best Cooling Pillowcase – Bedsure
If your biggest nighttime woe is overheating, then you may want to consider these ultra-cooling pillowcases from Bedsure. Built with viscose and bamboo, these pillowcases are made to wick moisture, dissipate body heat, and neutralize odors while you sleep. They're also finished with an attached hem, which brings a touch of style to the overall design.
Pros
Kiss night sweats goodbye with these breathable and cooling pillowcases.

They're also quite aesthetically pleasing, which could make them a good fit for those looking to step up their style game.

Overall, these Bedsure pillowcases could work wonders for those looking to snooze in a cozy and eco-friendly way.
Cons
These cases are only available in four colors, which is kind of a limited palate when compared to other options on the market.
How We Picked
When it comes to pillowcases, variation tends to come down to aesthetics and feel. In our opinion, the feel of a pillowcase is most important, because your delicate face skin is going to come in contact with it every night.
That said, feel is partly subjective, and different people will prefer the feel of different pillowcases. So we included a variety of materials to help you choose what's right for you. Here's a closer look at the factors we considered while making this list.
Aesthetics
You'll probably want to match your pillowcases to your other bedding and bedroom decor, so we included options that give you a variety of solid and/or print options. We also included pillowcases made from a variety of materials, because materials can impact the look of a pillowcase. There should be something for most taste preferences on this list.
Cost
We don't think pillowcases should break the bank, so all of these options are $30 or less. Within that range, there's a lot of variation, from less than $10 to nearly $30. There should be an option for pretty much all price points.
Materials
For the most part, we categorized our picks based on the materials they're made from, because material is going to have the biggest impact on feel. No matter whether you prefer your pillowcases to be bamboo, cotton, flannel, microfiber, or silk, there's an option for you.
Overall Quality
As your read through our roundup, you'll probably notice a trend: Most of these options are made 100% from the material they claim to be; most of them are free of harmful chemicals; most of them are made according to environmental standards; and so on. There are enough thoughtfully made (and budget-friendly) pillowcase options out there that there's no need to consider anything else.
Sleepopolis Buying Tips
Ready to settle on the best pillowcases for you? Consider the following:
What material(s) do you like? There's a big difference in feel between, say, silk or flannel. Determining your preferences when it comes to materials will go a long way toward narrowing down your search.
What are your aesthetic preferences? Think about whether you want a solid color (and which color) or print. If you absolutely must have plaid or floral print pillowcases, for example, then that will rule out a ton of other options.
Do you have specific functional needs? For example, some people only use silk pillowcases because they believe this is better for their skin and hair. If you want your pillowcase to serve a functional purpose (beyond feeling good), that should inform your search.
Buying new pillowcases doesn't have to feel like a chore. Think about the feel you like, the materials you prefer, your budget, and your aesthetic preferences. By carefully considering your options, it shouldn't take long to find the best pillowcases for your bed.