Founded at the start of 2019, Eli & Elm has already introduced sheets, pillows, duvets, and mattress protectors to the bedding game. And though it's tempting to dive into all the sleep accessories this young brand has to offer, I'll be honing in on two pillows — the Side Sleeper and the Shredded Foam. So keep reading to learn all about what they're made of, how they feel, and which sleepers will love them the most.
Brand Snapshot
Though it's barely a year old, bedding brand Eli & Elm hit the ground running with its collections of mattress protectors, bedsheets, duvets, and pillows. With an aim to meet the needs of every sleep style, each bedding collection features a wide variety of materials and constructions, particularly within the pillow category.
I've already had the pleasure of testing not one, not two, but three Eli & Elm sheet collections (one of which is perfect for sleepers who run hot). But today, we're diving head first into the brand's Side Sleeper Pillow and Shredded Foam Pillow. So without further ado, let's find out what they're made of.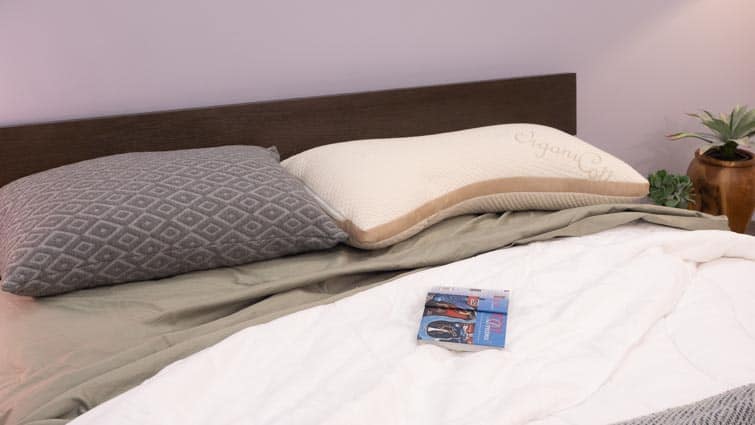 What Are Eli & Elm Pillows Made Of?
Side Sleeper Pillow
The cover fabric of the Side Sleeper pillow is made from a blend of organic cotton, polyester, spandex. It feels super soft to the touch, and the spandex makes it a bit stretchy which I found to boost the cover's breathability. And because the cotton is certified organic, we know that it was harvested without the use of harsh chemicals or synthetic pesticides.
There's a zipper on one side of the pillow's cover, allowing sleepers to reach in and adjust the internal fill. Personally, I find an adjustable fill to be a great feature as it offers sleepers the ability to customize the feel and support. But what's inside this pillow, anyway?
Well, this pillow is amply stuffed full of a blend of polyester fiber (which is a fluffy down-alternative) and the brand's proprietary latex. It's crafted to offer a plush, fluffable feel, but also tightly conform to pressure. As it comes, it's got pretty lofty build of about 5 inches high, but remember — you can remove as much stuffing as you like.
What makes this pillow ideal for side sleepers is its shape! It features an ergonomic design that kind of looks like a boomerang, and is intended to conform to the precise contours of your head, neck, and shoulders. The sides have a higher loft than the middle, and while this unique construction is particularly well-suited to side sleepers, I found it to be beneficial for back sleepers as well. But before we get into that, let's take a look at the Shredded Foam pillow.
Shredded Foam Pillow
The cover fabric of the shredded foam pillow is made from a blend of bamboo and polyester, both of which are naturally moisture-wicking materials. Bamboo-based fabric, in particular, offers antimicrobial properties as well (which makes it more resistant to mold and mildew).
Then, inside that cover fabric is another cover made from 100% polyester which makes wash care a little easier. Essentially, when you want to wash the outer cover fabric, the shredded fill is already safely tucked away in the internal cover.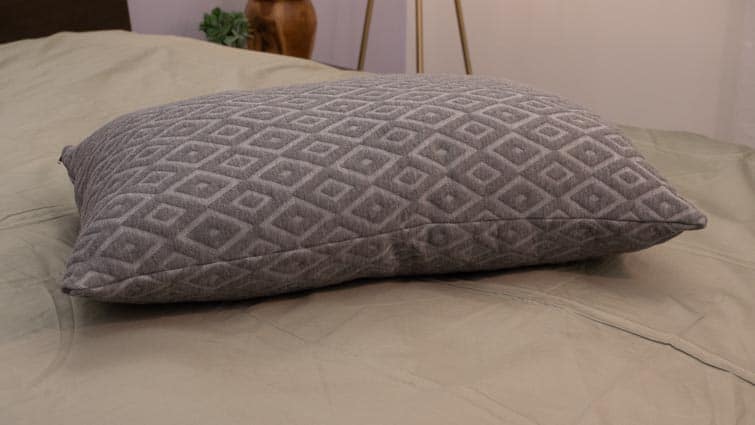 Speaking of shredded fill, you've probably already guessed that this pillow is filled with 100% shredded memory foam. However, it's a proprietary foam that offers a bouncier feel as compared to other memory foam pillows I've tested. So, if you love the way memory foam feels but wish it had a quicker response to pressure, this could be the pillow for you.
Additionally, this pillow also features an adjustable fill, allowing sleepers to customize the loft and support to their liking. Because this pillow is traditionally shaped (meaning its rectangular and has an even loft on both sides), it's designed to meet the needs of all sleep styles. That said, folks should adjust the loft depending on which position they're in.
More: Not sure what type of pillow you need? Check out my guide to picking the perfect pillow!
Okay, sleepers, now that we've taken a close look at what these pillows are made of, let's talk about who's going to be most compatible with each one.
Which Eli & Elm Pillow Should I Buy?
Side Sleeper Pillow
The Side Sleeper pillow is, of course, ideal for side sleepers. I found its boomerang shape to perfectly contour my head, neck and shoulders, while the extra lofty sides of the pillow kept my spine in neutral alignment. Remember: the middle of the pillow is slightly less lofty than the edges which, in my experience, allowed for a seamless transition from side to side.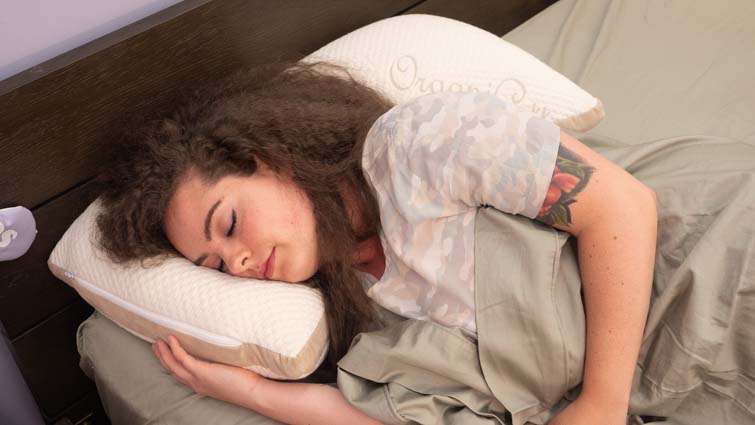 However, I tested this pillow in every position and found it to be great for back sleeping too! Again, the middle of the pillow is a bit shorter than the sides so if you lay directly in the center, it feels like the sides are cradling your head and neck, and offers some very cozy pressure relief in the shoulders as well.
Back sleepers — don't be deterred by the name of the Side Sleeper pillow. I found it to be just as supportive, if not more so, when I was sleeping on my back as I did on my side. As far as loft is concerned, I'd leave all the stuffing inside for both back and side sleeping. However, should you want to reach in and push more loft into the center, or generally manipulate the fill within the cover, you totally can.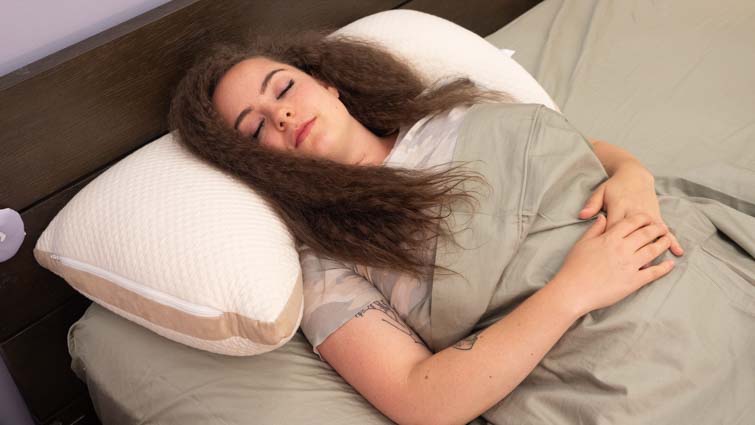 As far as stomach sleepers are concerned, sorry folks, but this one isn't for you. Its non-traditional shape and lofty build are all wrong for the prone position, as stomach sleepers need a soft, flat pillow to maintain neutral spine alignment.
The combination of fluffy polyfiber and springy latex offers a comfortable balance between plush and supportive that, frankly, I can't get enough of. I'll admit that, between the two pillows, this one is my favorite!
Shredded Foam Pillow
The Shredded Foam pillow, on the other hand is a great all-position pillow (if you adjust it correctly!). As it comes, it's got a lofty build of about 4.5 inches, which is great for back and side sleeping. The memory foam tightly conforms to my head and neck, and offers a medium-firm feel.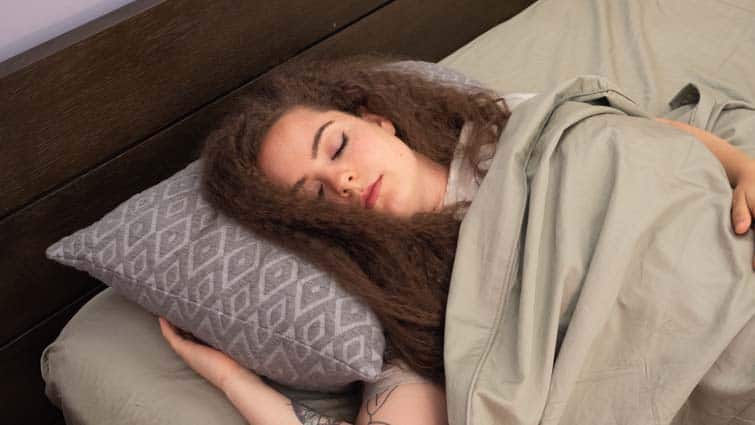 That said, stomach sleepers should definitely remove a considerable amount of fill, and bring the loft down to 2 inches or fewer. Of course, the beauty of an adjustable fill is that you can experiment with the loft until you land on the right height for your body. However, it's important to note that your head should never be craned upwards when you're snoozing on your stomach.
I will say that sleepers who love a classic memory foam feel might be disappointed by this pillow. Instead of the slow response to pressure and deep sink into the material that is often characteristic of memory foam, this pillow offers buoyant support and a foldable feel. That said, I did find the shredded fill to offer better breathability as compared to a solid piece of memory foam, so hot sleepers might want to give this pillow a try.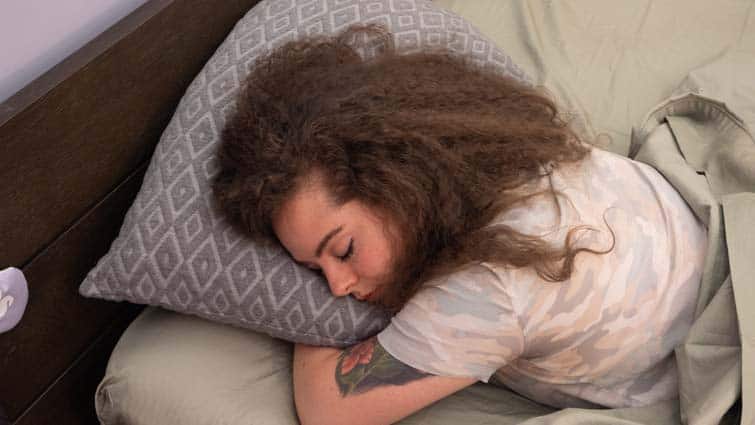 The Verdict: Back and side sleepers who prefer a plush feel will be most compatible with the Side Sleeper pillow, while the Shredded Foam pillow is ideal for combo sleepers who run hot!
Let's Recap The Highlights
Now, I know I've just hit you with a lot of information, so let's recap the highlights so you can better determine which Eli & Elm pillow is best for you:
Back & Side Sleepers – Both pillows offer soothing pressure relief in back and side sleeping positions. So, if you are a side or back sleeper, it really depends on what kind of feel you're looking for. Folks who prefer a fluffable, plush pillow should try the Side Sleeper, and those who prefer a firmer foam feel should go with the Shredded Foam.Just keep in mind that the Shredded Foam pillow is a bit bouncier than you might expect from memory foam pillows, and the Side Sleeper does feature a contoured shape.
Adjustable Fill – Both pillows feature adjustable fills, allowing sleepers to remove or shift the internal stuffing in order to customize the firmness and loft. Because the Shredded Foam pillow is a traditional shape and adjustable, combination sleepers might be particularly well-suited to this one.
45 Day Trial Period – Eli & Elm offers a 45 day trial period for each pillow, which gives you some time to decide which sleep accessory is best for you. Not to mention, the Shredded Foam pillow ranges from $40-$45 bucks which is a pretty awesome value! The Side Sleeper is about $99 (which is still a good deal for what you're getting, in my opinion), but the foam pillow might particularly appeal to those on a budget.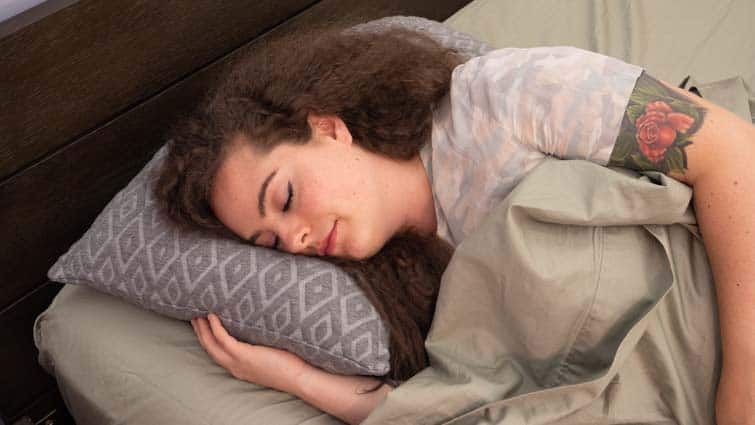 Eli & Elm Pillow Complaints
Of course, there are some things about these pillows that sleepers might consider to be drawbacks:
Wash Care – Each pillow's cover fabric is machine washable… but the pillows themselves are not. The covers can be washed on a cool, gentle cycle with mild detergent, and dried on low heat. But all internal fill for both pillows must be removed before you wash the covers, as water can damage the materials.
Now, with the Shredded Foam pillow, you've got the polyester pouch inside the cover that keeps the fill contained. But with the Side Sleeper, you have to store the fill inside a bag of your own every time you wash the cover fabric, and that can get a little messy.
Not for Stomach Sleepers – Neither of these pillows is ideal for stomach sleepers exactly as they come. Because of its shape, I'm not recommending the Side Sleeper for those who sleep in the prone position at all. Meanwhile, the Shredded Foam pillow could work for stomach sleepers, but you'd have to remove a considerable amount of internal fill.
Shape & Feel – The Side Sleeper is not a traditional shape, so you can't dress it with a pillowcase. For me, this is no problem because the cover fabric is so soft. But if you really prioritize being able to use a pillowcase, this is something to keep in mind.
Additionally, the foam pillow does not offer what I call a "classic memory foam feel." It's less moldable than what I'm used to with this material, and if you're a die-hard memory foam fan, you might miss the slow response to pressure.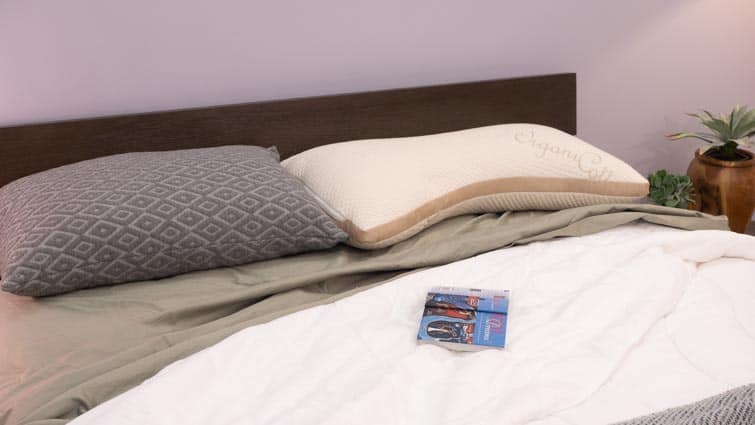 Anything Else I Should Know
Pricing– Side Sleeper pillow is $99, and the Shredded Foam pillow ranges from $40-$45
Sizing– The Side Sleeper comes in one size, and the Shredded Foam comes in Standard, Queen, and King
Free Shipping – within the U.S.
45 Day Trial Period
Wash Care – Cover fabrics can be washed on a cool, gentle cycle with mild detergent, and dried on low heat. Internal fill for each pillow should not get wet.
Well folks, that's all for now. Hopefully you've decided which Eli & Elm pillow is the sleep accessory you've been dreaming of (but if you need both in your life, we can't blame you). And while you carefully weigh the options, be sure to follow us on Facebook, Twitter, and Instagram, and subscribe to our YouTube channel!