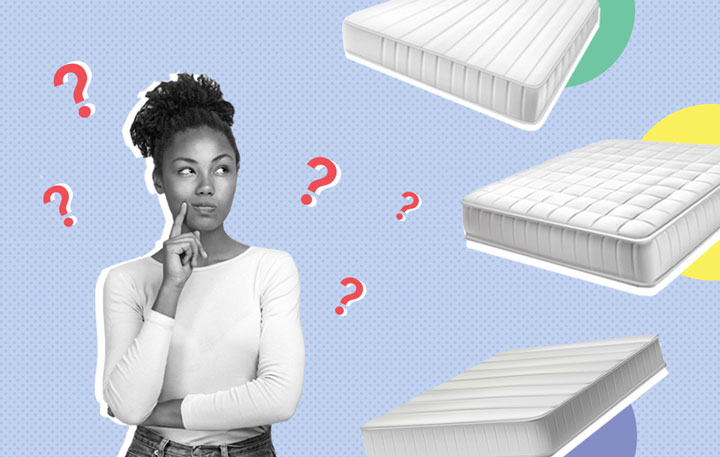 Shopping for a new mattress is always a tough task, but it can be even harder if you don't understand the mattress-speak reviewers like to use. That's why I decided to simplify things for you in this handy-dandy mattress glossary!
This guide will list out all the mattress key terms that stumped me when I started reviewing. Understanding these terms can help you make an informed decision before you buy your next mattress.
I sorted the list into alphabetized categories including:
This list should make looking up what you're curious about a breeze. Just click on the section you'd like to learn more about to find all the related terms you might need.
Not seeing the term you're looking for? Send me a note via my contact form. I'd love to answer your question and add it to this list!
Mattress Construction Terms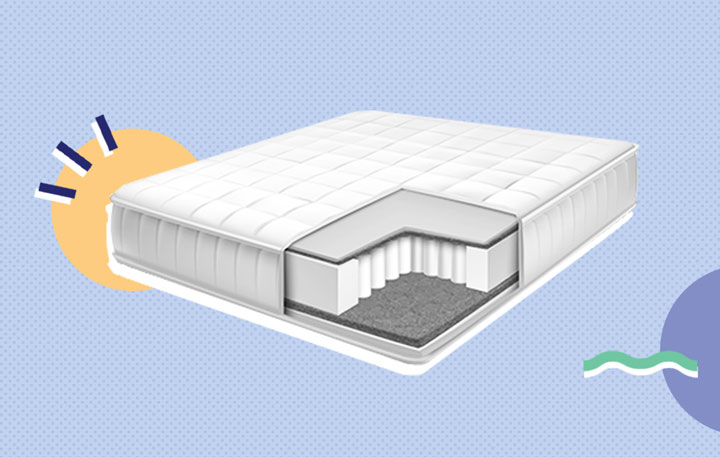 If you're confused about comfort layers or wondering what zoned support means, this is the place for you! For more-in depth info about the specific mattress materials out there, you can visit the foam, innerspring, hybrid, and latex mattress sections in this article. You can also check out Sleepopolis's ultimate Types of Mattresses guide for more in-depth info.
Base Layer — The base layer is the bottom layer of the mattress. This layer helps provide support to the whole mattress, and is most often made of high density foam, metal coils, or latex.
Comfort Layer — The comfort layer is the top layer of the mattress. Usually made of foam or gel, this layer often determines how firm a mattress will feel.
Cover — What keeps all of your mattress's layers together? A mattress cover is the fabric that surrounds the latex, foam, and/or coil layers of your mattress! Some mattress covers include cooling features that improve airflow, so it's important to know what your cover is made of. If you're a particularly hot sleeper, I recommend checking out Sleepopolis's Best Cooling Mattresses roundup.
Euro-style Pillow Top — A sleeker alternative to a traditional pillow top, a Euro top mattress has an added layer of pillowy material under the primary cover. Unlike a traditional pillow top mattress, which has a secondary casing sewn on top, Euro-style pillow tops include the pillow stuffing within their existing covers. The result is the comfort of a pillow top, without the bulk. Check out my Winkbeds Mattress Review for an example of a Euro-style pillow top mattress I like.
Fire Sock — A fire sock is a thin piece of material that wraps around the core of the mattress, which means it sits between the mattress and the mattress cover. It is designed to melt in the event of a fire, smothering the flames. It is typically made out of sand and wood pulp.
Pillow Top — A pillow top mattress has a padded layer of soft pillow-type material that is encased in a cover and sewn or otherwise affixed to the top of the mattress. These mattresses are sometimes described as "plush".
Support Layer — The support layer of the mattress can be made of innerspring coils, latex, or dense polyurethane foams. The right support layer for your body type and sleep position is key to keeping your spine in neutral alignment and preventing back pain.
Transition Layer — The transition layer is the layer between the comfort and support layers of the mattress. This layer is meant to make the transition from the soft top to the firm core of a mattress less noticeable.
Zoned Support — Zoned support is when a mattress is made of softer materials near the head and feet, and firmer materials at the waist. The firmer support at the waist helps ensure your hips stay properly lifted and in line with your shoulders, which helps prevent back pain.
Foam Mattress Terms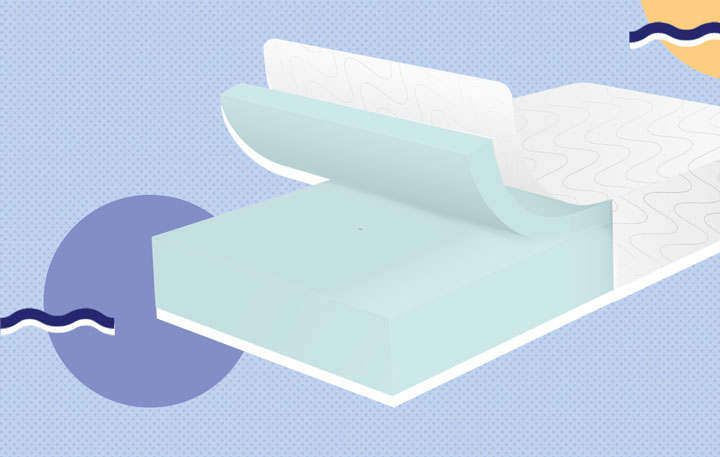 Foam mattresses are a popular mattress type in which every layer of the mattress is made of foam. Most beds-in-a-box are foam mattresses. Soft, pressure-relieving foam is great for side sleepers and sleepers who suffer from joint pain. If that sounds like you, take a look at some of the Best Memory Foam Mattresses, or read on below to learn more about the many varieties of mattress foam.
Convoluted Support Foams — Convoluted support foam is a more advanced support foam that is processed through a machine of rotating metal teeth. These teeth create a column-like system within the foam. This improves cooling, breathability, and deep compression support within the foam. This type of foam is typically used in "egg crate" style mattress toppers.
Memory foam — Memory foam is a popular type of foam, and what most people think of when they hear foam mattress. It's known for its exceptional support, pressure relief, and hug-like sensation. Some memory foams can have issues with heat retention and slow responsiveness. Advanced memory foams have largely solved these problems with fixes like cooling gel-infusions. Not all memory foams are created equal. Memory foam is a broad term that includes a wide range of foams of varying quality. Memory foam mattresses I like include:
Indentation Deflection Force(IDF) — IDF is a test used to determine the firmness level of foam. A standard size block of foam is placed within an indenter machine. Then, an IDF rating is measured after the foam block reaches 25% indentation in the indenter machine. The higher the score, the firmer the mattress (and vice versa).
Indentation Load Deflection (ILD) — ILD is another test used to determine the firmness level of foam. A standard size block of foam is placed within an indenter machine. The ILD rating is measured after the foam block reaches 25% indentation in the indenter machine. Ratings are measured in pounds of pressure. For instance, if a foam has a rating of 15, this means that it took fifteen pounds of pressure to cause a 25% indentation in that foam. The lower the score, the softer the mattress (and vice versa).
Off-Gassing — When you unbox a mattress at home, it will sometimes release gasses trapped within it during the manufacturing process. This is known as off-gassing; it can produce strong odors, but the smell from off-gassing generally only lasts for seven days on average. Your mattress shouldn't have a noticeable smell after about a week. Allow your mattress to off-gas in another room or outside if possible. If you're worried about off-gassing, you can look for a higher-quality and/or organic mattress like the Avocado mattress. High-quality organic mattresses generally don't have long off-gassing periods.
Polyurethane (Poly) Foam — Poly foam is a high density foam often used in the support or base layers of a foam or hybrid mattress.
Support Foam — Support foam is a basic type of high density foam that's commonly used as the foundational base of a foam mattress. It may also be used as part of a hybrid mattress.
Innerspring Mattress Terms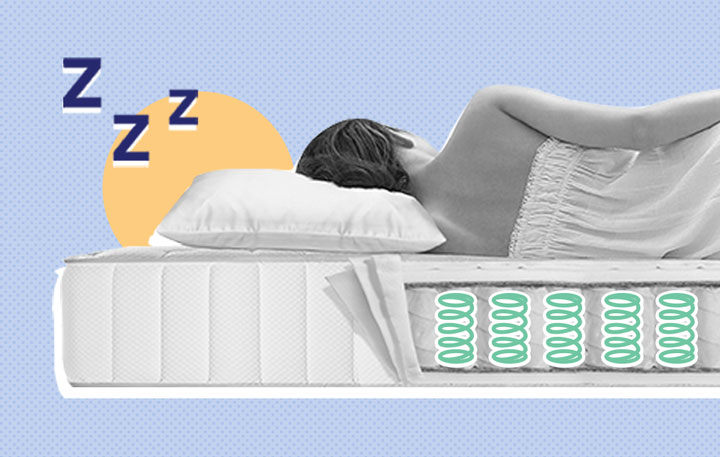 Innerspring mattresses are the most traditional types of mattresses. Innerspring mattresses are supportive and bouncy, which is great for people who want to feel like they're sleeping "on top" of the bed rather than "in it." This traditional style is normally made up of a steel coil support system beneath a foam comfort layer. You can find some of my favorite innerspring mattresses in this Best Innerspring Mattress roundup. You can learn more about coil types and styles below.
Coil-on-Coil — Coil-on-coil is a luxury type of innerspring mattress construction. Coil-on-coil mattresses contain two layers of coils on top of each other. Typically one layer has a higher coil count and acts as the comfort layer, while a second layer with a lower coil count acts as more of a support layer. The layers of coils improve sleeper comfort and support, and add to the luxury feel of the mattress. Examples of luxurious coil-on-coil mattresses include:
Pocketed Coils — Pocketed coils are individually wrapped and encased in foam to reduce noise and motion transfer and improve mattress contouring and comfort.
Wrapped Coils — Wrapped coils are typically wrapped in foam (like pocketed coils). However, they may be wrapped with a material other than foam, such as fabric. Like pocketed coils, wrapped coils reduce motion transfer.
Hybrid Mattress Terms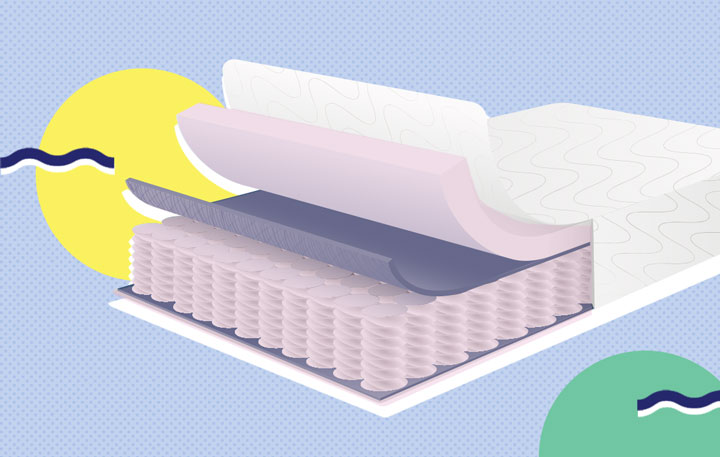 Hybrid mattresses are one of the newer mattress varieties on the market. Find out more about why these mattresses are great fits for sleepers with multiple needs below. Check out this Best Hybrid Mattress  review to learn which hybrid mattress could be a good fit for your sleep needs.
Hybrid Mattress — Hybrid mattresses are made out of a combination of materials. They most often combine top layers of foam with support layers of coils or springs to provide sleepers with a more balanced feel. Most hybrid mattresses aim to maximize the positive attributes and minimize the negative attributes of the materials they're made of. You can read reviews of some of my favorite hybrid mattresses below:
Latex Mattress Terms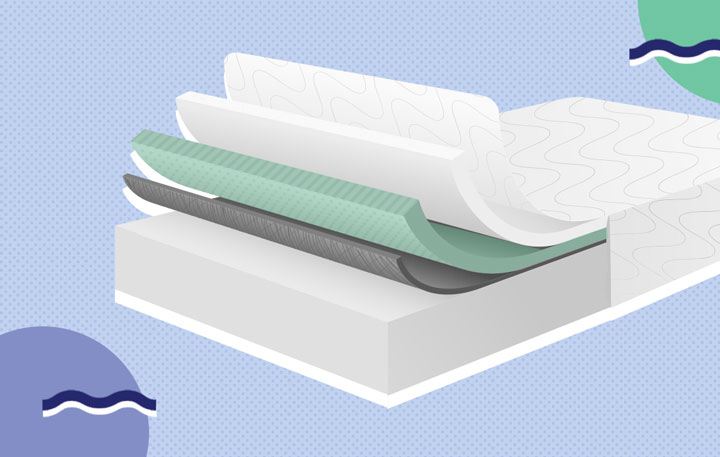 Latex mattresses are all made of latex foam, and often feel like a mix between a memory foam and innerspring mattress. These mattresses will be made of three or four layers of foam beneath a cover. Latex mattresses are normally bouncy-feeling, cooling, and supportive. Check out our Best Latex Mattress Reviews to find a latex mattress that could work for you, and read on to learn more about all the different types of latex.
Dunlop Latex Foam — Dunlop latex is made through a latex manufacturing technique in which the ingredient blend is mixed, poured into a mold, and baked. Dunlop latex is more durable than Talalay latex. The bottom side of this latex foam will feel slightly firmer because of how it settles during the molding process. Dunlop latex can be produced 100% naturally.
Latex Foam — Latex foam is a mattress material known for its great bounce, cooling properties, and responsiveness. It's primarily available in two types, Dunlop and Talalay latex, and is available in a variety of firmness levels. Like memory foam, it's a very popular material in the mattress world. Some great mattresses that use latex foam are:
Natural Latex — Natural latex is made from rubber tree sap. The sap from these trees is harvested like maple syrup and gets turned into foam.
Synthetic Latex — This is the most common type of latex. Synthetic latex has chemical properties similar to those in natural latex. It is manufactured from styrene butadiene rubber (SBR).
Talalay Latex Foam — Talalay latex is made through a manufacturing technique in which the ingredient blend is mixed, injected into a mold, and vacuum sealed. The mixture is then flash-frozen before being baked. Freezing the latex creates a consistent feel throughout and ensures uniform firmness. Talalay latex is billed as the luxurious latex choice.
Mattress Delivery Terms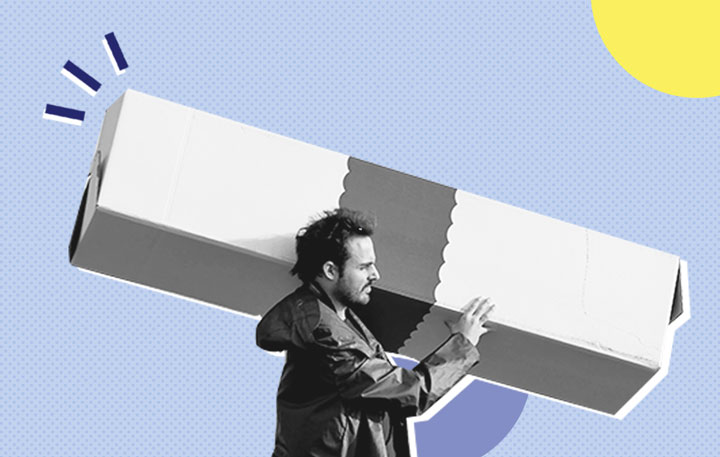 Have questions about how your mattress will be delivered to you? Take a look below!
Boxed Delivery — Boxed delivery is what most people imagine when they think of a bed-in-a-box. Mattresses that arrive via through boxed delivery are shipped via standard mail services. The mattress will normally arrive in a medium-sized box after being compressed, rolled, and packed with heavy duty plastic. This type of packaging does not harm the mattress and is typically only available for foam mattresses.
White Glove Delivery — White glove delivery is a service in which a mattress is delivered to your home and set up on your bed frame for you. Delivery people might also remove your old mattress, though that may require an extra fee.
Mattress Feel Terms
When you're buying a mattress online, it's only natural to wonder about how it will feel in person. Reviewers like me run a ton of tests to give people an idea of what a mattress actually feels like. Below are some of the terms we use to describe our results.
Bounce — Bounce refers to the degree to which the mattress responds to pressure and transfers energy back in the direction that pressure was applied. In other words, how high you'd be able to jump on the bed! Traditional coil mattresses are usually very bouncy. All-foam mattresses are not usually all that bouncy, since they absorb energy instead of returning it.
Deep Compression Support — If you're wondering how much a heavy weight would push a mattress's layers together, you're wondering about deep compression support. Mattresses with better deep compression support are generally thicker or made with more high-quality comfort layers. Deep compression support is particularly important for larger sleepers; they'll want a mattress that doesn't compress too much underneath them.
Firmness — Firmness is the initial feel you get when you lie down on a mattress. Different mattresses will often feel more or less firm to different people. A mattress will generally be described as soft, medium firm, or firm. However, firmness is not an indication of support. — a soft mattress can be just as supportive as a firm mattress. To learn more about firmness, check out our Mattress Firmness Guide.
Hug / Sinkage — Hug or sinkage refers to how a mattress contours to your body. A mattress with a high degree of hug will allow you to sink into it and contour to your unique shape. A mattress with very little hug / sinkage will keep you feeling like you're floating more on top of the surface layer. A memory foam mattress is a good example of a mattress with a lot of hug / sinkage. A latex mattress is an example of a mattress without a lot of hug / sinkage.
Motion Transfer — If someone sits down on the opposite side of the bed from you, would you be able to feel it? That's the question reviewers like me want to answer when we talk about motion transfer. In more technical terms, motion transfer describes how much energy is transferred from one portion of a mattress to another. Finding a mattress with low motion transfer is particularly important for couples who share a bed.
Responsiveness — Responsiveness is a measure of how quickly a mattress adjusts to changes in pressure. This is most relevant for foam mattresses, which allow the sleeper to sink into the mattress. Imagine sinking your hand deep into a memory foam mattress; how fast the foam bounces back into shape after you remove your hand is a measure of the "responsiveness" of that mattress. A mattress with a slow response time will stay indented longer.
Support — Support is a subjective measure of how a mattress keeps your spine in alignment. A mattress with good support will keep your spine in perfect neutral alignment. This means that when you lay on the mattress, your hips and shoulders will be level and your spine will be in a straight line. The amount of support you need will depend on your sleeping position. Check out the Sleepopolis Guide to Better Sleep Posture to learn more about the needs of your specific sleeping position.You should also know that support is not the same as firmness. The two terms are commonly used interchangeably, but a soft mattress could be even more supportive than a firm mattress, depending on each mattress's quality and construction.
Mattress Service Terms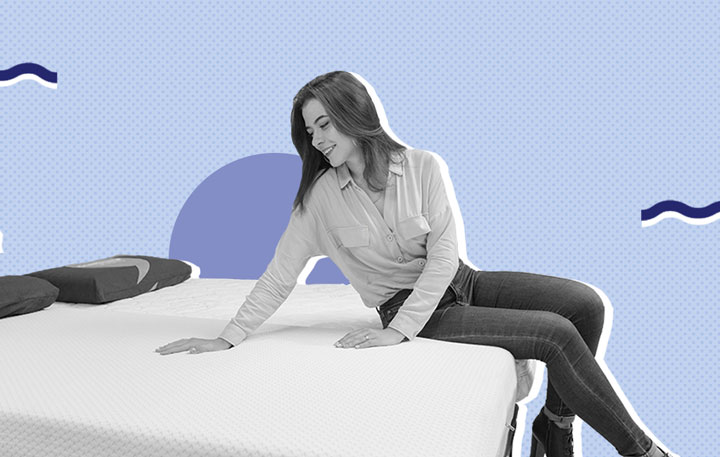 Have questions about what happens if you don't like the first mattress you buy? Check out the definitions below to learn what options you have when your first mattress pick wasn't quite right.
Trial Period — Providing a trial period is a common practice for most online mattress companies. A trial period generally means that you can test out a new mattress in your home. Most trial periods last from a few weeks to a few months. If you decide you don't like a mattress during its trial period, you'll be able to return it and request a refund. Be sure to verify the terms of any trial period with the manufacturer / store.
Comfort Guarantee — A comfort guarantee is provided by most retail mattress stores. It generally means that you can exchange a mattress for another mattress of equal or lesser value if you decide that your mattress doesn't work for you. A comfort guarantee is generally time-limited and doesn't usually allow refunds. You can verify the terms of a comfort guarantee with the manufacturer / store when you purchase your mattress.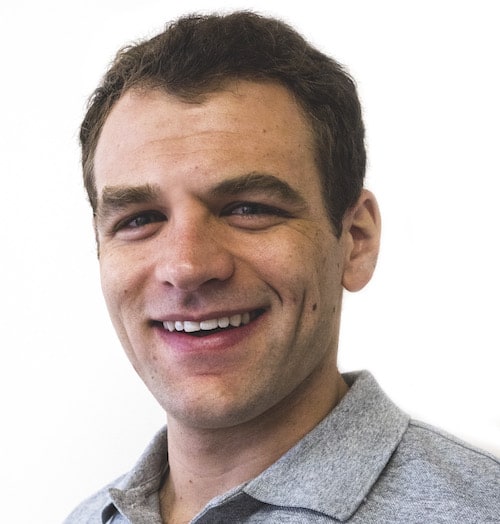 Logan Block
Logan is the former content director of Sleepopolis. As content director, he reviewed new mattresses every week and curated the comparisons, best of pages, and video guides on the site. Logan perfected his method by personally testing over 200 different mattresses, so he's not only able to discern the overall vibe of a specific bed, but to contextualize its feel within the bed-in-a-box market as a whole.