If you've had trouble finding a pillow that works for you and your slumber needs, you may want to try an adjustable pillow. Typically filled with shredded memory foam, poly foam, or latex foam, these pillows can be easily adjusted to modify their lofts and levels of firmness. This allows the sleeper to experiment with different feels until they land on a vibe that works for them. Though slightly unconventional, adjustable pillows have seen a surge in popularity in recent years, with many brands now selling these adaptable accessories. But which one is right for you? Well, I'm so glad you asked!
In this guide, I'm going to introduce you to the best adjustable pillows on the market. Though they differ in terms of style, construction, and price, they're all great examples of just how fantastic adjustable pillows can be. I'll also be sharing the methodology I used to make my picks, so you know exactly what to consider when shopping for one of your own. Then, I'll round things out with a few expert tips you can use to improve your buying experience.
Best Adjustable Pillows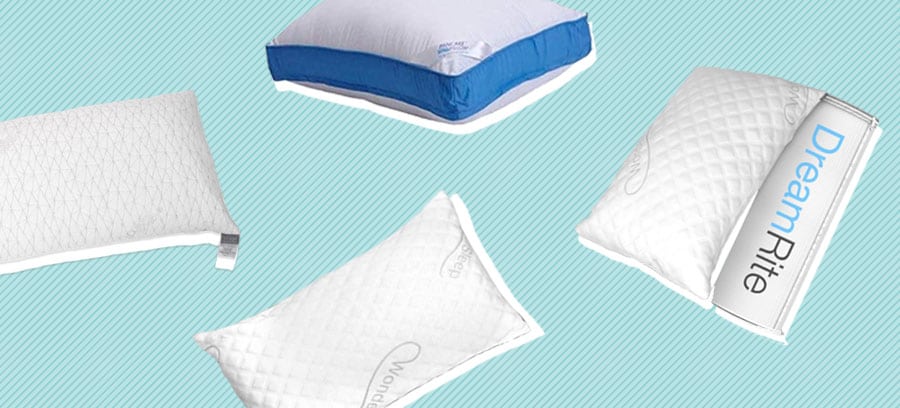 Editor's Choice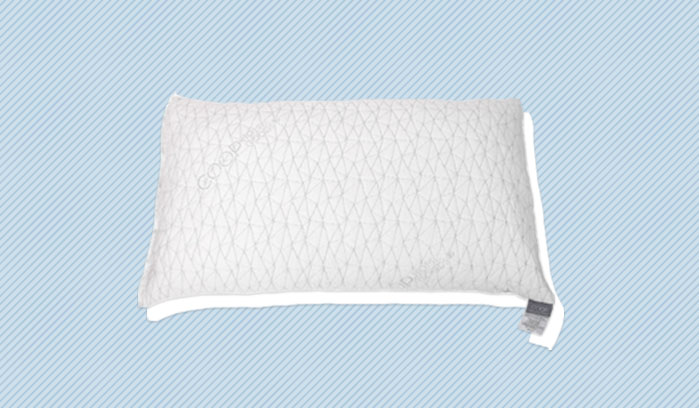 Coop Home Goods
If you're looking to invest in a high-quality adjustable pillow, look no further than this beauty from Coop Home Goods. Amply stuffed with shredded memory foam, this pillow is cozy and pressure-relieving, providing excellent comfort to a wide range of sleepers. Plus, the materials here have been CertiPUR-US and Greenguard Gold certified, which ensures that they're toxin- and chemical-free. 
Pros
This pillow strikes an excellent balance between softness and firmness, endearing it to a lot of different sleepers. 

It's worth noting that the cover is made of bamboo, an all-natural material that's breathable and great at cooling. 

I also like that the pillow comes with an extra bag of fill, in case you lose some or simply want an extra-stuffed pillow.
Cons
This pillow has a luxury feel, which means it also comes with a luxury price tag. Therefore, it might not be a great fit for budget shoppers.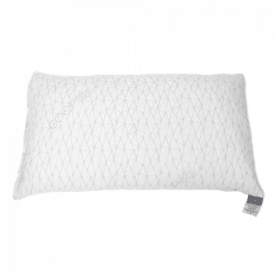 The Coop Home Goods pillow has a breathable bamboo pillow and a nice balance of support and comfort.
Most Affordable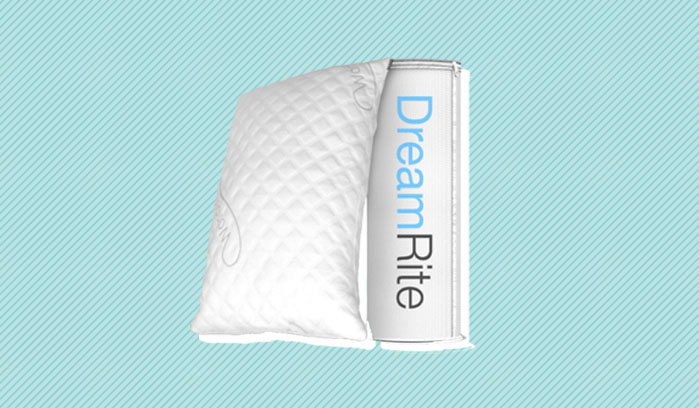 Dream Rite
Though many adjustable pillows can be quite pricey, not all are designed to break the bank. Take this pillow from Dream Rite, for example, which combines shredded memory foam with a breathable cover for an incredibly plush and cooling sleeping experience. An added bonus? The pillow is backed by a one-year warranty. 
Pros
Looking for an adjustable pillow with a wallet-friendly price tag? Then you may want to consider this option from DreamRite. 

If you struggle with allergies or are simply scent sensitive, rest easy knowing this pillow is made from hypoallergenic materials. 

In general, this is a nice, solid option that could work well for most sleepers. 
Cons 
This pillow doesn't have the highest loft, so may not work for side sleepers or those in need of deep pressure relief.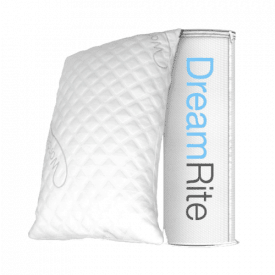 The Dream Rite pillow is a nice option for those that sleep in all positions and is made of hypoallergenic materials.
Best Cooling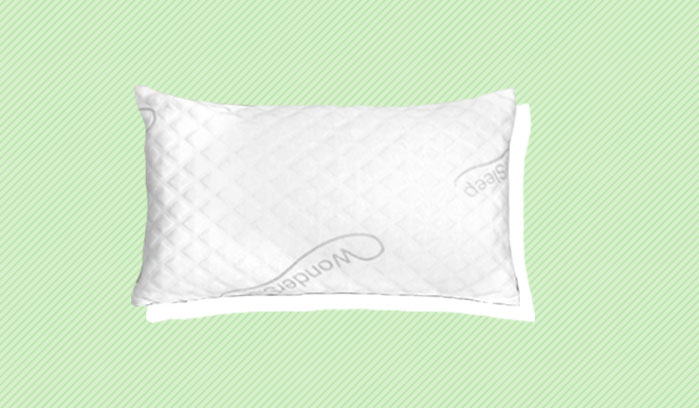 WonderSleep
Hot sleepers, rejoice! The WonderSleep adjustable pillow may just be the solution to your overheating woes. Here, the magic lies in a breathable bamboo cover that's been modified with special micro-pore technology. This increases airflow and works to actively dissipate body heat in the night. 
Pros
This pillow sleeps super cool, so could be awesome for folks who tend to overheat while they snooze. 

The WonderSleep pillow is also sold in a two-pack, marking it as a solid value buy for shoppers on a budget. 

In general, this is a cozy, cool, and comfortable pillow that could work well for those after a no-fuss design. 
Cons
This isn't the most plush option on the market, so may not be a good fit for those after more of a luxury vibe.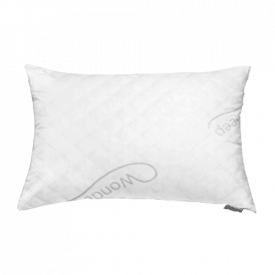 The WonderSleep adjustable pillow sleeps super cool and comes in at an affordable price.
Best Layered Design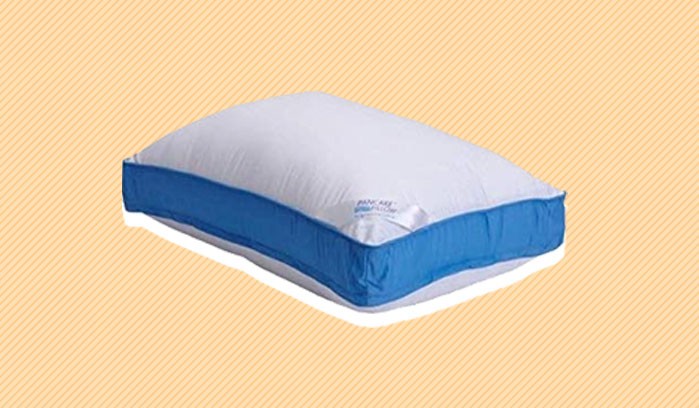 Pancake Pillow
If you want an adjustable pillow, but don't want to deal with shredded fill, then the Pancake Pillow could be the one for you. As the name suggests, this accessory is filled with six flat pillows that stack on top of one another to create a single pillow (like a stack of pancakes). To adjust, simply remove the layers one by one until you hit the feel that's right for you. 
Pros 
This is arguably the easiest pillow to adjust, so if you don't want to deal with portioning out shredded fill, this could be a real winner. 

The flat pillows also create an even sleeping surface, which could be great for folks who prefer a solid feel. 

They're also made from 100% cotton, ensuring that they're breathable and soft to the touch. 
Cons
This pillow is pretty expensive, so may not be a great pick for folks on a tight budget.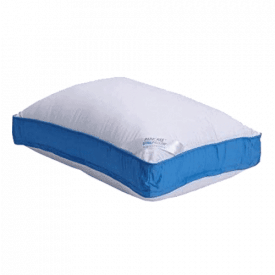 The Pancake Pillow has a nice even sleeping surface and is super easy to adjust.
How We Picked
Now that we've gone over my picks, let's take a minute to chat about how I picked 'em! You can think of this section as a round-up of all the major factors you'll want to consider when shopping for an adjustable pillow of your own.
Position
Before you start your adjustable pillow research, I'd recommend thinking about what kind of sleeper you are. Most folks favor certain positions over others, so it's important to land on a pillow that will support you in your preferred sleeping position.
If you doze on your side, you'll want a firm, high-lofted pillow (around four inches or taller) that cradles the neck and sets the spine in a neutral alignment. If you sleep on your stomach, you'll want a soft, low loft (around one to two inches) that will prevent your neck from craning up and away from the shoulders. If you sleep on your back, you'll want a medium firm pillow that cushions the shoulders and supports the neck. And if you move between positions as you snooze, you'll want a pillow that has an even fill from the center all the way to the sides.
By considering the kind of pillow you need based on your preferred sleeping position, you'll be better equipped to sort through the various options available online.
Fill Material
Fill is another crucial factor to consider when shopping for an adjustable pillow. As the name suggests, fill refers to the materials that make up the interior of the pillow. When considering fill, you'll want to think about it in two ways: The material itself and how it's formed.
The most common types of fill that you'll see in adjustable pillows are memory foam, poly foam, and latex. These materials have distinct feels that endear them to different kinds of sleepers.
Memory Foam: Memory foam is known for its slow response to pressure and contouring hug. When used in a pillow, it can be great for side sleepers or folks who struggle with neck or shoulder pain. This is one of the most popular materials to see in adjustable pillows because it's highly moldable. In general, memory foam will have the softest, most plush feel.
Poly Foam: Poly foam is a standard foam material. It's soft to the touch, but has a quicker response to pressure than memory foam. This material is typically mixed in with another material to give the pillow more heft.
Latex Foam: Latex foam has a quick response to pressure and is known for its bounce and natural cooling tendencies. When seen in a pillow, it makes for a buoyant accessory that's great for back or combo sleepers. It's also an eco-friendly option, so is a favorite of green sleepers.
Fill Form
When it comes to how these materials are used in the pillows themselves, they're usually shredded, though sometimes you'll see them in a solid foam form. No design is inherently better, but they do each have their pros and cons.
Shredded: Shredded fill is typically easier to adjust than other types of fill. You basically unzip your pillow and remove as much shredded fill as you'd like in order to get the feel you want. This allows for some really nice customization, though I will say that it can be kind of messy. Plus, it can be difficult to figure out what to do with the extra fill, especially if the brand you bought from didn't include a carrying pouch.
Solid: Solid fill is much simpler to adjust than shredded, but it doesn't give you nearly as many comfort options. You won't see this kind of fill very often in adjustable pillows, but you'll occasionally run into an adjustable pillow that's essentially stuffed with three to four thin "pillows." If your biggest concern is adjusting the loft (or height) of your pillow, solid may be the way to go as this is the only factor it can really modify.
Loft
In addition to fill, you'll also want to think about loft. We've chatted about this a bit, but loft basically refers to the height of your pillow. Different kinds of sleepers will want different levels of loft, so it's important to make sure that the pillow you want can accommodate whatever height you need.
In order to determine the loft of your potential pillow, simply navigate to the "details" section of the product. Here, the brand will list all the specifications of the pillow, including weight, material construction, fill, and loft capacity. This will probably be most important to side sleepers as they need the highest loft of anyone (again, between four and seven inches). Other folks can simply remove the fill until the pillow is thin enough for their needs.
Sleepopolis Tips
Still not sure how to land on the adjustable pillow of your dreams? No worries! Below, I've compiled a few tips and tricks you can use to make your search a breeze.
Most brands use a number of different materials to make up the internal fills of their adjustable pillows, so it's important to take note of the specific material breakdown. A fill that's 80% poly foam and 20% memory foam isn't going to be nearly as comfortable or luxurious as one that's 80% memory foam and 20% poly foam.
Make sure to take note of all the accessories included in your purchase. If an adjustable pillow doesn't come with a small bag to house removed fill, it may not be worth the money. As I mentioned, shredded fill can be kind of messy, especially if you don't have a place to put it.
If you're worried about inhaling bits of shredded fill, I'd look for a pillow that employs hypoallergenic materials. This ensures that the materials are toxin- and dander-free, which can be great news for folks with serious allergies.
FAQs
What is an adjustable pillow?
An adjustable pillow features an internal fill that can be removed to change both the firmness and the loft of the pillow. This allows the sleeper to customize the pillow to their unique needs.
What is the best pillow on the market?
The best pillow on the market is one that supports you in your preferred sleeping position. An adjustable pillow can be great for this as you can modify both its firmness and loft whenever you want!
What is the most comfortable pillow to sleep on?
The most comfortable pillow to sleep on is one that sets the neck in an even line with the shoulders, hips, and lower back. If you're not sure what kind of pillow would do that for you, an adjustable model could be the answer!
Wrapping Up
Well, we've officially reached the end of this adjustable pillow guide! When looking for one of your own, make sure to consider loft, fill, material make-up, and how the pillow is adjusted. That way, you'll be able to snag a pillow that's 100% right for you and your unique slumber needs.
Cody is a former staff editor at Sleepopolis. His work has appeared online for Esquire, Next, LOGO TV, Fandom, Citylife, The Manual, and more.