If you're looking for the best orthopedic pillow, know that they come in all shapes and sizes. From pillows that sit snugly between your knees to neck support pillows designed to align your spine, these sleep accessories are often purchased as a way to address pain that's exacerbated by your current sleep setup. Before buying, however, be sure to speak with a doctor if you're experiencing chronic pain. With that said, let's get into some of our favorite orthopedic pillows!
Best Orthopedic Pillows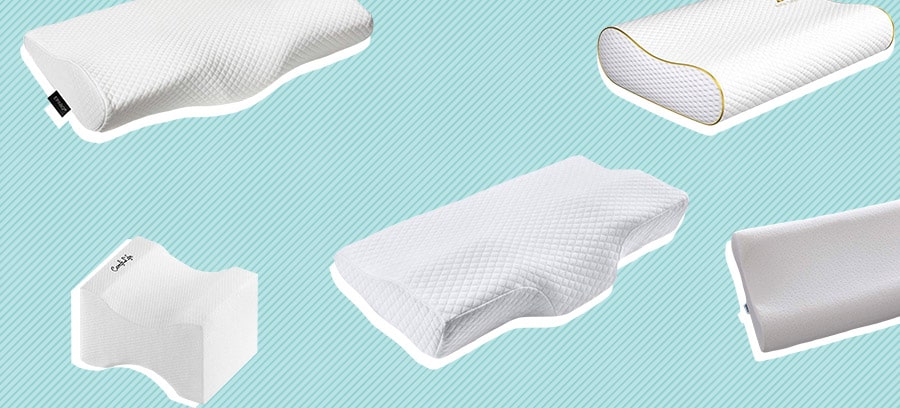 Best for Shoulder Pain – Puffy Pillow
Filled with removable memory foam, you can adjust the Puffy Pillow's loft to your liking. That means anyone struggling with shoulder pain can simply take off the cover, unzip the inner sleeve, and add or subtract the fill until they find the comfort and pressure relief they desire.
Pros:
Thanks to the adjustability, the Puffy Pillow should accommodate back sleepers, side sleepers, and stomach sleepers alike.
With a cover made from a special blend of hypoallergenic polyester and bamboo rayon, the pillow is a great option for sleepers with allergies.
This pillow is made with premium CertiPUR-US memory foam, meaning it's free from any harmful chemicals. It's also Oeko Tex 100 Certified.
Cons:
While the Puffy Pillow may be a tad pricey for some folks at $79–$99, it comes with a lifetime warranty and an extra-sweet 101-night trial period.
Puff up your knowledge of the Puffy Pillow in our full review!
Tempur-Pedic has been a major player in the sleep industry for decades due to its TEMPUR material — a proprietary memory foam that has its roots in NASA technology. Denser and more moldable than standard memory foam, the material can be found in the brand's u-shaped neck pillow.
Pros:
The unique "U" shape adapts to the natural curves of your head, neck, and shoulders.
The Tempur-Pedic TEMPUR-Neck pillow is designed for back and side sleepers who need extra help maintaining healthy posture.
Overall, this is a firm, contouring pillow.
Cons:
Tempur-Pedic pillows can be expensive, but they come with a five-year warranty that's worth the investment.
If you're curious to learn more about this accessory, be sure to check our full Tempur-Pedic pillows review!
Packed with memory foam, this pillow from DreamCloud has a curved design that cradles the head and takes pressure off of the neck. The brand refers to it as "extreme support," allowing back sleepers, side sleepers, and stomach sleepers alike to feel the deep contouring and pressure relief.
Pros:
The pillow has a breathable cover and an infusion of coppergel. Both of these traits help the pillow — and thus the person — sleep incredibly cool.
You can opt for a standard or king-size pillow when ordering, so you can find the right fit for your needs.
It comes with 1″ foam inserts that you can add or remove for customized comfort.
Cons:
The pillow weighs 4 to 5.5 pounds, which isn't necessarily a "con," but it's good to keep in mind if you're looking for a lighter pillow.
This pillow comes with a zippered cover that allows you to adjust the filling — a blend of deconstructed latex and memory foam — to your individual comfort. Side sleepers should appreciate the pillow as is, but sleepers of all preferences and positions should also be able to find their ideal loft and firmness.
Pros:
Overall, this pillow has a plush feel — another reason why it's so immediately appealing to side sleepers.
It has cooling gel infused into the memory foam, allowing it to be more breathable than other memory foam pillows on the market.
The Brooklyn Bedding Premium Shredded Foam Pillow is a more affordable option. It also comes with a 30-day trial and a three-year warranty.
Cons:
If you're looking for a dense, firmer pillow option, then this may not be the best pick for you.
Best Adjustable Pillow – Helix
With a personalized sleep quiz and mattresses tailored to sleepers' individual preferences, Helix has been all about customization from the get-go. So it only makes sense that the brand would apply that value to its sleep accessories as well. Per its name, the Helix Adjustable Pillow is fully adjustable, equipped with two support insert layers. This lets you create the perfect amount of support for you.
Pros:
This high-performance pillow is built with Memory Foam and Down Alternative, which are materials that lend themselves well to both pressure relief and support.
It's made with soft cotton and a gel microfiber fill, both of which are cooling and breathable.
There's also a "Helix Cool" comfort shell option, which sleeps even cooler thanks to its polyethylene fabric cover.
Cons:
The pillow is $85 to $99, but it comes with a 100-night sleep trial and a one-year limited warranty if you don't find it to be worth the price.
How We Selected the Best Orthopedic Pillows
Finding the right orthopedic pillow for your needs will largely depend on what you're trying to treat. Some pillows are designed to specifically address sciatic nerve pain, while others are made to promote spinal alignment in your neck. Speaking to a doctor will help pinpoint what type of pillow you should be looking for, but as a general overview, here are some of the things we considered in our selection process.
Multiple Height and Size Options:

The thickness and size of a pillow is of the utmost importance to promoting proper spinal alignment. We tended to favor pillows that allow you to customize size. Pillows with removable foam inserts, varying contour sizes, or different pillow size options are all perfect for picking the right thickness.

Breathability and Sensitivity:

This is a pillow, so as well as providing adequate support, it's important that it's soft and pressure-relieving. We favored memory foam that doesn't overheat and features a cover made of comfortable material that can be removed and washed.

Firmness:

Generally speaking, the firmness of a pillow is variable based on individual needs. For orthopedic pillows, however, there's a baseline level of firmness and support that should be present to encourage proper alignment. In this list, we tended to favor pillows that were soft yet supportive.
Tips on Choosing the Right Orthopedic Pillow
Finding the right orthopedic pillow for your needs can change your life. That seems like an overstatement, but reducing pain in your neck, back, hip, knee, or any other part of your body that's aching can impact your entire outlook. We recommend consulting a doctor to truly identify the source of any pain, but if you're in the market for an orthopedic pillow, here are some things to consider.
What the Pillow is Designed For:

Choosing an orthopedic pillow is dependent on what part of your body is hurting. If you're a side sleeper who's experiencing lower back pain, maybe look into a knee pillow. Similarly, look to specific neck pillows if your neck is the pain point. There are a lot of specific products on the market built to address specific pain, so don't settle on a general pillow and expect it to fix all that ails you.

Pillow Material and Skin Sensitivity:

Orthopedic pillows can be made from a number of materials, and can have pillowcases made of even more. Take note of the type of foam; if a pillow's not made of a breathable material, it may get hot throughout the night. And, if the pillowcase is made of an artificial fabric it may be an irritant to sensitive skin,
Recapping the Top Orthopedic Pillows
Turning to an orthopedic pillow is a great step towards a healthier and more therapeutic sleep regiment. They can help alleviate pain in multiple parts of the body, and promote improved spinal alignment and posture during sleep. Everyone's orthopedic pillow solution will be different, but finding the right one for you can make all the difference.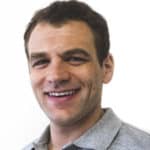 Logan is the former content director of Sleepopolis. As content director, he reviewed new mattresses every week and curated the comparisons, best of pages, and video guides on the site. Logan perfected his method by personally testing over 200 different mattresses, so he's not only able to discern the overall vibe of a specific bed, but to contextualize its feel within the bed-in-a-box market as a whole.