Everyone has a favorite pillow at home. Usually, one of the major reasons why people have a favorite is because of the pillow's relative firmness. Depending on how a person sleeps – whether on their back, side, or stomach – the firmness of a pillow can have an instrumental effect on the quality of slumber.
Pillows are constructed with different materials, different shapes, and different fabrics that all play a part in the firmness of the pillow. The longevity of this firmness is also at play; some pillows may get too soft after having a strong initial structure. To help understand what is out there in the market, we have looked for different examples of quality pillows that are known for firmness.
The Best Firm Pillows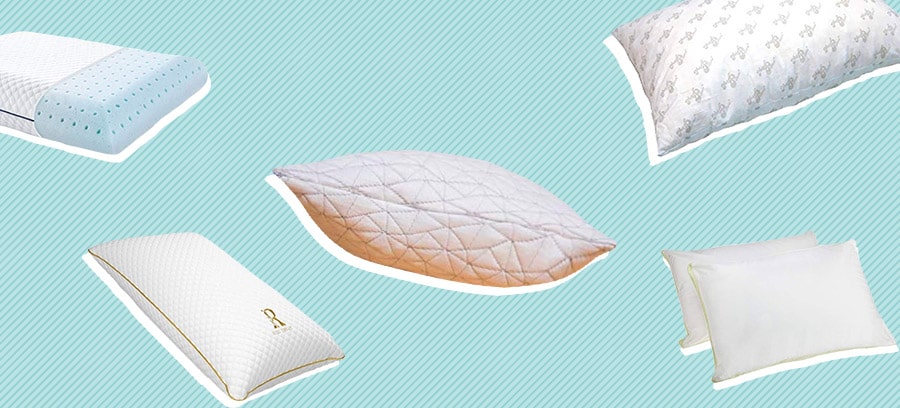 Editor's Choice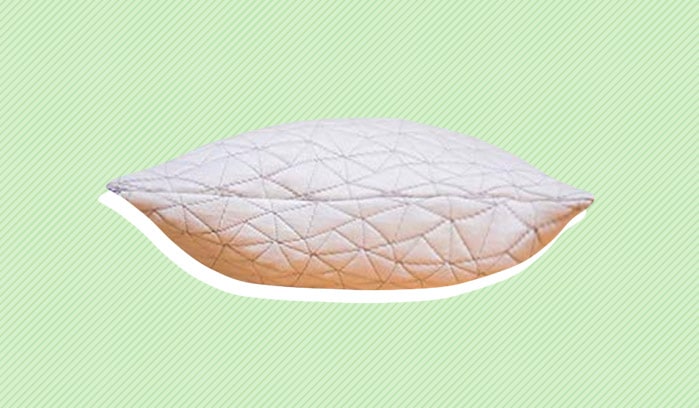 Coop Home Goods Premium Adjustable Loft Pillow
Pros: 
Adjustable. A great aspect of this pillow is that the density – and thus the firmness – of the pillow can be adjusted to the liking of the sleeper. The memory foam fill can be accessed and adjusted in just a few steps.

Stretchy liner. The inner lining of this pillow (the part that contains the memory foam fill) is made of a stretchy fabric. This allows maximum adjustability with regards to the amount of fill and also lets the pillow be adjusted to a wide variety of shapes for extra comfort.

Bamboo. The outer lining of the pillow is part polyester and part bamboo rayon. Bamboo is known as a rather breathable fabric, which is great for those who may sweat at night and need extra circulation.
Cons:
Set-up process. This pillow is not ready to use out of the box. It needs to be fluffed in the dryer and then once it is fully formed, the filling needs to be adjusted.

Scent. Perhaps due to the nature of the manufacturing process or the materials used, there is a distinct scent that may be noticeable to those with sensitive senses of smell.
Coop Home Goods Premium Adjustable Loft Pillow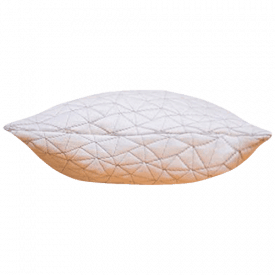 Coop Home Goods Premium Adjustable Loft Pillow
This pillow from Coop Home Goods allows a customizable amount of firmness. The memory foam and microfiber blend that is used for the filling can be removed or added to fit the needs of each sleeper.
The Contender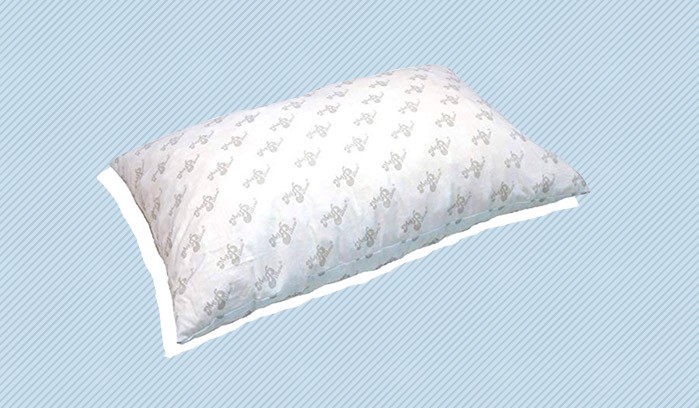 MyPillow Classic Series
Pros:
Interlocking fill. The filling used for these pillows are interlocking – otherwise known as polyfill – as its polyurethane have a sturdy molecular structure. The use of three different sizes of foam pieces helps the pillow to be shaped in different ways to provide extra firmness.

4 levels of firmness. This brand offers four different tiers of firmness. Blue is the most firm, followed by green, white, and yellow. (All pillows are manufactured in a white color).

Firmness stays. While some types of pillows may only stay firm for a short period of time after purchase, these have a tendency to maintain a consistent level of firmness. Great for those who get frustrated with buying new pillows year after year.
Cons:
Lumpy before washing. Some may notice that this pillow is rather lumpy until it is washed. It will feel smooth after washing.

Can feel hot. Those who tend to run warm while they sleep may find that this pillow can feel hot. May not be the best during the summer for these types of sleepers.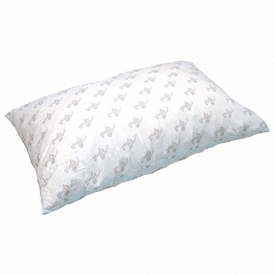 The MyPillow Classic Series features four different levels of firmness that can help people find a pillow that fits their style of sleeping. This machine-washable pillow is loose filling and is great at bending into different shapes for added comfort.
Most Durable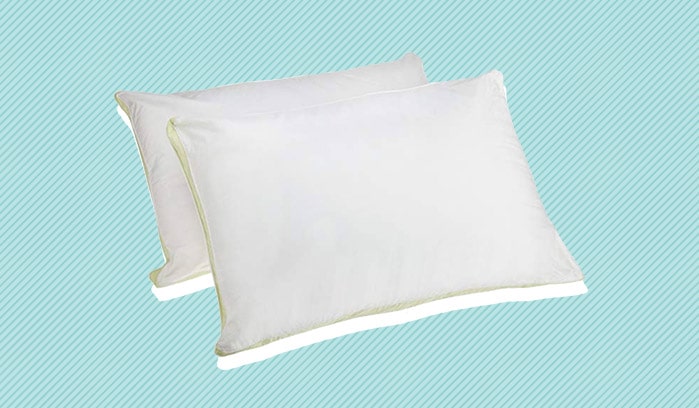 Perfect Fit Gusseted Quilted Pillow
Pros: 
Gusseted edges. These pillows have extra support and durability due to the gusseted edges on all four edges of the pillow. The 2" sidewalls give the pillows extra structural support.

Pillows for different sleepers. A nice quality of this line of pillows is that Perfect Fit helps with suggestions for different types of sleepers. There are pillows for side sleepers, stomach sleepers, and back sleepers.

Two-packs. Because these pillows are a bit less expensive than many similar products, these are a great option for someone outfitting a new home with several beds, especially since these come in two-packs.
Cons:
Thread count. Though the pillows don't feel coarse by any means, the thread count of 233 is on the medium-to-lower end of softness.

Could be too firm. These pillows tend to have such firmness that they don't sink down much even after extended use. Some people may want the pillow to have a little bit of give while maintaining firmness otherwise.
Perfect Fit Gusseted Quilted Pillow
Perfect Fit Gusseted Quilted Pillow
The Perfect Fit Gusseted Quilted Pillow features several different versions that cater to specific types of sleepers. The gusseted edges give extra durability and provide a supportive shape.
Best for Temperature Control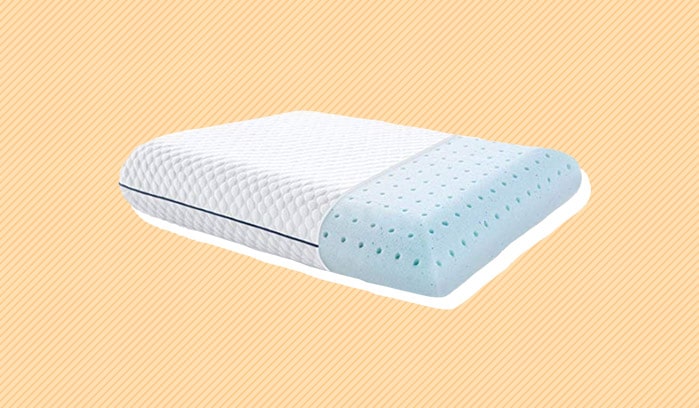 Weekender Ventilated Gel Memory Foam Pillow
Pros: 
Temperature-regulating gel. This pillow is infused with a gel that helps regulate temperatures by absorbing body heat. This is great for sleepers who run hot.

Ventilated. The pillow is designed with holes that almost make the pillow porous. These holes allow increased ventilation and circulation.

Keeps form. These pillows offer ample firmness yet are soft enough to cradle the head. After sleep, they revert to their original form.
Cons: 
Softness. This pillow is probably not the most firm, but it is a great compromise for those looking for a cooling pillow with firmness.

Hard to change shape. The pillow only sinks down about an inch for the head and is hard to manipulate to accommodate different sleeping position preferences.
Weekender Ventilated Gel Memory Foam Pillow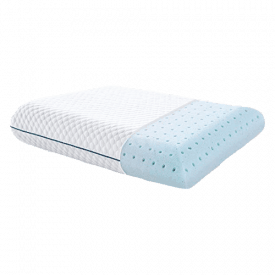 Weekender Ventilated Gel Memory Foam Pillow
This Weekender ventilated pillow offers a nice blend of firmness and stability with ventilation and a compact size. This pillow is infused with gel and has a ventilated design that are great for those who get hot at night.
Best Shape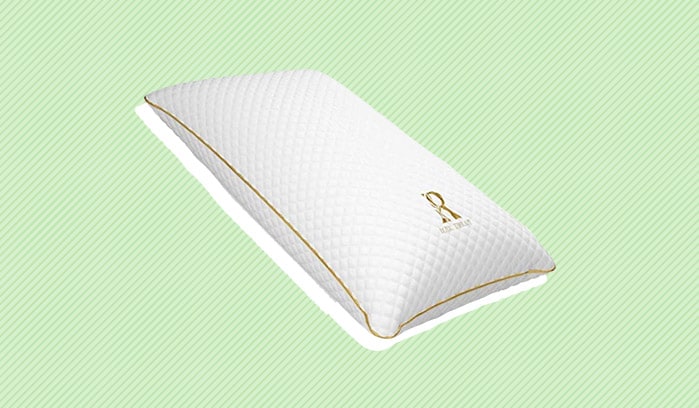 Royal Therapy Memory Foam Pillow
Pros: 
Contoured. These pillows are designed with a shape that has contoured edges. This helps the pillow naturally fill the space between the head, body, and mattress, giving the neck more support.

Odor-free. While some pillow brands need to be aired out for the manufacturing scent to go away, this pillow arrives relatively odor-free.

Packaging and design. This pillow just looks and feels classy. Its design is demonstrably regal with gold threading. This makes it ideal as a gift or in a room for guests.
Cons: 
Thick. Though this pillow offers a nice level of firmness, it takes up a lot of space in doing so. This is one of the thicker pillows one may come across.

Caves in. While some sleepers may prefer a pillow with more give, some may grow frustrated with the amount of indentation that occurs overnight during sleep.
Royal Therapy Memory Foam Pillow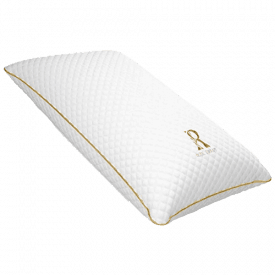 Royal Therapy Memory Foam Pillow
The Royal Therapy Memory Foam Pillow is filled with small pieces of foam that give the pillow a firm structure and a rather large size. It has a contoured shape that helps support the neck.
How to Shop for Firm Pillows
Finding a pillow that provides enough neck support yet is still comfortable can be an arduous task. In addition to the material that fills the pillow, aspects of the fabric, stitching, and design can make a big difference as well. Here are the most important categories we looked at:
Filling 
When scouring the pillow market, one of the most salient differences one will find is the difference in filling. For obvious reasons, the density of the filling inside the pillow is a big factor. But the actual substance itself makes an almost equal impact.
Some pillows are filled with a material that has a uniform consistency, such as memory foam or other types of foam. This type of filling can definitely be firm but often doesn't have as much give or adjustability as loose filling. Loose filling in pillows can often be adjusted by manipulating the shape of the pillow.
Shape
The shape of a pillow can really help provide both support and comfort as well. While most pillows will be a standard size in terms of width and length, there are other facets of a pillow's shape that can add extra support. 
Solid-foam pillows may have less depth to them, but will often have less give, meaning the head will only dip into the pillow a small amount. This provides support, but for those who want more volume under their head, this thinner shape can be a problem. Conversely, some pillows are too thick; one sacrifice of having increased firmness and density is a deep profile that may be too cumbersome or awkward for some styles of sleep.
Adjustability 
While some people may want a firm pillow generally, it doesn't necessarily mean that every night will necessitate the same exact type of support. Some people may be restless sleepers and rotate positions throughout the night, and for them, having a pillow that can be manipulated and contorted is crucial. For them, finding a pillow that has a shape that can be altered may be as important as the firmness.
Memory foam pillows are among the least adjustable, but make up for it with the amount of density and firmness they provide. Some pillows have a sort of filling that can be easily accessed and with an amount that can be adjusted. This sort of filling is usually pretty standard; if the pillow purchased isn't firm enough, there is probably a place where the more similar filling can be found. 
Tips
Not sure which pillow has the right firmness for you? Here are some suggestions that may make your decision a bit easier:
Which position do you sleep in the most often?

For stomach, side, and back sleepers, there are usually different levels of firmness that are most comfortable. 

Side sleepers often need the most firmness, followed by back, and then finally stomach sleepers, who need the least amount of firmness typically.

Do you change positions while sleeping?

For those who tend to rotate between various sleeping positions, it may behoove you to find a pillow that allows its structure to be contorted to different shapes.

Different fillings can be moved around within the pillow with various levels of success. Look out for pillow filling that can maintain its structure even when manipulated.
FAQs
What firmness of a pillow should a back sleeper sleep on?
Back sleepers need a pillow to support both their neck and head, so a rather firm pillow is helpful to aid in spinal alignment.
What firmness of a pillow should a side sleeper sleep on?
Side sleepers will also need a rather firm pillow. Due to the positioning of the body, the head and neck may need more support than otherwise.
What do stomach sleepers or those that occupy a few positions do?
Stomach sleepers may prefer a pillow with less density, but often a pillow that is malleable or adjustable is perfect for someone who sleeps on their stomach or that may switch between positions.
Sarah is the former senior writer and bedding expert at Sleepopolis. She received her degree in Creative Writing from Brooklyn College and spends her free time doing stand-up, making pasta, and hanging with her cats.