Everyone has a favorite pillow at home. Usually, one of the major reasons why people have a favorite is because of the pillow's relative firmness. Depending on how a person sleeps — whether on their back, side, or stomach — the firmness of a pillow can have an instrumental effect on the quality of slumber.
Pillows are constructed with different materials, different shapes, and different fabrics that all play a part in the firmness of the pillow. The longevity of this firmness is also at play; some pillows may get too soft after having a strong initial structure. To help understand what is out there in the market, we have looked for different examples of quality pillows that are known for firmness.
Best Firm Pillows 2023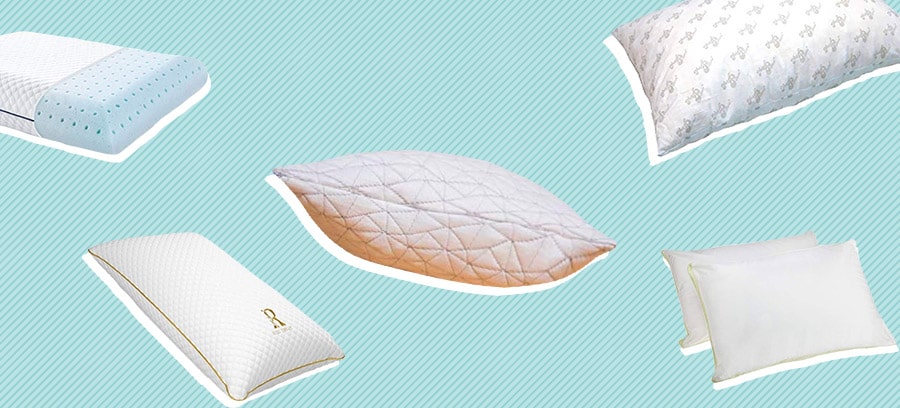 Editor's Choice
Coop Sleep Goods Original Pillow
Pros:
Adjustable. A great aspect of this pillow is that the density – and thus the firmness – of the pillow can be adjusted to the liking of the sleeper. The memory foam fill can be accessed and adjusted in just a few steps.
Stretchy liner. The inner lining of this pillow (the part that contains the memory foam fill) is made of a stretchy fabric. This allows maximum adjustability with regards to the amount of fill and also lets the pillow be adjusted to a wide variety of shapes for extra comfort.
Bamboo. The outer lining of the pillow is part polyester and part bamboo rayon. Bamboo is known as a rather breathable fabric, which is great for those who may sweat at night and need extra circulation.
Cons:
Set-up process. This pillow is not ready to use out of the box. It needs to be fluffed in the dryer. Once it is fully formed, the filling needs to be adjusted.
Scent. Perhaps due to the nature of the manufacturing process or the materials used, there is a distinct scent that may be noticeable to those with sensitive senses of smell.
See our full Coop Sleep Goods pillow review.
Best Adjustable
Avocado Green Pillow
Pros:
Adjustability. This firmer pillow is customizable. You can add or remove the latex fill and choose the loft that's best for your sleeping position.
Eco-conscious shoppers. The Avocado Green pillow uses GOTS certified organic cotton, as well as GOLS certified organic latex.
Back and side sleepers. The overall feel and loft of the Avocado Green is suited for back and side sleepers alike.
Cons:
Washability. The only part of the Avocado Green pillow that's machine washable is the cover. So, if that level is convenience is important to you, it may be worth exploring other options.
Stomach sleepers. This pillow is too firm for stomach sleepers.
See our full Avocado Green pillow review.
Best Down Pillow
Brooklinen Firm Down Pillow
Pros:
You've got options. The Brooklinen Firm Down pillow comes in two sizes: standard and king. What's more — if you find that the Firm Down pillow is too firm, you could also try the Mid-Plush version of the pillow.
The firmness. The Brooklinen Firm Down is made with a dual-core system that has an inner layer of feathers and an outer layer of down clusters. This makes the pillow great for anyone who's looking for firmness without wanting to sacrifice comfort.
Less risk of allergies. This pillow has been treated with antimicrobials to help reduce allergens.
Cons:
It's not adjustable. While the Down pillow comes in three different firmness levels, you can't adjust the pillow once you receive it. It comes sealed in a 100 percent cotton outer cover.
It's not vegan. Down and feathers come directly from birds, so if you're looking for a vegan option, check out our list of the

best down-alternative pillows

.
See our full Brooklinen Down Pillow review.
Best Latex Pillow
PlushBeds Solid Latex Pillow
Pros:
The cooling benefits. The PlushBeds Solid Latex pillow is made from organic latex, which is typically a cooler material, and the outer cover is made with 100 percent organic cotton to help make the pillow more breathable.

It balances support and comfort. Since the pillow is made from latex, it has a bouncy, springy feel, and it cradles the head and neck to offer some pressure relief.

Hypoallergenic. All the materials in this pillow are 100 percent natural and organic, and the pillow is also hypoallergenic and resistant to dust mites.
Cons:
Price. The Solid Latex pillow is a luxury pillow, so it comes at a luxury price. It may not be the best option if you're looking for a pillow on a budget.

It isn't adjustable. The Solid Latex pillow comes as is, so if you want more customization in your pillow, this one may not be a great choice.
Review coming soon. In the meantime, see our roundup of the best latex pillows.
Best for Back Sleepers
Tempur-Pedic TEMPUR-Neck Pillow
Pros:
Contoured. This pillow has a unique curved shape. The highest point of the curve is made for back sleepers to rest their neck on, while the lower point on the pillow is where the head rests.

Firm feel. Tempur-Pedic markets this pillow as "extra firm", however, the memory foam in this pillow still allows for you to comfortably sink into the pillow.

Size options. The pillow comes in three different sizes: small, medium, and large, which allows for sleepers of all sizes to find the perfect fit to contour their head and neck.
Cons:
Heat trapping. This pillow is a memory foam pillow, and like most memory foam products, it can trap heat. This may not be the best option for hot sleepers who need pillows with more cooling benefits.

Stomach sleepers may not like it. If you're a stomach sleeper, this pillow may be too firm for you, and the unique shape of this pillow may not allow for proper spinal alignment in this sleeping position.
See our full TEMPUR-Neck pillow review.
How to Shop for Firm Pillows
Finding a pillow that provides enough neck support yet is still comfortable can be an arduous task. In addition to the material that fills the pillow, aspects of the fabric, stitching, and design can make a big difference as well. Here are the most important categories we looked at:
Filling
When scouring the pillow market, one of the most salient differences one will find is the difference in filling. For obvious reasons, the density of the filling inside the pillow is a big factor. But the actual substance itself makes an almost equal impact.
Some pillows are filled with a material that has a uniform consistency, such as memory foam or other types of foam. This type of filling can definitely be firm but often doesn't have as much give or adjustability as loose filling. Loose filling in pillows can often be adjusted by manipulating the shape of the pillow.
Shape
The shape of a pillow can really help provide both support and comfort as well. While most pillows will be a standard size in terms of width and length, there are other facets of a pillow's shape that can add extra support.
Solid-foam pillows may have less depth to them, but will often have less give, meaning the head will only dip into the pillow a small amount. This provides support, but for those who want more volume under their head, this thinner shape can be a problem. Conversely, some pillows are too thick; one sacrifice of having increased firmness and density is a deep profile that may be too cumbersome or awkward for some styles of sleep.
Adjustability
While some people may want a firm pillow generally, it doesn't necessarily mean that every night will necessitate the same exact type of support. Some people may be restless sleepers and rotate positions throughout the night, and for them, having a pillow that can be manipulated and contorted is crucial. For them, finding a pillow that has a shape that can be altered may be as important as the firmness.
Memory foam pillows are among the least adjustable, but make up for it with the amount of density and firmness they provide. Some pillows have a sort of filling that can be easily accessed and with an amount that can be adjusted. This sort of filling is usually pretty standard; if the pillow purchased isn't firm enough, there is probably a place where the more similar filling can be found.
Tips
Not sure which pillow has the right firmness for you? Here are some suggestions that may make your decision a bit easier:
Which position do you sleep in the most often?

For stomach, side, and back sleepers, there are usually different levels of firmness that are most comfortable.

Side sleepers often need the most firmness, followed by back, and then finally stomach sleepers, who need the least amount of firmness typically.

Do you change positions while sleeping?

For those who tend to rotate between various sleeping positions, it may behoove you to find a pillow that allows its structure to be contorted to different shapes.

Different fillings can be moved around within the pillow with various levels of success. Look out for pillow filling that can maintain its structure even when manipulated.
FAQs
What firmness of a pillow should a back sleeper sleep on?
Back sleepers need a pillow to support both their neck and head, so a rather firm pillow is helpful to aid in spinal alignment.
What firmness of a pillow should a side sleeper sleep on?
Side sleepers will also need a rather firm pillow. Due to the positioning of the body, the head and neck may need more support than otherwise.
What do stomach sleepers or those that occupy a few positions do?
Stomach sleepers may prefer a pillow with less density, but often a pillow that is malleable or adjustable is perfect for someone who sleeps on their stomach or that may switch between positions.