In this review, we're taking a close look at the Mulberry Silk Pillowcase from Brooklinen, a luxurious sleep accessory that many tout as the ultimate beauty secret. So let's put that theory to the test, and help you determine if this pillowcase is the right fit for you!
Brand Snapshot
Brooklinen was established in 2014 and has since earned a reputation as a go-to brand for bedding and bath essentials. Though I've never had the pleasure of testing Brooklinen's bath towels, robes or other washroom accessories, I have reviewed several of the company's bedsheets, as well as its cozy plush down pillow.
But now, I'm focusing specifically on the Mulberry Silk Pillowcases and, honestly, I can't wait to show you what they're all about. So without further ado, let's dive into the silk!
What Are Brooklinen Silk Pillowcases Made Of?
For those unfamiliar with silk, there are three main factors to keep in mind when assessing its quality: silk type, weave style, and momme (the weight of the fabric). So let's take a closer look at Brooklinen's silk, and talk a bit more about what these terms mean.
Silk Type: Mulberry
Brooklinen's silk pillowcases are made from 100% Mulberry silk, which is widely regarded as the highest quality silk available. This is because it's made by Mulberry silkworms that are carefully monitored by farmers in order to ensure that the threads they spin are round, smooth, fine, lightweight, and uniformly colored.
Because Mulberry silk threads are so round and fine, the finished fabric is impeccably smooth and delicate. Additionally, Mulberry silk threads are very strong, which makes silk bedding quite durable.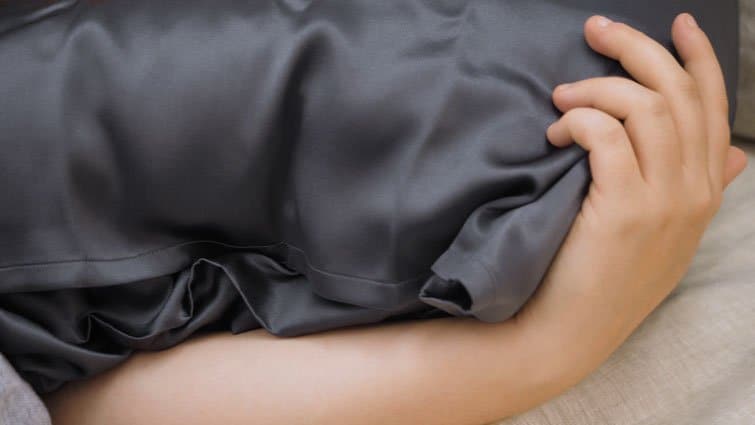 Mulberry silk is 100% natural, odorless, and contains a protein called sericin, which can serve to keep allergens at bay. Because Mulberry silk is hypoallergenic, sleepers with sensitive skin might be particularly compatible with this these silk pillowcases (and we'll talk more about this later!)
Weave Style: Charmeuse
The term "charmeuse" refers to the traditional weave style used in silk textile production, and has a reputation for producing exceptionally lustrous fabric. Yes, silk already tends to have a shiny appearance, but this weave style boosts the luster for a very high sheen. Charmeuse woven silk is often praised for being extra durable, as well.
The charmeuse weave style is similar to a sateen weave in that the weft thread is woven over four threads before passing under one. But while sateen woven bedding tends to be thick and lie heavier on the body, charmeuse woven silk is lightweight and delicate.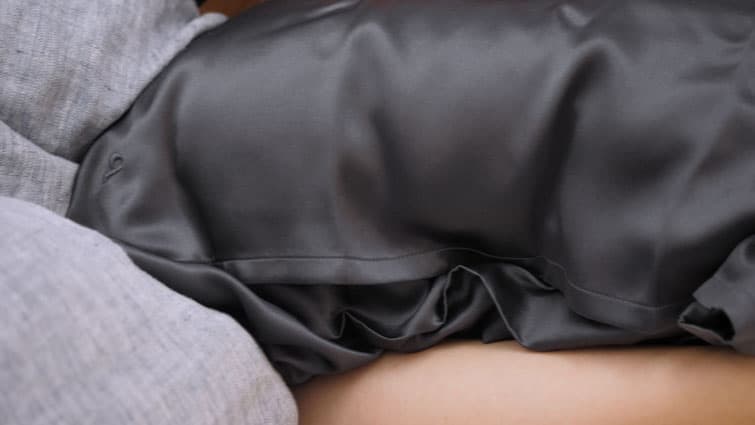 Momme: 22
When it comes to evaluating the quality of a silk sleep accessory, thread count goes out the window and the focus turns to momme.
Momme is the term used to measure the weight of silk, and it says a lot about the durability and overall quality of the fabric. For context, a momme of 12-15 is considered good, a momme of 16-19 is considered great, and anything in the low 20s is top notch luxury.
Brooklinen's silk pillowcases have a momme of 22, which means we're working with some very high-quality silk. A high momme like this boosts resistance to pilling, retention of color, and the smoothness of the fabric itself.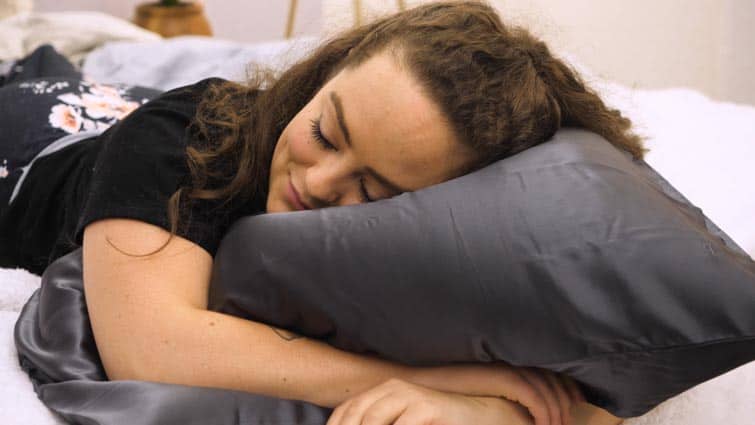 The Bottom Line: Delicate, Durable, and Luxurious
Simply put — Charmeuse woven Mulberry silk with a 22 momme is objectively luxurious. These Brooklinen pillowcases are lustrous, durable, and perfectly smooth to the touch. But which sleepers will be most compatible with them? Let's take a closer look.
How Do Brooklinen Silk Pillowcases Feel?
Now we know that Brooklinen's silk pillowcases are luxuriously soft, but what's it like to actually sleep on them? Well, first let's talk about what's included with every purchase, and then we'll discuss the look and feel of this silk in greater detail.
What's Included With Your Purchase
Sleepers can choose to purchase the Mulberry Silk Pillowcase or the Mulberry Silk Bundle. It's important to note that the first option comes with one pillowcase, and the bundle includes one pillowcase and one eye mask (also made from Mulberry silk).
If you want to order more than one pillowcase, simply increase the quantity before you "add to cart." Shoppers can order up to five pillowcases at a time, and they come in white, light grey, and dark grey. I'm testing the pillowcases in dark grey (which the company calls "carbon") and I have to say — they're gorgeous.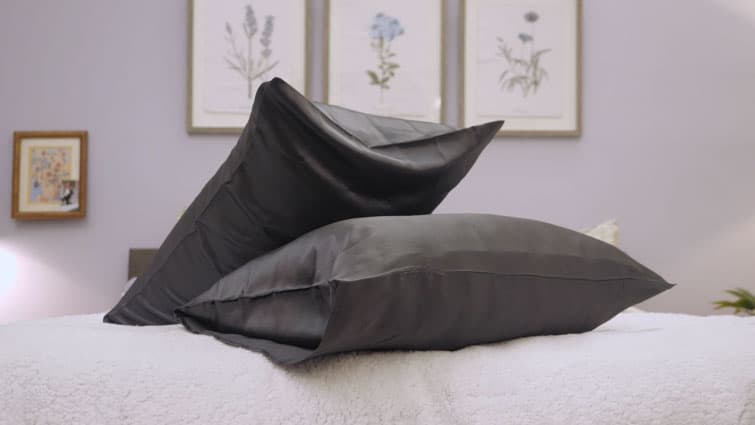 Speaking of gorgeous… the folks at Brooklinen refer to the Mulberry Bundle as "the beauty sleep duo that does it all" and this pillowcase as "a slippery little devil." So let's talk more about silk's slippery texture and why it can be great for hair and skin.
The Beauty Benefits
Many sleepers consider silk to be the ultimate bedtime beauty secret… But why? Well, aside from the fact that it's hypoallergenic, silk is much less absorbent than cotton. This means that a silk pillowcase is less likely to pull moisture away from your face while you snooze. Similarly, if you put on face cream before bed, it's less likely to be absorbed into the fabric.
Something I appreciate about these pillowcases is that the Mulberry silk is very smooth, so I never woke up with sleep lines on my face. Cotton and polyester, for example, are more likely to crease, leaving a little imprint on your skin. A sleep line goes away, of course, but many argue that silk's uniquely slick texture can guard against wrinkles.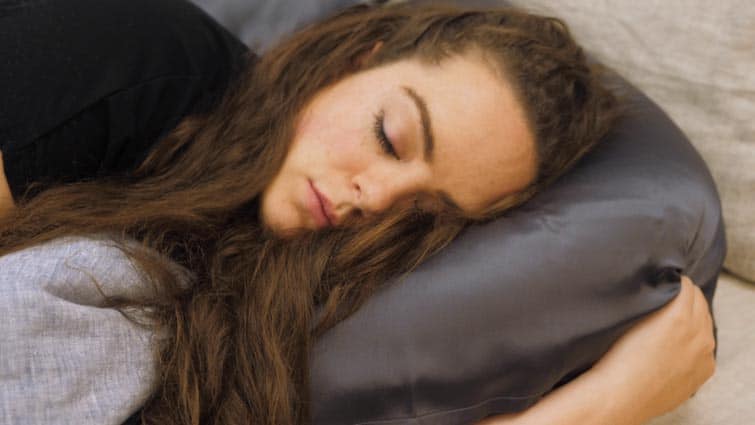 I also really enjoy the way these pillowcases make my hair feel. Many say that silk can improve hair health and, personally, I've been wrapping my hair in silk for years. You see, silk produces less friction as compared to cotton which can help keep your hairstyle protected and pristine for the next morning. And as with your skin, silk can serve to keep your follicles moisturized.
Look & Feel
Brooklinen's silk is very lustrous, so if you're someone who prefers a matte appearance or a subtle shine, you might want to look elsewhere. But if you're like me and love a luminous sheen, you're probably going to enjoy the look of these pillowcases.
Not to mention, they feature envelope closures which is something I prioritize in pillowcases regardless of the material. Envelope closures keep your pillow securely tucked away and covered by an extra flap of fabric. This way, you don't have to worry about tags or the pillow itself spilling out the side of the pillowcase.
As far as feel is concerned, these pillowcases are oh-so-soft. However, it's worth noting that silk is a slippery material! A common complaint about silk bedding is that it slides around on the mattress too much and, in my experience testing these pillowcases, they slipped right off the bed a couple times.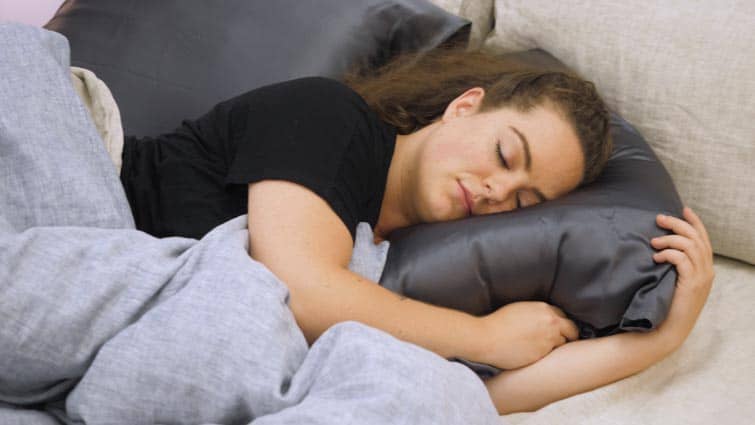 Of course, a little slipping and sliding is a small price to pay for luxury silk pillowcases, in my opinion. But it's something to keep in mind, especially if your bedsheets are sateen woven or bamboo-based (which tend to be a bit slippery as well.)
Cooling & Breathability
Silk is not a very breathable material, but it is lightweight and thermoregulating which makes it great for year-round use.
Essentially, silk adapts to your body's temperature, serving to dissipate heat when you warm up, and trap warmth when you get cold. In my experience rolling around with these pillowcases, I never found the fabric to heat up in an uncomfortable way, but I wouldn't call them cool to the touch either.
If you're a hot sleeper, you might now be thinking: "Any fabric that isn't breathable is a no-go for me." To this, I can totally relate. However, these silk pillowcases are so delicate and light that you might just want to give them a try!
Should I Buy A Brooklinen Silk Pillowcase?
Okay sleepers, we've taken a close examination of these silk pillowcases, so let's recap the highlights:
Skin Soothing – If you're looking for a super slick pillowcase to soothe your skin at night, you might want to give this one a try! And remember: silk is less absorbent than cotton, so your skin's natural oils and/or your face cream are less likely to be pulled into the fabric.
Hair Help – Because it's less absorbent, silk can help to keep your hair moisturized too. Silk also produces very little friction which, in my experience, is ideal for protecting your hair from frizz or "bed head."
Temperature Regulating – Because silk is thermoregulating, these pillowcases are great for year-round use. Granted, these aren't the most breathable accessories I've ever tested (for great breathability, go with cotton percale or bamboo). But they're lightweight and they adapt to your own body temperature.
High Quality Silk – As we've learned, these pillowcases rank pretty high in the world of silk. Charmeuse woven Mulberry silk with a 22 momme is not only luxuriously smooth, but it's very durable too.
365-Day Return Policy & Lifetime Warranty – Yep, you read that right. If you're not satisfied with your pillowcase, you have a year to return or exchange it. Not to mention, the lifetime warranty guarantees that if your pillowcase ever frays or pills, it'll be promptly replaced with a brand new one. I have to say — these are very generous policies that inspire confidence in the consumer.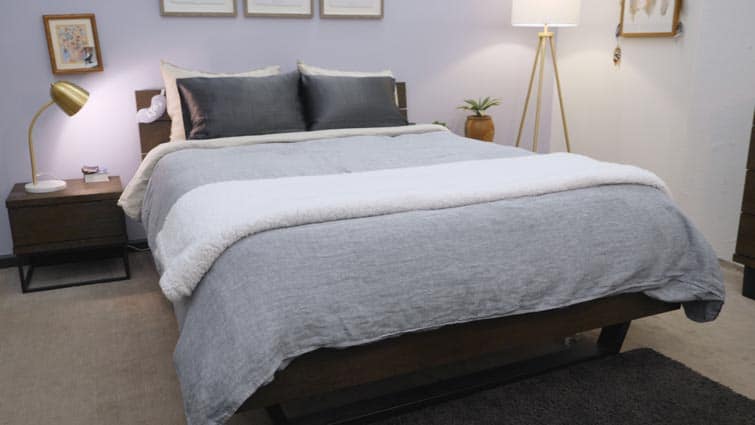 Brooklinen Silk Pillowcase Complaints
So what's not to love about these silk pillowcases? Well, when it comes to craftsmanship, I've got no complaints. However, there are a few things to consider before you make your purchase.
Pricey – Mulberry silk like this is considered a luxury fabric, and at $59 for one standard size pillowcase (and $69 for a king size), this accessory isn't going to be in everyone's budget. Of course, that year-long return policy does relieve a little pressure as you've got quite some time to determine whether or not it's the right fit for you.
Wash Care – If you choose, you can wash these pillowcases on a cold cycle with pH neutral liquid detergent, and then leave them to line-dry. However, many sleepers (myself included) choose to wash silk by hand in order to make sure that the material isn't being damaged in the machine. At the end of the day, you paid a pretty penny for these pillowcases, so it's best to take impeccable care of them.
Anything Else I Should Know?
Pricing – $59 (standard size), $69 (king size)
Sizing – standard and king
Colors – White, Dove Grey, Carbon
Wash Care – It is not necessary to wash these silk pillowcases when they arrive as they're pre-washed by Brooklinen. When you do wash them, it is recommended that you hand-wash with a mild detergent and cold water, then allow them to air dry.
Made in China
Now that you know everything there is to know about the Brooklinen Mulberry Silk Pillowcase, all that's left to do is take it for a test run (and I mean… you've got a whole year to return it). But before you do that, don't forget to subscribe to our YouTube channel and follow us on Facebook, Twitter, and Instagram!
Sarah Riccio
Sarah is the former senior writer and bedding expert at Sleepopolis. She received her degree in Creative Writing from Brooklyn College and spends her free time doing stand-up, making pasta, and hanging with her cats.