Bedding brand Brooklinen crafted the Hardcore Linen Bundle for sleepers looking to boost their entire linen collection. So if you're on the hunt for the perfect linen bedding essentials, keep reading to find out what's included with each bundle, how it feels, and which sleepers are most compatible with Brooklinen linen.
Brooklinen Hardcore Linen Bedding Bundle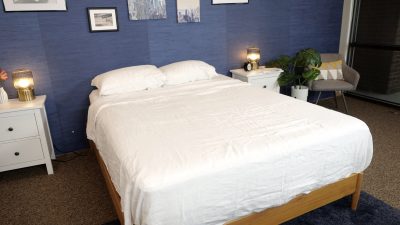 Brooklinen's linen bundle sleeps cool and comes in great colors that you can mix and match to your heart's content!
Sleepopolis Score
4.60 / 5
Read Full Review
Brand Snapshot
Founded in 2014, Brooklinen has solidified itself as a go-to brand for all types of bedding essentials. From sheets and pillows to loungewear and comforters, Brooklinen aims to cover all bedroom bases. For this review, we'll be focusing specifically on the Hardcore Linen Bundle which includes a full sheet set, a duvet cover, and two extra pillowcases.
Now, you might assume that because "linen" is in the brand's name, that linen bedding must be the company's flagship sheet set… But you'd be wrong. Interestingly, Brooklinen didn't introduce its linen bundles to the game until 2018, years after its cotton sheets made their debut. I have had the pleasure of testing Brooklinen cotton sheets, but now it's time to dive into the linen!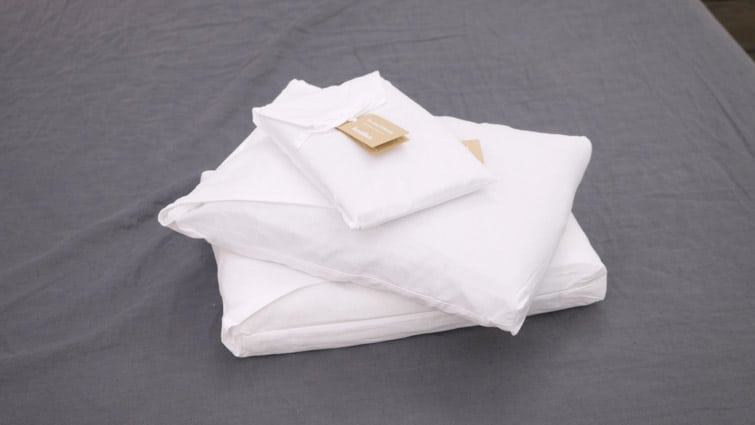 What Is the Brooklinen Hardcore Bundle Made Of?
Before we discuss materials, let's talk about what actually comes with each order. The Brooklinen Linen Hardcore Bundle includes a fitted sheet, top sheet, duvet cover, and four pillowcases. Something cool about this set is you can mix-and-match colors in order to customize your own style. For example, I'm testing the duvet cover and two pillowcases in Navy Chambray, and the sheets and extra pillowcases in Dune Chambray. There are many colors from which to choose, so get as creative as you like.
FAQ
Q: How deep are Brooklinen sheets?
A: All Brooklinen fitted sheets are capable of accomodating mattresses up to 15 inches deep!
As you might have guessed, every piece of bedding in this bundle is made from 100% pure linen, which is one of the world's oldest textiles (approximately 36,000 years old, to be exact!). Linen is incredibly durable, breathable, and known for getting softer as time goes on.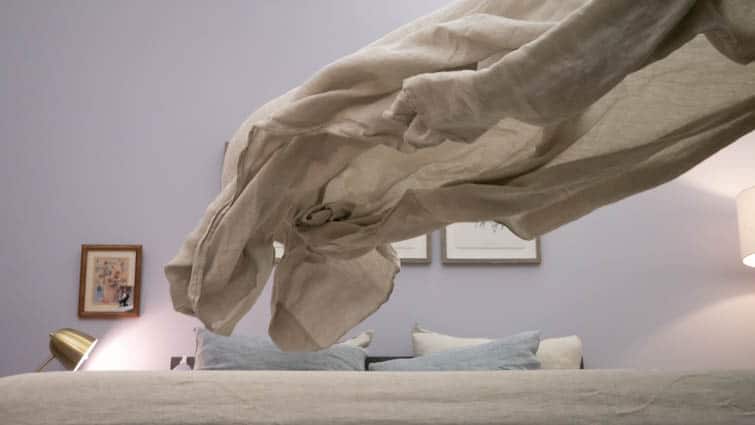 Linen is derived from natural flax fibers (which makes it an eco-friendly material) and Brooklinen sources its flax from Belgium and France. Because of these countries' humidity and agricultural conditions, Belgium and France are considered by many to produce some of the highest quality flax in the world.
However, linen fibers are thicker and produce a stiffer yarn (compared to cotton, for example), which makes for a distinctly coarse texture to which not everyone wants to cuddle up. That said, each piece of bedding in this bundle has been individually pre-washed to boost the softness and reduce any scratchy coarseness.
Linen is also known for its cooling breathability which makes it a popular summertime pick. And while this bedding does offer great airflow, it's important to note that linen is thermoregulating. Essentially, this means that linen is able to adapt to your body's temperature, working to dissipate your body heat when you're too hot, and serving as a great insulator in the winter.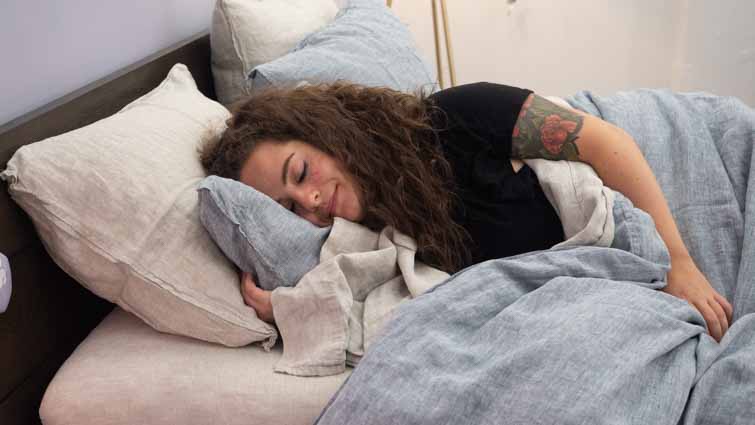 FAQ
Q: What are Brooklinen sheets made of?
A: Brooklinen offers sheet sets in cotton percale, cotton sateen, and linen!
Now that we know more about linen and what comes with this bundle, let's take a closer look at how this bedding feels!
Brooklinen Hardcore Linen Bedding Bundle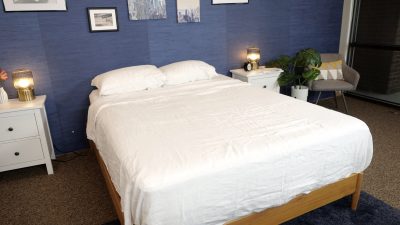 Brooklinen's linen bundle sleeps cool and comes in great colors that you can mix and match to your heart's content!
Sleepopolis Score
4.60 / 5
Read Full Review
What Does The Brooklinen Hardcore Bundle Feel Like?
Before I get into the feel of this bedding bundle, I have to acknowledge how beautiful it looks. I know this is a matter of personal opinion, but the Navy Chambray and Dune Chambray combination offers a uniquely rustic aesthetic that I find very inviting. But regardless of the color you choose, the envelope closures on the pillowcases and button closures on the duvet cover make for a very put-together look.
FAQ
Q: Are Brooklinen sheets machine washable?
A: Yes! Simply machine wash on a cold, gentle cycle with mild detergent, and tumble dry on low heat.
When it comes to the feel, I found this linen to strike a cozy balance between smooth and coarse. Many of you may already be familiar with the distinctly rough texture of linen, and some sleepers find this to be the basis of linen's appeal. However, some of us (myself included) don't love linen's slightly scratchy feel, which is where the garment washing process comes into play.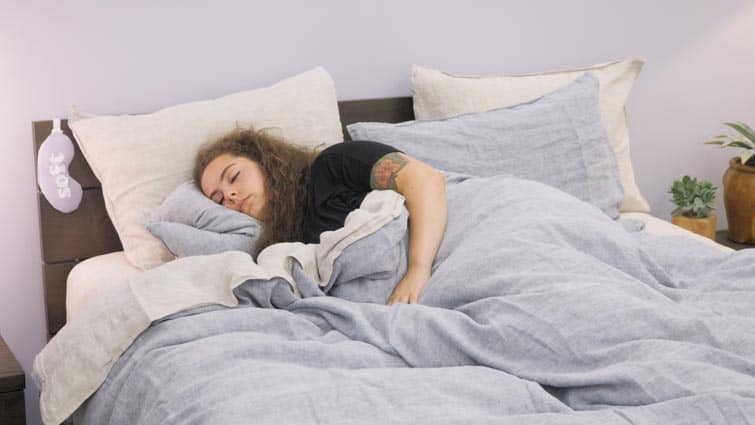 Garment washing is a textile manufacturing technique used to boost a material's soft feel, and give it a casually "lived-in" look. Many bedding brands employ this technique (particularly with linen), but the methods are not always the same. Some companies stone-wash linen, while others whip the linen fibers with air. In the case of this Brooklinen bundle, each piece of bedding is stone-washed, then washed again until the desired softness is achieved.
Personally, I think Brooklinen did a good job of maintaining linen's slightly coarse texture while also leaving the finished product very soft to the touch. On the topic of washing, I did wash this bundle before testing it and was quite impressed by how well it maintained its color. Additionally, I didn't note any shrinkage after I washed and dried this set (which is often a perk of garment-washed sheets).
More: Looking for a pillow to go with your bedding? Check out my guide to the best pillows!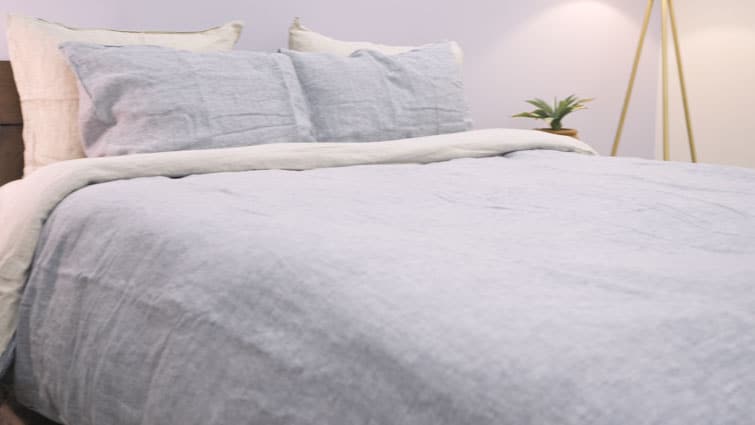 Not to mention, the light breathability of this linen kept me feeling cool and fresh, despite my body's tendency to run hot. Sleepers who are prone to night sweats, or those who heat up during the night, should give this bedding a try! Overall, I have to say I'm very pleased with the look and feel of this bedding.
The Verdict: Sleepers who love the coarse texture of linen but wish it were a bit softer will be most compatible with the Hardcore Linen Bundle!
Should I Buy The Brooklinen Hardcore Linen Bundle?
Okay sleepers, let's recap the highlights of this bedding bundle so you can better determine if it's the right fit for you.
Brooklinen Hardcore Linen Bedding Bundle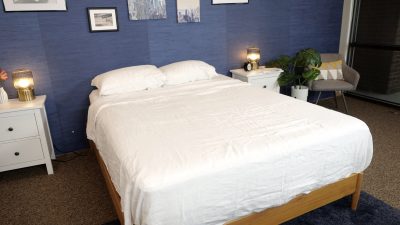 Brooklinen's linen bundle sleeps cool and comes in great colors that you can mix and match to your heart's content!
Sleepopolis Score
4.60 / 5
Read Full Review
Thermoregulating – Linen fibers are hollow which means air can move freely through the fabric, allowing linen bedding to adapt to your body temperature. This makes linen a great insulator in winter, and a perfect cooling option for summertime. Whether you sleep hot or cool, sleepers can enjoy this linen bundle all year round.
Balanced Feel – For some sleepers, the distinctly coarse texture of linen is a drawback (I can relate, believe me). And while this bedding definitely still feels like linen, it's been garment washed for extra softness. Those who avoid linen because of its scratchy feel should give this set a try.
Mix & Match – One of my favorite features about this bundle is that shoppers can mix and match colors…. And there are so many options from which to choose! So take your time in considering which colors/patterns you want for each piece of bedding. Afterall, it is your bedroom, and you should choose the style that suits you best.
Brooklinen Hardcore Linen Bundle Complaints
Of course, there are a few things about this bedding bundle that some sleepers might consider to be drawbacks.
Pricey – Linen bedding does tend to come at a higher price point than cotton, for example, because it typically costs more to make. That said, linen is very durable and can take you through decades of use. However, the Hardcore Linen Bundle starts at over $400, and that's just not going to be in everyone's budget.
Trial Period – Some bedding brands offer a free trial period wherein shoppers have a month or more to test a product before financially committing, but no such trial is offered here. However, Brooklinen does offer a return policy of 365 days, which is one of the most generous return policies I've ever encountered.
Anything Else I Should Know?
Pricing – starts at $423, and increases depending upon size and total items selected
Shipping – free within the U.S.
Returns – if you're unhappy with your purchase, you have 365 days to return or exchange it
Sizing – full, queen, king, California king
OEKO-Tex Certified – this bedding has been tested for harsh chemicals or dyes
Made in Portugal
Flax Sourced from Belgium and France
Lifetime Warranty – details available on Brooklinen website
Now that you're all experts on the Brooklinen Linen Hardcore Bundle, you're that much closer to deciding whether or not it's the right fit for you. And while you carefully consider your options, be sure to subscribe to our YouTube channel, follow us on Facebook, Twitter, and Instagram as we're always uploading more content with one main goal in mind — to get you some better sleep!
Sarah Riccio
Sarah is the former senior writer and bedding expert at Sleepopolis. She received her degree in Creative Writing from Brooklyn College and spends her free time doing stand-up, making pasta, and hanging with her cats.