Most sleep masks that promise a complete blackout experience have a sturdy layer of plastic that helps guarantee that no light will leak in. That layer is effective but can also be uncomfortable. So is it possible for a mask to give you full light blockage but also flexibility and comfort? That's what the makers of the Dream Essentials Escape Luxury Travel Sleep Mask promise. For my experience, keep reading below.
Looking for a quick read? Click here to jump to the summary.
Dream Essentials Escape Luxury Travel Sleep Mask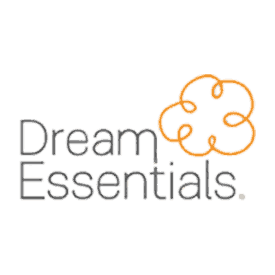 Dream Essentials Escape Luxury Travel Sleep Mask
Large eye pockets and a soft, cushiony exterior make this Dream Essentials eye mask a real winner. 
Looking to up your mask game? Check out my favorite sleep masks!
First Impressions
The fuzzy Escape Luxury mask comes packaged in a cellophane bag along with a carrying case and earplugs. Though the earplugs don't seem to be of any higher quality than those that ship with most other sleep masks, they are packed in a unique plastic capsule that ensures they can stay clean and don't get lost, unlike the earplugs that come packed in a disposable plastic bag. It's a nice feature, but I'm not usually an earplug wearer, so it isn't an incentive for me personally.
While not fuzzy like the front of the mask, the back of the mask—the part that actually matters, because it's the part that touches your face—is also soft. A stretchy, 100% cotton fabric covers the lightweight foam padding with cutouts in the eye area, to take pressure off the eyelids, and satin piping and "Comfort Bridge" design around the nose finish the mask. The Comfort Bridge seemed more pliable than the defined nose area many other masks feature, and I wondered if that was a benefit or a detriment to the mask design.
I was thrilled to see that the Escape Luxury mask did not fasten with Velcro, but rather featured an elastic strap with slider. I've found that Velcro closures on sleep masks often get stuck in my hair or on the fabric below or behind my head, and collect pet hair and dust. But, most masks still feature Velcro (in fact, an earlier version of this mask actually had Velcro!), so any time I see a slider, I get excited.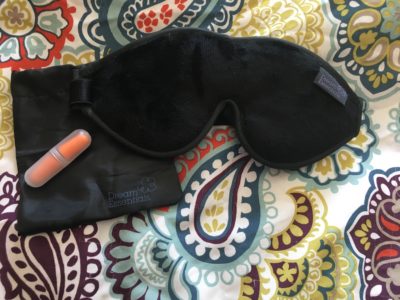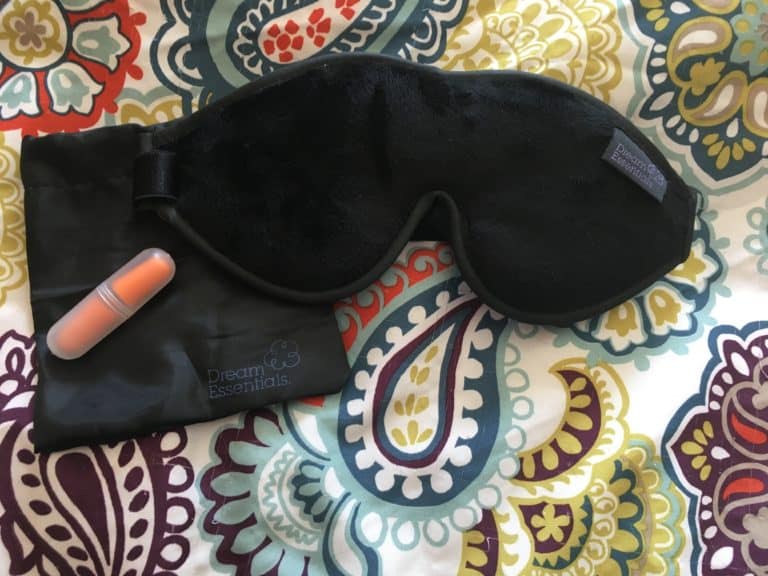 My Experience
As excited as I was about the slider, it did end up getting stuck in my hair once or twice when I first adjusted the mask. I think this is because the elasticity of the strap is so strong that it made it hard to pull the strap away from my head while adjusting the strap. Once I figured out that by putting one hand under the strap I could adjust the slider with the other, though, I found the mask to adjust quite easily, and had no problems with the slider getting stuck in my hair overnight.
The strap did sit a little lower on my head than I would have liked, and it pushed down on my ears. But, because the makers of the Escape Luxury mask finished the top and bottom edges of the elastic strap, it was not nearly as irritating as some other similarly-situated straps have been. I would still have loved to see the strap sitting higher on the back of my head, but was surprised by how little its placement bothered me, especially after I lay down.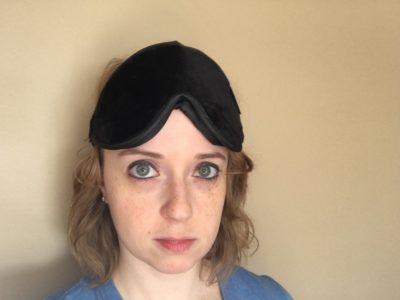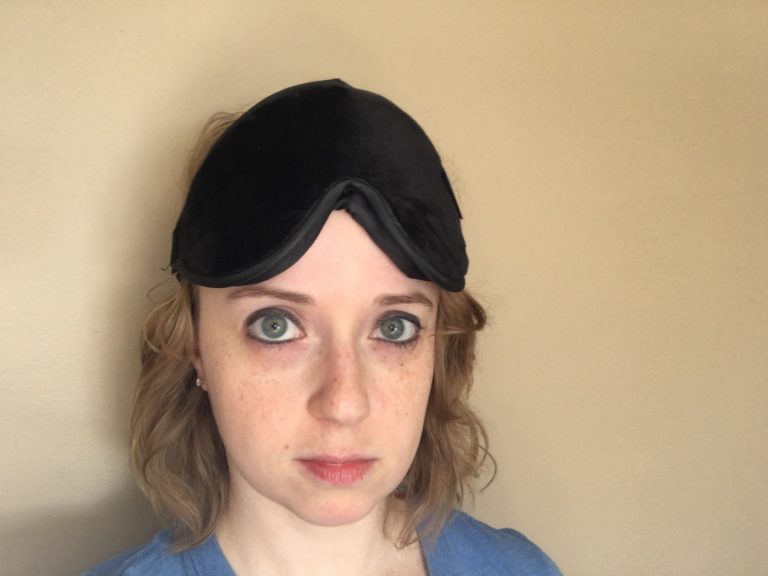 And speaking of lying down: I've written before about how hard it is for me, as a side sleeper, to find masks in which I can comfortably sleep. The Escape Luxury mask happens to be one of those. Because the entire mask is flexible, rather than one of the sturdier, more reinforced masks that have become popular, I found that I could lie down on my side without my pillow being forced away from my face or my nose being pinched closed. The mask did shift slightly away from the side of my face on which I was lying, but not so much to cause discomfort or let in an excess of light.
The little bit of light that did come in while I was on my side came from under the Comfort Bridge part of the mask. This flexible addition to the mask is meant to conform to the nose's shape and keep light from sneaking in, but the flexibility of the fabric also prevented a full seal. As you may be able to see in some of the photo of me wearing the mask below, that part of the mask was inclined to fold inward or to the side slightly. To address this, I discovered that if I used a finger to gently scoop it into place once the mask was on, I could get the Comfort Bridge to settle nicely into place.
The mask did pick up some cat hair over the course of the evening, as well as a few strands of my own—but it was very easy to remove the unwanted hairs. This is very important for pet owners like me, who love their critters but are mildly allergic to them, because it means that you aren't putting something covered with cat hair right over your eyes. All it took was a quick pass-over with a lint roller and the mask was ready to use.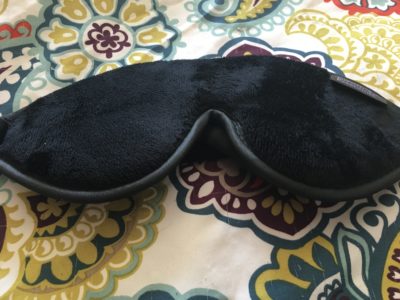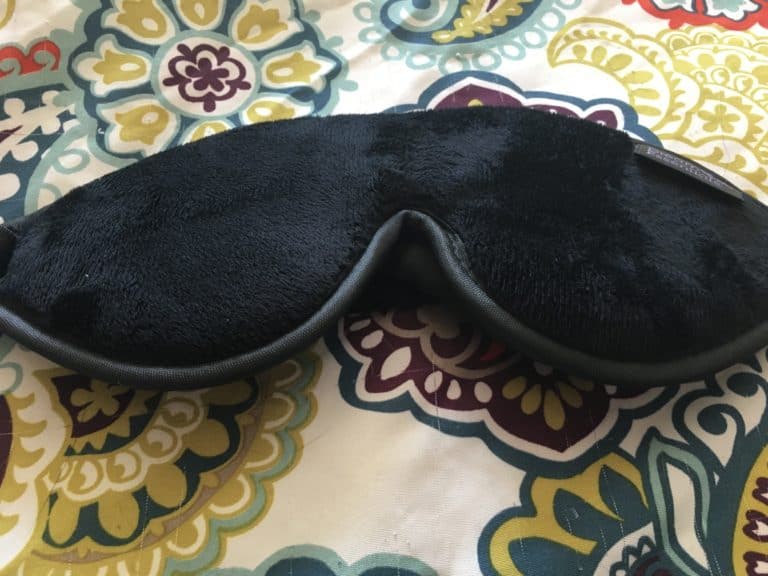 Napping with the Mask
The eye cut-outs on the Escape Luxury mask are not as deep as the cut-outs on other masks with this feature, so I wasn't sure if my eyes would still rub against the mask as I wore it. Because I tried the mask for a "disco nap" on a Saturday that began with a four-mimosa brunch and would end with a big party, I wanted to fit in as much naptime as I could. What I didn't want to do was wake up looking like a raccoon and spend time re-doing my eye makeup. Mercifully, I didn't have to. There was still enough clearance between my eyes and the mask that I only needed to do some light touching up, but I didn't have to start from scratch.
And while I acknowledge that this isn't a concern for everybody, here's something that is: my bedroom faces south and I began my nap at the time of day when the sun is brightest coming in through my windows, but it might as well have been nighttime. Sure, a little light came in around the nose, as noted above, but I experienced more darkness wearing the mask that afternoon than I do on a standard mask-less night with street lamps shining outside. I was amazed by how well and how long I slept.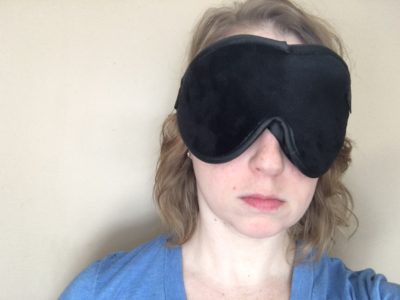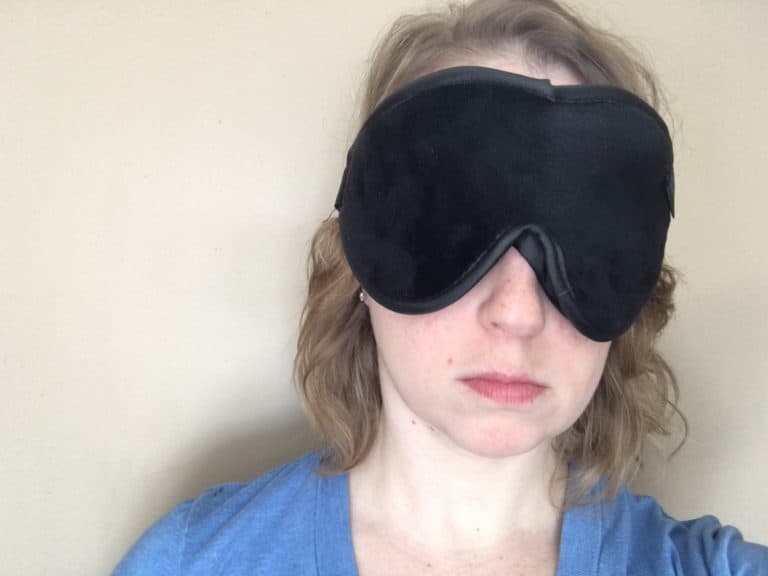 My Ratings
Comfort: 10/10
Adjustable strap: 8/10
Blackout: 7/10
Good for side-sleepers: 9/10
Wear with makeup: 8/10
Price: 9/10
Common Praise and Complaints
Five Star Review: "Not any sleep mask better than this – soft and light, total black-out, and with comfy spaces for eyes. I've bought 3 over time, not because they wear out or I lose them, but because I'll have 'panic' moments when I want to make sure I have enough in case they discontinue making them!"—This mask certainly has a following. Multiple reviewers on Amazon noted that they have back-up masks—for when they need to wash a mask, or in case they misplace the mask somewhere. I can't vouch for the durability of the mask, having only slept in it a handful of times, but the comfort factor is definitely there.
One Star Review: "Sadly I am light sensitive so even a little light leakage goes a long way. This mask in particular has some rather awful light leakage issues. Not only the bridge of the nose but even the sides by the temples would allow light in."—This wasn't my experience with the Escape Luxury mask at all. Yes, some light came in around the nose, but as I noted above, I was able to adjust the Comfort Bridge to mostly get around that issue, and I didn't find the lights to be an issue at all.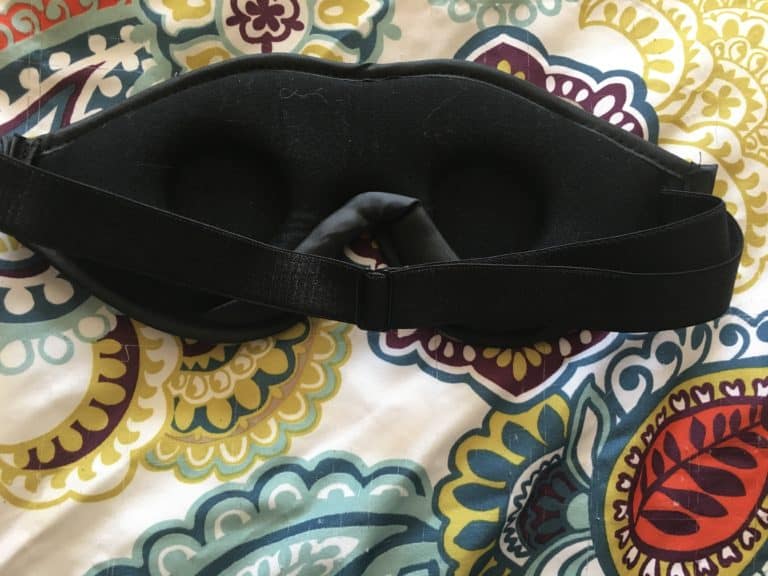 Basic Information
Price: $19.95 on Amazon or direct from Dream Essentials
Sizing Options: None
Color Options: Black, Hot Pink, Princess Pink, Purple, and Soft Navy; Dream Essentials notes that masks in colors other than black may still have the older Velcro strap
Materials Used: 100% cotton lining with breathable foam padding; micro-plush mink on outside of mask; elastic
Comes With: Carrying case, earplugs, earplug case
Other Options: None
Return Policy: Standard Amazon return policies apply; if you ordered the mask direct from the manufacturer, there is a 45-day no-fuss satisfaction guarantee
Manufactured In: China
Final Thoughts
Over the course of writing sleep mask reviews, I've come to realize that I am in fact rather picky about them—so I don't mean it lightly when I say that this is one of the best masks I've tried. No mask will be perfect, but Dream Essentials' Escape Luxury Travel Sleep Mask, with its slider-adjusting strap, soft foam cushioning, and side-sleeping flexibility combines many of the features I look for in a mask.