Brooklyn Bedding is one of the biggest names in the sleep industry. Not only do they sell mattresses, but they sell a variety of sleep accessories, many of which we've tested and reviewed here at Sleepopolis. In this review I'll be covering their Talalay Latex mattress topper.
A mattress topper is a great way to upgrade the feel of your mattress and enhance your sleep experience. If your existing mattress is a bit too firm, adding an additional layer of comfort can completely transform your bed without purchasing a brand new mattress. In this review, I'll cover all the essential details about the Brooklyn Bedding Talalay Latex mattress topper, as well as my own personal experience testing it, to help you decide if it's right for you. Keep reading for all the info, or you can always skip down to the end for my review summary.
Note: The Brooklyn Bedding Talalay Latex mattress topper is offered in three different firmness levels: soft, medium, and firm. I tested the medium model for this review. 
Who is the Brooklyn Bedding Talalay Latex Mattress Topper Best For?
When choosing the best mattress topper, there are several elements you'll want to consider. Some of these factors include price, whether you need additional sinkage or support, any pain you may already have, and if you need a temperature regulating topper. With that in mind, here are the sleepers I do and don't recommend this mattress topper for.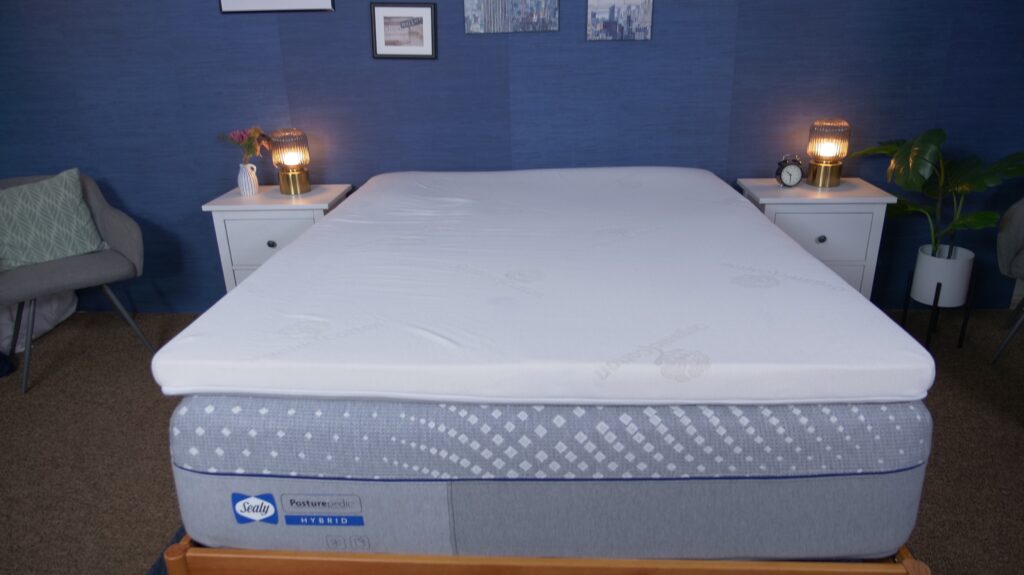 Who I recommend the Brooklyn Bedding Talalay Latex mattress topper for
Side, back, and combination sleepers: This mattress topper provides a nice amount of sinkage while still being supportive. I think side and back sleepers could appreciate the contouring around their pressure points, and combination sleepers can easily move around on the responsive latex.
Hot sleepers: Natural latex is a cooling material, and this mattress topper feels a bit cool to the touch, which hot sleepers can enjoy. You can also choose to upgrade to Brooklyn Bedding's luxury cooling cover at checkout for some extra cooling. This upgrade comes at an additional cost.
People seeking easy cleaning: This mattress topper comes with either an organic cotton cover or a luxury cooling cover. Both these covers come with a zipper, so you can easily remove the cover and wash it.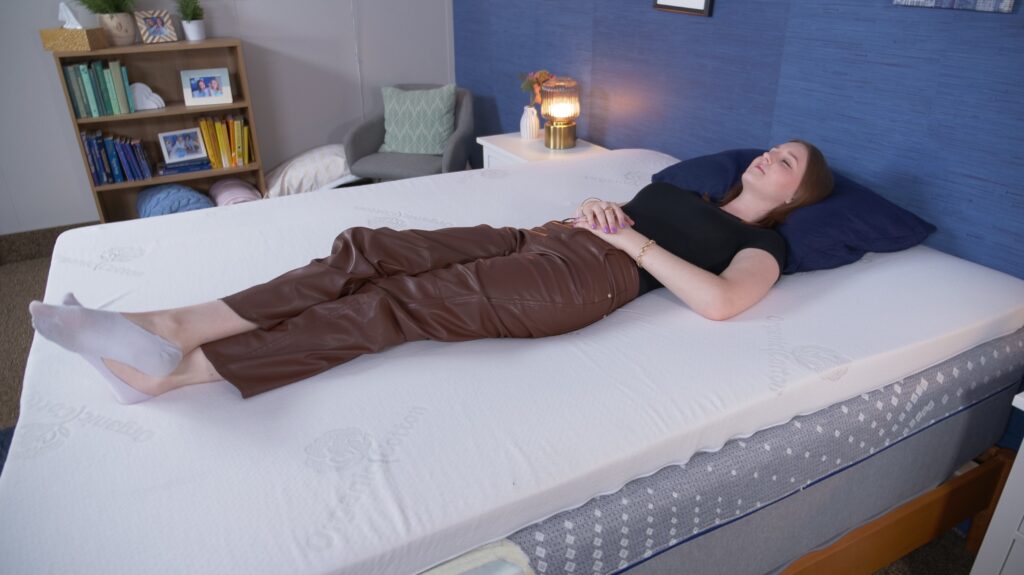 Who I don't recommend the Brooklyn Bedding Talalay Latex mattress topper for
Some stomach sleepers: I think this mattress topper may be a bit too soft for heavy weight stomach sleepers, who may find their hips sinking in too far, which can cause lower back pain. However, this topper is sold in three firmness levels, so the firmest option may be alright for some stomach sleepers.
People who shift around at night: This mattress topper does not come with straps to keep it attached to the mattress. If you move around a lot at night, you may find the mattress topper shifting with you.
Budget shoppers: With a current price of $449 for a queen size at full retail, this topper may be a bit too expensive for some shoppers. This topper is made from natural materials which can drive up the price. Be sure to click our coupons throughout this review to get the best deal.
What is the Brooklyn Bedding Talalay Latex Mattress Topper Made Of?
A mattress topper's construction directly affects the way it feels, so let's take a look at the materials used. This mattress topper has two layers: the cover and the latex fill.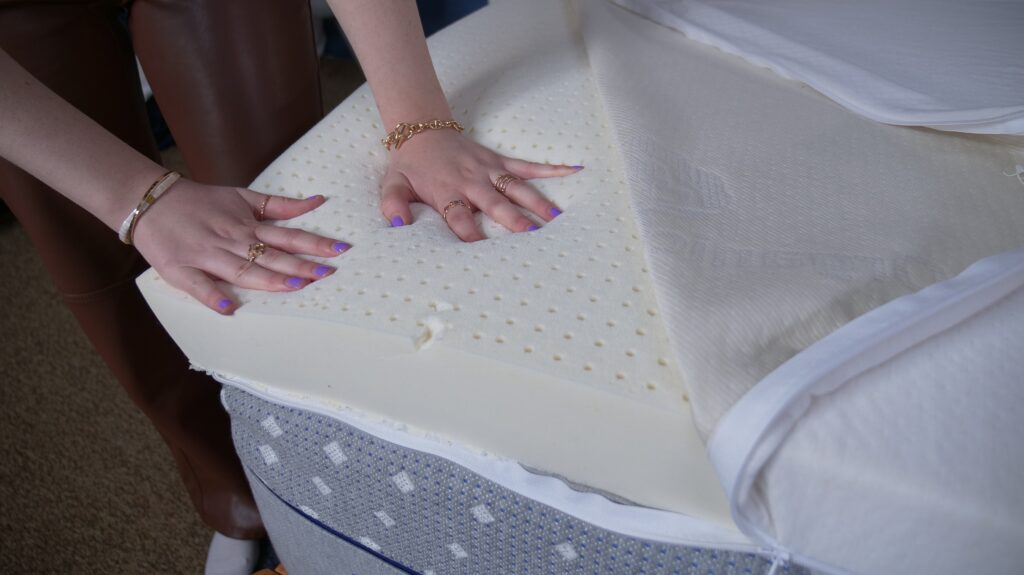 Cover: At checkout, you can choose from two types of covers. The organic cotton cover is soft and hypoallergenic, and the luxury cooling cover is smooth and breathable. I tested the version with the organic cotton cover. These covers are removable and machine washable.
Fill: Inside the cover, you'll find a 3-inch block of Talalay latex foam with an open-cell design to promote airflow.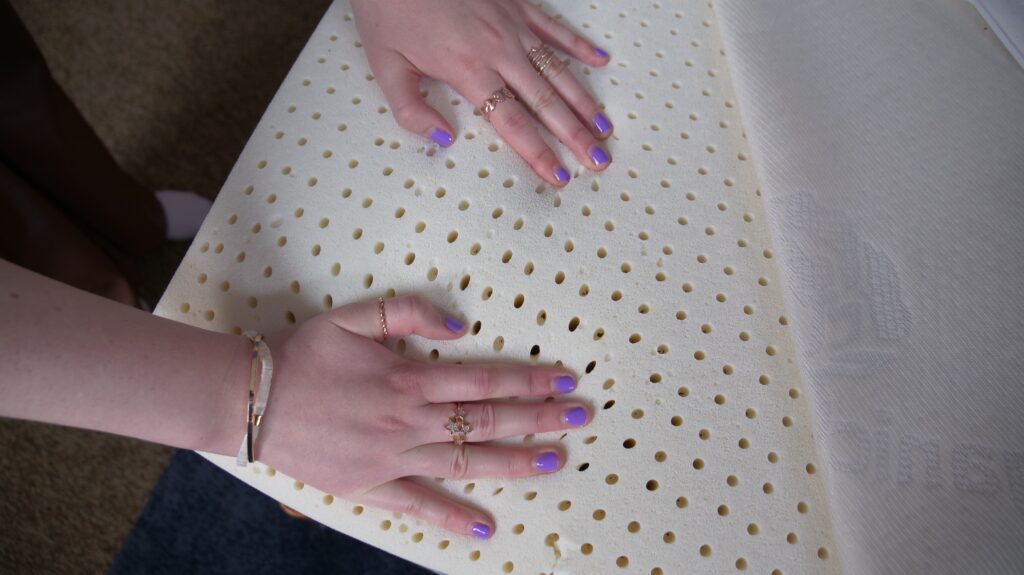 The Talalay latex is made from natural Talalay rubber extracted from a rubber tree. All the ingredients used during processing are natural and biodegradable. The organic latex is also certified OEKO-TEX Class 1 Safe.
For more latex mattress toppers, check out our best latex mattress toppers roundup!
How Does the Brooklyn Bedding Talalay Latex Mattress Topper Feel
I tested this mattress topper's feel by laying on it in multiple sleeping positions and rolling around on it to gauge responsiveness. Remember, feel is ultimately subjective, and what feels firm/soft to one sleeper may feel completely different to another sleeper based on their sleeping position and body type.
I tested this mattress topper in the medium option. It felt very bouncy, which is unsurprising considering latex is a very buoyant material. I also found a decent amount of sinkage and body contouring. It provided a nice balance between comfort and support. Depending on what mattress you intend to use it on, this mattress topper may feel a bit different.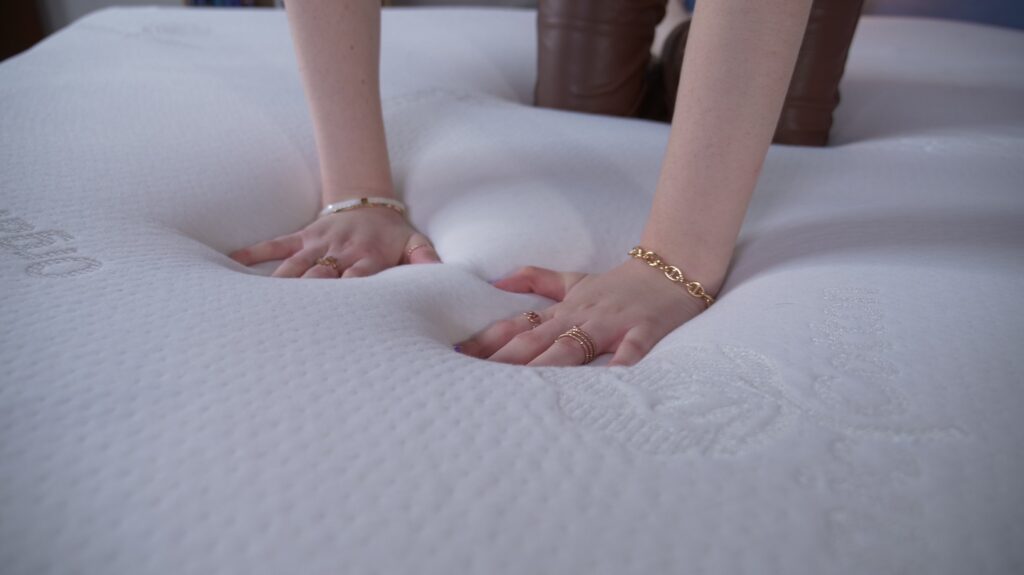 Soft: If you have a soft mattress, adding this topper will make it extremely soft. I wouldn't recommend adding this topper to a soft mattress because it may make your bed too doughy. I could see sleepers getting "stuck" in the bed due to too much sinkage. However, if you're a side sleeper with severe pain in your hips or shoulders, an ultra-soft sleeping surface like this could provide the pressure relief you need.
Medium-firm: On a medium-firm mattress, I think the Talalay natural latex mattress topper will add a bit of extra cushioning without compromising the stability of the mattress. This topper may bring the firmness level down a bit while still providing support.
Firm: If your current mattress is firm, adding this topper can bring it closer to a medium-firm feel. Firm mattresses are typically very supportive, and adding this mattress topper won't take that away. However, it will add a bit of plushness that can be a bit more comfortable for some sleepers.
Brooklyn Bedding Talalay Latex Mattress Topper Sizes and Prices
Most shoppers take price point into consideration before purchasing a new product, especially with bedding you'll use every night. Below is a pricing chart that lists each price by size.
Prices listed will be before discount or offer for each size. Note that choosing the luxury cooling cover is more expensive.
| | | |
| --- | --- | --- |
| Size | Price with Organic Cotton Cover | Price with Luxury Cooling Cover |
| Twin | $299 | $329 |
| Twin XL | $319 | $354 |
| Full | $419 | $459 |
| Queen | $449 | $499 |
| Queen Short | $449 | $499 |
| King | $499 | $579 |
| Cal King | $499 | $579 |
My Verdict on the Brooklyn Bedding Talalay Latex Mattress Topper
Overall, I really like this mattress topper. I appreciate how you can select the firmness that works best for you and best complements your mattress. I also love how you can choose a cooling cover, which I'm sure hot sleepers will appreciate. This mattress topper was a great happy-medium — it provides cushioning and contouring without taking away the support and stability of the mattress.
I think a variety of sleepers can enjoy this mattress topper. It's soft enough to be pressure-relieving for side and back sleepers while still promoting proper spinal alignment. The latex is also bouncy enough to make switching sleeping positions easy for combination sleepers. I also think heavy sleepers (those weighing over 250 pounds) will feel properly supported on this topper.
Although some stomach sleepers may find the soft and medium-firm options to be too soft, I think some stomach sleepers may like the extra firm option. Light to average weight stomach sleepers and stomach combination sleepers might find it firm enough. However, I can see strict stomach sleepers and heavy stomach sleepers not getting enough support.
My biggest complaint with this topper is the lack of straps. I could see this topper shifting throughout the night with nothing to secure it, which can be very annoying. However, you can head over to my guide on how to keep a mattress topper from sliding for some tips.
I also think this mattress topper may be a bit too expensive for some shoppers on a budget. However, the price is understandable considering the ingredients are organic and high-quality. This eco-friendly material tends to be a pricier material than memory foam, no matter the product or brand.
Brooklyn Bedding Talalay Latex Topper Brand Policies and FAQs
Does the Brooklyn Bedding Talalay Latex mattress topper come with a warranty?

Yes, Brooklyn Bedding offers a 3-year full replacement warranty on all mattress toppers.
Does the Brooklyn Bedding Talalay Latex Mattress Topper have a trial period?

Yes, this mattress topper can be returned for a full refund within 30 days of delivery.
Is the Brooklyn Bedding Talalay Latex mattress topper breathable?

Yes. The open-cell structure allows air to flow through the topper, which prevents heat from getting trapped. You can also pay extra at checkout for a luxury cooling cover, but the cotton cover also allows for easy airflow. Plus, latex maintains a naturally cool temperature, which further promotes cooling.
Is the Brooklyn Bedding Talalay Latex Mattress Topper easy to clean?

This topper has a removable and washable cover, which makes cleaning super easy. The latex filling should only be spot-cleaned.
Is a mattress topper the same as a mattress pad?

No, a mattress topper and a mattress pad are very different. A mattress topper is a layer of material, often foam, that adds additional cushioning to your mattress. A mattress pad is more of a barrier that protects the mattress from spills or normal wear and tear. For more information on these sleep products, read our full comparison.
Other Products from Brooklyn Bedding
Brooklyn Bedding has a variety of mattresses and sleep accessories, and we've tested and reviewed a ton of them. For more information about Brooklyn Bedding products, head over to our reviews:
Finally, here are my star ratings for the Brooklyn Bedding Talalay Latex mattress topper:
Materials

Comfort

Support

Value

Cooling

Trial Period

Warranty