Bamboo is a popular material across many industries, but especially in the world of bedding. If you've gotten on the bamboo bandwagon, you might be looking for the best bamboo pillow — and you're in luck, because we've rounded up some of our favorite bamboo pillows for you, along with some shopping tips and information on how to choose the best bamboo pillow for you.
Here at Sleepopolis, we have tested hundreds of different pillows, because we want to help you find the one that is just right for you. So let's get into it!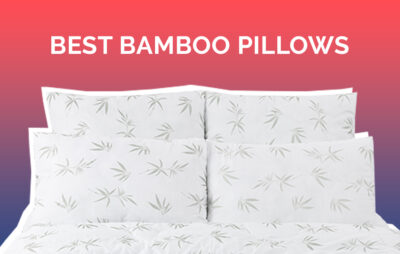 Best Bamboo Pillows
Nolah Squishy Pillow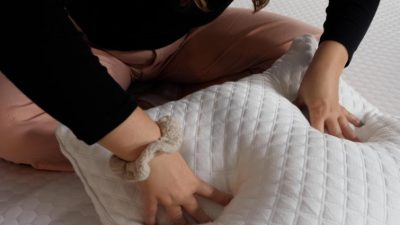 The Nolah Squishy pillow definitely lives up to its squishy name! It's squishy, but the shredded foam fill is very elevating and supportive—making it an especially great pillow for side sleepers, who need to keep their head and neck in alignment.
Sleepopolis Score
4.50 / 5
Read Full Review
The Nolah Squishy pillow is made with a dual-chamber design — it has an inner chamber filled with shredded foam, covered by an outer layer of polyurethane foam pads that give the pillow an extra squish. Surrounding these chambers is a cover made from bamboo-polyester blend.
The bamboo-blend cover gives the Squishy a cooling effect, as bamboo is an excellent fabric for temperature regulation. Additionally, the shredded fill allows for airflow within the pillow, making this a solid choice for hot sleepers.
The Nolah Squishy feels fairly firm and has a high loft — making it a good choice for side sleepers. However, the fill can be removed to adjust the loft, so you can lower it to your desired height.
Read our Nolah Squishy pillow review to learn more.
Price: $198 for a two-pack of queen pillows.
Perfect For: Side sleepers, back sleepers, folks who want an adjustable pillow, and hot sleepers.
Best for Combination Sleepers: Puffy Pillow
Puffy Pillow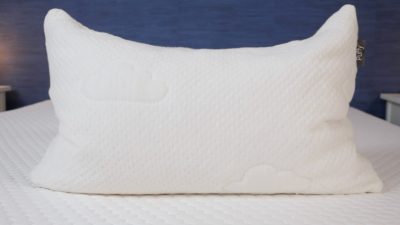 The Puffy Pillow is a great choice for sleepers looking for a pillow with customizable comfort, targeted support, and allergy-friendly properties.
Sleepopolis Score
4.90 / 5
Read Full Review
The Puffy pillow is filled with shredded memory foam and features a bamboo-polyester blend cover. This versatile pillow can work for every sleeping position, thanks to its adjustable loft and compacted feel from the foam. It's super supportive, but still offers some softness and pressure relief. Combination sleepers should be happy on this pillow, as they can adjust it to suit their preferences and easily sleep comfortably in multiple positions.
The bamboo-blend cover also offers a cooling touch, along with the breathability of the shredded foam fill. Another thing that's cool about this pillow is it comes in two colors: white or gray!
Read our Puffy pillow review to learn more.
Price: $120 for a standard size pillow.
Perfect For: Back, side, or stomach sleepers, hot sleepers, and those looking for an adjustable pillow.
Cozy Earth Silk Pillow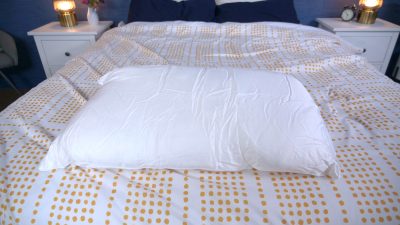 Made with 100 percent silk for the filling, this pillow will provide combination sleepers with a soft, luxurious feel.
Sleepopolis Score
4.90 / 5
Read Full Review
The Cozy Earth Silk pillow is filled with 100 percent mulberry silk, encased in a bamboo viscose cover. Between the silk and the bamboo cover, this pillow is a fantastic choice for hot sleepers. It's also hypoallergenic, making it a good option for sleepers with allergies.
What makes this pillow so great for stomach sleepers, though, is its soft and compressive feel combined with a low loft. Stomach sleepers tend to need a pillow that won't cause their neck to crane upwards, so an ultra-soft one like the Cozy Earth Silk pillow works fantastically to maintain spinal alignment.
Read our Cozy Earth Silk pillow review to learn more.
Price: $279 for a standard size pillow.
Perfect For: Stomach sleepers, hot sleepers, those who love a soft pillow, and luxury shoppers.
Coop Eden Pillow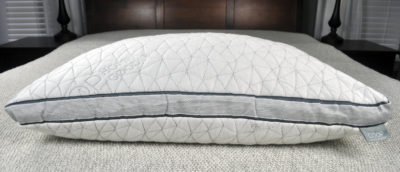 With cooling Lulltra fabric and shredded gel-infused memory foam fill, this down alternative pillow from Coop Sleep Goods is great for hot sleepers, side sleepers, and back sleepers.
Sleepopolis Score
4.60 / 5
Read Full Review
The Eden pillow from Coop Home Goods is filled with a blend of cross-cut gel-infused memory foam fill and microfiber fill. Its cover is a blend of polyester and bamboo viscose — Coop's proprietary Lulltra fabric. The fill can be removed to adjust the loft of the pillow and Coop even sends extra fill you can add into the pillow if you want it to be taller!
The gel-infused foam and bamboo-blend cover make the Eden a good option for hot sleepers, while its medium firmness and adjustable loft make it ideal for back sleepers. It will provide enough support to keep their necks in line with their spines without causing their necks to crane upwards. Plus, the pillow is hypoallergenic and machine washable — a bonus for sleepers with allergies.
Read our Coop Home Goods Eden pillow review to learn more.
Price: $96 for a queen size pillow.
Perfect For: Back sleepers, side sleepers, hot sleepers, and sleepers with allergies.
Lagoon Lemur Pillow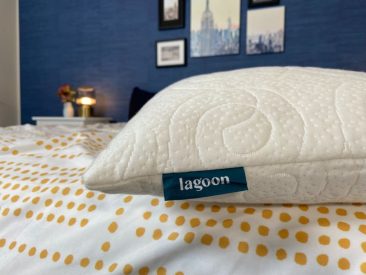 The Lemur from Lagoon is filled with a mix of bamboo fibers and recycled down-alternative fill. It offers a soft feel and a low loft, making it ideal for stomach sleepers.

Read Full Review
The Lagoon Lemur differs from the other pillows on this list because it features not only a bamboo cover, but bamboo fill. Its cover is a polyester-bamboo blend and the fill is 50 percent bamboo fibers and 50 percent recycled down-alternative fill.
The Lemur has a soft feel and a lower loft that can work well for both back and stomach sleepers — it could be a good pick for back/stomach combo sleepers! It also sleeps fairly cool, so hot sleepers should be happy with this bamboo pillow, too.
Read our Lagoon pillows review to learn more about the Lemur pillow.
Price: $89.99 for a queen size pillow.
Perfect For: Stomach sleepers, back sleepers, and shoppers looking for a pillow filled and covered with bamboo.
What Is A Bamboo Pillow?
There is no set definition of a "bamboo pillow" because bamboo can be used in a variety of ways in pillow construction. It can be used in the fill, the cover, or both. However, the most common type of bamboo pillow seems to be pillows with a bamboo viscose (or bamboo viscose-blend) cover.
Bamboo viscose is a type of semi-synthetic fabric. It is made from bamboo wood, which through either mechanical or chemical treatment is broken down into pulp to extract fibers and spin them into fabric. In addition to use for pillows, it's a popular material for sheets.
How To Choose A Bamboo Pillow
There are a variety of factors to consider when shopping for any pillow, including a bamboo pillow.
Sleeping Position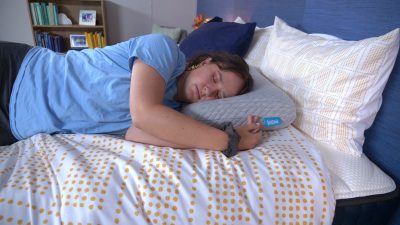 The most important factor to consider when pillow shopping is your primary sleeping position. Each sleeping position will be best supported by a different type of pillow.
Side Sleeping:

For side sleepers, we recommend a high loft and firm pillow.

Stomach Sleeping:

For stomach sleepers, we recommend a low loft and soft pillow.

Back Sleeping:

For back sleepers, we recommend a pillow with a medium firmness and medium loft.
These recommendations are based on maintaining proper spinal alignment in each position, as your neck is placed differently in each one. There is some variation, based on body size and personal preferences, but these recommendations are a good rule of thumb to start from.
Loft
As mentioned above, different pillow lofts work best for different sleeping positions. We rate pillows as either low, medium, or high loft. Low is generally two to three inches, medium is four to five inches, and high is over five inches.
A higher loft pillow will fill a larger space between your neck and the mattress, such as when you are side sleeping. A lower loft pillow, which isn't very tall, works better when your neck is already close to the mattress, such as when you are stomach sleeping.
There can be some variation in what loft is best for different people, depending on preference and body size. For example, what feels "high" to a smaller person might feel more like a "medium" loft to a larger person, since their bodies are different sizes.
Firmness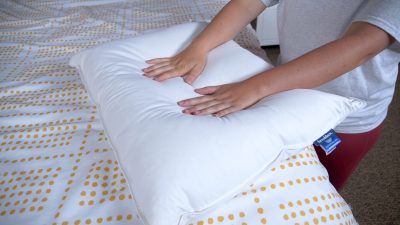 Firmness is the other half of the equation when choosing the best pillow for your sleeping position. We generally rate pillows as either soft, medium, or firm. A firmer pillow provides more support, while a softer pillow tends to provide less. This is why a firm pillow is helpful for side sleepers — they need more neck support since it is lifted high off the mattress. And vice versa for stomach sleepers — they could even get away sleeping without a pillow at all since their necks are so close to the bed.
Materials
Even if you are confident you want a "bamboo pillow," it's still important to look at all the materials used in a pillow's construction. This will give you an idea of how the pillow will feel, its durability, and whether it is hypoallergenic, cooling, etc.
Many bamboo pillows have bamboo covers, although many are blends of bamboo and another fabric, such as polyester. Some have bamboo fiber fill, although that is less common. The majority of bamboo pillows will be filled with another material, such as memory foam or down-alternative fill.
Cooling
One great property of bamboo is it is great for regulating temperature and wicking moisture — both pros for hot sleepers! Bamboo is commonly used to make bedding products more cooling, so if you are looking for a cooling pillow, bamboo is a good sign.
Care Instructions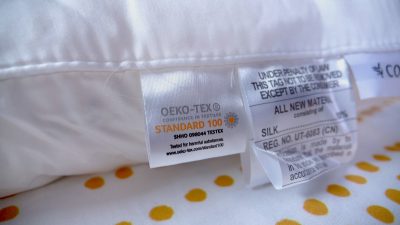 If you are purchasing a new pillow, it's a good idea to see what the recommended care instructions are before purchasing. Some pillows are entirely machine washable, some feature washable covers, and some are spot clean only. It's helpful to know up front if the pillow's required care matches well with your expectations and lifestyle.
Price
Of course, price is always an important factor. Bamboo pillows are not often extremely expensive, but they might be more expensive than pillows using less specialized materials, like polyester. The price can also be affected by other materials used in the pillow, such as the foam fill.
FAQs About Bamboo Pillows
What are the best bamboo pillows to buy?
It depends on your specific sleep needs and preferences. There is no one-size-fits-all pillow, but hopefully one of our bamboo pillow recommendations from this article will work well for you!
Are bamboo pillows better?
For some people, yes. Bamboo is a great material for cooling, as it regulates temperature and wicks moisture well. Hot sleepers may find bamboo beneficial compared to other materials.
How long should a bamboo pillow last?
Like other pillows, you can expect a bamboo pillow to last at least two years.
Are all bamboo pillows the same?
No, there is quite a lot of variation among bamboo pillows. Many of them utilize the material in different ways, so read closely through the materials to understand which components of the pillow are bamboo.
Is it okay to wash a bamboo pillow?
It depends on the pillow. Check the recommended care instructions from the manufacturer to see whether the pillow can be machine washed.
Final Thoughts
Hopefully if you've made it all the way to the end of this page, you have learned something helpful about bamboo pillows and maybe even decided to buy yourself a new pillow. If you didn't see anything on this page that was a good option for you, check out our best pillows page for even more options. Happy sleeping!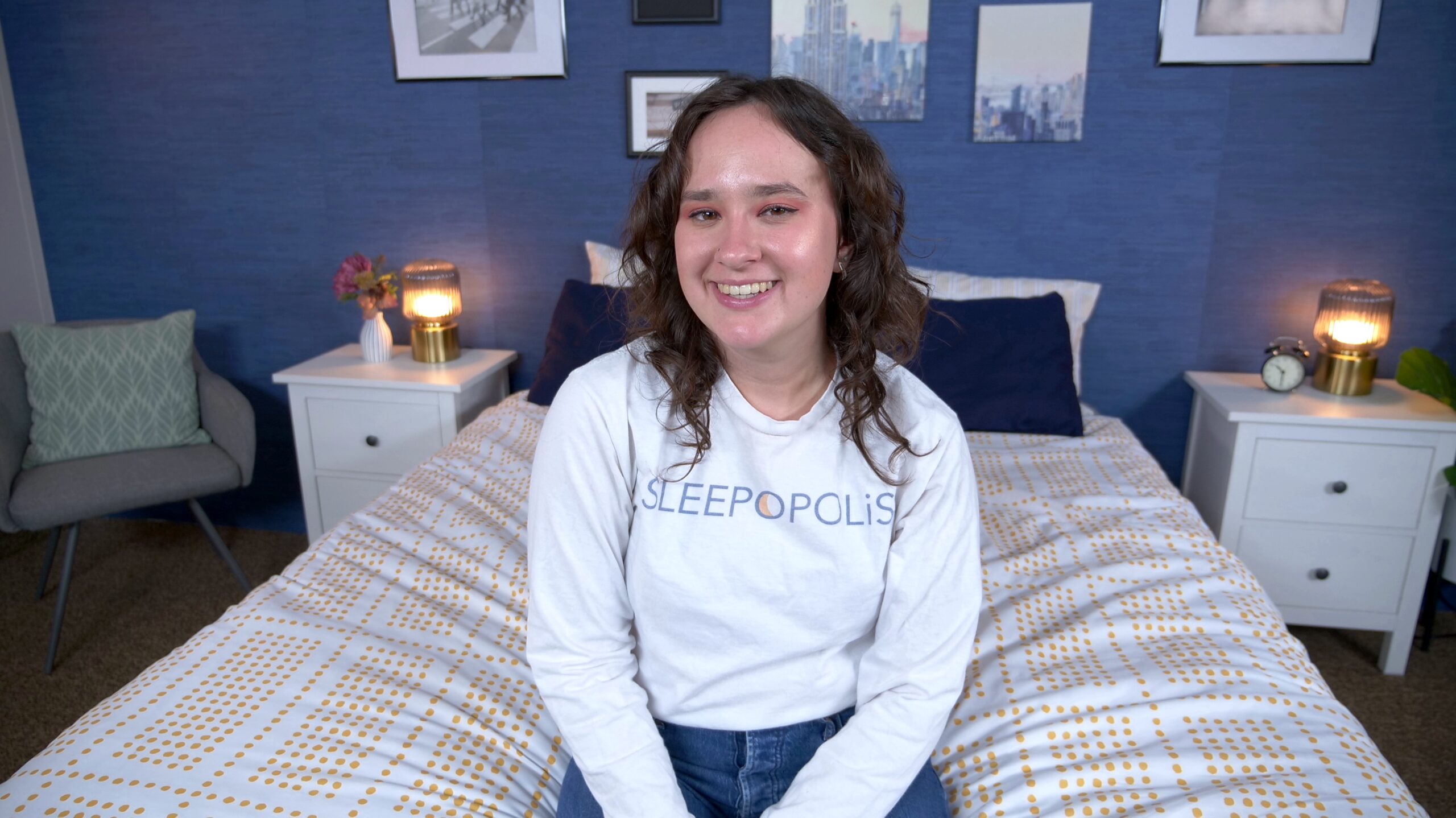 Amelia Jerden
Amelia is a Senior Staff Writer for Sleepopolis. She primarily covers bedding and sleep accessory products in reviews, how-to guides, and more. You can also find her over on the Sleepopolis YouTube channel. Amelia is a graduate of the University of North Carolina at Chapel Hill, with double majors in media and journalism and in dramatic art. Outside of work, Amelia can usually be found on a hike, traveling to a new city, or at her local thrift store.