If you're in the market for an innerspring mattress, chances are you've come across the names Saatva and WinkBeds. Two of the most popular coil options on the Internet, these springy beauties share a lot of similarities, but also some striking differences you're not likely to pick up on simply by flipping back and forth between their respective websites.
So, to make it easier to spot all these important contrasts, I've decided to compare these mattresses side-by-side! Together, we'll explore each bed's unique features and then see how they size up against one another. By the end of this comparison, you'll not only know each mattress from the inside out, but you'll also know which one is going to be 100% the right one for you. Let's jump and compare the WinkBeds vs. Saatva mattress.
$300 Off!

WinkBeds Mattress

Solid innerspring build with great bounce
Sleeps cool

$200 Off!

Saatva Mattress

Traditional innerspring build
Great support and bounce
Saatva and WinkBed Similarities
To kick things off, let's go ahead and get the similarities out of the way. While we'll mostly be focusing on differences throughout this comparison, I think it's important to first see if there are any characteristics these two mattresses share.
Bounce – As both the Saatva and WinkBeds are use a ton of coils, they're both incredibly bouncy. No matter the bed you end up choosing, you'll likely enjoy a noticeably buoyant lift from their respective coil-on-coil designs.
Support – In addition to the tremendous bounce, these beds also happen to offer strong support, which isn't too surprising when you consider just how sturdy coils are (read: quite).
Multiple Options – And finally, both the Saatva and WinkBeds are available in three different firmness levels, allowing sleepers to really hone in on the feel that's going to be right for them. For the purpose of this comparison, I'll be trying out each brand's medium firm option.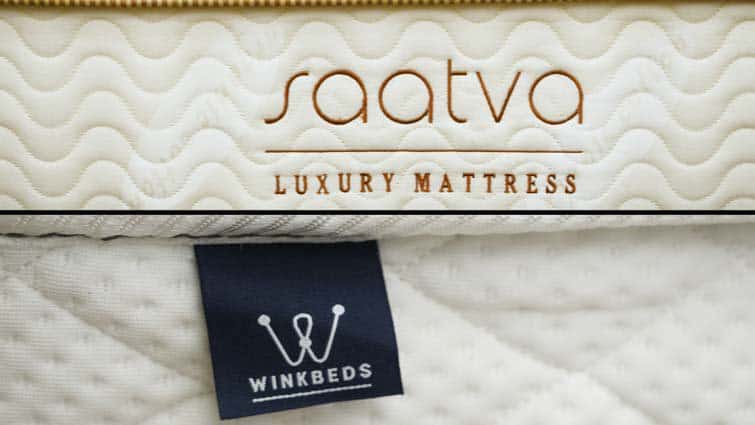 Materials
Now that we've got the similarities covered, let's dig into what sets these beds apart from one another, beginning with a thorough analysis of their unique constructions. I'd also encourage you to check out my full Saatva Mattress Review and WinkBeds Mattress Reviews for more information.
Saatva
Cover – Made from 100% cotton, the Saatva cover is soft and breathable. It's also quilted with a bit of foam, providing sleepers with some immediate comfort and relief.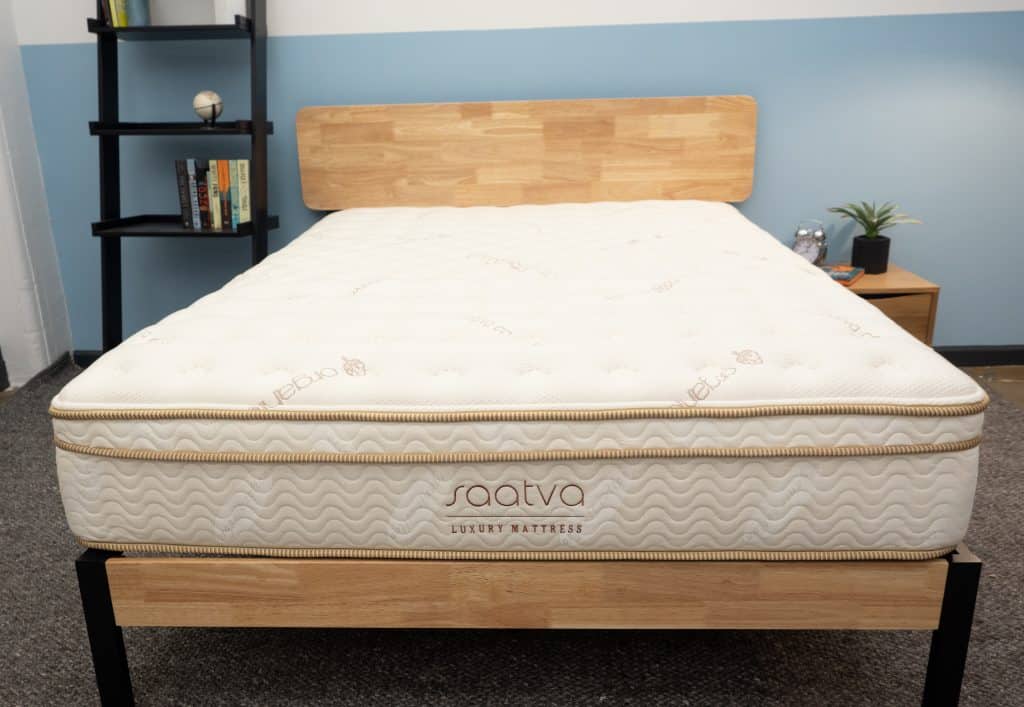 Pillow Top – Overlaid by a thin layer of gentle memory foam, the pillow top section of the Saatva is comprised almost entirely of individually wrapped coils. This layer brings some great bounce to the bed, and helps to position the sleeper more on top of the mattress than in it. Since these coils are individually wrapped, they're also going to work to isolate motion and encourage airflow throughout the structure.
Support – Below the pillow top, you'll find the main support system of the mattress, built with a layer of steel coils and foam edge support (which could make it a better option for couples than the WinkBeds). The coils here work to double down on the bounce of the pillow top springs, producing an even more powerful lift.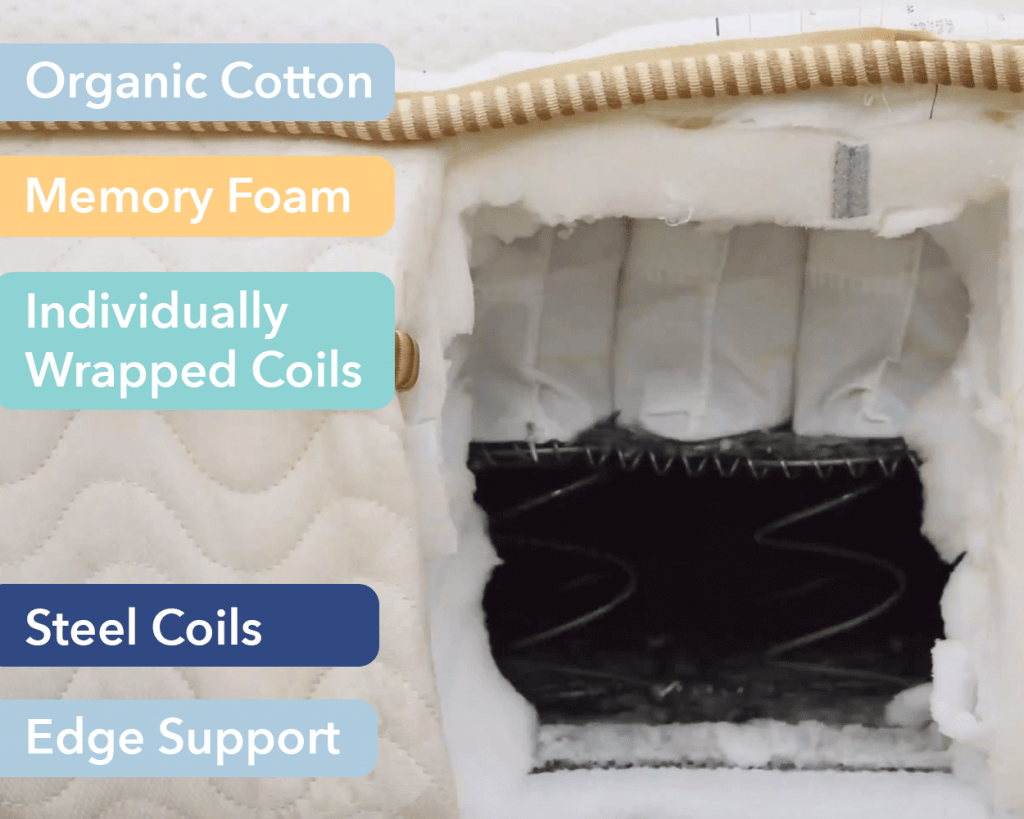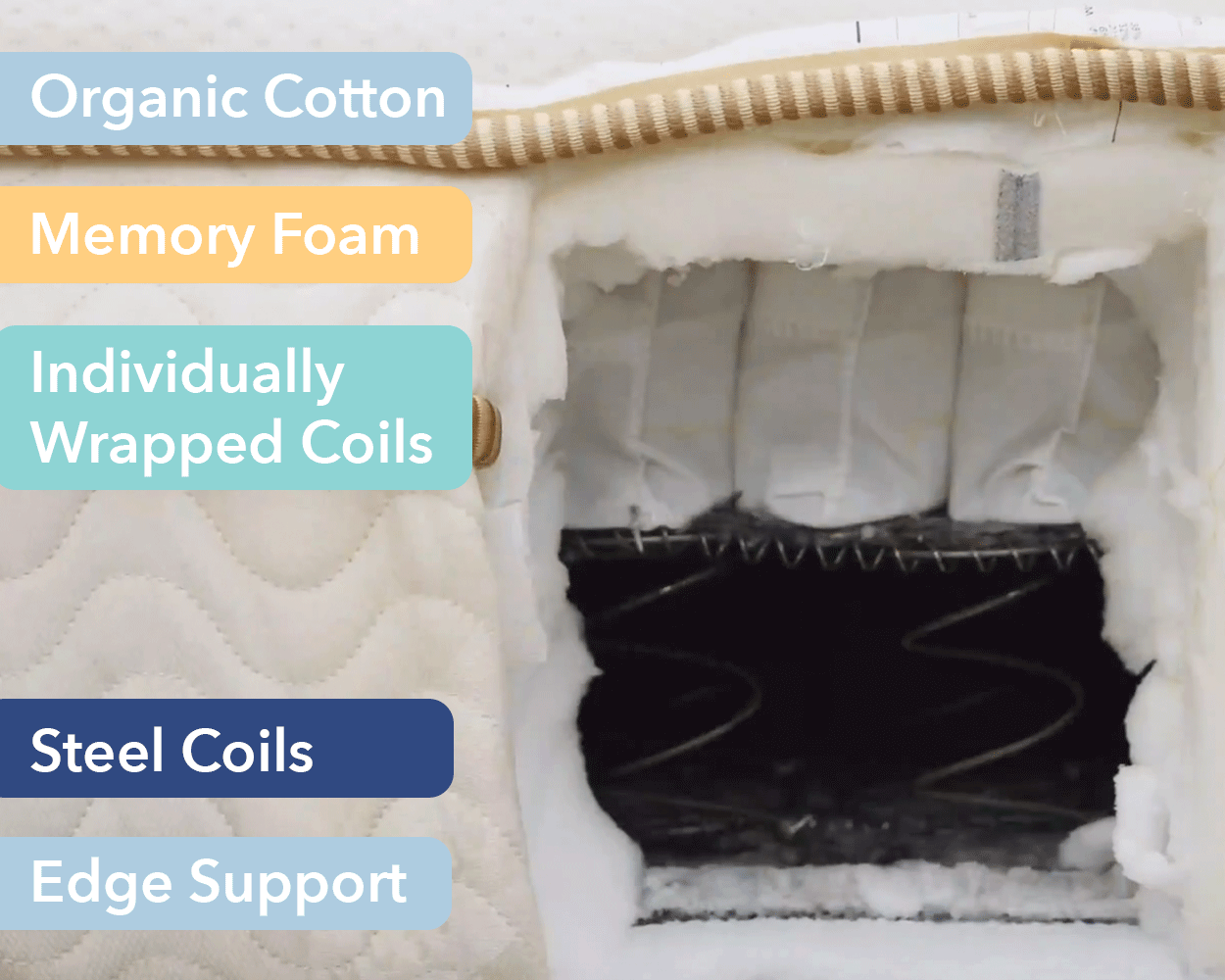 WinkBeds
Cover – The cover is made of Tencel, an eco-friendly material made from eucalyptus wood cellulose that's light and breathable. Quilted detailing also provides pressure relief and a bit of soft sinkage right off the bat.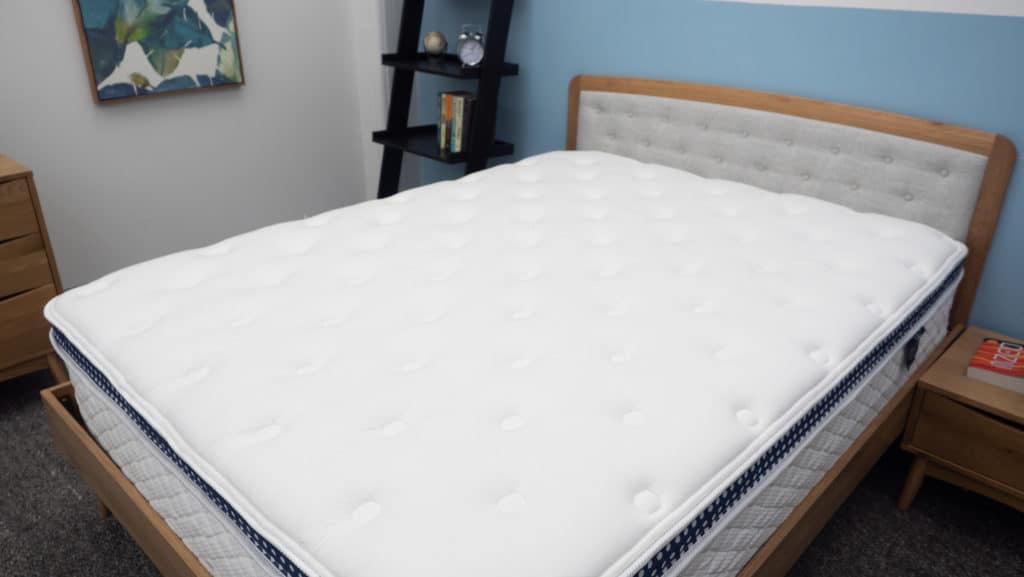 Pillow Top – Comprised of gel-infused foam, this comfort layer is smooth and luxurious to the touch, but retains a fair amount of firmness and support. While regular foam has a tendency to overheat, the gel in this foam layer keeps things cool by lowering the temperature of trapped body heat.
Support – This bed's bouncy support layer consists of soft-but-sturdy microcoils, giving the mattress a pleasant combination of softness and support. Microcoils are made from thinner and more flexible wire than, say, pocketed coils, and they provide more pressure relief. This microcoil support layer helps the sleeper avoid that pesky feeling of being "stuck" in bed or sinking too far into the mattress.
Foundation – Lastly we come to the foundation or base layer, composed of a whopping 8" of pocketed coils. These pocketed coils are zoned into seven sections that provide different firmness and pressure relief at different contact points along the body as you sleep. Essentially, you're getting more sinkage at the shoulders and hips, but more support and firmness to cradle your spine and lower body.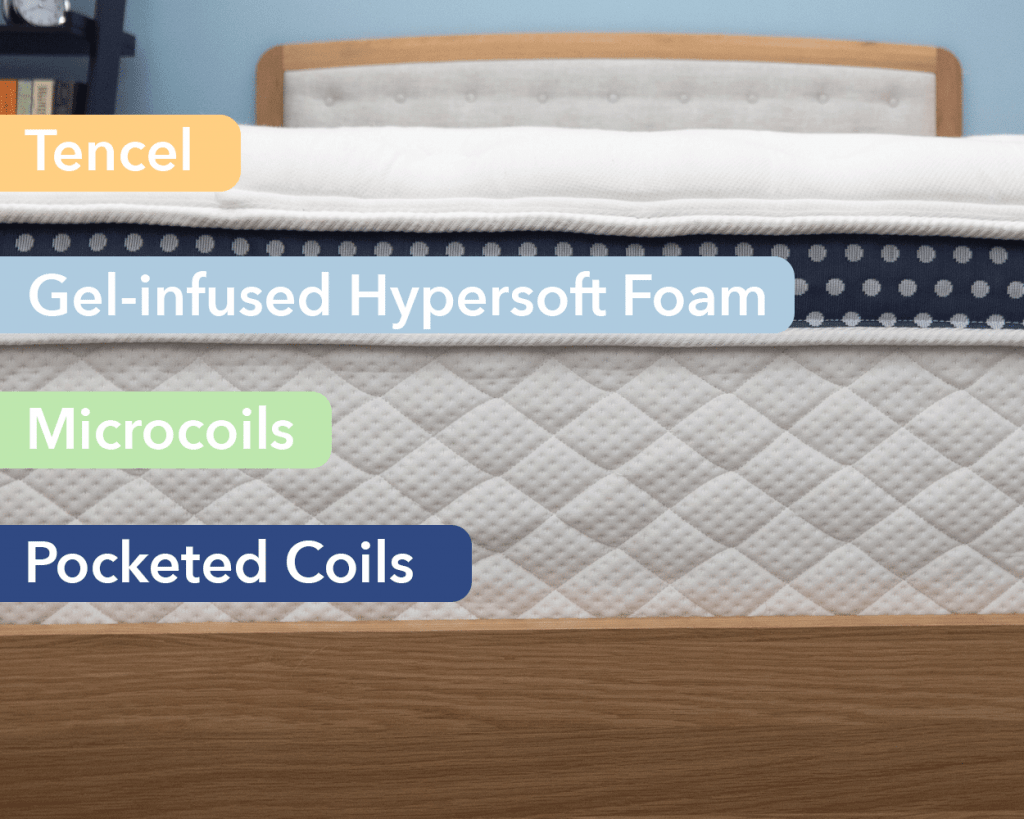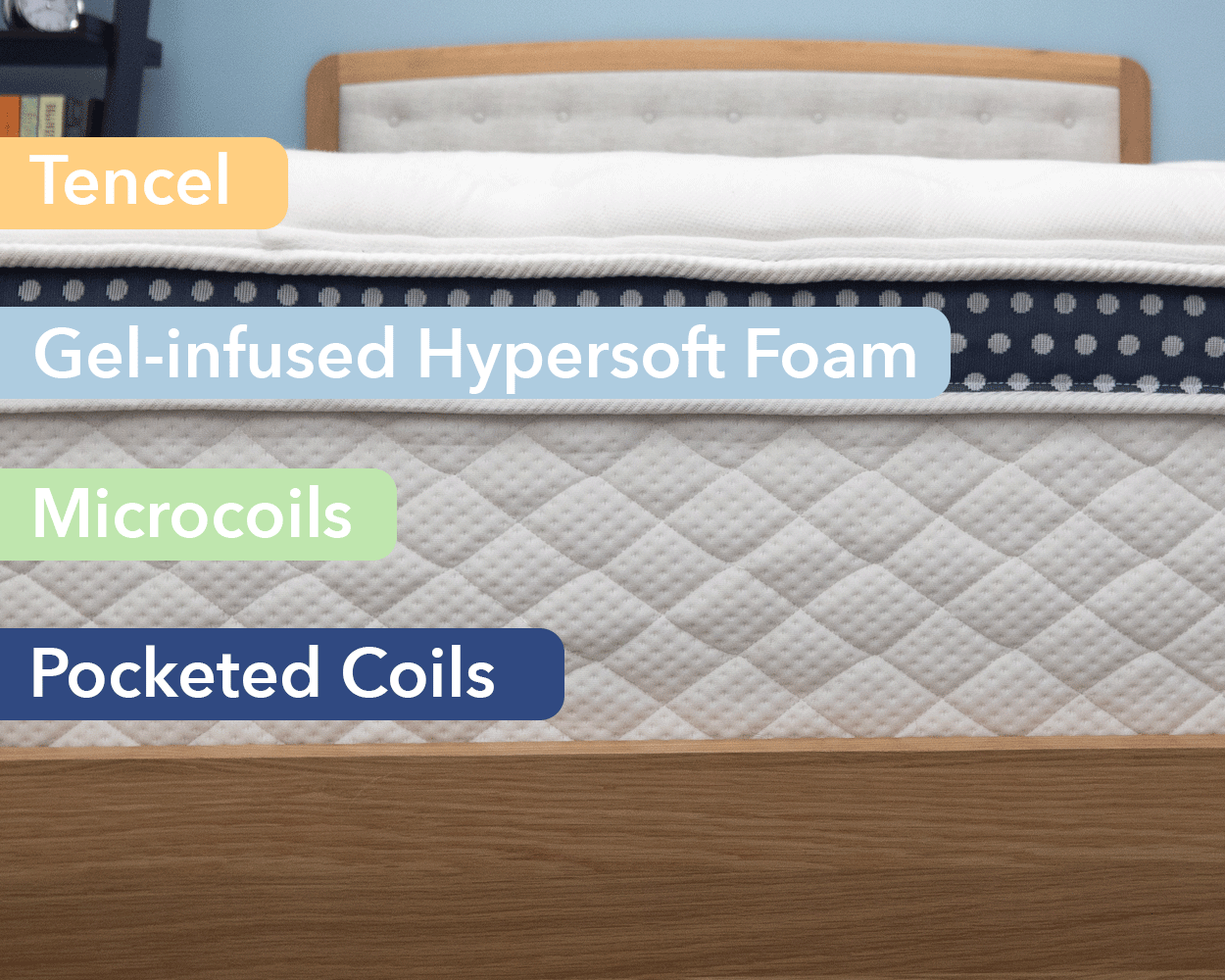 Saatva vs. WinkBeds
At first glance, these constructions might seem nearly identical, but if we probe just a little deeper, there's actually quite a large difference that jumps out.
Though you likely caught that both beds feature coil-on-coil constructions, did you notice the change in the second coil layer? Don't worry if you didn't, it's subtle, but important! The Saatva employs a steel coil support layer while the WinkBeds utilizes a zoned pocketed coil system. What this means is that the former is going to give you uniform support across your body while the latter is going to support different parts of your body in different ways (softer support at the shoulders, extra firmness at the hips).
While this may not add up to much in the long run, I have a hunch that this differentiated support in the WinkBeds will endear it to a wider range of sleepers than the Saatva. If you're a side sleeper, for example, you're likely going to experience more pressure relief on a zoned support system than one that's the same across the entire body.
To see if this hypothesis has legs, let's run some tests!
$300 Off!

WinkBeds Mattress

Solid innerspring build with great bounce
Sleeps cool

$200 Off!

Saatva Mattress

Traditional innerspring build
Great support and bounce
Firmness and Feel
The following sections are going to give us a better sense of how the Saatva and WinkBeds mattresses feel. Since feel is such a subjective thing, I'm going to tackle it with a special combo of personal experience, outside input, and objective tests to paint a true 360° picture of each bed's unique vibe.
First, firmness. Since everyone feels the firmness of a mattress differently (because of size and weight distribution), I decided to bring in three more testers to try out each of these beds. Below is the graph showing the average firmness rating for each of the mattresses.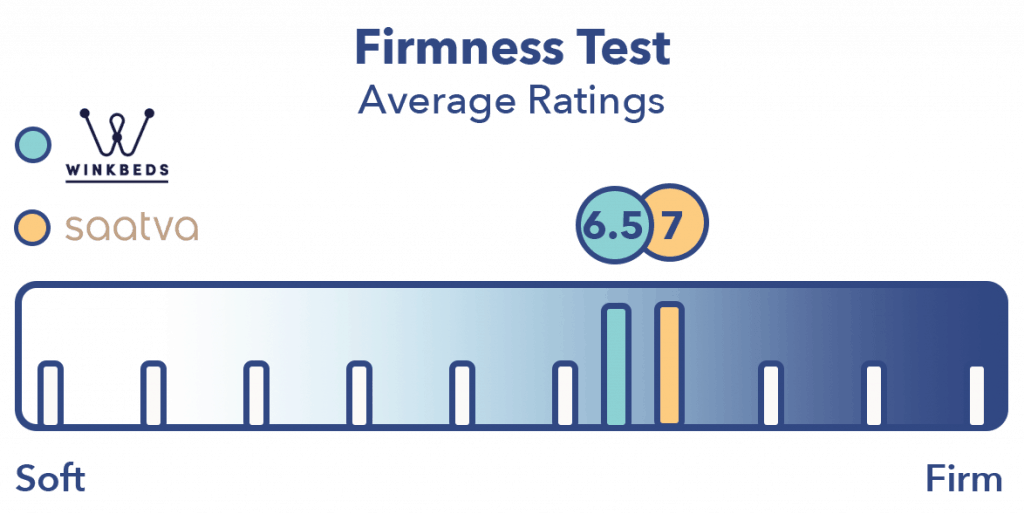 How Firm is a Saatva?
We were all pretty much in agreement about the firmness of the Saatva, landing on an average rating of 6.75. When compared to the industry standard of 6.5 for medium firmness, it seems this bed is just a touch above medium firm.
I personally gave the mattress a 7 as I found its coil-on-coil construction created a firm feel. While you'll likely get a little bit of give with the quilted cover and memory foam comfort layer, most of the bed is made up of the coil system, which results in an overall bouncy and taut vibe. Though combo sleepers will love all this fantastic mobility, strict side sleepers may not respond as well to it.
Also keep in mind, we're only talking about the Luxury Firm Saatva here. The brand's also got the Plush Soft version (3-5 on the firmness scale, allows for more sinkage and pressure relief) and Firm (about an 8 on the firmness scale, provides better support at the hips).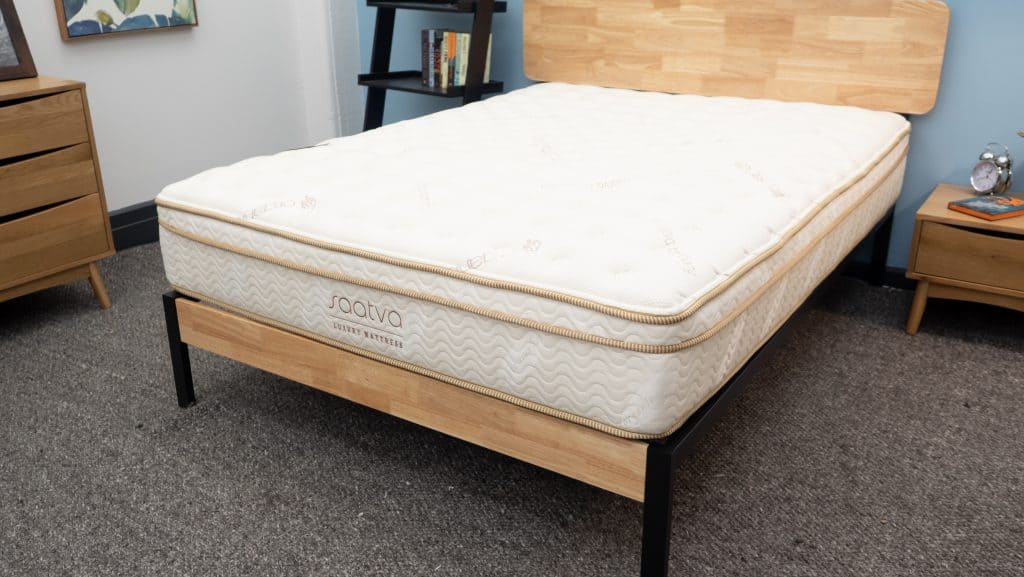 How Firm is a WinkBed?
As you can see from the graph above, this medium firm mattress is aptly named, falling just on the higher end of the medium firm range with an average rating of 7. Compared to the industry standard of 6.5 for medium firmness, this bed is a tad on the firmer side and synced almost perfectly with the Saatva.
I personally rated the bed a 7 as as I found the cushion of its top layers to be relatively thin compared to the dense coil-on-coil layers below. While the Tencel cover and Euro-pillow top foam do lend the bed some initial sinkage and softness, the bounce from the coils will likely make it feel as though you're sleeping more "on" the mattress than "in" it.
That being said, I think the cushiony resistance of the microcoils combined with the light, airy bounce of the top cover could make this an excellent choice for combo and stomach sleepers, or anyone who needs to change positions frequently throughout the night. On the flip side, side sleepers may find the bed too firm for their specific needs (i.e. pressure relief at the shoulders and hips).
However, I would say that I did find it to be a bit more comfortable on my side than the Saatva was. While the impact of the Zoned Support system is subtle, I do think it actually makes a difference in how supported the sleeper is going to feel. I wouldn't say that either one of these beds is going to be great for strict any-kind-of sleepers; that being said, the WinkBeds does have  a slight advantage over the Saatva in this department.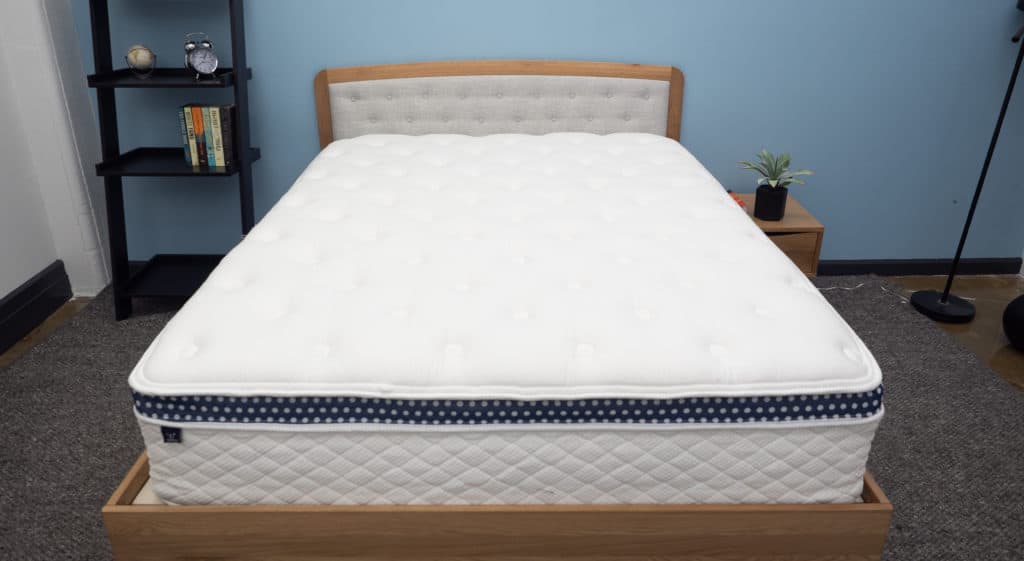 Other Models
Before we continue on our feel journey, I want to take a moment to chat about some of the other beds Saatva and WinkBeds sell. We've been focusing exclusively on each brand's original mattress, but both feature other exciting beds in their respective collections.
Zenhaven
Zenhaven is an all-natural latex model from Saatva, featuring fantastic bounce and cooling.
It's also flippable, so sleepers can switch between two different firmnesses depending on their moods or unique preferences.
As far as price is concerned, it's definitely more expensive than the Saatva, coming in at $1,899 for a Queen as opposed to the Saatva's price tag of $1,099.
For more information, check out my full Zenhaven review.
Loom & Leaf
The Loom & Leaf is also made by Saatva, but it's an all-foam mattress featuring a ton of pressure-relieving memory foam.
In this vein, the bed offers some great body-contouring and sinkage, making it an excellent option for side sleepers.
Costwise, it's also slightly more expensive than the Saatva, costing $1,299 for a Queen.
For more, check out my full review of the Loom & Leaf mattress. You can also take a peek at my comparison of all the Saatva beds, including the latex Zenhaven.
WinkBeds Plus
The Plus is very similar to the original WinkBeds mattress, but is designed specifically with heavier sleepers in mind.
To that end, it's built with even more durable support to keep sleepers of all sizes positioned squarely on top of the structure.
Pricewise, the WinkBeds Plus is only a little more expensive than the original, coming it at $1,799 for a queen as opposed to $1,599.
Wanna learn more? Take a peek at my full WinkBeds Plus review.
$300 Off!

WinkBeds Mattress

Solid innerspring build with great bounce
Sleeps cool

$200 Off!

Saatva Mattress

Traditional innerspring build
Great support and bounce
Sinkage and Bounce
Now that we've got that all sorted, let's turn back to feel by assessing each bed's sinkage, or the amount you're likely to sink into the bed while lying on top of it.
To visualize this, I've placed balls of different sizes and weights (a 6 lb medicine ball, a 10 lb steel ball, a 50 lb medicine ball and a 100 lb medicine ball) on the surface of each mattress and measured how far into the structure they sank.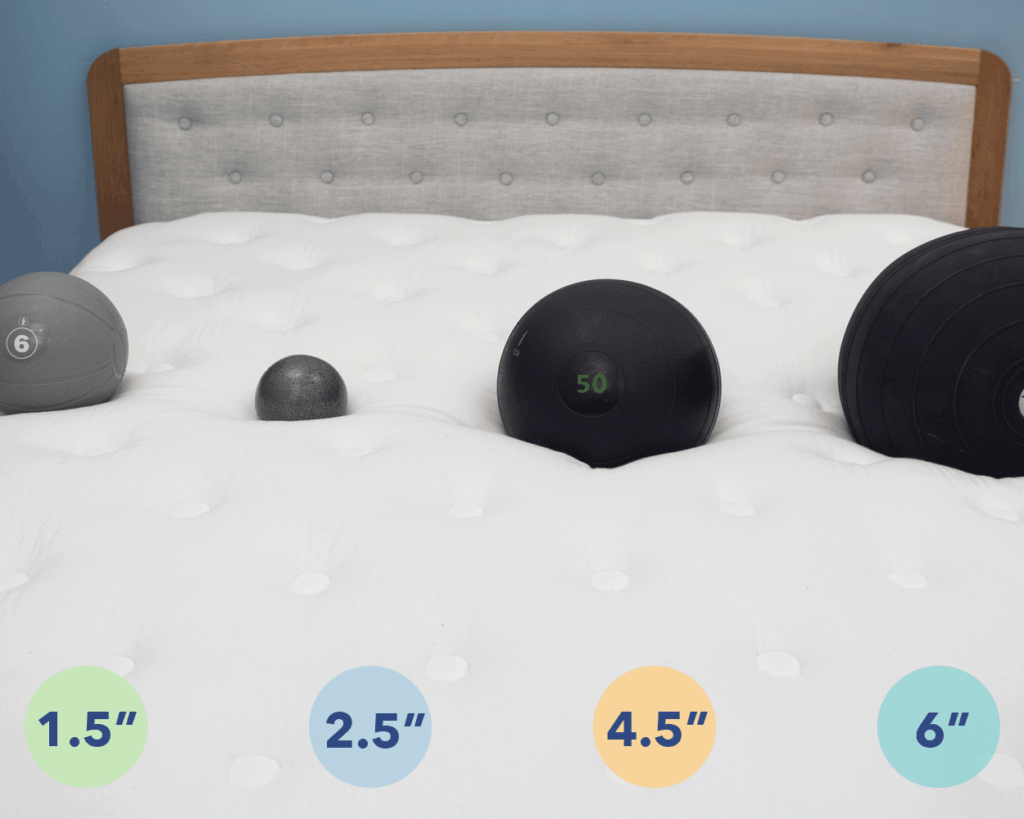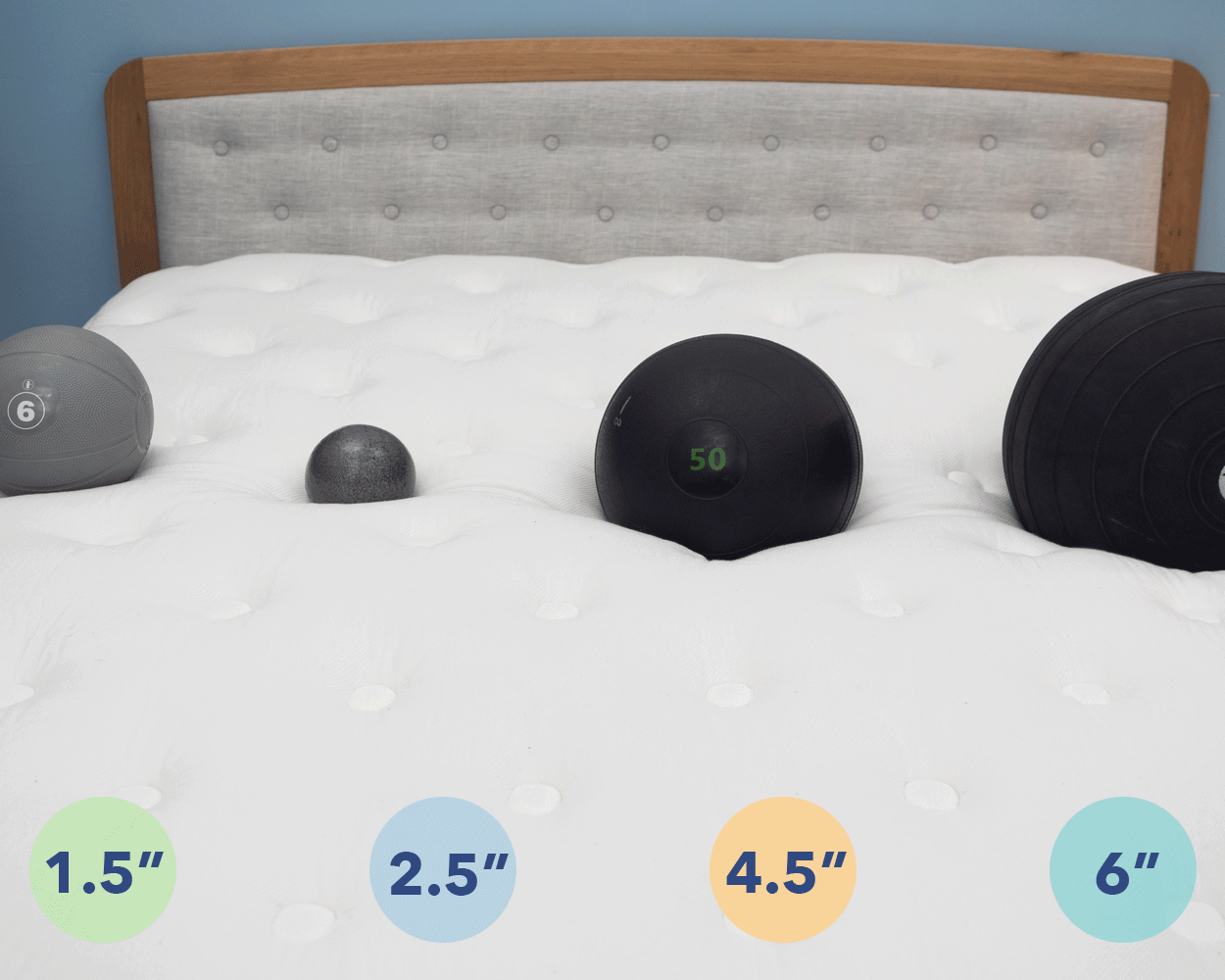 Unsurprisingly, these beds have the exact same amount of sinkage, which tells me you're likely to feel more "on top" of these mattresses than "in" them. I say I'm unsurprised by these results because everything we've discovered in this comparison has been leading us toward this conclusion, namely that these ultra-supportive and bouncy beds are designed to lift you up and out of the structure.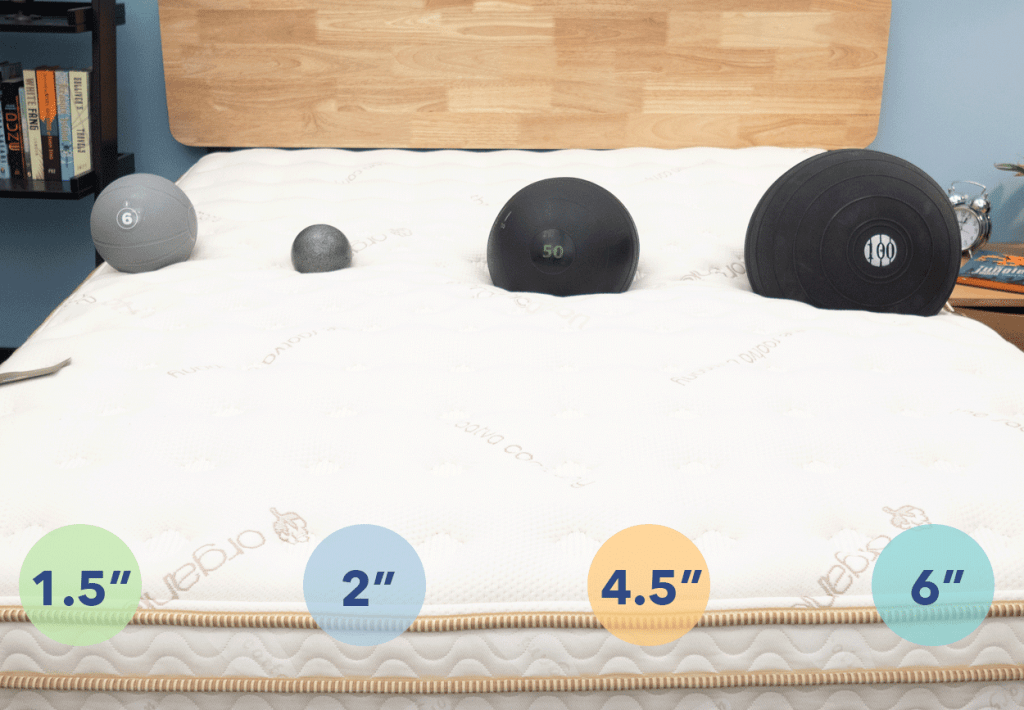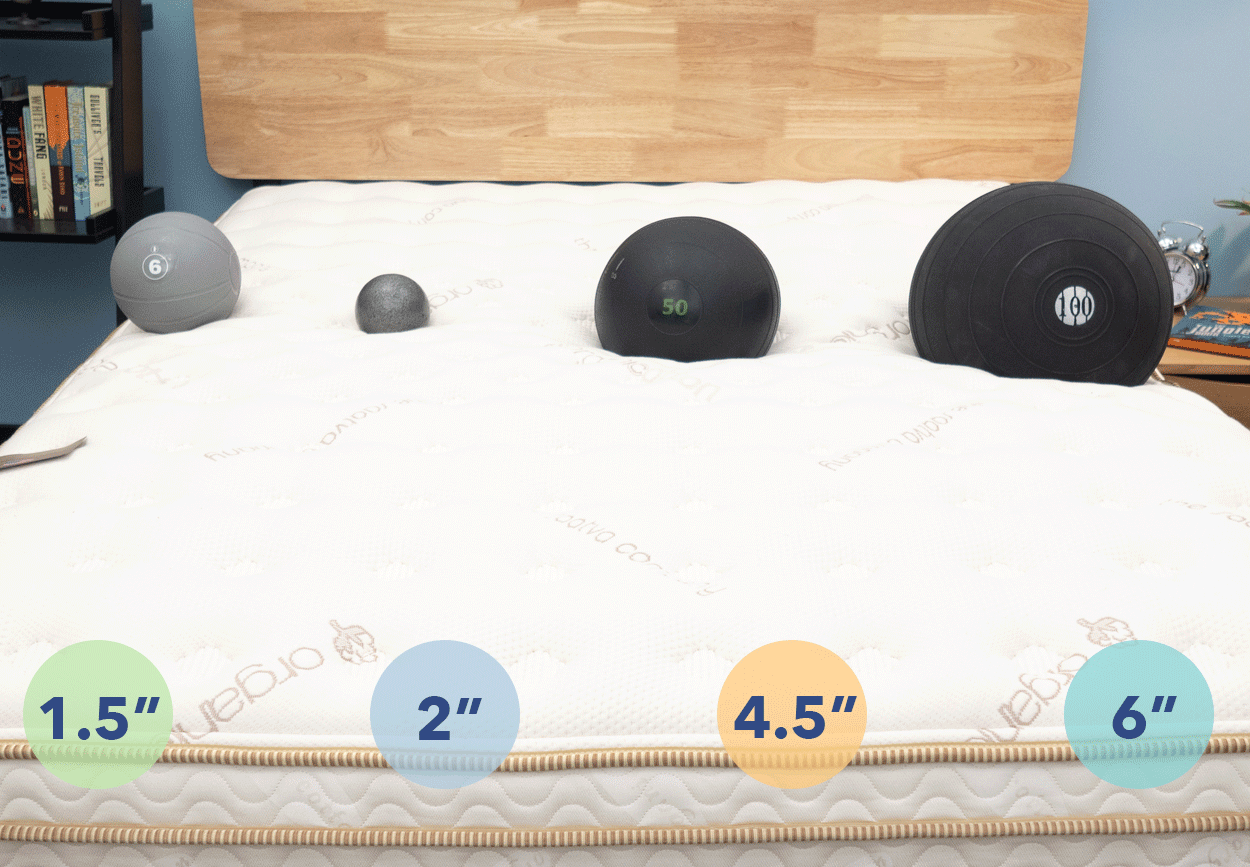 And finally, let's wrap up all this feeling with a little motion transfer, or the amount of disturbance you're likely to experience from one side of the bed to the other. While this test will be important for all sleepers, it'll be especially clutch for those of you who share your bed with a partner and need to know if their tossing and turning is going to bother you while you sleep.
To illustrate this motion transfer, I dropped a 10 lb. steel ball from heights of 4 inches, 8 inches and 12 inches and measured the disturbance it caused: the bigger the lines, the bigger the disturbance.
FYI: Each drop is meant to symbolize a common movement in bed, from tossing and turning (4"), to getting out of bed (8") all the way to full on jumping (12").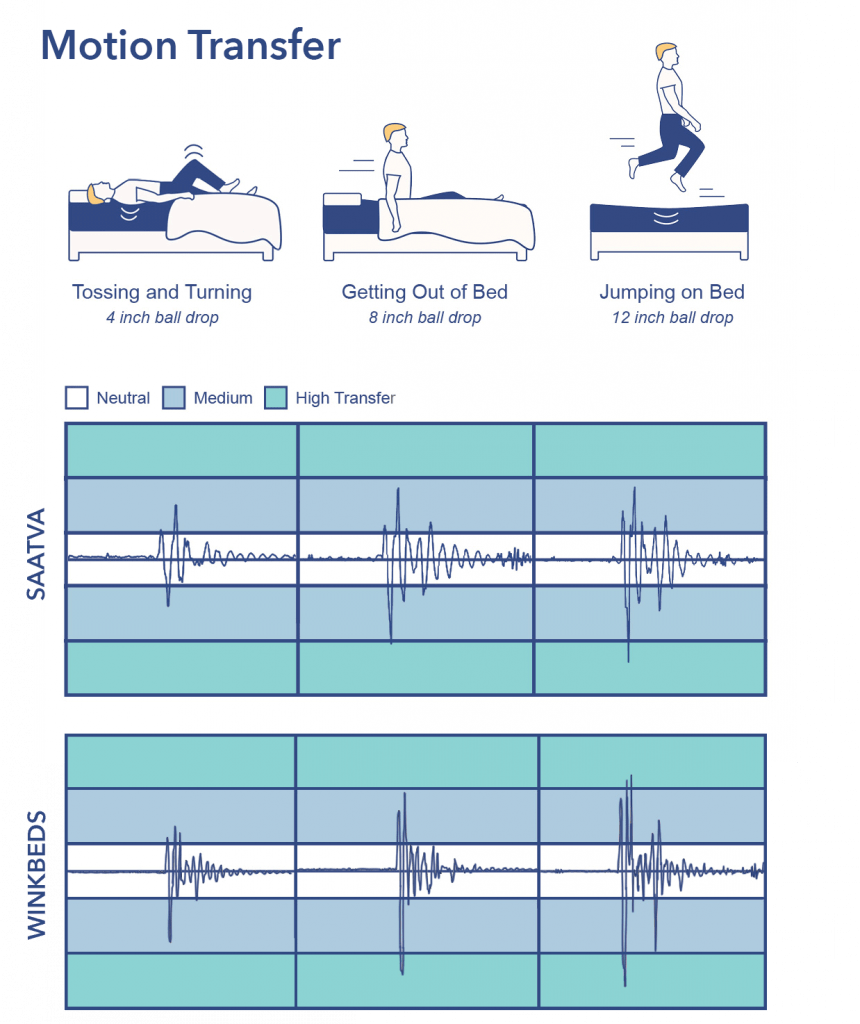 Again, we see really similar results here, too. Both beds are super bouncy, so it's not shocking to see that there's a lot of motion transferred across their surfaces. While perhaps not the most crucial factor to consider when buying a new mattress, it could be something for those sensitive sleepers out there to keep in mind.
Saatva vs. WinkBeds
Alright, now that we've fully assessed every last inch of these beds, let's recap some of the things we found. First and foremost, I think it's important to note that these beds are in fact quite similar. They're bouncy, firm, supportive, and designed to keep the sleeper positioned on top of the bed.
However, though both mattresses are supportive, they accomplish this in different ways. The Saatva takes a more uniform approach, utilizing a single layer of steel coils to offer the same amount of support across the body. The WinkBeds, on the other hand, implements zoned support to bolster different parts of the body in specialized ways. While the difference isn't a tremendous one, it does make the WinkBeds a slightly better mattress for those in need of pressure relief.
Perhaps the most significant factor to note between these two beds is price. At $1,599 for a Queen, the WinkBeds is much more expensive than the Saatva, which comes in at $1,099 for a Queen size mattress. Value shoppers may find this reason enough to go with the Saatva over the WinkBeds mattress. Check out the full price breakdown below but be sure to save with our Saatva coupon or WinkBed discount when you make your purchase:

| Size | Saatva | WinkBed |
| --- | --- | --- |
| Twin | $799 | $1,049 |
| Twin XL | $999 | $1,149 |
| Full | $1,299 | $1,299 |
| Queen | $1,399 | $1,599 |
| King | $1,799 | $1,799 |
| California King | $1,799 | $1,849 |
To get even more specific about my recommendations, I'm going to list my favorite aspects of both models.
Should You Buy a Saatva or WinkBed?
$300 Off!

WinkBeds Mattress

Solid innerspring build with great bounce
Sleeps cool

$200 Off!

Saatva Mattress

Traditional innerspring build
Great support and bounce
Saatva
Between the two beds, I'd say the Saatva has more of an old-school innerspring feel, so could be great for those after a traditional vibe.
With its extra layer of edge support, I'd also say the Saatva could make a fantastic mattress for couples.
WinkBeds
Zoned Support makes the WinkBeds a slightly more supportive structure than the Saatva.
Additionally, it also sleeps cool thanks to the combination of pocketed coils and breathable cover.
Well that does it for this Saatva vs. WinkBeds comparison! If you have any more questions or comments, please feel free to leave a message on the video.
FAQs
How is the Saatva mattress constructed?
The pillow top section of the Saatva is comprised almost entirely of individually wrapped coils overlaid by a thin layer of gentle memory foam. Below the pillow top, the mattress is built with a layer of steel coils and foam edge support.
How is the WinkBed mattress constructed?
The pillow top on the WinkBeds is made of gel-infused foam, while the support layer underneath is made of soft-but-sturdy micro coils, and lastly, the foundation or base layer is composed of 8" of pocketed coils.
Is the Saatva or the WinkBed mattress more expensive?
One of the most significant differences between these two beds is the price. The queen size WinkBed runs $1599 while the Saatva queen size mattress runs significantly less at $1099.
The following two tabs change content below.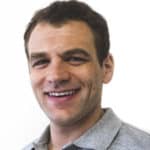 Logan is the content director of Sleepopolis, which means he not only reviews new mattresses every week, but also curates all the comparisons, best of pages, and video guides on the site. He takes a straightforward, honest approach to his reviews and endeavors to give viewers an objective look at each new product he tries out. Logan has perfected his method by personally testing over 200 different mattresses, so he's not only able to discern the overall vibe of a specific bed, but to contextualize its feel within the bed-in-a-box market as a whole. When he's not hopping on a new bed or working with our editorial team to whip up an engaging sleep education guide, you can find him reading books on world history, walking his dog Pepper, or searching for the best cheeseburger in New York City.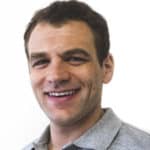 Latest posts by Logan Block (see all)