Country Living's McKinney mattress is the budget option in their brand new mattress line. This memory foam bed has a firm feel and could offer the perfect balance of pressure relief and support for some sleepers.
But are you one of those people? To find out, read my Country Living McKinney mattress review! I'll go over this bed's feel, construction, and performance for different sleepers below. By the end of this article, you should know whether or not the McKinney could meet your sleep needs.
Short on time? Skip down to my review summary for a quick overview on this bed.
Save 25%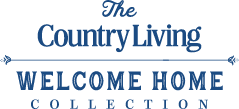 This firm memory foam mattress is a great choice for back sleepers!
Is the McKinney a Good Mattress for You?
Before we get into the details, I want to give you a rundown of who this mattress might work best for. Hopefully this will help speed up your mattress research!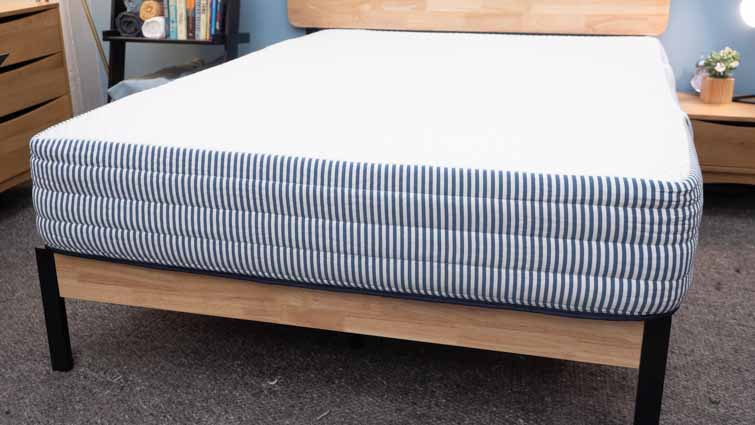 Who I recommend the McKinney mattress for
Back sleepers who enjoy a foam feel will enjoy the McKinney mattress.
Couples could really like the McKinney. It isolates motion well, which means you're not likely to feel disturbed by a restless partner on this bed.
Sleepers looking for a firm memory foam feel should be happy on this bed.
Who I don't recommend the McKinney mattress for
How Firm is the McKinney Mattress?
Next up, let's talk about how firm the McKinney mattress feels! Firmness is subjective, so I always like to poll a range of folks in the office before landing on a firmness score.

My coworkers and I decided to give the McKinney a 7 out of 10 on the mattress firmness scale. The industry standard for medium firmness is a 6.5 out of 10, which means this is a slightly firm mattress. The McKinney's memory foam layers still feel gentle despite their firmer makeup. This mattress also offers some nice body-contouring, especially around the lower back.
Since the McKinney is firm, it doesn't offer as much sinkage as softer memory foam mattresses. As a result, you won't feel overly "stuck-in" this mattress. This could make the McKinney a nice option for combination sleepers or folks who enjoy the feel of memory foam, but also want the mobility offered by a responsive mattress.
Save 25%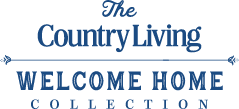 This firm memory foam mattress is a great choice for back sleepers!
McKinney Mattress Performance
Next, I want to break down how the McKinney might perform for sleepers of different weights, sleepers with pain, and couples. Read on below to learn more about this bed.
Testing the McKinney Mattress in Different Sleeping Positions
A mattress will feel a little different to you depending on your body type and preferred sleeping position. So, I always like to break down how a mattress will perform for a few different sleeper types in my reviews.
Is the McKinney a Good Mattress for Light Sleepers (Under 130 lb)?
Light Back Sleepers – These sleepers should feel very comfortable on the McKinney, which will do a great job relieving tension in their lumbar region.
Light Side Sleepers – As a lighter weight side sleeper myself, I felt very comfortable on this bed. But I think side sleepers with sensitive shoulders and hips will most likely prefer a softer mattress.
Light Stomach Sleepers – Lightweight stomach sleepers should get enough support to keep their hips lifted up in line with their shoulders on this mattress, which is important for avoiding back pain. Lighter sleepers who only spend part of the night on their stomachs should fare especially well on this bed.
Is the McKinney a Good Mattress for Average Weight Sleepers (130 – 250 lb)?
Average Weight Back Sleepers – These sleepers should get a great balance of pressure relief and support on the McKinney. I'd recommend this mattress to average weight back sleepers who enjoy a memory foam feel.
Average Weight Side Sleepers – These sleepers will likely find the McKinney a little too firm for their needs. This could lead to some pressure buildup around the shoulders and hips.
Average Weight Stomach Sleepers – The McKinney is too soft for these sleepers, which will cause their hips to sink into the mattress, creating a bend in their spines that can lead to pain over time. I'd recommend one of our best firm mattresses instead.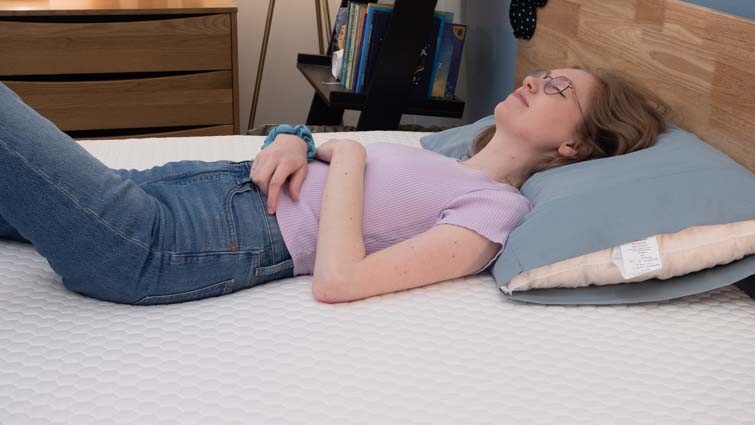 Is the McKinney a Good Mattress for Heavy Sleepers (over 250 lb)?
I don't think the McKinney is quite supportive enough for any heavyweight sleepers. I'd recommend these folks opt for an innerspring mattress that offers firmer support. They might also want to check out Country Living's Hudson or Napa mattresses, which I'll discuss below.
McKinney Mattress Pain Relief Performance
Sleepers who struggle with pain need a mattress that offers good pressure relief. Pressure relief is a measure of how well a bed cushions sensitive joints around the shoulders, hips, and lower back.
To measure pressure relief, I use a pressure map. The map records the amount of pressure a mattress is exerting on my body as I lie on it in different positions, and creates the graphic you see below. Areas of low pressure appear in blue, areas of medium pressure in green and yellow, and areas of high pressure in red.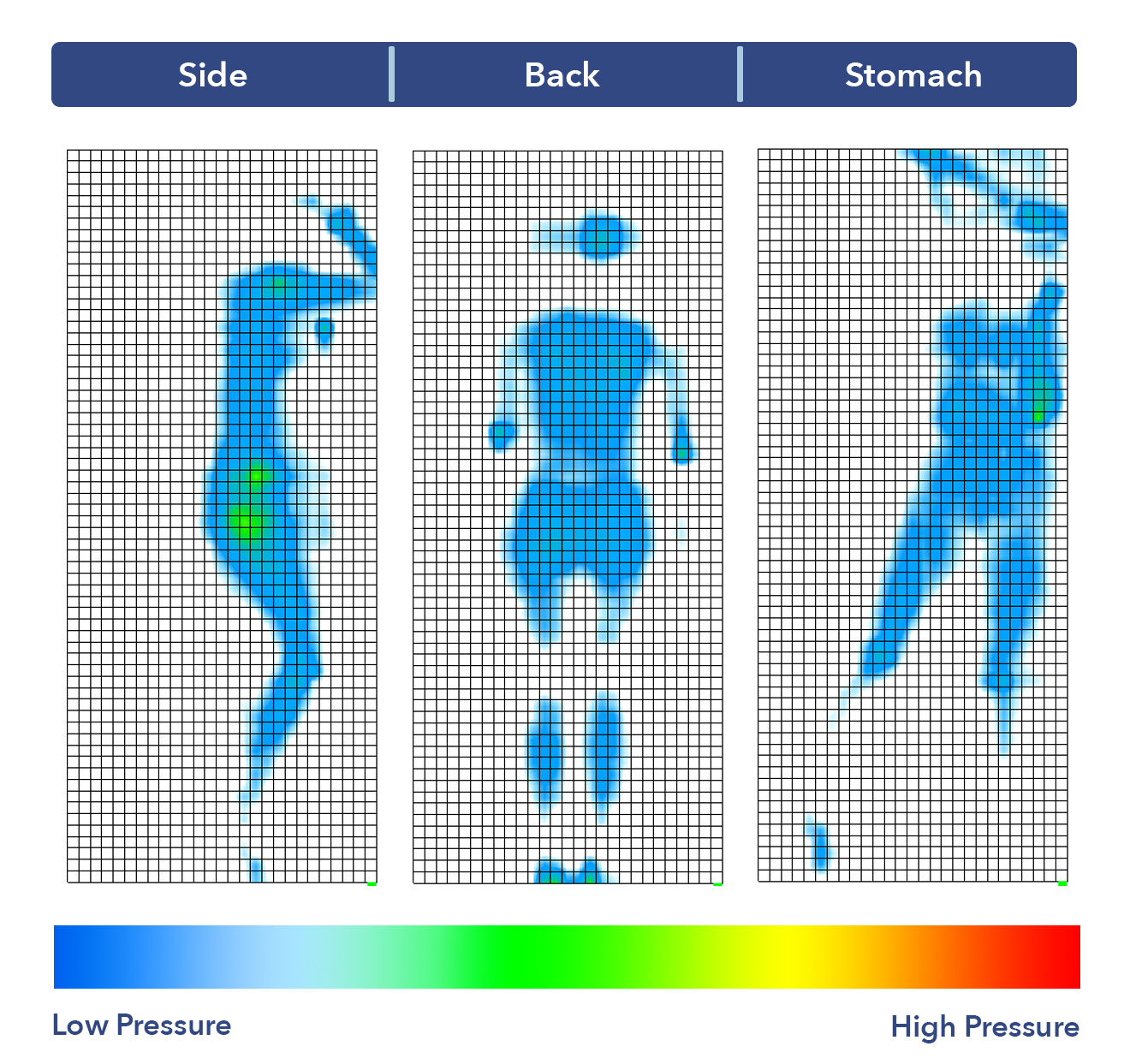 Back Pain – Based on the blue pressure maps, I'd say this mattress is a great option for back sleepers with back pain. It's foams will really fill in your lower back area to relieve tension, but the bed is firm enough to provide enough support for back sleepers to keep their spines neutrally aligned.
Shoulder Pain – The small amount of green around my shoulders when I was on my side tells me that side sleepers with shoulder pain might feel a bit of pressure on this mattress. I'd recommend one of our best mattresses for shoulder pain instead.
Hip Pain – Similarly, the green areas on the pressure map tell me that sleepers with hip pain will fare better on a slightly softer mattress. These sleepers will need more cushioning around sensitive hip joints.
Save 25%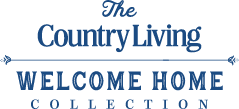 This firm memory foam mattress is a great choice for back sleepers!
McKinney Mattress Performance for Couples
The best mattress for couples normally combines good motion isolation, enough responsiveness for sex, strong edge support, and some cooling features. Read on below to learn more about why all those things are important, and to see how the McKinney delivers.
Motion Transfer
Motion transfer is a measure of how much movement travels from one side of the bed to the other. A mattress that isolates motion well will keep you from feeling overly disturbed by a restless partner. To measure motion transfer, I dropped a steel ball onto one side of the bed and measured the disturbance it caused on the other side with a seismometer.
Each drop is meant to symbolize a different movement you're likely to experience in bed, from tossing and turning (4 inches) to getting out of bed (8 inches) all the way to full on jumping (12 inches).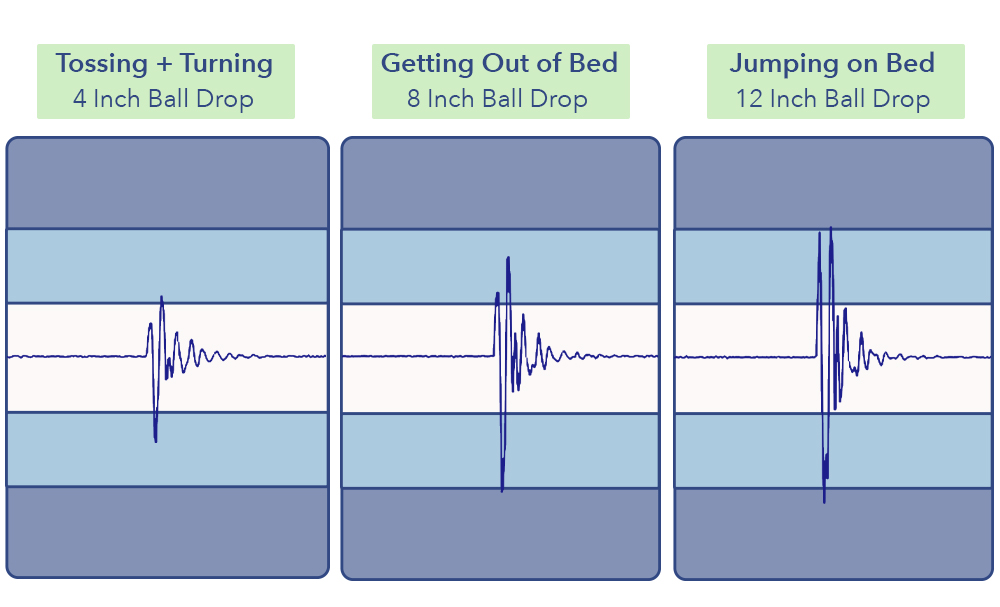 Based on these results, I'd say the McKinney does a great job isolating motion! This means you're very unlikely to feel disturbed by a partner tossing and turning on the other side of the bed.
Sex
The best mattress for sex is usually responsive and bouncy, which makes is easy to move around and change positions. The McKinney isn't particularly bouncy, but because it's a firm mattress you won't feel overly stuck in it either. So, I think this is a good mattress for sex.
Cooling
Couples overheat more quickly than solo sleepers, so they tend to prefer cooling mattresses. The McKinney does sleep cooler than other memory foam mattresses thanks to a cooling cover and gel infusions in its foams. But, I do think it sleeps a little warm. So hot sleepers might want to consider a different mattress option.
Edge Support
Edge support is a measure of whether or not you can sleep all the way on the side of your mattress and still feel supported. Strong edges make a bed feel a bit larger, which is a perk for couples. I thought the McKinney had average edge support for a foam mattress. I felt pretty stable lying on the sides of this bed, but a heavier person might not feel supported.
What is the McKinney Mattress Made Of?
Now that we know how this mattress performs for different types of sleepers, let's take a look at what it's made of! This 12-inch mattress is made of four unique foam layers. I'll go over each one below.
Cover – The McKinney uses a cooling cover that has a satiny feel. It should help mitigate some of memory foam's heat-trapping tendencies.
Comfort Layer – Next up is a layer of copper-infused memory foam. It provides some initial body-contouring and pressure relief, plus encourages some breathability.
Transition Layer – A firmer feeling gel memory foam transition layer helps ease sleepers down onto the firm foam core below, curbing the sinkage of the top layer.
Support Layer – The McKinney uses a foam core made of high-density poly foam. This support foam offers structure to the mattress overall, and helps keep the sleeper lifted up and out of bed.
Base Layer – A thin layer of base support foam rounds out this bed. This layer just adds some additional shape and durability to the McKinney.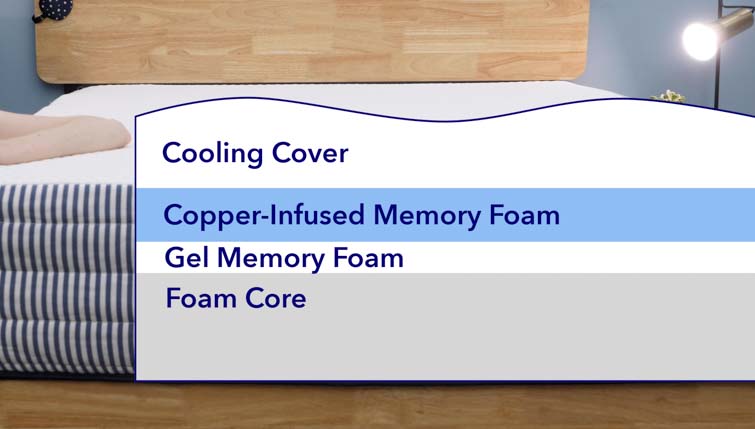 McKinney Mattress Unboxing and Off-Gassing
Like any bed-in-a-box mattress, the McKinney will need 24-48 hours for off-gassing and decompression after you unpackage it. Personally, I didn't find this mattress's off-gassing smell very strong, so it should dissipate fairly quickly as long as you leave your new bed in a well-ventilated room.
Save 25%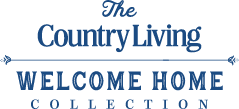 This firm memory foam mattress is a great choice for back sleepers!
My Final Thoughts about the McKinney Mattress
Well folks, we've reached the end of my review. You should know everything you need to to make a decision on the McKinney mattress. But just in case you're still feeling unsure, I'll leave you with a few final pros and cons to consider.
My favorite things about the McKinney mattress
I think the McKinney is really well priced for a high-quality mattress. You can find pricing info in the table below. Country Living advertises this mattress as its "guest room" option, but I think it's nice enough for most sleepers looking for a budget-friendly foam bed to enjoy.
I also enjoy the firm to medium-firm feel of this mattress. It kept me from feeling "stuck-in-bed," but I still got to enjoy some of the sinkage and body-contouring memory foam is known for.
My McKinney mattress complaints
Like many foam mattresses, the McKinney doesn't have the durability of a hybrid or innerspring option. And like many memory foam beds, it does sleep a little on the warmer side. But, these are issues you'd run into when purchasing almost any foam mattress in this price range, so I don't think they're dealbreakers.
How Much Does the McKinney Cost?
Price is a big consideration when you're choosing a new mattress. The McKinney is Country Living's budget offering, so it's fairly reasonably priced, especially when you click the button on our coupon below to get a discount! Take a look at the chart below for more detailed mattress size and price information.
Price listed will be before discount or offer for each size.
| Size | Dimensions | Price |
| --- | --- | --- |
| Twin | 74″ x 38″ x 12″ | $998 |
| Twin XL | 80″ x 38″ x 12″ | $1,061 |
| Full | 75″ x 54″ x 12″ | $1,248 |
| Queen | 80″ x 60″ x 12″ | $1,373 |
| King | 80″ x 76″ x 12″ | $1,623 |
| Cal King | 84″ x 72″ x 12″ | $1,623 |
Save 25%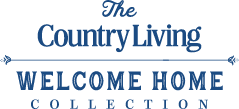 This firm memory foam mattress is a great choice for back sleepers!
Country Living Mattress Policies and FAQs
Does the Country Living McKinney mattress come with a sleep trial?
Yes, the McKinney comes with an 18-month trial period. This is much longer than the standard industry home trial, so a great perk of choosing the McKinney.
Does the Country Living McKinney mattress come with a mattress warranty?
Yes, the McKinney mattress comes with a lifetime warranty.
How does the Country Living McKinney mattress ship?
This mattress ships for free and will arrive compressed in a box. The McKinney will ship 6-12 business days after you place your order.
Where is the Country Living McKinney mattress made?
All Country Living mattresses are made in the USA.
Do I need to use a box spring with the Country Living McKinney mattress?
No, but you can use one if you like. Country Living mattresses are compatible with any solid surface, including slatted bed frames, platform foundations, adjustable bases, and box springs.
McKinney Mattress Vs
It's always a good idea to compare a mattress you're considering to models from a few other mattress brands. Below, I'll compare the McKinney to two picks from our best memory foam mattress list.
McKinney vs Loom & Leaf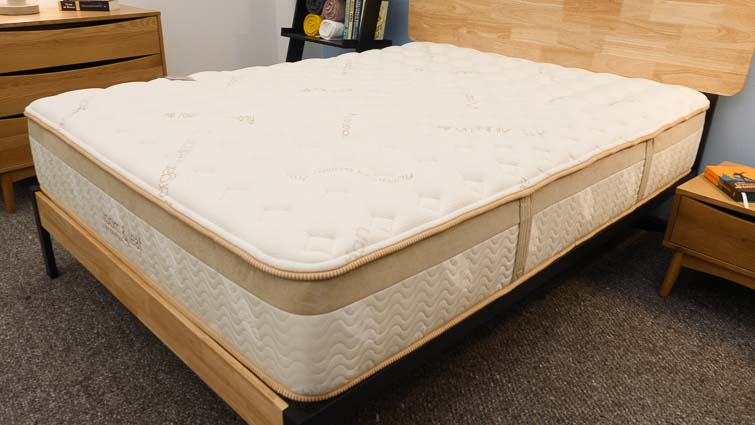 The Loom & Leaf mattress from Saatva is a luxury mattress that's offered in a firm and relaxed firm model.
The relaxed firm Loom & Leaf is softer than the McKinney, while the firm model is firmer than the McKinney.
The Loom & Leaf offers more deep compression support, which makes it a better choice for heavy people.
Learn more in the full Loom & Leaf mattress review.
McKinney vs Nectar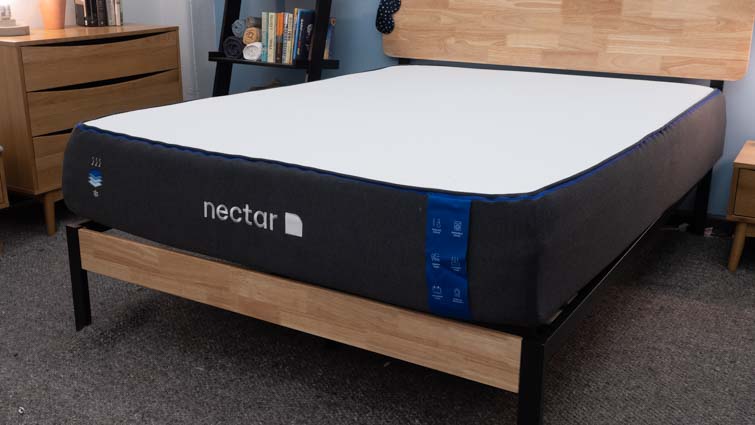 The Nectar is a little more pressure-relieving than the McKinney.
Both of these memory foam beds have a similar initial firmness level, but you may sink into the Nectar a little farther after spending some time in bed.
The Nectar is just a little less expensive than the McKinney.
Learn more in the full Nectar mattress review.
Save 25%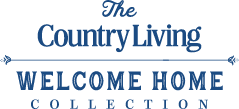 This firm memory foam mattress is a great choice for back sleepers!
Other Models from Country Living
Country Living Sleep also has two other mattresses in its Welcome Home collection. I'll compare them to the McKinney mattress below.
McKinney Mattress vs Hudson Mattress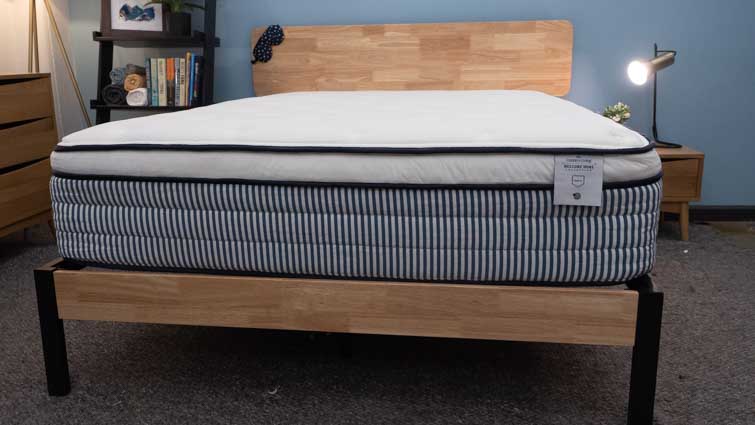 The Hudson is a hybrid mattress that includes pocketed coil support.
The Hudson mattress feels softer than the McKinney mattress.
The Hudson is the brand's mid-range option, so is a little more expensive than the McKinney.
Learn more in my full Country Living Hudson mattress review.
McKinney Mattress vs Napa Mattress
The Napa is the Country Living Mattress collection's luxury model, so is the most expensive mattress in the line.
The Napa is a hybrid mattress and includes both pocketed coil and micro coil support, unlike the all-foam McKinney.
The Napa feels a little softer than the McKinney.
Still unsure about the McKinney? Take a look at how we rated it in our star chart below.
Save 25%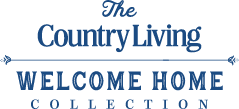 This firm memory foam mattress is a great choice for back sleepers!
Materials

Comfort

Support

Value

Cooling

Edge Support

Trial

Warranty
Bridget Chapman
Bridget is a Certified Sleep Science Coach and senior editor here at Sleepopolis. From testing mattresses to writing about various sleep health topics, her goal is to help you get a good night's sleep. You can also find her in videos on our YouTube channel. Bridget graduated magna cum laude from San Diego State University with a degree in journalism and a minor in English. Before joining the Sleepopolis team, she was a TV news reporter and worked in cities across the country. She loves spending time outdoors, checking out new restaurants, snuggling with her pets, and of course — getting some quality Zzz's.