Editor's Note: The Sleep Number 360® i7 Smart Bed is no longer available, but I recommend checking out one of its siblings, the Sleep Number 360 i8 Smart Bed, which is another airbed focused on personalization.
Sleep Number is a bedding company that sells mattresses, bedding, pillows, and bases. When it comes to their mattresses, they exclusively sell air beds. You can adjust the bed's air pressure with the click of a button and enjoy a personalized firmness level. Even better: Certain bed sizes include two air chambers so you and your partner can sleep on different levels of comfort and support.
Back in 2017, Sleep Number joined the smart bed bandwagon and introduced its 360 Smart Beds series. These beds will automatically adjust your Sleep Number setting (which is essentially air pressure) and the position of your head and feet (if you use an adjustable base) in response to sensors' monitoring of your movements.
Today we are going to look at the Sleep Number 360® I7 model. When it first came out, Sleep Number boasted how it costs about the same as a traditional memory foam mattress, but "offers so much more!" We'll go into all the extra features these smart beds promise, along with the overall feel and firmness of the mattress itself.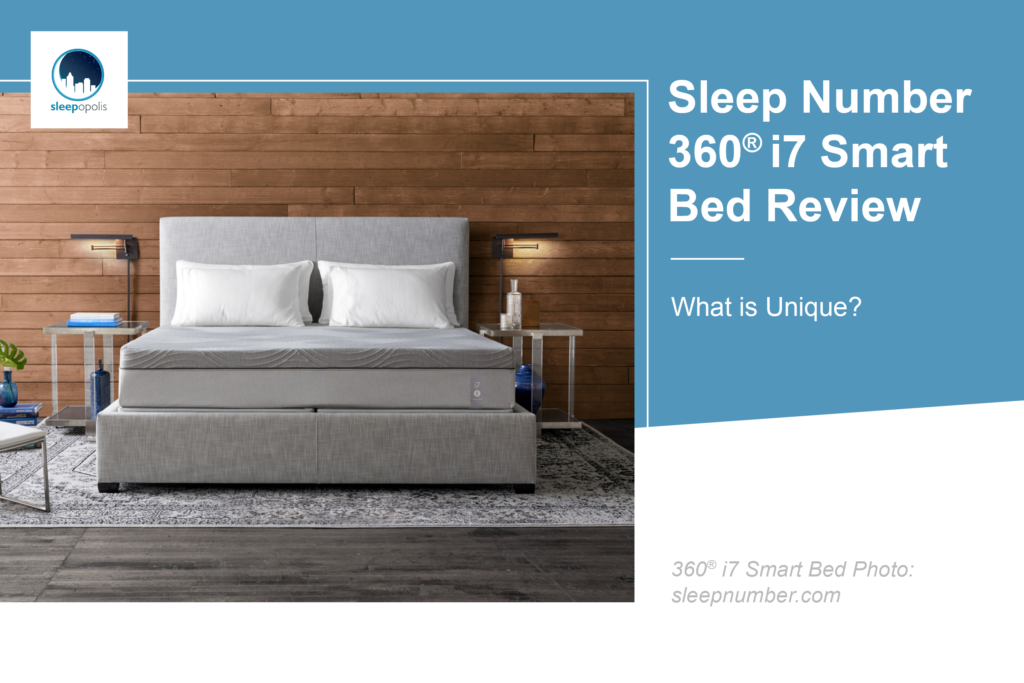 So … What's a Sleep Number?
Before we dive into all the juicy details of the i7, let's make sure we'll all up to speed with what a Sleep Number setting is. Essentially, since you can adjust your mattress to the exact firmness you need, you end up with a specific number. Sleep Number calls this, unsurprisingly, your "Sleep Number." The number ranges from 1-100, but 1 would be incredibly soft and 100 would feel like sleeping on a hardwood floor. Most people have a Sleep Number between 30-60.
Because of the extra personalization, this also means there are some assembly and accessories needed to set up your airbed and ensure you find your Sleep Number. Sleep Number's Firmness Control™ System is needed to operate the bed, which includes the remote, air hose(s), and pump. If you have a Queen-sized mattress or larger, then you'll have two separate air chambers and you and your partner can adjust each side to your personal preference. There will also be one or two hoses that pass through the opening of the mattress cover and connect the hose to the air chamber. Each hose will either say L or R (left or right) to indicate which hose is for which side of the bed.
If you head to a Sleep Number retail store, you can test out the bed right in the showroom and an employee will help you find your sleep number setting. If you're setting your bed up at home, you can find it yourself. Simply lie on your mattress in your preferred sleeping position and press the up or down arrow on the remote to increase or decrease air pressure in the air chambers. Once you find something that feels good, Sleep Number recommends you testing the setting out for a few days. If it starts to become uncomfortable, try increasing or decreasing your setting five or ten points until you find the exact support you're looking for.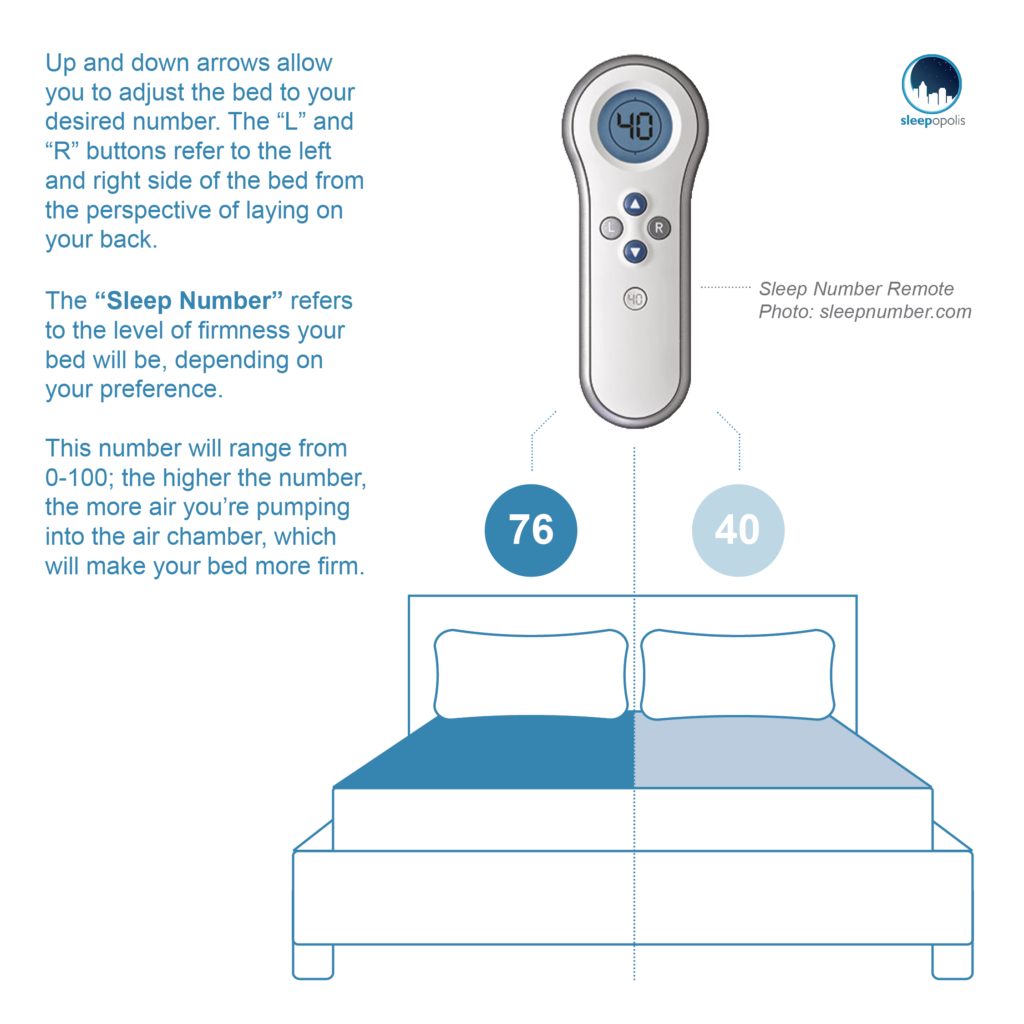 Sleep Number 360® i7 Smart Bed Mattress Construction
The 360® i7 bed was the latest addition to their Innovation Series, hence the "i" in i7. Sleep Number named this series based on the innovative technology used in their comfort layer to keep people cool.
Other beds in this series include the i8 and i10. These latter beds each have more inches of comfort foam, and are a bit thicker, making them overall softer than the i7.
To provide an example, the i7 has five inches of comfort layer above its air chamber, while the i8 has six inches and the i10 has seven. The i7 also has a mattress profile of 11", while the i8 comes in at 12" and the i10 at 13".
Here's the exact breakdown of a Sleep Number 360® i7 Smart Bed:

The mattress: The 360® I7 mattress has an 11" profile (measured from the base of the mattress to its highest loft).
The material: The mattress material is made from a soft and breathable polyester/polypropylene blend.
Above the airbed: The top of the 360® I7 mattress has five inches of exclusive memory foam — making it the only Sleep Number bed that is 100% memory foam. It also has cooling technology integrated into the foam so the mattress stays cool. As a Sleep Number rep told me: "Those extra layers will help with the cooling. Most memory foam can be extremely hot but this one will help with a balanced sleeping temperature." Lastly, the memory foam is designed to promote pressure relief and contour to specific pressure points on the body.
Air chambers: The air chambers is what makes Sleep Number, well, Sleep Number. Every mattress comes with one or two of them; two air chambers are available for Queen-sized beds and larger, and is called "DualAir technology." The chambers themselves are sturdy, 24 vulcanized rubber chambers that can inflate so you can sleep on the exact level of firmness you want. The chambers hook up to a 4" hose and pump, which are hidden inside the mattress with easy access through a zippered opening. The air chambers also have pressure sensors inside that can detect body movements and automatically adjust the bed. The air chambers also pick up on vibrations, which indicate both snoring and general movements.
The base: Important note: Sleep Number bases are sold separately. They are known to enhance the smart bed experience. The options for bases include the FlexFit™ Adjustable Bases or their modular base. The FlexFit™ comes in three options: the FlexFit™ 1, which allows the head of the bed to raise, the FlexFit™ 2, which allows you to raise the head and foot of the bed, and gives off the "feeling of zero gravity," and the FlexFit™ 3, which includes a massage and foot warming component. If you don't want a technical base, you could also purchase a much more affordable Sleep Number Modular Base, which starts at $199.99. If you already own a base, make sure you use a basic platform base or bunkie board, and stay away from using a bed frame with slats or a traditional box spring base. These won't provide enough support!
The extras: The Sleep Number 360® i7 comes with SleepIQ® technology, which uses sensors inside the bed to track your breathing, heart rate, and general movements. This will connect to a SleepIQ app so when you wake up, you receive your SleepIQ® score and understand exactly how well you slept. The smart mattress itself tracks your movements as you sleep, and will respond and automatically adjust firmness throughout the night to properly support and comfort you.
Sizes: The 360® i7 mattress comes in five sizes, ranging from Twin XL to California King. Continue reading to see pricing for each size, along with a whole lot more.
What Makes the I7 a Smart Bed?
The Sleep Number Smart Bed series comes with a handful of features that make the bed "smart." However, the main feature is their "Responsive Air technology" which we'll go over first. It's important to note a lot of the "extras" that make this series look interesting is due to the FlexFit bases, which are sold separately.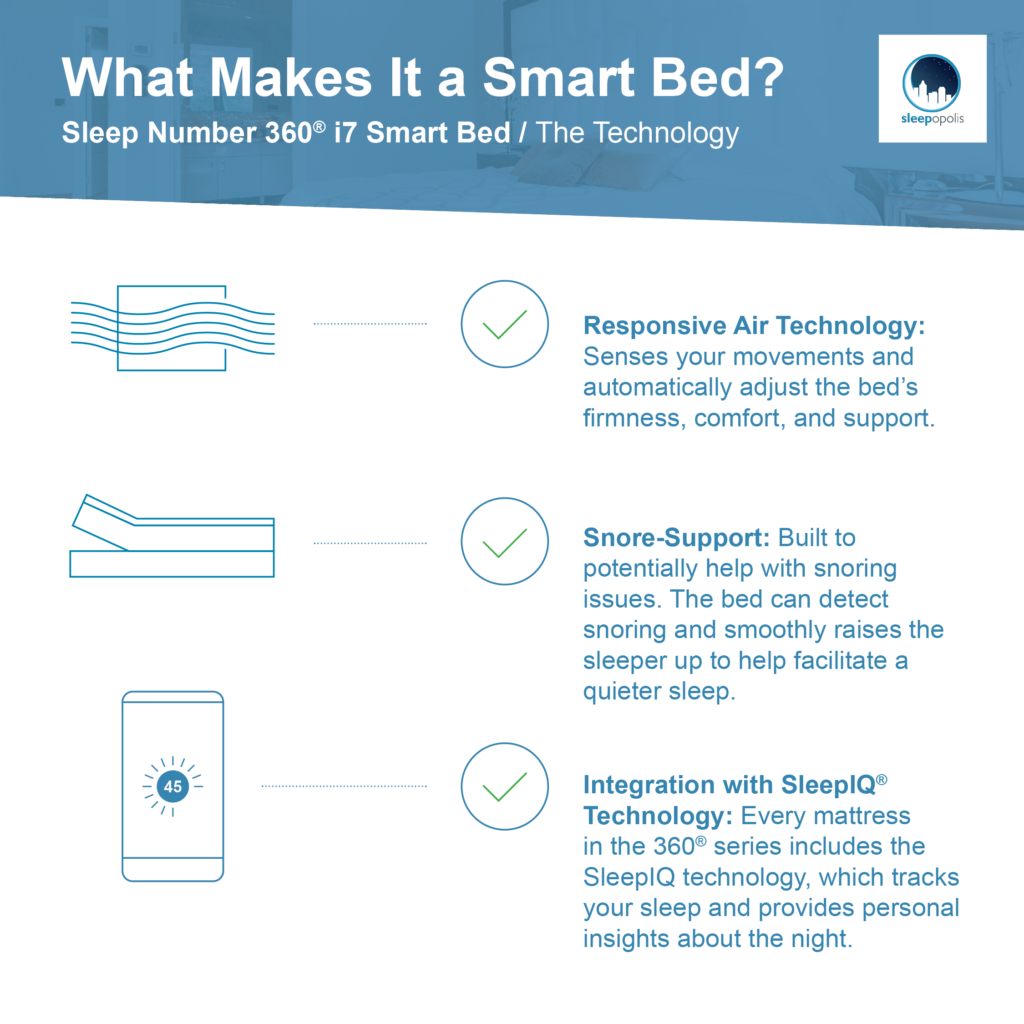 Responsive Air technology.

The Sleep Number 360® smart beds have pressure sensors inside each mattress that can detect where your body is and when it moves. They also pick up on vibrations, such as snoring. Once detected, the Responsive Air technology will record your movements and automatically adjust the bed's firmness and comfort to better support you. There's also a sensor at the end of the bed that collects all the data to send to the Sleep Number app.

Integration with SleepIQ® technology.

As we mentioned above, every 360® mattress includes integration with SleepIQ technology, which tracks your sleep and provides personal insights into what happened during the night. The technology also connects to other Smart devices and apps, so you can track you sleep alongside your food intake and exercise regime. Currently, SleepIQ® is able to connect with Apple® Health, Fitbit®, Microsoft® Health, Nest Learning Thermostat™, MapMyRun™, and Withings Health Mate™.
Here's a step-by-step guide for how to connect them:
Open & log into the SleepIQ app

Tap Settings in the bottom right-hand corner

Select "Sleeper" under Sleeper Profiles

Select "Connected Apps"

Select the app/device you would like to connect and login using those credentials when prompted

Authorize SleepIQ technology to access their data through the third party app/device
360® i7 Smart Bed Mattress Feel
The biggest thing to note is the i7 is the only Sleep Number bed that is memory foam. If you're familiar with Sleep Number beds, it's similar to their discontinued m7 and m9 beds (the "m" naturally stands for memory foam).
The use of memory foam coupled with the adjustable air bed will provide a firm and supportive core and contouring pressure relief. Moreover, a long-standing problem with memory foam has been it gets hot since memory foam gets its actual memory by being temperature-sensitive. Sleep Number combats this by including layers of self-cooling technology coupled with a gel-infused foam.
The 360® i7 mattress falls right into the middle of the soft-to-firm spectrum, airing on the side of being a touch softer. The higher the number in the Sleep Number series, the more cushion provided. So, the i7 will be much softer than the c2, while more firm than the i10. This is basically because of the comfort layer. The Comfort layer is 5" of comfort foam, which is right above the air chamber, providing an extra five extra inches of plush and pressure-relieving support. Of course, adjusting your Sleep Number will also help make your bed more firm or soft.
Reviews of the 360® i7 are generally good. Not surprisingly, people loved they could sleep on memory foam and not have the bed get too hot. Memory foam is known for contouring specifically to your body, and many manufacturers claim it can help with pain relief. Memory foam is generally great for side sleepers who need pressure relief on their hips, knees, and shoulders. The softness of this bed makes it a good option for back sleepers, too — the healthiest sleep position!
Moreover, many people said they slept "soundly" and woke up "super rested" thanks to the memory foam staying cool. A hot bed is a big reason why people wake, toss, and turn throughout the night, so it sounds like this feature is indeed helpful.
Lastly, this mattress will probably have little motion transfer — another key feature of memory foam. Motion transfer is when one sleeper moves and the other is disturbed because they can feel the movement on their side. A handful of people also said they didn't experience this issue!
If you purchase one of the FlexFit™ adjustable bases, you'll also experience added advantages, whether that's "zero-g" sleep positions, or a gentle massage as you head to sleep. The smart auto adjusting of the bed also seemed to be loved, as many people wrote things like "it is so comfortable and adjusts completely to our needs (especially as they change)" and "Sleep is improving for both of us!"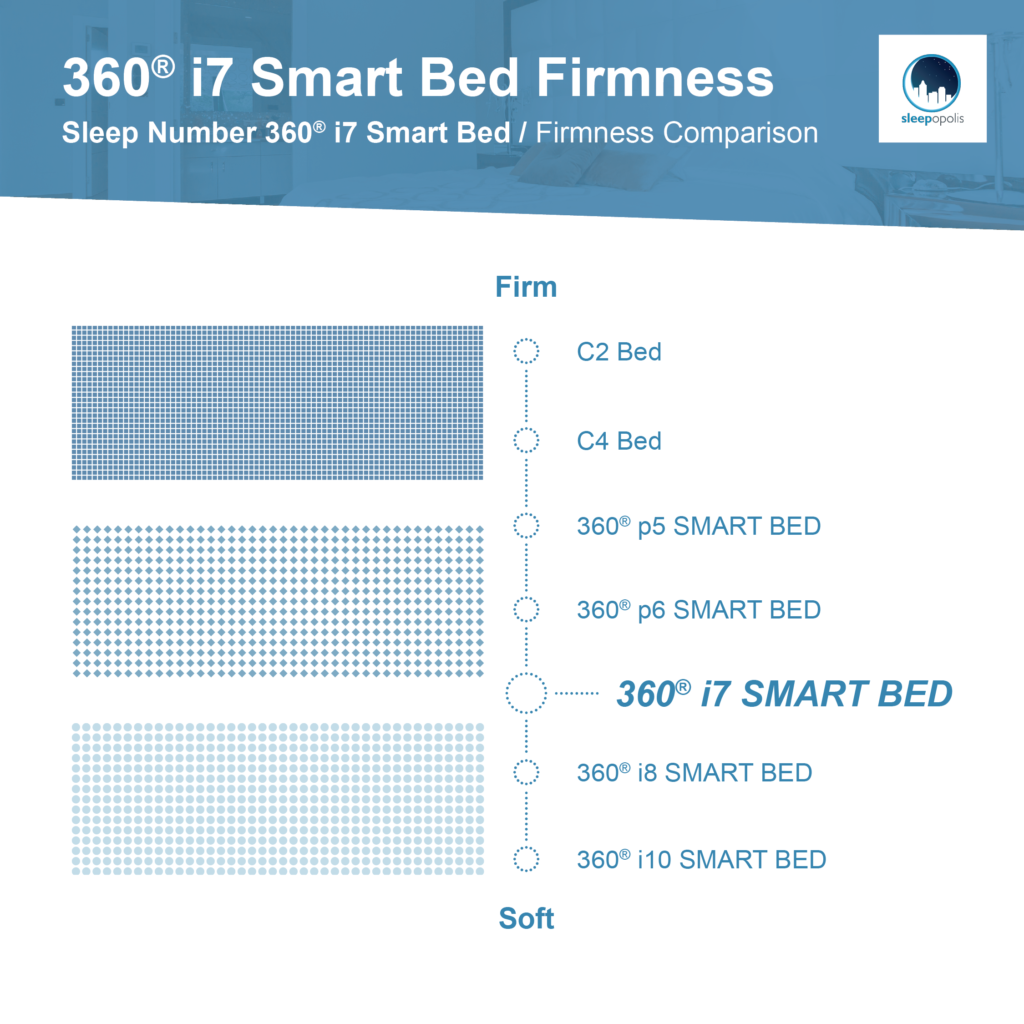 360® i7 Smart Bed Mattresses Vs. Others
This bed will feel very similar to other memory foam mattresses, especially ones that are good for side sleepers. For example, Loom & Leaf mattress has a similar mattress profile with medium-to-soft firmness and an emphasis on relieving pressure. There's also the Bear mattress which is a little more firm and great at temperature regulation to keep you from overheating. In general, if you know you want to stay cool, this bed should be added to the list of mattresses for temperature regulation.
If you're no stranger to smart beds, then this "smart experience" will be most similar to ReSt. This is because ReST includes their "Whisper air system" which is very similar to the Responsive Air system from Sleep Number. There is also Eight Sleep, which includes similar features like bed warming and integration with other smart products. Another smart bed is HiCan (which includes a built-in sound system!) but doesn't have any auto-responsive technology.
Biggest Need-to-Knows
This is the only Sleep Number memory foam bed. We said it once (or maybe even twice!) and we'll say it again: this is the only Sleep Number bed you can purchase that is memory foam. They have since discontinued their "m" memory foam line. So if you know you love memory foam, the i7 would be your pick!
You have financing options. Luckily, Sleep Number has finance plans to make it easier to purchase the bed. (The i7 starts at $3,099 for a Twin XL.) For purchases that range from $3,000-$5,999.99, there is a 24-month finance plan you can opt into. The other financing options include 48-month financing on purchases $8,000 or more, or 36-month financing on purchases $6,000–$7,999.99, which would work well if you purchased a base, and/or other Sleep Number bedding.
You need WiFi or Bluetooth. To see your SleepIQ® data, the app needs to be connected to wireless internet or a Bluetooth device. You can always turn off the SleepIQ® technology if you want to take a break from all the data for a few days.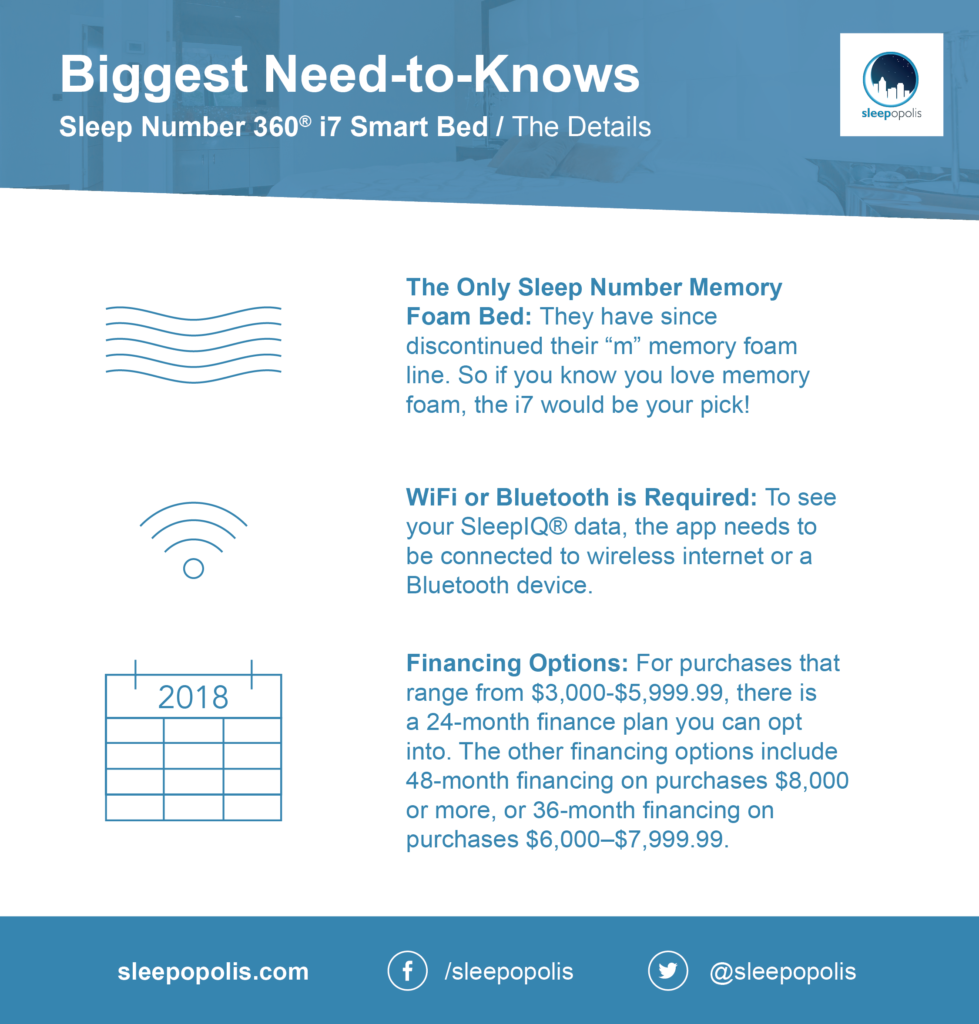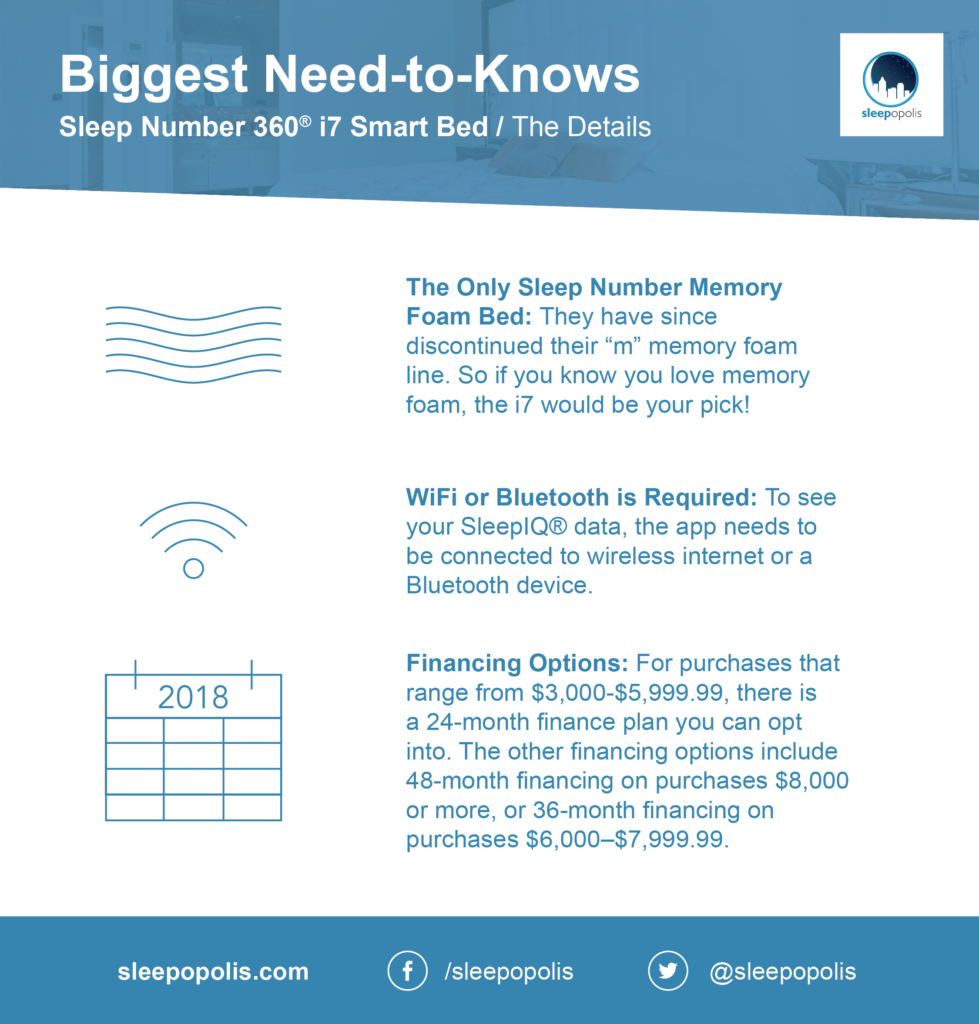 Common Praise & Complaints
After diving into multiple customer reviews across a handful of sites, here were the main, positive reviews of the Sleep Number i7:
Those who loved it said:

It helped with back pain.

An overwhelming number of people specifically spoke about back pain being alleviated with the i7. The i8 received similar feedback, perhaps due to these beds having similar levels of comfort foam and firmness. One reviewer said: "This bed has been a life saver. I am now sleeping without the back pain that I had previously experienced and that had interfered with my sleep."

It stayed cool.

As one commenter remarked, "I also run quite hot when I sleep, and the [i7] completely eliminates any discomfort! I've been ruined for all other beds!" Many people said the cooling technology did its job, and the memory foam on this Sleep Number bed didn't trap heat likes its known to do

"My Sleep Score increased."

While there's no one reason to know why someone's Sleep Score increased, I found it quite cool that many people utilized the SleepIQ technology, and found they were sleeping way more soundly on the i7. One person said their Sleep IQ increased to the 90's!
Those with didn't love it said:

The technology over-promises.

A handful of reviewers said the app is "mediocre at best," and they had trouble connecting the devices. Others said the responsive air technology didn't transform their sleep as much as the advertisements for the bed suggest, and others said, "With responsive air activated I will find myself sitting on the base of beneath the mattress or waking up with the mattress overinflated."

They constantly fell into the middle of the bed.

One reviewer explained how "my wife either wakes up because she is falling down the hill towards me, or because she has to climb back up the hill to get comfortable." By "the hill," he or she is referring to their sleep numbers being different levels, which can cause the bed to sag in the middle. Many people across all Sleep Number beds have complained about this issue.

It was hard to get comfortable. A few people said finding their Sleep Number setting took time, and getting used to the technology was a big learning curve. One sleeper specifically wrote: "I have spent nearly two weeks trying to find a comfortable number to set the bed to, but not finding it."
Sizing and Pricing Information
| Mattress Size | Size Dimensions | Number of Air Chambers | Price |
| --- | --- | --- | --- |
| Twin XL | 38" x 80" | 1 | $3,099.00 |
| Full | 54" x 75" | 1 | $3,374.00 |
| Queen | 60" x 80" | 2 | $3,499.00 |
| King | 76" x 82" | 2 | $4,199.98 |
| California King | 72" x 84" | 2 | $4,199.98 |
Another perk from Sleep Number is they have financing options. For purchases that range from $3,000-$5,999.99, there is a 24-month finance plan you can opt into. The other financing options include 48-month financing on purchases $8,000 or more, or 36-month financing on purchases $6,000–$7,999.99, which would work well if you purchased a base, and/or other Sleep Number bedding.
Is the Sleep Number 360® i7 Smart Bed Right for You?
Now that we've discussed everything you need to know about the Sleep Number 360® i7, here is a summary of why it could be good for you:
You sleep hot.

Sleep Number 360® i7's temperature-regulating technology seems to do the job, and is especially unique given memory foam is typically know to retain heat.

You love memory foam.

The 360® i7 is the

only

Sleep Number bed that is memory foam. If you're a memory foam fanatic, this would definitely be your pick!

You want to add tech to your bedroom.

There's a lot included with this bed, from the in-app integration to responsive air technology and adjustable head and foot positions (if you get the FlexFit base add-on). If you know you're someone who likes data and technology to enhance your sleep experience, the i7 — like all Sleep Number smart beds — has what you're looking for.
Sleep Number 360® i7 Summary
The Sleep Number 360® i7 is the only Sleep Number bed that is memory foam bed. It includes cooling technology, built-in Sleep IQ tech, and is known for helping with aches and pains. If you like softer beds that work well for side or back sleepers and enjoy smart technology, this could be a great option for you!