Some sleep professionals have suggested that sleeping on your stomach isn't always the safest position because it's easy to fall into a posture that strains your neck. However, the right style of pillow can help stomach sleepers find a position that helps them maintain good posture. The I Am Stomach Sleeper from eLuxury (if you can't already tell) is designed to meet the specific needs of stomach sleepers, keeping them cozy in their favorite position all through the night.
I happen to be a proud back and side sleeper, but in this pillow review, I'm going to test the waters of stomach sleeping and see how this pillow measures up! No time to read the full review? Click here to skip to the review summary.
WHAT'S THIS PILLOW MADE OF?
The I Am Stomach Sleeper pillow from eLuxury is filled with polyester cluster fiber called Revoloft. It's ranks a soft/medium on the firmness scale which is intended to offer sleepers a nice balance of soft and supportive.
The company refers to the Revoloft fill as "Never Flat Fibers" which are said to offer extra resiliency. The Revoloft fill is made up of high performance, hollow siliconized cluster fibers. The idea behind the Never Flat Fibers is that, when you feel like your pillow is getting a little weak, just wash it, fluff it, and BAM! Your pillow is refreshed and ready for some more stomach sleeping action.
The cover fabric is 100% cotton and while the feel is not quite as lush as something like tencel, it still feels soft, light, and breathable.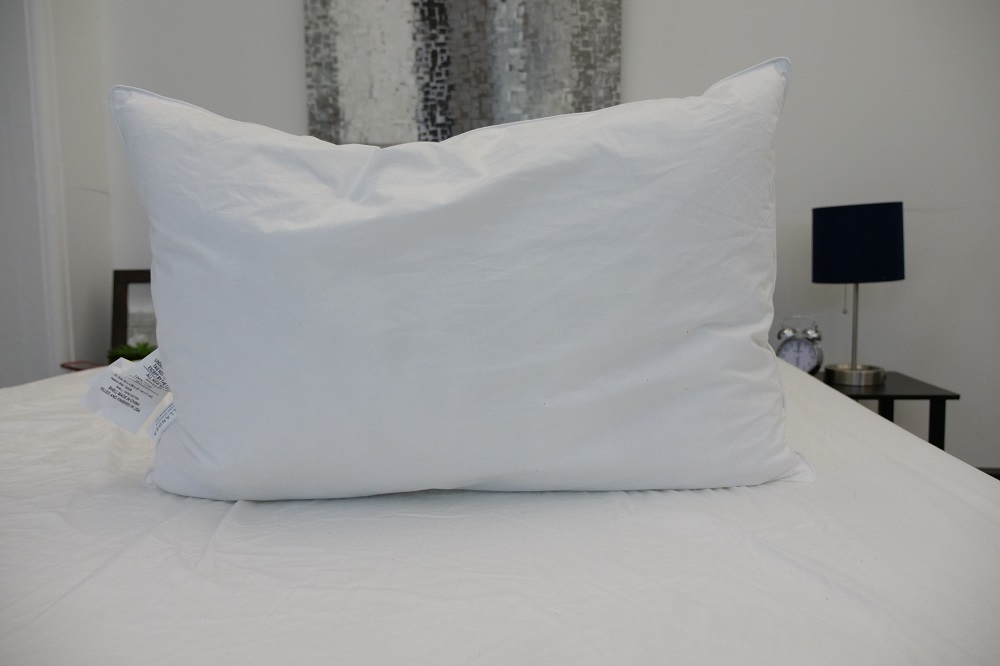 If you are a strict stomach sleeper, I've got some bad news and some good news. The bad news is that sleep professionals don't recommend sleeping on your stomach because it's easier to strain your neck in that position. The good news is that if you do sleep on your stomach, using a soft, thin pillow can potentially help to prevent your neck from reaching an awkward angle. Still, it's always best to be mindful of your body when sleeping in this position as it can also put pressure on your abdomen, cause back pain, pinched nerves, and even indigestion.
So, don't worry, sleepers! Having tested it out myself, I would say that the I Am Stomach Sleeper Pillow is just thin enough to keep my neck in neutral alignment, while still offering a soft, cushy place to lay my face.
HOW DOES IT WORK?
So, we know that this pillow is intended for stomach sleeper, but how does it keep your neck in alignment? And why can't you just use any old pillow?
Well, as usual, it all comes down to anatomy. If you rest on a thicker or fluffier pillow when lying on your stomach, your head will be forced at an upward angle leaving your neck in a position that will almost certainly have you walking like Frankenstein's monster the next day.
By using a flatter, softer pillow like this one, you're able to keep your neck in healthy alignment while still enjoying all the warm fuzzies that come with sleeping in your go-to position.
This pillow is also super lightweight and easy to bend and fold. So if you need a little more loft for support, you can mold the pillow a bit until it's just how you like it.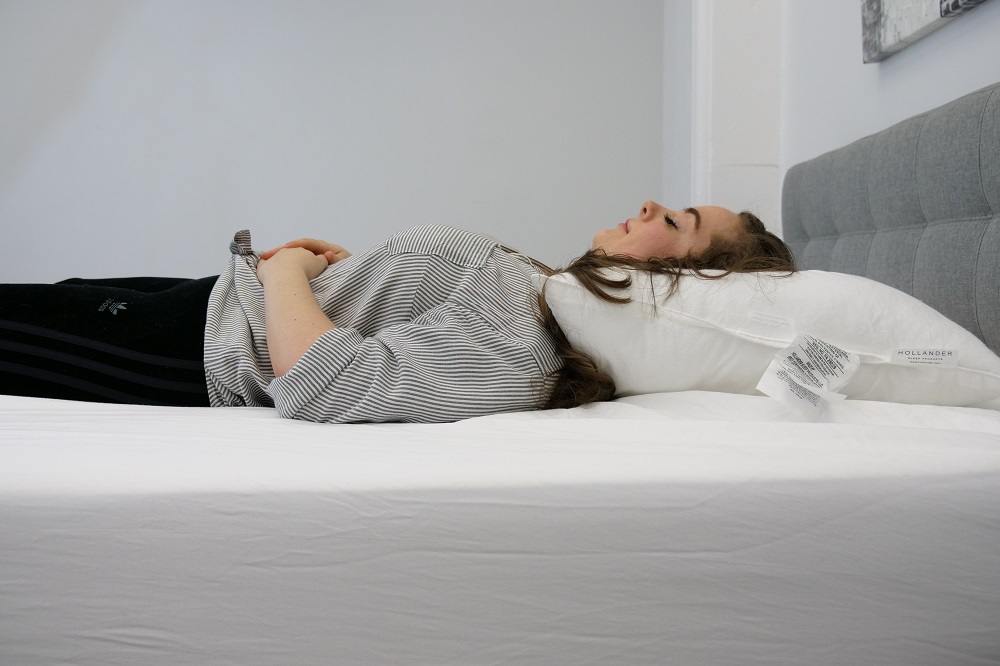 ANYTHING ELSE I SHOULD KNOW?
So how do you clean this pillow? Well, I'm pleased to tell you that it couldn't be simpler. The I Am Stomach Sleeper is completely machine washable and dryable. For the best results, wash your pillow in cold water on a gentle cycle using a mild detergent, then tumble dry with very low heat.
All I Am Stomach Sleeper pillows are manufactured in the USA, but eLuxury can ship internationally!
A nice note about this pillow is that you have 30 days to decide whether or not this pillow is the right one for you. If you don't love it, send it back for a full refund!
This pillow is available in two sizes: standard Queen (the one I tested) which is (20″ x 28″ x 7″) and King which measures 20″ x 36″ x 7″.
The standard Queen costs $35, and the King costs $40.
HOW DID YOU LIKE IT, SARAH?
Well, I have to be honest. I tested this pillow out in every possible position and (while it did serve as a nice between-the-leg-pillow) the only position I found truly comfortable was on my stomach.
Using it on my side, I felt like I needed way more support for my neck. I'm a back and side sleeper, but tend to mostly sleep on my side. For me, this pillow is definitely too thin for sleeping in the lateral position — it sort of felt like my neck was struggling to keep my head up. I could feel the strain within a matter of moments.
Using it in between my legs while on my side was actually quite nice. This pillow is very light so it offers just enough support to comfortably wedge between my legs and give my hips a little lift. Some folks don't like a pillow between their legs, but I need to wrap my leg around something in order to fall asleep and using this pillow between my legs definitely helped me reach my perfect sleeping posture.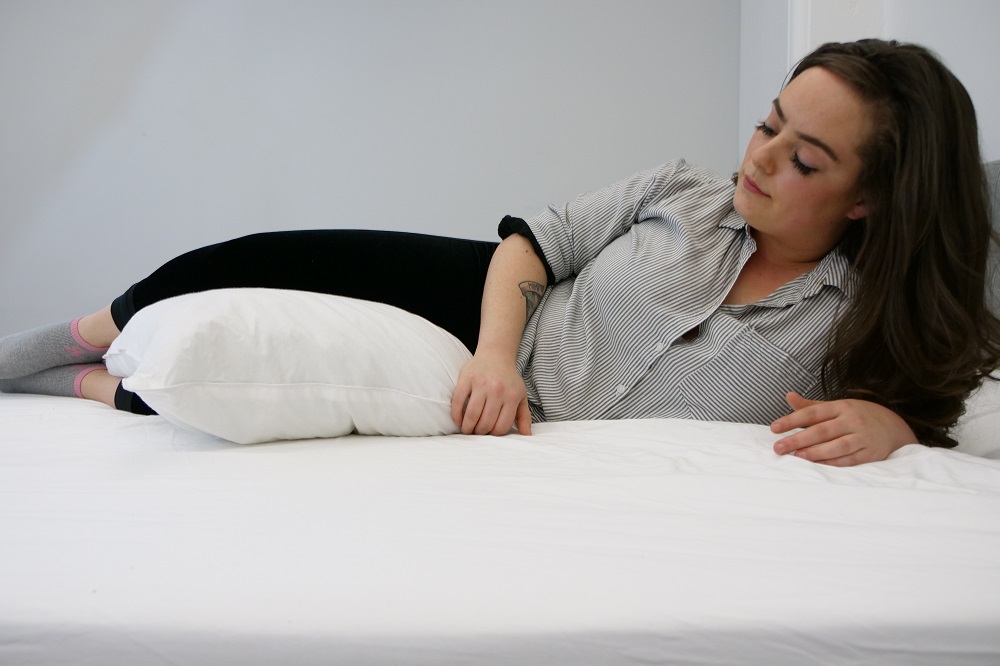 Lying on my back felt a little better as I didn't feel any strain or uncomfortable pressure. However, it still did not provide nearly enough support for me. The pillow is so soft and thin, that the weight of my head on the pillow almost made it feel like I was resting on a bare mattress. The material is nice and soft, but there's just not enough comfortable support for folks who want to sleep in the lateral or supine position.
When I finally rolled onto my stomach, I could feel my body settle into a nice, comfortable position. I found this pillow to balance softness and support nicely, but I would definitely consider it closer to soft than medium.
The soft flatness that was so unappealing for back and side sleeping actually served to keep my neck and spine in neutral alignment. I didn't feel like my head was awkwardly elevated at all — it was actually surprisingly comfortable! Even though I rarely sleep in the prone position, it was easy to fall asleep once I got settled.
So, while the company doesn't warn anyone against using it, it is my personal opinion that this pillow is only really suitable for stomach sleepers. But hey, you guys deserve your own pillow!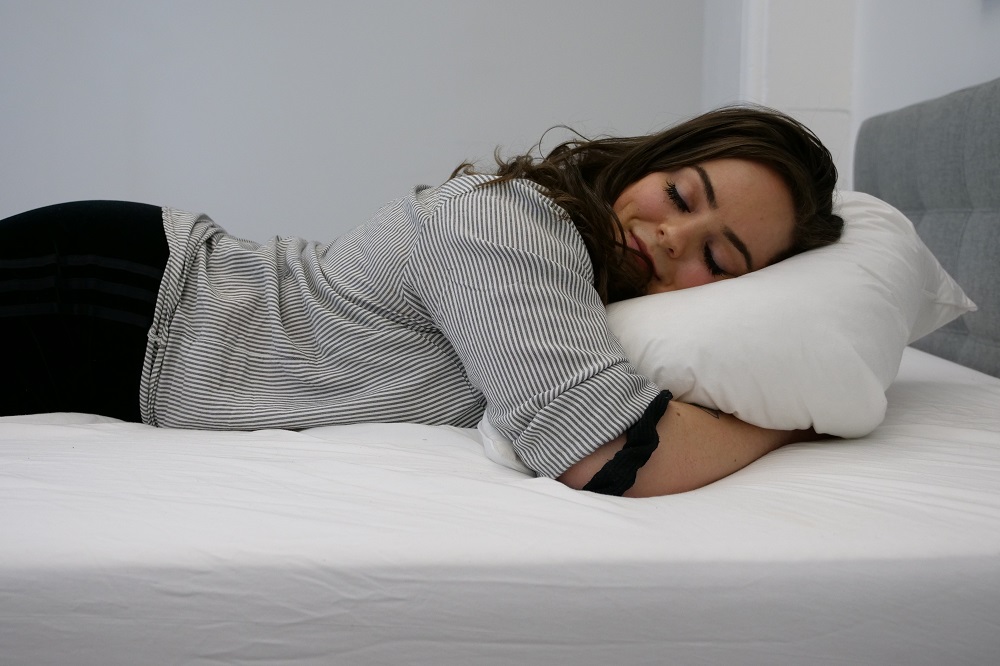 HEY, I'M A STOMACH SLEEPER! SHOULD I TRY THIS PILLOW?
If you're a strict stomach sleeper, it's probably worth it to give this pillow a try. As I mentioned, using a soft flat pillow like this one can help you keep your neck in healthy alignment throughout the night — but it's not all about posture! I would recommend this pillow to stomach sleepers who:
Like light, breathable fabric — The materials of the I Am Stomach Sleeper Pillow are all designed to be soft, light, and airy so you don't wake up with a sweaty pillow stuck to your face.
Often sleep with no pillow — If you're a seasoned stomach sleeper, you probably know that you need little to no neck elevation in order to get comfortable — so maybe you don't even use a pillow. However, if you'd like to try one, I think this is a good place to start.
Like to fold your pillow — This pillow's internal fill is so lightweight and easy to manipulate, it's very easy to fold your pillow in half or bunch it up to achieve your perfect loft.
Head over to eLuxury to buy your I AM Stomach Sleeper pillow now!
Sarah Riccio
Sarah is the former senior writer and bedding expert at Sleepopolis. She received her degree in Creative Writing from Brooklyn College and spends her free time doing stand-up, making pasta, and hanging with her cats.