People have different sleeping preferences, so they shouldn't be using the same pillow. That's at least what L Pillows believes. This new, luxury pillows are made to order to fit your needs. Are you a side sleeper? Prefer softer pillows? Want more texture? The L Pillow takes basic information about your sleep habits and creates a pillow that works just for you.
I was excited to get my hand (and head) on my own custom-made pillow. Keep on reading to learn if it's an investment you want to make as well!
Looking for a quick read? Click here to jump to the summary.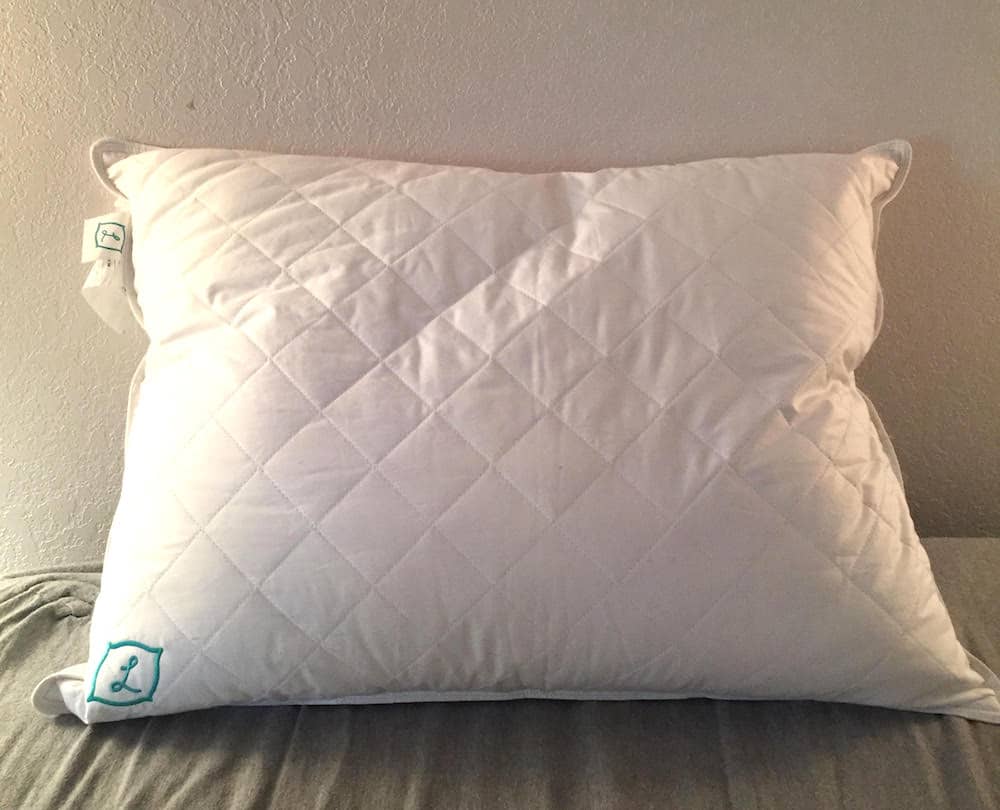 How it works
In order to have a pillow custom-made, the first thing The L Pillow asks is for you to select your sleeping position. (They even explain it by saying the position you wake up in is typically "your" position.) Then, you select your preferred thickness and fabric preference, and add in other details like weight, specific neck pain, back issues, and any other information you think might be helpful.
After that, it takes their team 1-2 business days to make it, and then another three days to have it delivered right to your door.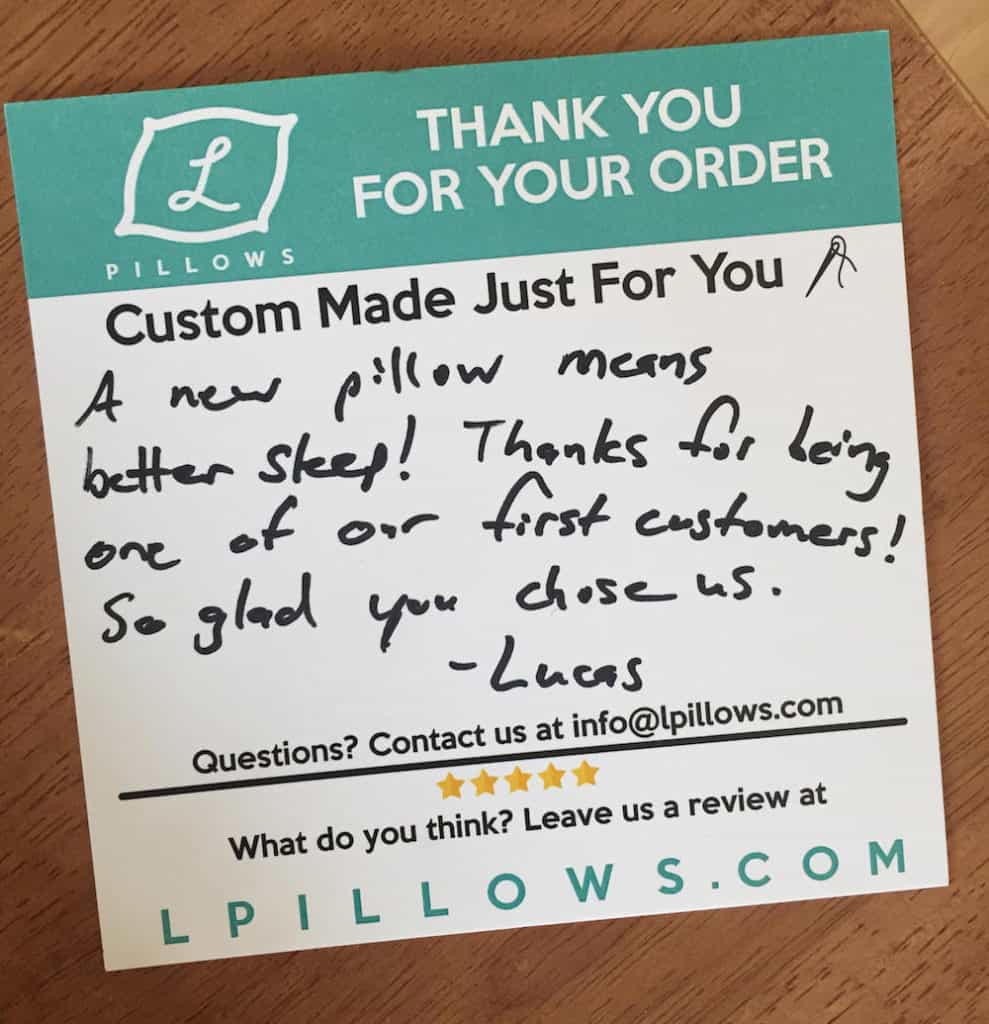 Construction & Feel
Each L Pillow is made to order. The case is 100 % cotton with a 400 thread count, which makes the case feel especially smooth. The filling is an "alternative down filling," which mimics the feeling of a down pillow, yet is hypoallergenic and antimicrobial. The L Pillow also uses, according to its site, the "softest gel fiber available."
For my pillow, I chose the quilted fabric option over plain/sateen, and felt like that, plus the double-stitched construction, created an extra sturdiness that complimented the pillow's softness.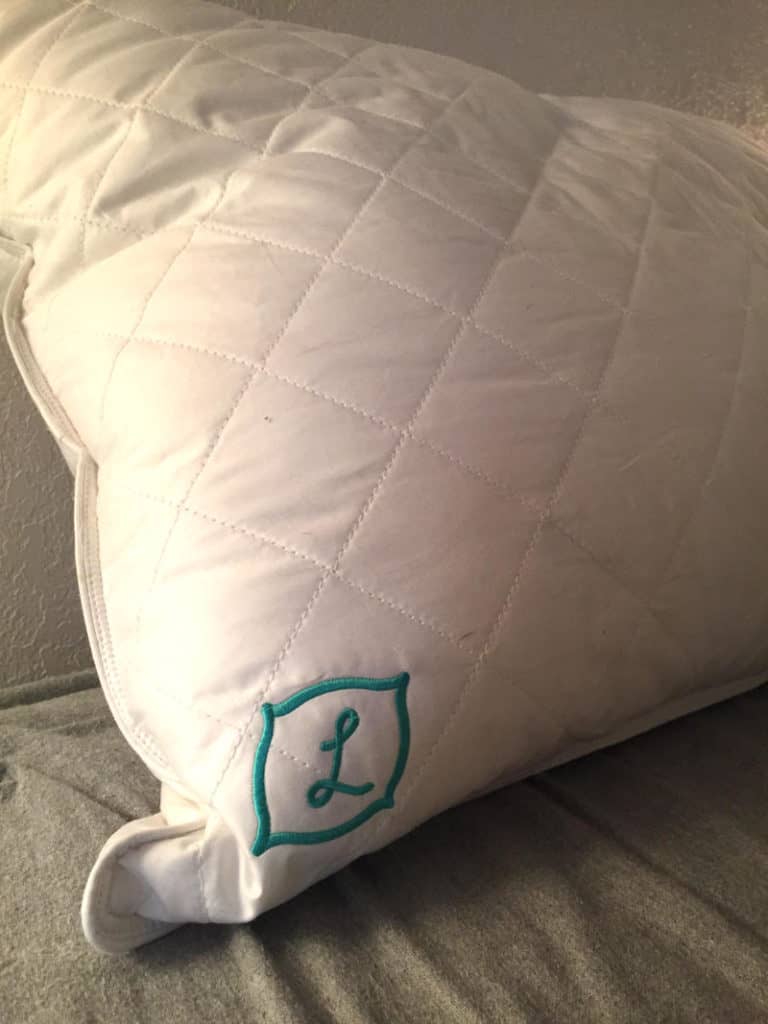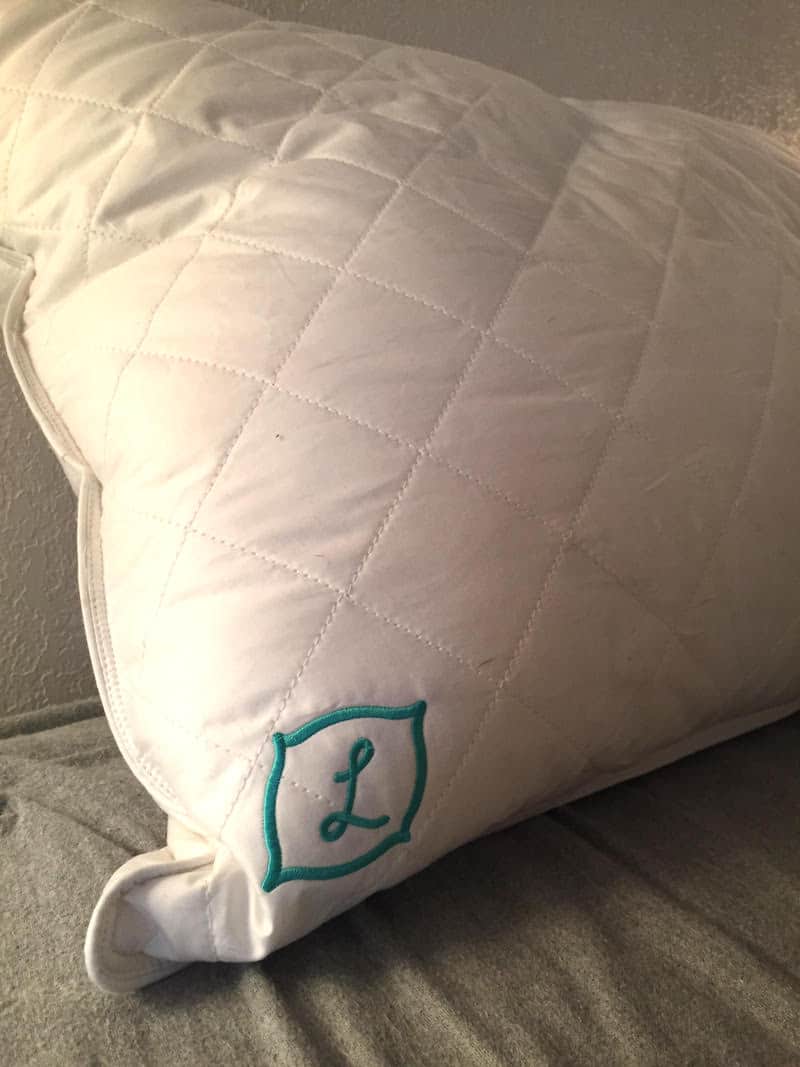 Other details
Materials made in the U.S.
Made with 100% cotton
Mid-priced: $50
Only one size (currently): 20" x 26"
My experience
My experience of The L Pillow started on the website. If you head over to their shop page, you have to fill out a few pieces of information in order for their team to construct my "perfect" pillow.
I filled out my sleeping position (side), preferred pillow thickness (thick), and fabric (quilted). Once I added it to cart, I also had the option to include my weight (which I did) and any history of neck and pain (I noted lower back issues). I was pumped to see that it was free shipping and free returns for all domestic orders, another nice touch.
Within five days, my custom pillow arrived. The packaging was really thoughtful, and even came with a handwritten note from one of L Pillows' teammates. So far, so good.
I can confidently say this, that I absolutely loved it the moment I put my head down. It was just the right amount of thickness and sturdiness, but still had a soft, smooth, and breathable quality. It was a little unexpectedly tall, but I found that the added height helped support my neck.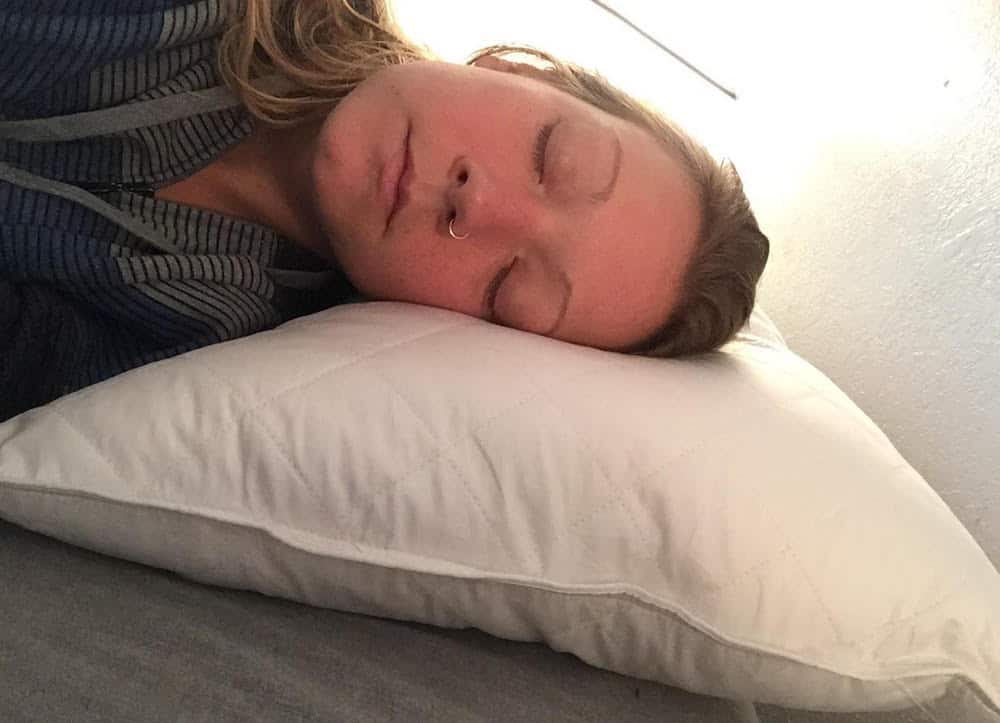 Somehow, L Pillows is able to create something that's squishy, yet firm, soft but also supportive. I loved the texture of the quilted fabric, so much so I didn't want to put a pillow case on it!
As a side sleeper, I usually find myself needing to adjust my pillow throughout the night. This pillow needed zero adjustment throughout the night and kept its shape really well. I even swapped out my others pillow (I usually need to sleep with two) to just the L pillow. Need I say more?
I would be curious, however, to see the difference in pillows based on your preferences and needs. If I didn't note that I had lower back issues, would the pillow be any different? Any how? If I said I slept on my back versus my side, how then would it feel? I trust there's a science to it, but I wanted more information. (Side note: I just read that their team urges you to "write us your life story in the order notes during checkout if you want" in order to construct your pillow. Next time, I might give that a whirl.)
So the jury is still out if they nailed the customization and built a pillow that fit me perfectly, or if they just happen to make really, high-quality pillows and I lucked out as a consumer. Either way, I'm sleeping like a rock, which is probably what matters most.
Common praise and complaints
The L Pillow is really new, so there aren't any reviews available except for the ones of their site (which could mean they are biased). That said, from what I read, I found that a lot of people wrote about having specific neck and back pain, which was fixed by The L pillow:
"After having a disc replaced and living with chronic neck pain, it was great finding a pillow that provided support without the added height of a traditional tempurpedic pillow" and "with chronic neck aches, I've constantly been on the search for a better pillow. The first night I tried L Pillows I felt entirely rested."
Others wrote about the perks of customization:
 "I am a face-down sleeper, but I've never been able to find the right pillow for me – until now! The filling, height, and way the fabric keeps me cool makes this a must have for those that sleep face-down" and "If you are a side sleeper, back sleeper, face sleeper that ends up on your elbows while breaking your back (yes, I've done this too), couch sleeper, lazy boy sleeper, you NEED this pillow. I've tried hundreds and spent a good amount of money on pillows, but this is THE ONE."
Overall, it sounds like people feel similarly to me: It's a darn good pillow.
Who should buy it
It's no secret I'm a big fan of The L Pillow. Here are some specific reasons why you should give this pillow a shot.
You have 50 bucks: Do you have $50 spare dollars? Seriously. For a custom made pillow, this is a competitive price, and one that's worth the investment.
You don't like your current pillow situation: Many of the reviews I read, along with own personal experience, led me to understand that a lot of people are picky sleepers and yet constantly fight with their pillows each night. If you're in a bad relationship with your pillow—get out of it! And try something new—The L Pillow— that could fit your actual needs.
You want to experience something fun: The whole experience, from customizing your pillow, to opening up the package, to sleeping, is actually pretty exciting. And…we're talking pillows. Pillows aren't supposed to be fun, and yet L Pillows makes it a cool experience.