A good lumbar support pillow can be an essential tool to increase comfort and relieve back pain. The lumbar region has a slight inward curve and is commonly referred to as the lower back. Causes of lower back pain include poor posture, injuries, medical conditions, and nerve impingement. Lumbar pain can be worsened by certain sleeping positions and long periods of sitting. A lumbar support pillow is designed to alleviate strain and support the spine and back muscles.
Choosing the right lumbar support pillow can seem like a daunting process. Out of all the available options, which material, model, and size are right for you? Read on for my top 4 picks. I've tested a wide array of pillows to help you select a model that provides maximum spinal alignment and pain relief.
Best Lumbar Support Pillows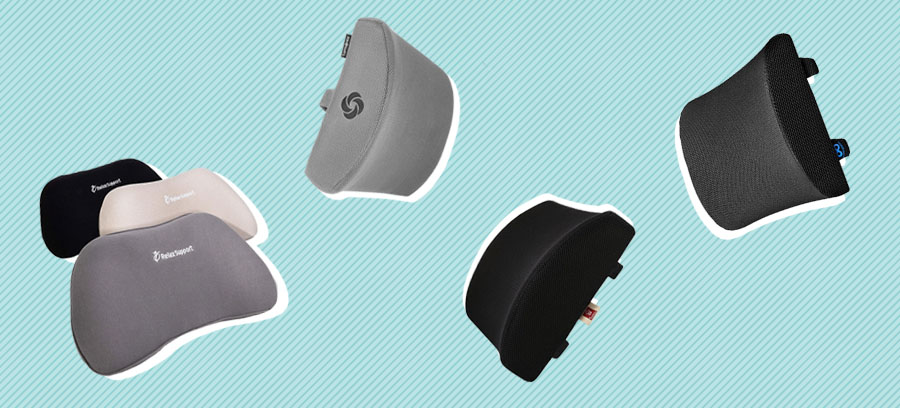 Editor's Pick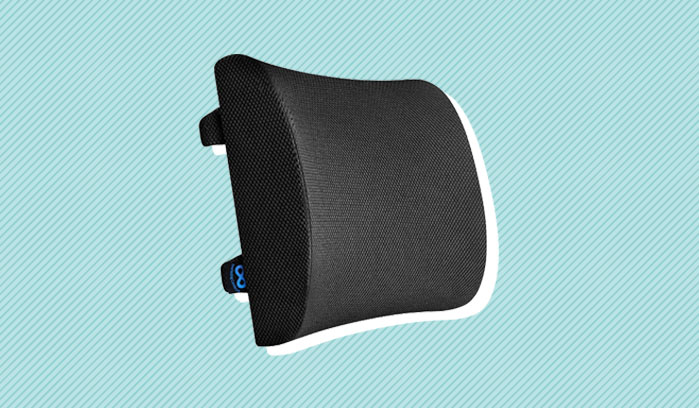 Everlasting Comfort Lumbar Support Office Chair Pillow
My nod for overall quality, comfort, and durability goes to the Everlasting Comfort Lumbar Support Office Chair Pillow. This model works equally well for car seats and office chairs, and has dual adjustable straps for a secure fit. This 13×13 ½ inch pillow comes in five colors and includes a lifetime replacement guarantee. 
Pros: 
Comfort. This pillow felt supportive but not stiff, and conformed comfortably to my lumbar spine over several days of use

Safety profile. The Everlasting Comfort pillow is hypoallergenic, making it a good choice for folks with allergies and asthma 

Cover. The removable mesh cover is designed to increase airflow and is machine washable
Cons:
Large. The Everlasting Comfort pillow may work best for taller folks and those who need a thicker support pillow 

Firm. Back pain sufferers who prefer softer cushioning may find this pillow a little too firm
Best for Office Chairs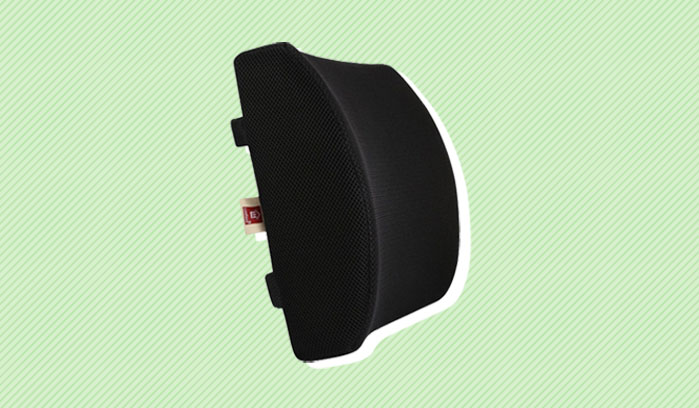 LoveHome Memory Foam Lumbar Support Back Cushion
If you spend most of your day sitting at the office or a desk, check out the LoveHome Memory Foam Lumbar Support Back Cushion. This model offers plush cushioning to help minimize discomfort, and it's my top pick for a lumbar pillow suitable for office chairs. The machine washable mesh cover helps to increase ventilation and comes in 8 solid colors, including azure, taupe, and violet. 
Pros:
Work-friendly. The LoveHome cushion's ergonomic shape fits most office chairs and conforms comfortably to the lower back

Plush. This pillow offers cloud-like comfort for folks who find some lumbar pillows too stiff

Return policy. The LoveHome pillow can be returned for a full refund or exchange within 60 days
Cons:
Durability. This pillow may be a bit too soft to hold up over the long term

Straps. I found it difficult to secure the LoveHome cushion firmly enough to my chair with the cover straps
Best for Value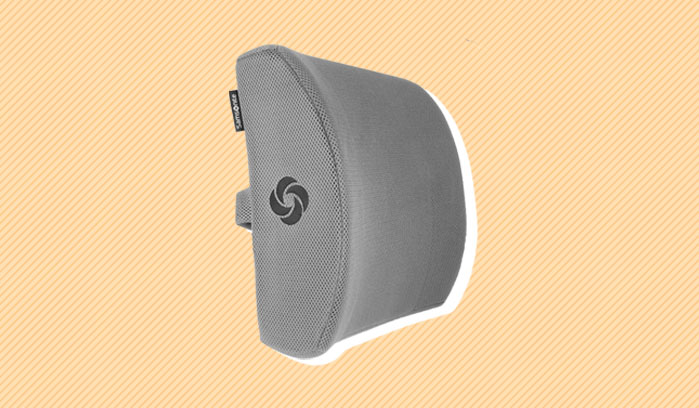 Samsonite Ergonomic Lumbar Support Pillow
My nod for best bargain goes to the Samsonite Ergonomic Lumbar Support Pillow. This pillow is made of high grade memory foam and includes a buckled strap for secure placement. The Samsonite pillow comes in 3 colors and a half-moon option for those who prefer more structured lumbar support.  
Pros:
Plush. For folks on the hunt for lumbar support that also offers cushiony comfort, look no further than this pillow's memory foam 

Price. This pillow is well-made, ventilated, and has a lower price tag than most other options I tried 

Low odor. Many new memory foam pillows take a few days to air out, but this model had almost no smell right out of the box
Cons:
Delicate cover. Time will tell if the cover can withstand heavy use and washing, but it feels a bit fragile

Strap. The single buckled strap on this pillow wasn't enough to keep it immobile through an afternoon on my desk chair
Best Fit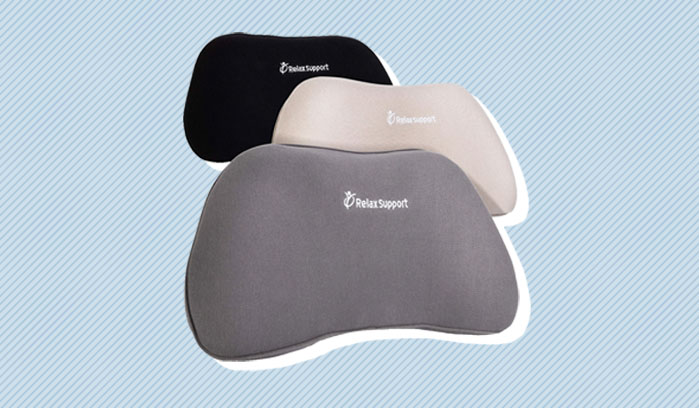 RS1 Back Support Pillow
The RS1 Back Support Pillow by Relax Support is my choice for folks looking for a comfortable, supportive fit. This pillow offers conforming memory foam that could fit just about anyone without feeling too bulky or stiff. The RS1 lumbar pillow comes in 3 colors and includes a removable, machine-washable cover. 
Pros:
Ergonomic shape. This pillow is as close to universally supportive as a lumbar pillow gets and would work for most folks

Pressure relief. The memory foam cushion is a nice option for back pain sufferers in search of pressure relief 

Great for car seats. The RS1 back support pillow fit nicely in both my car seat and office chair  
Cons:
Durability. This pillow felt a little less supportive after a week of use. This could be a comfort issue over the long run

A tad firm. The RS1 pillow might feel a little rigid to some people, particularly those with chronic pain conditions
How We Picked
A lumbar support pillow helps to cushion and align the spine and lower back muscles. When choosing pillows to review, I looked at some important metrics that helped me determine quality, value, and comfort. These metrics hold true no matter which lumbar support pillow you're considering, and can help you decide which one is right for you.
Who Needs a Lumbar Support Pillow?
Lower back pain or sciatica can result from a number of different conditions, including poor posture, spinal stenosis, irritation of the nerves, and sports injuries. Long periods of sitting at work or home can cause or exacerbate back pain due to increased pressure on the lumbar spine. Folks who feel increased lumbar discomfort when sitting or lying down may benefit from a support pillow, which can improve spinal alignment and decrease muscle tension.
Lumbar support pillows are small, portable cushions that fit into the natural curve of the lower spine. These pillows are typically used on car seats, office chairs, and recliners to reduce lower back strain and discomfort. A lumbar support pillow can help align the entire spine and decrease pain in the entire back as well as the neck and shoulders.
If you're not sure of the source of your back pain or have questions about the benefits of a lumbar support pillow, check with your medical provider.
Materials
Most lumbar support pillows are made from memory foam. Memory foam is a viscoelastic material made from polyurethane that responds to heat and conforms to the body. Memory foam can absorb and retain body heat and feel excessively warm to some folks. Newer forms of the material incorporate gel or open-cell technology to help decrease heat retention. If you find memory foam to be overly hot, try a cooling option or choose a breathable cover designed to increase ventilation and wick excessive moisture.
Lumbar pillow covers are usually made from cotton/polyester blend, mesh, or polyester. They are typically removable and can be hand or machine-washed. Covers designed to be used with office chairs and car seats often include straps or elastic bands to hold the pillow securely in place.
Types of Lumbar Support Pillows
Your choice of lumbar support pillow will be determined by where and how often you'll use it. Folks who need extra support while at work will require a different type of pillow than those who need support while sleeping. The most common types of lumbar support pillows are as follows:
Car seat pillow – A lumbar support pillow designed for the car typically attaches to the seat to keep it in place. Some car seat pillows support the entire back in addition to the lumbar region
Office chair pillow – A pillow designed for an office chair tucks into the lumbar back and attaches to the chair for a secure fit
Bed pillow – Lumbar support pillows designed for bedtime use fit under the lower back to help alleviate tension and discomfort that can occur while lying flat. They may be larger than support pillows designed for chairs and are usually free of attachments
Travel pillow – A lumbar support pillow intended for travel use is typically more compact and designed to be portable. Travel lumbar pillows are usually used on planes and other public transportation, and often come with a travel bag to keep them protected when not in use
Care and Maintenance
The majority of lumbar support pillows are made from memory foam or other materials that are not intended to be washed. Removable covers can usually be washed by machine or by hand. Be sure to follow the manufacturer's care instructions when washing your pillow cover.
Buying Tips
Still not sure which lumbar support pillow is right for you? Try out these tips to make the decision process easier:
Know where you'll use your pillow – Some pillows are designed for use in the car or while traveling, while others are intended for office or home use. Before beginning your search for the right pillow, know where and how often you plan to use it
Stick to a budget – If value is a must for you, choose several lumbar support pillows in your budget. Compare materials, styles, and customer reviews before selecting your top pick
Factor in material – Many lumbar support pillows are made of memory foam, which can feel hot to some folks. If you find memory foam too warm, choose a lumbar pillow made from poly foam or memory foam infused with copper or cooling gel. Mesh covers can also increase breathability
Read the fine print – Some pillows can be returned or exchanged if they don't suit your needs. Know the manufacturer's policy on returns and exchanges before you buy
Make sure to measure – Some lumbar pillows can add too much bulk or thickness to an office chair or car seat. Before choosing a pillow, take measurements to make sure your new lumbar pillow will fit comfortably without pushing you too far forward
Last Word From Sleepopolis
Many folks experience lower back pain chronically or on occasion. Excessive sitting can create pressure on the lower spine and lead to misalignment and muscle aches. The right lumbar support pillow can help reduce tension and discomfort at work, in bed, and while traveling. Your choice of a new lumbar pillow should be determined by where and how often you'll use it, your budget, and the materials you find most comfortable.