When discussing beds with my readers, there always seems to be some confusion about California king vs. king-sized mattresses. Most people tend to think that California king mattresses are larger than kings. However, this is not true. While a California king is slightly longer than anything you'll find on our roundup of the best king mattresses, it has less total surface area.
A California king (also known as a "Western king") is 72″ wide and 84″ long. It has a total surface area of 6,048 square inches.
A standard king mattress (also known as an "Eastern king") is 76″ wide and 80″ long. It has a total surface area of 6,080 square inches.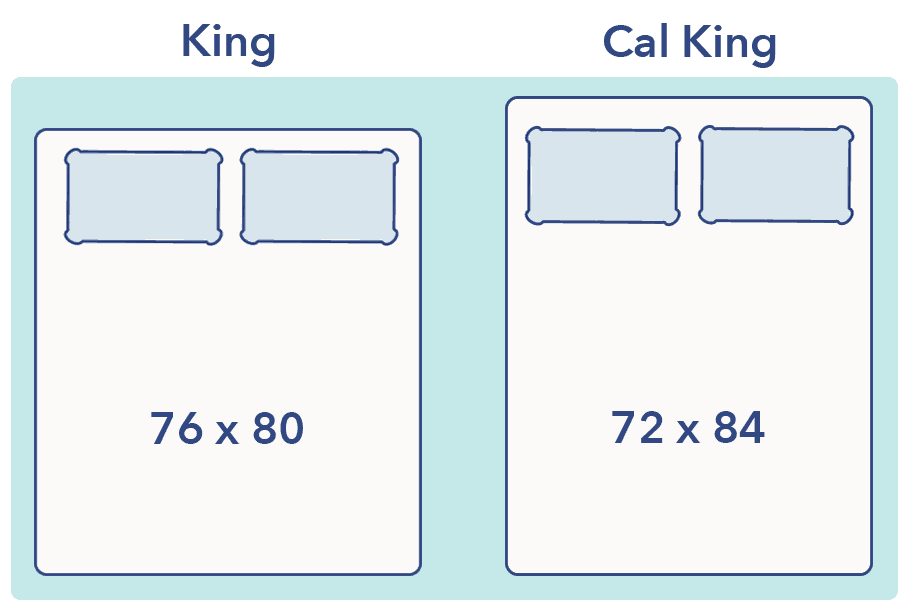 [Check out the Sleepopolis breakdown on common bed sizes!]
California King vs. King Mattress Comparison
Below is a quick comparison of the California king vs. king mattress.
| | California King | King |
| --- | --- | --- |
| Width | 72" | 76" |
| Length | 84" | 80" |
| Surface Area | 6,048 square inches | 6,080 square inches |
| Pros | Good for taller people | Maximum width makes it great for couples |
| Cons | More difficult to find accessories. Difficult to move | Difficult to move |
| Other Names | "Western King" | "Eastern King" |
Should I buy a California King Mattress or King mattress?
When deciding on the best mattress for you, there are many factors to consider when choosing between a California king or standard king.
Room Dimension: Ideally, you want at least two feet of space on all three sides of your mattress. This will provide enough room to walk and maneuver around the bed. Also, this amount of space aesthetically makes the mattress look like it belongs in the room and is not crowding the space. If you have a narrower bedroom, you may lean more towards the leaner profile of the Cal king. Likewise, if your room is a bit wider, the standard "Eastern" king-sized mattress may be appropriate, given its width.
Cost: While the California king size has grown in popularity, it's still significantly rarer than the standard king. As a result, searching for box springs, bed frames, sheets, mattress protectors, and virtually every other accessory is not only more difficult, but more expensive. There simply are not as many options available in terms of bedroom accessories for California king mattresses as their are for standard kings. If you're on a tighter budget and are looking at the best affordable mattresses, it would be more prudent to opt for the standard king, as you'll have a much easier time shopping for your accessories.
Related: Best California King Mattresses
Your Height: If you're over 6 feet tall, the California king may be a great option. The extra length will give you a little more space from head to toe. That said, this really is a personal preference. I'm 6'1″ and I love to sleep with my feet hanging off the bed. For me, the additional length on the California king isn't worth it. However, you may find you love the extra length if you're taller than average.
Your Partner: If you sleep with a partner and need one of the best mattresses for couples, you'll need to take both of your individual preferences into consideration. As the Cal king is a bit narrower, it's more ideal if you tend to sleeper closer to — or touching — your partner. In the same vein, if you prefer your space while you sleep, the standard king, which is a little bit wider, is most likely the best option for you.