Fabric made from bamboo has myriad benefits; it's hypoallergenic, moisture-wicking, eco-friendly and oh-so-soft. Some of you might remember my review of those silky, cool bamboo sheets from Hotel Comfort — a company with a mission to provide luxury bedding that is naturally breathable and silky. Hotel Comfort uses natural bamboo fibers in all of their products and now it's time to see what their bamboo pillow is all about!
In this review, I'll be thoroughly testing this lofty-soft pillow to get a good sense of what I like, what I don't like, and for whom I think this pillow might be a great sleep accessory. No time to read the entire post? Click here to skip to my review summary.

https://www.youtube.com/watch?v=qzC_6WeEghE
WHAT'S IT MADE OF?
The cover fabric of this pillow is made from a blend of bamboo and polyester, both of which have naturally cooling and moisture-wicking properties. It's soft to the touch, and has a zipper along one side so you can easily remove the cover when it's time to be washed. The inner liner that partitions the fill from the cover fabric is made of a lightweight polyester material which is said to enhance breathability.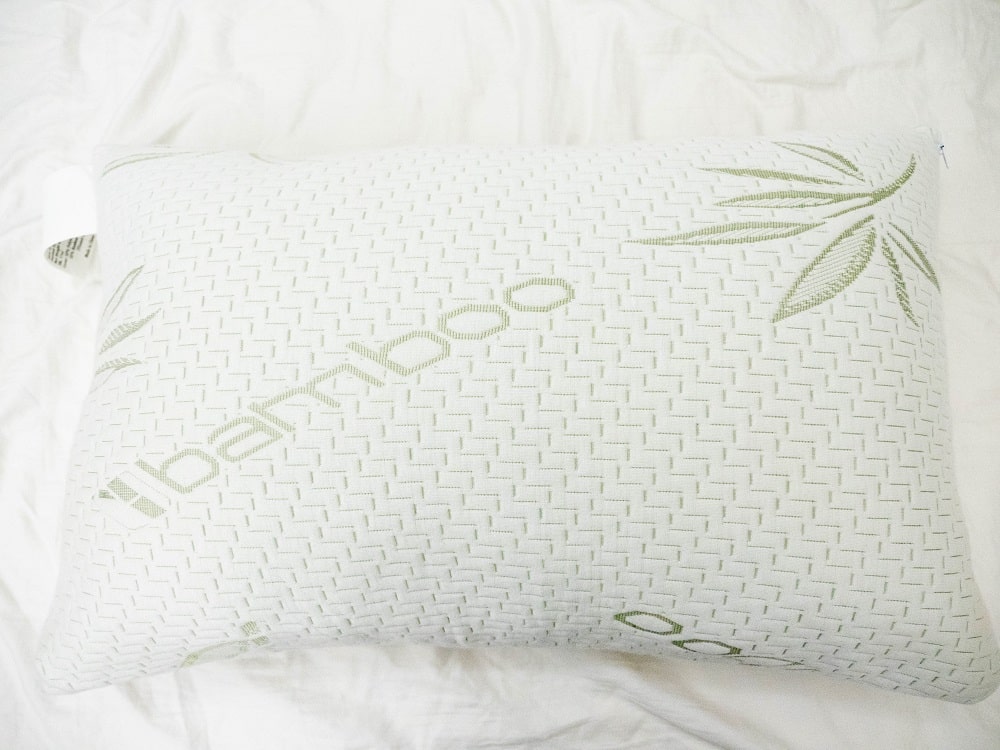 This pillow is filled with 100% long-strand shredded memory foam which is engineered to be moldable with a slow response to pressure. The popcorn-sized pieces of foam move individually, allowing for more breathability than solid memory foam which can often trap body heat. This pillow's foam offers even pressure relief and conforms to the sleepers head and neck, allowing for a gentle sink into the pillow's surface.
This pillow has a lofty build and ranks a medium on the firmness scale which was intended to offer sleepers a nice balance between plush and supportive. It's an all-position pillow and Hotel Comfort suggests that any style of sleeper could benefit from its comfort qualities. While this pillow is shapeable, it's not adjustable (meaning you cannot directly manipulate the internal fill in any way).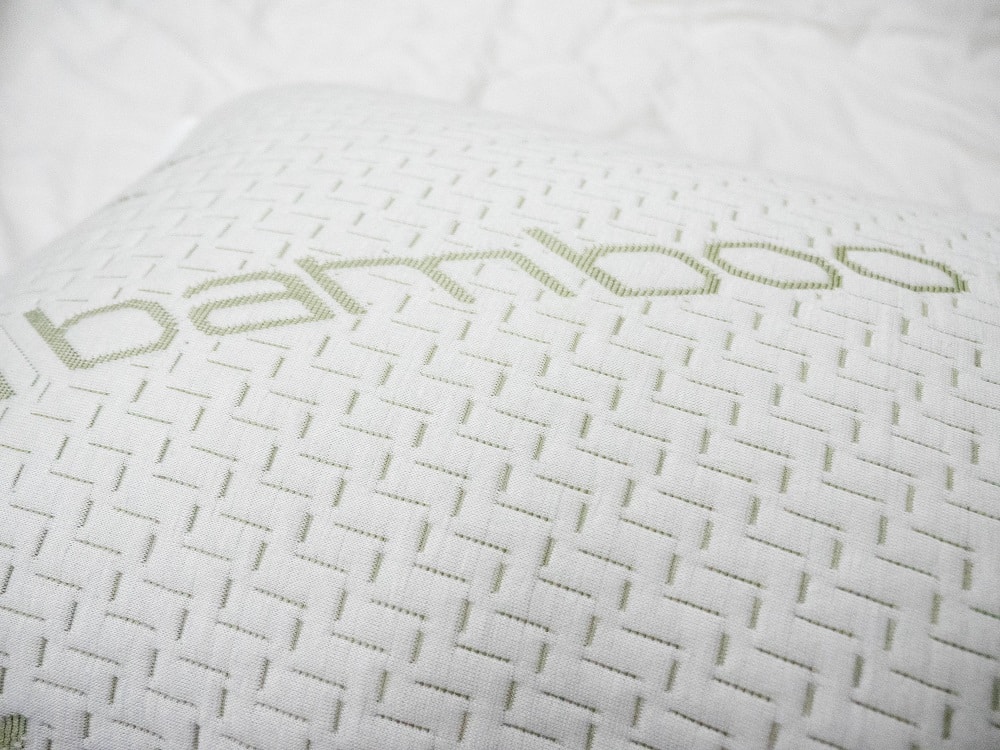 This pillow is hypoallergenic and the bamboo fibers are sustainably sourced and pesticide-free, making this an eco-friendly pillow choice as well. The combination of materials used to craft this pillow are intended to enhance breathability and reduce heat absorption as well as offer comfortably conforming pressure relief so that sleepers can enjoy a full night's sleep.
Fun fact: Memory foam has become one of the most popular pillow-fills around! But did you know that it was developed by NASA in the 70's so that its pilots could have a cushier place to sit on their long journeys into space?
HOW DOES IT FEEL?
The cover fabric itself has a soft coolness to it which complements the breathability of the internal fill, making it less likely to absorb and trap your body's heat. As you press your head into the pillow, you can feel the slow response to pressure begin to contour to your body's shape.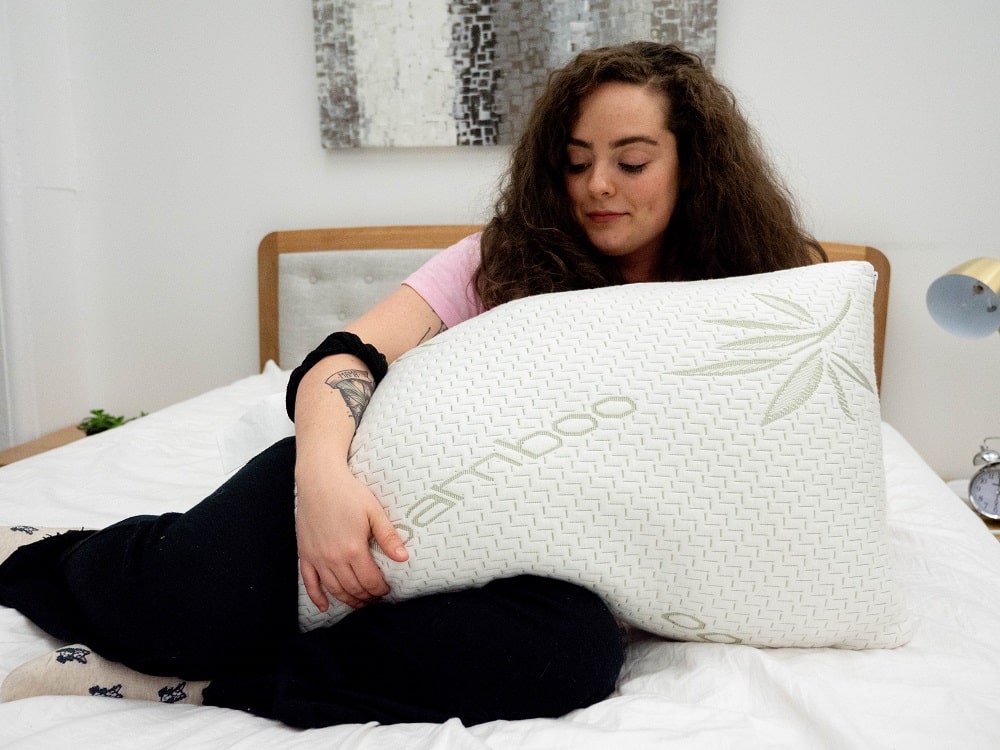 This pillow has a medium firmness level with a soft, lofty build so that sleepers can enjoy a pillow that feels, in the words of the folks at Hotel Comfort, "soft, supple and mushy." It's got a nice slow response to pressure which offers a gentle sink into the pillow's surface. As you sink into the pillow, the material conforms to your head and neck so that you're securely supported and your spine remains in neutral alignment.
As you push into the fabric, you can feel the air flow through the material, keeping things cool and breathable. The fill is fluffy but dense, so sleepers can mold and shape the pillow how they like. As I mentioned, it's not adjustable, so you can't actually reach in and alter the internal fill in any way, but you can bunch, fold, and fluff this pillow to meet your immediate need.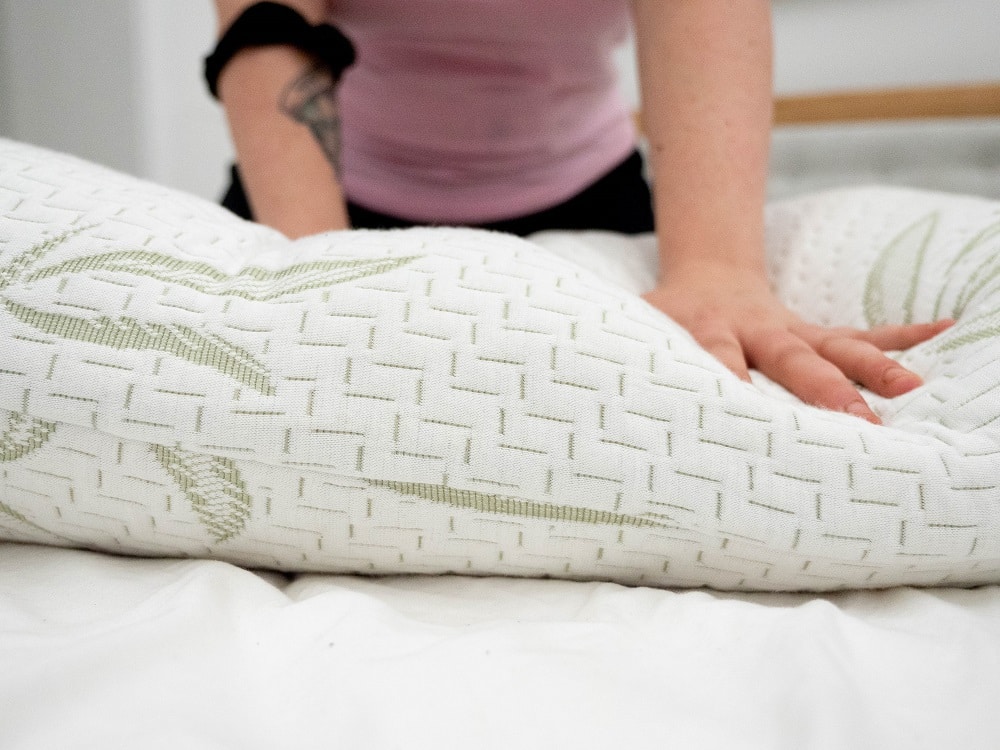 This pillow has a fluffy body and doesn't really need much manual adjustment to keep it that way. While it has a slow response to pressure, it has great recovery and keeps its shape well over time. The internal fill doesn't really shift as you change positions, and it doesn't get flat either. It's an all-positional pillow that Hotel Comfort says is suitable for all styles of sleep.
HOW DID YOU LIKE IT, SARAH?
As we've learned, the only way to really know what the feel and support of a pillow is like is to thoroughly test it yourself… so, that's what I did!
First thing's first: this pillow came rolled up in a small, tubular plastic case. When I unzipped the casing and pulled the pillow out, I thought to myself: "Boy, this is one long, thin pillow." It seemed like the cover fabric hung loosely off of the material and I was beginning to wonder if I had even ordered the right sleep accessory. I set the pillow down on the mattress to give it some room to breathe; I thought maybe it had been cooped up in its packaging for too long.
Sure enough, after about 5 minutes, this pillow puffed up exponentially. It hardly looked like the same pillow I had just removed from the bag. Just like magic, what once was a flattened pillow swimming in a baggy cover fabric had transformed into a plush, fluffy pillow stuffed full of perky memory foam. Once we were up and running, I crawled right into the supine position.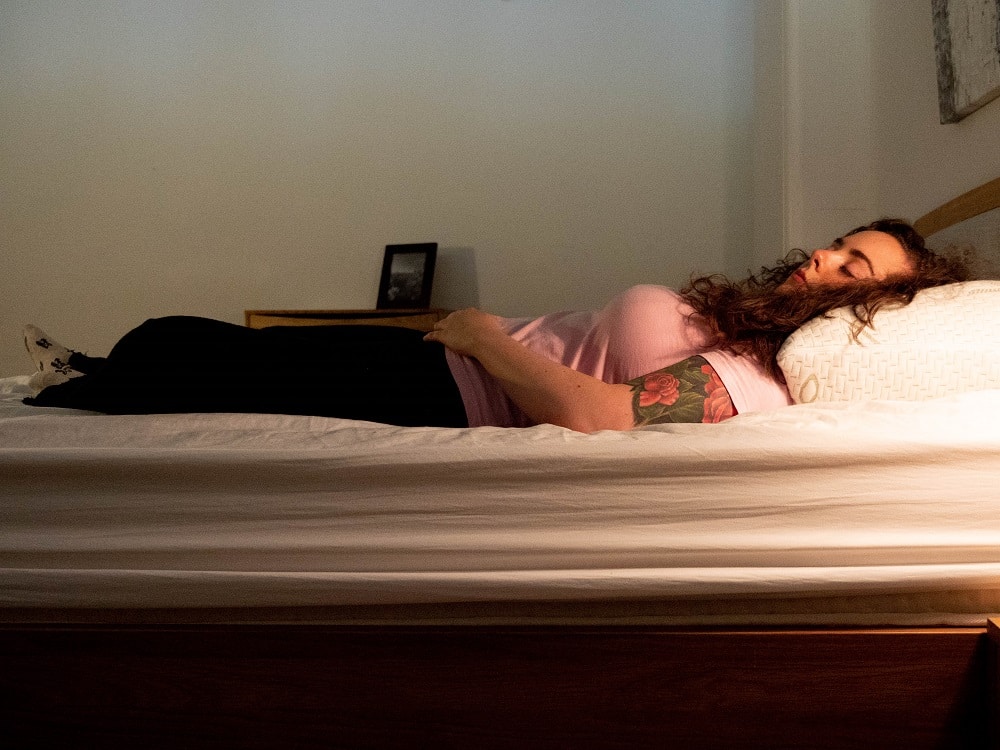 Lying on my back felt comfortable right away. The shredded memory foam felt firmly supportive yet gently cradling at the same time. I felt like the higher loft and medium level of support combined perfectly for back sleeping — it kept my spine in neutral alignment while lightly conforming to my head and neck. The density of the fill made me feel like I could lie in this position for eternity and the pillow would never go flat; not once did I feel like the pillow was losing its shape or that it needed to be fluffed.
Rolling onto my side felt very natural as the sides were already a little puffed up from conforming to my head while in the supine position. When sleeping on my side, I like the sides of my pillow to be a little higher and more supportive just to make sure that my neck is not strained in any way. This pillow really did a great job of keeping my head and neck in healthy posture while also alleviating a little pressure from my shoulder. Again, the loft and support of this pillow seem to be very well suited to back and side sleepers (especially if you're like me and prefer a little extra height and firmness).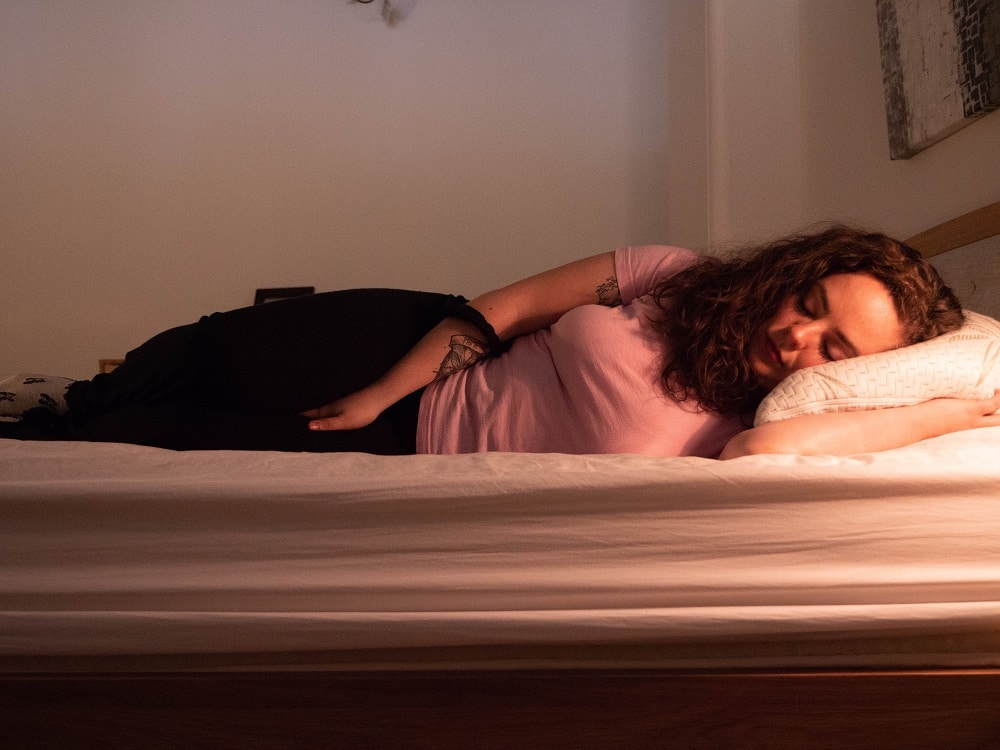 As I rolled onto my stomach, I could feel the air flowing through the fabric which pleasantly reminded me that the pillow didn't seem to be trapping my body heat. Some of you might remember that I sleep hot, so I like to pay extra attention to bedding that's working to regulate my body's temperature.
Lying on my stomach was generally pretty comfortable, but not quite as much as when I was in the lateral/supine positions. The lofty build of this pillow is almost a little too high for me, and I would suggest that all stomach sleepers give this pillow a try just to be absolutely sure it's not going to elevate your head or neck in an unhealthy way. Stomach sleepers should generally be using a softer, flatter pillow (or no pillow at all!) in order to maintain healthy posture while they sleep, and the Hotel Comfort Bamboo Pillow is definitely not soft and flat.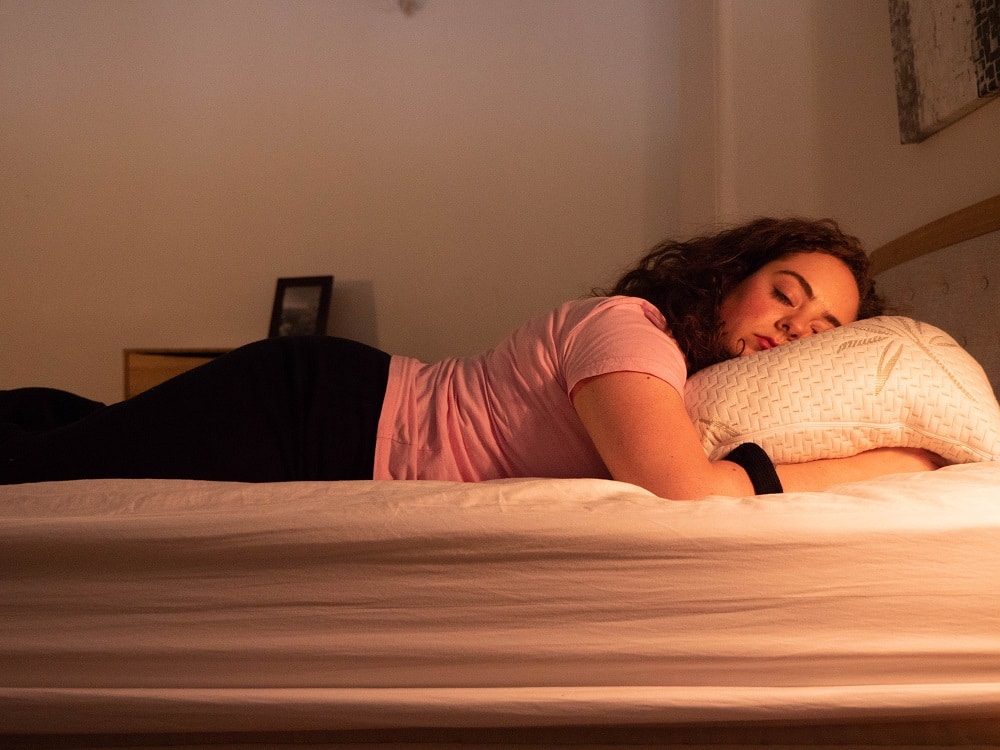 UNDER-THE-ARM & BETWEEN-THE-LEGS
When it comes to hugging a pillow under your arm or between your legs, I like to have something fluffy and lofty to support me. This pillow meets both of those criteria, and I feel like the shredded memory foam works even better than solid memory foam would for these particular sleep styles. Holding it in between my legs, it still offers that sink into the material that's so characteristic of solid memory foam, but the shreds make it so that my leg doesn't sink too deep. Instead, it gives my leg and hip a little extra lift which alleviates pressure from my lower back (and is also a comforting style of sleep!).
Hugging it under my arm feels comfortable as well, but slightly less so than between the legs. I'm on the shorter side (5'0"), and the high loft of this pillow is almost too high for my arms to adequately embrace. Taller sleepers would probably find this to be ideal as a hugger-pillow, but us shorter folks might need to wrangle it in a bit before finding our comfort zone.
ANYTHING ELSE I SHOULD KNOW?
100 day trial
Designed in the USA and manufactured in China
Free standard US shipping
5 Year Warranty
Wash Instructions — The outer bamboo cover of the pillow is completely machine washable but the inner foam core should not be cleaned or get wet. If necessary to clean, spot clean with a damp cloth and mild detergent and then let it air dry.
Zipper — The zipper is not completely hidden and dangles off the side
Pricing — You can find the Queen size pillow on Hotel Comfort for $119.99 and the King for $129.00
SHOULD I TRY THIS PILLOW?
This is a lofty, supportive pillow that Hotel Comfort designed to provide stellar pressure relief for sleepers of all styles — but folks who might especially benefit from this pillow's qualities are sleepers who:
Suffer From Allergies — This pillow is hypoallergenic and designed without the use of toxic materials. Not to mention, bamboo fabric has special antibacterial traits.
Heat up during the night — Both the cover fabric and the internal fill were crafted to be breathable and temperature regulating to help folks sleep cooler than they would with a solid memory foam pillow.
Don't bother with pillowcases — The bamboo/polyester blend of the cover fabric is so soft and smooth that you don't need to dress it with a pillowcase if you don't want to! It's still just as inviting without one.
Convinced the Hotel Comfort Bamboo Pillow is right for you? Click here to buy yours on Amazon!
Sarah Riccio
Sarah is the former senior writer and bedding expert at Sleepopolis. She received her degree in Creative Writing from Brooklyn College and spends her free time doing stand-up, making pasta, and hanging with her cats.