Using a heated car blanket is a great way to stay warm when you're traveling in the great outdoors. They come in all shapes, sizes, and materials, and there are many styles from which to choose. That's why the process of picking the perfect heated car blanket can be a bit tricky! But don't worry, folks — I'm presenting my top four favorites to guide you in your search. Plus, I'll impart expert shopping tips so you've got all the information you need to find the heated car blanket that's best for you.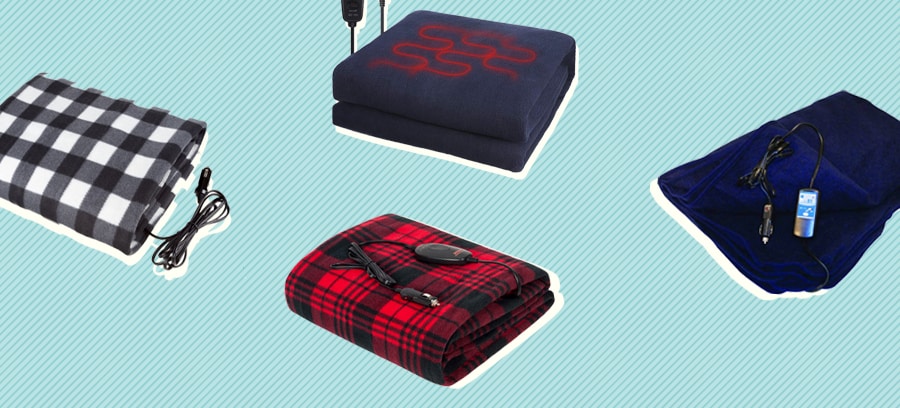 Editor's Pick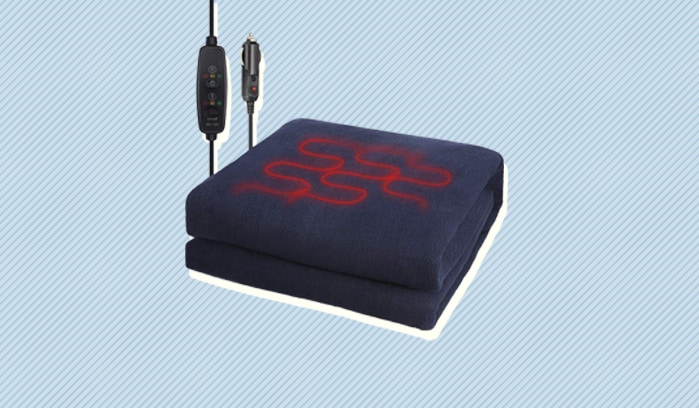 GLIME Electric Car Blanket
If you're looking for an electric car blanket with a few bells and whistles, this is a fantastic choice. It features adjustable temperature settings, an automatic safety timer, and can heat up in about 3 minutes flat. 
Pros
This electric car blanket measures 56" x 40", making it a great pick for couples or kids looking to cuddle beneath its warmth. 

Adjustable heat settings and a safety timer let you customize this electric blanket according to your personal preferences. 

Considering its quality and special features, this electric blanket is very reasonably priced!
Cons
This blanket is only offered in one navy blue color. 

When you spot-clean this blanket, be sure to use a slightly damp cloth rather than a very wet rag or sponge (too much water can damage the materials!).
Best for Trucks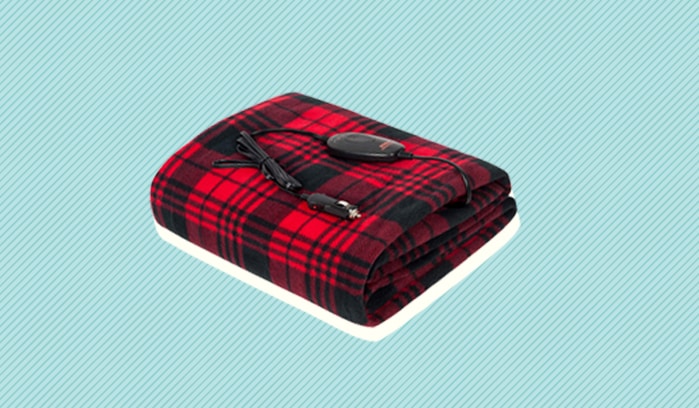 Sojoy Heated Electric Blanket
This multi-functional heated blanket features an extra large construction that's perfect for trucks or RVs. It offers three adjustable temperature settings, a safety timer, and a warm fleece cover fabric that's perfect for cold nights. 
Pros
You can choose between three heat settings in order to find the temperature that best suits your needs. 

An extra long power cord and 60" x 40" construction makes this blanket a perfect pick for those with trucks or recreational vehicles. 

You can set a timer of 30, 45, or 60 minutes to ensure safe practices, and prevent your car battery from draining all night. 
Cons
This heated car blanket only comes in flannel styles. 

If you're looking for something small and compact, this blanket's oversized design might be too big for you. 
Most Affordable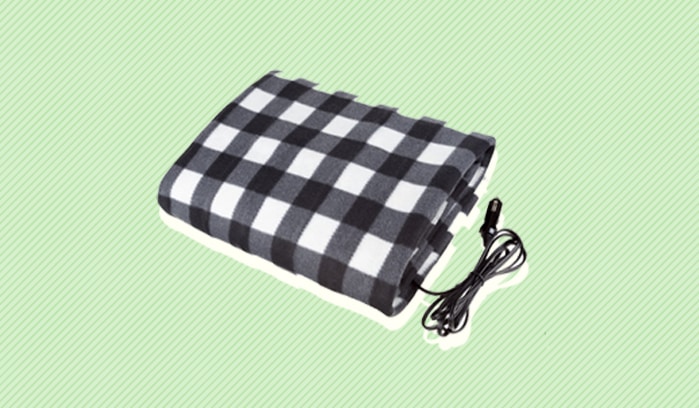 Stalwart Electric Car Blanket
This electric car blanket is soft, powerful, and comes at a very reasonable price for folks on a budget. It's made from a warm fleece material, features a 96-inch cord, and can be plugged into a car, truck, or RV. 
Pros
This heated blanket is lightweight, warm, and comes at a surprisingly affordable price. 

Its extra long power cord lets sleepers stay warm under this blanket whether they're in the front or back seat.

Its fleece material enhances this blanket's warmth, making it a perfect pick for wintertime road trips. 
Cons
Unlike many heated blankets, this one does not feature adjustable temperature settings. 

Keep in mind that this blanket cannot be washed or dried by machine, and must only be spot-cleaned with a damp cloth.
Best for Camping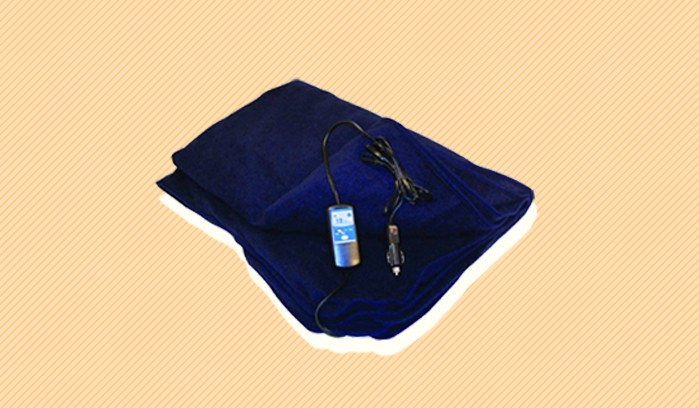 Car Cozy Heated Travel Blanket
Covered in a soft fleece material, this electric blanket is warm, cozy, and perfect for car camping trips. Plus, its oversized design is big enough for two people to enjoy. 
Pros
Whether you're in a truck, car, or SUV, this blanket easily plugs into any 12-volt power outlet. 

A safety timer will automatically shut this blanket off to prevent your car battery from draining, and keep your body from overheating while you snooze. 

Its fleece cover fabric is super warm and cozy on the skin, perfect for overnight camping trips. 
Cons
This blanket is a pretty good value for its quality, but might be more than some shoppers are looking to spend. 

To prevent damage to this electric blanket, you must avoid getting wet as much as possible. 
How We Picked
Now that you've taken a close look at my favorite heated car blankets, let's talk about the methodology behind my picks. Ultimately, shopping for an electric blanket has a lot to do with personal preference. However, there are several key factors to keep in mind in order to make the best buying decision.
Materials
Since your heated blanket will be directly on your skin, it's important to know exactly what it's made of. Most heated car blankets are covered in fleece, which is a polyester-based material known for its uniquely warm and fuzzy texture. Personally, I recommend fleece heated blankets because I find them to be the warmest and coziest!
That said, you may encounter heated blankets covered in cotton or, on rare occasions, velvet. So, take some time to consider what you want your blanket to feel like, aside from its electric heating qualities. Once you've covered the material details, you're ready to focus on size.
Size
Similar to regular comforters, heated car blankets come in a variety of sizes. However, they're not usually categorized as Twin, Queen, King, etc. Instead, most retailers will list their specific dimensions so you can get the best sense of how each blanket will accommodate you and/or your car co-pilot.
For context, heated blankets that measure 50" x 30" are generally considered standard-sized, and are ideal for one person at a time. If you're looking for an oversized blanket that can be used by two people at once, I suggest looking for measurements of at least 60" x 40."
Fortunately, picking the right size doesn't actually require any measuring on your part, as the manufacturer will list each blanket's length and width in the "product description." But keep in mind that larger blankets are typically a bit more expensive than smaller ones.
Temperature & Heat Adjustment
The next thing to focus on is temperature, as well as the ability to adjust the blanket's heat settings. Some blankets have only one temperature setting, while others offer a range of options in order to appeal to different heat preferences. For example, an electric blanket might jump to 110 degrees after you plug it in, while another blanket will give you the option to choose between three temperature settings.
While most shoppers will probably prefer a blanket with adjustable settings, keep in mind that this special feature usually contributes to a higher price. But if you like to be able to customize the warmth of your blanket, it might be worth the extra dough.
Finally, take careful note of how hot your blanket actually gets! Some reach a 120 degree setting, while others cap at 100 degrees. At the end of the day, every heated car blanket is built differently, so take some time to examine every last detail before you make your purchase.
Safety Timer
A safety timer is a valuable feature that, unfortunately, not every heated blanket has. Essentially, a safety timer sends a signal to your heated blanket to shut down after a certain amount of time. Usually, you can set the timer for either 30, 45, or 60 minutes.
In my opinion, this is a key feature to look out for because, as its name suggests, it can keep users safe. For example, if your heated blanket runs all night, you run the risk of overheating or even causing burns to exposed areas of your skin. Not to mention, allowing your heated blanket to run for hours and hours can drain your car battery.
Luckily, most heated car blankets come with safety timers; but since not all of them do, be sure to keep an eye out for this feature while you shop.
Wash Care
Here comes the tricky part. Because heated car blankets are electric, you can't just throw them in the washing machine. Instead, you'll have to spot-clean your heated blanket with a damp cloth and mild detergent.
Luckily, a heated blanket doesn't need to be washed as often as your sheets, for example, because you're not sleeping with it every night. That said, here's how to clean your heated blanket when it gets dirty:
Dab a bit of mild detergent on a damp cloth. Make sure it's damp and not soaking wet!
Spot-clean the cover of your heated blanket, rubbing the detergent in until it gets slightly soapy.
Dampen a new, fresh cloth, and soak up any detergent residue on your blanket.
Allow your blanket to air dry until it's no longer damp at all.
Overall, maintenance is pretty simple, but not being able to machine-wash an electric blanket might be a hassle for some. Just remember to take good care of your heated blanket in order to make it last as long as possible!
Pricing
One of the great things about heated car blankets is that they're usually pretty affordable! In my experience, they usually range from about $20-$40, depending on the materials used. As I mentioned earlier, special features like safety timers, oversized designs, and adjustable heat settings can contribute to a higher cost as well. But, in general, it's uncommon for a car heated blanket to be really pricey.
That said, it's never a bad idea to take note of a retailer's warranty and return policy, just in case things don't work out the way you hoped. For example, some brands offer a 5-year warranty that covers any material defects, while others allow you to return your blanket for a full refund if you're not totally satisfied with its quality. For me, these policies inspire confidence and ease the purchasing pressure a bit.
Sleepopolis Buying Tips
Now that we're nearing the end of my guide, let's recap a few helpful tips before you start shopping:
Style – Just because heated blankets are practical doesn't mean they can't be attractive too! Take some time to find the prints, colors, and patterns that most appeal to your personal style.
Power Cord – Keep an eye on the length of a blanket's power cord, as each one is different. I recommend finding a blanket with a power cord that's at least 6 feet long, so you can enjoy its warmth in the front seat, back seat, or the trailer!
Indicator Light – Blankets with an indicator light let you know whether or not the heat is on without even having to touch it. This, along with a safety timer, can make for an overall better user experience.
Final Thoughts
Now that you're all experts on heated car blankets, you're ready to find the one that's best for you. Just remember to keep a close eye on the details, and keep this guide handy while you shop. Before you know it, you'll be enjoying the cozy warmth of your brand new heated blanket. Happy travels!