Travel is a wonderful thing and should be encouraged whenever possible. However, one of the drawbacks – and a reason why some people avoid long flights – is that it can be quite difficult to fall asleep or even rest comfortably in your seat. Trying to adjust your airline pillow or own neck pillow can feel like a never-ending saga. Thankfully, some clever scarf brands are creating a new wave of sleeping products for travel that are comfortable, handsome, and convenient. We tested out the leading travel scarfs and found out how they compare. Read below to find out more: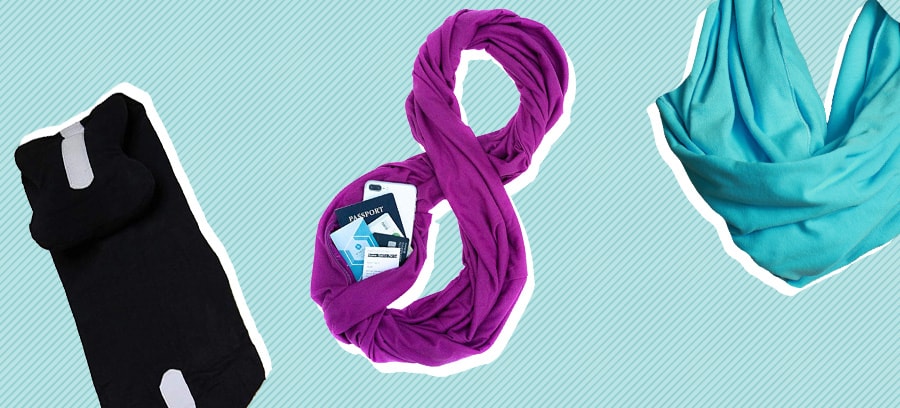 Editor's Choice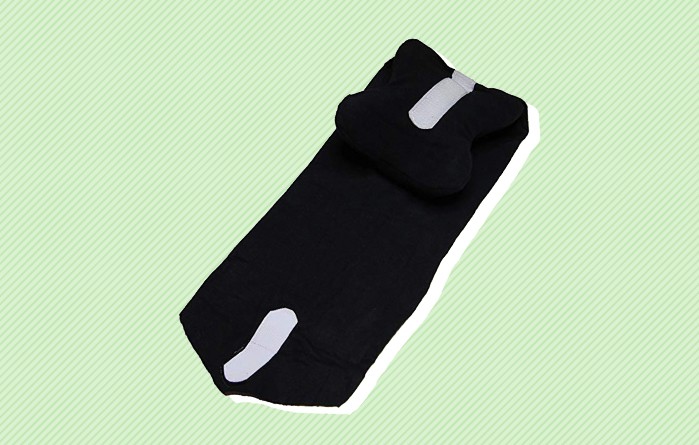 TedBoss Travel Neck Pillow Scarf
Pros: 
Adaptable shape. One of the benefits of the memory foam composition of this travel pillow scarf is that you can form the pillow to fit – and provide support – in whatever position you are in: middle seat, aisle, or even on your couch

Lightweight. This travel neck pillow scarf from TedBoss weighs in between 7 and 8 ounces, not even half a pound. This is lighter than many competitors on the market

Keeps you warm. This product not only supports the neck during travel, but it doubles as a scarf that wraps around your neck and head. For those that tend to get cold on flights or train voyages due to the variable air you're feeling, this is a great choice for you!
Cons: 
Getting it on in a tight space. Though it is easy to put on and start using, depending on your seating situation on the plane, there might be an added layer of difficulty trying to gracefully put this neck pillow scarf on

Headphones. Many people enjoy listening to music as they fall asleep. While this is all dependent on the type of headphones you are using, some customers may find it hard to get their headphones exactly right while making the neck pillow scarf in its most supportive position, as the scarf can cover part of your ears.
TedBoss Travel Neck Pillow Scarf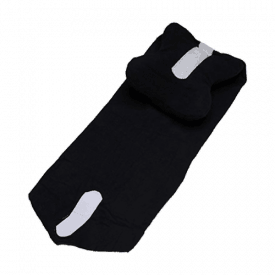 TedBoss Travel Neck Pillow Scarf
The TedBoss Travel Neck Pillow Scarf is made out of a washable, soft micro fleece material on the outside and a layer of memory foam pillow on the inside. It is specially designed to allow comfort in any direction you would like your head to rest - even being able to keep your head from falling forward and supporting your neck while you sleep.
Contender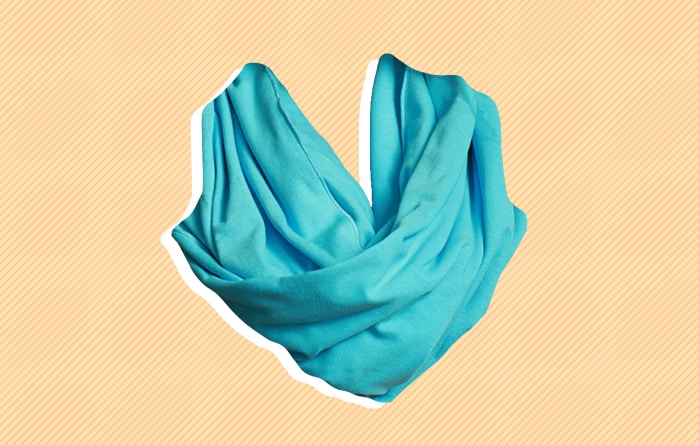 Sleeper Scarf 2-in-1 Travel Scarf and Inflatable Neck Pillow
Pros:
Easy for travel. This product showcases several travel-ready features. Because it can be easily inflated and deflated, it can be folded quite compacted after use. As it doubles as a wearable scarf, it can even be worn off the plane rather than packed

Design. Sleeper Scarf makes a handsomely designed piece of travel luxury that can blend into most modern outfits, male and female. Perfect for those with a proud style sense

Length. While a lot of sleep products can be rather small for some customers, this scarf measures 77 inches in length, so it can be worn as an infinity scarf, wrap around most people's bodies, while still being folded for travel
Cons:
Cost. If you are really looking for a nice neck pillow that you can wear off the plane, this is a great purchase for you. However, be aware that, at just under $40 a pop, this is one of the more expensive products on the market

Leaks. Though this isn't a problem unique to this particular product, any type of furniture or clothing-wear that relies on being inflated and then has put pressure on it is liable to have leaks at some point
Sleeper Scarf 2-in-1 Travel Scarf and Inflatable Neck Pillow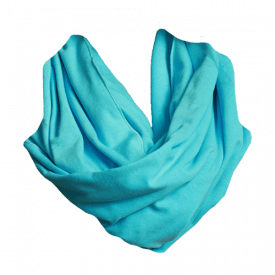 Sleeper Scarf 2-in-1 Travel Scarf and Inflatable Neck Pillow
Sleeper Scarf's 2-in-1 Travel Scarf has a hidden air valve that, upon unzipping and inflating, transforms what appears to be an ordinary fashion scarf into a neck pillow. Available in several different colors, this product is made out of 95% cotton, measures 77 inches in length, and can be machine washed with your laundry.
Best Bargain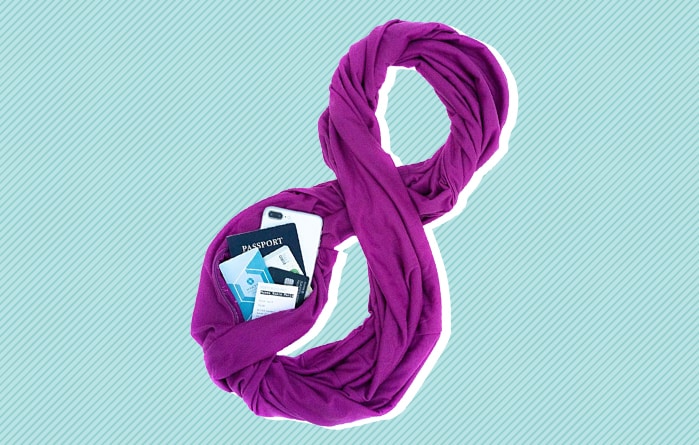 Pros: 
Fits smart phones and passports. The pocket is designed for you to not only fit your cash and ID, but also your passport and smartphones sizes up to the iPhone+

Designs. The huge variety of different colors, designs, and themes make this product stand head and shoulders above other makers of travel scarfs. Picking the right one for you is made easy – perfect for getting multiple scarfs as holiday gifts

Comfort. This reviewer found the scarf comfortable to wear and felt no irritation from the material. Super soft and perfect for staying warm
Cons: 
Neck support. Though this scarf can be used on the plane while traveling, it needs to be bunched up and placed on one side or the other in order to provide enough neck support

Zipper access. The zipper is super handy and can make some worries about travel safety dissipate. However, if you are constantly needing to access the secret pocket, it can be a hassle to do so over and over again
WAYPOINT GOODS Travel Infinity Scarf with Secret Hidden Zipper Pocket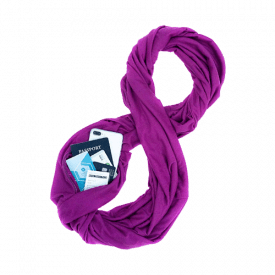 WAYPOINT GOODS Travel Infinity Scarf with Secret Hidden Zipper Pocket
WAYPOINT GOODS has a travel scarf that not only is comfortable on flights, but it has a secret hidden zipper pocket that allows you to store your valuables easily and securely as you head to your destination. There are over 30 designs available for purchase; each is inspired by famed locations and people around the world, including national parks, world cities like Paris and Oslo, artists, and nonprofits that are making a difference in their local communities.
How We Picked
Travel issues are one of the more common experiences people have – the pains of layovers, checked luggage, and hailing a cab. However, when trying to fall asleep on a plane, we are often on our own personal islands of discomfort. Finding a travel pillow to help you fall asleep is decision that could make or break your next flight. Thankfully there are several brands that are pushing the envelope and making smart travel neck pillow scarfs that provide not only comfort and support, but can be incorporated into our travel apparel. With lots of options out there offering different perks, we've sorted through some of the key determinations to make: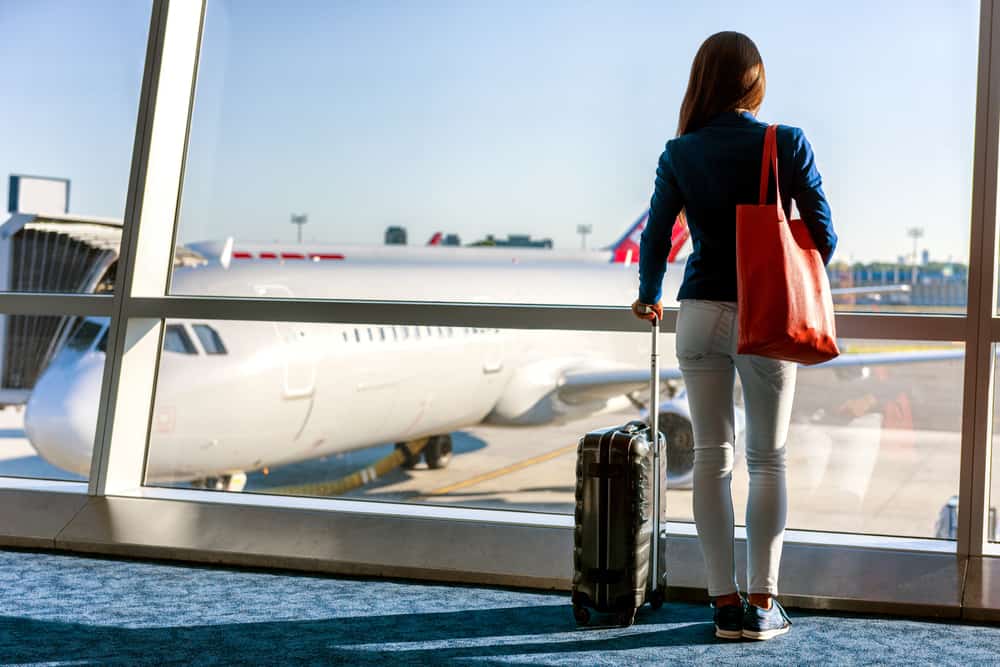 Style
We've all seen our airline mates rocking goofy-looking neck devices and pillow "things". When choosing something that you want to be able to use flight after flight, you will want to find a design, color, shape that matches your aesthetic. Some products are pretty neutral, while others provide some flash that might match your personal style.
Comfort
Bottom-line, neck pillow scarfs will only be worn as long as they are comfortable for you. Everyone has different body types and travel needs, let alone sleep patterns and habits. Look out for the different types of outer materials, the pillow type (if any), and the shape of the scarf. The travel scarf that is more comfortable for you may be ineffective for someone else, so please keep in mind when shopping.
Ease of use
While most of the scarfs on the market are designed to be convenient, travel can throw lots of different scenarios and uncomfortable scenarios at you. Some of the leading brands need you to inflate the pillow yourself, or require wrapping and setting it up around your neck upon sitting down. This may be a downside of some products when sitting on a cramped plane in the middle seat.
Cost
Though most brands offer smart travel neck pillow scarves for under $40, these products are usually considered a bonus luxury travel item, not a necessity. Depending on your need and how frequently you travel, you may want to consider a lower-priced item if you will use it once a year or on the other hand, opt for the best available to aid your frequent travel.
Keeping it clean
Because this is a purchase that you will most likely be pressing against airline seats, some users will want to be able to clean the product from time to time, if not after every flight. Some products have removable cases, while others can just be tossed straight into the wash. Depending on what color travel neck pillow scarf you purchase, and how much you or a loved one might drool, you might want to get a product that is easily washed.
Buying Tips
Not sure which smart travel scarf is best for you? Below are some key considerations to ponder when making a purchase:
Figure out your travel needs. Are you traveling to a cold weather location? Do you have trouble sleeping on a plane? Do you get annoyed by how traditional travel pouches fit on your body? All of the leading brands offer travel scarfs that can either aid your sleep on a plane, provide warmth as soon as you disembark, allow secure and secret storage of your most valuable travel items. Some products even feature a combination of these features. If you travel often or have a big trip coming up, make sure you are getting the right travel scarf for you.
What's your style? While some people will just stump for the scarf that fits their needs the best, some people may want to make an impression as they travel. Several of the top brands provide different colors, patterns, and textures. As these scarfs are designed not only to be used on a plane while slumbering, but to be worn off the plane and be incorporated into your outfit, customers should choose carefully. Whether vouching for neutral colors such as black or grey, or wanting to make a splash with some color patterns, choosing a scarf that matches your aesthetic will make your purchase feel more long-lasting.
How do you sleep on a plane? Modern airline seats do not offer much flexibility whether sleeping or just relaxing. However, people have figured out the best ways to make themselves comfortable. Do you lean to one side, resting your head on a loved one or the window? Do you lean forward? Use your arms as pillows on the tray-table? Depending on how you are most comfortable sleeping on a plane, you should really consider the different pillows and cushioning systems, as well as the design, of the competing travel scarf brands.
Easy to clean? If you travel often or plan on sharing the travel scarf with family members, it is best to find a product that you can toss right into the laundry. Airplanes carry tons of germs and potentially sick passengers every flight. I'm not sure how often airline seats are cleaned, but after a few times using a travel scarf, I would like to know if I could clean it or not. Some scarfs wrap tightly around the neck and may not come into contact with airline seats. Every product is made of different materials so check out what each brand is using to make their scarfs and figure out if you can fit it in your typical wash cycle.