Introducing the first Sleepopolis foundation review! The Forever Foundations Metro bed frame is one of a kind. Built from all steel and snap together pieces, the Store More Metro is unique, minimal, and built like a tank.
In this week's review I put the Metro foundation to the test. Continue reading below for my full review of the Forever Foundation Metro bed frame.
In a bit of a time crunch? Click here to scoot down to the review summary.
Construction & Materials
The Forever Foundations Metro bed frame is built from 100% recyclable steel. This material is easy to clean and hypoallergenic. On top of the frame is a white deck (fabric covering). This deck consists of the same materials used in filtration systems and helps keep dust and allergens away from the mattress in addition to increasing breathability.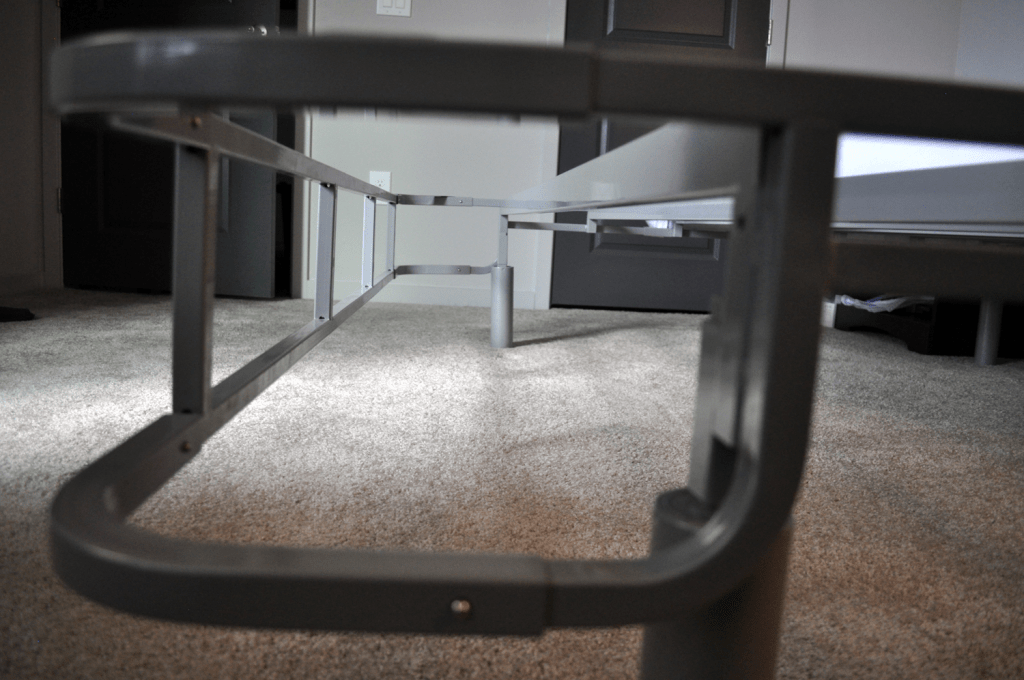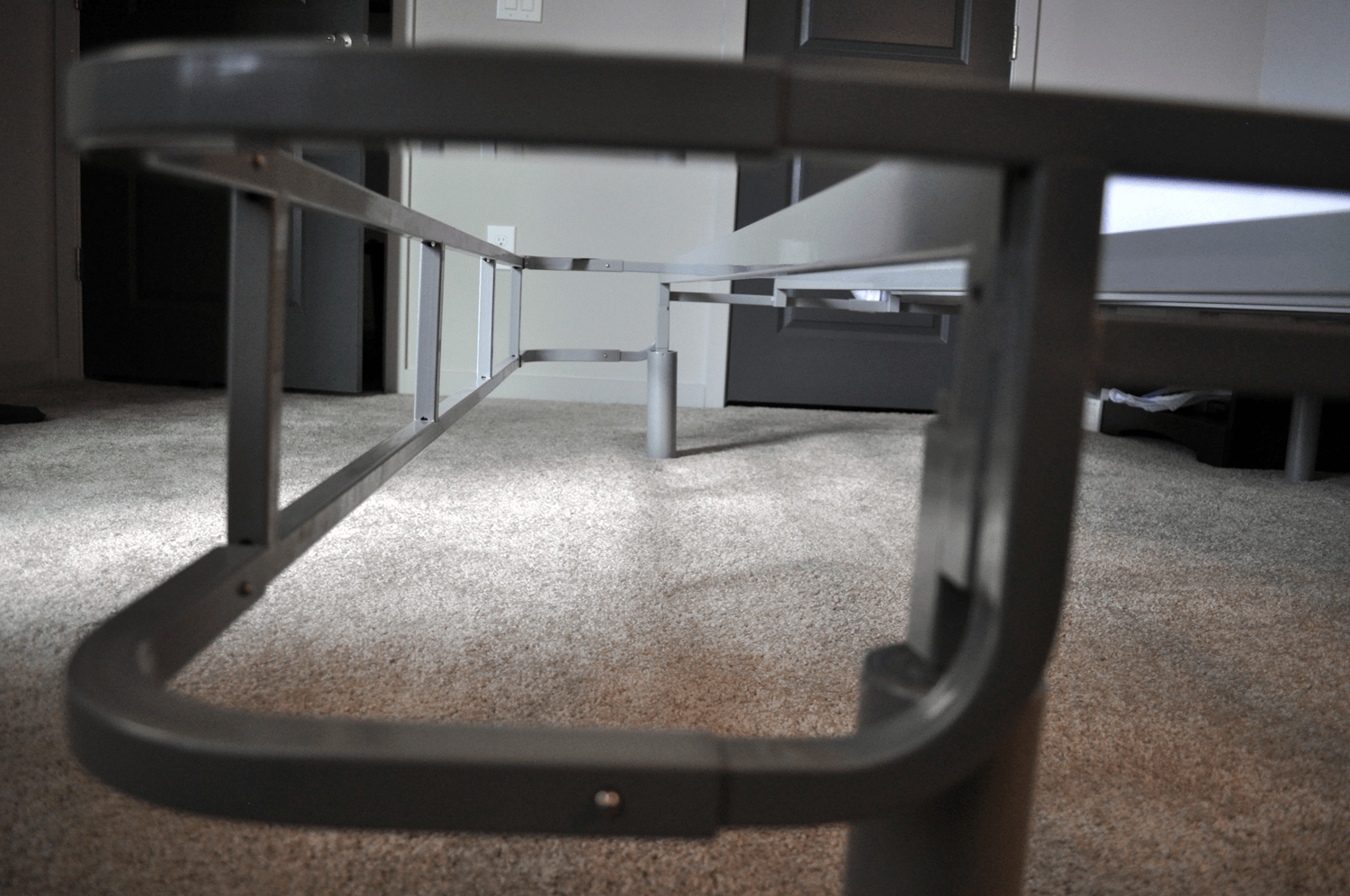 The standard edition of the Metro foundation comes with 8″ legs for a total height of 16″ and 13″ of side access space. The 8″ legs were perfect for the amount of storage and height that I wanted. Yet, for those that prefer to sleep a little higher or lower, the option to select other size legs is available. The customizable legs range from $30-$40, depending on the size you need. Headboard brackets are also included and can be used with any size leg. Foot-board brackets can be purchased separately.
Overall, the construction of this bed frame looks and feel impressive. It's lightweight, but still built like an absolute tank. It crushed its way through all of the Sleepopolis durability tests (see below). I feel like I would need a sledge hammer to do any real damage to the structural foundation of the frame.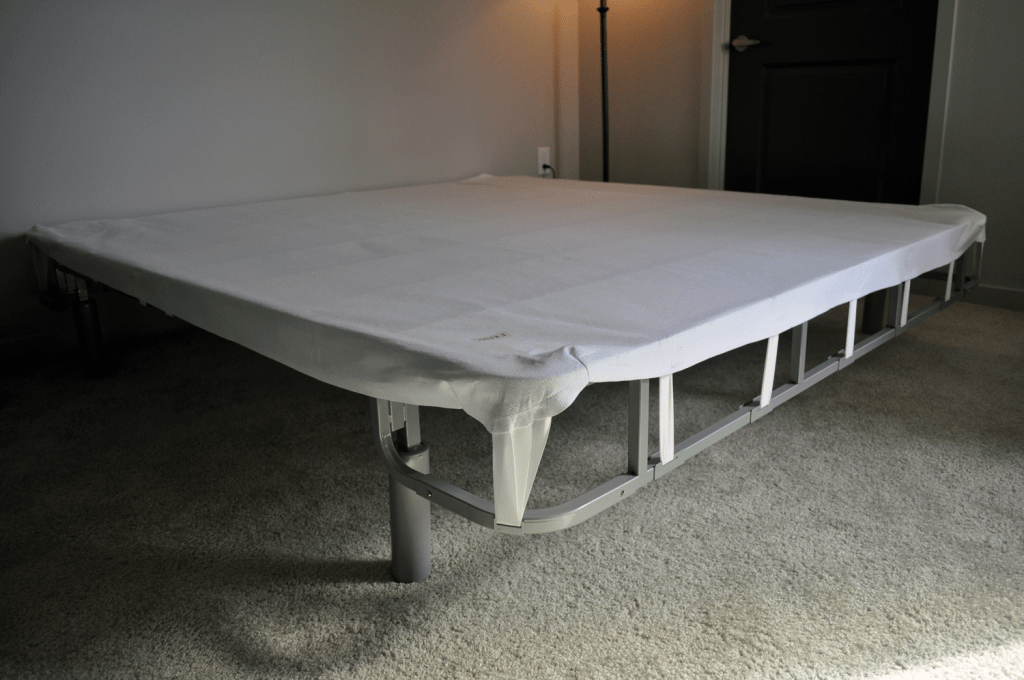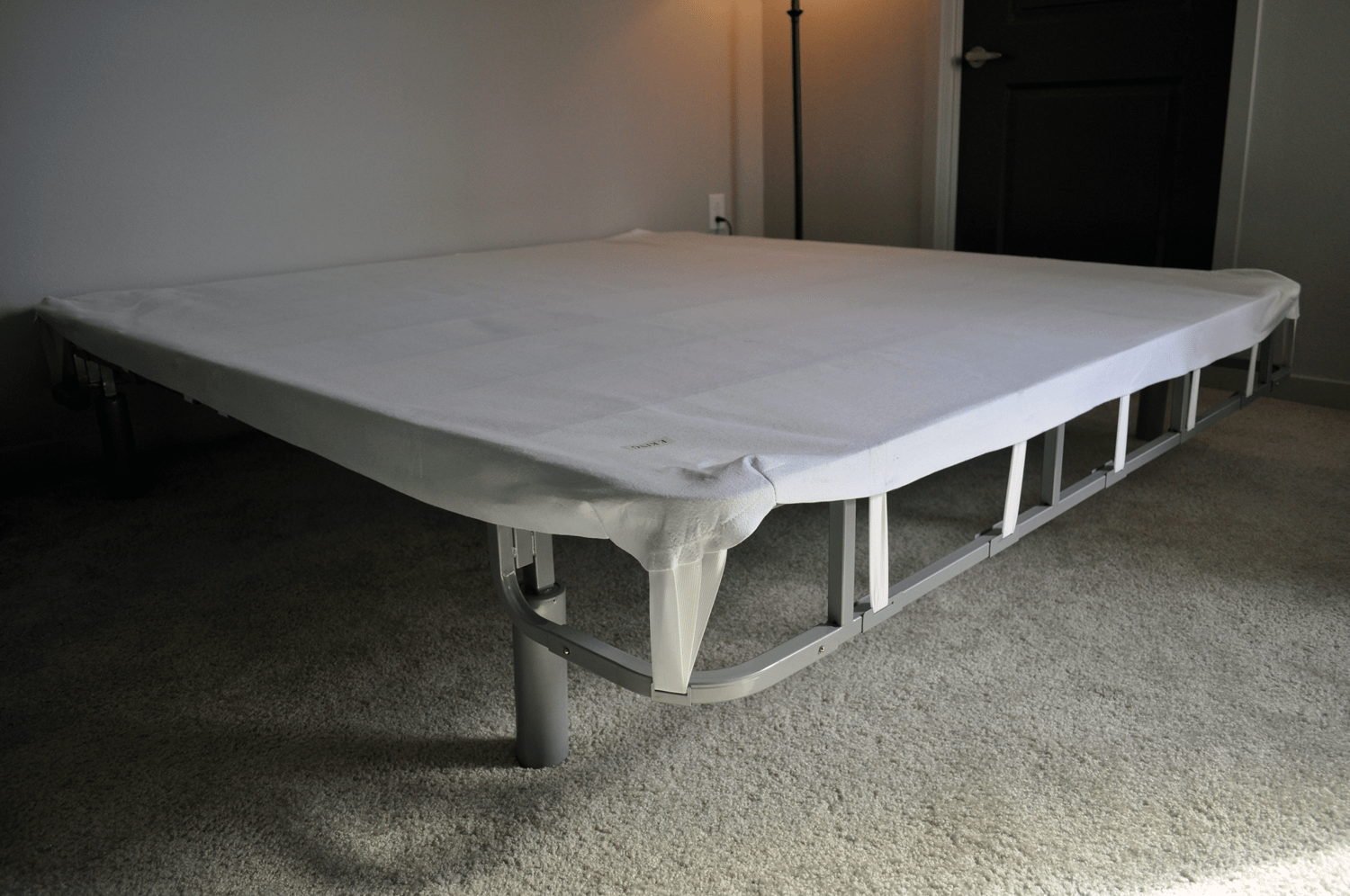 Assembly
Assembling the Store More Metro foundation was quick and painless. In total, it took my cousin and me just under 2o minutes. The directions were slightly confusing at times, but for the most part we were able to use the images provided to piece together the foundation. The Forever Foundation Metro is a tool-less assembly. The entire frame snaps together at all of the critical junctures. With just a few bolts connecting the legs to the frame, no heavy hardware is needed. With that in mind, invite a friend to help you assemble if you can. It's much easier with 2 people.
Connecting the the legs and side panels are 7 steel slats (6 on the Queen). With 8″ gaps between the slats, they are designed to provide equal support across the mattress. After all the slats are in place and the legs are securely fastened, the white-deck is the final step. Several straps align the fabric and fasten to the bottom of the foundation, ensuring a tight fit.
The Store More Metro foundation comes together very nicely for a stable supportive base. While building the foundation I inspected it for any defects. The only issue I came across was a corner bracket missing a pair of drilled holes. These holes were supposed to act as a snapping spot for a side panel. However, the lack of the machined hole did not affect the overall build. I was still able to line up the other holes without any issues, creating a snug and secure connection point.
I contacted the manufacturer regarding the missing holes. Apparently, this is a very rare occurrence and the only time they've ever seen it.
Support & Noise
The Metro Bed Frame is built to provide equal support across the mattress. After testing this foundation for several weeks, I have not noticed any type of sag or give in my mattress. The white-deck resting on top of the support slats helps keep a balanced feel as well. The steel frame does not affect the firmness or feel of the mattress, but does provide exceptional and consistent support.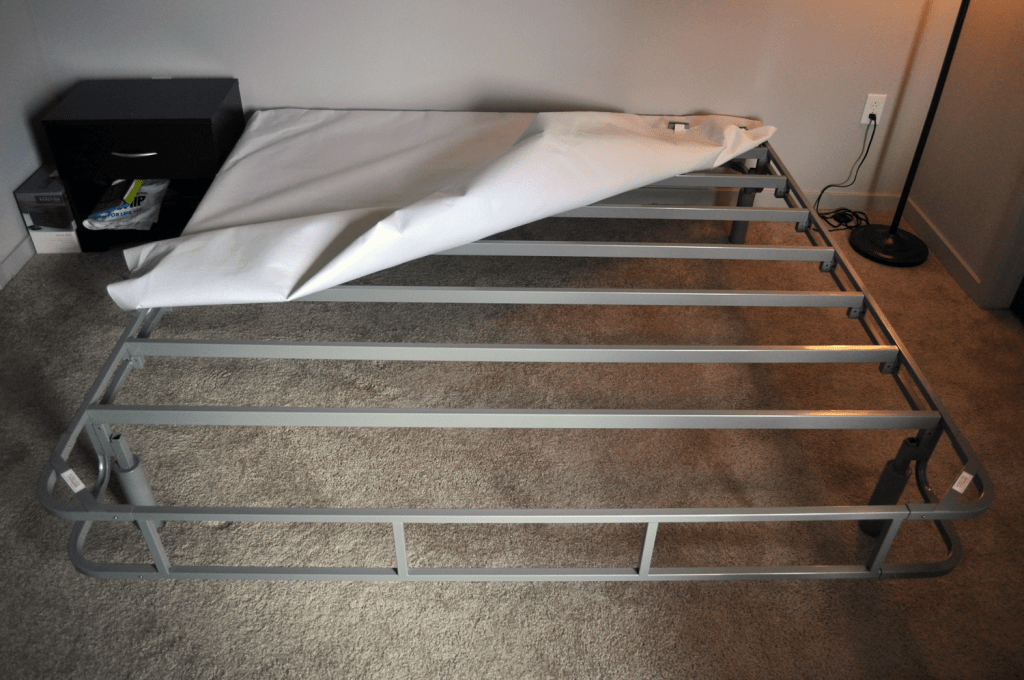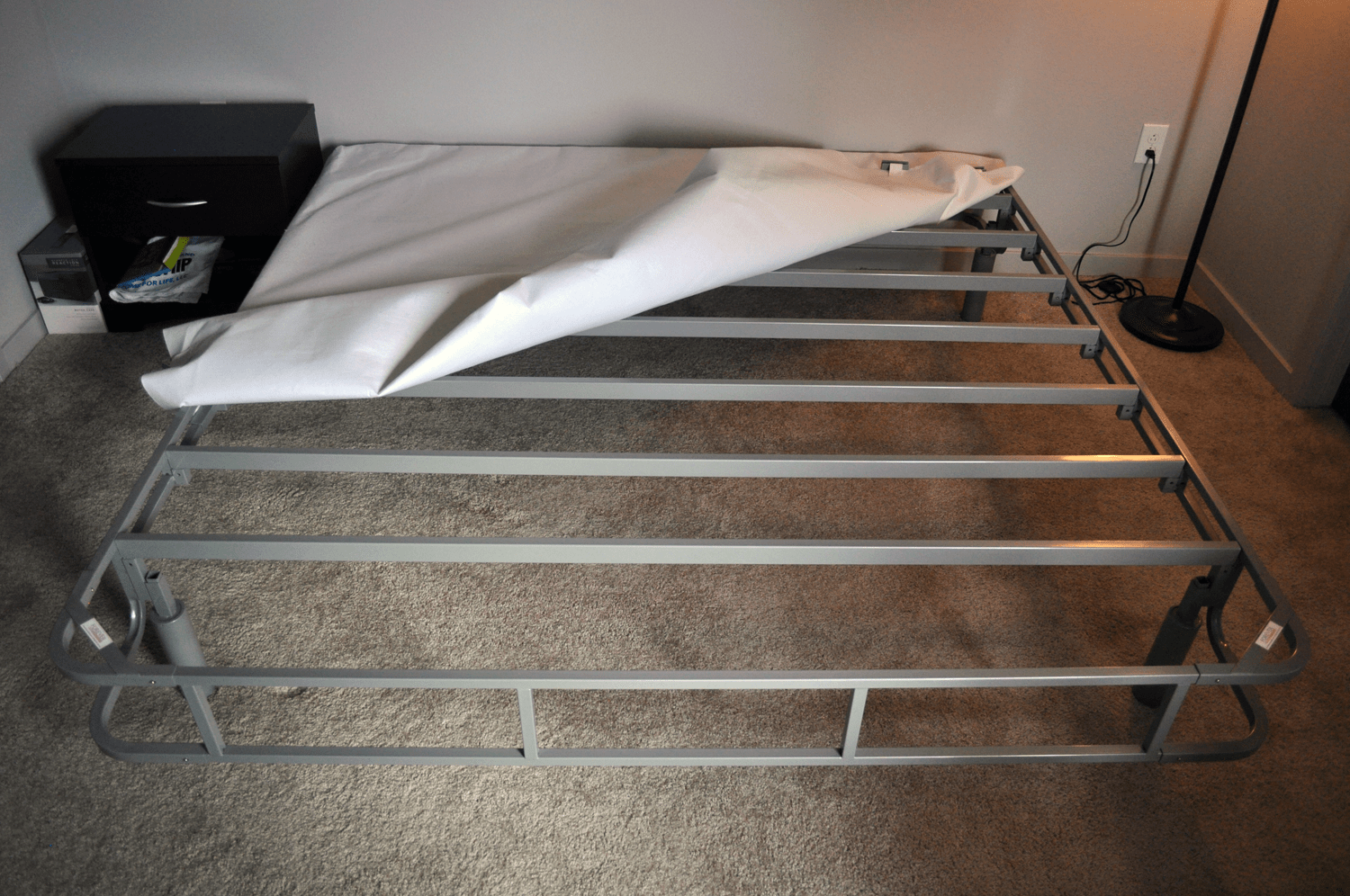 Noise is a huge factor with regards to foundations. Especially due to this specific one being made of 100% steel. In the beginning, this foundation did a fine job of remaining relatively quiet. There were a few creaks here and there as I plopped myself onto the mattress / frame combination, but for the most part there was no stand out level of noise coming from the frame. That said, I did notice subtle increases in noise over the first year of use.
My cousin, Chris, currently sleeps on this exact foundation and has informed me that his frame tends to squeak more often than he would like. After a conversation with Chris, I was informed that from the get go, his Forever Foundation Metro would only make noise if he jumped into bed. Over time, that changed. Over the past year he noticed more and more noise coming from the foundation. After analyzing the situation, it seems as if the main connection points squeak from even the slightest of movements. While this may not affect all sleepers the same, I would keep this in mind if you are a lighter sleeper to any degree.
Durability Tests
After putting together the Forever Foundation I put the bed frame through a short series of tests. These tests were designed to provide clarity on how sturdy the frame is from different angles, positions, and weights.
Shake Test – after shaking and tugging on the foundation at all 4 corners, there was no noticeable loose pieces. The foundation remained sturdy and showed no signs of weakness throughout this test.
Sitting Drop Test – with this test, I dropped all of my weight (in a sitting / upright position) onto the mattress and foundation at 5 critical points. Each of these points supported my weight completely and there was virtually no movement of the frame.
Standing Drop Test – this test was a more aggressive drop, as I placed all of my weight (standing) on 6 points of the mattress/foundation to determine whether or not the foundation would bend or show damage at all. Once again, the frame passed with flying colors. No signs of defects or changes of the bed frame whatsoever.
Flop Test – finally, the flop test. This test gives an example of how the foundation holds up after flopping (back first) onto the mattress from 5 different angles. Every angle provided equal support and once again, showed no signs of damage of weakening.
The Forever Foundation passed all of these tests with sheer perfection. Not one area of the frame showed any sort of give or damage after multiple weight bearing tests. The only testing note of any significance is the slight noise that the white-deck brackets can create immediately following sudden weight changes. As I mentioned in my opening, I have been really impressed with the build quality and material excellence in this frame. It would take a considered effort, certainly more than any normal sleeping / sex activities would involve, to significantly damage the Forever Foundation.
ASK US: What's the best mattress for sex?
Pricing
| Size | Price |
| --- | --- |
| Twin | $309 |
| Twin XL | $329 |
| Full | $329 |
| Queen | $349 |
| King | $459 |
| California King | $459 |
Other Details
Shipping – free, usually ships in 24 hours (U.S. & Canada)
Warranty – white-deck fabric covering = 1 year. All other materials = Lifetime
Returns – 100% refund within 30 day return period (based on Wayfair.com)
Who Should Buy the Forever Foundations Metro Bed frame?
I would recommend the Forever Foundation to sleepers who:
Want to get away from a box spring – for those sleepers that are tired of a bed frame and a box spring under your mattress, this foundation is a great option. The structure of the Forever Store More Metro combines a bed frame with height, serving more like a frame / box spring combo, without the hassle of excess pieces.
Want more storage – with different size legs available, the option for more or less storage is easily available. Traditional bed frames have a number of inconvenient posts or legs blocking storage space underneath your mattress. With this foundation, there are 4 legs at the corners and slight overhang at the head / foot of the frame. This design allows for easy access below the mattress.
Want a reliable, sturdy bed frame – built from 100% recyclable steel, this frame was built to last. With minimal noise, no sag, and no lean, the Forever Foundation is able to support your mattress with great design and functionality. All snap together pieces make for easy assembly and it is fairly lightweight, making moving and re-positioning around your room easy.
Want more information on the Forever Foundation Store More Metro? Visit ForeverFoundation.com.
Supportive & Spacious
Materials

Support

Noise

Build Quality

Durability

Warranty

Value
Summary
The Forever Foundation is more than just your basic foundation. It's a bed frame, storage unit, and mattress foundation all in one. With a quick and easy set up, it's hard to beat. Made from 100% recyclable steel, the Store More Metro is built to last. As a hypoallergenic foundation, you are able to clean all parts and rest peacefully knowing that nothing will be bothering your allergies or breathing at night. The performance enhancing white-deck that rests on top of the support slats makes it easier for your mattress to breathe from the bottom up in addition to providing protection from dust and allergens. A huge benefit is the lifetime warranty. If anything goes wrong with the actual framing under normal use, the company will replace it at no cost to you (excluding shipping). The Forever Foundation Metro edition is a great option for sleepers looking to upgrade their bed frame / box-spring combo.