In the market for a new boxspring or mattress foundation? Well look no further. Mattress veteran Saatva / Loom & Leaf has created a foundation designed to support virtually any mattress.
Will this foundation be the right choice for your bedroom? Continue reading below to find out!
Short on time? Not a problem. Click here to jump on down to the review summary.
This foundation is designed to match the Saatva mattress, Loom and Leaf mattress, and ZenHaven mattress. All 3 of these are sister companies to each other and each use the same strong foundation.
Construction & Materials
The Loom & Leaf foundation is built with North American spruce wood, bio-based foams, and organic cotton ticking. While foam may sound a bit strange regarding the materials for a foundation…Loom & Leaf placed the foam throughout the foundation to help prevent creaking noises. North American spruce is one of the strongest woods used in foundations and other furniture today.
Bound by screws in several places, this boxspring contains a sturdy construction all the way around. Additionally, the organic cotton ticking is aesthetically identical to both the Loom & Leaf and Saatva mattresses. The organic cotton brings a bit more of a natural taste to the mattress as well as a quality encasement for the wooden foundation inside.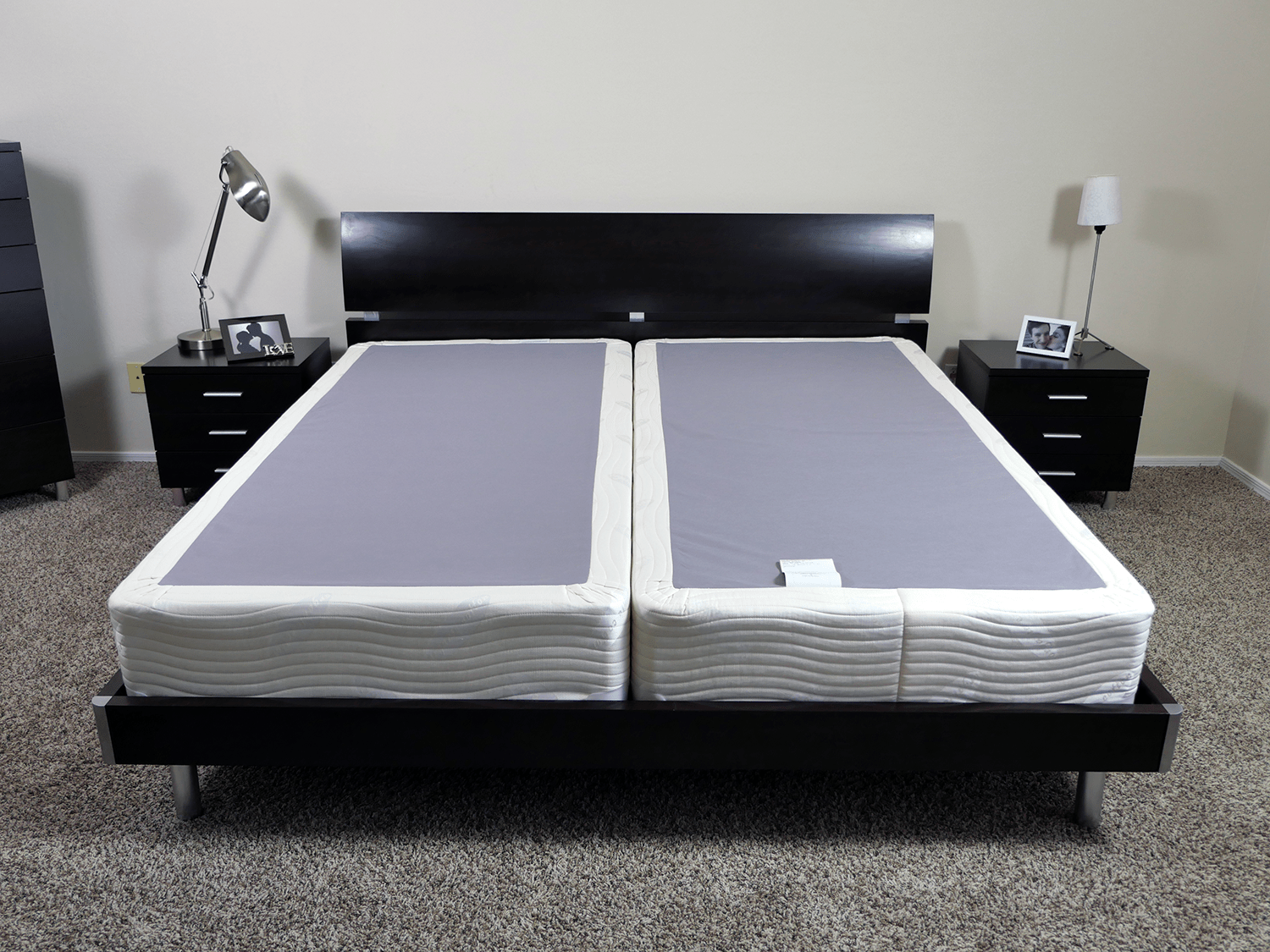 Assembly
Assembling the Loom & Leaf foundation was by far the easiest I've had to put together to date. Reason being, there is no assembly! The Loom & Leaf foundation actually shows up fully built and ready for your bed frame. Not only does this save you time, it also provides you with the reassurance that everything was put together correctly. Now you have a boxspring that is ready to go without any of the hassle.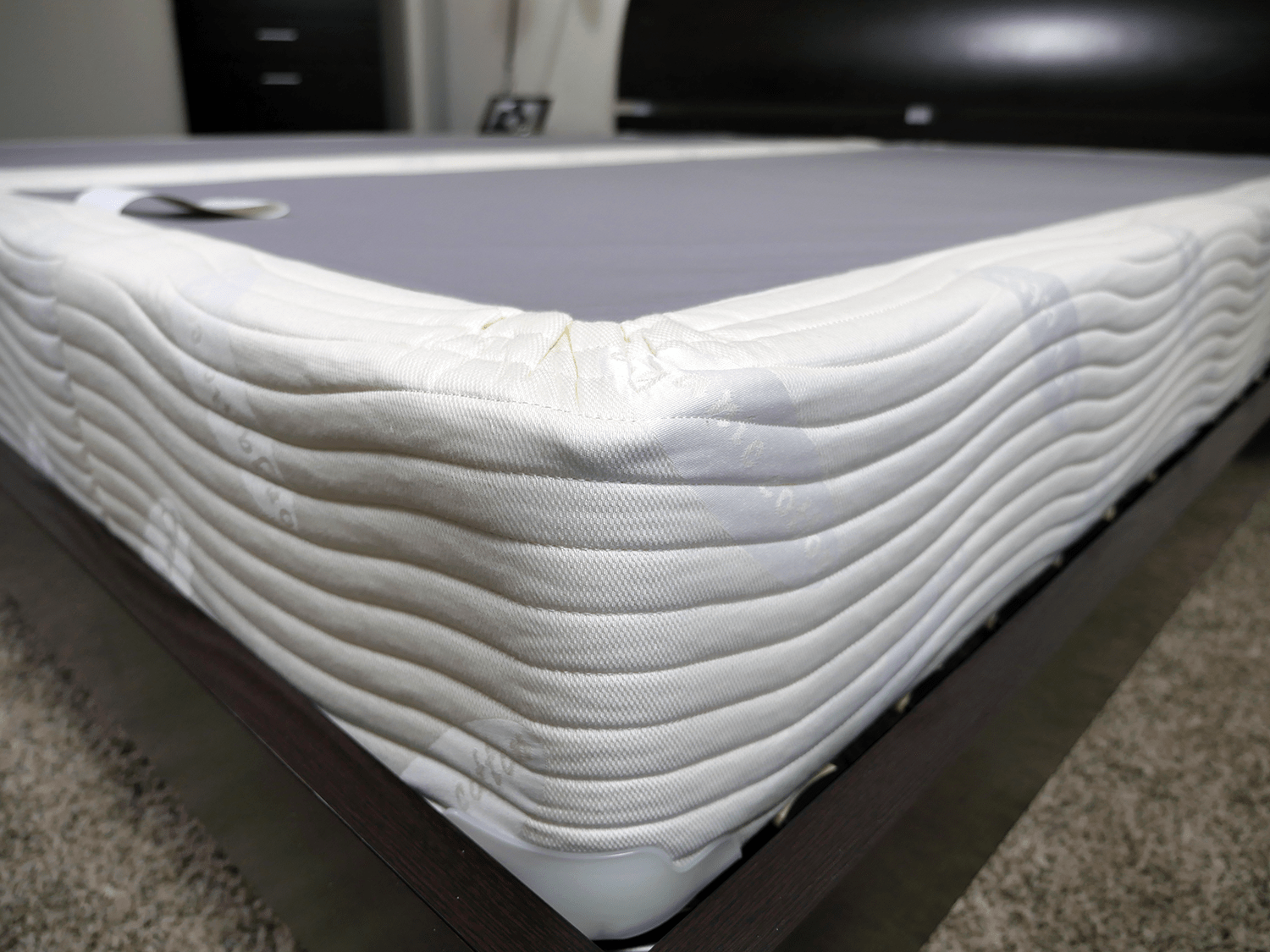 Support & Noise
Support and noise are two areas where the Loom & Leaf foundation truly excels. For starters, support. This foundation is very well built and able to fully support a mattress and multiple sleepers without any issues. During my sleep test, my wife and I never felt as if the mattress was not fully supported.
Typically, boxsprings are placed on top of a platform bed or bed frame. In our case, our slat bed frame served as the perfect testing subject. The foundation was split into two Twin XL foundations and placed directly on top of the bed. The difference from placing our mattress on top of the Loom & Leaf foundation versus our platform bed was noticeable.
The mattress felt more supported, firmness / feel was more consistent, and it just felt more steady and stable.
GUIDE: Do you need a boxspring?
The slats within the foundation are just shy of 4″ apart, which makes them a great fit for almost any mattress. That said, be sure to check with the mattress company's warranty before purchasing this foundation.
While noise is not something you'd typically expect from a boxspring / foundation, you'd be surprised. However, this particular foundation did a great job of softening any noise.With bio-based foams lined along with inside of the foundation, the wood has a hard time rubbing against each other and creating that annoying creaking sound. I was impressed with this foundation's ability to dissipate most noise.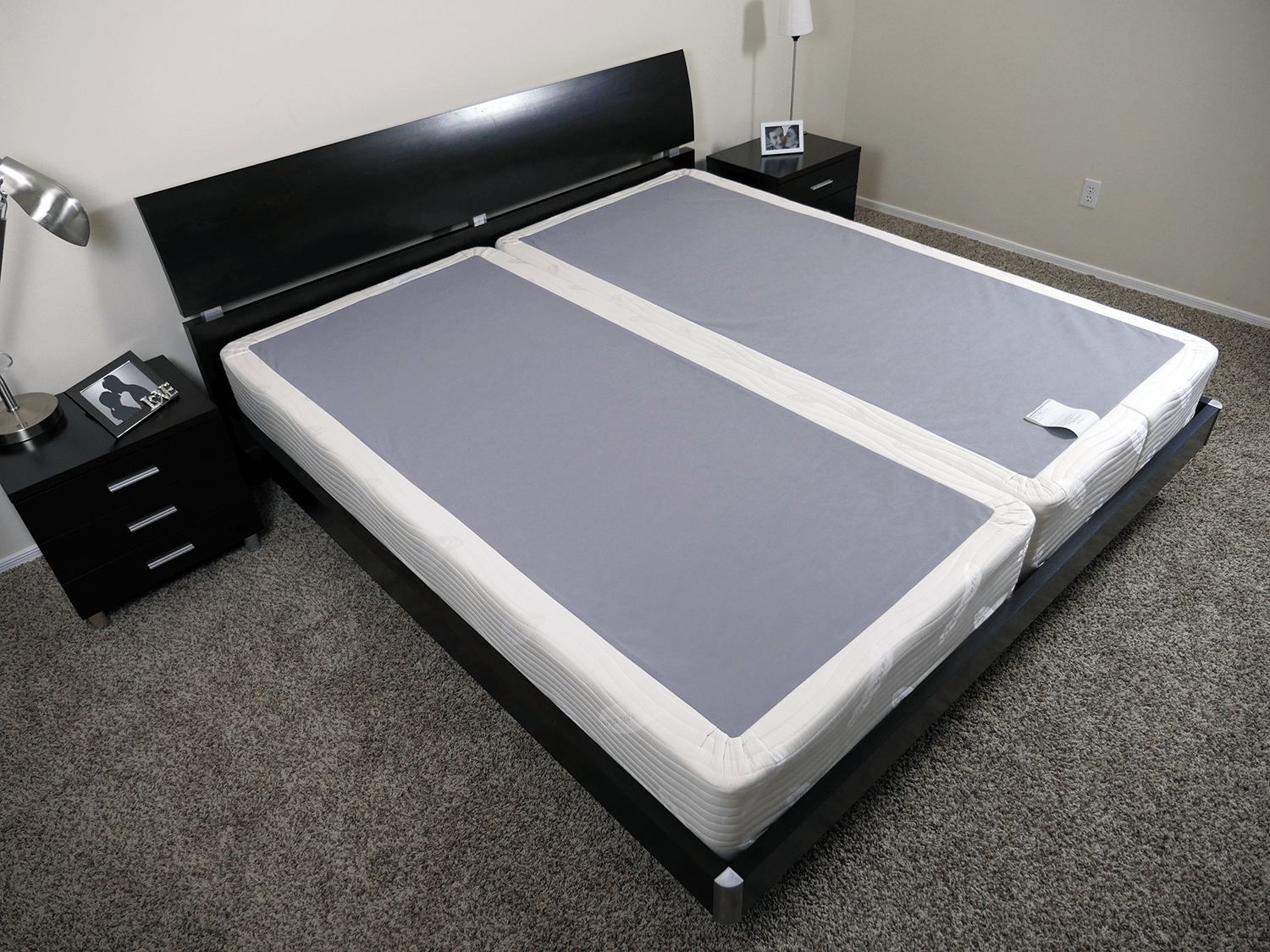 Durability Tests
After placing the Loom & Leaf / Saatva foundation on my platform bed, I ran the boxspring through a short series of tests. These tests were designed to help illustrate how sturdy the foundation is in different scenarios.
Shake Test – during this test I literally shake the foundation with both of my hands to test of any loose ends. After doing so, I was not able to find any loose pieces within the foundation.
Sitting Drop Test – next up was the sitting drop test. For this test I start standing up and abruptly drop onto the mattress in a sitting position. A good visual is to imagine getting home after a long day and abruptly sitting on the edge of your bed to take your shoes off. After completing this test from virtually every angle of the mattress, I was not able to locate any sort of support or durability issues.
Standing Drop Test – similar to the sitting drop test, I moved onto the standing drop test. The situation does not change, except for now I am falling onto the mattress (back first) instead of landing on my butt in a more normal sitting position. Once again, the Loom & Leaf foundation was able to handle the weight of myself and the mattress without incurring any damage.
Flop Test – the flop test is another test to measure how the boxspring can handle an adult's weight flopping onto the mattress. No damage was noted after completing this test.
Hammer Test – the hammer test is one of the most important tests. While most foundations do not encounter large amounts of force in one specific area, we like to test the waters. By doing so, I use a hammer to apply quick and sharp force to a few of the individual slats underneath the cover of the foundation. The Loom and Leaf foundation passed without issue. I used a strong hammer smash to test several of the slats, none were broken or visibly damaged. It would take a very large amount of direct pressure to snap one of the wooden boards used within this foundation.
All in all, the Loom & Leaf foundation held up very well and passed my durability tests without any issues.
REVIEWS: More Sleepopolis bed frame & foundation reviews
Pricing
| Size | Height | Price |
| --- | --- | --- |
| Twin | 4.5" or 8.75" | $150 |
| Twin XL | 4.5" or 8.75" | $150 |
| Full | 4.5" or 8.75" | $200 |
| Queen | 4.5" or 8.75" | $250 |
| Split Queen | 4.5" or 8.75" | $285 |
| King | 4.5" or 8.75" | $300 |
| California King | 4.5" or 8.75" | $300 |
Other Details
Sizing options – the Loom & Leaf foundation is available in a low profile height as well as a standard height. The low profile height comes in at 4.5″ high while the standard sits at 8.75″ high.
Lightweight – the Queen size 4.5″ foundation weighs 55 pounds and the Queen size standard 8.75″ foundation comes in at 65 pounds.
Who should buy the Loom & Leaf / Saatva foundation?
I would recommend the Loom & Leaf / Saatva foundation to sleepers who:
Want a dependable boxspring / foundation – constructed with high quality materials and a durable build, the Loom & Leaf foundation makes for a great choice for any sleeper looking for a dependable mattress foundation. It's designed to match the Loom and Leaf, Saatva, and ZenHaven mattresses, but can be a good companion to almost any mattress.
Like the idea of organic / natural materials – made from North American spruce wood, bio-based foams (used to soften noise), and organic ticking, this foundation is one of the more natural / organic ones we have tested to date.
Don't mind spending a little extra money – at $250 for a standard Queen size boxspring, this foundation is not cheap. If you have some wiggle room in your budget and don't mind spending a bit more, this foundation is an excellent choice.
For more information on the Loom & Leaf foundation, visit LoomandLeaf.com. For more information on the Saatva foundation visit Saatva.com. And for more information on the ZenHaven foundation visit ZenHaven.com. 
Materials

Support

Noise

Build Quality

Durability

Warranty

Value
Summary
Made from North American spruce, bio-based foams, and organic ticking, the Loom & Leaf foundation is a great option for any sleeper looking to upgrade their current boxspring / foundation. Great durability, very good support, an appealing aesthetic, and a trusted company makes for one of the most impressive foundations Sleepopolis has tested to date.