Sick and tired of your current mattress foundation? Maybe it's time to take a gander at the Zinus platform bed! Zinus has been creating quality bedroom products at a low cost to consumers for quite some time now. Will this platform bed be able to compete with the higher end products?
Continue reading below to find out!
Zinus Platform Bed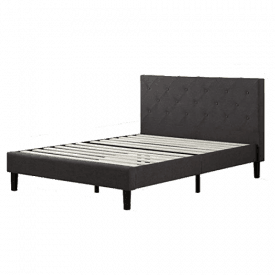 Strong durability and a lightweight construction make the Zinus Platform Bed a great pick for sleepers looking to enhance their mattress foundation.
Read Full Review
Short on time? Click here to skip on down to the review summary.
There are several different versions of the Zinus Platform Bed, but the primary choices are:
For this review I took a look at the 14″ version with headboard, the Zinus Modern Studio 1500H.
Construction & Materials
The Zinus platform bed is constructed with a couple of different materials. The main outer frame consists of an all steel design, brought together by metal screws at every major connection point. In the middle of the bed there are wooden boards, secured together by Velcro straps, which stretch across the width of the foundation.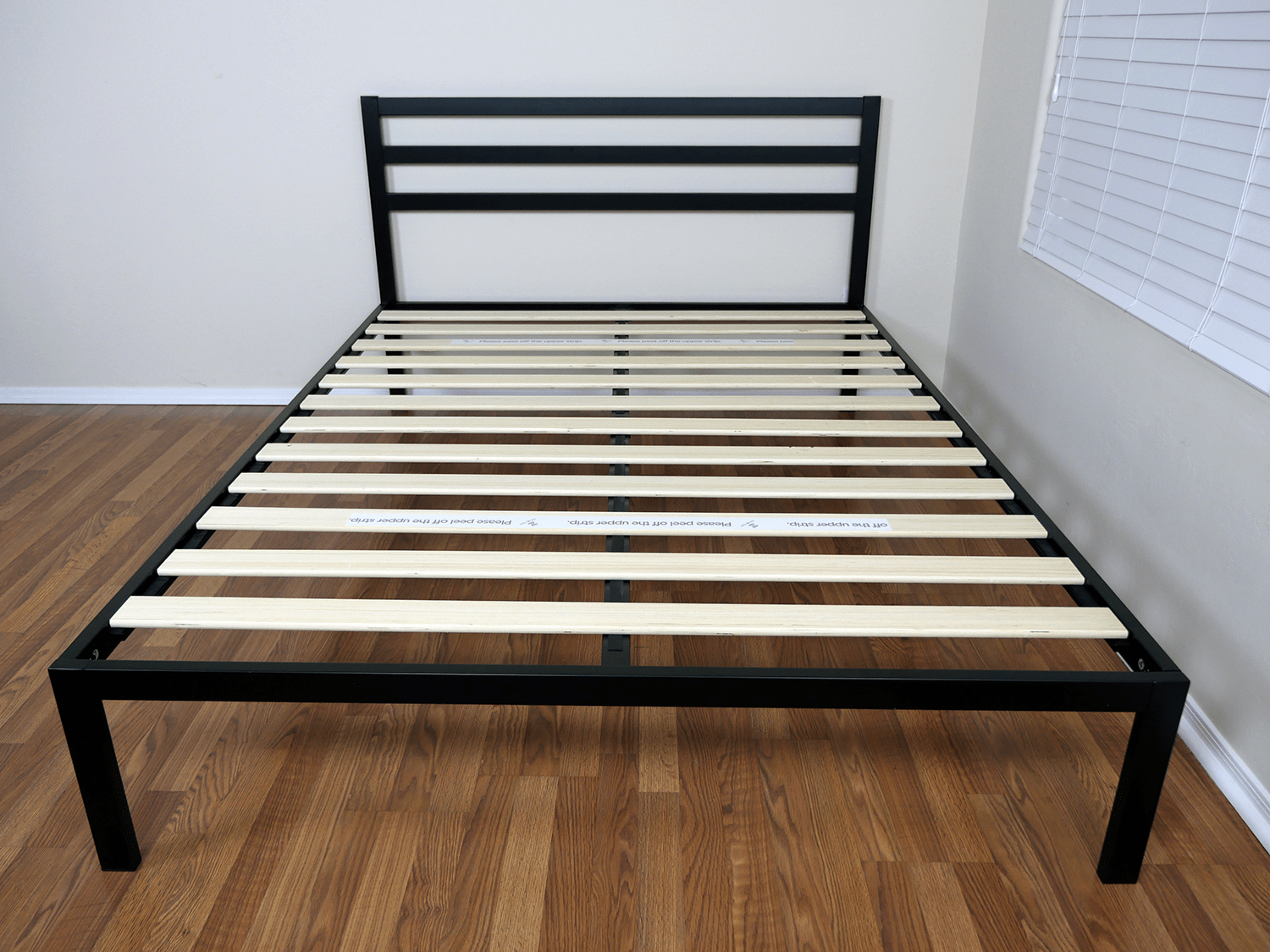 Assembly
Assembling the Zinus platform bed wasn't too difficult. Once I had all of the pieces removed from the box and spread out, it took me a total of 26 minutes to fully assemble everything. The majority of this time came from screwing the perimeter pieces together. Each Bracket along the edges had to be screwed in, in about 3 separate places. Granted, this was not a difficult task by any means, but using the L-shaped Hex wrench included with the foundation does take more time than using a traditional screwdriver.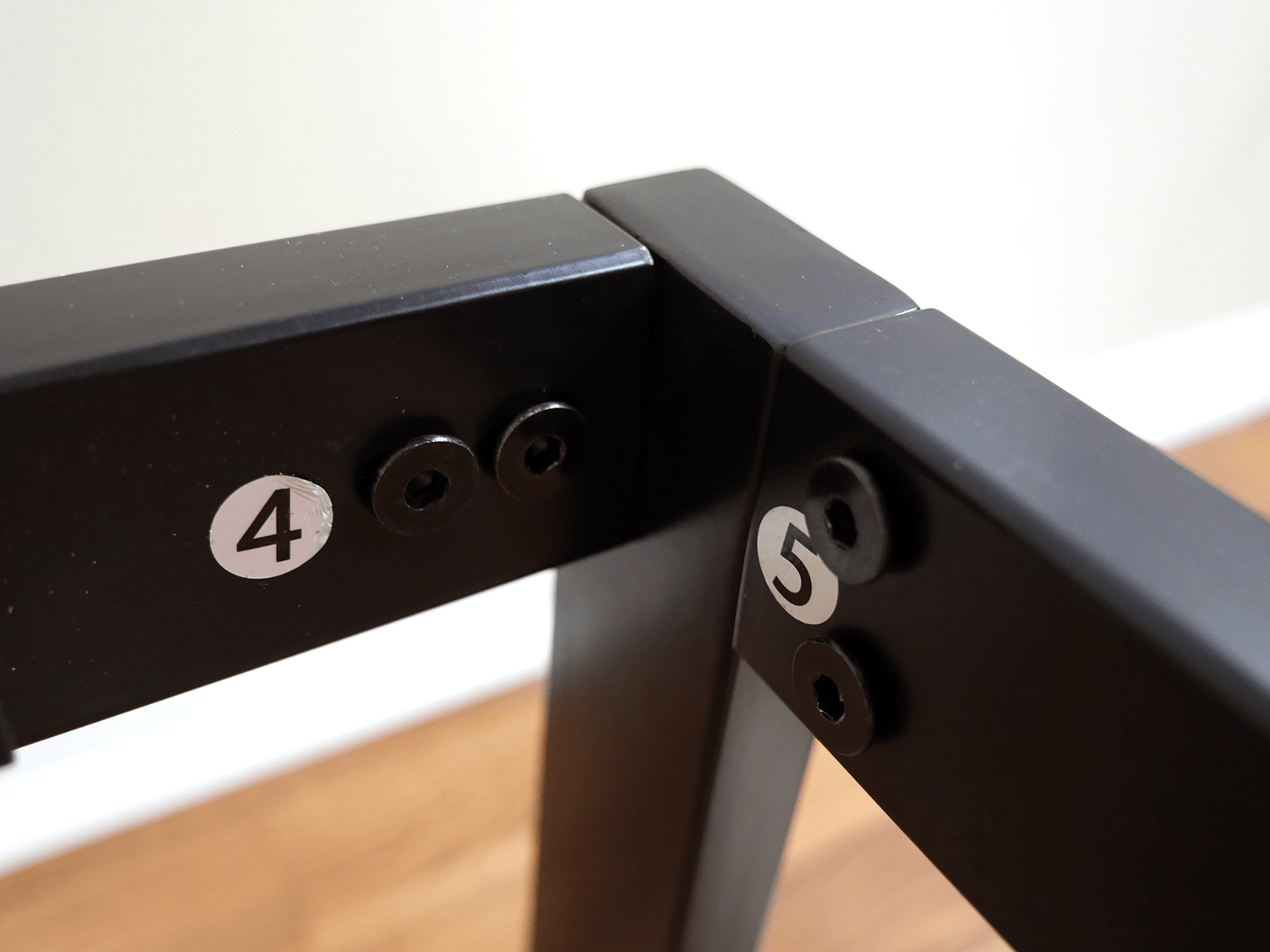 Once I had all of the foundation's perimeter (as well as the head board) screwed together, I placed the wooden slats on top of the frame. These slats were bound together by 2 Velcro straps, 4 total as there were 2 sets of slats, on both ends of the boards. These straps helped the actual boards themselves stay in place. Running along the interior sides of the foundation were also Velcro straps, which grabbed the wooden boards and prevented them from moving around freely. That said, it is very easy to pick up the slats and move them if you need to do so.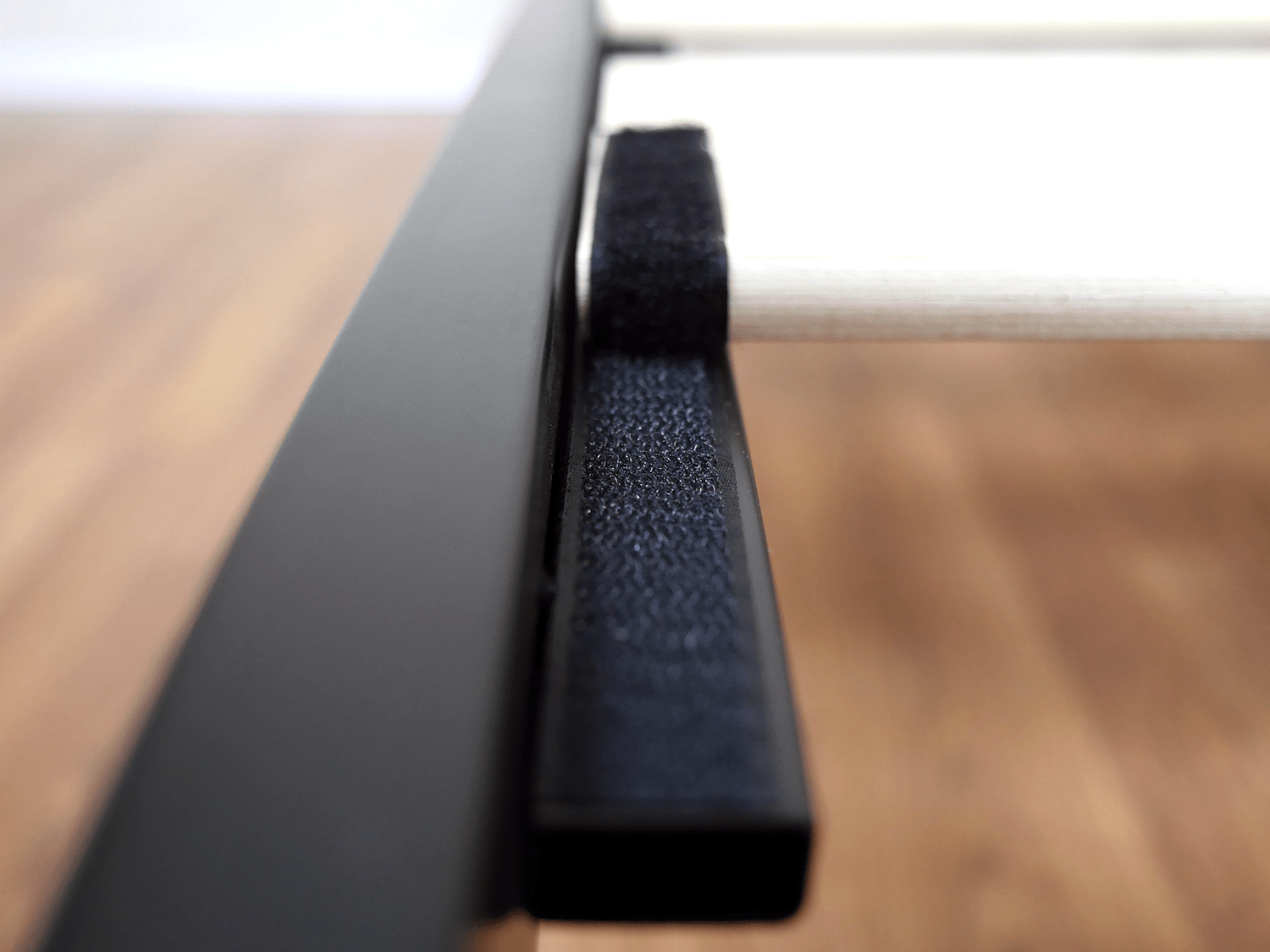 All together, assembling the Zinus platform bed was quick and painless. It took less than half of an hour to fully remove the pieces from the box and build a sharp looking platform bed. That's pretty tough to beat!
Support & Noise
While there's not much to the aesthetics of the Zinus platform bed, there's something to be said about the level of support. The wooden slats sit at about 3.5" apart from each other, while the slats themselves measured in at 3" in width. This combination allowed for solid support throughout my sleep test. Not once was there any feeling of sag or lack of support at any point on the mattress. This foundation is built to hold up to 1,500 pounds. Therefore, sleepers of almost any size should have no issues with their mattress while sleeping on this foundation.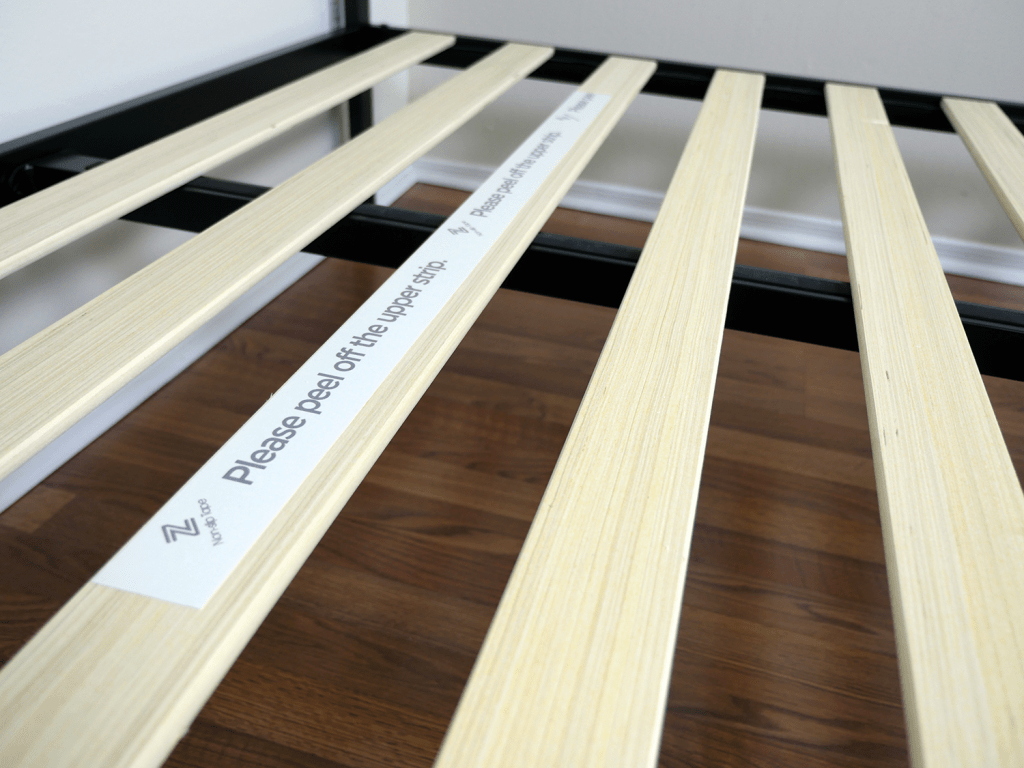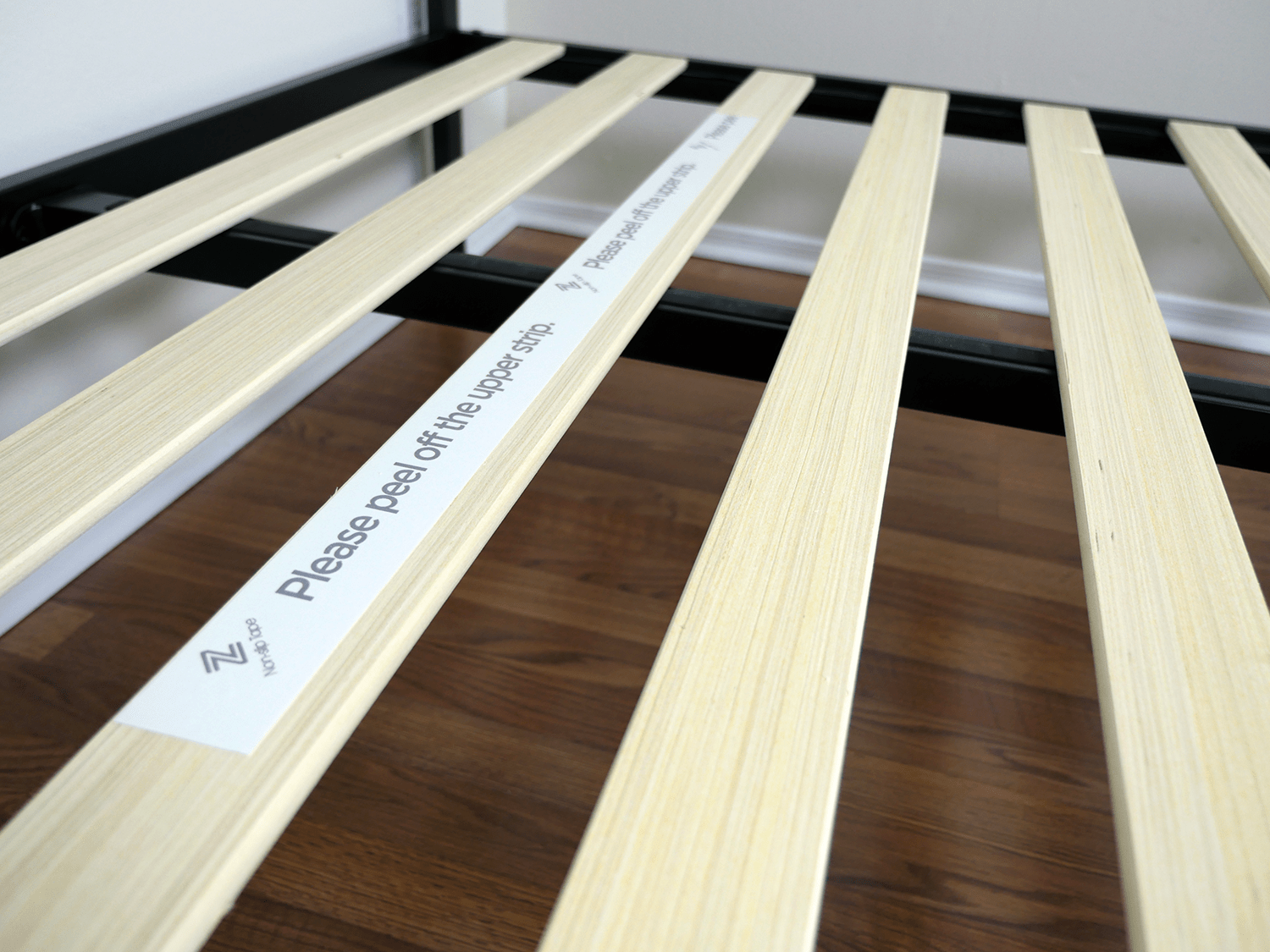 Another area where the Zinus platform bed impressed me was noise. Typically, the cheaper foundations will have some level of noise or creaking as sleepers move throughout the night. That was not the case on this platform bed. Zinus did a good job of designing a platform bed that has the ability to remain nearly silent. Even during amorous activities, there was only a small hint of noise.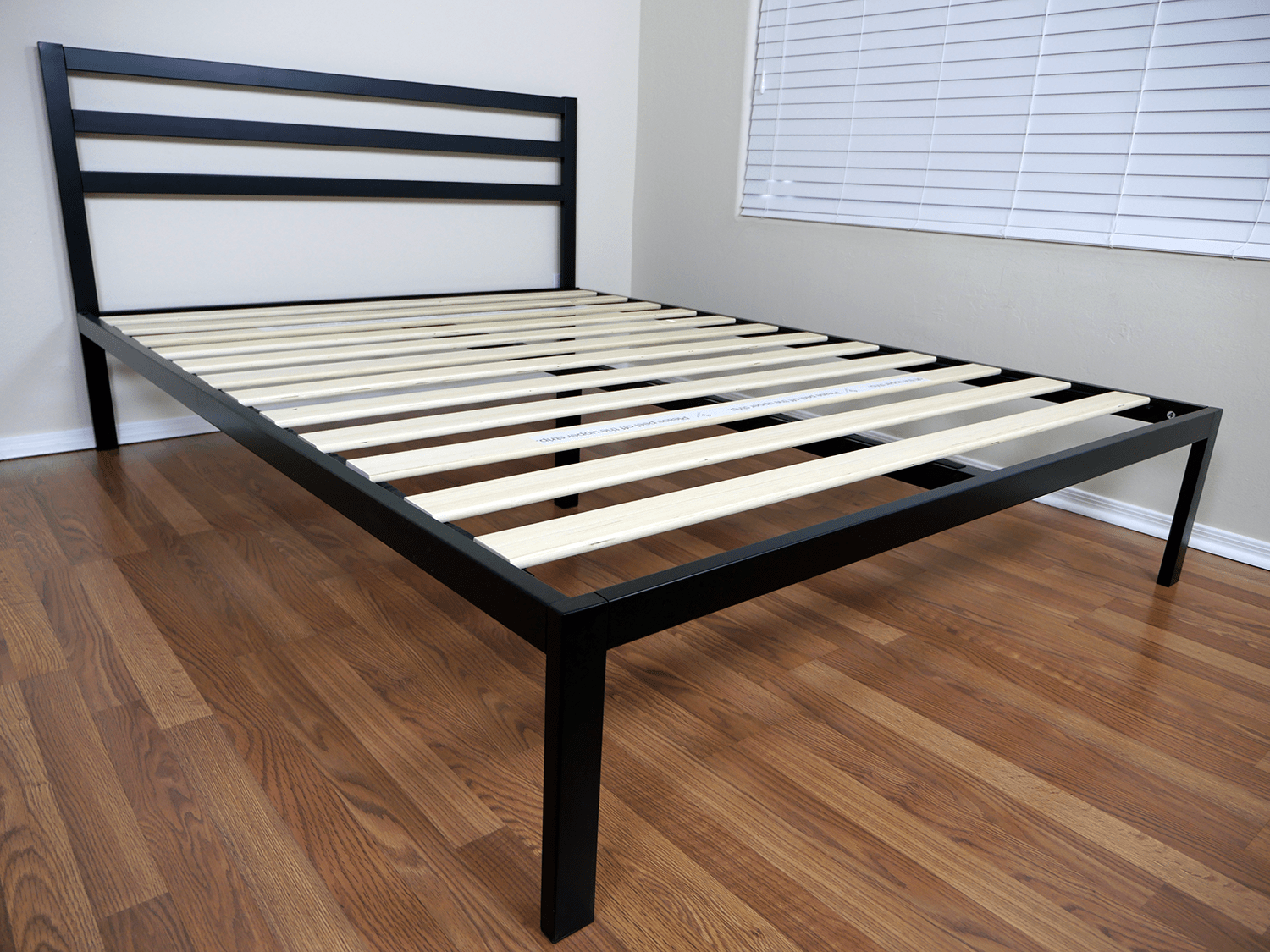 Zinus Platform Bed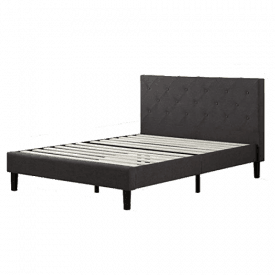 Strong durability and a lightweight construction make the Zinus Platform Bed a great pick for sleepers looking to enhance their mattress foundation.
Read Full Review
Durability Tests
Once I had the Zinus Platform bed fully assembled and ready to roll, I put it through a short series of tests. These tests were put into place to provide insight on how sturdy the foundation is from different angles, positions, and weights.
Shake Test – during this test I walk around the platform bed and literally shake it from every angle. This test was designed to measure how much force can be placed on the foundation without the screws coming loose. The Zinus had no issues whatsoever with this test. However, the headboard does tend to move more so than the base of the foundation. As far as I could tell, the screws were tightly bound into the frame, but I believe the height of the headboard may cause a little wiggle.
Sitting Drop Test – as I stood up and plopped my butt onto the mattress / platform bed, there was no sign of damage. The foundation was able to support the weight of the mattress and myself quite easily.
Standing Drop Test – the standing drop test did put a little more stress on a direct point on the foundation. That said, the mattress softened my landing and the frame was able to take the pressure without encountering any damage.
Flop Test – the flop test can be otherwise thought of falling into bed after a long day at work. After dropping all of my weight in an abrupt manner, the foundation creaked ever so slightly, but not enough that I was worried I may have broken a slat. I removed the mattress and there was no notable damage, once again.
Hammer Test – finally, the hammer test. With the wooden slats being somewhat more flexible that I originally imagined, I expected one to break with the force from a hammer. That was not the case. I hit several boards with a good amount of power and none of them snapped. Keep in mind, these wooden boards are not as strong as an all steel foundation, so I avoided smashing the wooden boards with my full strength. Even so, the boards were still able to take a reasonably good smack without snapping or breaking.
Overall, the Zinus platform bed passed all of my tests without any noticeable damage.
REVIEWS: More Sleepopolis bed frame & foundation reviews
Pricing
| Size | Price |
| --- | --- |
| Twin | $109 |
| Full | $119 |
| Queen | $134 |
| King | $149 |
Zinus Platform Bed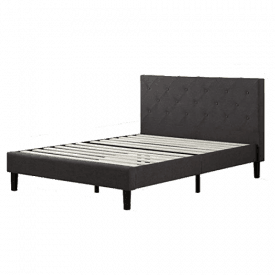 Strong durability and a lightweight construction make the Zinus Platform Bed a great pick for sleepers looking to enhance their mattress foundation.
Read Full Review
Other Details
Lightweight construction – fully assembled, the Queen size foundation weighs a total of 67 pounds. This makes for much easier maneuverability than a clunky boxspring
Headboard – most foundations sold at lower prices do not contain a headboard. The Zinus steers away from that norm and includes a headboard with this specific model.
Who should buy the Zinus platform bed?
I would recommend the Zinus platform bed to sleepers who:
Want a platform bed style foundation – most sleepers today are still used to the traditional bed frame and boxspring combo. The Zinus platform bed essentially offers both of these in one piece. A more modern look combined with good durability and a strong frame makes for a very good pick up for someone looking to change up their mattress foundation.
Want to save a little money – At $135 for a Queen, this foundation is hard to beat. Most platform beds sold at this price point are perceived as lower quality and will more than likely not last very long. Zinus has done a great job of mixing quality with simplicity, allowing them to sell the bed at a much lower price than most other platform beds.
Want a pain free assembly process – assembling this platform bed with just one person took under 30 minutes. The directions were clear and the pieces all came together without any issues whatsoever. For those sleepers who live alone, aren't very handy, or simply want to avoid the struggle of putting together a complex foundation, the Zinus platform bed is a great choice.
Good support, even better price
Materials

Support

Noise

Build Quality

Durability

Warranty

Value
Summary
The Zinus platform bed may be inexpensive, but it is most certainly not a "cheap" product. Made from a steel frame and wooden slats, this foundation is able to provide a good level of support to virtually any size mattress. Additionally, the foundation's assembly process is virtually painless. All in all, if you're looking to save some money, but don't want to skimp on adequate support and a sleek look, the Zinus platform bed is certainly worth considering.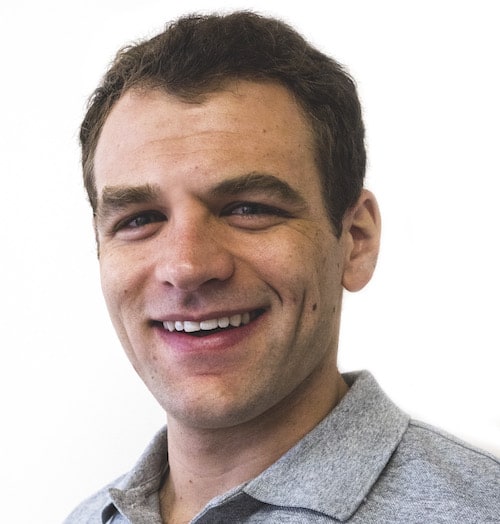 Logan Block
Logan is the former content director of Sleepopolis. As content director, he reviewed new mattresses every week and curated the comparisons, best of pages, and video guides on the site. Logan perfected his method by personally testing over 200 different mattresses, so he's not only able to discern the overall vibe of a specific bed, but to contextualize its feel within the bed-in-a-box market as a whole.