Editor's Note: The Signature Sleep Reset is currently unavailable. I recommend checking out the DreamCloud mattress, which has a similar blend of support and pressure relief.
Today, we're going over the Signature Sleep Reset, which the company describes as a mattress with "nanobionic" technology. The bed is one of several sold by the company. But does nanobiology actually translate to a comfortable sleeping experience? That's what we're here to find out. Let's see if big words mean big value, or if nanobionic is just another word for "waking up with lower back pain."
You can see my full review of the Reset mattress below, or you can click here for my review summary.
This mattress is no longer available for purchase. To help you find your next mattress, check out our list of the best mattresses available on the market now.
Signature Sleep Brand Snapshot
Signature Sleep has 50+ years in the bedding industry. It certainly has the inventory to coincide with that claim. This is a single stop kind of brand, with products for adults, children, and toddlers. You can get your mattresses, pillows, sheets and sleep accessories all here.
The Reset mattress is the centerpiece of an entire collection that features the brand's nanobionic material, which is a proprietary mix used to coat mattresses and accessories. The company says the tech has restorative properties for better sleep, but I won't know for sure until I hop aboard and try this bed out for myself! A little later on, I'll also compare it to the Signature Sleep Honest, which will help us better understand both models.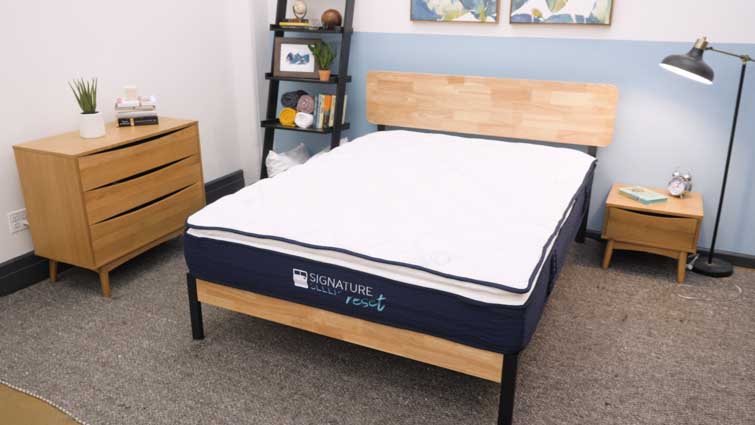 What is the Reset Made of?
At its core, the Reset is a hybrid mattress with a mix of foam and coil layers. This by itself is nothing new, but proprietary technology (the nano stuff) and good layering (a mix of foam, latex, and coils) can make all the difference.
Let's see what we find when we break down the Reset layer by layer.
Cover – The company claims this is where the nanobionic technology starts. The material here looks to be a polyester blend that is quilted with foam. It's breathable, and the foam provides an extra bit of comfort.
Comfort – Rounding out the pillow top layer of the mattress is a couple of layers that include poly foam, charcoal memory foam, and talalay latex. They are both soft layers that allow the sleeper to sink through them, but the latex foam (on top) has a quicker response to pressure. This creates a balance between comfort and pressure relief that also gives room for the body to contour into the mattress.
Support – This layer of pocketed coils give the Reset its bounce and high mobility. For most sleepers, it should be a breeze to switch positions on the Reset. The firmness of this layer also helps with spinal alignment and back support.
Edge Support – High-density poly foam supports the layer of pocketed coils and gives shape to the rest of the bed. Using HD poly foam in this way is fairly common for hybrid mattresses. However, the Reset tries to use it to provide an added level of edge support that allows sleepers to use more of the mattress. This would be a good feature for partner sleepers who may need a little space to "reset" their relationship after an argument! However, the soft top layers tended to reduce the effect, and I found the edge support to be a bit weak.
Thoughts: Back and stomach sleepers should find the back support they need in the Reset, but strict side sleepers may find the firmness a bit uncomfortable in high pressure areas. Overall, the mattress tries to balance comfort with firmness and support, but ends up lacking in some features like edge support.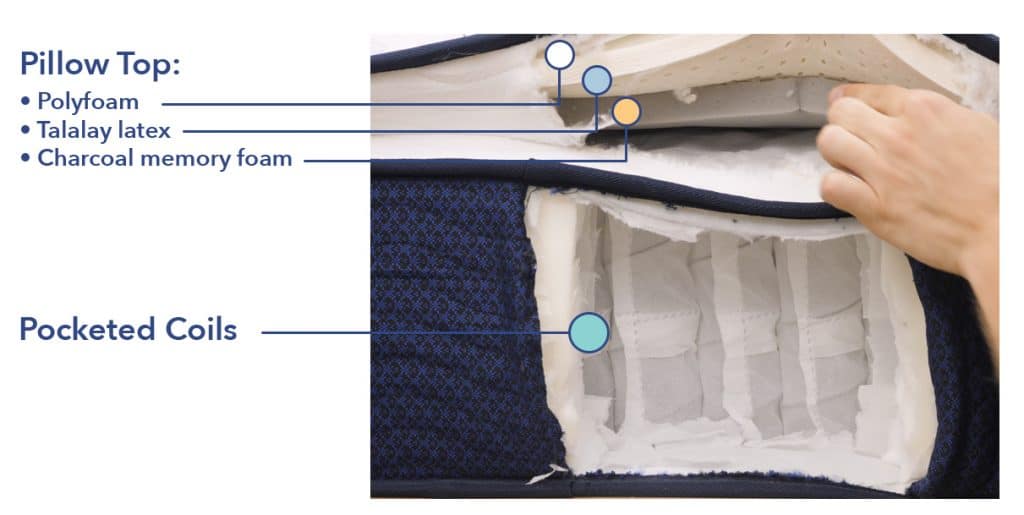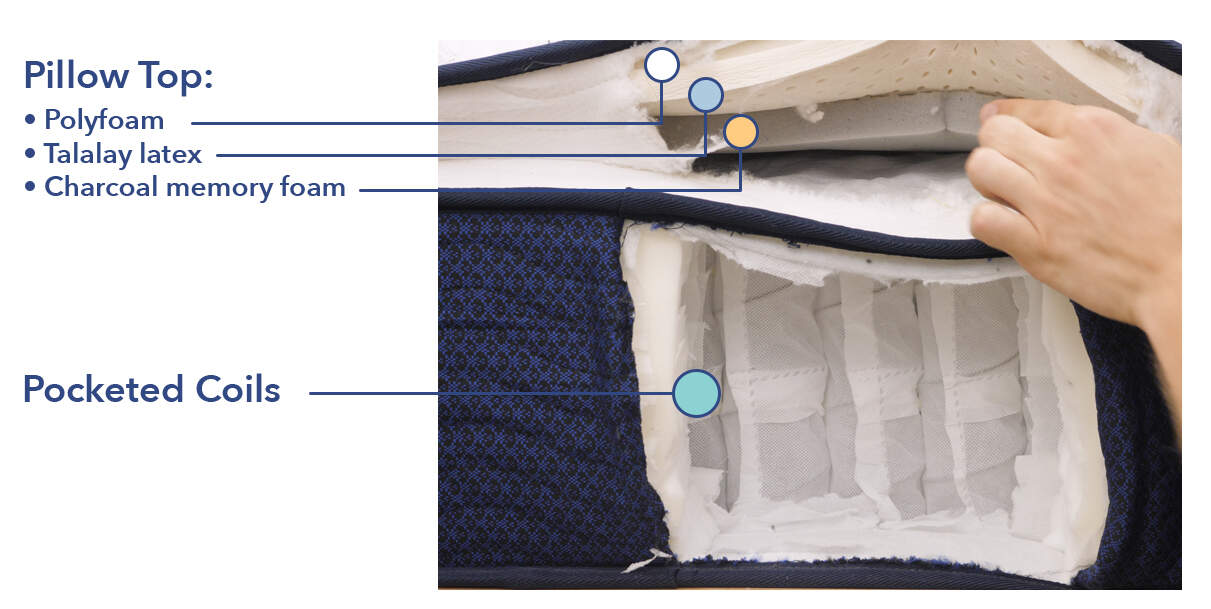 How Firm is the Reset?
Let's see how the Reset actually makes us feel! We start with one of the most important attributes of any mattress: its firmness.
Everyone will experience subtle differences in the firmness of a mattress based on body type. Your body size also has a lot to do with how a mattress responds to you. We run our firmness tests with this in mind. The results you see below are an average of my findings and those of my colleagues.


We rate firmness on a scale of 1 to 10, with 10 being the firmest and 6.5 as the industry standard for medium firmness. The Reset came out as a 7/10, meaning that most people will probably experience a slightly firm feel.
Laying down on my back, I felt a good level of support along my spine. It's important for strict back sleepers to have good spinal alignment, which the Reset provides. I did feel more on top of the mattress than in it. If you like to sink into your mattress, the Reset probably isn't for you. My initial roll around also showcased the Reset's mobility. Its firmness makes for easy position switching, which is great for combo sleepers.
As I rolled over to my side, I checked closely for pressure relief in the shoulders and hips. I felt a bit jammed up in the shoulder area because of the firmer support layers of the mattress. I could not recommend it for strict side sleepers for this reason. However, I found good hip and shoulder support while lying on my stomach, a very important consideration to keep the back from bowing.
What's the final verdict? If you are a strict back or stomach sleeper, the Reset may be the mattress for you. Back/stomach combo sleepers should find sustainable comfort as well. Strict side sleepers may have trouble in the high pressure areas of the shoulders and hips over time, especially heavier sleepers.
Testing Out the Reset
We now know what's really in the Reset, and I've given you my thoughts on how nanobionic tech feels. Up next, we'll go through some of my favorite tests for Pressure Relief and Motion Transfer.
Pressure Relief
Does the Reset provide pressure relief at the body's most sensitive spots, like the shoulders, hips, and lower back? To find out, I use a pressure map to track how my body interacts with the mattress in real time. Blue indicates low pressure, green and yellow are medium, and red is high pressure.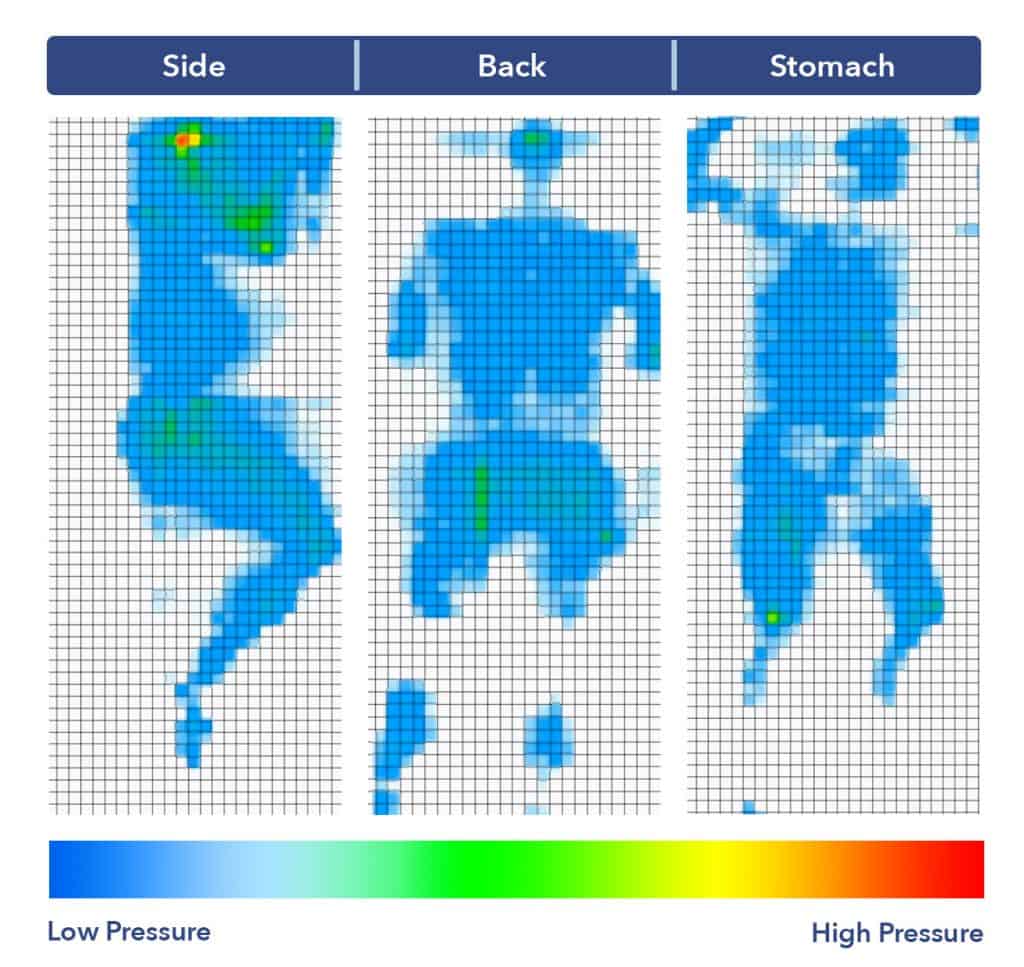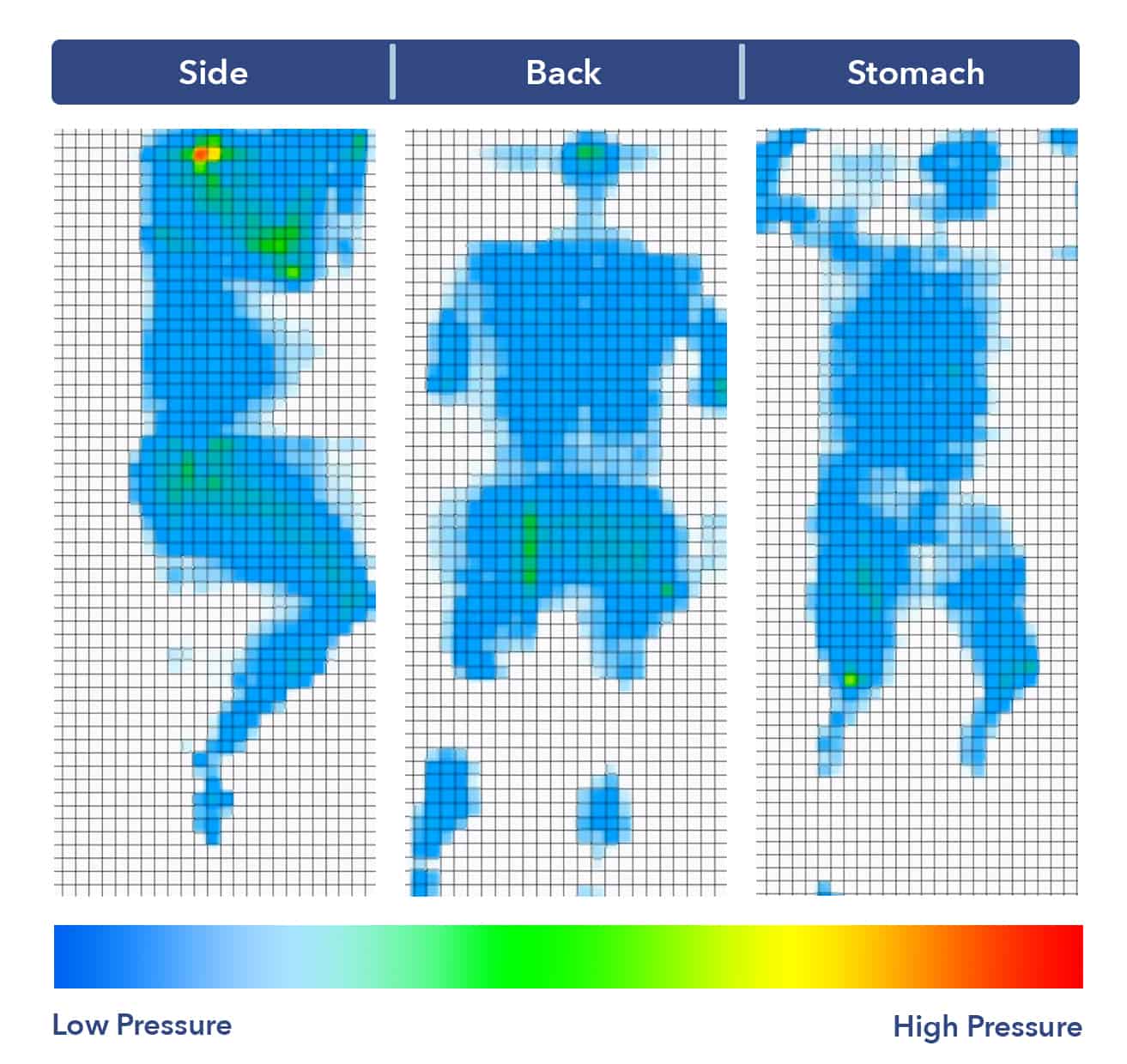 Back – I saw blue across the board here, which is common, but important. Lying on my back, I felt as though my weight was evenly distributed across the structure and I didn't experience any spots of tension.
Side – I found a red spot on the pressure map in my shoulder area after turning onto my side. Red signifies an area that we need to stop and look at. My shoulder really dug into the firm structure of the bed, causing some uncomfortable tension in the joint. Strict side sleepers may want to be really careful here. High pressure can translate to some serious discomfort over the course of a night.
Stomach – I got low pressure blue across the board, which is good, but doesn't tell the whole story. Hips sinking too far into the mattress can cause the back to bend in uncomfortable ways that won't always show up on a pressure map like this. Fortunately, the Reset gave me the lower back and hip support needed to prevent this from happening.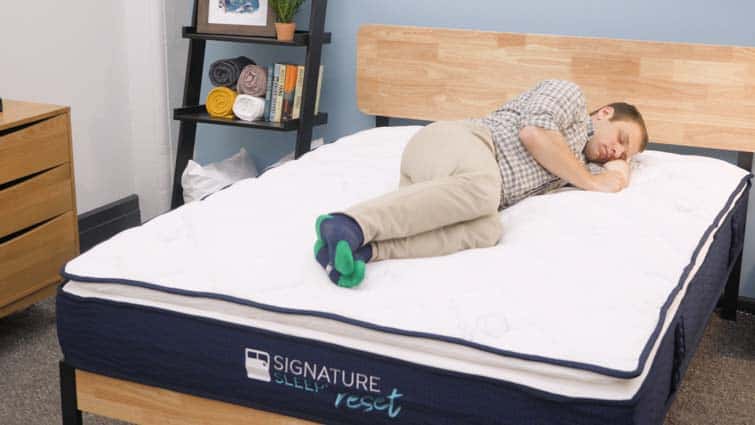 Motion Transfer
After Pressure Relief comes my Bounce test. This test helps us determine if sleepers will feel stuck in the mattress when sleeping, which can become annoying over time. I make visual observations after bouncing a 10 lb. steel ball onto the bed for this test.
The pocketed coils of the Reset gave the ball a decent level of bounce. The top layer of poly foam also helped me feel on top of the mattress instead of sinking into the memory and latex layers beneath it. When I tried to change positions, I could do so easily.
Motion Transfer is next. I drop that same 10 lb. steel ball from the predetermined heights of 4", 8" and 12". I measure the motion that is transferred with a seismometer across the bed where a partner might sleep. What we are looking for is motion isolation. Isolated motion means as one partner jumps in and out of bed or changes positions, the other partner stays comfortable.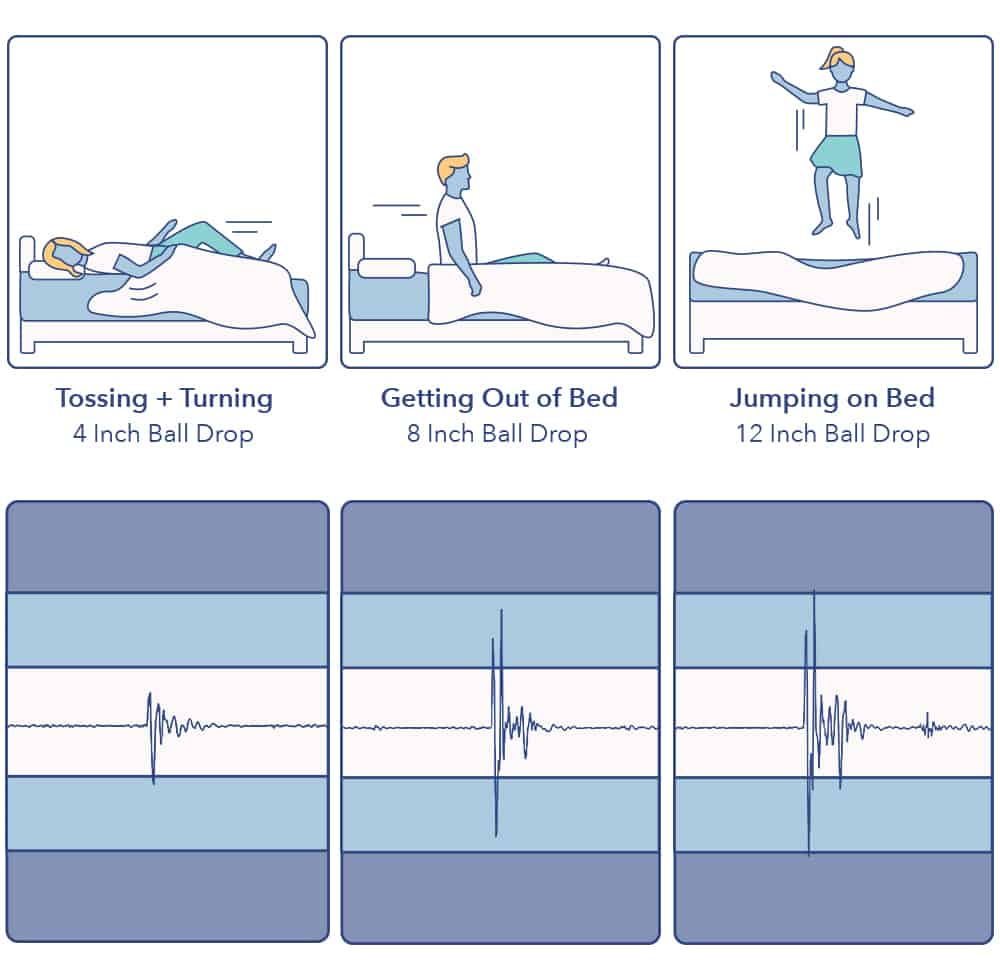 The Reset gave average results, which is not a good sign for anyone who shares a bed with a restless sleeper. It's a bouncier mattress, so transfers a significant amount of motion across the bed. This does not usually bode well for couples, especially when you consider the rather weak edge support of the Reset.
This mattress is no longer available for purchase. To help you find your next mattress, check out our list of the best mattresses available on the market now.
Signature Sleep vs
Sometimes the best way to really understand what a mattress can do is to compare it with other mattresses under the same brand. The Signature Sleep Honest uses more natural materials like cotton, wool, and aloe vera. That's definitely not the robotechie marketing strategy that Signature Sleep uses for the Reset.
So does one outdo the other? Let's look at the comparison.
Signature Sleep Honest
The build of the Honest and Reset may seem similar because of the build (pocketed coil support system), but the Honest does not have the complex mix of latex and foam that gives the Reset a bit more of a luxury feel.
The Honest is a much thinner mattress than the Reset, which gives it a firm feel. I have felt futons with the same kind of texture.
Pricewise, the Honest (starting at $539-882) is right in the range of the Reset. The Reset starts at a lower price point ($372) but goes higher ($906).
This mattress is no longer available for purchase. To help you find your next mattress, check out our list of the best mattresses available on the market now.
Is the Reset Mattress Right for you?
We've gone through the materials and feel of the Reset, and have also made a direct comparison to its mattress sibling. So… is it time to Reset your bedding? I can't say for sure, but I can make a few summary recommendations to help your decision along.
Reset Recommendations
Back and stomach combo sleepers should find the firm support inviting, as it protects the lower back and helps to align the spine.
This bed has a lot of bounce, so its mobility is high. Switching positions is easy, which also bodes well for combo sleepers.
Reset Complaints
If you sleep with a partner, the Reset will probably transfer a lot of that partner's motion your way. This can be uncomfortable for many sleepers.
Strict side sleepers may find the firmness of the mattress unforgiving in the shoulder area.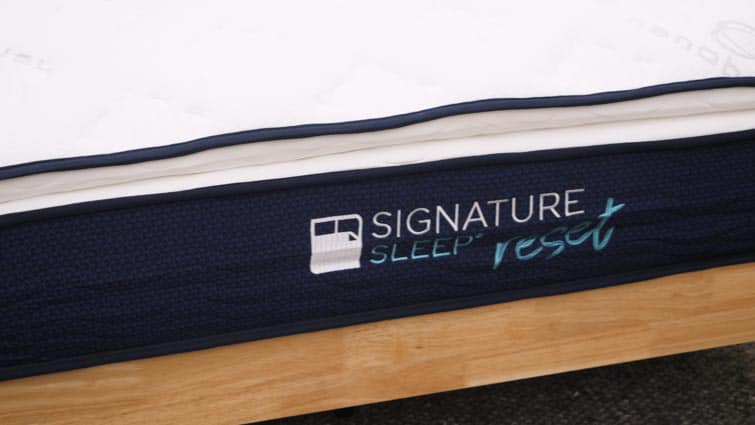 Basic Information
Trial – Amazon Return Policy
Warranty – 10 Years
Shipping – Arrives compressed to anywhere in the continental United States
How Much Does the Signature Sleep Reset Cost?
This mattress is no longer available for purchase. To help you find your next mattress, check out our list of the best mattresses available on the market now.
| Size | Dimensions | Price |
| --- | --- | --- |
| Twin | 39" x 75" x 12" | $374.23 |
| Full | 54″ x 75″ x 12″ | $599 |
| Queen | 60″ x 80″ x 12″ | $639.74 |
| King | 76″ x 80″ x 12″ | $891.06 |
Signature Sleep Reset
Materials

Comfort

Support

Value

Cooling

Edge Support

Trial

Warranty