The Food and Drug Administration has registered its first sleep tracking device, and it's said to improve sleep in just one week. 
Earlier this month, health technology start-up Beddr launched the SleepTuner — a wearable device that measures user sleep patterns. Though trackers are not new to the industry, the SleepTuner employs clinical-grade technology that promises to enhance the quality of your slumber in a single week. About the size of a postage stamp, the sensor sticks to your forehead, syncs to your smartphone, and offers personalized recommendations on how to refine your sleep hygiene.
In addition to daily tips and insights, the SleepTuner records data like blood-oxygen levels, respiratory patterns, and heart rate to put together a customized plan of action for each sleeper. According to the folks at Beddr, the idea is to maximize sleep performance every night. On the company's website, former President of the American Academy of Sleep Medicine Dr. Meir Kryger shared his thoughts on the new gadget:
The vast majority of people with sleep problems have yet to be diagnosed. SleepTuner represents a promising opportunity to reach a larger portion of the population, engage them in sleep health, and identify issues that may need attention from a doctor. The ability to get personalized insights, over multiple nights in your own bed, is a significant improvement in the patient experience.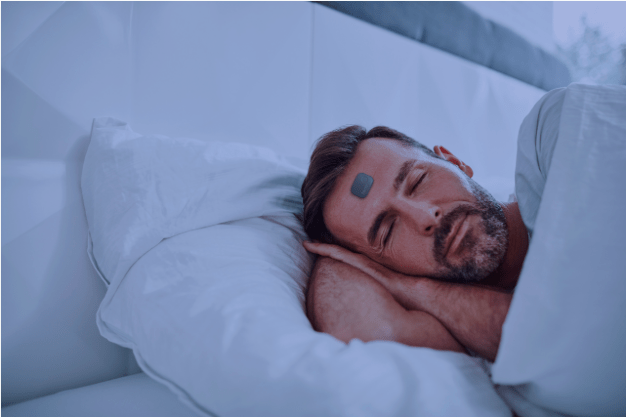 More: Interested in sleep gadgets, but not sure you want to wear one? Check out the Eight Sleep Tracker! 
LET'S TALK ABOUT SCIENCE, BABY
Sleep trackers have undoubtedly grown in popularity over the last few years, and each one promises that better Zzz's are in store. The truth, however, is that the cold, hard science behind these gadgets is fairly limited. In fact, some research has found that tracking devices could actually make sleep worse. At the end of the day, it's wifi-enabled technology that you're sleeping with, and many health professionals have advised against it — some proposing that the act of tracking is stress-inducing. 
In the case of the SleepTuner, the FDA approval signals a weightier endorsement, though it's too early to know if the tracker will achieve its desired objectives. In a recent press release, Beddr reminded consumers that the Center for Disease Control declared sleep deprivation a public health epidemic, and that "the challenge" is to get out in front of it. 
Though the jury is still out on whether or not one gadget could be the answer to all life's sleep problems, the Beddr team is hopeful that theirs will help people identify poor sleep patterns and make positive strides toward better slumber. "The SleepTuner is a leap forward in terms of usability and access," said Kryger, "I'm excited to see how it can impact this significantly underserved need."
Images courtesy of Beddr