The clothing brand Lunya recently launched a new sleepwear collection that aims to be more than just cozy pajamas. The brand is already known for creating luxury sleepwear made from high-quality and eco-friendly fabrics. Now, their new clothing line, called Restore, claims to promote muscle recovery while ensuring an undisturbed and peaceful night's sleep.
The claimed sleep and recovery power of Restore clothing is from the material Celliant®, which was regulated by the FDA in 2017 and has been through nine clinical studies.
Researchers have found that Celliant® can increase oxygen levels in the body, which can help cells grow stronger in order to heal injuries, increase endurance, and minimize pain. In other words, Celliant fibers supposedly absorb and covert body heat into infrared energy, which is then reflected as energy back into your body. The apparent result is you sleep better so you recover better from your workouts and feel refreshed in the morning.  
[Curious about Celliant? Check out our reviews of Amerisleep and Bear, mattress models that incorporate Celliant for its recovery properties.]
Celliant also claims to regulate body temperature, so people can avoid waking up in the middle of the night from being too hot or too cold. And while the Restore line is designed for recovery, it doesn't ignore comfort either. Other materials used include Pima cotton (a type of extra-long staple cotton) and Lycra™, a lightweight fabric found in high-quality sports apparel.
Ashley Merrill, Lunya's founder, told Bustle:
"As women we understand these everyday problems, and Lunya was launched to make women feel comfortably confident with thoughtful smart design and quality fabrics. With our Restore collection's new FDA regulated technology, we are taking another exciting step in helping women improve their sleep. Our goal with this collection is to enable women to wake up feeling reinvigorated by a restful night's sleep."
The Restore collection includes four products in various colors: muscle tees, shorts, long sleeve crews, and dresses. (Yes, all of these products are designed for women.) These items range in price from $62 to $188, and one reviewersaid "it's worth every penny."
Featured image: @lunya.co on Instagram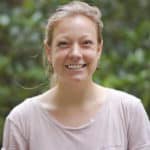 Laura Schwecherl
Laura is a journalist with nearly a decade of experience reporting and covering topics in the health, fitness, and wellness space. She is also a marketing consultant, where she works with impact-oriented startups to build marketing and editorial strategies. Outside of work, you can find her reading Murakami novels, writing amateur poetry, or trail running in her hometown, Boulder, Colorado.