Making a calming environment for a baby is one of the first tasks for new parents. While bedroom decorations, painted walls, and furniture are important, babies will most intimately acquainted with their crib. That is why it is important to find bedding that is both comfortable and gives a cozy feeling.
Nursery bedding is very often sold in sets with various matching pieces. This is a great way to quickly outfit a room without worrying about finding complementary elements. Because each set is different in terms of the pieces that are included and the quality of those pieces, it can be hard to decide which set to opt for. We've looked at various offerings that stand out in terms of comfort, design, and variety: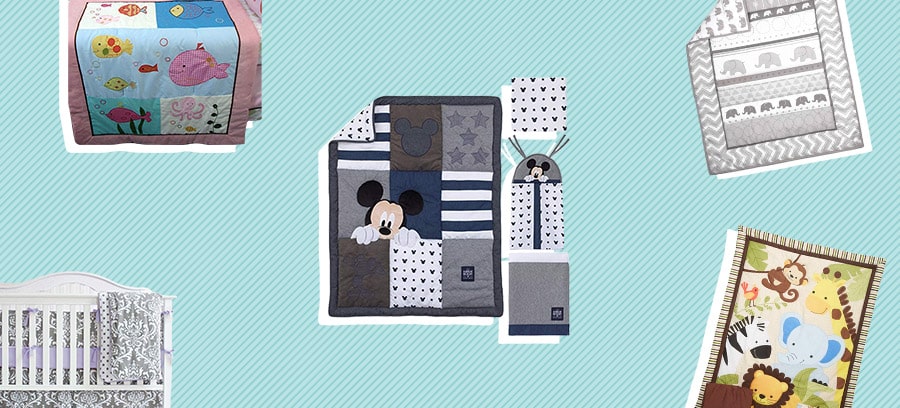 Editor's Choice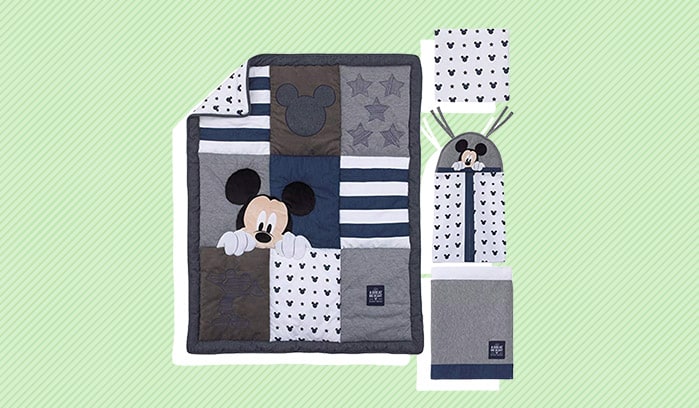 Disney Nursery Crib Bedding Set
Pros:
Disney characters. One way to make a baby's bedroom more fun and festive is by adorning the crib with familiar and loveable characters. Select figures from Disney's roster are featured in this bedding line, such as Mickey, Minnie, Pooh, Simba, and Ariel.
Up to 7 pieces. While the bedding collections offered by Disney all have a themed comforter and fitted sheet, each set has additional items that may differ from one another. Dust ruffles, wall decors, decorative boxes, diaper stackers, blankets, changing and pad covers are variously included in different sets.
Variety of design. Sometimes when manufacturers create a multi-piece bedding set, all of the material has the same pattern. This collection features unique designs on each item, which can make it a more visually stimulating environment for babies.
Cons:
Cost. These are not the most inexpensive crib bedding sets by any means. Some of the collections cost several times the amount of a typical set.
Comforter needs more stuffing. Though it does its job, the comforter included in this set is not particularly spectacular. It could use more stuffing.
Contender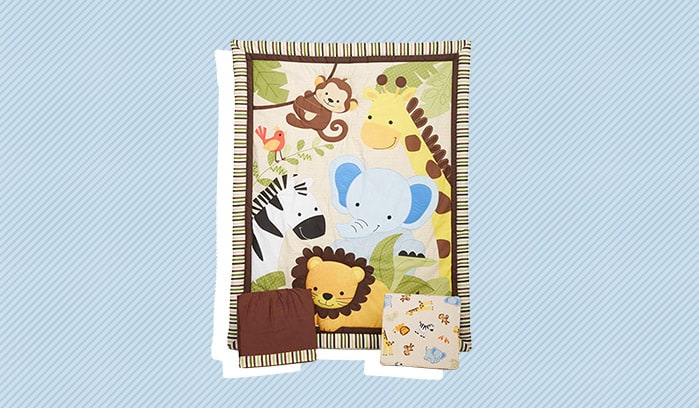 Bedtime Originals Jungle Buddies 3 Piece Crib Bedding Set
Pros:
Striped border. This set features a multi-colored striped border on the comforter and the dust ruffle. This subtle touch not only ties together the set, but allows for a wide range of color matching with other bedroom items.
Cute animals. The jungle animals featured on the comforter are cuddly and friendly. A giraffe, monkey, bird, lion, elephant, and zebra will greet the waking baby each morning.
Bright colors. While some bedding sets for babies feature colors and patterns that are subdued and perhaps have a more mature aesthetic, this set is clearly designed to be bright and fun. The colors on the animals stand out and can create a fun mood in a bedroom.
Cons:
10" dust ruffle. While the 10" dust ruffle may suffice, it is not on the longer side of what is available. Some competitors feature dust ruffles that are 14" or longer, which may fit some cribs better.
Not the softest. The sheets are average in terms of softness, but not as soft as can be found elsewhere.
Most Variety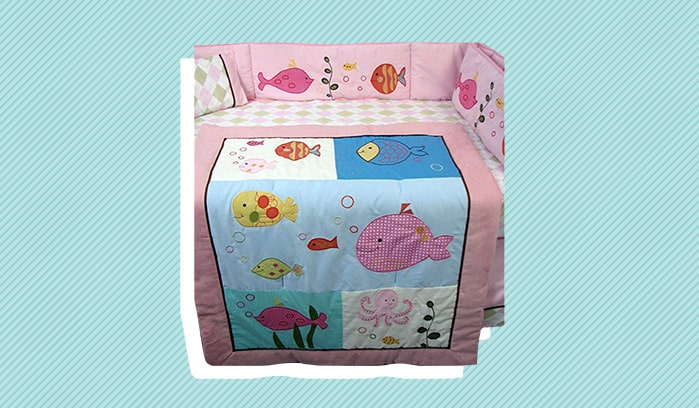 SoHo Designs Baby Crib Bedding Sets
Pros:
Large set. This collection of bedding sets has one of the largest numbers of pieces included per theme, with anywhere from 9 to 13 pieces. It is competitively priced with other brands that only have 3 or 4 items per set.
Crib bumper. Included in every set is a crib bumper, which is a great addition to any crib. As most parents will want one of these any way, it is the furthest thing from a "throwaway" add-on.
Variety. There are a whopping 23 different themes for girls and 25 for boys that parents can choose from, each with different animals, shapes, colors, and patterns. Great for matching existing furniture and wall paint.
Cons:
Items in the collection. While this set is comprehensive, it would have been nice if a second fitted sheet was included, rather than, say, the toy bag.
Thin pillow. Though the matching pillow is a nice touch, it is rather thin and doesn't provide much support.
Softest Material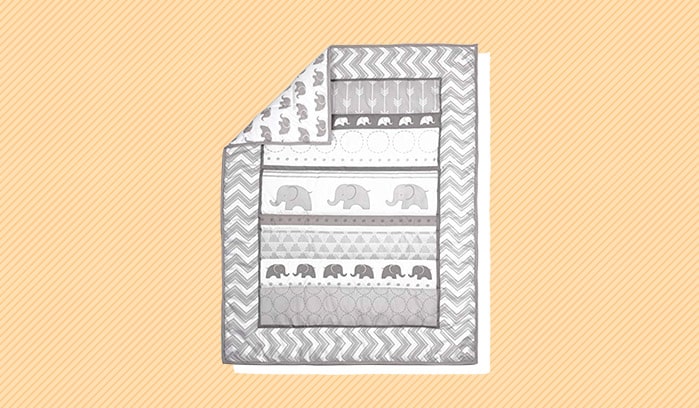 Belle Elephant Walk Jungle Crib Bedding Set
Pros:
Soft. The bedding items included in this collection are all made of a soft microfiber that is comfortable but not too heavy. The fitted sheet and blanket maintain the softness even after washing.
Plush elephant. To accompany the elephant-themed bedding, included is a cute plush elephant. This can become a great companion for your baby.
Musical mobile. Those opting for the 5-piece set will receive a musical mobile that is adorned with several floating elephants. The coloring matches the bedding perfectly.
Cons:
No crib bumper. While most nursery bedding sets come with a crib bumper, that item is not included with this set. Some parents may opt for another option for that reason.
Thin quilt. Though the quilt is inarguably soft, it doesn't have as much substance or thickness as other offerings. Depending on how cold it gets in the baby's room, a thicker quilt may be necessary.
Best Shape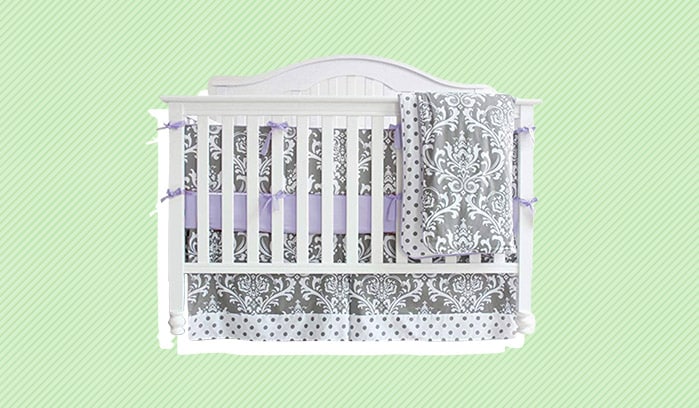 Sahaler Baby Crib Bedding Set
Pros:
Colored ribbons. Though not essential to the effectiveness of the bedding, the ribbons that are used to attach the crib bumper pads provide a nice shock of color. It makes the crib have a sophisticated yet happy aesthetic.
Cotton. This bedding set is made of 100 percent cotton. Many competitors use a cotton and polyester blend, so this may be the perfect option for those who prefer cotton.
Long crib skirt. This crib skirt measures almost 18" in length. This is great for those with cribs that have a high profile.
Cons:
4 piece bumper. Some parents may prefer a crib bumper that is all one piece, as it is easier to install and adjust. This one is made of four separate pieces.
No care instructions. It is unfortunate that this product doesn't come with clear washing instructions. This can lead to some unfortunate mistakes if it is not cared for properly.
How We Picked
Nursery bedding can be a fun product to shop for, as there are so many different designs, characters, colors, and patterns to choose from. But it is also important to understand the quality of the material and the variety of the collection, as some fall short in certain aspects. Here is what we weighted most heavily when making our choices:
Size of the set
While there are a few key items that all nursery bedding sets should contain, sometimes it is the additional items that really make one collection more desirable than another. Fitted sheets, a blanket or quilt, and a dust ruffle are found in almost every set. From there, however, there are any number of directions brands can go.
Many times companies will provide items that a new parent would need anyway. Crib bumpers, diaper stacks, and baby mobiles are all very useful items, and it is nice to get ones that match your bedding. Fun extras can also include plush toys, mobiles, and decorations to adorn the wall.
Material
The fitted sheet and blanket will probably get the most use and are probably the most intimately important parts of a nursery bedding set. Thus the material of these elements might matter a great deal to parents. Depending on the preferences of the parent, there are a number of different fabrics that can be chosen from.
Most common are cotton and cotton and polyester blends, but the fabric composition doesn't tell the whole tale. The weave and quality of the fabric itself can make a big difference in the softness and durability of the bedding. Further, those that are interested in sustainability and sourcing may pay more attention to those qualities.
Design
Decorating a baby's room can be a fun exercise. Parents have a chance to make a room in bright and varied colors, offering a change of pace from the rest of the home. More importantly, the room should be a cozy place for a baby.
Depending on if the room has already been decorated or not yet, there are loads of different options in various colors, patterns, and styles. Those hoping to make a classic nursery – like those seen in films – can find nursery bedding sets with traditional designs and colors. There are lots of different characters too that are featured on bedding sets, from recognizable characters from cartoons to cuddly animals.
Tips
Not sure which nursery bedding set is best for you? Take a look at some tips we've compiled:
Is your nursery decorated already?

There are many options in light blue, pink, gray, and other neutral colors that probably match most nursery decors.

For those who are starting from scratch, some of the larger bedding sets include wall decorations and other bedroom accoutrement that can help outfit a room.

What are the dimensions of your crib?

Most cribs have a standard size in terms of width and length.

Cribs do vary however in height and the size and shape of the crib walls. Some elements in bedding sets may not fit on all cribs, so make sure to double check the dimensions of your crib.
FAQs
What is a standard crib size?
Most cribs measure 28" wide and 52" long. The other dimensions of the crib may vary, however.
What is essential in a nursery bedding set?
The most useful items tend to be the quilt or blanket, the fitted sheet, a dust ruffle or a crib skirt, and a crib bumper.
Are there organic options?
Several companies make fitted sheets, dust ruffles, and blankets that are made of fabrics that are certified organic, it just may take some investigating.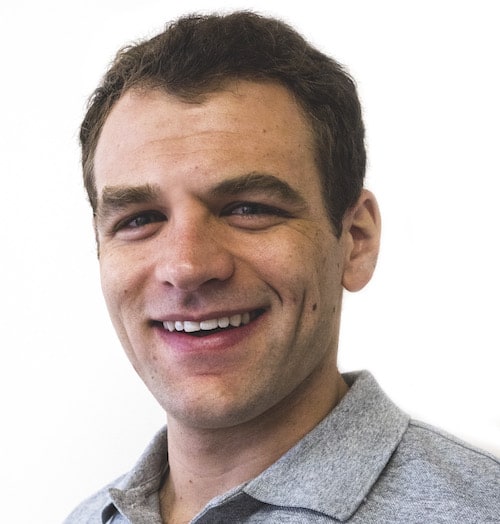 Logan Block
Logan is the former content director of Sleepopolis. As content director, he reviewed new mattresses every week and curated the comparisons, best of pages, and video guides on the site. Logan perfected his method by personally testing over 200 different mattresses, so he's not only able to discern the overall vibe of a specific bed, but to contextualize its feel within the bed-in-a-box market as a whole.