Bedding brand Pillow Guy makes a variety of accessories for all kinds of sleepers, but in this review we're focusing exclusively on its sheets. In fact, I'm reviewing both sheet sets this brand has to offer — the Classic Cool & Crisp Set and the Luxe Soft & Smooth Set.
Not sure which set sounds best? Well, keep reading, because we're about to take a close look at what each one is made of and how they both feel so you'll know exactly which Pillow Guy sheet set is 100% right for you.

Pillow Guy offers luxury sheets that will help take your bedroom to the next level.
Brand Snapshot
Pillow Guy was established in 2017 with one goal in mind: To provide luxury bedding for men. Now, that's not to say that fellas are the only folks who can enjoy PG products, but this brand is all about making the sheet shopping experience nice and easy for those who find the world of bedding to be a bit intimidating. Additionally, every sleep accessory is designed with the "masculine aesthetic" in mind which, in this case, means dark, bold colors.
I've already had the pleasure of testing Pillow Guy pillows (one of which is featured in my roundup of the best pillows for neck pain!), but this review is all about the bedsheets. By their titles, you might already get the sense that the Classic Cool & Crisp and the Luxe Soft & Smooth sheets are pretty different… But the only way to know for sure is to thoroughly test each one!
What Are Pillow Guy Sheets Made Of?
Classic Cool & Crisp Sheet Set
This sheet set is made from 100% long-staple cotton, features a 400 thread count, and a percale weave.
The length of the cotton staples (also known as fibers) is one of the primary factors that determines the fabric's softness and durability. And the general rule of thumb is — the longer the fibers, the softer the sheets! However, there's more to consider when examining a sheet set's quality.
For example, thread count can give you a good idea about how smooth a piece of bedding is without having to feel it first. Essentially, thread count refers to the number of individual yarns per square inch of fabric, and a higher count typically means the fibers are woven closely together. When it comes to cotton bedding, I like to aim for a thread count of 300 or higher, keeping in mind that long-staple cotton will produce a softer finish.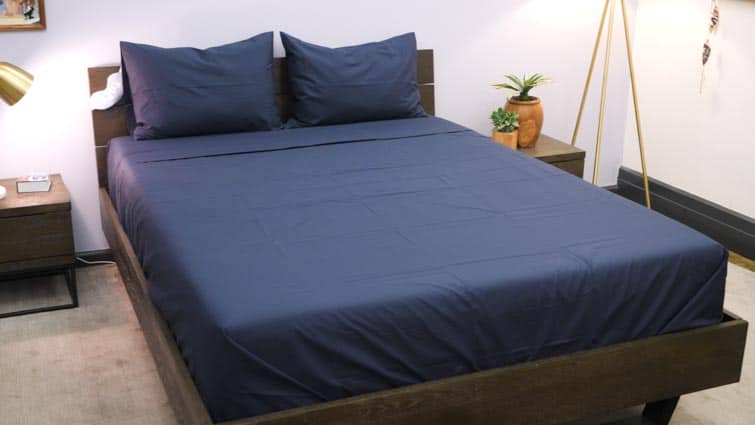 A 400 thread count woven from long-staple cotton like we see here is considered luxuriously soft and durable, and I definitely found these sheets to hit that mark! However, there is one more key feature at play here — the percale weave. Percale refers to the weave style used to craft these sheets, and it's got a reputation for producing a light, crisp fabric (hence the name Classic Cool & Crisp).
On the loom, percale fabric is woven using a simple "one-over-one-under" technique which typically enhances breathability through the textile. This is why percale bedding is usually a safe bet for sleepers who run hot!
Okay sleepers, we've seen what the Crisp & Cool set is made of, so let's talk about the Luxe Soft & Smooth set.
Luxe Soft & Smooth Sheet Set
This sheet set is made from 100% Tencel, features a 600 thread count, and a sateen weave.
Tencel is the trademark name for lyocell, which is an eco-friendly cotton alternative made from dissolved wood pulp. Lyocell fibers are known for being exceptionally smooth, durable, absorbent, naturally hypoallergenic, and antimicrobial (that's a lot of perks, am I right?) Compared to cotton, Tencel is typically more silky in feel and, unlike the percale sheets we just looked at, these are much smoother and less crisp.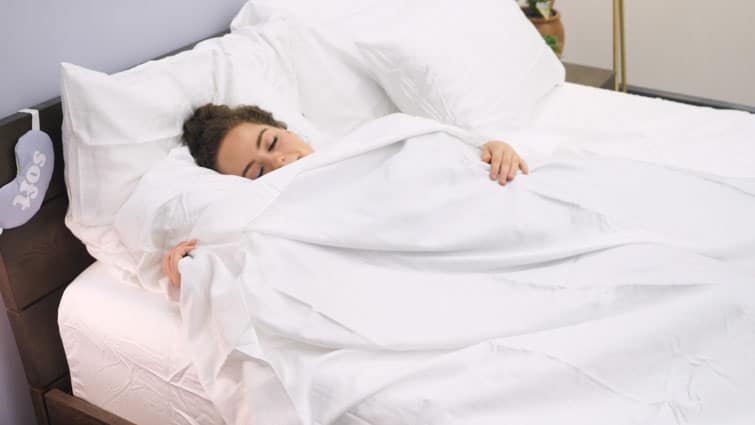 Additionally, these sheets are sateen woven rather than percale, which brings a very different set of characteristics to the game. Sateen woven bedding tends to be much silkier, shinier, and less breathable as compared to percale (which often makes it a better pick for cooler climate). As I said, Tencel is already quite soft in feel, but the sateen weave and 600 thread count really double down on the satin-like quality of these sheets.
Remember: thread count is not the sole indicator of sheet quality, but a high count like we see here can really boost the smoothness of a fabric. I consider bedsheets with a thread count of 300 or higher to be luxurious, but if you're not working with durable materials (like Tencel or long-staple cotton), a high thread count is not enough to ensure good quality.

Pillow Guy offers luxury sheets that will help take your bedroom to the next level.
What Do Pillow Guy Sheets Feel Like?
Okay sleepers, before we dive deeper into the feel of these sheets let's talk about what's included with each set.
The Classic Cool & Crisp is a four-piece set which consists of a top sheet, two pillowcases, and one fitted sheet capable of accommodating mattresses up to 16 inches deep. Meanwhile, the Luxe Soft & Smooth is a six-piece set, which includes everything I just listed plus two extra pillowcases.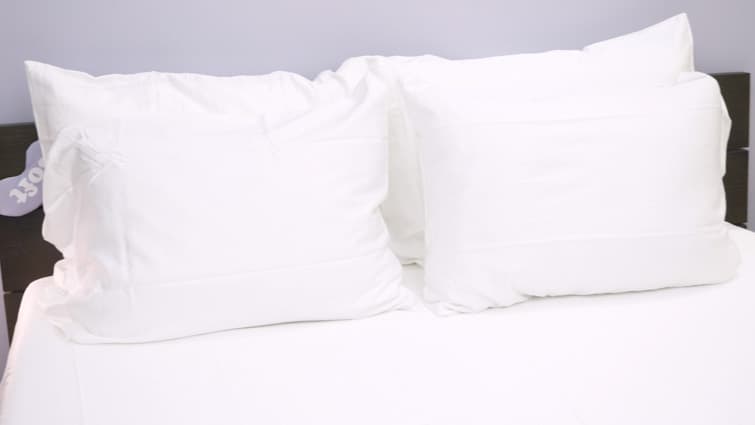 Personally, I keep four pillows on my bed, so I like that the Luxe set comes with extra shams! However, it's worth noting that the Luxe sheet set does come at a higher price point (more on this later.)
Classic Cool & Crisp Sheet Set
Spoiler alert: this sheet set definitely lives up to its name. It's got a very crisp, cool hand-feel, and kind of reminds me of a freshly ironed dress shirt. Sleepers looking for that airy, classic cotton feel are likely to be more compatible with this set.
Additionally, I suggest you go with this sheet set if you're a hot sleeper, or looking specifically for summertime bedding. In general, percale woven sheets tend to be more light and breathable, and these sheets did a great job of keeping me cool.
I also really like the style of this sheet set! It's got a clean, livable look and doesn't feature any embellishments that might clash with your current bedroom decor. I tested this set in dark navy (which, in my opinion, complemented its classic look and feel), but there are other colors from which to choose. Just remember that Pillow Guy aims to appeal to the "masculine aesthetic," which basically means this brand's bedding is all about dark, muted hues.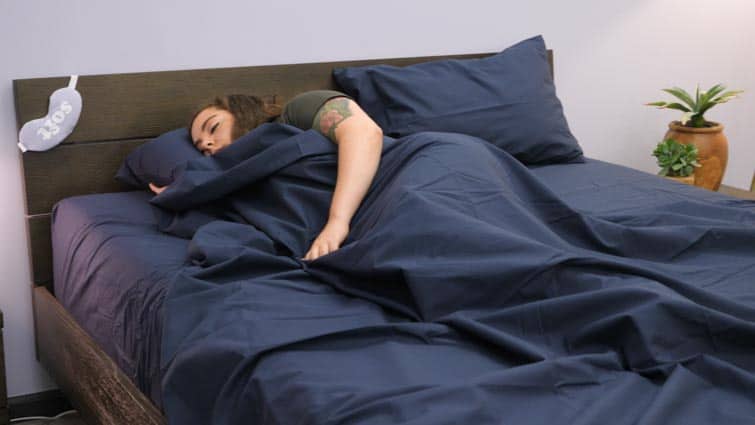 I will say that it's a good idea to wash these sheets a couple times before using them. When I first unpackaged this set, I actually found the crispness to detract from the softness a bit. However, after running them through the wash and dry cycle twice, the cozy balance between soft and crisp was restored, and I enjoyed a cool and comfortable snooze.
The Verdict: Hot sleepers who prefer a classic, crisp cotton feel are going to be most compatible with this sheet set!
Luxe Soft & Smooth
I'll be honest — I have this sheet set on my bed at home right now, and after sleeping on it for the past week, I've renamed it "Luxe Silky & Smooth."
I'm a sucker for a smooth and shiny sateen weave, but this bedding is sateen woven and made from 100% Tencel, which makes it feel exceptionally silky on the skin. And these sheets look as silky as they feel, which might particularly appeal to sleepers who prefer a lustrous sheen to a matte appearance.
Additionally, these sheets elegantly drape over my body and the mattress in a way that the other set does not. This is typical of sateen woven bedding, but I found this particular sheet set to silhouette my shape in a luxurious way that, frankly, sets it apart from other sateen sets I've tested.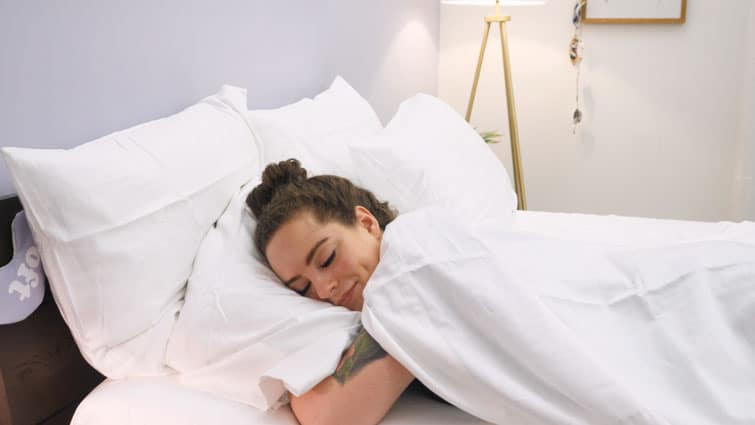 However, hot sleepers should keep in mind that this sheet set is heavier and less breathable than the percale set. A sateen weave tends to produce a thicker sheet that lies heavier on the body, and I can't say that this bedding helped me sleep cool. If you're looking for a silky sheet set to keep you warm and cozy, this is a great way to go… But if you're someone who needs light and airy bedsheets, I suggest you go for the Crisp & Cool set.
Ultimately, I'll admit that I do prefer the Luxe Soft & Smooth to the Crisp & Cool. Both sheet sets are made from high-quality materials that bring great durability to the game, but the sateen sheets offer a luxuriously silky look and feel that I find to be irresistible!
The Verdict: Sleepers looking for a silky set of sateen sheets to keep them warm and cozy will be most compatible with this set!

Pillow Guy offers luxury sheets that will help take your bedroom to the next level.
Should I Buy Pillow Guy Sheets?
Well, it's no secret which sheet set is my favorite, but let's recap the highlights of each one so you can better determine which is the best fit for you.
Hot Sleepers – If you need help sleeping cool, I suggest you go with the Classic Crisp & Cool set. The light percale weave makes the fabric feel much more airy and breathable as compared to the Luxe Soft & Smooth set, and I think it'd make a great addition to your collection of summertime bedding essentials.
Silky & Lustrous – Meanwhile, sleepers looking to get warm and snuggly under a set of super silky sheets should go with the Luxe Soft & Smooth set. The sateen weave is more insulating as compared to the Crisp & Cool sheet set and, personally, I plan to enjoy it all Winter long. Not to mention, this bedding offers a beautifully lustrous sheen and elegant drape over the mattress.
Wash Care & Returns – Something that I always prioritize when I'm on the hunt for new bedding is easy wash care and a generous return policy and, luckily, these sheet sets come with both! Simply wash on a cool gentle cycle, and tumble dry on low heat. If you hate wrinkles, you can iron on a low, warm setting.
Additionally, both sets come with a "30-Day Sleep Free Guarantee." This means that you have 30 days to make up your mind about these sheets and, if you decide within that time that you're really not feelin' them, just send them back for a refund.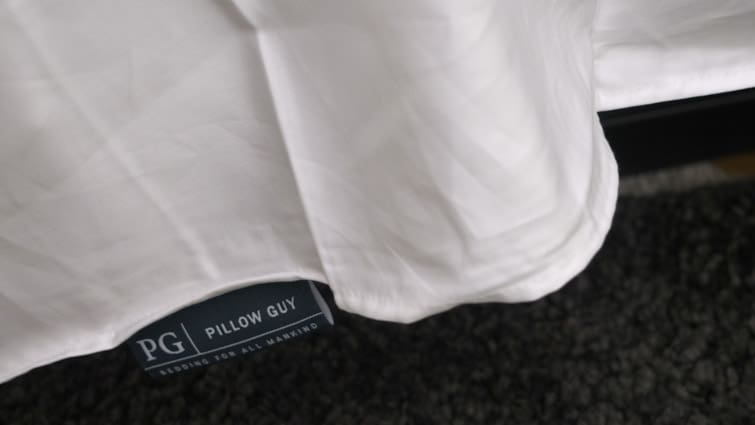 Pillow Guy Sheets Complaints
Of course, there are a few things about these sheet sets that some folks might consider to be drawbacks.
Pricey – Yes, long-staple cotton and Tencel do tend to be on the pricey side because of superior durability, but these sheet sets are actually a bit more expensive than others I've tested in their categories. The Crisp & Cool set ranges from $200-$250, and the Soft & Smooth is about $300-$350, neither of which is going to be in everyone's budget. Of course, you do have a 30-day trial period to test them out, and you may just decide that they're worth the dough!
Luxe Soft & Smooth – This bedding is less breathable than the other sheet set, and probably not ideal for sleepers who run hot. That said, those looking to add to their collection of Fall and Winter bedding essentials might be most compatible with this set.
Classic Cool & Crisp – Percale bedding tends to wrinkle pretty easily, and I definitely found that to be the case with this sheet set. Fortunately, it's machine washable and dryable so, if I were you, I'd pull this bedding out of the dry cycle as soon as it's finished. Then, spread these sheets over the mattress when they're still warm, and that should serve to keep the wrinkles at bay.
Anything Else I Should Know?
Free Shipping – within the U.S.
30-Day Return Policy
Pricing – $200-$250 (Crisp & Cool), $300-$350 (Soft & Smooth)
Sizing – Full, Queen, King, Cali King (for both sets)
Wash Care – For both sheet sets, wash on a cool gentle cycle with mild detergent. Then, tumble dry on low heat. Iron on warm setting, as needed.
Well sleepers, we've reached the end of my review and you're that much closer to deciding which Pillow Guy sheet set is the right one for you (but if you've decided you need both, we can't blame you.) And while you carefully weigh the options, be sure to like and subscribe to our YouTube channel, and follow us on Facebook, Twitter, and Instagram!
Sarah is the former senior writer and bedding expert at Sleepopolis. She received her degree in Creative Writing from Brooklyn College and spends her free time doing stand-up, making pasta, and hanging with her cats.