The ReST Bed is a tech-heavy bed with adjustable air chambers and multiple layers of pressure-relieving material. So, is it the right one for you?
Read on to learn everything you need to know, from what it feels like to sleep on the mattress to how it performs in my tests for motion transfer and pressure relief. You can also skip to our summary, where I've got a list of pros and cons to help you make a decision!
Check out my full review below, or skip right to the summary for the short and sweet version.
Save $600 with code SLEEPOPOLIS600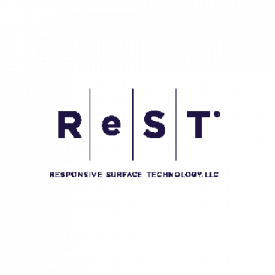 The Rest's ability to automatically adjust support to your specific sleep style is a huge benefit for those looking for the ultimate in recovery. Use the code SLEEPOPOLIS600 to save $600 on your purchase!
Brand Snapshot
ReST is a smart bed brand that currently sells two mattress options: The original ReST Bed and the updated ReST Bed With Purple Grid. The company definitely targets athletes and tech-savvy users who want a super customizable sleep experience.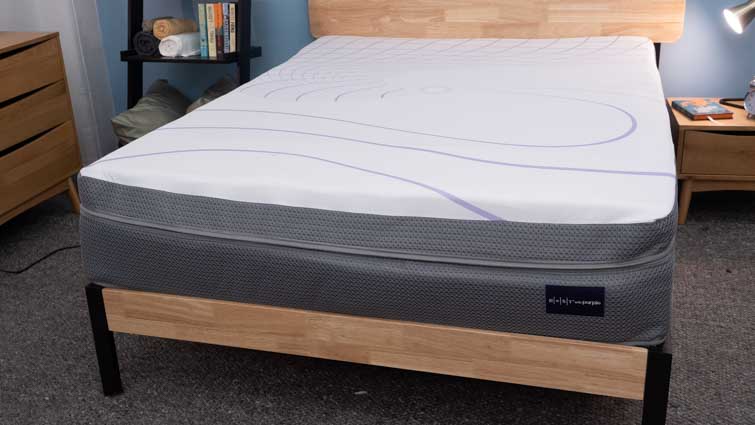 What is the ReST Bed With Purple Grid Made Of?
Now that you've got some info on the brand, let's dive right into the bed. The ReST Bed has a breathable cover, quick-response comfort layers, and adjustable air chambers for a customizable feel.
Cover – The Sleep Skin cover is really soft and stretchy, it feels like the sportswear performance material you find in athletic clothes. That means it's great at promoting airflow, which can prevent you from overheating at night — a plus if you're looking for a great cooling mattress.
Comfort – Next up comes the comfort layer, which is made of the Purple Grid surrounded by foam. This grid is made of an elastic polymer, and the bouncy, quick-response material helps relieve pressure. Plus, the grid structure promotes airflow.
Contour – Underneath the Purple Grid there's a layer of gel memory foam with a slow response to pressure. You can't really feel it when you're lying on the bed, since the Purple Grid is right above it. But it definitely helps with pressure relief.
Tech – Next up comes a layer you don't see too often in a mattress – the pressure maps! These assess pressure levels where your body meets the mattress, giving feedback to the app.
Support – At the bottom, we get the adjustable air chambers, five on each side of the bed. These provide support to the mattress structure, and are surrounded by poly foam for edge support.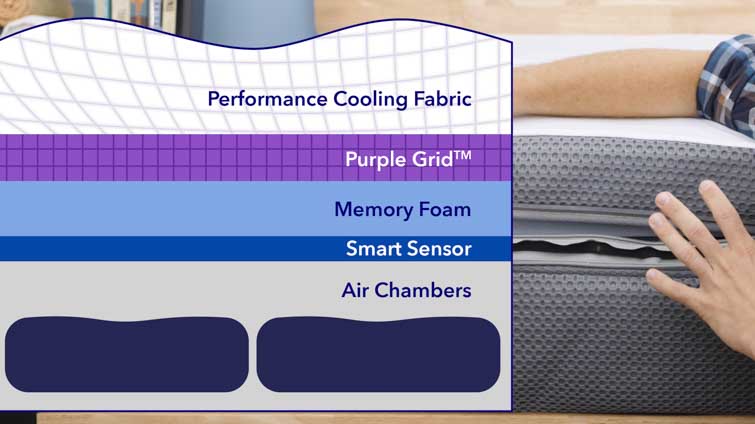 How Does the ReST Bed With Purple Grid Feel?
Now that we know what materials are inside the bed, let's move on to how it actually feels. First up, let's talk about firmness.
Mattress firmness is actually pretty subjective. Things like your sleeping position and your body weight will factor into how soft or firm a bed feels to you. For reference, I'm about 5'10", weigh 190 pounds, and I'm a strict stomach sleeper. That means how firm or soft I find a bed may be totally different from your own assessment.
The ReST Bed has adjustable air chambers, so you can actually change how firm or soft the mattress feels depending on your personal preferences. I used the settings at their extremes to get a sense of the range the model offers.

On a scale of 1-10, with 1 being the softest mattress in the universe and 10 being as hard as a boulder, this model ranges between a 5/10 up to a 7.5/10 on the firmness scale. There's a wide range of support levels available on this bed, providing plenty of options.
The mattress is divided into different zones—head, shoulders, lumbar, hips, and legs—and you can change the firmness level for each individual zone using an app (more on that later) which has both manual and automatic levels. You can also change the firmness level on each side of the bed individually, which is helpful for couples who have different preferences.
The top layer has a really nice bouncy feel, making it easy to switch positions during the night regardless of how firm or soft you've set the bed to feel. You feel like you are on top of the bed, not stuck in it. This is a definite plus for combo sleepers.
Save $600 with code SLEEPOPOLIS600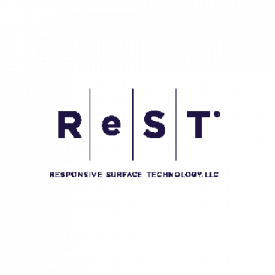 The Rest's ability to automatically adjust support to your specific sleep style is a huge benefit for those looking for the ultimate in recovery. Use the code SLEEPOPOLIS600 to save $600 on your purchase!
Testing the ReST Bed With Purple Grid
As I mentioned, firmness is really subjective. So, I always run a few tests on each mattress to provide a comprehensive review. I test out each bed for pressure relief, motion transfer, and edge support to help you make your choice. Read on for that information.
Pressure Relief
Pressure relief is an important consideration in a bed, as too much pressure on those sensitive joint areas can contribute to issues like back pain down the line.
Usually, I use my own pressure map to run this test. However, the ReST Bed actually has one built in already that interfaces with the app. Here's how it works.
When you are lying on the bed, the app will show you a color-coded pressure map that can help you see if there's a high amount of pressure anywhere like your hips, shoulders, or knees. If the pressure is not to your liking, the app gives you three options: Control the firmness manually, choose one of the apps automatic firmness settings, or enter a "position mode" where you tell the app you are sleeping on your back or on your side, and the bed adjusts accordingly.
The app does a nice job of identifying high-pressure areas and giving you options for how to reduce that.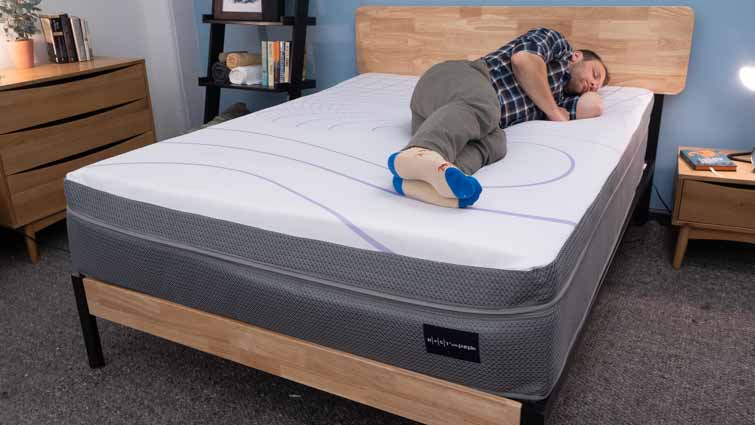 Motion Transfer
Motion transfer is particularly important if you share your bed with a partner—or a pet! Basically, how much will a movement on one side of the bed disturb you over on your side?
To measure this, I dropped a 10-pound steel ball from three different heights onto the left side of the mattress, and used a seismometer to measure how much this movement "transferred" over to the right side of the bed.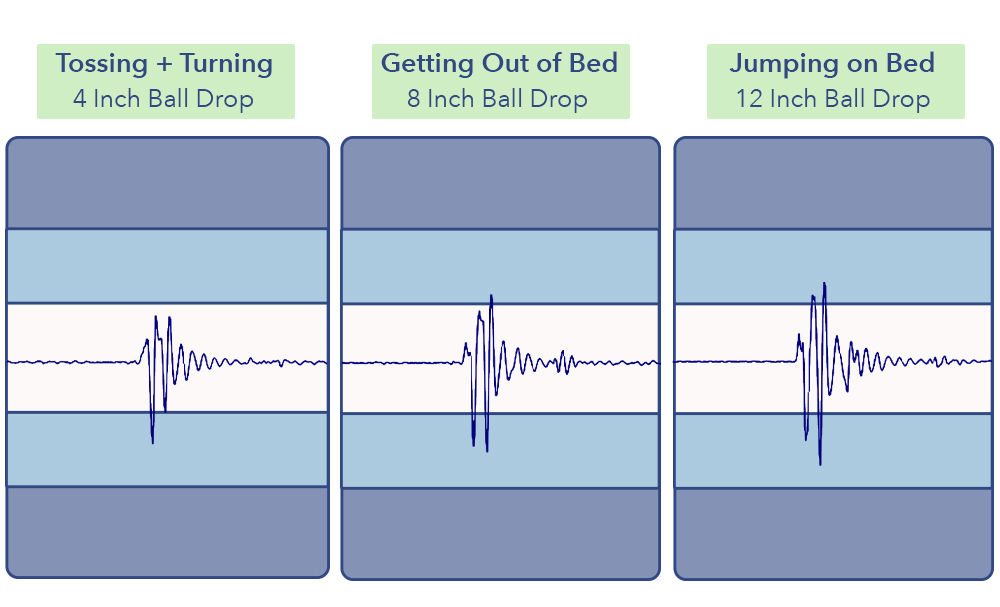 The results of this test suggest that the bed has average motion transfer. This version of the ReST Bed uses the brand's Purple Grid performance material, which is really bouncy and springy with a quick response to pressure. This means some of the motion did transfer across! This may not be the best mattress for couples if one person is a light sleeper concerned about those night time disturbances.
Edge Support
Last but not least, I evaluated this bed's edge support. Basically, when you roll close to the edges and corners of the model, do they collapse and make you feel like you might slide off? Or do they stay in place?
The edge support on the ReST Bed is pretty good. The memory foam around the edges of the Purple Grid did compress a little bit when I was lying on the very edge of the model, but the base of the mattress offered firm support.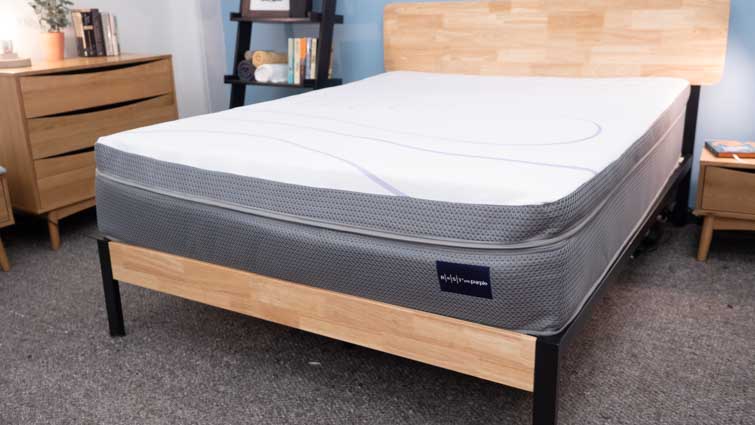 Should You Buy the ReST Bed With Purple Grid?
The ReST Bed with Purple Grid is a smart bed with adjustable air chambers, memory foam, and a hyper-elastic grid for pressure relief. It has decent edge support, but motion transfer is pretty average.
ReST Bed with Purple Grid Pros
This is a great option for my back and side combo sleepers. The bounce and lift of the top layers make it easy to change positions without getting stuck in the bed, and the adjustable chambers mean you can really customize the model to fit your specific firmness preferences for your sleep style.
I would also recommend this bed if you have shoulder pain. The Purple Grid is excellent at offering pressure relief, and the zoned support options mean you can find a setup that doesn't aggravate your shoulders by adding extra pressure.
This mattress sleeps cool, which is great news if you overheat at night! The breathable cover and Purple Grid structure promote superior airflow, so heat doesn't get trapped in the bed.
ReST Bed With Purple Grid Cons
I don't love this bed for strict stomach sleepers like myself. Even when I really increased the firmness level using the adjustable air chambers, I didn't think it offered the support that most stomach sleepers need to help keep their hips in line with their shoulders during the night rather than sinking down into the mattress.
The app itself was also a bit finicky, and it didn't respond super quickly to pressure changes. While the technology aspect is really cool, I can see how some users might find it frustrating or difficult to use.
How Much Does the ReST Bed With Purple Grid Cost?
Save $600 with code SLEEPOPOLIS600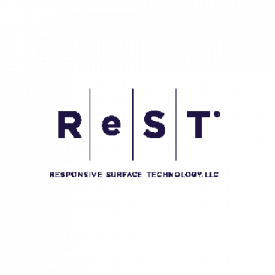 The Rest's ability to automatically adjust support to your specific sleep style is a huge benefit for those looking for the ultimate in recovery. Use the code SLEEPOPOLIS600 to save $600 on your purchase!
| Size | Dimensions | Price |
| --- | --- | --- |
| Twin XL | 38″ x 80″ | $4,399 |
| Queen | 60″ x 80″ | $5,999 |
| California King | 72″ x 84″ | $6,599 |
| Eastern King | 76″ x 80″ | $6,599 |
| Eastern King Split | 76″ x 80″ | $6,999 |
| Split King | 39″ x 80″ (x2) | $8,798 |
ReST Bed Policies
Trial – 90 Days
Shipping – $199 for White Glove Delivery
Warranty – 10 Years
Materials

Comfort

Support

Value

Cooling

Edge Support

Trial

Warranty