Modern bedrooms are equipped with smart lighting devices, smart alarm clocks, TVs with all the world's info at your fingertips…yet when it comes to beds and bed frames, we are often times living in the past. Being able to adjust your mattress and frame to not only fit your specific physical sleeping needs, but being able to adjust your laying position to cater to your pre-sleep needs is a huge plus when it comes to the best smart beds and mattresses.
Smart mattresses and beds can be equipped with adjustable angles, formations, wireless functionality and even USB charging. This is an important decision to make if you are trying to upgrade your sleeping experience, and it is not made easier by the number of brands on the market. We have tried out the leading brands, read below for our findings:
Best Smart Beds of 2023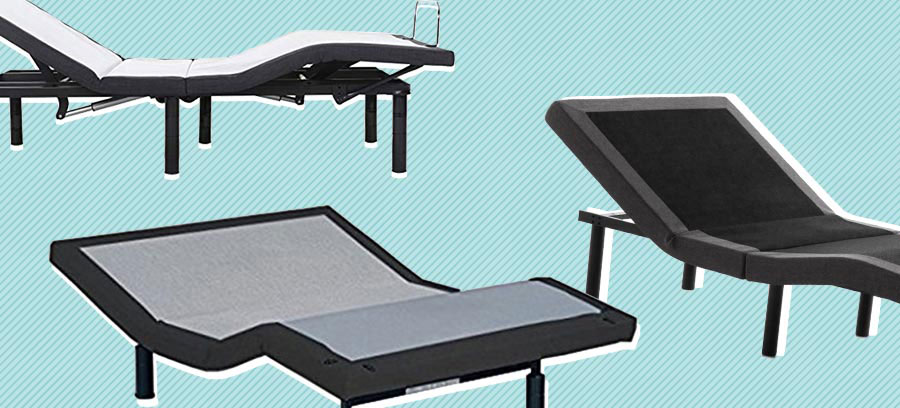 Editor's Choice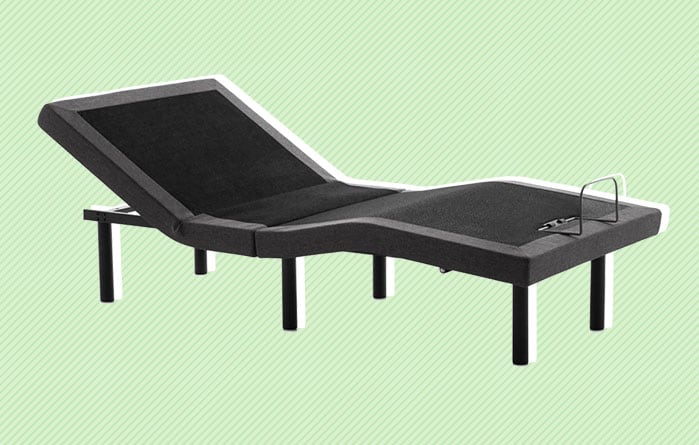 LUCID L300 Adjustable Bed Base
Pros: 
Wireless remote. One of the first things that really stood out with this smart bed base is the wireless remote. It is easy to use, includes a flashlight to use for your bed-adjusting and non-bed-adjusting needs, and is used to access and control the programmable positioning. Now that is a bed of the future!

Independent inclines. Both the head and foot of this bed have independently-controlled and adjustable inclines. The head has a 0-60 degree adjustable radius while the foot has a 0-45 degree adjustable radius

Price. This bed base is a great find for those shopping on a budget. Pricing itself at just around $425 for an XL twin, this product is quite affordable when compared to some of its competitors on the market
Cons: 
Mechanical pieces. Most users will have smooth sailing while operating this device, as it is well designed. However, whenever a piece of furniture has moving, mechanical parts like this product, there is a chance of mechanical failure whereas the device won't rotate as far as one might want

Heavy. While designed to be sturdy and support a wide range of weights, the unit itself weighs in at around 118 pounds. Make sure you have someone helping you when moving it to your bedroom to assemble
Think the Lucid L300 Adjustable Bed Base is the one for you? Click here for our best deal. 
LUCID L300 Adjustable Bed Base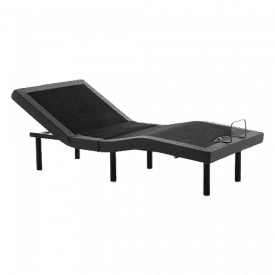 LUCID L300 Adjustable Bed Base
LUCID's L300 Adjustable Bed Base is specially designed to offer many smart features: adjustable head and foot incline, two USB charging ports on either side, wireless remote, and a programmable memory position. Not only is it convenient to position yourself comfortable for whatever way you want to luxuriate before you go to bed, it is easy to install and made to last.
Contender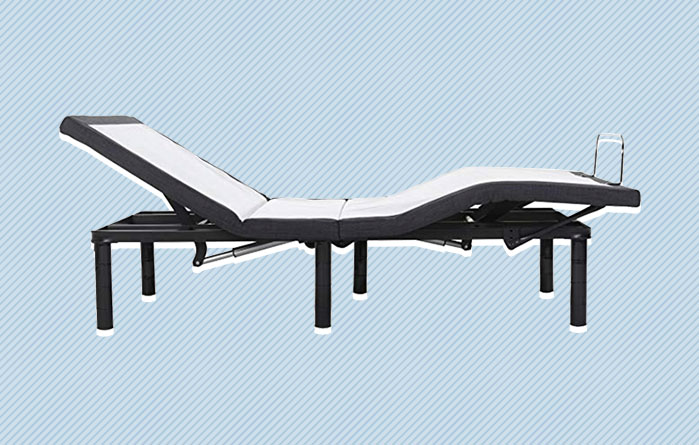 Split King Cool Gel Infused Plush Memory Foam Mattress with Premium Adjustable Bed Frame
Pros:
Massage. Split King's combo memory foam mattress and adjustable frame also features a range of three increasing massage intensities, all controlled by a backlit wireless remote.

Steel construction. This product is made out of durable steel frames, painted black and with adjustable leg heights. It doesn't even need tools to assemble!

Warranty. Though customers who buy this product are most likely to be satisfied, you know the brand is serious when they offer a long 10-year warranty. This is great for those who are picky when choosing their sleep support
Cons:
Cost. While it is a wonderful product that comes with both a top-of-the-line memory foam mattress and smart frame, some customers may chafe at the pricepoint floating just under $1900

Soft mattress. Though this won't be a problem for all sleepers, some might would prefer the mattress be a bit firmer. This all depends on personal preference
Think the Split King Cool Gel Infused Plush Memory Foam Mattress with Premium Adjustable Bed Frame is the one for you? Click here for our best deal.
Split King Cool Gel Infused Plush Memory Foam Mattress with Premium Adjustable Bed Frame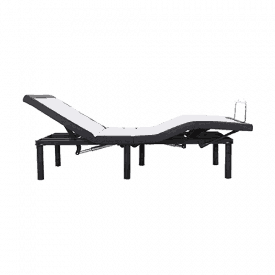 Split King Cool Gel Infused Plush Memory Foam Mattress with Premium Adjustable Bed Frame
This offering from Split King is a combination 12" memory foam mattress and adjustable, wirelessly controlled bed frame featuring massaging features. Not only do the variable positioning options at head and foot of the bed frame make for a comfortable sleeping experience, but the mattress is a six-layer memory foam, making for a soft and supportive sleeping surface.
Best Bargain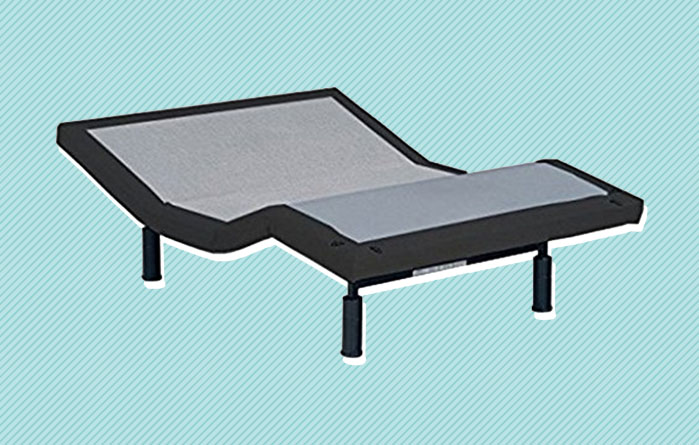 Reverie 5 Series Adjustable Bed Base
Pros: 
Presets. Adjustability is the name of the game with this Reverie product. The three presets (Zero Gravity, Anti-Snore and Flat) are perfect for conveniently and quickly adjusting the bed base to your needs.

Lift power. The motor in this bad boy can lift about 850 pounds. This lift capacity is featured on both sides, with motors for both head and foot positions.

Massage. This offering from Reverie has dual body massage capability with a whopping ten different intensities. This is perfect for people with varying massage and comfort needs, as well as for those sharing a bed with a partner who may have different wants.
Cons: 
No lower back support. The massaging feature works great – for your head and for your feet. Though this shouldn't be a cure-all for your massaging needs, the lower back is conspicuously left alone

No mattress included. With a pricepoint coming in just under $1500, the need to find a mattress that not only fits but compliments this bed base might cause the total price to go over budget for some customers
Think the Reverie 5 Series Adjustable Bed Base is the mattress for you? Click here for our best deal.
Reverie 5 Series Adjustable Bed Base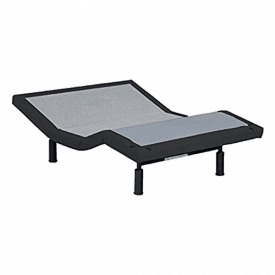 Reverie 5 Series Adjustable Bed Base
Reverie's 5 Series Adjustable Bed Base features a charcoal gray upholstery and is Bluetooth smart compatible. This product has all the customizable trappings of a modern, adjustable bed frame that someone would want, plus it conveniently fits most mattresses.
How We Picked
The future of mattresses is not twenty years far off in the horizon, it is now. The market is filled with promising smart mattresses and smart bed frames that can massage, offer adjustability at both ends of the frame, and can be controlled by wireless remote. These aren't small purchases so potential customers should really consider what their needs are and how each product might – or might not – suit them. To help out, we've come up with a list of key factors to consider:
Comfort
If you are reading this, you are probably in the market for a mattress or frame that increases your nightly comfort level, alleviates some back or body pains, or simply offers features that a typical sleep surface doesn't. But if a mattress isn't comfortable for you, no matter how snazzy and technologically advanced, you won't want to sleep on it night in and night out. Pay attention to the cushioning, the ability of the unit to adjust to your needs, and the specific materials the bed is made of. These will all differ per person, but coming in knowing your needs will greatly help the process.
Options
The race is on between the leading brands to offer more variety and customizable features. From massage intensity to range of radial motion, these different products are designed to create a bespoke sleeping experience catered just for you. If you like sleeping the same way consistently, or if you have different needs night-by-night depending on your body aches, you may consider either opting for a more customizable bed or one that has less options you have to sift through.
Set-up
Though you will most likely only need to build a smart bed frame and mattress once or twice, that one or two times might be so difficult as to make you second guess ever making this purchase. Some brands are so ready to go that they don't require any additional tools. Others promise set-up in less than five minutes. The weight of the bed can be a crucial factor in determining how easily the bed will be set up, and if you can do it or not yourself.
Style
Although the most important thing to most customers will be how well they sleep at night, a bed is a huge pieces of furniture in the room that most people spend the majority of their time in. Check the photos of each product to look for details. What style are the legs in? What color is the structure? Will it match my existing furniture. Does it look too futuristic or can I blend it in with my bedding?
Price
When shopping for smart mattresses and smart frames, customers will soon find out that these are not small purchases. Some of the products on the market will approach nearly two grand. Making these sort of additions to the bedroom take careful consideration, and price is one of the major factors to weigh. Keep in mind that while some brands offer both a mattress and frame, some only have a bed base and need the customer to purchase an additional mattress or utilize one already in hand.
Buying Tips
Not sure which smart bed is best for you? Below are some key things to consider when making a purchase:
Figure out your personal sleep needs. The whole point of this popular trend in sleeping is how a customer can customize their slumbering experience. If you have specific sore areas or places that are liable to be achy, or if you are currently dissatisfied with your current sleeping situation, think long and hard about whether your new purchase is going to help, or if another product on the market might be more beneficial for exactly what you are looking for.
What's your budget? These are not cheap purchases. Not only should your sleep health be taken seriously for health and wellness reasons, but no one wants to spend $300, $500, or even close to $2000 on an intimate piece of furniture, and have it not be satisfactory. Consider carefully how important each of the features is for you. Sometimes the best fit might be half the price…
Warranty. We all make mistakes. Some smart bed companies are aware of this, and make the warranty process near seamless. We're talking 10 or even 20 year warranties. Though most customers will be satisfied with the top brands, it is always reassuring to know that they can be returned if anything goes awry.
How is this being assembled? These can be heavy and cumbersome units, and they must be installed in the room that they will be used in. Check and verify the set-up process and the weight of the device. If you are building it alone, perhaps see if someone can help you or at least help you bring it into the room that the bed will live in.
Do you want to look at it every day? Some beds on the market may have all the bells and whistles, but if you don't get a warm feeling from looking at it, and want to jump right in whenever it is bedtime, then you are losing out on one of the joys of life. Take a look at all sides of bed – front, side, and the frame from the top. Make sure it matches your furniture decor, or is neutral enough to be complemented by strong bedding choices.