If you're looking for a mattress that will last a long while, it might be worth checking out King Koil's mattress collection called World Extended Life. The meaning behind the message is that this mattress collection will provide years of long-lasting comfort and support for all types of sleepers. Continuing reading to learn about the long warranty, along with all the ins and outs of the mattress itself.
The Company: King Koil
King Koil has been around for a long while — since the 19th century in fact! Just barely, though: The company was founded in 1898 by a man named Samuel Bronstein. Back then, King Koil was actually called United States Bedding and was based out of St. Paul, Minnesota. The team of six quickly grew, along with the number of mattresses it manufactured. By 1900, United States Bedding perfected its coil system and cleverly renamed to King Koil — get it? Today, you can find King Koil in 90 countries around the world. They are headquartered outside of Chicago, Illinois. King Koil offers a mix of innerspring, hybrid, and memory foam mattresses that are bundled into five different mattress collections.
Now, to World Extended Life!

King Koil World Extended Life: Construction
The King Koil World Extended Life collection features one mattress, called Athens, which comes in three comfort levels: extra-firm, plush, and push Euro top. Let's take a deeper dive into how these mattresses are alike and dissimilar, along with what's inside the bed:
Athens Extra-Firm, Plush, and Plush Euro top
Cover: The cover of the Athens mattress is a high-density foam, which has a strong cell structure that makes the material durable and long-lasting — part of the "World Extended Life" promise. It is wrapped in soft, eco-friendly Tencel which is also designed to keep you cool while deterring bacteria. In general, Tencel is known for being gentle on the skin while still durable.
Comfort layer: The comfort layer will be quite thick if you're choosing the plush version, or a bit on the thin side if you're looking for something more firm. Either way, it will be composed of graphite Talalay latex; the graphite is a natural mineral infused with latex to enhance resiliency. Meanwhile, it also aims to provide pressure relief while wicking away moisture to keep you cool.
Coil system: The coil system for this mattress is similar to the one found in the King Koil World Intimate Collection. It features King Koil's Perfect Contour® Reaction (PCR) Coil System, stocked with 1,000 coils that are individually wrapped. It's designed to isolate motion, improve posture, and provide all-around support. This coil system also does something King Koil calls "pressure equalization," which is when there is extra support aimed at the shoulders, hips, and lower back. The effects of this pressure relieving technology also claim to relax the muscles while reducing the need to toss and turn throughout the night. =
Edge support: Every model includes an Excellent Edge™ Foam Encasement to provide stable and solid edge support.
Base: The base is made from Everlast® Base Foam, a high-density poly foam so the coils have a base to press off of. This comes with a natural wood foundation.

King Koil World Extended Life Feel
Each model in the World Extended Life collection will feel different depending on if you choose the extra-firm, plush, or Euro top options. If you're a firm bed lover, the extra-firm is one of the sturdiest beds you can find from King Koil, scoring at an 8 out of 10 on the firmness scale (10 being the most-firm). If you want something super soft, the plush version will be calling your name. For a nice middle-ground, the Euro top is about a 5 out of 10 on the firmness scale; typically, medium-firm beds work well for side-sleepers, so if that's you (over 60 percent of Americans say they are!) then the Euro top could be your best bedding bet.
Let's stay with the Euro top for a second. In case you're unfamiliar, Euro top mattresses use a plush combination of soft and supportive material, and tend to be softer than pillow top options. The topper is stitched right into the top layer of the mattress all the way to the edge, helping you feel much more supported at the end of the bed. All in all, the Euro top Athens mattress will be plush on top with a supportive and firm coil core, striking a nice balance of cushion and strong support.
All of the mattresses should feel pretty soft to the touch, thanks to the Tencel used in the cover's fabric. In case you're curious, Tencel fibers are created from the pulp of eucalyptus wood, which is then dissolved and spun into fibers. The end result is a super strong yet super soft material, helping to "extend" the life of the material. The hydrophilic quality of Tencel —meaning it wicks moisture away from the body — leads to keeping the body cool while sleeping, working well in a wide variety of climates.
Furthermore, Talalay latex is often seen as the refined and luxurious latex choice, given the aeration process used to produce the material. The end result is a durable yet soft, bouncier latex foam. It also offers up some great pressure relief.
Lastly, the Perfect Contour® Reaction (PCR) Coil System includes 1,000 individually wrapped coils, which King Koil says will prevent motion transfer, keep your body in good alignment, and specifically reduce tense pressure in the low back, shoulders, and hips.
King Koil World Extended Life Collection Vs. Others
How might this mattress compare with others on the market, you ask? Great question! While no two mattresses are the same, here are some comparable bedding options based on construction, feel, and price.
While Layla is an all-foam mattress, it is known for providing ample pressure relief to the shoulders and hips, similar to what the Perfect Contour Reaction Coil system aims to do from King Koil. The Layla also sleeps cool, a feature you should expect with King Koil, given the breathable fibers and moisture-wicking materials that are used.
The plush Euro top King Koil bed will feel somewhat similar to the Dream Cloud mattress, which also features a tufted Euro top, providing that great balance of luxurious cushion and support. Lastly, IDLE mattress is another hybrid bed that features latex foam, offering similar pressure relief, support, and bounce to King Koil.
Save $200 + $399 in Accessories Included

DreamCloud Mattress

Back and stomach sleepers
Great for couples

Summer Sale: Up to $200 Off Mattresses + Free Pillows

Layla Mattress

Memory foam that sleeps cool
Dampens motion transfer

Summer Sale: Up to 50% Off Store-Wide!

Idle Sleep Latex Mattress
Other Details:
Warranty: The biggest difference between this King Koil mattress collection and others is the warranty. While other King Koil collections come with a 10-year warranty, this one comes with a 25-year warranty. For all the fine details, head to a retail store near you.
How to buy: King Koil mattresses are exclusively available for purchase at brick-and-mortar retail locations. Customers should defer to the delivery policy of the retailer where they purchase their mattress.
Old Mattress Removal: King Koil does not offer old mattress services. Customers should defer to the mattress removal policy of the retailer where they purchase their King Koil mattress.
Made in the USA.


King Koil World Extended Life Collection: Pros and Cons
There are limited online reviews for the King Koil World Extended Life Collection, but here are general themes found throughout:
Common Pros:
Durability. If you're looking for something that will last, there are many components of the King Koil Athens mattress that point in this direction: the use of Tencel, high-resistant Talalay latex, and the 25-year warranty.
Motion control. If the individually wrapped coils do their job, then it should help to isolate motion and keep your own body in place, while failing to feel your partner tossing and turning in the middle of the night.
Good choices for any type of sleeper. This World Extended Life collection includes a soft, medium-firm, and firm option, so you can choose the comfort level that best fits your preferences and sleep position.
Common Cons:
Limited specification disclosures. This is a con for all King Koil beds. There is limited information on the exact specs of this bed, along with detailed warranty info and how to best purchase a King Koil. This puts the responsibility into your hands to head to a retail store and get all the additional info you need.
Lack of reviews. Again, not necessarily a bad thing, but it's often easier to make a mattress purchase if you can comb through hundreds, if not thousands of reviews from other consumers. With a lack of reviews online, you'll have to go and do all the dirty — er, fun — work, in addition to all the info we shared with you here!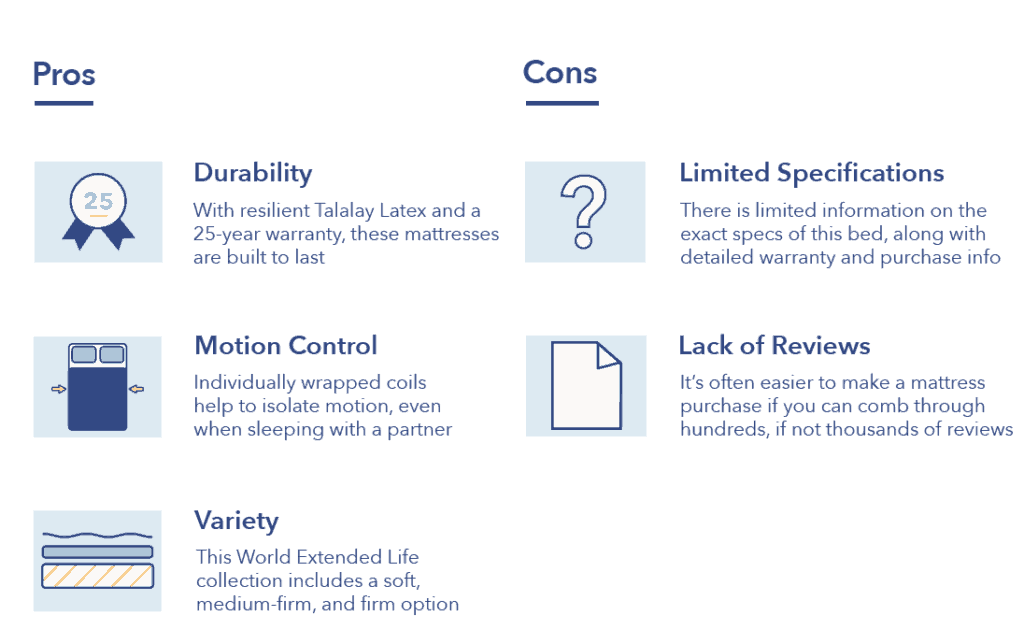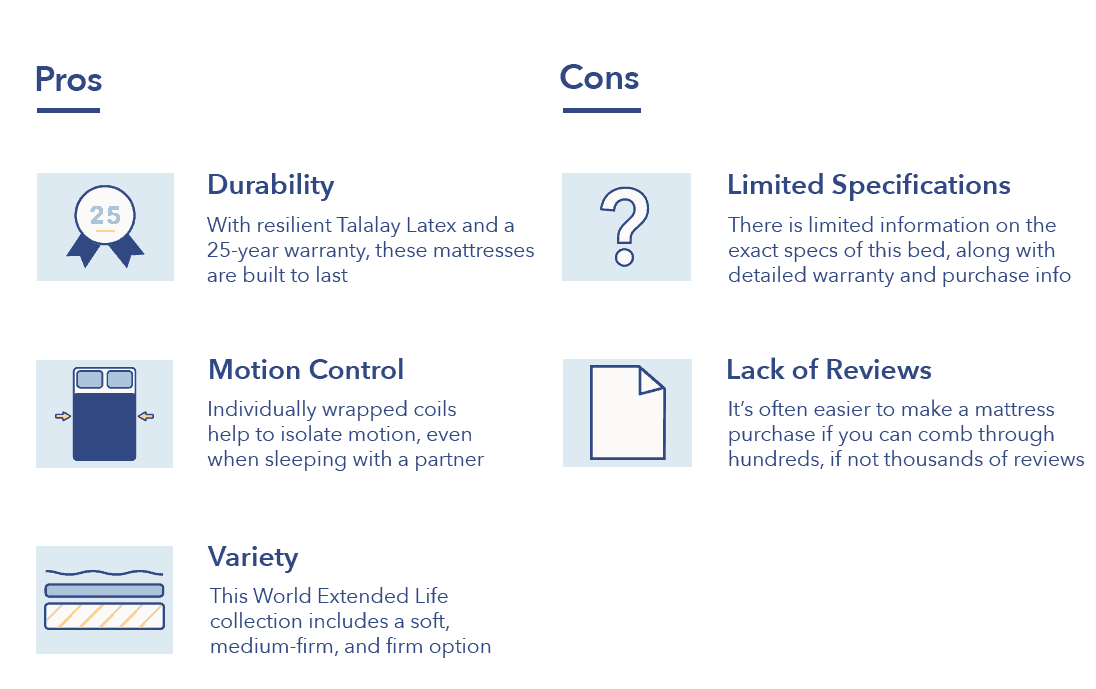 Sizing and Pricing Information
| Model | Twin | Twin XL | Full | Queen | King | California King |
| --- | --- | --- | --- | --- | --- | --- |
| King Koil World Extended Life Plush | $1,609.99 | $1,699.99 | $1,679.99 | $1,769.99 | $2,369.99 | $2,369.99 |
| King Koil World Extended Life Extra-Firm | $1,609.99 | $1,699.99 | $1,679.99 | $1,769.99 | $2,369.99 | $2,369.99 |
| King Koil World Extended Life Plush Euro Top | $1,909.99 | $1,999.99 | $1,979.99 | $2,069.99 | $2,669.99 | $2,669.99 |
Is the King Koil World Extended Life Collection Right for You?
Good job making it all the way here! Now, let's summarize it all. Here are the main three reasons an Athens bed in the King Koil World Extended Life Collection could be the next best thing in your bedroom.
You're looking for pressure relief. This hybrid bed comes with a coil system that was constructed to relieve tension and pressure throughout the body. This, along with pressure-relieving Talalay latex in the comfort layers means your back, shoulders, and hips will be targeted and well supported.
You want this to last — a long time. A 25-year warranty is a long time! And with a name like "Extended Life," we can only hope this mattress was built to last a long, long while.
You sleep with a partner. Individually wrapped coils are known to isolate motion, making this mattress a great choice if you sleep with someone else, especially if one of you is known to toss and turn a lot.

King Koil World Extended Life Collection Summary
The King Koil World Extended Life collection sets out to promise a few things: longevity, pressure support, and comfort for all types of sleepers. If you're a fan of hybrid beds, looking for the soft touch of Tencel, the pressure support from Talalay, and the durability and bounce of coils, then one of the Athens models in this collection could be calling your name. Find the nearest retail store and go see for yourself!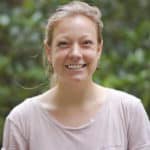 Laura Schwecherl
Laura is a journalist with nearly a decade of experience reporting and covering topics in the health, fitness, and wellness space. She is also a marketing consultant, where she works with impact-oriented startups to build marketing and editorial strategies. Since joining the team at Sleepopolis, she quickly learned how critical sleep is, and enjoys researching how certain sleep products and techniques can improve our lives. Outside of work, you can find her reading Murakami novels, writing amateur poetry, or trail running in her hometown, Boulder Colorado.